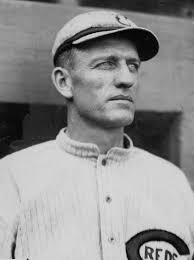 ---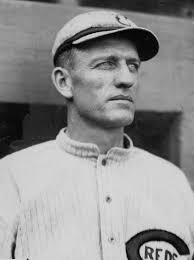 Escaping the Pennsylvania coal mines, which claimed the life of his brother Calvin, Jacob Ellsworth Daubert went on to a fifteen-year major league career with the Brooklyn and Cincinnati ball clubs. Frequently compared to the legendary Hal Chase, Daubert was arguably the premier National League first baseman of the Deadball Era. A slashing chop hitter with tremendous bat control, Daubert won two batting championships while also setting a still-standing National League career record for sacrifices with 392. In the reference book The Ballplayers, he was referred to as "modest, polite and colorless, though a tiger about money."
Jacob Ellsworth Daubert was born April 17, 1884, in Shamokin, Pennsylvania, to Jacob and Sarah (Hays) Daubert. He said in an interview that the family was not German, but actually of French descent. The interview took place soon after the end of World War I. With anti-German sentiment running high, it is possible he tried to avoid the problem. He stated that the family name is actually Daubert. They stem from a town near the German border that is named for them, D'Aubertville. Some family members emigrated after the American Revolution. Others remained there in the old country.1 At age 11, Jake entered the coalmines, working as a breaker boy separating slate and other impurities from the coal. There he joined his father, a mineworker for 57 years, and brothers Irwin and Calvin.
He was able to escape a life in the mines when he signed a contract with a semi-professional team in Lykens, Pennsylvania. He started out as a pitcher, as many ballplayers do, but quickly was moved over to the first sack. He continued in semi-professional ball the following year, playing for a club in Kane, Pennsylvania. In 1907 he joined a Kane team that played in the Interstate League, part of organized baseball. He completed that season in the Ohio-Pennsylvania League with Marion.
The American League Cleveland Indians gave Daubert a trial in 1908. Being still a raw talent, he was released to the Nashville club in the Southern Association for more seasoning. In 1909 he played for Toledo in the American Association, then returned to the Southern Association with Memphis. In Memphis Jake's game began to blossom, hitting .314. Scout Larry Sutton of Brooklyn in the National League purchased his contract and brought him to the major leagues in 1910. Daubert was to remain in the big leagues until his death in 1924.
Daubert began his major league career with a mediocre rookie season. He then began his rise to the top of National League first basemen. Daubert in his career went on to a .303 lifetime average, with 10 of his seasons ending with a .300 or better average. He won two batting titles, hitting .350 in 1913 when he was also selected as the Chalmers Award winner, an early Most Valuable Player award. Daubert helped lead a tour to play games in Cuba in November and December of 1913.
He repeated as batting champion in 1914 with a .329 average. Daubert's combination of power and speed was evidenced by his 165 lifetime triples, twice leading the league in this category. A question and answer column in The Sporting News stated that early in his career, before his legs went bad, Daubert was faster than Eddie Collins.2 Daubert's bat control, evidenced by his sacrifice record, reached its peak on August 15, 1914. On that day Daubert set two sacrifice bunt records: most sacrifices in a game, four, and in a doubleheader, six! Sporting Life compared his bunting ability to that of the legendary Wee Willie Keeler.
A good hitter, the best part of Daubert's game may have been his fielding ability. Frequently compared defensively to the legendary Hal Chase, Jake led the league three times in fielding percentage. The Deadball Era was a time when a first baseman had to be counted on first as a fielder because of the many bunts and hit and run plays. Daubert was consistently ranked as one of, if not the, top defensive first baseman in the National League. His Spalding Guide obituary stated that Jake was a "brilliant first baseman. He is a person who has studied the demands of his position and had learned by observation how to improve his game."3
Daubert's abilities offensively and defensively led him to be selected the all star first baseman in Baseball Magazine in 1911 and 1913-1919. Baseball Magazine in 1913 said, "Jake Daubert is easily one of the greatest infielders baseball has ever seen. Flashing and sensational like Chase, he is, unlike Chase, never erratic, never prone to sudden error, never sulky or indifferent in his play." The magazine author admitted that Chase was the most sensational first baseman who ever lived, but in his prime doubts he was more valuable than Daubert. He concluded that Daubert is "universally popular, he is the most valuable first sacker playing the game."4
Daubert was one of the most liked and respected players of his era. He was popular enough with the fans to be nominated for Alderman in Brooklyn. His popularity did not extend to the election, however, as he lost the vote. Jake was elected by his fellow ballplayers to the board, and later Vice Presidency of the Baseball Players Fraternity. In the latter position he replaced Ty Cobb. One reason for his popularity may have been that he never forgot his roots. After his first big league season, upon his return home, he thanked the locals. "Jake Daubert, the star first baseman of the Brooklyn National team, gave a banquet to a number of amateur base ball players of Schuylkill County, former teammates at Pottsville, PA last week and presented each souvenir baseballs of last seasons National League games."5
Although Daubert generally got along with everyone, he did have the occasional dispute with the owners over money. In 1918 the owners released players as the season ended early because of World War I with a gentleman's agreement to re-sign them when baseball began again. Daubert was not to be paid the rest of his contract amount for 1918 after his release. He sued Charles Ebbets, the Brooklyn owner, claiming he was under a multi-year contract and was owed the money. The case was settled out of court but Ebbets had the final say, trading Daubert to the Cincinnati Reds early in 1919. Daubert went on to become the Captain of the Reds, helping lead them to their first World Championship later that year. This was Jake's second Series, having captained the Brooklyn club in the 1916 Series loss to the Boston Red Sox.
Throughout his career Daubert was known as a highly intelligent player. Sportswriters liked him as he could converse with them on a variety of subjects beyond the game. His intellect was indicated by his business dealings. At the end of his career it was said that he made more money outside of baseball and did not need to play the game to make a living. Daubert invested in a variety of businesses. The Sporting Life said he invested his World Series money from his Brooklyn days in real estate near his home in Pottsville, Pennsylvania.6 Among them were a poolroom, cigar business, and a semi-pro baseball team for which he was once arrested for ballplaying on a Sunday. He also invested in ice and moving picture businesses. His biggest moneymaker was a coal washery (dredgery) in his hometown of Schuylkill Haven, Pennsylvania.
Unlike most players, sadly, Daubert did not have a life after baseball. While still an active player with the Reds he passed away on October 9, 1924. A contributing factor to his death was a beaning he suffered early that season, one of at least eight in his career. He suffered from headaches and had trouble sleeping the rest of the season. In a weakened condition, Daubert began to suffer from what doctors thought was appendicitis and gallstones. On October 2 he was operated on, even receiving blood transfusions from one of the doctors. Daubert never recovered, passing away one week later. Years later his son suffered the same symptoms. He was found to be suffering from a hereditary condition involving the spleen.
Modern medicine quite possibly could have saved Jake. He left a wife, Gertrude, and two children, son George and a daughter named Louisa. He is buried in the Charles Baber cemetery in Pottsville, Pennsylvania. Among the pallbearers who helped lay him to rest were Reds' manager Jack Hendricks and teammates Rube Bressler, Edd Roush and Eppa Rixey. A final pallbearer, ironically, was the purveyor of the most famous beanball in baseball history, Carl Mays. Daubert was selected posthumously to the Cincinnati Reds and Brooklyn Dodgers Halls of Fame.
Sources
Jake Daubert file: National Baseball Library
National Association contract cards: National Baseball Library
Charles Baber cemetery records, Pottsville, PA.
Sporting Life 1914-1916
Sporting News 1909-1924
Baseball Magazine 1914, 1922
BaseballLibrary.com
NY Post: 3 July 1989. (Interview with George Daubert, Jake's Son)
Total Baseball VII
Reach Guide: 1917, 1920
Spalding Guide: 1925
Cincinnati Commercial Tribune: 10 October 1924
SABR member Vic Debs Jr. graciously shared a transcript of an interview with George Daubert and newspaper clippings.
Notes
1 1920 Reach Guide, page 59.
2 The Sporting News, February 14, 1918, page 4.
3 1925 Spalding Guide.
4 Sporting Life, November 13, 1915, page 3.
5 The Sporting News, "Caught on the Fly," November 10, 1910.
6 Sporting Life, December 30, 1916, page 10.
Born
April 17, 1884 at Shamokin, PA (USA)
Died
October 9, 1924 at Cincinnati, OH (USA)
If you can help us improve this player's biography, contact us.
https://sabr.org/sites/default/files/Daubert-Jake-NBHOF.jpg
600
800
admin
/wp-content/uploads/2020/02/sabr_logo.png
admin
2012-01-04 20:09:47
2022-02-19 12:48:43
Jake Daubert