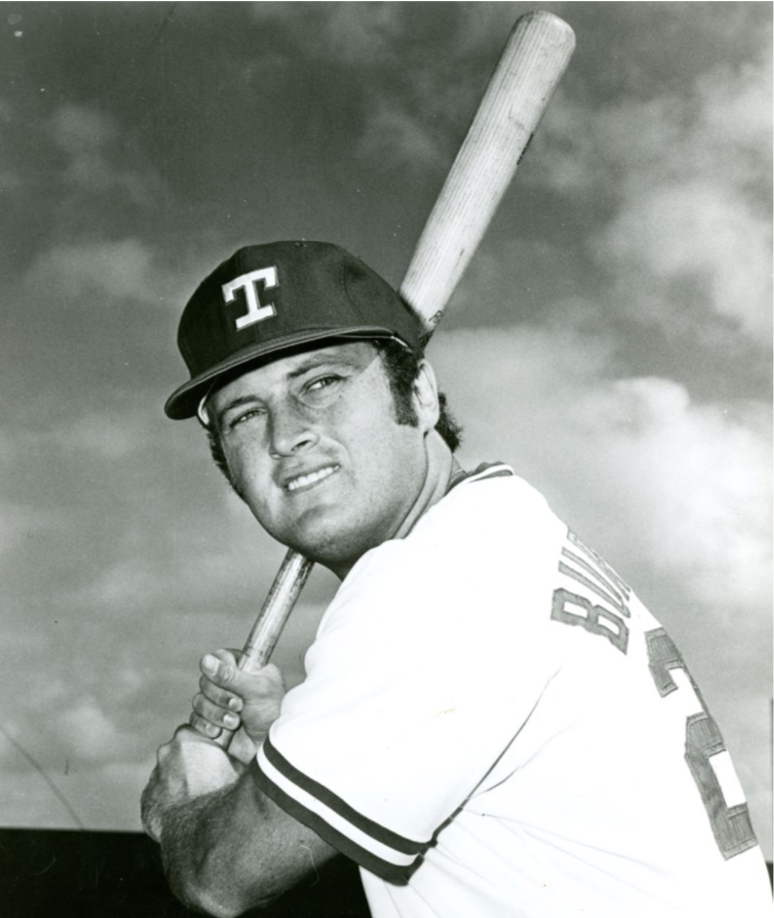 ---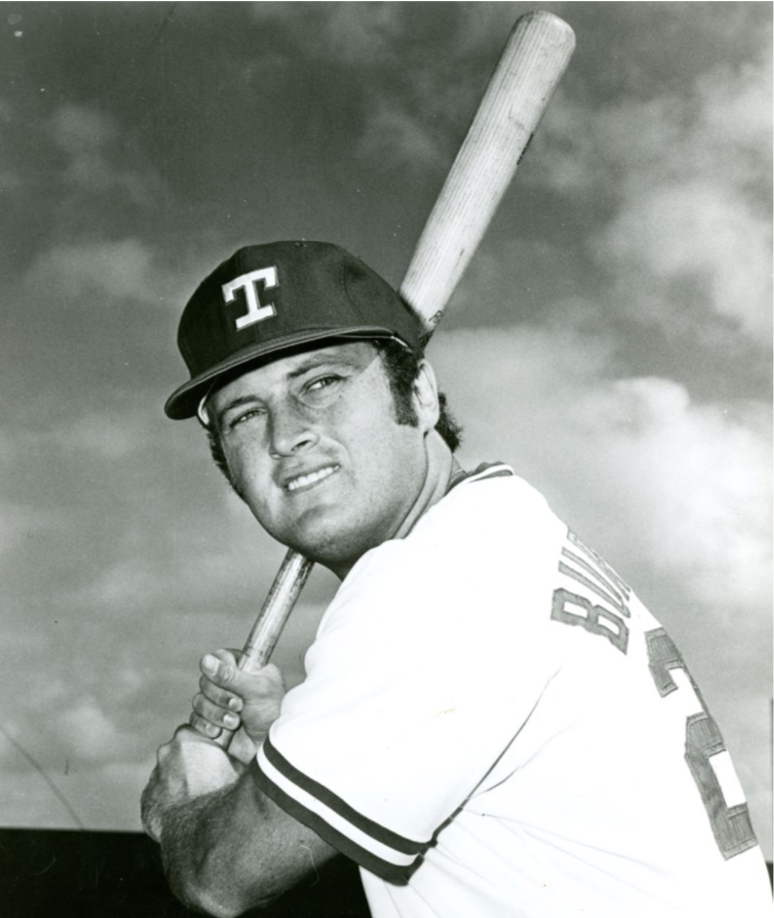 No less an authority than Ted Williams referred to him as "the greatest young hitter I've ever seen."1 His immense power drew comparisons to Hall of Famers Harmon Killebrew and Eddie Mathews, while his value was glimpsed in an unexecuted one-for-one swap with the California Angels' future Cooperstown inductee Nolan Ryan. (The talks collapsed only when the Texas Rangers learned of Ryan's offseason surgery in 1975.) He was the first recipient of the Most Valuable Player Award from an expansion club while earning "much of the credit for the Rangers' [1974] rise to respectability."2 He was the next-to-last active player to wear a Washington Senators uniform. When his son was chosen as the ninth overall pick in the 1998 amateur draft, the father-son duo became one of the few pairings to garner first-round selections.
But the 16-year major-league career of Jeffrey Alan Burroughs was not all rosy. His relationship with his first big-league manager – the Splendid Splinter – turned personal and bitter (due largely to the meddling of Bob Short, the Rangers' owner). Further difficulties erupted with future Hall of Fame skipper Bobby Cox over playing time in Atlanta (this relationship was mended in Toronto in 1985). Meanwhile Burroughs' vacillating production (1974 MVP; .226 in 1975) fueled his critics and frustrated his champions. By 28 he was largely relegated to a platoon role, destroying the once overheated projections that Burroughs might one day overtake the home-run marks established by Hank Aaron and Roger Maris.
Burroughs was born to Charles Douglas and Iona Mae (Maxvold) Burroughs in Long Beach, California. The Burroughs family traced its roots to Charles's namesake in Virginia in the late eighteenth century. A series of westerly moves ensued until Charles's birth in southeast Nebraska in 1918. During World War II he moved to California, where he met Iona. On August 14, 1945, they married.3 Six years later – on March 7, 1951 – Jeffrey was welcomed to the fold.
Burroughs' upbringing included standard teenage hijinks: in one instance gluing geese to his neighbors' mailboxes. More productive pursuits were found on the gridiron and diamonds of Long Beach's Woodrow Wilson High School. Knee surgery curtailed Burroughs' football track but did not slow his baseball chase. His prowess – as a pitcher and hitter – advanced Wilson High's baseball-rich talent that included Hall of Famer Bob Lemon, bonus baby Bob Bailey, and Burroughs' infield teammate Bobby Grich. Burroughs led his team to a city championship and in 1969, his senior year, was a California 4-A select player. Destined for Arizona State University's successful baseball program, Burroughs was soon preyed upon by the professional scouts.
Eight years removed from expansion, the Washington Senators – courtesy of a major-league-leading 96 losses in 1968 – owned the first pick in the 1969 amateur draft. This fact did not preclude the aggressive pursuit of Burroughs and other highly sought-after talent by other clubs, necessitating Commissioner Bowie Kuhn's warning concerning tampering. In mid-May the Senators, during a road swing through Anaheim, invited Burroughs to a pregame workout. Despite the youngster's "sub-par ratings in every department other than hitting,"4 Washington's draft leanings were validated after Burroughs knocked five balls out of the cavernous park. A month later the 18-year-old became the fifth athlete to be selected first overall in the major leagues' amateur draft.
Awarded an $88,000 signing bonus, Burroughs reported to the Wytheville (Virginia) Senators in the Appalachian League.5 Assigned to first base, the right-handed hitter wasted no time getting acclimated to the Rookie League: a near-.400 average in his first 78 professional at-bats. When the short season ended, Burroughs placed among the league leaders in nearly every offensive category while earning selection to the league's All-Rookie squad.
Ted Williams was resolute in his belief that hitters required a lengthy apprenticeship (1,200-2,000 at-bats) before advancing to the majors. This conviction did not prevent the Senators manager from wanting another firsthand look at Burroughs in spring camp in 1970. A nonroster invitee, he encountered major-league pitching for the first time on March 5 – two days before his 19th birthday – in an exhibition game against the New York Yankees. Burroughs grounded into a double play in his first at-bat and, shortly thereafter, committed an error at first base. ("I don't have a very good glove," he sheepishly admitted.6) All was forgiven when Burroughs connected for a towering home run. He continued to excite his veteran teammates with another blast 16 days later – a game-tying ninth-inning drive in Pompano Beach against Atlanta righty Pat Jarvis. Before spring camp, management had wrestled with Burroughs' minor-league placement. After his strong Grapefruit League performance, the slugger was advanced to Triple A with the Denver Bears.
There, Burroughs was tried at third base in a short-lived experiment. The challenges at the new position affected his offense: just one hit in his first 21 at-bats. The production picked up considerably (.354 in his next 147 at-bats) after he was moved to first base and eventually the outfield, though he also exhibited a strong propensity for striking out. On May 4 Burroughs hit his first homer of the season – a grand slam against the Evansville Triplets in a losing effort. Two days later he hoisted two more home runs to lead the Bears to a 13-6 win over the Triplets. Pacing the Bears in homers and RBIs, Burroughs earned selection to the American Association All-Star squad.
After constant pestering from owner Bob Short, Ted Williams promoted the much-heralded youngster.7 On July 20, 1970, Burroughs made his major-league debut in right field against the Milwaukee Brewers in Robert F. Kennedy Stadium. He went hitless in three at-bats against veteran southpaw Al Downing. Four days later Burroughs collected his first big-league hit, a pinch-hit RBI single against Angels' reliever Steve Kealey. (Burroughs was thrown out trying to stretch it into a double.) An infield single in his next appearance – his second start – resulted in Burroughs' first run scored. He went hitless in his next seven at-bats and was reassigned to Denver. The big-league exposure appears to have been somewhat traumatic for the 19-year-old. Burroughs slumped to a .227-3-17 line in his final 141 at-bats, yet finished the season among the league leaders in home runs and RBIs.
Assigned to the Senators' 40-man roster in 1971, Burroughs (the youngest player) reported to spring training under a self-imposed health-food regime (seeking to shed weight from a 215-pound girth). A pawn in the tug-of-war between Short and Williams, Burroughs strengthened the former's cause after the team was compelled to install wire netting in the outfield to save the cost of balls Burroughs hit over the fence. The manager won out when Burroughs was reassigned to Denver before camp broke, but by July the young slugger was donning Senators garb after a strong American Association campaign. Starting against left-handers with the occasional pinch-hit appearance, Burroughs hit his first major-league home run on August 2, a pinch-hit three-run dinger into the upper right-field deck of Tiger Stadium to knot the score against Detroit veteran reliever Ron Perranoski. Burroughs received more playing time as Williams's confidence in the youngster grew. On August 14 Angels lefty Clyde Wright was spinning a one-hit shutout against the Senators when Burroughs drove a seventh-inning pitch for a two-run homer and a 2-0 win. Six days later he collected five hits and five RBIs in a doubleheader sweep of the Kansas City Royals. One of the Senators' hottest hitters in August (.286-4-19), he was slowed by a bruised shoulder in September. Finishing with a .232-5-25 record, he prepared for a Venezuelan winter campaign alongside teammate Toby Harrah and others.
The winter season bore dividends in 1972 Grapefruit League competition. In three games beginning March 10 Burroughs collected five hits, including two two-run homers, and seven RBIs. Burroughs was leading his club in home runs (5), and had won the starting left-field job, when he strained his lower back. The Opening Day left fielder for the newly-christened Texas Rangers became veteran slugger Frank Howard instead. Placed on the disabled list on April 26, Burroughs did not see steady play until May 16. A game-winning two-run homer off future Hall of Famer Bert Blyleven on May 21 proved Burroughs' only highlight as he continued to struggle with his back. He tinkered with a variety of batting stances and adjustments in a failed attempt to find relief. A .185-1-3 line resulted in Burroughs' assignment to Denver, where his struggles continued: .163 into July. As if throwing a switch, he experienced an extraordinary rebound with nine homers in 14 games. Burroughs finished among the league leaders with a .303 average and 24 home runs. "We have one helluva player on our hands in that kid," exclaimed the Rangers' new manager, Whitey Herzog.8
Burroughs was not unhappy about Williams's departure. The seeds of animosity planted between manager and owner had evolved into a severe dislike between manager and player. When Burroughs reported to spring camp in 1973 he anxiously looked forward to playing for the future Hall of Fame skipper. A strong exhibition campaign included a two-homer, six-RBI outing on March 25 in a 15-7 rout of the Royals in Fort Myers, Florida. But Burroughs labored when the season began. On May 1 he led the Rangers to a 7-6 win over the Boston Red Sox with three hits and four RBIs. Eight days later his fifth-inning home run spared the Rangers from a no-hitter by Milwaukee righty Jim Colborn. But Burroughs' .217-6-19 through June 6 sparked little fear in opposing pitchers. A .400 clip in 60 June at-bats – including a 13-game hit streak – righted his average. Home runs quickly followed, including a 475-foot wallop below the left-field scoreboard in Arlington Stadium.
On July 26 Burroughs blasted the first grand slam in Rangers history.9 His two additional slams over the next nine days tied a major-league record of three within a 10-day span. A 1-for-18 skid at the end of August did not deter the first full year player from challenging future Hall of Famer Reggie Jackson for the American League home-run crown. Remarkably, the consensus of coaches and managers (Herzog was replaced late in the season) was that the swirling right-field winds in Arlington robbed Burroughs of an additional 14 to 16 homers. Though he soon grew out of it, in 1973 Burroughs became known as much for helmet-throwing tantrums as immense power. "Those long power alleys and the wind make it almost impossible at home," Burroughs complained.10 "I'd better not get my hands on any dynamite because I'll blow this park into the next state."11 During the offseason the Rangers tried to remedy the situation by moving the fences 10 feet closer. They fended off numerous trade queries for the bespectacled slugger, including an aggressive and lengthy pursuit by Boston. Local news media and radio-television personnel dubbed Burroughs the club's outstanding player, while new manager Billy Martin identified him as untouchable.
In 1974 Burroughs was one of the last to report to spring training. Newly fitted with contact lenses, he flew to Bob Short's Minneapolis home and negotiated a hefty raise. When Burroughs arrived in Florida he continued his offensive onslaught with a Grapefruit League campaign of .339-6-23.12 Four games into the regular season, he added another grand slam to his growing résumé. In May Burroughs scorched opposing pitchers at a .352 pace, with particular relish against Chicago (.467-5-24 versus White Sox hurlers for the season). Beginning May 12, he drove in at least one run in 10 consecutive games.
Unwanted attention arrived on June 4 in Cleveland during a 10-cent-beer promotion. In the ninth inning of a knotted contest two inebriated young men ran onto the field intent on capturing Burroughs' cap. A scuffle occurred, prompting the ever-excitable Billy Martin to lead his charges out of the dugout in defense of the right fielder. The move only exacerbated the situation as more fans spilled onto the field. The ensuing riot resulted in a forfeit by the Indians, with Burroughs sustaining a jammed thumb in the brawl. Though he never used it as an excuse, the injury likely contributed to a .157 average in his next 51 at-bats. (He'd entered the game among the league leaders at .332.)
A late All-Star balloting surge earned Burroughs a left-field starting berth in the midsummer classic. Before the July 23 tilt Burroughs, mired in a mild slump, requested time off. The rest proved beneficial when the re-energized slugger collected 65 hits in his final 196 at-bats (.332). Surprisingly, the home runs tailed off, with Burroughs hitting his last four-bagger on August 21 (the recurring back problems a contributing factor). He paced the franchise to only its second winning season, leading the league in RBIs (118) while placing among the leaders in homers (25) and average (.301). With reference to the postseason awards, Reggie Jackson, the league's reigning MVP, admitted, "I don't mind saying that Jeff Burroughs would get my vote if I had one."13 Apparently the Baseball Writers' Association of America took notice as Burroughs, the only player named on all 24 ballots, outpaced three members of the World Series champion Oakland Athletics to earn the award for Most Valuable Player (becoming the first Texas player from either league to be named MVP).
An early-spring slump doomed the high-flying club's pennant aspirations in 1974. The Rangers looked to overcome such barriers in 1975. Burroughs' .310-4-13 line through April contributed to this goal. The Rangers captured sole possession of first place on May 22 only to suffer a slide of 1-7 through the rest of the month. The next two months continued to prove disastrous as the club fell out of contention. Mired in a 5-for-59 slump beginning June 10, Burroughs received an inordinate amount of blame for the collapse from aggrieved fans and feuding teammates. Having previously demonstrated a proclivity for striking out, Burroughs led the league with 155 K's in 1975 (eighth in Rangers history through 2017). "I wanted to pull the ball more … [to] hit more homers," Burroughs explained. "You get into some bad habits and, before you know it, you've gone so far you can't correct them. I was dipping my right shoulder, getting too much of an uppercut on my swing."14 Though he finished with strong power numbers (29 homers, 94 RBIs), the athlete who prided himself as an all-around player finished the season with a .226 average.
The next year proved remarkably similar for both player and team. The Rangers' fast start to the 1976 season cooled to midseason malaise as the club tumbled out of contention. Meanwhile Burroughs struggled to get above .229 from June through August. He ignored the many rumors of a pending trade, confident that the three-year contract extension he signed in March contained a no-trade clause. Having purchased a home in Arlington, the 26-year-old was both surprised and upset when the Rangers traded him to the Atlanta Braves on December 9 for five players and $250,000.
The Rangers reportedly received a vast number of offers for Burroughs, including trades for some of the most heralded pitchers in baseball: Yankees relief ace Sparky Lyle and future Hall of Famer Rich Gossage. The deal appears to have turned on the close relationship between Braves general manager Bill Lucas and his former boss, Rangers newly hired vice president Eddie Robinson (who vehemently denied the presence of a no-trade clause in the right-handed slugger's contract). When Burroughs recovered from the initial shock, he quickly realized the benefits derived from home games played in a stadium dubbed "The Launching Pad." In January he negotiated a three-year extension with the Braves that ensured a no-trade provision.
Over the next two years the Braves/Burroughs union proved a perfect match. In 1977 the slugger blasted nearly one-third of the Braves' home-run yield with a career-high 41 homers. Burroughs earned his second All-Star berth while becoming only the seventh major leaguer to hit 30 or more four-baggers in both leagues, and only the fourth to hit 40 or more in his first year after switching leagues. Tired of surrendering the long ball, pitchers quit throwing to Burroughs in 1978. That season he led the majors with 117 walks and a .432 on-base percentage. In both years Burroughs gained MVP consideration playing for the last-place club. He signed another three-year extension before the start of the 1979 campaign.
Sans the power, 1979 was largely a repeat performance of Burroughs' 1975 season when a promising start yielded to a 17-for-99 run through June 1. Manager Bobby Cox personally directed extra batting practice for Burroughs following a similar dip in July (.192 in 78 at-bats). The situation worsened in August when Burroughs' back problems resurfaced. Despite the no-trade clause the Braves hoped to secure Burroughs' approval for a pending swap. Anticipating an offseason departure, Burroughs received just one pinch-hit appearance in September as the team turned increasingly to Barry Bonnell in left field.
But the Braves miscalculated when Burroughs vetoed a trade that would have returned him to the Rangers. (The December 6 deal went through without him.) Burroughs' decision was a risky one: One day earlier the Braves had secured Chris Chambliss and were preparing to move first baseman Dale Murphy to the outfield. Anticipating the full-time role of prospect Eddie Miller in center, Cox and new general manager John Mullen publicly announced that Burroughs would be relegated to a reserve role. "It's like blackmail," Burroughs complained. "They're saying, 'If you don't okay this trade, we won't play you.' It's preposterous."15
Miller's dismal start to the 1980 campaign prompted Cox to move Murphy to center and reinsert Burroughs in left. A 9-for-15 surge beginning April 24 briefly hoisted his average above .400 and hinted at a return to past glory (though he did not connect for a homer until June 19). On June 6 he foiled another no-hit bid with a seventh-inning double off Los Angeles Dodgers lefty Jerry Reuss. In July, as the upstart Braves moved to within 7½ games of first place following a 9-2 run, Burroughs played a pivotal role.
But when he began slipping in August, Cox – citing a desire to add more speed to the lineup – was quick to bench Burroughs. He made just 20 pinch-hit appearances (including two game-winning homers) over the season's final 52 games. Forced to acknowledge that he was not part of Cox's plans for the future, Burroughs submitted a list of eight teams he would accept a move to. Though the Mariners were not listed, the embittered slugger eagerly consented to a move to Seattle simply to get out of Atlanta. Unable to resist some parting shots, Burroughs said, "It was as if [Cox] was trying to run me out of baseball. He's been demeaning me and embarrassing me for three years. … The front office treat[s players] like we're wanted criminals."16 The deal was held up for weeks pending resolution of a $400,000 loan Burroughs received from Braves owner Ted Turner.
In the strike-shortened 1981 season the right fielder once again received steady playing time and placed among the Mariners' leaders in most offensive categories. On August 14, 1981, Burroughs became the first player in the Mariners' short history to hit three homers in one game. He filed for free agency after the season but was one of many not selected in the re-entry draft (an early hint of owner collusion). Burroughs rejected offers from the Rangers and Mariners (the latter he deemed very insulting) and was eventually invited to Oakland's spring camp by Athletics manager Billy Martin.
Martin beamed after his former protégé signed with the club: "[Burroughs] comes to the park early, he runs, takes extra hitting. He works harder than anybody."17 Burroughs spent the next three years in Oakland. In 1982 he set an Athletics single-season record with 11 pinch-hits, and was on the verge of shattering the American League record for pinch-hit homers when he was moved into the starting lineup. A year later the entire team escaped a near-death experience when their charter plane nearly collided with a smaller plane in-flight. But the most memorable (and humorous) occurrence came on April 8, 1984, when Martin's replacement, Steve Boros, tapped the less-than-speedy Burroughs as a pinch-runner: "I loved the look on his face when I told him he was pinch-running," Boros laughed. "Shock."18
On December 22, 1984, Burroughs was sold to Toronto, where he was roundly welcomed by Blue Jays manager Bobby Cox. In his first spring training at-bat in a Toronto uniform Burroughs hit a two-run homer against future Hall of Famer Tom Seaver. Among a roster of veteran players Burroughs earned the bulk of the DH responsibilities in leading the 1985 Blue Jays to their first playoff venture. When veteran slugger Cliff Johnson was acquired in August and speculation arose that Burroughs might be released, Cox rose to his defense: "He's never had the chance to be in the playoffs or World Series, he's been with us all year, and I refuse to do that to him. If winning means doing such things to people like Jeff Burroughs, winning isn't worth it."19 In the ninth inning of Game Seven of the ALCS, Burroughs made his only postseason appearance: a pinch-hit groundout to the pitcher. It proved to be his last major-league appearance. When he retired, only infielder Toby Harrah survived as the last active player who had worn a Washington Senators uniform.
Burroughs once remarked, "I'm a pretty good ballplayer. Not a great player, but a good one. I swing a good bat, and I can drive in runs. I'm an average fielder with an average arm."20 In spite of this modest self-assessment, Burroughs concluded a robust 16-year major-league career with a .261-240-882 line in 5,536 at-bats. Along the way he earned two All-Star berths and was the runaway selection for the 1974 AL MVP award.
Burroughs married Rhode Island native Deborah Gorman in 1977. He returned to his Long Beach roots, where they raised a family. Burroughs was an avid reader and saltwater fisherman but had a particular passion for golf. Though he never took lessons, Burroughs was an extraordinary player. In winters throughout his career he played in some of the largest tournaments (example: the Bing Crosby National Pro-Am) alongside some of sports' biggest names: Willie Mays, Joe DiMaggio, Joe Namath, and Johnny Unitas.
But baseball never strayed far from the former slugger. In 1992 he led sons Scott Alan and Sean Patrick to the Little League World Series in Williamsport, Pennsylvania. Though they lost to the Philippines entry, it was later determined that the Far East team had violated age and residency rules. The Long Beach team was awarded the title World Champions. The next year the Burroughs trio helped Long Beach to a 3-2 win over a Panama entry to become the only repeat champions in Little League World Series history. In the mid-1990s Burroughs attained additional success as a manager in the independent Western Baseball League. The family stood proudly when second son Sean, drafted by the San Diego Padres in the first round of the 1998 amateur draft, was tabbed as "the franchise's best hitting prospect since [future Hall of Famer] Tony Gwynn."21
Despite this success Burroughs always remained grounded. A glimpse into his outlook on life was seen in quotes shortly after he won the American League Most Valuable Player Award: "The people who know me best, like my friends in Long Beach, aren't influenced by awards or anything like that. And those are the people I'm around the most away from baseball. Success does have a tendency to change some people, and usually for the worst. But it's not going to happen to me."22
This article was published in "The Team That Couldn't Hit: The 1972 Texas Rangers" (SABR, 2019), edited by Steve West and Bill Nowlin.
Sources
In addition to the sources cited in the Notes, the author also consulted Baseball-reference.com and Ancestry.com.
Notes
1 Frank Haraway, "A Teen-Age Swat Terror: Denver's Jeff Burroughs," The Sporting News, June 20, 1970: 37.
2 C.C. Johnson Spink, "Marshall, Hunter, Brock, Burroughs Saluted," The Sporting News, November 2, 1974: 3.
3 One source indicates a wedding before the move west, a possible scenario since the bride, of Norwegian ancestry, was a native of neighboring South Dakota.
4 Jack Lang, "'Quit Tampering' – Kuhn's Warning During Draft," The Sporting News, June 21, 1969: 5.
5 Varying reports reflect a low of $80,000, a high of $100,000.
6 Merrell Whittlesey, "Ted Warned Houk of Burroughs' Power Bat," The Sporting News, March 14, 1970: 26.
7 Short hoped to boost Washington's lagging attendance.
8 Randy Galloway, "Herzog Seeking 'Ballplayers, Not Boy Scouts,'" The Sporting News, December 23, 1972: 46.
9 The blast was the franchise's first grand slam in three years.
10 Merle Heryford, "Home Runs Just Come Naturally for Burroughs," The Sporting News, August 18, 1973: 20.
11 Randy Galloway, "Wind Shrivels Rangers' Homer Crop," The Sporting News, September 8, 1973: 4.
12 The six home runs are believed to be a Rangers spring-training record (tied by Pete Incaviglia in 1986). They included two grand slams against the New York Yankees.
13 "A.L. Flashes," The Sporting News, September 28, 1974: 31.
14 Randy Galloway, "Burroughs to Stop Thinking of Homers," The Sporting News, April 10, 1976: 30.
15 Ken Picking, "Burroughs Swings Brickbat at Braves," The Sporting News, February 23, 1980: 30.
16 Ken Picking, "'Treated Like Criminal,' Says Ex-Brave Burroughs," The Sporting News, January 3, 1981, 44.
17 Kit Stier, "Burroughs Repays A's by Staying Fit," The Sporting News, August 23, 1982: 29.
18 Stan Isle, "Boros' Move Raises Eyebrows," The Sporting News, April 23, 1984: 22; a year later Burroughs amused both teammates and fans by sliding into third base a couple of feet from the bag.
19 Peter Gammons, "Jays Have Injury Factor for 2nd Season," The Sporting News, October 7, 1985: 25.
20 Wayne Minshew, "Braves Placate Burroughs With No-Trade Pact," The Sporting News, January 29, 1977: 36.
21 Tom Krasovic, "San Diego: Prospects Analysis," The Sporting News, February 7, 2000: 42.
22 Randy Galloway, "Complacency No. 1 Enemy to Jeff the Ranger," The Sporting News, April 19, 1975: 11.
Born
March 7, 1951 at Long Beach, CA (USA)
If you can help us improve this player's biography, contact us.
https://sabr.org/sites/default/files/BurroughsJeff.jpeg
600
800
admin
/wp-content/uploads/2020/02/sabr_logo.png
admin
2012-01-04 20:03:41
2012-01-04 20:03:41
Jeff Burroughs