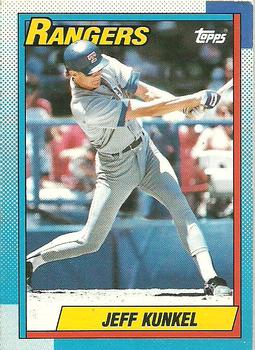 ---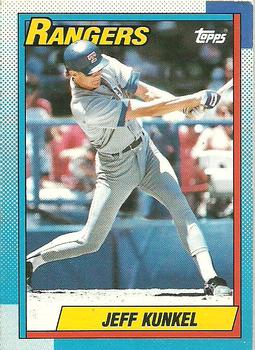 Jeff Kunkel appeared in 357 games over eight major-league seasons, persevering through the weight of lofty expectations, a plethora of injuries, and personal loss. He holds or held a number of interesting baseball distinctions: No resident of New Jersey has ever been selected higher in the amateur draft; no other person is known to have played in a professional game in which his father umpired; he was the highest draft pick whose father had played in the major leagues; he is one of a relatively small number of players to have to have appeared at eight positions in the major leagues; and he was the first position player to hit a home run and give up a home run in the same major-league game.
Jeffrey William "Jeff" Kunkel was born on March 25, 1961, in West Palm Beach, Florida, the spring-training home of the Kansas City Athletics.1 His father, Hoboken, New Jersey, native William "Bill" Kunkel, was a 25-year-old right-handed pitcher in the Athletics organization who was trying to make the big-league team. Kunkel's mother was the former Maxine Nordby, from Great Falls, Montana. The couple had met in 1959 while Bill Kunkel was pitching in the minors for the Great Falls Electrics of the Pioneer League, and they were married in 1960.2
The elder Kunkel did make the Athletics roster in 1961, but 1962 saw the relief pitcher splitting time between Kansas City and minor-league affiliates of the Milwaukee Braves. He spent 1963 with his hometown New York Yankees (including a trip to the World Series), and he followed that up with two years playing in the minor leagues for Milwaukee, the Detroit Tigers, and the Baltimore Orioles. During this time, the permanent home for the Kunkels was Hoboken, though some time was also spent in Paterson, New Jersey.3
A craving for stability mixed with the intuition that his playing days were nearing their natural end prompted Bill Kunkel to retire at the end of the 1965 season. In 1966 he shifted his career to professional officiating, both as a baseball umpire and a basketball referee. That same year the young family, which now included son Kevin and daughter Lisa, moved to the Leonardo section of Middletown, New Jersey, a suburban community on the northern Jersey Shore.4 Bill Kunkel's interest in fishing was what initially drew the family to the area. Maxine Kunkel began teaching science at Middletown Township High School, which later morphed into Middletown High School North. Young Jeff Kunkel enjoyed his neighborhood and friends, spending much time playing sports, fishing, exploring in the woods, and riding his bike.5
Bill Kunkel's officiating career quickly took him to the National Basketball Association and major-league baseball, and he soon became a well-regarded American League umpire. During breaks from school the younger Kunkel and his siblings would visit their father when he umpired in the area. They would also go on trips with him around the American League, exposing the impressionable Jeff Kunkel to the big-league lifestyle and its stars at a formative age.
Jeff's athletic prowess showed early. No surprise, given his roots; he noted that he "grew up with a bat and ball in his hand."6 He excelled in a number of sports but, like his father, it was in baseball that he found his calling. "I'd play [baseball] all day until I dropped," said Kunkel.7 The Kunkel brothers said they never felt pressure from their father to play baseball. "We stressed education," Bill Kunkel said. "Sports was a physical outlet, but education was the prime thing.''8
He went on to star for Middletown High School South, where the right-hander pitched and played shortstop for the Eagles. In his junior year, Kunkel badly broke his leg while trying to break up a double play. His leg was in a cast for four months and he was told that he might never play again.9 Despite losing one of their top players, the Eagles won their Shore Conference class and made it to the finals of their group in the New Jersey State Interscholastic Athletic Association.
Meanwhile, Kunkel worked hard to get past his injury by displaying what his family called the "Big W." "In my younger years, dad constantly helped me develop proper fundamentals. He kept telling me over and over you have to have the 'Big W.' That's the 'Big Want.' You have to have this along with heart and desire he kept preaching to all of us," said Kunkel.10
In Kunkel's senior year, 1980, the Middletown South Eagles were regarded as the strongest team in Monmouth County and they again won their conference, but lost in the state playoffs. At the plate Kunkel batted .353 with 16 extra-base hits. On the mound he had a 0.75 ERA, struck out 97 batters in 50 innings, and pitched three shutouts and two one-hitters. He achieved individual accolades as he was included in various lists of standout local players, including being named to the All-Shore Team,11 All-County Team,12 and All-Monmouth Team13 in addition to being the MVP of the Monmouth College Invitational Tournament (which the Eagles won).14 Kunkel's coach, Dennis Sasso, said, "Kunkel may be the best all-around player at the Shore. He's an excellent shortstop and on the mound he has a fastball, curve, and a straight change."15
While Kunkel had been looked at by major-league scouts, the consensus was that he was not yet ready for pro baseball. Rider College (now Rider University) in Lawrenceville, New Jersey, was Kunkel's next stop, where he received a scholarship to both pitch and play shortstop. Higher-regarded baseball schools like the University of Miami and Seton Hall University had expressed interest in Kunkel, but only for his pitching talent.16 Rider was not known as a top-level baseball school, but Kunkel saw it as a chance to play both positions and be close to home, believing that if he was good enough the scouts would find him. Despite an inauspicious start in which he made five errors on the first five balls hit to him in his debut game,17 he performed very well in his freshman year and was named to the All-State Team,18 all the while studying math, computer science, and chemistry. (He had at one point planned on becoming a pharmacist.)
On August 29, 1981, tragedy struck the close-knit Kunkel family when it was revealed that father Bill had developed colorectal cancer.19 The elder Kunkel had become one of the top umpires in the American League in the previous decade, as evidenced by his being assigned to two World Series and being promoted to crew chief. It was now his turn to show the "Big W" and defeat the "Big C." After two operations and numerous radiation treatments, he was able to return to the field for the 1982 season.
With Bill Kunkel's cancer seemingly taken care of, Jeff Kunkel was able to focus on his sophomore year of college. He continued his baseball evolution, garnering more interest from major-league scouts. He then played in the Alaskan summer league, where he continued to develop and learned how to live on the road. Sensing that his batting skills would be the most expeditious path to a pro career, Kunkel officially abandoned the mound by 1983, his junior year.20 By the year's end, Kunkel had filled out to 6-feet-2 and 180 pounds, and as a slick fielder with good speed and a lively bat, it was apparent that Jeff had developed a rare combination of tools that pro baseball scouts look for in a position player. Rider College's baseball coach, Sonny Pittaro (father of major leaguer Chris Pittaro), said, "I've never seen a player progress as much in three years as Jeff did."21 With nothing left to prove in his college career, Kunkel decided to enter the 1983 amateur draft.
"Depending on the position of where I'm drafted, I'll sign as long as the team is fair in its offer. I'll be fair, too. I don't have an agent, and I'm not thinking about money. I just want to play baseball and have the opportunity to sign a professional contract," said Kunkel.22
Earlier in the year his father's doctors had discovered another cancerous tumor that required a colostomy followed up by radiation treatments, and the younger Kunkel also used that as motivation. "A lot of scouts have asked me if I really wanted to play pro baseball, and I tell them that the one thing in my life that I want is to play baseball and follow in my father's footsteps. My dedication to do so is even more after my father's fight with cancer. It's an obsession with me to do well and follow him."23
When asked by a scout how he had improved his game so much in the previous couple of years, Kunkel responded with, "My father having cancer," which brought a tear to his father's eye.24
John Hagerman, a scout for the Baltimore Orioles who had followed Kunkel since his junior year in high school, noticed the change. "He wasn't ready as a senior in high school, but he's gotten better each year since. The biggest change has been in the past year. Now, he's a quality prospect; he has added incentive, and I have a gut feeling about him," said Hagerman, who had a long and distinguished scouting career in the New York City area.25 Brad Kohler of the Major League Baseball Scouting Bureau described Kunkel as a "definite major-league blue chip" who had a "generation bat." He graded Kunkel's overall potential at 61 out of a possible 80, a higher rating than he gave to future major-league mainstays like Mike Piazza, Tino Martinez, Sean Casey, Sid Bream, and others. He also noted that Kunkel had excellent dedication and "a love for baseball."26
Bill Kunkel returned to the field in late May, and on June 6, 1983, the Texas Rangers selected Jeff with the third overall pick in the draft, behind pitcher Tim Belcher and shortstop Kurt Stillwell. Being drafted third in the country is a high compliment for any player, but perhaps more for one who went undrafted after high school and did not play his college ball at a powerhouse school. Kunkel's draft selection set a record for the highest ever of anyone from New Jersey, which gives him pride to this day (Willie Banks's third selection in 1987 later tied him.) He also tied the record for the highest draft selection who had a father who played in the big leagues, linking him with Dick Schofield, who initially set the mark in 1981. (Ken Griffey Jr., selected number one overall, would set a new record in 1987.) Kunkel noted that the only American League city he had not yet visited was Texas.27
Jeff agreed to terms with Texas the following day, signing for about $100,000, which included a bonus, incentives, and funds for him to complete college.28 After some discussion, it was decided that he would be assigned to their Class A affiliate in Burlington, Iowa, instead of starting in Double A. "I wanted to get my feet wet and get used to the pitching," said Kunkel.29 Kunkel made his pro debut on June 12, 1983, and after just five weeks of good production, he was promoted to Double-A Tulsa, where he again put up solid numbers. He finished the year with a combined average of .286 and continued to show his extra-base power with 11 home runs and 21 doubles in 68 games. Citing the consistency of the pitchers and better-groomed fields, Kunkel declared, "Professional ball is easier than college ball in some ways."30 Having been around major-league baseball players from a young age likely helped Kunkel to quickly adjust to the pro game. "All my life, I've been around baseball, traveling throughout the country with my father, talking to … superstars," said Kunkel. "I think that's definitely an advantage for me."31
Texas Rangers officials were very excited with Kunkel's potential, and he was invited to the Rangers' major-league spring-training camp in 1984. The hype was so high, there was discussion whether the Rangers would be able to make room for Kunkel on the big-league team, and what they would do with their incumbent shortstop, Bucky Dent (who happened to be a fishing companion of the Kunkel family at the Jersey Shore). Earlier in the year, Kunkel had written, "My greatest thrill will occur this spring training when I'm at the plate and 'dear ole [sic] dad' is calling balls and strikes."32 Indeed, on March 10, 1984, a little bit of history was made. For the first time in major-league baseball, a father umpired and his son played in the same game (an exhibition against the Kansas City Royals). At Pompano Beach Municipal Park, Bill Kunkel made the calls at third base, Jeff Kunkel manned shortstop, and proud wife and mother Maxine Kunkel watched from the stands.33 The younger Kunkel even brought out the lineup card to his dad. Media outlets picked up on the feel-good story of spring training — the umpire who twice overcame cancer and his son, the can't-miss prospect. The duo was even scheduled to appear on ABC's Good Morning America, but the segment was canceled due to technical difficulties.
Kunkel had experienced a hip and back injury shortly before that special day when he shared the field with his father. After going 0-for-2 in that one game, he did not return to the lineup until mid-May, when he rejoined Double-A Tulsa. Quickly experiencing a back and a knee injury, Kunkel missed more time until mid-June, but didn't miss a beat upon his return. He was hitting .316 when, on July 23, 1984, Kunkel made the big leap from Double A to the big leagues. He made his major-league debut that same night, going 3-for-4 with a stolen base. The Rangers, who were nearly 20 games under .500, immediately named Kunkel their starting shortstop going forward.
However, the remainder of Kunkel's rookie campaign did not go as well, as he hit just .204 with little power and committed 17 errors in 50 games. For the first time in his baseball-playing life, he had experienced failure. The following spring, Kunkel observed: "I was thrown right into the fire. That was hard to do with my background. I had never had a downfall my entire life playing baseball. Every level I played I had excelled, except the big leagues. It got frustrating. I let that get to me."34 Kunkel realized that he needed to make adjustments at the plate as the pitchers learned his strengths and weaknesses, and felt that his injuries had inhibited him in the field.35 He also felt he did not have the support of manager Doug Rader, which caused him to lose confidence in himself.36 Kunkel said he felt he was called up too soon. "I felt additional years to develop would have been appropriate."37
The following year in spring training, Kunkel worked hard to better recognize the strike zone and to improve pitch selection. Nevertheless, he spent 1985 in Triple-A Oklahoma City, as the Rangers chose to break camp with a couple of veteran shortstops to play at the big-league level. Kunkel's troubles continued as he hit just .195 with 19 extra-base hits. Perhaps the cause of such a poor performance was that Kunkel was once again concerned about matters off the field, namely another cancer recurrence for his father. Bill Kunkel was admitted to the hospital in late February, and he announced his retirement from umpiring on March 9, 1985. "I try not to think about that when I come to the ballfield," said Jeff. "But I do think about my father an awful lot. … My mother's home alone. … I worry about how my mom is. I wish I could be strong for her."38
Bill Kunkel lost his final battle on May 4, 1985, at Riverview Hospital in Red Bank, New Jersey. He was only 48 years old. The Kunkel children took time off from baseball and college to convene at their Middletown home so they could mourn their loss and celebrate the life of their father. Prior to his father's death, Kunkel had been hitting .380, but then began to struggle once he returned to the field. Despite his struggles in Oklahoma City, Kunkel was called up in September, but after playing in only two games he injured his knee when he collided with a teammate in the field. After the season ended, Kunkel said, "[My father's death] was with me for the whole season. It takes a long time to get over it. I tried to handle the pressures of baseball, plus the loss of my dad, and both things take full effort."39
Just a month after father Bill's death, brother Kevin Kunkel, then a junior pitcher at Stanford University, was selected by the California Angels in the 27th round of the major-league draft. He opted not to sign so he could finish college, and was then chosen in the 18th round of the 1986 draft by the Oakland Athletics, his father's old team (though now based in a new city). Kevin's professional baseball career ended after a couple of seasons in the low minors.
Jeff Kunkel spent the offseason recovering from knee surgery, and had a bit of a bounce-back year in 1986 as he returned to Triple A and was healthy most of the year. Still, he hit only .244, though he showed some extra-base power and steadier fielding. He was called up again to Texas in September for a handful games.
In a bid to become a more attractive player, Jeff intended to add more versatility by playing additional positions in 1987. The Rangers manager, Bobby Valentine, was known for his versatility in his playing days and encouraged Kunkel during spring training.40 But an injury once again derailed him, as he separated his shoulder in a spring-training game while trying to make a catch in the outfield. Kunkel had been having a strong preseason and appeared to be the leading candidate for the starting second-base job with the Rangers. After his recovery, he spent some time in Triple A before being promoted to the Rangers in May. He played in 15 games with Texas, putting up weak numbers. At his own request for more playing time, he was sent back to Triple A in early June and remained there the rest of the season. Kunkel then missed more time in the summer when he had an appendectomy. He finished the minor-league season at .254 with 21 extra-base hits in 58 games. On December 12 he married Jill Herrington at the Kunkels' church in Middletown. The couple had met while Kunkel was playing in Oklahoma City.
In 1988 Kunkel, now 27, once again began the season in Triple A, where he struggled with the bat from the start. Even before the season started, Kunkel had begun to publicly acknowledge that he was running out of chances. "People have always set lofty goals for me. I've always set what I consider realistic goals," he said. "But until now I have been incapable of realizing either."41 Come June, he also had to contend with the knowledge that Texas had selected a shortstop out of Oklahoma State University, Monty Fariss, as the sixth overall pick in that year's draft. Texas general manager Tom Grieve, when asked if the organization was giving up on Kunkel, said, "On face value it appears like that. But on the other hand, you can't have enough good shortstops."42 Despite a .217 batting average, Kunkel was soon called up to Texas, where he served as a utility and platoon player for the rest of the season. He played in 55 games all over the field, but again struggled at the plate, hitting just .227 with little power.
In a blowout game on August 31, Kunkel was asked to pitch in mop-up duty in the ninth inning, becoming the first Rangers position player to pitch in a game. He retired all three batters and his fastball hit 94 miles per hour. Shortly thereafter, Kunkel persuaded the team to let him try his hand at pitching in the coming fall Instructional League. "I think with the ability I have and with the number of pitches I have, I can be a major-league pitcher. It's something I know I can do well. I can throw a baseball hard," said Kunkel.43 That October, Kunkel followed in the footsteps of his father and younger brother and reported to Florida to attempt a career as a professional pitcher. Kunkel pitched well, but there were no offers from teams in the winter leagues, so he decided to end his brief flirtation and stick with position play. The Kunkels' first child, Kelly Anne, was born in November.
In spring training of 1989, Kunkel shortened his swing and focused more on his outfield play, hoping to become a fourth outfielder with the big-league team. For the first time in his career, he made the Opening Day roster in Texas. Filling a utility role to begin, Kunkel eventually took over the starting shortstop position, hitting .270 with 31 extra-base hits. He started half of the Rangers' games, appearing mostly at shortstop, even though his fielding percentage there was ranked the lowest in the league. More importantly, he was healthy the entire year, and his confidence returned. At 28 years old, it appeared that the former can't-miss prospect could finally be on track to being a productive everyday player. He even made it into the record books when he homered in a game on May 20, and then gave up a homer when he pitched an inning of mop-up duty, becoming the first position player to achieve the curious feat (repeated by Pittsburgh's Keith Osik in 2000).44
Coming off his best season to date, Kunkel was given the starting shortstop position at the start of the 1990 season, but he got off to a bad start and was soon platooning. Kunkel never regained his form, and he hit just .170 and slugged .280 over the course of the season. On a happier note, in July, Kunkel and his wife welcomed a son, William, named after his father.
After his very poor performance in 1990, it appeared Kunkel would have an uphill battle to make the big-league team in 1991, even as a bench player. The Rangers would never have to make a decision, however, as Kunkel collided with a teammate during a spring-training game and tore a ligament in his knee. He missed the entire season. In December of 1991 the Rangers announced that they would not offer Kunkel a contract for the coming season, ending his eight-year affiliation with the team.
In 1992 Kunkel signed with the Milwaukee Brewers, who placed him at their Triple-A affiliate in Denver. He performed well, and was traded in July to the Chicago Cubs, who assigned him to their Triple-A team in Iowa. He was called up to the Cubs just a couple of days later and occupied a utility position for most of the summer. He was released on September 19. His game on September 14 was his final one in the major leagues. He replaced an injured Ryne Sandberg at second base and went 0-for-2, with an error. In his final major-league season, Kunkel appeared in 20 games and had a .138 average.
Not willing to yet give up, Kunkel once again displayed the "Big W" and signed with the Cincinnati Reds in November. Cut toward the end of spring training, he spent 1993 with Charlotte, the Triple-A affiliate of the Cleveland Indians. Kunkel left the team in September for the birth of his third child, Caroline. Though he put up decent numbers and showed off his trademark versatility, he was released after the season. The Detroit Tigers signed him for the 1994 season. He initially jockeyed for a bench position with the major-league team, but was instead sent to Triple-A Toledo. Kunkel had another decent season, but ultimately decided to end his baseball career at the age of 33, citing how much his body hurt and how much preparation it took to get on the field.45
After his playing career ended, Kunkel remained in the Dallas-Fort Worth area to raise his young family with wife Jill. Not having an interest in climbing the ladder of professional coaching, he began working in the accounting department of an oil and gas company. He later moved on to executive-level positions in the areas of lending and risk management. "I spent many long hours learning and doing anything for the companies where I worked. It was a tremendous challenge and well-rewarding," Kunkel said.46 He also gave credit to his mother's academic influence as being pivotal to his success post-baseball.
While no longer intimately involved with the game, Kunkel said he enjoyed following the New York Yankees and watching baseball's postseason. When not at work or spending time with his family, he enjoys traveling with friends, exercising on his road bike, and playing golf.
Last revised: February 4, 2020
Acknowledgments
The author thanks Jeff Kunkel for his time spent answering questions and corroborating facts. This biography was reviewed by Bill Nowlin and Len Levin and fact-checked by Chris Rainey.
Sources
Baseball-Reference.com was used most frequently for the cited statistics.
Notes
1 "Area Birth Announcements," Palm Beach Post, April 1, 1961: 7. Subsequent press coverage and biographical records, including those of Major League Baseball, list his birth date as a year later on March 25, 1962. A reason for this discrepancy was not discovered.
2 Great Falls Tribune, October 14, 1974: 11.
3 "Kunkels of Hoboken," Great Falls Tribune, February 1, 1962: 25. See also Henry C. Schwartz, "The Sports Cauldron," Paterson News, January 25, 1967: 43.
4 Lew Fishman, "Ex-Yank Hurls Way into Umpire Game," Daily Register, February 8, 1966: 14.
5 Jeff Kunkel, email interview, November 20, 2019.
6 Mike Lucas, "Ex-Big Leaguer's Son Shrugs Off Baseball Pressure," Capital Times, (Madison, Wisconsin), July 12, 1983: 17.
7 Peter Alfano, "An Umpire's Son Gets Ready for the Big Leagues," New York Times, May 23, 1983: C1.
8 Alfano.
9 Jonni Falk, "Leonardo's Kunkel One of Top Draftees," Red Bank (New Jersey) Daily Register, May 22, 1983: C5.
10 Falk, "Leonardo's Kunkel."
11 "Youth Dominates All-Shore Baseball Team," Asbury Park (New Jersey) Press, June 22, 1980: D5.
12 "Register Baker's Dozen: Cream Rises to the Top," Red Bank Daily Register, June 22, 1980: 29.
13 "Eagles Dominate on All-Monmouth," Asbury Park Press, June 20, 1980: D5.
14 "Middletown South Looking to Salvage Some of Season," Asbury Park Press, June 13, 1980: D6.
15 Tony Graham, "Middletown South Not 'Flaky' on Mound, at Plate," Asbury Park Press, April 27, 198: D6.
16 Alfano.
17 Falk, "Leonardo's Kunkel."
18 Toby Price, "Sports Notes," Asbury Park Press, June 4, 1981: C10.
19 Falk, "Kunkel Calls Cancer Out," Red Bank Daily Register, February 28, 1982: C2.
20 "Kunkel, Key Star at Rider," Red Bank Daily Register, April 3, 1983: C5.
21 Harvey Yavener, "Kunkel Goes Third in Draft," Trenton(New Jersey) Times, June 7, 1983: D1.
22 Falk, "Kunkel to Take His Chance in Draft," Red Bank Daily Register, April 24, 1983: C1.
23 Falk, "Kunkel to Take His Chance in Draft."
24 Tom Tomashek, "Kunkels Keeping the Faith," News Journal (Wilmington, Delaware), May 5, 1983: C2.
25 Falk, "Kunkel to Take His Chance in the Draft." See also Cormac Gordon, "John Hagerman Gone at 80: Among the Last of a Baseball Breed," Staten Island Live, silive.com/sports/advance/gordon/2017/06/baseball_scout_john_hagemann_a.html, June 20, 2017, accessed July 7, 2019.
26 Brad Kohler, "Jeff Kunkel Scouting Report," MLB Scouting Bureau, April 9, 1983.
27 Maury Allen, "Rangers Tab Jeff Kunkel as 3rd Pick," New York Post, June 7, 1983, via Kunkel's National Baseball Hall of Fame player file.
28 Tim Kurkjian, "Rangers Sign Kunkel, Pick Yastrzemski's Son," Dallas Morning News, June 9, 1983: 14B.
29 Lucas.
30 Falk, "Kunkel Hits Four Homers," Red Bank Daily Register, July 6, 1983: D2.
31 Dan Barreiro, "Jeff Kunkel," Odessa (Texas) American, January 24, 1984: 5C.
32 Jeff Kunkel, William J. Weiss Baseball Questionnaire, January 13, 1984, via Ancestry.com.
33 David Casstevens, "Bill and Jeff Kunkel See a Dream Come True in Florida," Dallas Morning News, March 11, 1984: B1.
34 Phil Rogers, "Kunkel Positive About Future," Asbury Park Press, March 7, 1985: E7.
35 Falk, "Middletown's Kunkel to Get 'Leg Up' with Rangers," Red Bank Daily Register, February 17, 1985: C3.
36 Jennifer Briggs-French, "Sidetracked: Kunkel's Promising Career Beset by Problems," Fort Worth Star-Telegram, June 27,1985: C8.
37 Jeff Kunkel, email interview.
38 Rogers, "Kunkel Positive About Future."
39 Falk, "Rangers' Kunkel Hopes to Profit from Difficulties," Red Bank Daily Register, January 12, 1986: B1.
40 Bill Handleman, "Kunkel Plays Field, Looks to Shorten Odds," Asbury Park Press, March 10, 1987: D1.
41 Barry Horn, "'Phenom' Label Curse to Kunkel," Fort Worth-Star Telegram, March 4, 1988: 1.
42 Mac Bentley, "Cowboys Get Majors' Call," Daily Oklahoman (Oklahoma City), June 2, 1988: 25.
43 Associated Press, "Kunkel Wants to Pitch," Burlington (Vermont) Free Press, September 9, 1988: 6.
44 Jayson Stark, "Keep the Homer Calls Coming," ESPN.com, May 30, 2000, accessed December 16, 2019.
45 Jeff Kunkel, email interview.
46 Jeff Kunkel, email interview.
Born
March 25, 1962 at West Palm Beach, FL (USA)
If you can help us improve this player's biography, contact us.
https://sabr.org/sites/default/files/KunkelJeff.jpg
600
800
admin
/wp-content/uploads/2020/02/sabr_logo.png
admin
2020-02-04 11:03:17
2020-04-09 14:37:27
Jeff Kunkel