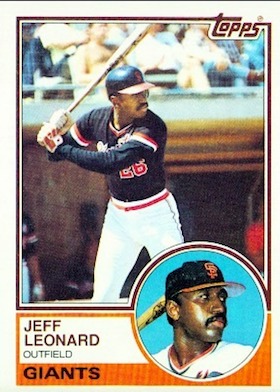 ---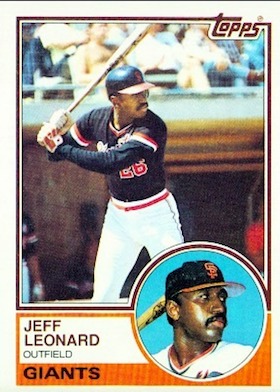 Five major league teams, four NLCS home runs, three 20-home-run seasons, two All-Star Game appearances, one Flap-Down = No. 00, Jeffrey Leonard.
In the scope of baseball history, Jeffrey Leonard's career was a brief candle, a poorly understood player whose home-run strut fretted the baseball universe in a brief but spectacular hour upon a national stage, and soon was heard from no more. Time ran out on outfielder Jeffrey Leonard in 1991, bringing an end to a 14-year major-league career in which his greatest moments came in the 1980s as a power-hitting left fielder for the San Francisco Giants. Leonard's marquee season came in 1987 when he was selected to the National League All-Star team and hit four home runs as the Giants lost the National League Championship Series to the St. Louis Cardinals.
Jeffrey Leonard was born in Philadelphia on September 22, 1955, the only son of Wilson and Johnnie Mae Leonard. His loving home provided refuge from the hardscrabble streets of Bellevue in West Philadelphia. As a youth Leonard was a loner, wandering the streets throwing rocks at passing cars and taking refuge in his bedroom to listen to music and dance the twist with sisters Beverly and Michele.1
Jeffrey escaped the inner-city trappings by keeping to himself and playing sports year-round. Wilson Leonard, a furniture-store manager who played black semipro ball in the 1940s and '50s, helped mold his son's major-league persona. As Jeffrey's baseball coach from early on, Wilson taught him to show an aggressive confidence. "Look mean and rough" were Wilson's directions to his young son as he sent him onto the field to compete with players several years older. Leonard would bear the "mean and rough" demeanor encouraged by his father for the rest of his baseball life.2
Jeffrey lettered in three sports at Overbrook High School in Philadelphia, the same school that produced basketball stars Wilt Chamberlain and Walt Hazzard. Leonard was a natural on the diamond – a standout hitter, fielder, and leader. However, newspapers paid little attention to the school's baseball squad, and there was little interest from major-league scouts in Overbrook's star power-hitting shortstop who twice hit two home runs in the same inning. Despite the lack of attention, Leonard worked out the swagger he would employ in the big leagues. The burly teenager affected his home-run trots with a street-cool strut, a nascent form of his "one-flap down" lean for which he later became recognized.
In his senior year, 1973, Leonard had dozens of scholarship offers from Division I football programs and several to play college basketball, though none for baseball. An ankle injury suffered early in his senior year at Overbrook ended his hopes of playing college football. With counsel from his father, Jeffrey focused on a career in baseball.
The hometown Phillies had made a verbal commitment to draft the young slugger, and sent a scout to see Overbrook play against city rival Southern High. On the mound for Southern was Leonard's future big-league teammate, George Riley. That day Riley all but closed the door on Leonard's hopes of getting drafted by the Phillies. Leonard struck out three times and the Phillies scout left underwhelmed.
Los Angeles Dodgers scout Ed Liberatore was also in the stands, handed Leonard his business card after the game. Leonard took the card but had his heart set on playing close to home at Veterans Stadium. Los Angeles was a world away. Leonard stuffed the card in the back pocket of his baseball pants and forgot about the offer.
The major-league draft came and went, leaving Leonard undrafted and dejected. He and his father, hoping there was some mistake, called local radio stations to ask if he had been picked. He hadn't.
Days later, father and son talked in earnest about his future as an athlete. Leonard remembered the business card from the Dodgers scout he'd stuffed in his baseball pants. The nearly missed opportunity was, ironically, partly Wilson's fault. Leaving his uniform unwashed was part of the "rough and mean" look coach Leonard had instilled in his son.
Leonard ran to Overbrook and found his baseball pants after searching through a pile of dirty laundry. Liberatore's business card was still in the pocket.
Wilson Leonard called the scout. Liberatore was scheduled for a long-distance scouting trip, but made time that night to see Jeffrey play in an American Legion game. A trio of Phillies scouts were also in attendance. The game was rained out after only one plate appearance by Leonard.
Liberatore wondered if the Phillies knew something he didn't. His instincts were to get a closer look. The next morning, on a sweltering inner-city June day, Liberatore returned to run young Leonard through a series of batting and fielding drills. "He was raw, but he had tools, a pretty good prospect,"' Liberatore recalled. "I took him over to my car and signed him."' On top of a $500 signing bonus as an amateur free agent, Liberatore gave the 6-foot-2, 190-pound 17-year-old a new glove and batting equipment with some cash to buy a new suit.3
The Dodgers sent Leonard to Bellingham (Washington) in the short-season Northwest League. He bounced around the lower levels of the Dodgers farm system until he blossomed in 1976 with Lodi in the Class A California League. The burgeoning prospect hit .330 with 85 RBIs and played a stellar outfield, enough to win him a call-up to Triple-A Albuquerque near the end of the season.
After a solid 1977 season with Double-A San Antonio (.314, 12 home runs, 70 RBIs) the 21-year-old Leonard was called up to the Dodgers for the final month of the campaign. He made his major-league debut on September 2, 1977, in the seventh inning of a 10-2 romp over Pittsburgh. Replacing left fielder Reggie Smith, Leonard reached base in his first at-bat with an infield single off the Pirates Terry Forster. In 11 games of late-inning outfield duty, Leonard was 3-for-10.
At Triple-A Albuquerque in 1978, Leonard was named the Pacific Coast League's Player of the Year after batting a league-leading .365 with 93 RBIs, 36 stolen bases, and a league-high 183 hits.
In 1978 Leonard was one prospect among a wealth of Dodgers minor-league talent. Anywhere else, the multi-tool prospect might have been given an opportunity to play. Los Angeles simply had more outfielders than it could use. Meanwhile, in need of shoring up their catching for another playoff run, the Dodgers on July 1 reacquired former LA backstop Joe Ferguson from the Houston Astros for a player to be named later.
The Dodgers finalized the deal on September 11 by sending Leonard to Houston. Three days after swapping squads, Leonard found himself back in Dodger Stadium facing the team that drafted him. He failed to connect off Lance Rautzhan in one plate appearance, but ended the year on a high note, batting .385 in eight games.
Leonard began the 1979 season as the Astros' starting center fielder. The unspectacular squad was not expected to contend, but a savvy veteran pitching staff combined with a youth-infused lineup nearly won the Astros the NL West Division. After finishing 21 games behind the division-winning Dodgers in 1978, the Astros finished 10 games ahead of Los Angeles and only 1½ games behind the first-place Cincinnati Reds. Leonard was integral to the team's success. The 23-year-old, in his official rookie season, led the team with a .290 average, and finished second in Rookie of the Year voting to the Dodgers' Rick Sutcliffe. The Sporting News named Leonard its NL Rookie Player of the Year, despite a complete lack of power from the purported all-around talent. Leonard failed to hit a single home run in 1979, and drove in only 47 runs while playing mostly right field.
The next spring Leonard quarreled with manager Bill Virdon, who wanted him to platoon as a fourth outfielder. Leonard stewed on the bench as Virdon sat him for much of season, and he played in only 88 games and batted.213. The Astros ended up winning the division. Leonard did not factor into their NLCS loss to the Philadelphia Phillies in five games. The reserve outfielder went hitless in three pinch-hit at-bats.
Leonard's frustrating behavior on and off the field in his early years earned him two less-than-flattering nicknames. Teammates had given the free-swinging outfielder the handle of HacMan for his habit of taking cuts rather than taking pitches. And his hefty build (200 pounds) and somber, lead-lidded stare underscored by a thick mustache inspired teammate Dave Bergman to dub Leonard Penitentiary Face. The monikers were accepted by the enigmatic slugger, as was a trade from Houston to San Francisco at the start of the 1981 season. A sour spring saw more friction with management, and the Astros quickly divested themselves of Leonard along with Bergman via an April 20 trade with the Giants for Mike Ivie.
The Giants sent the 25-year-old Leonard directly to Triple-A Phoenix for another turn in the minors. Leonard hacked over .400 late into the summer and was recalled to San Francisco in August. He batted over .300 in the last two months of the strike-shortened 1981 season.
Leonard played only 80 games in 1982 after injuring a wrist diving for a ball. The injury cost him half the season, and pushed his batting average down to .259.
Having secured a position as the Giants' regular left fielder, Leonard posted stellar seasons in 1983 and '84. In 1983 he hit 21 homers and had 87 RBIs while stealing a career-high 26 bases. He followed up in 1984 with a 21-home-run, 86-RBI season while reaching career highs in batting average (.302) and hits (155). On August 7, 1984, in a game against the team that had disposed of him three years earlier, Leonard went 5-for-5 with 3 RBIs as the Giants rolled Houston, 9-2.
Leonard was awarded the Giants' captaincy for the 1985 season. It proved to be a miserable all-around year for the Giants and their newly crowned field general. The centerpiece in a meager-hitting lineup, Leonard was hampered by wrist and rib injuries throughout the season. He managed 17 homers but dropped to 62 RBIs and batted only .241. For the third year in a row Leonard topped 100 strikeouts. His 1985 highlight came on June 27 when he hit for the cycle in a losing effort to the Cincinnati Reds.
Off the field the Giants' new captain delivered the wrong kind of offense. Leonard's habit of riling young teammates with verbal insults went too far with Giants rookie Dan Gladden, and the two locked horns in midseason in a clubhouse shoving match. The tumult was another low point for a rudderless team that lost 100 games and fired skipper Jim Davenport with a month left in the season.
Leonard arrived in spring training focused for the start of 1986. He announced to teammates and the press that he wanted to be referred to as Jeffrey Leonard instead of the uncaptain-like Jeff. He also requested that his Penitentiary Face nickname be upgraded to Correctional Facility Face4 but that didn't stick. Neither did his ability to stay on the field and galvanize the clubhouse.
Leonard's season was cut short on July 29 when he was placed on the disabled list needing surgery to repair tendon damage in his wrist. The injury ended his season, but Leonard remained a clubhouse presence and was revered by several promising young Giants. As usual, his good intentions were misinterpreted and fueled off-field controversy.
Second-year third baseman Chris Brown, suffering from injuries in the latter half of an All-Star season, was given the option by doctors to delay procedures on his shoulder until season's end. Captain Leonard advised the 24-year-old Brown to stay off the field pending results of medical tests. In a meeting with club officials, Brown requested an arthrogram procedure on his sore left shoulder that would end the season for the young 1986 All-Star.5
Brown's decision riled management and further exhausted a clubhouse burdened by injuries. Teammates blamed Leonard for persuading Brown to choose surgery despite a diagnosis that the non-career-threatening injury could be treated with rest.
Fatefully, Leonard also won the consternation of another team during the '86 season. A violent midsummer encounter with the St. Louis Cardinals set in motion a series of events that would later gain Leonard national celebrity – all inspired by hatred aimed at the San Francisco slugger.
On July 22 the Cardinals beat up on Giants starter Vida Blue, leading 10-2 when St. Louis speedster Vince Coleman decided to pad his prolific stolen-base totals. Reaching base on a fielder's choice, Coleman promptly stole second and third, then risked taking home plate on a wild pitch. He was thrown out, but San Francisco pitcher Juan Berenguer slammed the ball into the ground in reaction to Coleman's aggressive baserunning.
Benches emptied but there were no fisticuffs. As the sides made their way back to the dugouts, Coleman tipped his cap at Berenguer in a mocking gesture. The slight earned Coleman a pitch in the ribs his next time at bat, sparking a full melee. During the scrum, Leonard threw Cardinals pitching coach Mike Roarke to the turf, provoking a furious St. Louis manager Whitey Herzog to jump into the fight.6
The teams were eventually separated, but the seed of scorn had been planted and would ripen the following autumn. The prize was the National League pennant.
Leonard came into 1987 with another curious alteration to his image. In a uniform number countdown that began with 51 as a Dodger and fell incrementally from year to year (46 to 30 to 26 to 20), the Giant bottomed out with 00. How to read the enigmatic gesture? A clean slate? Or permanently ticked off? The season offered more of the same from Leonard – garbled messages and clubhouse confrontations – but it would all come together in San Francisco by season's end.
With Leonard back from his wrist injury, a spot in a dense crop of outfielders was not guaranteed for the team's highest paid player (earning $975,000). Manager Roger Craig settled on Leonard in left, Chili Davis in center, and Candy Maldonado in right. The San Francisco trio formed one of baseball's best outfields.
Leonard got off to a scorching start, reaching a high of .374 on May 27. Not even being attacked by a swarm of swallows at Wrigley Field in Chicago could flap this rising Giant. The first-half performance won Leonard his first All-Star Game appearance. He went hitless in two plate appearances.
After playing at the top of their division for two months, the Giants began to falter. Dropping a season-high 5½ games behind Cincinnati on July 4, general manager Al Rosen orchestrated a West Coast blockbuster of a trade that sent Chris Brown and two others to the Padres for slugger Kevin Mitchell and pitchers Dave Dravecky and Craig Lefferts. Rosen added experienced pitchers Rick Reuschel and Don Robinson in subsequent weeks, and the invigorated Giants took the division lead once more in August. They would not relinquish it.
The second half saw Leonard's average drop nearly 100 points. His frosty relations with some teammates continued. Leonard and first baseman Will Clark traded jabs four hours before a game on August 29. Witnesses saw Leonard approach Clark after he neglected to autograph balls for several fans, including Jeffrey's nephew.
Manager Craig kept the pair out of the lineup that night, but dismissed the scuffle. "I started it," joked the merry manager. "What the hell? I wanted to get us going, so I hooked them. Humm-Baby; nothing to it."
Leonard ended the season with a .280 average and had recovered his power stroke, hitting 19 home runs and a career-high 29 doubles. His final homer of the regular season, a pinch-hit job in a 5-4 win over the Padres, was the 100th of his career. In odd coincidence, teammate Chili Davis was sent in to pinch-hit an inning later and homered to reach the same milestone.
Two years earlier the troubled Giants had lost 100 games. Now, untroubled by Craig's laidback managerial style, San Francisco won the NL West with a 90-72 record and a berth in the National League Championship Series against old nemesis St. Louis Cardinals.
Leonard, already on bad terms with the Cardinals, was about to draw the wrath of the entire city of St. Louis.
Tensions flared before Game One when Leonard and the Giants learned the Cardinals had seated Giants family members in the far grandstands of Busch Stadium. Leonard recalled his teammates' reaction to finding out where they were seated: "We peeked out of the dugout and saw where they were sitting, and we all got angry," he said. "So I said to myself, if I hit a home run I'm just going to clown this fool out there." He would follow through on his promise.7
Leonard was not in the initial starting lineup for the series opener. Only when Cardinals manager Whitey Herzog entered the visitors' clubhouse to notify Roger Craig that St. Louis's starter for the game, right-hander Danny Cox, was scratched with a stiff neck did HacMan get the call. Lefty Greg Mathews was Cox's replacement, which prompted Craig to insert the right-handed-hitting Leonard in the lineup batting third.
In the fourth inning, with the score 1-1, Leonard drilled a solo homer to center field to give the Giants the lead. He chose the moment to display his "one flap down" home-run trot, rounding the bases with his left arm limp at his side. The southpaw sag came about offhandedly in a 1986 game after Leonard hit a home run off Chicago Cubs pitcher Scott Sanderson. Giants first-base coach Jose Morales was late in a high-five attempt, and Leonard shot out his hand to connect on the delayed dap. The slugger smoothed over the goofy moment with a cool round of Philly-street conceit, leaving his hand at his side as he completed the circuit. Thus, the "one-flap down" home run trot was born.
The showmanship burned the Cardinals and the Busch Stadium crowd. St. Louis rallied to win the game, 5-3, but Leonard had plenty of series left to strut his stuff.
Cardinals fans heckled Leonard with a chant of "Jeffff-rey! Jeffff-rey!" each time the slugger came to bat in Game Two and took his position in left field, even littering the field with trash and objects thrown in his direction.
Leonard and the Giants were unfazed. After Will Clark smacked a two-run homer, HacMan gave the Giants a 3-0 lead with a solo shot off John Tudor in the fourth inning. His second center-field bomb over the 414-foot marker saw him round the bases with the same stylized routine. Tudor pointed at Leonard as he rounded third, shouting, "Hurry up."8
Left-hander Dave Dravecky blanked the Cardinals the rest of the way in a 5-0, two-hit shutout to even the series. "I love the boos," Leonard said after the game. "I love it. Really, I do."
At home in Game Three, San Francisco took a 4-0 lead after three innings thanks to yet another Leonard home run. With first base occupied his next time up, veteran Bob Forsch drilled Leonard in the backside with a fastball. With the game seemingly safe for San Francisco, St. Louis rallied for six runs in the late innings to win, 6-5.
Leonard homered for the fourth straight game with a two-run shot off Danny Cox in the fifth inning of Game Four. This time there was noticeably less accent to his circling of the bases. The home run provided the decisive score in a 4-2 Giants victory.
Leonard didn't homer in Game Five – he went hitless – but the Giants' 6-3 victory had them one game away from the pennant. With the final two games slated in St. Louis, fans again targeted Leonard by tossing beer, batteries, frozen hot dogs, even money and cowbells at him in left field.
Down three games to two, the Cardinals shut out the Giants 1-0 and 6-0 in Games 6 and 7 to end San Francisco's World Series hopes. The Giants had failed to score in their final 22 innings. Leonard proclaimed shock at his team's offensive drop-off: "I couldn't believe that team would beat us, let alone shut us out two games in a row."9
For the Giants, Leonard was the story of the series and cashed in on a $50,000 contract clause, receiving the hollow series MVP honor in the losing cause. He batted .417 and tied playoff records for hits (10), total bases (22) and home runs (4), becoming the first player in baseball history to hit home runs in four straight playoff games.
In 1988 the flaps came off for Leonard in San Francisco. With his average hovering below .250 in May, the Giants sought to trade their embattled slugger. Craig routinely benched the 32-year-old Leonard in favor of 27-year-olds Mike Aldrete and Candy Maldonado.
On June 8 Leonard was traded to the Brewers for Ernest Riles. The departure to the American League ended a productive but tumultuous seven-year run in San Francisco. During his eight years with the Giants, Leonard hit .275 with 99 home runs and 435 RBIs.
Leonard played in 94 games for the Brewers the rest of 1988, batting .235. Granted free agency in November, Leonard was signed by the Seattle Mariners to a two-year, $1.75 million contract.
He resurrected his career in Seattle, bating .254 but reaching career highs with 24 home runs and 93 RBIs and earning his second All-Star Game appearance. A foot injury confined him to a designated-hitter role for much of his two seasons with the Mariners.
After batting .251 in 1990, Leonard was released by the Mariners. In 1991 he played in 68 games with the Kansas City Royals' Omaha Triple-A team. The 34-year old chose to retire after being released after the season. Leonard finished his major-league career with a .266 batting average, 144 home runs, 614 runs scored, and 723 RBIs.
After his playing days, Leonard retired with his wife, Karen, to Rocklin, California, where his interests included dancing and bowling. In 1997 he managed the Oakland A's Modesto farm team (California League) and in 1998 he managed Double-A Huntsville (Southern League). In 2000 Leonard managed Sonoma County in the independent Western League. He coached the Antelope Valley College baseball team from 2002 to 2005.10 In 2008 Leonard managed Reno of the independent Golden Baseball League.
Leonard and his wife got active in the fight against breast cancer. Leonard's stepdaughter Christine, a single mother of three, was diagnosed in 2009, prompting the former slugger to start a foundation called the One Flap Down Foundation that seeks to provide aid for single parents going through treatment.11
A reunion between Leonard, San Francisco and the major-league baseball world took place when the Giants made the playoffs in 2012. The team asked Leonard, at age 57, to throw out the first pitch for Game Six of the NLCS at AT&T Park. Appropriately, the Giants were matched against the St. Louis Cardinals.
Asked about the NLCS MVP trophy after the game, Leonard said, "Every time I look at that thing it's like, 'Argggh.' That feeling will never go away. That was an individual accolade. I was a team player. It's about winning."12
In 2013 Leonard was hired by the Giants as a community ambassador.
Last revised: June 15, 2016
Notes
Born
September 22, 1955 at Philadelphia, PA (USA)
If you can help us improve this player's biography, contact us.
http://sabr.org/sites/default/files/LeonardJeffrey.jpg
600
800
admin
/wp-content/uploads/2020/02/sabr_logo.png
admin
2016-06-15 12:31:58
2016-06-15 12:31:58
Jeffrey Leonard