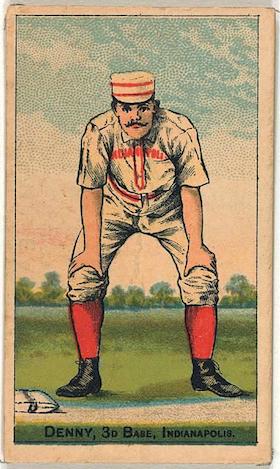 ---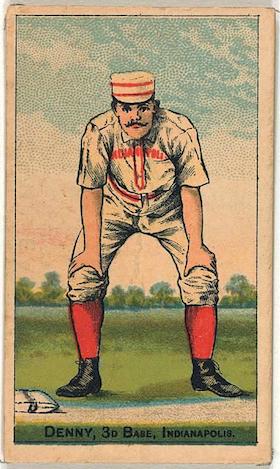 Baseball fans are notorious for their propensity to argue long hours about who was the "best" at a position or at bat or on the mound. Dozens of baseball books are published discussing the "best at" this or the "Top 10" of that. These discussions are hardly a modern phenomenon. As early as 1890, the Sporting Life had begun labeling Jerry Denny as "the king of the third basemen."1 "No third baseman ever has lived," said Sportswriter John B. Foster, "who could equal Jerry Denny in making plays at third base with one hand."2In the eyes of the baseball scribes and adoring fans he held that title into the next decade when Boston's Jimmy Collins became the new "best at" the hot corner.
Today's fan perusing Baseball-Reference online over a hundred years beyond his playing career would hardly find Denny worthy of much notice. He batted over .300 only once and finished with a lifetime .260 average. He led the league only once in any offensive category, and that was a dubious honor when he struck out 79 times in 1888. Modern fans would be aghast at error totals over 50 and fielding percentages in the .800s. However, Those same fans might be more forgiving if they knew that Denny was revered as the last man to field his position throughout his career without using a glove.
Jeremiah Dennis Eldridge was born in New York City on March 16, 1859, to Irish immigrants who moved the family to the Bay area of California in 1861. Shortly after the relocation, Eldridge's parents died leaving him and his sister Mary to be raised in orphanages.3 In 1877, Jeremiah, now a solid 5-foot, 11 inches and 180 pounds, enrolled at St. Mary's College, then located in San Francisco, California (today in Moraga, California). And he played baseball—well enough so that the following year he was approached to play for the Alphas from San Francisco. Jeremiah agreed, but as an athlete in college, he did not want to damage his amateur status. So he played for the Alphas under the pseudonym "Jerry Denny."4
It is unclear if he ever changed his name legally to Denny, but after a lengthy baseball career any reference to Eldridge was lost. In census reports and legal matters he was "Jeremiah Denny." Making the leap from college to professional sports was far from the norm in the 1880s. At a time when the American Association was known as the "Beer and Whiskey" league, the prevailing thought on campus deemed playing baseball not fit for collegians, but rather the coarser elements of society.
A personable fellow, highly confidant, and perhaps a bit headstrong, Denny played outfield with the Alphas for a couple of seasons, and then decided he wanted to be an infielder. He got his wish to play third base for the San Francisco Athletics in 1880. The following year he was signed by the Providence Grays in the National League on the recommendation of pitcher Bobby Mathews, thus becoming the first in a long line of St. Mary's athletes to play professionally. Dozens of St. Mary's alums have reached the majors including Hall of Famer Harry Hooper. Other notables include: Duffy Lewis, Lew Fonseca, Tom Candiotti, and Mark Teahen.5
Denny debuted with the Grays at home on May 2, 1881. Pitcher Jim Whitney proved too much for Providence in Boston's 4-2 victory. To his credit, Denny drove in a run with a single in the fifth. He earned kudos from the sportswriters for his fine fielding, handling 10 chances without an error. It quickly became obvious that he was a superb fielder with the ability to field with either hand and with much greater range than others at his position. More impressively, he reputably could throw equally well with either hand. But though he possessed a strong throwing arm, he lacked accuracy. Indeed, his biggest negative throughout his career was a wild throwing arm that allowed runners to advance.
The Grays finished second in 1881, nine games behind Chicago. Denny led the league's third sackers in chances (387) but also errors (62). And he had the second highest range factor at 3.82 chances per game. His fielding statistics were indicative of what the fans would see from him through 1890. He led all third basemen in chances four times. He led in errors again in 1882, but as he matured, his throws improved and he never led the league again. His range, as depicted by range factor, was without peer. In 1883 he finished second (3.73 chances per game) by a hundredth of a point. From 1885-88 he led the league each season in chances per game. He was dethroned in 1889 by Tom Burns of Chicago again by a mere one hundredth of a point. By comparison, in modern times Brooks Robinson earned 16 consecutive Gold Glove Awards from 1960-75. However, in that span he only led the league in range factor on 3 occasions (1960, '67, '74).
Denny began his career batting in the lower third of the lineup. He hit .241 in 1881 and led the team in strikeouts. In 1882, he hit .246 and lashed 9 triples. The following season he improved to .275 and got 42 extra base hits in 98 games. A couple of teammates from earlier days in California—pitcher Charlie Sweeney and catcher Sandy Nava. —joined him on the team in 1883.The Grays were in the pennant race both those seasons but could not reach the top. Frank Bancroft replaced Manager Harry Wright in 1884. The only other significant personnel change going into the season was the addition of Paul Radford in the outfield to join Paul Hines and Cliff Carroll.
The 1884 Providence Grays and their pennant-winning season are the stuff of legends. They opened the season with a 13-game home stand. But after winning 11, they were only in second place behind the scorching hot Boston Red Stockings and New York Gothams. The three teams jockeyed for position through May and into June. A four-game losing streak by the Grays put them four games behind Boston in mid-June. But then 10-game win streak boosted them into the lead on June 26. For the next month the Grays and Sox battled for the lead.
Turmoil struck the Grays in July. Charles "Old Hoss" Radbourn developed a sore arm and refused to pitch. Radbourn, feeling under-appreciated by management, may have really been suffering from sore attitude. Charlie Sweeney filled in brilliantly, but once he was offered a large bonus to jump to the Union Association, he promptly took the money leaving Radbourn as the only experienced pitcher. In true Hollywood-script form, Radbourn took the mound on August 7 in New York and led the team to a 4-2 win. He proceeded to pitch, and win, 17 of the next 19. And the other two games were victories for the Grays behind rookie Ed Conley.
The fantastic streak would have ended on September 5 if not for some heroics from Denny. Down 4-2 versus Cleveland in the eighth inning, the Grays rallied. With one run in, Denny strode to the plate with a runner aboard. According to The Providence Star, Denny smashed a pitch that "sailed away like a hawk, rising and rising long after it passed the left field fence."6 The blast cemented a 5-4 victory and put the Grays up six games in the pennant race. the Grays slowly pulled away during the remaining five weeks of the season to win by 10½ games. Denny batted .248 and led the team with six homers.
The Grays issued a challenge to the American Association champions New York Metropolitans. The teams met for a postseason exhibition that was later referred to as a "World Series." Although star pitcher Tim Keefe and slugging first baseman Dave Orr led the Mets, the Grays made quick work of them in the series, outscoring them 21-3 in three games. Denny batted .444 and hit the only home run of the series.
Denny returned to the Bay area after the series with his family. He had married the former Margaret Spellman, and the couple welcomed a daughter, Annie, in 1882. Two years later their son Jeremiah was born in Rhode Island during the season. As in past winters, Denny split his time playing baseball and working for the Central Pacific Railroad Company.
The marriage of Denny and Maggie lasted a decade during which Denny's drinking became more problematic. While one scribe wondered how many times had taken the pledge, a Boston paper pronounced that players like Denny always took the pledge when signing, but then soon fell back into bad habits. Hardly a demure, refined woman, Maggie was arrested in 1888 she was arrested, tried, and convicted in a case of disturbing the peace. She died young on March 5, 1891, at their Oakland home while Denny was out of town.
Denny returned to the Grays in 1885. He reported in less-than-peak condition and speculation was he had frequented too many drinking establishments over the winter. Some were concerned he would have to miss the season opener, but he played in the team's opening win. But the Grays were unable to maintain the previous year's magic, and Denny suffered through an injury-plagued season. He voiced unhappiness with the team and his situation. In September, Bancroft observed that "Denny is probably anxious to leave Providence. . . . He is down stairs now trying to consume the stock of whiskey sours."7 He missed 27 games and batted a dismal .223 while leading the team in strikeouts and home runs. The Grays disbanded after the season, and Denny was reportedly headed to New York.
Rather than play in New York, Denny chose to sign with Gus Schmelz and the St. Louis National League entry, the Maroons. There he joined second baseman Fred Dunlap and shortstop Jack Glasscock to give the team a wide-ranging fielding trio. Denny and Dunlap, who finished the season in Detroit, led all regulars at their positions in chances per game. Glasscock, with over 300 chances to his credit, led all similar shortstops in assists and fielding percentage. At the plate, Denny batted .257 and banged out 9 home runs, 2 behind the league leaders. Glasscock hit over .300, but the rest of the Maroons did little to generate runs. The pitching staff led the league in walks, all of which led to a sixth-place finish and the end of the franchise.
Denny's drinking reached a crisis point in St. Louis, where he was fined $150 and suspended indefinitely by Manager Schmelz on July 6. The Post-Dispatch reported that "Denny indulged in the flowing bowl more than an ordinary extent" and then proceeded to start the next day with "one or two snifters to brace upon."8 Teammates Tom Dolan and Charlie Sweeney were suspended at the same time for the same reason. Denny was reinstated after just a few games, but Dolan was dropped, and Sweeney's antics effectively ended his career.
Denny and the other ex-Maroons were transferred to Indianapolis for the 1887 season. For the next 3 seasons, the Hoosiers were seldom in the pennant race, but Denny's bat came alive in Indiana. In 1887, he hit .324 with 57 extra-base hits in 122 games. That fall he served as manager while the team played exhibition games in the Northwest, which prompted one writer to remark, "There is nothing that Denny can't do."9 The team improved from 37 to 50 wins in 1888 with Denny hitting .261 and tied for third in the league in home runs with 12.
Frank Bancroft was brought in as manager in 1889, but the team got off to a 25-42 mark under his guidance. Glasscock replaced him and rallied the team to a 34-33 record in the second half. Denny slammed 18 homers, two behind Philadelphia's Sam Thompson, while batting .288 and fielding anything he could reach. Alas, the franchise folded and Denny, Glasscock, and others were sent to New York for the 1890 season.
The1890 season proved a miserable one for Denny. His fielding suffered from a lack of conditioning, and his perennial throwing problem got worse. At the plate he hit a mere .213 with very little power, a demise the press quickly noted. The Sporting Life simply labeled him "the greatest disappointment of the season."10
Denny had a way of attracting attention. On the field he did it with talent, off the field he was a "swell dresser" who tried to gain the attention of the fairer sex.11 He also was quotable, quick with comments for the press. He is credited, for example, with inventing the term "yanigan" for a rookie player. And sometimes he would provide some mild humor, like suggesting that since schools taught German they should also teach Irish. Other times his words and opinions created hard feelings. Such was the case in 1890 when the Player's League was formed.
Denny did not care for the Players' Brotherhood and their efforts at forming a new league, and made no secret of it. He continued his criticism over the winter. As the 1891 season began he was still wondering openly what the players had proved. And once his performance on the field plummeted, his popularity in the stands and the dugout hit an all-time low. He started the year with the Giants, but played in only 4 games before being released on June 5. He joined Cleveland as a replacement for the injured Patsy Tebeau and was released in late August. He was added to the Philadelphia roster to play both third and first. For the season he batted .247 in 59 games.
In January the wire services reported Denny wintering in Indianapolis. His wife died in March while, rumor had it, he was in the East negotiating for a roster spot. That his marriage was on the rocks seems likely, but this is not confirmed by any hard evidence. It is clear that Denny took a sobriety pledge following her death. After much wrangling and efforts to play again in the National League, Denny chose to play for the San Jose Dukes of the California League and George Stallings in 1892. He appeared in all 173 games for his team and batted .263.
Stallings' leadership so pleased him that he went with him to Augusta in the Southern Association for the 1893 season. The elder statesman on the Electricians, he hit .279 with 10 homers. But partway through the season the league disbanded, and Denny returned to the National League with the Louisville Colonels. That year (or possibly in late 1892) he married Catherine Ahearn and the couple settled in the Hartford, Connecticut, area.
Denny returned to the Colonels in 1894 and played 60 games with the last-place team. He batted .276. Following the season he returned to Connecticut and took over a men's furnishing store. He and his new spouse Catherine would eventually have five children, all boys. Apparently the once-serious drinking issues seem to have faded away, whether due to Catherine's influence, a rumored pledge after Maggie's death, or some other reason is unknown.
Denny became quite a businessman. His gentlemen's stores prospered, and then he went into the hotel business in Derby and Bridgeport, Connecticut. Lured back into baseball, he played in the Connecticut State League from 1897-1902 and also served as manager for the Derby franchise from 1897-1901. After that he contented himself with family life, working at his hotel business and as a city inspector for Bridgeport, Connecticut. He also occasionally appeared at old-timers get-togethers.
During a visit to his daughter in Houston, Texas, during the summer of 1927, he was stricken with a heart attack. Denny died at the age of 68 on August 16, 1927. He was buried in Holy Cross Cemetery in Houston.12
Notes
Born
March 16, 1859 at New York, NY (USA)
Died
August 16, 1927 at Houston, TX (USA)
If you can help us improve this player's biography, contact us.
http://sabr.org/sites/default/files/DennyJerry.jpg
600
800
admin
/wp-content/uploads/2020/02/sabr_logo.png
admin
2016-12-15 18:35:22
2016-12-15 18:35:22
Jerry Denny