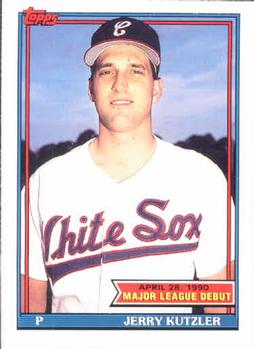 ---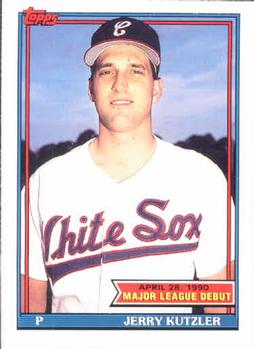 Jerry Kutzler played professional baseball for 11 years and pitched briefly with the Chicago White Sox in 1990.
Jerry Scott Kutzler was born on March 25, 1965, in Waukegan, Illinois, north of Chicago, the youngest of five boys and the eighth of ten children. His father, Jack, a painter, worked at the Great Lakes Naval Base while his mother, Marilyn, was employed as a unit secretary at Victory Hospital in Waukegan. As a youngster, Kutzler enjoyed playing sandlot baseball, collecting baseball cards, and getting player autographs. "The Chicago Cubs were my favorite team," he recalled. "I loved to watch the Cubs play on television. My dad took me to many games."1
Kutzler graduated in 1983 from Waukegan West High School, where he starred in baseball and played basketball. He helped his team win the 1983 state tournament, pitching the first game and earning Most Valuable Player honors. Kutzler attended Triton Community College from 1983 through 1985. Triton used the excellent-hitting Kutzler exclusively as a pitcher. He compiled a 5-2 win-loss record in 1985.
The University of Wisconsin offered him a pitching scholarship, but Kutzler wanted to attend a school where he could hit as well as pitch.2 Impressed that Kutzler "had the most incredible changeup I had ever seen," coach Mike Laird recruited him for William Penn College in Oskaloosa, Iowa.
The unassuming, very competitive Kutzler possessed a wonderful work ethic and excelled for William Penn in 1986 and 1987. "I knew I wanted to play professional baseball then, but did not know whether as a pitcher or as an outfielder," Kutzler explained. He set Statesmen single-season records for batting average (.421), home runs (12), doubles (18), hits (64), runs scored (59), RBIs (66), and slugging percentage (.767) as a left fielder, and for innings (83) and strikeouts (82) as a pitcher. He compiled 18 wins, 3 losses, 158 strikeouts, 27 walks, and a 2.48 ERA altogether, finishing 10-1 his junior year and 8-2 as a senior. Altogether, the Statesmen finished with 74 wins and just 13 losses. Kutzler batted .395 with 115 hits, 27 doubles, and 23 home runs and set a career record with 108 RBIs.3 His honors included being named Division III All-American as a pitcher in 1986 and as an outfielder in 1987, First Team All-Conference, Iowa Conference Most Valuable Player, and Team Most Valuable Player. Laird called Kutzler the "best overall player I have ever coached."4
William Penn defeated formidable Luther College in a 1987 doubleheader for the Iowa Conference crown, as Kutzler won both games and clouted two home runs. Laird credited Kutzler's performance with turning around the William Penn baseball program. According to Kutzler, "Laird recruited a lot of good junior college players and we melded together well."5 During the 1987 Midwest Regional Tournament in Oshkosh, Wisconsin, Kutzler blanked Augsburg College, fanning 12. He led William Penn to a second-place finish, clouting two home runs, producing game-winning RBIs, and being named to the All-Midwest Regional Team as both a pitcher and left fielder.
Kutzler earned a Bachelor's degree in Secondary Education-Physical Education from William Penn in 1997 and a Master of Education degree in Leadership from North Park University in 2000.
In June 1987, the Chicago White Sox selected the 6-foot 1-inch, 175-pound Kutzler, who batted left and threw right-handed, in the sixth round of the major league draft. Kutzler tried to model his pitching after Nolan Ryan. "Ryan," he explained, "had fine mechanics and did lots of weights and running."6 Although Kutzler relied mostly on a changeup, scouts also were impressed with his fastball. Marv Foley managed Kutzler for nearly all of his first five minor league seasons. In 1987, Kutzler split two decisions with a 4.95 ERA at Sarasota, Florida (rookie Gulf Coast League) and compiled a 5-2 record and 4.10 ERA with Peninsula in Hampton, Virginia (Class A Carolina League).
The following year, Kutzler won 11 straight games and fashioned a 16-7 win-loss mark with career-bests of four shutouts, 12 complete games, 100 strikeouts, 184 innings pitched, and a 2.79 ERA for the Tampa Tarpons (Class A Florida State League). He began 1989 with the Birmingham Barons (Class AA Southern League), winning 9 of 13 decisions with a 3.62 ERA, and fanning 85 batters in 99 1/3 innings. That May, the White Sox asked Kutzler to pitch in the Windy City Classic against the Chicago Cubs at Comiskey Park. Kutzler held Ryne Sandberg, Mark Grace, and Andre Dawson hitless. The White Sox promoted him to the Vancouver Canadians (Pacific Coast League), where he split ten decisions and amassed a 3.83 ERA.
Kutzler's major league ride commenced on April 23, 1990, when the White Sox summoned him from Vancouver to start the club's annual exhibition game against the Cubs at Wrigley Field. Before 37,135 fans at his favorite park, Kutzler earned the win, surrendering only one run on three hits in five innings in a 6-5 triumph.7 He was named the game's Most Valuable Player. Kutzler related, "It was a thrill to pitch in the park I had been to so much as a youngster. I really enjoyed looking out at the scoreboard."8
Kutzler officially joined the White Sox on April 27. "Jerry's deserving," manager Jeff Torborg said. "He's got the kind of poise that you need."9 Kutzler enjoyed performing under Torborg. "Torborg" he observed, "gets along with players well and has a wonderful personality."10 Kutzler debuted the next day in a 5-4 triumph over the Toronto Blue Jays, surrendering a home run to George Bell. Sammy Sosa's leadoff home run in the first inning catapulted Kutzler to his first victory. Kutzler, who struck out two and walked four, became the last pitcher in the old Comiskey Park history to win his first major league start.11
Kutzler's next start came on May 4 against the Kansas City Royals at Kaufman Stadium. Kutzler faced Bo Jackson and George Brett in Chicago's 5-4, 11-inning triumph. Five days later, he allowed three earned runs in four innings in a 4-3 loss to the Toronto Blue Jays at the Skydome.
Kutzler's "longest and best outing" came on May 16 against the Baltimore Orioles before 20,041, "the largest [Comiskey Park] crowd since Opening Day."12 Cal Ripken, Jr. plated a run with a first inning triple. Following Joe Orsulak's single, fifteen consecutive Orioles were retired before Steve Finley singled in the sixth. Kutzler, who recorded his second victory, allowed just three hits, struck out four, and walked one. Chicago recorded its fifth straight victory, 4-2, putting them nine games over the .500 mark for the first time since 1983. Bobby Thigpen, who set a major league record with 57 saves that season, recorded his second save for Kutzler.13
Kutzler's next start came against the New York Yankees on May 21. "It was a thrill to walk into Yankee Stadium with such a rich tradition," he reflected, "and to witness the monuments."14 Kutzler struck out six Yankees, surrendering four earned runs in four innings in the White Sox' 6-5 victory.
The Detroit Tigers pounded Kutzler for four runs on six hits in just 3.1 innings on May 26 at Tiger Stadium. Cecil Fielder homered in the second inning en route to becoming the first major leaguer to clout 50 in a season since 1977. "Fielder," Kutzler reflected, "was the toughest batter I had to face because he was so hot at the time."15 The White Sox ultimately prevailed, 10-4.
Kutzler lasted just four innings in his final major league start on May 31 against the Minnesota Twins, being tagged with his only loss, 3-2, at Comiskey Park. Kirby Puckett and Kent Hrbek plated runs in the first inning.
According to Soxnerd, Kutzler enjoyed "one of the most memorable 38-day careers in club annals."16 In seven starts, he compiled a 2-1 record and 6.03 ERA, allowed 23 runs and 38 hits, including two home runs, walked 14 batters, and struck out 21 in 31.1 innings.
The White Sox optioned Kutzler to Vancouver, where he was 5-7 with a 4.20 ERA. He struggled in 1991with Vancouver: 5-10 (5.06 ERA), surrendering a career-high 199 hits in 158 innings.
The Milwaukee Brewers invited Kutzler to spring training in 1992, but released him. In June 1992, the Cubs organization signed him. After appearing twice with the Iowa Cubs (Pacific Coast League), he was 4-0 (3.38) in six starts with the Winston-Salem Spirits (Carolina League). He finished 1992 with the Charlotte Knights (Southern League), recording a career-best 2.11 ERA.
Kutzler played winter league baseball in Venezuela from 1991 through 1993. When he pitched seven shutout innings against the Dominican Republic, manager Bill Russell persuaded the Los Angeles Dodgers to ink Kutzler for 1993 with the Albuquerque Dukes (Pacific Coast League), where he was 5-6 (5.58), mostly as a reliever. In 20 plate appearances, he batted a stellar .350 with two doubles, two home runs, and three RBIs. He finished the year 1-0 with a 1.59 ERA for the San Antonio Missions (Texas League).
The next two years were spent with the Omaha Royals (Pacific Coast League), the top Kansas City Royals farm club. Used mainly as a reliever, he finished 5-7 (3.77) in 1994 and 8-5 (4.02) in 1995. After hurling for the Oaxaca Guerreros (Mexican League) in 1996, Kutzler retired from professional baseball.
During nine minor league seasons, Kutzler was 70-56 (3.97) in 245 games. He struck out 589 and walked 305 in 1,109 innings, completing 28 of 140 starts, "I give it all I had," Kutzler reflected. "You only get out of life what you put into it."17He especially enjoyed "the camaraderie with other players."18
Kutzler, who was elected to the William Penn Sports Hall of Fame in 1993, served as an assistant baseball coach at Oskaloosa High School in 1996 and 1997. From 1997 to 2003 he taught physical education at Westfield School in Winthrop Harbor, Illinois, and coached boys' basketball at Zion Benton High School. For the next five years he taught and coached girls' basketball at Lincoln Middle School in Kenosha, Wisconsin. Since 2009, he has taught physical education at Lance Middle School in Kenosha.19
Kutzler married Penny Helmick, a William Penn College basketball and softball star, on October 7, 1989, at her Moravia, Iowa, hometown. She graduated with a Bachelor's degree in 1988, earned her Master's degree at the University of Iowa, and teaches special education in Kenosha. They have two sons, Kyle and Keith. Kyle pitched for William Penn University in 2014, while Keith pitched for St. Louis University in 2017 and 2018 and attends the University of Wisconsin-Whitewater.20
Last revised: January 23, 2019
Acknowledgments
This biography was reviewed by Norman Macht and fact-checked by Kevin Larkin.
Sources

Newspapers
"Jerry Kutzler on 40-man White Sox roster," Oskaloosa Herald, March 17, 1990.
Keep, R.D., "Kutzler keeps dream of the majors alive,' Oskaloosa Herald, January 26, 1995.
"Kutzler pitches way to Hall of Fame" Oskaloosa Herald, October 19, 1993.
"Martinez' home run boosts White Sox, 4-2," Des Moines Register, May 17, 1990
Solomon, Alan, "Kutzler, Martinez Keep Sox On A Roll," Chicago Tribune, May 17, 1990.
Solomon, Alan, "Sox Will Use Kutzler Against Jays," Chicago Tribune, April 27, 1990.
Online
Baseball-reference.com
"Jerry Kutzler Baseball Sox Career Kutz In Many Ways," January 15, 2016, https://soxnerd.word.
Interviews
David Porter, interviews with Jerry Kutzler, January 26, 1995, December 10, 2018.
Notes
1 David Porter interview with Jerry Kutzler, January 26, 1995.
2 "Kutzler pitches way to Hall of Fame" Oskaloosa Herald, October 19, 1993.
3 "Jerry Kutzler on 40-man White Sox roster," Oskaloosa Herald, March 17, 1990.
4 "Kutzler pitches way to Hall of Fame."
5 Ibid.
6 Kutzler interview, January 26, 1995.
7 "Jerry Kutzler Baseball Sox Career Kutz In Many Ways," January 15, 2016, https://soxnerd.word.
8Kutzler interview, January 26, 1995.
9 Alan Solomon, "Sox Will Use Kutzler Against Jays," Chicago Tribune, April 27, 1990.
10 Kutzler interview, January 26, 1995.
11 "Jerry Kutzler Baseball Sox Career Kutz In Many Ways."
12 Alan Solomon, "Kutzler, Martinez Keep Sox On A Roll," Chicago Tribune, May 17, 1990.
13 "Jerry Kutzler Baseball Sox Career Kutz In Many Ways."
14 "Sox Career."
15 Ibid.
16 "Jerry Kutzler Baseball Sox Career Kutz In Many Ways."
17 Kutzler interview, January 26, 1995.
18 David Porter interview with Jerry Kutzler, December 10, 2018.
19 Ibid.
20 Ibid.
Born
March 25, 1965 at Waukegan, IL (USA)
If you can help us improve this player's biography, contact us.
https://sabr.org/sites/default/files/KutzlerJerry.jpg
600
800
admin
/wp-content/uploads/2020/02/sabr_logo.png
admin
2019-01-23 13:21:51
2020-04-09 14:38:37
Jerry Kutzler