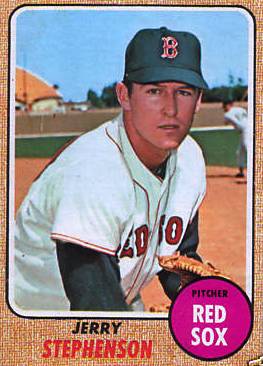 ---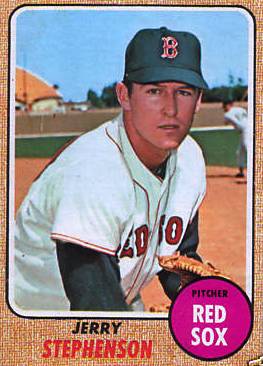 The careers of Jerry Stephenson and his father Joe embrace over 100 years of major-league experience. Jerry broke into the big leagues in 1963 and has been involved with the game ever since. Joe broke in with the New York Giants during World War II and scouted for the Red Sox from 1948 until nearly the end of the century. There may never be another who scouts 50 years for the same ballclub.
Joe Stephenson was born in Detroit on June 30, 1921. He was a multi-sport athlete in high school, but liked baseball best. Joe was a right-handed batter who appeared in nine games for the Giants in 1943, debuting late in the season on September 19. He was 6-for-24, driving in just one run. The following year, Joe was with the Cubs and had only eight at-bats, with just one single. In 1945, he played for the American Association's Milwaukee Brewers and with the Pacific Coast League's L.A. Angels in 1946. Joe and his wife liked the area, so they moved to southern California.
Joe spent part of 1947 with the Waterloo White Hawks of the Three-I League, and was able to return to major-league ball with Chicago's other team, the White Sox, accumulating five hits in 35 at-bats. The following year, 1948, he was still in the White Sox system and began with the Memphis Chickasaws of the Southern Association but was moved to Birmingham, a Boston Red Sox farm club. There, Joe broke his leg. He tried to come back in '49, but broke his leg again and that was it. The Red Sox liked him, though, and Joe turned to managing, serving as skipper of San Jose in the California League (another Red Sox farm team.) In 1951, he got in some playing time with San Jose, too, driving in 40 runs. In the early 1950's, he turned to managing full-time but soon wound up scouting for nearly a half-century. Among the players he signed were Rick Burleson, Dwight Evans, Bill Lee, and Fred Lynn — every one of them on the 1975 Red Sox team — and Mike Andrews, Ken Brett, and Tony Horton — all of whom joined his son Jerry in spring training for the 1967 Red Sox.
There were inevitably players he missed out on. Joe Stephenson signed Ken Brett to a contract at age 17. The Brett brothers recall Ken's father telling Joe, "The one you really want is the skinny, barefooted one, George." At the time Ken signed, in 1966, George Brett was only 13 years old. When George's time came around five years later, Joe wanted the Red Sox to take him as their first pick, but Red Sox upper management declined and Kansas City grabbed him in the second round. Jerry said his father often told of a time he was at Anaheim Stadium when George Brett first made the big leagues: "During batting practice, I guess my dad was sitting in the stands and George Brett spent the whole batting practice screaming at my dad that he signed the wrong Brett."1 According to Peter Gammons, Joe actually wanted to sign Ken Brett as a center fielder but the Red Sox were desperate for better pitching — and over the years, Ken racked up 83 wins while appearing in 349 ballgames. George did pretty well for himself, too.
Joe Stephenson was on the Red Sox scouting staff right into the year 2001; Joe died on September 20, 2001.
Joe's son Jerry was born on October 6, 1943, just 17 days after his father's first major-league ballgame. Jerry was also born in Detroit and grew to the same height as his father at 6-feet-2. He was right-handed like his father, but batted left. As one might expect, the fact that his dad played professionally influenced Jerry as well. The seeds were planted early on, Jerry recalls, "I've got pictures of me like six months old laying in a crib with a small bat and ball in my hand. That was at six months, so I started kind of early."
Jerry's mother was very supportive of his interest in baseball, and he grew up in Hermosa Beach until he was in the seventh grade, at which point the family moved to Anaheim. Jerry is the oldest of six children. The second-oldest was Tom Stephenson. He signed with the Red Sox as well, and played a couple of years of pro ball in the organization — as a pitcher like Jerry — but never got out of lower-level ball. He went into accounting and currently works in Reno as a CPA with one of the large gaming establishments there.
Little League had just starting in Hermosa Beach as Jerry was growing up and he played on what he thinks was the first Little League team they had. Of course, he played sandlot ball, too, just for fun, but he began one other experience soon after moving to Anaheim that he believes really made a difference. "My dad — for years — ran a Red Sox scouts team. A lot of clubs had the scouts run a team during the winter." It wasn't just a tryout over two or three days; this was a regular team. "Guys who had played pro ball, you know. This was before instructional league and all that. Pros and college guys, top high school guys played every Saturday and Sunday. There was like five or six major league clubs had scouts teams, so I used to go out and shag fly balls and all that stuff during the winter when I was just a little kid. That helped me, because I started playing — my dad would put me in for an inning or two — when I was like 13 years old, playing against guys that played pro ball. There was a lot of guys that had played in the minor leagues. I was like an eighth grader. He'd put me in, he'd start me off when I was like 13 and in Little League. I was a catcher first, and then a pitcher. He let me…I can remember pitching the last inning or something like that. I always thought that really helped me."
It was maybe unusual that Jerry throws right, but batted left. Asked about it, he admits to being predominantly left-handed as a batter, but also credits his father for encouraging him to stick with it: "When I was a little kid, my dad made me a left-handed hitter. There are a lot of advantages to being a left-handed hitter, like the hole between first and second when there's a runner on. There's always more right-handed pitchers. It used to be that the right-field fences used to be shorter than the left-field fences in the old ballparks. Plus you're a step or two closer to first base. But I was a left-handed hitter from the time I was a little tiny kid.
As one might expect, Jerry excelled in high-school baseball. He had a couple of advantages there, too. Not only did he play ball at Anaheim High School, but "Legion ball was very big. The Legion team in Anaheim was almost like a minor-league club. Anaheim had one of the few fields at that time that had lights. We used to play night games. Other teams would come in who had never played night games. We used to kill them. Legion ball was very good. We traveled all over. It was like a minor-league club. We used to play everybody, which was unusual at that time. I have old clippings where we used to draw eight or ten thousand people a game."
Joe Stephenson had a legitimate prospect for the Red Sox to consider, but the prospect was his own son. He was in a bit of a tough situation. It was near the end of Jerry's senior year at Anaheim High, about a month before graduation. Red Sox scouting director Neil Mahoney came to check out a workout on a local field in Anaheim, and he came accompanied by Ted Williams, who'd just retired the previous September. This was in the days before the major-league draft.
Mahoney and Williams were there to look over a number of prospects including Bob Bailey (who wound up with the highest bonus ever given at the time, signing with the Pirates), Andy Etchebarren (Orioles), and a kid named Roy Gleason who got about $100,000 from the Dodgers for signing. Joe ran the workout, and Jerry pitched batting practice to the various players. It would have been difficult for Joe to tout his son to the Red Sox, but quite a number of clubs had offered Jerry a fair amount of money and Joe had to say something. The Yankees and the White Sox offered the most.
Joe told Mahoney about the offers, and as Jerry tells it, "I guess Neil Mahoney went back and told Tom Yawkey. And Mr. Yawkey says, 'Well, it wouldn't look too good if the son of one of our scouts signs with the Yankees.' So the night I graduated from high school, I flew back to Boston and worked out back there for the manager, Pinky Higgins. I think Sal Maglie was the pitching coach. I worked out back there for a couple of days and I remember Neil Mahoney says, 'Well, if we give you the same money that the Yankees and the White Sox offered you, would you sign with the Red Sox?' Naturally, I said, 'Yes.' I ended up signing back there."
Jerry signed straight out of high school, on June 17, 1961, but he promised his mother and his father that he would get a college degree. That was part of the deal, in the family. "Of course, I wanted to sign so bad I would have told them anything," Jerry admits. He got his degree. It just took him a while. He went to Fullerton Junior College the first four winters he was in pro ball, and after Cal State Fullerton opened up, he enrolled there. It took him 14 winters, but he got his degree. "Guys used to ask my dad during the winter, after I'd been out playing seven or eight years, 'What's Jerry doing this winter?' He said, 'Well, he's still going back to school, going back to college.' They'd say, 'Well, gee, what's he going to be when he graduates?' He used to tell them, 'He's going to be about 33.' And he was accurate. I was 33 when I got my college degree."
Not only had Jerry signed just a couple of days after high school graduation, he was a young graduate, too. He only turned 18 that October. He played Connie Mack ball the summer of '61, and that winter played again in his father's scout camp. In the spring of 1962, he made his way to spring training in Ocala, Florida, and played Class-B ball under manager Eddie Popowski for Winston-Salem in the Carolina League. It was a good year. Jerry made the league all-star team, and posted a record of 11-5 with an ERA of 2.47. He struck out 152 men in 135 innings, while walking just 69.
There was a rule at the time for bonus players, under which the major-league team had to keep a "bonus baby" on the big-league club for up to two full years or lose rights. The 1962 modification of the rule permitted Jerry to be assigned to the minors that year. In 1963, Jerry went to spring training with the Boston team and made the team out of spring training, but he might have been better served with another full year or two of development in minor-league ball. The 1963 year, he says, was "downhill all the way." He got a start early on, in the fifth game of the season. It was Johnny Pesky's first year as manager for the Red Sox and Harry Dorish was his pitching coach. Jerry started the game at D. C. Stadium on April 14, but the first two batters singled and then Stephenson threw a wild pitch and walked the third batter. He worked his way out of the inning with just one run, but promptly got into trouble in the second inning as well with a walk and a single — before striking out the side. When the leadoff man tripled in the third, scored on a sacrifice fly, and then the next batter singled, Pesky had seen enough. Stephenson gave up five hits and two runs in 2 1/3 innings. It was Hal Kolstad who bore the defeat, though, in a 7-6 loss to the Senators. It was Jerry's only major-league appearance until 1965. He was with the team for a month, but was then sent down to Seattle to work under Mel Parnell. With the Rainiers, Stephenson was 2-11 with an ERA of 5.57. As he puts it, "I had a horrible year. I got sent down to Reading, from Seattle. I was working my way back down."
With Reading, things weren't a whole lot better. He was 2-9, though improved his ERA to 3.96. He improved his strikeouts to walks ratio, though, and the Red Sox were by no means ready to give up on the 19-year-old prospect.
In 1964, Stephenson was assigned to Seattle again. He pitched 92 innings, and pitching very well (6-4, 1.57) when he hurt his elbow. He hurt the elbow pitching from a poorly-prepared mound in San Diego. Worse, Stephenson says that he never really received proper pitching instruction. Seattle manager Parnell told him that the Red Sox brass said to "just let you throw." Jerry needed more than that: "I suppose there is something to helping yourself, but I needed a lot of help, and I never did get it."2
In 1965, he made the big-league team and stuck with the team for the full year, but recalls, "I was like the last pitcher on the staff. I hung around all year." The polite way to put it might be that he was used sparingly; he spent a lot of time on the bench. It wasn't an inspirational season, just 52 innings and a record of 1-5 with a 6.23 ERA. He already had a bit of a reputation; Peter Golenbock says "he was wild, on and off the field. His nickname was 'Teens' because he loved Teen magazine. He loved the Beatles and wore turtleneck shirts. Once he peroxided his hair. It ended up with a green tint."3 Today, Stephenson rebuts the hair story. "Oh, that's a story. That's not true. I was a little goofy, though. That was one of the stories that was made up. I was nuts. I was like 20, going on about like 10. I was just too young. I was that age pitching in the big leagues or in Triple A."
In 1966, Jerry opened the season with the Red Sox, got himself 11 starts, then came into four games out of the bullpen. He was 2-5 (5.83 ERA.) Sent down to Boston's Toronto Triple-A club in '66, he failed to report and the papers ran stories that he was missing. Maybe he did do a little soul-searching: "I was supposed to drive from Boston to Toronto, but I detoured to southern California." Within a fairly short time, he turned up to play for Toronto but developed a pilonidal cyst and had to have it operated on. That was the end of his '66 season.
Jerry didn't really impress Dick Williams in spring training 1967. In a March 15 start, he walked the first three Yankees he faced, then gave up a couple of hits, and followed that with another walk. He started off 1967 playing for Eddie Kasko in Toronto, though not without a parting shot at Williams when he was sent down in early April. He called Williams "flaky" and added, "He thinks he's a drill instructor. It's going to be a long season."4 Jerry pitched well in Toronto, winning eight games with a 2.91 ERA and with four shutouts to his credit. He was called up to Boston in mid-August and pitched well down the stretch, with a 3.86 ERA in 39 2/3 innings of work. Stephenson, touted by the Boston Globe's Clif Keane, as "the kid with the golden arm," had a couple of scoreless relief appearances and then got his first start against the Senators at Fenway Park on August 22. He threw 7 2/3 innings, giving up six hits and just one run, and the Red Sox won the 2-1 ballgame. On August 26, at Comiskey Park, Jerry faced off against Joel Horlen and admitted, "I was nervous, but Dick told me to throw as hard as I could for as long as I could. 'We don't want a complete game,' Jerry,' he told me. 'We want you to go out there and do the best you can for as long as you can. Don't pace yourself." Stephenson threw five innings of no-hit ball before tiring in the sixth, when he allowed a couple of runs on three hits, and the Red Sox took over first place, beating Chicago, 6-2. In a year where every game counted, Stephenson started six games from August 22 on, winning three and losing just one.
His experience in the World Series was disappointing. He threw two innings, the third and fourth innings of Game Four, giving up three doubles and two runs — though he'd entered a game which the Cardinals were already winning, 4-0, after Jose Santiago got hammered so badly he never closed out the first inning.
Despite the "drill instructor" comment, Jerry insists he really had no complaints about Dick Williams. "Dick was more than fair to me. He gave me a chance to pitch, and I didn't do the job for him. He just wanted you to do the job, and if you didn't do it, he'd let you know…Dick didn't go out of his way to be nice to anyone. He wanted to win and wanted you to do the job…I never hated the guy. I have no complaints."5 Williams gave a number of young players a chance and collectively they came through.
1968? "I couldn't pitch. I had a terrible year. I don't know. I just couldn't do the job. By that time, I was an old man. Really! The Red Sox told me the next year that I was too old. I was 25. [laughs] I mean, I'd been around a long time, but I was all of 25. Now, at 25, you'd be considered a babe right out of the woods." Stephenson turned 25 that September. He had a 2-8 year (5.64 ERA.) And 1969 wasn't any better. The Red Sox released him just a week into the season, on April 17, but he signed on with the Seattle Pilots the very same day. Sal Maglie was the pitching coach, and he knew Jerry well. Jerry saw '69 as a "lost year…I basically sat around. They called me up to Seattle for a week, two weeks, and then they sent me back to Vancouver. Bob Lemon was the manager [at Vancouver.]" Jerry appeared in two games with Seattle — on June 29 and July 12, pitching 2 2/3 innings and giving up three earned runs — then went back to the PCL.
The Pilots lasted only the one year, becoming the Milwaukee Brewers. Before spring training 1970, Jerry was traded in a Triple-A deal from the Brewers/Pilots to the Los Angeles Dodgers organization. A fresh start with the Dodgers proved quite the tonic. Jerry played for Tommy Lasorda in Spokane in the Pacific Coast League and led the league in both ERA (2.82) and wins (with a record of 18-5.) Stephenson was tied for the league's win totals with Dennis Bennett, pitching for Hawaii. Stephenson's work earned him another trip to the big leagues, and he appeared in three September games for L.A., but had a 9.45 ERA, giving up seven earned runs in 6 2/3 innings of work. These were his last three games in major-league baseball.
In 1971, Stephenson played at Spokane again, for the full year. He was 9-13 with an ERA of 5.18, striking out 140 batters in 179 innings. The Dodgers moved their franchise from Spokane to Albuquerque and he had a better year there in 1972, with an ERA just of 4.14 and a 10-8 record. In 1973, he was made a coach with the Albuquerque Dukes but the team had so many injuries that he was pressed into duty and pitched some 57 innings. He won three and lost two, with an ERA of 3.95. In 1974, he was asked if he wanted to scout for the Dodgers, and he agreed, working under Al Campanis and Tommy Lasorda. "They picked the right time to tell me they didn't want to see me pitch anymore."
Jerry had done well at the plate. He hit for a better average than his father (.231 in 65 at-bats), though he never had an extra-base hit. ("If I'd had any power, I probably would have stayed a catcher.")
Stephenson worked as a scout with the Dodgers for more than 20 years, mostly as an advance scout, from 1974 to 1995. These were "the good years" — when the Dodgers were a winning organization. When the Dodgers let him go, he signed on with the Red Sox. "You always love the first organization you signed with," he says. "I always loved the Red Sox, so I inquired about coming back, and they hired me."
He works as a major-league scout, covering about 14 or 15 big-league clubs. "I basically have the National League West and the American League West; I have part of the National League Central, too. That's my coverage. Mostly on the West Coast. I go to Houston — I don't have the Cubs — Pittsburgh, I go to St. Louis. I go to Arizona a lot, I go to San Diego a lot. L.A."
The heavy reliance of the Red Sox on computers makes scouting different these days. "I advance scouted for the Dodgers for a long time. I couldn't advance scout anymore. It's gotten out of hand. It's very technical now. Computer-driven." Discerning talent, though, still relies on the human eye and Stephenson's talents remain valued by the Red Sox organization.
Jerry and his wife had two children. Their daughter Shannon was more into cheerleading than sports and graduated from Arizona State. Son Brian Stephenson was a pitcher, a second-round pick for the Chicago Cubs in 1994. He played five years, getting as high as Double A, but had to undergo two elbow operations in the five years. He got a degree from UCLA and as of 2010 was the west coast director of amateur scouting for the Dodgers.
Stephenson earned eight championship rings — three from the Red Sox: 1967, 2004, and 2007 — and five from the Dodgers. At the time of the 2006 interview, he said, "I hope the Red Sox win three more." With the 2007 championship, he had a ring for every digit but his thumbs. On March 1 each year, he started working spring training, covering the teams that train in Arizona.
In October 2009, Stephenson retired. He died of cancer on June 6, 2010 at his home in Fullerton.
An updated version of this biography was published in "The 1967 Impossible Dream Red Sox: Pandemonium On The Field" (SABR, 2017), edited by Bill Nowlin and Dan Desrochers.
Sources
In addition to the sources indicated in the notes, the author also consulted:
Coleman, Ken and Dan Valenti. The Impossible Dream Remembered (Lexington, Massachusetts: The Stephen Greene Press, 1987).
McSweeney, Bill. The Impossible Dream (New York: Coward-McCann, 1968).
Reynolds, Bill. Lost Summer (New York: Time Warner, 1992).
Notes
Born
October 6, 1943 at Detroit, MI (USA)
Died
June 6, 2010 at Fullerton, CA (USA)
If you can help us improve this player's biography, contact us.
http://bioproj.sabr.org/bp_ftp/images2/StephensonJerry.jpg
600
800
admin
/wp-content/uploads/2020/02/sabr_logo.png
admin
2012-01-04 20:25:39
2012-01-04 20:25:39
Jerry Stephenson