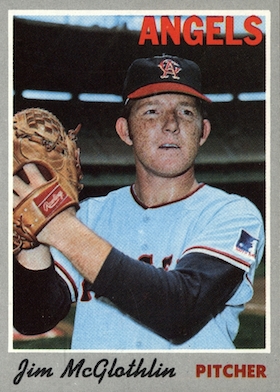 ---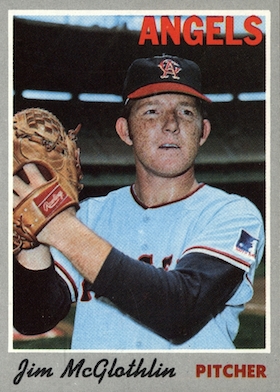 At age 17 he signed his first professional baseball contract. Several years later he helped the Cincinnati Reds win two National League pennants. For a while, Jim McGlothlin was one of the best pitchers in baseball. However, a series of injuries and a debilitating illness brought his career to a premature close. At the age of 32 he succumbed to a rare form of leukemia, a good man gone far too soon.
James Milton McGlothlin was born in Los Angeles, California, on October 6, 1943. He attended Reseda High School in a residential area of the San Fernando Valley about 20 miles northwest of downtown Los Angeles. When he was in his early teens his father died. He worked in a gas station at night to help support his mother. His afternoons were spent practicing baseball. In high school he was a star pitcher on the school's baseball team. During his senior year he developed a sore arm and a number of scouts that had followed his career lost interest. Burt Niehoff of the Los Angeles Angels held steadfast. After Jim graduated from high school in 1961, Niehoff signed the amateur free agent to an Angels contract for a small bonus.
In 1962, 18-year-old Jim McGlothlin started his professional career with the Quad City Angels of the Class D Midwest League. He had a stellar season, going 13-5 with a 2.79 ERA. On December 8 in Los Angeles, he married a young woman named Janice, whom he had met at Reseda High. Bride and groom were both 19 years old at the time. The union was blessed with three children, Kimberley Ann, Kelly Jo, and James Ray.
McGlothlin's performance at Quad Cities earned him a big promotion. Skipping several rungs on the minor-league ladder, he advanced to Nashville of the Class AA South Atlantic League and Hawaii of the Class AAA Pacific Coast League in 1963. Not posting a winning record with either club, he remained with the Islanders in 1964. In 1965 the Angels replaced Hawaii with Seattle as their PCL affiliate. McGlothlin pitched well there, and his 14-8 record and 2.55 ERA merited a September call-up. Bob Lemon, his manager in Seattle, said: "He's just a nice guy. He listens to what you say and then goes out and does it. . . . God gave him the arm, and it was only a matter of time before he used it correctly. He was never far away. All I had to do was put some experience under his belt. Now he's as good as any pitcher I've seen at a comparable age."1
The red-headed, freckle-faced youngster looked more like a batboy than a major-league pitcher. With his boyish looks it was said he could be mistaken for a schoolboy playing hooky.2 The right-hander stood 6-foot-1 and weighed 185 pounds when he made his major-league debut at the age of 21 on September 20, 1965. He started the game against the Baltimore Orioles at Dodger Stadium, the Angels home field at the time. McGlothlin retired the first batter he faced, Luis Aparicio, on a fly ball to right field and held the O's scoreless for five innings. In the top of the sixth, though, he allowed four consecutive hits and was removed from the game. The Angel relievers could not quell the uprising. Four runs scored, all charged to McGlothlin, who was tagged with the loss, as the Angels fell, 4-2. He made two more starts in 1965 and lost them both.
In 1966, McGlothlin split the season between Seattle and California. During the winter of 1966-67 he pitched in the Venezuelan Winter League. In 1967 McGlothlin returned to the majors to stay. That spring he ran up a string of 36 consecutive innings without giving up a run. And between May 22 and June 11 he pitched three consecutive shutouts. He didn't let the success go to his head. "I'm just a hillbilly," he said. "I like John Wayne and country music. Our tastes are simple. I don't make much money, and we live within our means."3 Sportswriter Ross Newmhan wrote that McGlothlin was like the boy next door – red hair, freckles, a mischievous gleam, and an unpretentious personality.4
McGlothlin had an outstanding season in 1966, going 12-8 with a 2.96 ERA. He tied for the American League lead with six shutouts. On July 11, he pitched for the AL in the All-Star Game at Anaheim Stadium, replacing Dean Chance in the fourth inning. He gave up a single to the first man he faced, Henry Aaron. A double play ball by Orlando Cepeda erased Hammerin' Hank, and McGlothlin struck out Dick Allen to end the frame. He set the side down in order on two infield grounders and a strikeout the next inning. Of the six men McGlothlin faced, four were future Hall of Famers. He was removed for a pinch-hitter, Mickey Mantle, in the sixth inning.
In 1968 and 1969 McGlothlin pitched reasonably well but had a losing record each year, pitching for mediocre California teams. Although he lost 16 games in 1969, he had a respectable 3.18 earned run average, considerably better than the league average of 3.63. Lack of run support from the Angels, who ranked last in the AL in runs scored accounted for many of his losses. He caught a huge break on November 25, 1969, when he was traded along with Pedro Borbon and Vern Geishert to the Cincinnati Reds for Alex Johnson and Chico Ruiz.
Angels manager Lefty Phillips told Reds manager Sparky Anderson that McGlothlin would win 15 games for him in 1970. "If he doesn't." the Cincinnati skipper replied, "I'll be very disappointed." The pitcher chimed in, "And I'll be very disappointed if I don't win more than 15."5
McGlothlin started the 1970 season like he could win far more than 15 games. On May 21, he pitched a two-hitter against the Houston Astros, his second consecutive shutout. Jim Owens, Houston's pitching coach was impressed: "He moved his pitches around, and that's what he has to do because he's not going to really overpower anyone. He has good breaking stuff."6 His string of scoreless innings stretched to 23 before it was broken, but he continued pitching terrific baseball. On June 20, he defeated the Los Angeles Dodgers, 5-4, bringing his record to 10-3. Halfway to 20 wins with the season not nearly half over, he seemed a cinch for the All-Star Game.
On June 24 McGlothlin started for the Reds in their last game at Crosley Field. With his team trailing, 4-3, he was lifted for a pinch-hitter in the bottom of the seventh inning. And when the Reds rallied to win their final game in the venerable ball park, 5-4, on 8th inning home runs by Johnny Bench and Lee May, righty Wayne Granger received credit for the win.
After the last game at Crosley, the Reds went on a short road trip at the end of which on the morning of June 29, McGlothlin sat on his bed in a Houston hotel room, sipping coffee, and talking to Bob Hertzel of the Cincinnati Enquirer. McGlothlin was scheduled to start in the first game at the new Riverfront Stadium and could hardly wait. "You know it is going to be exciting to be pitching out there where no one else has ever pitched before and with 51,000 people in the stands," he said. "I can just imagine how those 51,000 people are going to sound on the first strike. I'll bet they'll really let go. By the time I go out there to pitch, I'll be hyped."7 "Sitting there as he was, his many freckles the most prominent feature on his face," Hertzel wrote, "he looked like anything but a man of destiny. But James Milton McGlothlin, 26 years old and sitting not only on his bed but also on top of the world, certainly has become a man of destiny."8 Unfortunately, McGlothlin's destiny did not turn out to be what Hertzel expected.
On June 30, 51,050 excited fans packed Riverfront ready to cheer the pumped up McGlothlin, but he did not fare well. Hank Aaron hit a two-run homer in the first inning, and things did not get better. McGlothlin was knocked out of the box in the third inning after giving up six runs. He was charged with the loss as the Reds went down, 8-2.
On the Fourth of July McGlothlin came within one out of pitching a complete game shutout against the Houston Astros. With two outs in the ninth inning, the Astros loaded the bases on an error, a single, and a walk. Granger came in to get the next batter and preserve McGlothlin's 11th win of the season. In a game against San Diego on July 8 a line drive off the bat of Ramon Webster in the second inning hit McGlothlin on the right knee. The resulting injury forced him to miss the All-Star Game, despite his 11-4 record. He lost his fifth decision of the year in a start against Pittsburgh on July 28. On August 9, he was hospitalized after being struck near the right eye off the bat of Billy Grabarkewitz in a game at Los Angeles. He suffered a hairline fracture of the right temple, and 15 stitches were required to close the cut. A few days after stitches were removed on August 14, he resumed working out with the Reds. He pitched three innings in relief against the Montreal Expos on the 19th, giving up only one hit. After his Independence Day win, McGlothlin won no more games in July and none at all in August. During this span he appeared in nine games with four losses and five no-decisions.
In September McGlothlin regained his rhythm and won three games, giving him a career-high 14 victories for the season against 10 losses. Despite his woes he had helped Cincinnati win the NL West with 102 victories, the first time in their long and distinguished history that the team had topped the century mark in wins. The Reds faced the Pittsburgh Pirates in the NLCS in which McGlothlin did not pitch and the Reds swept the three-game series.
However, he did pitch in the World Series. He started Game Two against the Baltimore Orioles on October 11 at Riverfront Stadium. Don Buford touched him for a single to lead off the game, but McGlothlin induced Paul Blair to hit into a double play, and he allowed only one more hit in the first three innings, as the Reds jumped out to a 4-0 lead. In the fourth inning Boog Powell blasted a bases-empty home run to cut the margin to 4-1. With one out in the fifth, McGlothlin allowed three straight singles and was replaced on the mound by Milt Wilcox, who gave up two singles and a double as the O's took a 6-4 lead. The Reds lost the game, 6-5, and the World Series, four games to one.
The Reds expected to defend their NL crown in 1971. Their main concern was whether pitchers Wayne Simpson and Jim Merritt could recover from injuries that plagued them during the last part of 1970. However, other injury problems developed. After winning 102 games in 1970, the Reds could post only 79 wins in '71. Outfielder Bobby Tolan ruptured an Achilles tendon while playing basketball on January 7, and Opening Day found him on the disabled list, along with two other key position players, shortstop Dave Concepcion and first baseman Lee May. And although avoiding injury, outfielder Bernie Carbo fell victim to the sophomore jinx. His batting average fell nearly 100 points, from .310 to .219. And neither Simpson nor Merritt regained form, struggling to a combined 5-18 record.
McGlothlin gave his teammates a scare on May 21 when his elbow swelled and stiffened while he was warming up for a start in Philadelphia. Examination of his arm back in Cincinnati revealed a minor problem in his arm muscle. Back in action a few days later, he pitched two scoreless innings in relief at Pittsburgh on May 27. McGlothlin had a decent year in 1971, considering his team's plight. He went 8-12 with an ERA of 3.22. Near the end of the season Anderson said he was considering moving McGlothlin to the bullpen. "McGlothlin has proved he can be effective in both long and short relief," Sparky said. ""I believe his arm is 100 percent sound. I believe he has good stuff."9
On November 28, 1971, the Reds traded slugging first baseman and clubhouse leader, Lee May, popular second baseman Tommy Helms, and reserve outfielder Jimmy Stewart to the Houston Astros for Ed Armsbrister, Jack Billingham, Cesar Geronimo, Denis Menke, and Joe Morgan. The trade was met with skepticism and hostility by Cincinnati fans, who remembered the disastrous trading away of Frank Robinson a few years earlier.10 Little did they anticipate the roles the newcomers would play in the coming dominance of the Big Red Machine.
The prospect of pitching in long relief did not appeal to McGlothlin. During spring training 1972 he said he might ask to be traded rather than accept such an assignment. However, he remained with the team, starting 21 games and relieving in 10. He won nine and lost eight with a 3.91 ERA – not outstanding by any measure, but good enough to contribute to another Cincinnati pennant, the Reds second flag in three years. The Reds again faced the Pittsburgh Pirates in the NLCS. In Game Three at Riverfront on October 9, McGlothlin pitched a near-perfect ninth inning for the Reds, facing only three batters. (Rennie Stennett was safe on an error by shortstop but was thrown out trying to steal.) The Reds lost the game, 3-2, but won the Series, three games to two.
In the 1972 World Series the Reds met the Oakland Athletics. In Game Five at the Oakland-Alameda County Stadium on October 20, McGlothlin was the starting pitcher for Cincinnati. He set down the side in order in the first inning, but gave up a two-run homer to Gene Tenace in the second. When he walked Sal Bando leading off the fourth, Anderson brought in Pedro Borbon, who allowed Bando to score with the run being charged to McGlothlin. Later the Reds rallied to win the game, 5-4, but Oakland took the hard-fought Series, four games to three, their first of three consecutive world championships. During his first seasons with Cincinnati McGlotlin had an adequate fastball, good control, an excellent sinker, and a curve with a good snap to it. By 1973 he had lost some of his energy and drive on the mound. Used mainly in relief, with nine starts, he won only three games for the Reds in 1973. On August 29 he was traded to the Chicago White Sox for a player to be named later (Steve Kealey.) He made four relief appearances for the Sox and one start. The start came at Oakland-Alameda County Stadium on September 28 against the defending world champion Oakland Athletics. He got chased the bottom of the fifth after surrendering three hits, six walks, and three earned runs in four innings. And he took the 4-1 loss for the Sox.
Despite McGlothlin's spotty partial 1973 season, Pale Hose manager Chuck Tanner believed the acquisition of McGlothlin improved the club's chances for the 1974 pennant race. "We were thinking of next year as much as this year when we got (him)." Tanner said.11 He suggested that McClothlin would be used in long relief. As it turned out, the redhead never pitched in relief or any other capacity again. The September 28 game was his last major-league appearance. At the age of 29, his professional baseball career was over.
In October 1973, McGlothlin purchased a two-story home on 12 acres of farmland near Union in Boone County in Northern Kentucky, across the Ohio River from Cincinnati. "I got to thinking that I can't play ball all my life," he said. "I'm 30 years old now. How many years do I have left, maybe five more seasons? I have to think about my future and what I'll do after my playing days are over."12 Unfortunately, he didn't have five years left.
During that same offseason McGlothlin teamed up with his neighbor Larry Luebbers to start a country ham business. In February 1974, the Cincinnati Enquirer reported that McGlothlin hoped to sell up to 5,000 hams before the Thanksgiving and Christmas holidays. "Jim is looking forward to the baseball season but talks enthusiastically about the ham business which he operates in the offseason at his farm home on US 42."13
Luebbers re-created Crosley Field on his farm with remnants he obtained from the old ballpark before it was demolished in April 1972. Luebbers tried to make it as realistic to Crosley as possible. Jim and Janice and their kids attended a lot of Little League games there. Jim was also a part-owner of the Bull Pen, a bar and grill, across the road from the Crosley replica. Like the field, it was a popular spot for recreation and relaxation.
In mid-February 1975 McGlothlin was diagnosed with terminal stomach cancer. But surgery the next month at Cincinnati General Hospital revealed that the initial diagnosis had been incorrect. McGlothlin was reportedly stricken with an undisclosed illness, which left him 45 pounds lighter and critically ill. "I'm supposed to be six feet under," he said in May, "but I never considered dying."14 The illness was more serious than he admitted. It was eventually discovered to be a rare form of leukemia, unreceptive to treatment.
He had no medical insurance, so his neighbors and former Reds teammates pitched in to help cope with medical expenses. Neighbors operated the small farm and paid the interest of his mortgage. Johnny Bench organized a benefit show at the Beverly Hills Supper Club in adjacent Campbell County. Bench sang at the event, Cincinnati television personality Bob Braun performed, and the Guy Lombardo band played. Bench paid tribute to McGlothlin: "He pitched with total determination. His sinker and excellent curve ball made him a winner. Great personality every day. Great friend."15 Pete Rose established the Jim McGlothlin Speedy Recovery Fund. Rose said "McGlothlin was a gutty right-hander and a good teammate."16 The Cincinnati Reds contributed $1,000 from a fund that had been set up to honor former manager Fred Hutchinson, a cancer victim.
During the summer of 1975, McGlothlin was inundated by fan mail. He said that he read every letter and that the words helped him more than the fans could know.17 He wanted to live to spend Christmas with his wife and three young children, but he didn't quite make it. At the age of 32 James Milton McGlothlin died of leukemia at his Boone County home on December 23, 1975, two days before Christmas. He was buried at the IOOF Cemetery in Burlington, Boone County, on Christmas Eve.
McGlothlin loved baseball, but more the game he loved his family and life itself . Bob Hertzel wrote about the latter. "When he was alive, he lived it to the fullest. When he was sick, he fought to keep it, 11 tortuous months when he was told he would die quickly. He refused to accept that, and he fought back as long and as hard as he could."18
Last revised: December 22, 2021 (zp)
Sources
The principal source of data about McGlothlin's baseball career was baseball-reference.com. For family information been.verified.com. was useful. Other sources are identified in the notes.
Notes
Born
October 6, 1943 at Los Angeles, CA (USA)
Died
December 23, 1975 at Union, KY (USA)
If you can help us improve this player's biography, contact us.
http://sabr.org/sites/default/files/McGlothlinJim.jpg
600
800
admin
/wp-content/uploads/2020/02/sabr_logo.png
admin
2016-04-11 18:57:49
2021-12-22 13:25:47
Jim McGlothlin