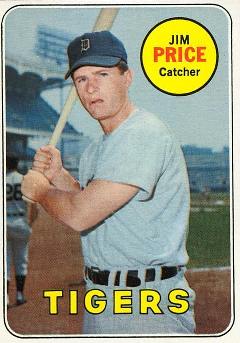 ---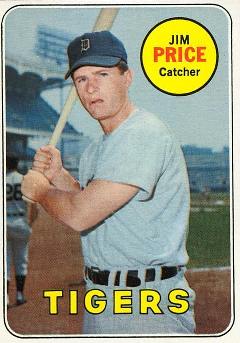 One of the most ignorant things ever said about baseball was the labeling of catcher's gear as "the tools of ignorance." The origins of that regrettably memorable phrase date back at least to the 1930s, though the etymology is disputed. Suffice it to say, however, that anyone who repeats that ignorant utterance must never have met Jim Price.
For more than two decades after Price last donned what he calls the "tools of intelligence," Price's fame rested on his membership in the exclusive 1968 Tigers club—whose members are veritable demigods in Michigan. Now, however, after 15 years in the Detroit broadcast booth, Price's reputation rests on the smooth way he has been able to meld his analysis with play-by-play partners Dan Dickerson, Ernie Harwell, and others.
One of the fascinating aspects to Price as a broadcaster is that he combines the knowledge of an old-school ballplayer without the undercurrent of bitterness or condescension that some old-timers display when commenting on the modern game. In an interview, Price related—in the same, matter-of-fact way—an anecdote about playing on a broken ankle in winter ball early in his career. "They taped it up and gave me pain pills. That's just the way it was in those days." The ankle never healed properly, and Price to this day displays a swollen ankle and a slight limp as a reminder of the physical toll of catching.
Born in Harrisburg, Pennsylvania, on October 13, 1941, Price was a standout athlete in three sports at nearby Hershey High School and is now a member of that school's hall of fame. According to Price, "It was a good place for an athlete to grow up, because it was football, football, football—and basketball. Baseball was very minor." On the gridiron, Price earned "Big 33" honors, the equivalent of all-state selection.
Price's boyhood idols were Smoky Burgess, plus Mickey Mantle and Yogi Berra. This was partly due to the fact that his Little League coach was a big Yankees fan, Price remembers, to the point of "having grass from Yankee Stadium in his wallet."
Like most high school football heroes, the youthful Price wanted to play college football and was heavily recruited. The Tigers' Ed Katalinas scouted Price, but Price told him he intended to play football, even though Price's father wanted him to play baseball. Ultimately, the son decided that he wanted to get married, so he signed a professional baseball contract in 1960 with Pittsburgh that included a small signing bonus. He signed as a shortstop and pitcher, as so many outstanding high school ballplayers start out.
Then known by his given name of Jimmie, Price began his career with Kingsport in the Appalachian League in 1960, playing third base and first base. He started catching in '61 with Grand Forks of the old Northern League, where he spent two years and started developing some power. In 1963, Price began catching full-time, earning Carolina League Player of the Year honors at Kinston while hitting .311 with 19 home runs and a league-leading 109 RBI.
At that point, however, the catching prospect's career stalled. Sent by Pittsburgh to Triple A, he spent three years with Columbus of the International League while awaiting his chance to break into the Pirates' lineup. After losing out to Jerry May in 1967 in the battle for the third catcher's slot at the end of spring training, Price told the Pirates that he wouldn't go back to Columbus again. Since the Tigers had been asking about Price for a couple of years, the Pirates promptly sold him to Detroit for a reported $50,000 on April 7. May quickly moved up to become the Pirates' regular catcher that season.
Price went north with his new club as the reserve catcher. "It was a double-edged sword," he recalls. "Great to be in the big leagues, but behind an All-Star." All-Star Bill Freehan's backup would be the sole role Price would fill for the next five years. During that time, the rugged Freehan spent only one month on the disabled list and started only 54 games at other positions (mostly first base). Thus, Price's big-league career was limited to only 261 games and 602 big-league at-bats, despite never being sent back to the minors and despite spending only 21 days on the disabled list in those five seasons. Part of his conditioning regimen was weightlifting, which was unusual among baseball players of his era.
Freehan, a three-time All-Star by age 24, was already the best catcher in the AL when Price came to Detroit. He was still the best in the league when Price retired. Though the Tigers' stalwart would never again reach the heights he achieved in 1967 and 1968 (when he was third and second, respectively, in AL MVP voting), Freehan remained an All-Star every year through 1972 and was the AL's starting catcher for seven straight midsummer classics from 1966 to 1972.
Because the Tigers carried only two catchers, manager Mayo Smith was reluctant to use Price, even as a pinch-hitter. (Price averaged less than 20 pinch-hit at-bats per season in Detroit.) During Price's tenure, all other Tigers catchers (besides Freehan and Price) appeared in fewer than eight games per season on average. "Mayo was the type of guy that just let us play.…He didn't mess things up; didn't overmanage," recalls Price. Despite the natural rivalry at the position, Price says that he has "great memories" of his playing days. He also became "best friends with Freehan" and had "great respect for him."
The new Tigers' catcher made his major league debut on April 11, 1967, as a pinch-hitter. His first game behind the mask was in the nightcap of a doubleheader at Kansas City on April 16, where he went 3-for-4 with a double and two RBI. Even with a career hitting line of .214 (batting average)/.287 (on-base percentage)/.341 (slugging percentage) in spot usage, Price experienced several individual highlights—aside from participating in the barn-burner AL pennant race in 1967 and in winning a world championship in 1968. Price hit a dramatic solo homer at Tiger Stadium in the bottom of the 10th inning on August 21, 1968, off knuckleballing White Sox reliever Wilbur Wood. However, in the '68 fall classic, Price saw only two at-bats as a pinch-hitter, even though Freehan was catching every inning while going only 2-for-24 (.083) in the Series.
Price posted an adjusted OPS of 95 in 1969, more than respectable for a little-used backstop. Offensively, Price's best power numbers were posted that year when he slammed nine home runs and eight doubles in only 192 at-bats. Despite a .234 batting average, One of those was a game-ending round-tripper on June 23, 1969, off the Yankees' Steve Hamilton at Tiger Stadium. Price hit the only grand slam of his career off Sonny Siebert on September 1, 1970, in Boston.
While not exactly a highlight, Price was behind the plate September 19, 1968, when Denny McLain grooved a batting practice–caliber fastball to Mickey Mantle, allowing the Yankees' legend to blast his 535th career homer to surpass Jimmie Foxx and become (then) the third-most prolific home run hitter in baseball history. Many accounts of that day—including, curiously, those in McLain's first two autobiographies—erroneously say that Freehan was the catcher.
Unlike many ballplayers who leave only when they are no longer wanted, Price retired voluntarily after 1971. "I was fed up making no money.…When you don't play every day, you lose your skills." Also unlike so many ballplayers, Price had a plan for his life after baseball. He had already started working at a small television station in Lebanon, Pennsylvania, in the off-season while still playing, doing interviews to hone his skills and increase his future employment prospects.
After retiring, Price remained in the Detroit area, taking a manufacturer's representative job like many other ex-Tigers. For two decades, the ex-catcher paid his dues and slowly climbed the ladder in sports television. He was one of the earliest ESPN analysts, covering College World Series games, softball, and other events for the fledgling network. As honorary chairman of Special Olympics, Price ended up on the other side of the microphone, being interviewed frequently. Eventually, he would also work for several TV stations in Detroit.
The big break in Price's broadcasting career came in 1992 when Mike Ilitch purchased the Tigers. Hired first to work in the club's community relations department, Price was asked the following year to do Tigers games on cable on Pro-Am Sports System (aka PASS Sports), paired with his old teammate Jim Northrup in the booth. The following year, legendary announcer Ernie Harwell was added to the PASS team. In 1996, Price worked over-the-air games with George Kell and Al Kaline on Detroit TV station WKBD while continuing with PASS. In '97, PASS' last year on the air, Harwell replaced the retired Kell and worked with Price on both the WKBD and cable telecasts.
The Tigers signed a 10-year deal with Fox Sports Network Detroit in 1998, leaving Price momentarily out in the cold. However, he was back in the booth in June when Lary Sorensen left as the analyst on WJR's radio broadcasts. It was Price's first venture into radio after decades of working for TV. In 1999, Harwell switched back to radio, teaming with Price. In 2000, the two veterans were joined by Dan Dickerson for WJR's final season as the Tigers' rights holder after 36 consecutive years as their flagship radio station. (WJR had also shared the Tigers' radio contract off and on prior to 1965.) The trio switched to WXYT in 2001, enjoying a yearlong outpouring of affection for Harwell after he announced he would retire at the end of the 2002 season.
Because Price's forte is breaking down the inside game, radio was a perfect fit as the medium allows broadcasters to speak at greater length. Catchers frequently make great analysts because they can speak about pitching like a pitcher but can also speak knowledgeably about hitting, whereas pitchers-turned-analysts sometimes can't turn things around when they get into the booth. Needling his former batterymates, Price jokingly says, "Pitchers aren't the brightest guys."
Dan Dickerson praises his partner, "Jim recognizes if a pitcher doesn't have his best stuff early in the game, and he'll say so. Or, if the pitcher makes an adjustment during the game, Jim recognizes it."
Since 2003, Dickerson and Price's reputations have grown along with the club's prowess on the field. Their first season without Harwell was a nightmare, as they endured calling 119 Detroit losses and more than a month of speculation at the end of the season about whether the toothless Tigers would tie or set the modern record for losses in a single season (120). Unexpectedly, Detroit finished with a flourish, winning five of its last six games.
With his long-term experience as a ballplayer and TV analyst, Price's tenure in the radio booth was important, as the franchise was reeling in the early years of the first decade of the new century. After Harwell and Kaline retired, the ex-catcher with the smooth, reassuring manner was the only direct link still on the air to the glory year of 1968. Jack Ebling, a Lansing sportswriter, talk radio host, and author of Tales from the Detroit Tigers Dugout, said that it took a long time for Detroit fans to get past the loss of Kell, Kaline, and Harwell. Ebling thinks Price "might have been a balm in some way, especially with the youth of their other three broadcasters."
Stuart Shea, vice chair of SABR's Business of Baseball Committee and a historian of baseball broadcasters, also compliments Price. "Not many former players are as good at analyzing the game as he is. He could probably even do play-by-play, because he's quite smooth. I'd compare him to [Tim] McCarver in that he has good behind-the-plate insight." McCarver, of course, is another ex-catcher.
Sources
Britten, Brian, ed. 2007 Detroit Tigers Information Guide. Detroit: Detroit Tigers. 2007.
Duxbury, John. Baseball Register. St. Louis: The Sporting News. 1968.
Duxbury, John. Baseball Register. St. Louis: The Sporting News. 1969.
Ebling, Jack. Tales from the Detroit Tigers Dugout. Champaign, Ill.: Sports Publishing. 2007.
Enders, Eric. 100 Years of the World Series: 1903–2003. New York: Barnes & Noble Publishing. 2004.
Gillette, Gary, and Pete Palmer. The ESPN Baseball Encyclopedia, 4th ed. New York: Sterling. 2007.
Kachline, Cliff. Baseball Dope Book. St. Louis: The Sporting News. 1966.
Kachline, Cliff, and Chris Roewe. Official Baseball Guide for 1966. St. Louis: The Sporting News. 1966.
Kachline, Cliff, and Chris Roewe. Official Baseball Guide for 1967. St. Louis: The Sporting News. 1967.
MacFarlane, Paul, Chris Roewe, and Larry Wigge. Official Baseball Guide for 1970. St. Louis: The Sporting News. 1970.
MacFarlane, Paul, Chris Roewe, Larry Wigge, and Larry Vickrey. Official Baseball Guide for 1971. St. Louis: The Sporting News. 1971.
MacFarlane, Paul, Chris Roewe, Larry Wigge, and Larry Vickrey. Official Baseball Guide for 1972. St. Louis: The Sporting News. 1972.
Marcin, Joe. Baseball Register. St. Louis: The Sporting News. 1970.
Marcin, Joe. Baseball Register. St. Louis: The Sporting News. 1971.
Roewe, Chris, and Oscar Kahan. Official Baseball Guide for 1968. St. Louis: The Sporting News. 1968.
Roewe, Chris, and Paul MacFarlane. Official Baseball Guide for 1969. St. Louis: The Sporting News. 1969.
Spink, J.G. Taylor, Paul A. Rickart, and Clifford Kachline. The Sporting News Baseball Guide and Record Book. St. Louis: The Sporting News. 1961.
Spink, J.G. Taylor, Paul A. Rickart, and Clifford Kachline. The Sporting News Baseball Guide and Record Book. St. Louis: The Sporting News. 1962.
Spink, C.C. Johnson, Paul A. Rickart, and Clifford Kachline. Official Baseball Guide for 1963. St. Louis: The Sporting News. 1963.
Spink, C.C. Johnson, Paul A. Rickart, and Clifford Kachline. Official Baseball Guide for 1964. St. Louis: The Sporting News. 1964.
Spink, C.C. Johnson, Paul A. Rickart, and Clifford Kachline. Official Baseball Guide for 1965. St. Louis: The Sporting News. 1965.
Sumner, Benjamin Barrett. Minor League Baseball Standings. Jefferson, N.C.: McFarland & Co. 2000.
Biederman, Les. "Bucco Regulars Make It Rough for New-comers." The Sporting News. April 9, 1966. Available from www.PaperOfRecord.com.
Fisher, Eddie. "Pitching, Power Helped Jest Cop Int Flag in 'Upset of The Year." The Sporting News. September 11, 1965. Available from www.PaperOfRecord.com.
Gillette, Gary. "The Voice of Summer Evenings in the Motor City." Tigers Corner 2007. Hingham, Mass.: Maple Street Press. 2007.
Spoelstra, Watson. "Freehan Feeling Rosy Over Black And Blue Marks," The Sporting News. June 3, 1967. Available from www.PaperOfRecord.com.
Spoelstra, Watson. "Siege in Sick Bed Leaves Northrup's Batting Eye Sharp," The Sporting News. July 1, 1967. Available from www.PaperOfRecord.com.
http://DennyMcLain.US/
http://Detroit.Tigers.MLB.com/
http://members.SABR.org [SABR encyclopedia, including Home Run Log and Scouting Database]
www.baseball-reference.com
www.retrosheet.org [including Transactions Log]
www.themick.com/mickeyquotes7.htm
www.tigersweekly.com
Ebling, Jack. E-mail message to author.
Gillette, Gary. Telephone interviews with Dan Dickerson and David W. Smith.
Gillette, Gary. Interview with Jim Price.
Lahman, Sean. E-mail messages to author.
McLain, Denny. Remarks at Mayo Smith Society meeting. August 3, 2007.
Shea, Stuart. E-mail message to author.
Adjusted OPS stats per Pete Palmer's calculations in the ESPN Baseball Encyclopedia, 4th ed. They may differ slightly from similar statistics on baseball-reference.com or those previously published in Total Baseball.
Note
This article originally appeared in the book Sock It To 'Em Tigers–The Incredible Story of the 1968 Detroit Tigers, published by Maple Street Press in 2008.
Photo Credit
The Topps Company
Born
October 13, 1941 at Harrisburg, PA (USA)
If you can help us improve this player's biography, contact us.
http://bioproj.sabr.org/bp_ftp/images3/PriceJim.jpg
600
800
admin
/wp-content/uploads/2020/02/sabr_logo.png
admin
2012-01-04 20:31:52
2020-07-25 06:33:59
Jim Price