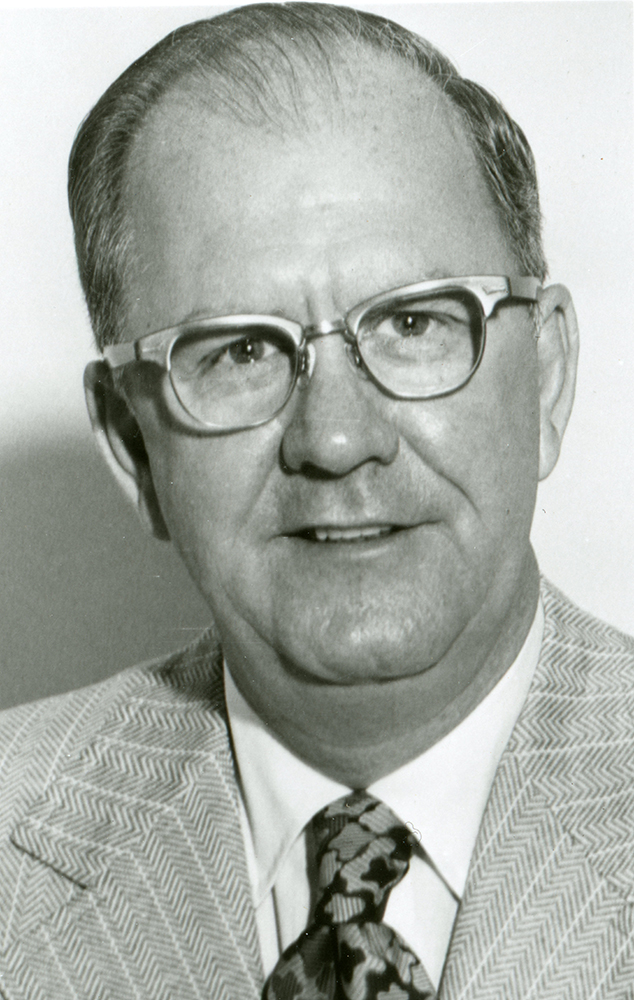 ---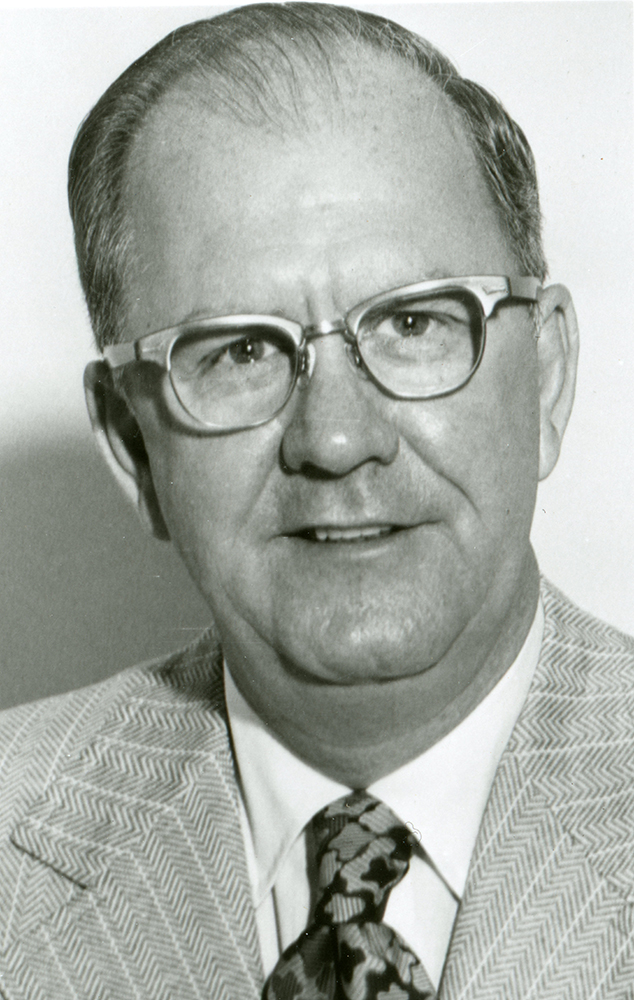 Joe Burke broke into baseball with help from his wife, and spent the rest of his life in the game. He was involved in the business side of the game in both the minor and major leagues, and is best remembered as general manager and president of the Kansas City Royals teams that won six division titles, two American League championships, and the 1985 World Series.
Joseph Roy Burke was born in Louisville, Kentucky, on December 8, 1923. Descended from Irish immigrants, he was the second of five children of Joseph E. Burke, a shipping clerk, and Lillie Morris. Among Burke's memories of his youth, one of his favorites was seeing Pee Wee Reese playing softball before he signed for his hometown team, the Double-A Louisville Colonels.1
In 1943 Burke enlisted in the US Army, and his enlistment form stated that he had four years of high school, and was an unskilled worker in beverage production. He performed well in the Army, eventually being promoted to staff sergeant while assigned to the Intelligence Division of the Troop Carrier Command. With this assignment he traveled extensively in Europe, North Africa, and South America.
Coming out of the Army after the war, Burke had few prospects. His father had died of heart problems during the war, and his mother could not afford to send him to college, so he took a job at the post office while taking night classes to become an accountant.2 Burke played softball, and one of his teammates introduced him to Mary Hayden, who soon became his wife. Mary worked as treasurer for the now Triple-A Colonels, and in December 1948 Joe asked her to arrange a meeting with the new club president, Ed Doherty.
"I went in and asked him for a job. I told him I had no qualifications whatsoever. He said he had only one job – working in the ticket office. It meant a cut in pay from my post-office job, but I took it."3 It was the beginning of a long association between Burke and Doherty.
Beginning with Louisville in the 1949 season as a ticket seller, Burke quickly rose through the ranks. A year later he was promoted to head of ballpark operations; in 1952 he became business manager; in 1953 he was traveling secretary; and in 1956 he became acting general manager, a position he gained full-time in 1958.
Many years later Burke told the story that in 1951 he had left Louisville to take a job with an unidentified minor-league club as general manager, with Doherty's approval. However, when he and his wife arrived and got a look at the club's books, they found "the club he wanted me to run was $30,000 in debt. He owed bills from spring training the year before. … After 11 hours on the job I quit. … I went back to Louisville. … Doherty said to get back to work and forget it."4
The 1950s were a tough time for Louisville. With poor teams on the field, they were unable to draw crowds, so the team was beset with financial problems. When they were sued by the University of Louisville in 1956 for unpaid rent, Burke said the team had $50,000 in debt. By juggling debts here and there, he staved off the creditors that time, but the problems continued.
Burke became general manager on January 14, 1958, and immediately got to work on the money problems. He began a program he called "Operation Survival," designed to raise enough money to pay the team's bills for the season. The team planned to raise $50,000 from local businesses, but managed to collect only $17,000. Still, this was enough for the American Association to step in and provide an emergency fund of $24,000 to keep the team going through the season.5 In addition, Kentucky Governor (and former Baseball Commissioner) Happy Chandler stated that he would arrange for the team to use Fairgrounds Stadium rent-free for the season, which saved the club $10,000.6
At the end of the season Burke was given the task of saving the Colonels by the board of directors. With on- and off-field failures, the team was in dire trouble, even borrowing money from the Baltimore Orioles just to keep the business office open through the end of the year.7 Burke managed to find a solution. In November Milwaukee Braves officials announced that they had reached an agreement for the Colonels to become their top farm club, saving the team that was virtually defunct. (Legally, the Louisville club was dissolved and Milwaukee moved its Wichita franchise to Louisville, taking the old club's name.) Burke was retained as assistant to new general manager Lynn Stone. "I know Louisville has been a great baseball town and will be again," said Braves vice president Birdie Tebbetts.8
The team flourished in 1959, but at the beginning of 1960 Stone resigned, and Burke got the job once more. His efforts then, and over the previous years, brought him reward after the season, when the Louisville Baseball Writers Association honored him at its annual dinner as Man of the Year. It was a bittersweet moment for both Burke and the writers; shortly before being honored, Burke had left the team, moving another step up the baseball ladder.
Doherty had left the Colonels in 1953 to become president of the American Association. Burke had made a great impression on him: "After I worked with him for three or four years, he told me if he ever went to the major leagues in any capacity he would take me with him."9 Sure enough, when Doherty became general manager of the expansion Washington Senators, Burke got a call, and became Doherty's assistant in charge of stadium operations.
By now, moving was a big deal for Burke, as his family had grown over the years. Along with his wife, he took his seven children (one other child had died shortly after birth) and moved to a large home in McLean, Virginia, just outside Washington.
After two seasons in charge of the Senators, Doherty was fired as general manager. Team President Pete Quesada hired former Yankees outfielder George Selkirk to replace Doherty and moved Burke to business manager. Burke, who had been considered the leading candidate for the GM job, received a two-year contract extension with a salary increase, but set his sights higher: "I hope to be a general manager some day, either with Washington or some place else, and will work hard toward that position."10
"There aren't many more knowledgeable baseball people than Burke," one writer wrote at the time. In that 1962 story, Burke listed cities he felt were ready for major-league ball: Atlanta, Dallas, Toronto, Seattle, Buffalo, and Denver. He wasn't too far off in his expansion plan either – Burke thought there would be four six-club leagues in the future.11 He was less successful in his prognostications a couple of years later. While he correctly predicted the coming of pay-TV and a free-agent draft, his misses included envisioning that Congress would pass antitrust laws for baseball, and that there would be a single minor league, with all players instead going through greatly expanded college ranks, similar to the way football works.12
At the beginning of 1963 the team was bought by investment bankers James Johnston and James Lemon, who informed Selkirk, Burke, and manager Mickey Vernon that they would not only keep their jobs but would have expanded authority with the club.13 In mid-1964 Johnston gave a strong vote of confidence in Selkirk and Burke, extending their contracts, which he did again in 1967.
Johnston died at the end of 1968, leaving his partner, Lemon, in charge of the team. In a boardroom reorganization, Burke was promoted to vice president and treasurer. Everything changed at the end of the year when Lemon sold the team to Bob Short. Short came in and quickly disrupted things, firing Selkirk and announcing that he would act as general manager himself. He decided that Burke could stay, but adjusted his position to be vice president for administration.
Burke quickly became an adviser to Short on baseball matters. By 1972 both were referring to "us" and "we" when talking about trades, as in "They have not offered us anything we feel would make a square deal," which Burke said when talking about a possible Denny McLain trade.14 During 1972, after the Washington club became the Texas Rangers, Burke was officially named general manager, although his influence with Short was limited as long as the dominant Ted Williams was manager. Once Williams resigned at the end of the 1972 season, Burke grew in power.
Burke and Short interviewed at least 25 candidates to succeed Williams, and eventually chose Whitey Herzog, who had been backed by Burke.15 "The Rangers are a triumvirate, including Mr. Short, Whitey, and me. Decisions are made only after we've studied all the angles," Burke said just a month later.16
It was notable that during the Williams era Burke developed a strong farm system, ran the spring-training complex in Florida, and did what he could to be involved in places that Williams was not. With Herzog, Burke found a manager who shared many of his ideas, such as giving young players a chance and avoiding platooning where possible. Burke's ideas began to take root.17
But it didn't last long. Burke surprised everyone, not least Short, by resigning on September 2, 1973, to take a position with another club. Short had tried to talk Burke out of the move for three months, before accepting his resignation.18 Just five days later Short fired Herzog, Burke's man, and brought in Billy Martin as manager.
Burke's new role turned out to be as vice president of business operations for the Kansas City Royals. Owner Ewing Kauffman had decided to split the general manager's role, leaving Cedric Tallis in charge of the baseball side of things, and giving everything else to Burke.
"It was a difficult decision to leave the Rangers," Burke said. "All of my life I wanted to be a general manager. I am thankful to Bob Short for giving me that opportunity. But this is a new challenge that I couldn't turn down."19 Burke later said that the ongoing instability in Texas was a big reason for his leaving. "I spent too much time with clubs that didn't offer security."20
Burke's time out of the general manager position lasted less than a year. On June 11, 1974, Kauffman demoted Tallis and promoted Burke to executive vice president and general manager of the Royals, saying, "Mr. Burke will be responsible only to me for the entire operation. Mr. Burke was selected over Mr. Tallis because of the ever-increasing complexities of the operation of a baseball club. Mr. Burke has the business and baseball experience that makes him well qualified for the new position."21
Kauffman pointed out that the Royals had lost $900,000 in 1973 (and would lose an estimated $1 million in 1974), and wanted Burke to bring them back even, a goal that probably gave Burke flashbacks to his time in Louisville. Even so, he said he planned few changes, because he had been surprised by the decision the day before. Still, he said, "I'm not egotistical, but I'm not afraid of my new job. I know what's involved, and I know the key is delegating authority to the right people."22
Burke quickly signed manager Jack McKeon to a two-year contract extension. By the winter he was deep in trade discussions, trying to obtain pitching. In a surprising move, given his history of player development, he cut three farm teams (leaving the Royals with four), and joined the Major League Scouting Bureau, cutting his own scouting staff from 23 to 6.23 These moves were intended to reduce operating costs, and along with an increase in ticket prices, designed to stop the team's losses.24
During the 1975 season the team struggled to perform as well as expected, and at the end of July Burke made the decision to fire McKeon even though the team was in second place (11 games out). He brought in Whitey Herzog, his old friend from Texas, to be the manager. Burke made it clear that in both the firing and hiring decisions, Kauffman had no involvement other than to approve Burke's recommendations.25 For his part, McKeon held no grudges. "Ewing Kauffman and Joe Burke are good people. I can't say anything except good things about them. Both of them have been fair and honest to me."26
Things improved over the rest of the season, but they ended the season seven games behind Oakland, and Burke knew he had seen enough to make changes. "We know where we stand and what we have to do to improve. I feel certain we'll make some changes."27 They did, promoting Lou Gorman to assistant general manager and John Schuerholz to farm director. Burke then released veteran Harmon Killebrew, let pitcher Lindy McDaniel retire, and made it clear that several other veterans would be cleared out to make way for young players from the farm system.
With the Messersmith-McNally decision coming down during the winter, big changes were on the way to baseball. Pitchers Andy Messersmith and Dave McNally claimed that the standard reserve clause in their contracts meant they were free agents, after playing out a season without a contract. In December 1975 an arbitrator agreed, making those two players free agents, and potentially allowing any other unsigned player to follow suit. Burke moved quickly to sign many of his players, to avoid looming problems. One advantage he had was in being fair to players: "I've never believed in playing games with people. When we sit down to talk, my first offer is one I believe to be fair and reasonable. I think that when management takes this approach, the player tends to be realistic."28
But owners began a lockout in spring training, which lasted a couple of weeks and ultimately ended up with owners and players agreeing on the beginnings of free agency. Burke was considered a moderate in the dispute because he accepted that there would be modification of the current system. He declined to comment during the lockout, though. "I feel we have an excellent attitude on this club and that there is harmony between the players and the front office," he said. "We've worked too hard to build up a positive attitude and I'm not going to start destroying it now."29
Burke then changed the Royals' attitude to contracts. Although the Royals had never previously given out more than a two-year deal, Burke surprised everyone by handing outfielder John Mayberry a five-year contract for more than a million dollars.30 He realized that what would work in the age of free agency was signing young and upcoming players to long-term deals, and did so with a number of his players over the next year.31
On the field in 1976 the Royals started slowly, but once they got going everything clicked. They moved into first place in mid-May and pushed their lead as high as 12 games by early August. They faded the rest of the way, but hung on to win their first-ever division title by 2½ games over Oakland. Then followed a thrilling ALCS, which the Yankees won three games to two on a home run by Chris Chambliss in the bottom of the ninth of Game Five.
Looking to boost the team for the future, the Royals looked at several free agents, but weren't able to sign any. This pattern played out consistently over the next few years, with the core of the team coming from the farm system that Tallis had set up. A conservative policy from Kauffman said that they wouldn't pay free agents more than they paid their own stars, but that meant they were never likely to be in on top free agents.32 Talking on how players would use others' big contracts to boost their own value, Burke said, "We should not be held accountable for what New York and California do."33
More honors came to Burke at the end of 1976, when he was named The Sporting News Executive of the Year. The publication cited his "strong, stable leadership" in improving the team on and off the field. They described how the club was split between the baseball and business sides before he arrived, and there was conflict among several personalities in the organization. Burke had united the club and removed conflicts, turned the financial side around, made a solid team and a productive farm system.34
As he often did, Burke played down his own role in receiving the award. He said, "I've never been one to seek publicity or notoriety. In this business you cannot do it alone. … The credit should go to the organization, not to one person. … I think the award I have received is a tribute to everyone in our organization and to the type of ownership provided by Mr. and Mrs. Kauffman."35
The 1977 season proved to be better than 1976. The Royals took over first in mid-August, and a 16-game win streak in September helped push them to 102 wins for the season, easily winning the division. Once more they faced the Yankees in the ALCS, and once more they lost three games to two, despite winning two of the first three games and leading, 3-1, in the final game, which they lost 5-3.
Despite their success, they knew they couldn't stand still. Both Burke and Kauffman said that the prior season had been about taking care of the club's current players, but that for 1978 they would bring in a couple of free agents. "You have to improve your club every year. I just don't believe in disrupting the club during the season, making a flock of changes, bringing players in and out," Burke said.36 But they still didn't make any big signings or trades, and Burke was dismayed at the criticism they received. "We haven't made any spectacular trades, so right away people say we're a stand-pat club. We're going to have five or six new faces on our team this year, just like we did last year."37 On the other hand, third baseman George Brett gave the front office credit at the end of the regular season for believing in the players they had: "Joe Burke … showed a lot by not going out and getting a lot of big-money players in the free-agent market."38
The Royals finished the 1978 season 10 games worse than the previous season, but with 92 wins they won their division by five games, and were matched with the Yankees for a third consecutive ALCS. This time they lost the series three games to one, with their only highlight being Brett hitting three home runs in Game Three. After elimination, the tune changed, with several players and manager Herzog openly questioning why the team hadn't signed some free agents to put them over the top. "We need to have some quality players," DH Hal McRae said, adding that Burke and Kauffman "are going to have to decide if they want a good team or a great team." Said Herzog: "In spite of what the top echelon says, we've got to get off our rears."39
The conservative approach stayed in place, and the team didn't make any serious moves for 1979 either, which came back to haunt them as the predictions of falling behind came true. They contended all the way, but finished three games behind the Angels for the division title. Burke knew where he wanted to place blame, firing Herzog right after the season ended. "It is a decision that is mine and one for which I accept full responsibility. … I am not giving any specific reason other than that I believe we need the change." Herzog himself blamed player grumbling for the move, with a number of veterans feeling they would have won the pennant if he had played them.40 He also slammed the front office, saying that he had wanted them to get involved in the free-agent market. "I figured when they fired me they'd go out and sign a couple of pitchers, but I guess they don't want to. They're not going after free agents like they really want to sign them."41
A few weeks after firing Herzog, Burke hired Orioles first-base coach Jim Frey as manager. "He has extensive background in baseball and has dedicated his life to the game. We feel Jim is the man to continue our development of the Royals," Burke said.42 The move worked, as with a 97-65 record they cruised to winning their division, then finally won an ALCS, sweeping the Yankees in three games before losing the World Series to the Philadelphia Phillies in six games. Burke said that the Royals had come of age three years earlier, but the stakes were now higher. "We're not losers. We're not going to let anybody put that tag on us again."43
Burke still wouldn't get involved in the free-agent market, though. Not wanting to spend big money, he stayed away from the top free agents, and wasn't even interested in lesser ones. "You can't take a chance on a middle-range player anymore. One or two players are not going to turn around a club."44 This attitude began to rebound as some of his star players approached free agency, as Burke looked to hold the line against them too. Hal McRae, second baseman Frank White, and pitcher Dennis Leonard all talked of frustration that the Royals weren't moving quickly, and that they weren't offering the money the players could get elsewhere.45
In the late 1970s Burke became a member of the owners' Player Relations Committee. Players and owners were beginning work on a new Basic Agreement, with the two sides seemingly preparing for war. That war arrived in 1981 with a strike by players, which wiped out a significant part of the season. By now Burke and the Royals were hardliners in terms of player relations, although he denied this. "I've never been a hawk on anything. I wouldn't call Ewing Kauffman a hawk, either. He has strong feelings, but he always is concerned with the best interests of the game."46
A few weeks after the strike ended, Burke fired manager Jim Frey. The team was 10-10 in the second half, and Burke felt something was missing. "It has been apparent during most of the year that the winning combination has not been present," he said.47 He quickly hired former Yankees manager Dick Howser to run the Royals. The Royals then raced away to win the second half of the split season, but were swept in the Division Series by Oakland.
In August 1981 Burke was diagnosed with lymphoma, and began to undergo chemotherapy to treat the disease. In October he was promoted to team president, a less demanding position to help in his recovery. The Royals promoted his assistant, John Schuerholz, to general manager.
At the end of 1980, Kauffman had allowed Burke to become the first stockholder in the team other than Kauffman and his wife. This was his way of showing his appreciation for the way Burke had operated the team.48
Over the years Burke had become more involved in the league side of baseball. Apart from his involvement in the Player Relations Committee, in 1981 he testified at a National Labor Relations Board hearing, stating that management did not completely control salaries, because some players went to arbitration, where a third party chose the salary. He also said that fans pressured teams to re-sign players, which was an indirect influence on salaries.49
Later, in 1987, Burke was a member of the American League expansion committee. One of the complaints he dismissed was that there weren't enough players good enough to play if the major leagues expanded. "Even when we had eight teams in each league, everyone was crying about not having enough left-handed pitching. No matter how many teams there are, there will be the same talent complaints."50
Burke dealt with other off-field problems, too. As general manager in 1980 he was approached by catcher Darrell Porter, who admitted to having drug and alcohol problems. Burke helped him get admitted to rehab, and supported his return to the team.51 In 1983, while president, he helped deal with the fallout from the arrests of four Royals players for cocaine possession. And in 1986 Royals manager Howser was diagnosed with cancer, and left the team for surgery and recovery. He came back the following spring, but was too weak to continue as manager, so he officially resigned, and died later that summer. During his ordeal, Burke stood right by him, to help him get through it. Having experienced it himself, Burke knew just how much work it would take to recover. Burke was also the one to tell Howser that it was time to resign, when he saw what a physical toll managing was taking.52
In the early 1980s the team stumbled a little, but the drug scandal helped them reboot, and 1985 finally produced the breakthrough they had been waiting for. After a 91-win season, they went to the ALCS against the Blue Jays. Down three games to one, they won three in a row – the last two in Toronto – to go to their second World Series, this time against the in-state rivals St. Louis Cardinals. Again they found themselves down three games to one, and again they rallied to win all three and get their first championship.
Burke celebrated with his team, and even got in a dig at Kansas City's reputation. To the 300,000 fans at the victory parade he said, "Across the country, when everyone awoke this morning and read the newspapers, they realized that everything is up to date in Kansas City."53
Burke had suffered through several health issues in his later years, apart from the cancer. He had had surgery in 1979 to repair ruptured discs in his neck, and in 1985 had his gall bladder removed. The cancer returned in 1992, and while undergoing treatment, Joe Burke died at the University of Kansas Medical Center on May 12, 1992.
Burke was eulogized across baseball as a good and honorable man. "Joe Burke was not only a great man in baseball, but was a great one individually and toward all other human beings. I shall miss him very much personally and professionally," said Kauffman.54 Commissioner Fay Vincent said, "Joe was one of the most beloved figures in baseball. Joe gave the game a measure of dignity and grace that long will be remembered."55
"Joe Burke has been a pillar of strength in our organization for many years. He has touched all of us in a very special way while providing direction and leadership," Royals GM Herk Robinson said,56 while one of his former players, George Brett, said, "He was like a father to me when I first came up. Joe gave me fatherly advice all the time. … When you walked out of his office you felt good."57
"The thing I remember most was his patience with any situation," said Hal McRae. "People were always putting pressure on him to make trades. Joe would always say sometimes the best trade is the one you never made."58 Burke's former assistant general manager, Lou Gorman, said that Burke "was a kind, thoughtful and gentle man with an extremely pleasant personality."59
This biography was published in "1972 Texas Rangers: The Team that Couldn't Hit" (SABR, 2019), edited by Steve West and Bill Nowlin.
Notes
1 Joe McGuff, "Royals' Joe Burke Gains Executive of the Year Honor," The Sporting News, December 11, 1976: 36, 40.
2 Ibid.
3 Bill Fuchs, "Marriage Got Burke Into Baseball," Washington Evening Star, March 25, 1962: G7.
4 Ibid.
5 Frank Haraway, "One Worry Eased, Another Increased," The Sporting News, May 21, 1958: 29.
6 Johnny Carrico, "Chandler Takes Step to Lower Colonels' Rent," The Sporting News, May 21, 1958; 29.
7 "Burke Told to Try to Save Colonels," Lexington (Kentucky) Herald, October 31, 1958: 8.
8 "Braves Promise Finest Talent for Colonels," Lexington (Kentucky) Leader, November 15, 1958: 8.
9 Fuchs.
10 Merrell Whittlesey, "Selkirk Open to Deals for Any Senator," Washington Evening Star, November 22, 1962: G1.
11 Francis Stann, "Win, Lose or Draw," Washington Sunday Star, January 14, 1962: C2.
12 Dave Brady, "Nats Looking Ahead; Ink TV Pact Hinging on New Package Plan," The Sporting News, February 22, 1964: 22.
13 Shirley Povich, "Quesada cashes In – All's Quiet Again Along the Potomac," The Sporting News, February 9, 1963: 14.
14 Randy Galloway, "Deal for Denny Is Still a Possibility," The Sporting News, January 29, 1972: 36.
15 Randy Galloway, "Rangers' Bats Weak, Skipper Herzog Admits," The Sporting News, November 18, 1972: 39.
16 Merle Heryford, "Ranger Burke Covers More Ground," The Sporting News, December 30, 1972: 44.
17 Ibid.
18 "O'Brien Succeeds Burke in Rangers' G.M. Chair," The Sporting News, September 15, 1973: 4.
19 "Joe Burke Joins Royals," The Sporting News, September 22, 1973: 15.
20 Sid Bordman, "Royals Promote Burke to G.M. Post," The Sporting News, June 29, 1974: 12.
21 Ibid.
22 Ibid.
23 "Royals Cut Scout Staff, Farm System," The Sporting News, November 23, 1974: 61.
24 Joe McGuff, "Royals See Chance to End Red-Ink Flow in 1975," The Sporting News, March 1, 1975: 46.
25 Joe McGuff, "Tiffs with Players, Press End Mckeon Reign at K.C.," The Sporting News, August 9, 1975: 9.
26 Ibid.
27 Joe McGuff, "Lindy's Exit Could Start Royal Housecleaning," The Sporting News, October 11, 1975: 21.
28 Joe McGuff, "Quick Signings Viewed as Flag Sign in K.C.," The Sporting News, February 28, 1976: 37.
29 Joe McGuff, "Slow-Starting Mingori Major Victim of Lockout," The Sporting News, March 13, 1976: 44.
30 Joe McGuff, "Royals' New Pact Makes Mayberry a Millionaire," The Sporting News, April 3, 1976: 42.
31 Peter Gammons, "Money Can't Buy Me Love," Sports Illustrated, April 23, 1990: 34.
32 Joe McGuff, "Free Agents Slow Royals' Trade Talk to a Crawl," The Sporting News, December 4, 1976: 60.
33 Joe McGuff, "Royals Hoping for Compromise on Salaries," The Sporting News, January 22, 1977: 41.
34 Joe McGuff, "Royals' Joe Burke Gains Executive of the Year Honor," The Sporting News, December 11, 1976: 36, 40.
35 Ibid.
36 Sid Bordman, "Security and Pride Cited as Keys to Royal Success," The Sporting News, October 15, 1977: 12.
37 Del Black, "Foes Stronger, Royals Are Too, Says Herzog," The Sporting News, April 22, 1978: 24.
38 Sid Bordman, "Champion Royals Calmly Sip Champagne," The Sporting News, October 14, 1978: 31.
39 Sid Bordman, "Cracks in Royals' Castle? Herzog, Players Complain," The Sporting News, October 28, 1978: 11.
40 Del Black, "'Why?' Folks Ask at Whitey's Exit," The Sporting News, October 20, 1979: 29.
41 Del Black, "Whitey Rips Royals' Milquetoast Style," The Sporting News, December 15, 1979: 51.
42 Sid Bordman, "Frey Expects to Win in 1980 with Royals," The Sporting News, November 10, 1979: 46.
43 Mike DeArmond, "After a Taste of Series, Royals Want It All," The Sporting News, November 8, 1980: 38.
44 Mike DeArmond, "Porter Only Free-Agent Fish in the Sea for the Royals," The Sporting News, November 29, 1980: 46.
45 Mike DeArmond, "Leonard, K.C. – Big Silence," The Sporting News, January 31, 1981: 52; DeArmond, "'McRae-White Plan' Upsets Royals," The Sporting News, January 24, 1981: 51.
46 Mike McKenzie, "Royals: Gura Growing," The Sporting News, August 22, 1981: 44.
47 "Royals Fire Frey; Howser to Manage," The Sporting News, September 12, 1981: 75.
48 Mike DeArmond, "Hurdle in Dark Over His Role with Royals," The Sporting News, January 10, 1981: 39.
49 William R. Barnard, "Envelopes May Have Key to Settling Strike," Lexington (Kentucky) Leader, July 10, 1981: C1.
50 Paul Attner, "Big Bang," The Sporting News, March 18, 1991: 19.
51 Mike DeArmond, "An 'Aware' Porter Tells His Story," The Sporting News, July 12, 1980: 19.
52 Bob Nightengale, "Howser: Battle Over, War Begins," The Sporting News, March 9, 1987: 27.
53 "300,000 Hail Royals During 2-Hour Parade," Augusta (Georgia) Chronicle, October 29, 1985: 13A.
54 "Royals President Joe Burke Dead at 68," Ellensburg (Washington) Daily Record, May 14, 1992: 12.
55 Dick Kaegel, "Kansas City Royals," The Sporting News, May 25, 1992: 26.
56 "Royals President Joe Burke Dead at 68."
57 Ibid.
58 Ibid.
59 Lou Gorman, High and Inside: My Life in the Front Offices of Baseball (Jefferson, North Carolina: McFarland, 2007). 130.
Born
December 8, 1923 at Louisville, KY (US)
Died
May 12, 1992 at Kansas City, MO (US)
If you can help us improve this player's biography, contact us.
/sites/default/files/BurkeJoe.jpg
600
800
admin
/wp-content/uploads/2020/02/sabr_logo.png
admin
2015-07-26 12:20:17
2015-07-26 12:20:17
Joe Burke