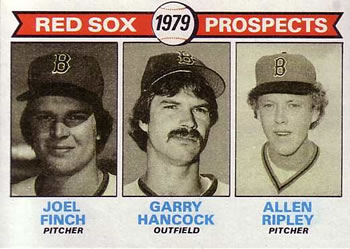 ---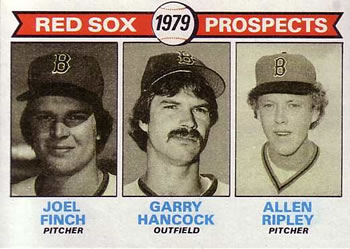 Right-hander Joel Finch had an excellent minor-league career, building toward a major-league debut the year after the Red Sox were eliminated by the New York Yankees in the 1978 single-game playoff that closed Boston's season that year.
During the 15 games in which he worked in the majors — all for the Red Sox and all in 1979, Finch threw 57 1/3 innings, striking out the same number of batters he walked (25) and recording a 4.87 earned run average.
Born Joel D. Finch in South Bend, Indiana, on August 20, 1956, he was a ninth-round selection in the June 1974 amateur draft, fresh out of Washington High School in South Bend. He was 6-feet-2 and listed at 175 pounds.
Joel's parents — Phyllis and David Finch — met each other in Sturgis, Michigan, where they attended Sturgis High and were both in the school band. His father, who had been a good athlete in baseball, track, football, and basketball, worked in purchasing for Bendix Corporation. His mother worked at a number of jobs, the longest as office manager for a firm named G&H Welding.
Joel met his future wife, Keren Hoffman, during their high school days. They have been married 43 years as of early 2020. "She lived about a block and a half away, where we both grew up. She went to a Catholic school and I went to a public school. We eventually caught up in my freshman or sophomore year, just from friends in the neighborhood."1The couple have two sons — Evan, 37, and Drew, 32.
Signed by Red Sox scout Chuck Koney, the 17-year-old Finch was assigned to the Elmira Pioneers in the Low-A New York/Penn League. He started 11 games for the short-season Pioneers and was 6-3 with an earned run average of 3.33. Three of his starts resulted in complete games, one of them a shutout. In 73 innings of work he struck out 48 batters and walked 31.
In 1975 and 1976, Finch pitched for the Winter Haven Red Sox in the Single-A Florida State League. He had 26 starts in 1975 for 57-70 Winter Haven and a record of 11-11 (with a very good 2.49 ERA). In 1976, he had 21 starts and again had an even record — 9-9 (3.24) — for the last-place Red Sox.
In 1977, he advanced to the Double-A Eastern League's Bristol (Connecticut) Red Sox. He posted a 3.22 ERA and 15-7 record in 28 starts. He struck out a career-high 113 batters in 187 innings. Finch's 15 wins was one short of the Eastern League lead.
Finch was only 21 when the 1978 season began. He attracted a little attention in spring training, seeming to have discovered a sinker.2 The Globe's Larry Whiteside, though, averred that "nobody is quite yet ready to declare him as the second coming of Bob Stanley."3 Stanley had jumped from Bristol to the big leagues two years earlier. Red Sox manager Don Zimmer, though, was impressed, saying of Finch and another solid prospect, Win Remmerswaal, "Both these kids throw hard, especially Finch. I'd never seen either one of them before today and they showed me something. Finch throws hard sinkers and he was so tough that Carl Yastrzemski walked out on him after two minutes."4
Finch moved up a rung on the development ladder, playing for the Pawtucket Red Sox in the Triple-A International League. He put in another full season, 11-8 (3.18 ERA). He struck out 101, but walked 97 batters, some 26 more than he'd ever walked before.
There was one moment that might have put an end to his career, and that of some of the other PawSox. Several hours after leaving Pawtucket around midnight for a seven-hour overnight bus ride to Rochester, the bus driver "came awfully close to a bridge abutment. That scared the hell out of the blackjack players in the back seats. 'Man, that was close,' said pitcher Joel Finch, 'We almost lost our shot at The Bigs.'"5
Over the winter, he pitched in Puerto Rico and was 7-3, but at a time that the quality of play on the island was considered substandard.6
A possible trade to the Indians over the winter did not eventuate. Finch had really wanted to make it with the Red Sox and said he'd be very disappointed if traded, but one way or another he was determined to persevere.7
Both Remmerswaal and Finch were deemed to need one more year of development at Triple A.8 It was no surprise on March 27 when he was assigned to Pawtucket.
On June 9, Red Sox right-hander Jim Wright was placed on the 21-day disabled list and Finch was summoned from Pawtucket. Finch was 7-1 with a 2.64 ERA with the PawSox. He had nothing more to prove in Triple A.
Zimmer moved Stanley to the bullpen and Finch was slated to take over Stanley's slot as a starter. That said, his debut came in long relief. It was a Tuesday evening game at Royals Stadium in Kansas City on June 12. Chuck Rainey started for the Red Sox and Rich Gale for the Royals. After two innings, the Red Sox had a 3-1 lead, but in the bottom of the third, the Royals scored three times and had a runner on second base with still no outs. Finch was brought in from the bullpen and shut the door. He pitched five innings in relief, allowing only two singles, one walk, and no runs, while seeing the Sox tie the game in the seventh and take a 6-4 lead on Carl Yastrzemski's home run in the top of the eighth.
Finch was in line for the win, if Dick Drago could hold the Royals for two innings — but  a two-out two-run homer by Steve Braun tied the score in the bottom of the ninth and a single, a bunt double, and Al Cowens's sacrifice fly won the game for Kansas City.
Regarding his performance, after the game he readily admitted, "I was pretty nervous the first couple of innings." He settled down soon enough. "The big thing was getting the ball in to lefthanders. I watched Eckersley do it, Stanley do it, and it's the name of the game, for then I can run the sinker away. I just started doing it my last few starts at Pawtucket, and it's what got me here."9
PawSox manager Joe Morgan had told Finch this was his time. "He spoke to me shortly before I was called up. He said that if I was ever going to be ready it was right now.10 I had an ERA of around 1.00 for my last four games with Pawtucket and all my pitches were working."
Finch got four starts. His parents flew in from South Bend for his first one, on June 19. He worked 5 2/3 innings, giving up four runs. It was a no-decision, the Tigers ultimately winning it with six runs in the top of the 14th inning, long after Finch had left the mound. On June 27, he pitched 6 1/3 innings, only allowing one run — but left the game down 1-0, before the Red Sox came from behind to win. Only one of his starts resulted in a decision, a loss in Yankee Stadium on July 2, giving up three runs in what became a 7-2 final.
On July 23, he got bombed for five runs in the top of the first inning at Fenway Park, leaving after recording only one out in a game lost to the Angels. In the second game of the July 31 doubleheader in Cleveland, Finch got no run support and lost, 3-0, as Len Barker and Sid Monge combined to two-hit the Red Sox.
He was 0-3 with a 5.35 ERA and returned to Pawtucket for August when Sox second baseman Jerry Remy returned from the DL on August 8.
Finch won both of the only two decisions he had in the second stint with Pawtucket. The second of the two wins was a two-hit 2-0 shutout of Tidewater. When rosters expanded on September 1, he was recalled to the Red Sox.
Finch appeared in relief in four scattered September games, then got a start on September 27 at Fenway Park against the visiting Toronto Blue Jays. After seven innings, the Red Sox held a 3-1 lead. Leading off the top of the eighth, Alfredo Griffin tripled and Sox manager Zimmer decided to bring in closer Bill Campbell to secure the victory for Finch. Fans at Fenway booed the decision; they wanted Finch to continue and get the win.11
Even had Griffin scored, of course, Finch would still be in line for the win. But Campbell allowed a double, got a fly out, and then allowed an RBI single that tied the score. After another fly out, Campbell allowed a two-run homer that would have given the Blue Jays the win but for the fact that Fred Lynn hit a two-run homer in the bottom of the eighth to re-tie the game and then Carlton Fisk led off the ninth with a solo home run to win it, 6-5. It was Dick Drago, who had replaced Campbell, who got credit for the win.
Finch had a tough winter back home in South Bend. His van was broken into and his stereo stolen, and while he was leaving from his offseason job in a liquor store he was held up at gunpoint. "Three guys jumped out of nowhere and put guns in my chest. I guess they thought I had the store receipts, but that cash was locked up inside. All they got was my wallet with $30 in it."12 He worked out throwing in the gym at Washington High.
In 1980, Finch trained with the big-league club but was optioned to Pawtucket in early April. He was back with Pawtucket for all of 1980 and 1981. His record in 1980 was 1-5 with a 3.54 ERA. He spent some time on the disabled list with pulled back muscles in May. The Globe commented in mid-June that Remmerswaal, John Tudor, and Finch had all "shown flashes of definite potential but have somehow stagnated at the Triple-A level."13After the season, he was taken off the 40-man roster of the Red Sox and assigned outright to Pawtucket.
In 1981, he was 6-7 (3.74). The sense was that he might have been slotted to be released in April, at the end of spring training but Jim Wright appears to have given him a reprieve. As reported in the Boston Herald, "Wright asked for his release to save a friend — Joel Finch. He felt Finch was going to be released before him, so he went and asked Red Sox farm director Ed Kenney to cut him loose. The wish was granted."14
Finch was with the PawSox for "the longest game" — the game against Rochester which was won by Pawtucket in the bottom of the 33rd inning, on June 23, having resumed after its start on April 18 was finally suspended at 4:09 A.M. on the 19th. Finch had entered the game as the sixth pitcher of the night back in April, and worked a scoreless five innings — the 23rd through the 28th. He allowed only three base hits, walked one and struck out three. His record was matched in every regard by his successor, Bruce Hurst: five innings (the 29th through the 32rd), with three base hits, one walk, and three strikeouts. Everyone on the PawSox was elated when — 66 days after the game had begun — they won it in the bottom of the 33rd. Finch's enthusiasm may have been dampened a bit, though, when a pipe in the ceiling of the clubhouse burst "and was spraying onto the floor and into Joel Finch's locker."15
His record more or less reflected the success of the team, which finished seventh in 1980 and sixth in 1981. The years were his last in professional baseball.
A couple of years later, the Globe's Peter Gammons wrote that some of his teammates who did make it — such as Bruce Hurst and Gary Allenson – "insist that Joel Finch should have been the best of the whole lot. He was rushed up, lost three games, and was run out of town."16
After the 1981 season, Finch decided to leave baseball and return to South Bend.17
Looking back on his career nearly 40 years later, he has one regret. Trying to establish himself to make the majors and stick, he had been throwing well in Triple A. He felt he needed a further opportunity to showcase his skills, and he took a route that several others took in those years. "I played two years in a row of winter ball in Puerto Rico. San Juan the first year and Ponce the second year. For two years in a row, I never gave my arm a rest. I think after throwing so many innings in that final year, I lost all my speed. It's good baseball but I threw a lot of innings. I was a starter down there. The more I think about it, the more I kick myself in the fanny for staying down there so long, and throwing so many innings. Everybody needs a rest in between seasons and I went two full years without it. You try to throw harder and when you don't throw that hard in the first place, the ball doesn't move as much. I could feel my arm slowing down."
Karen Finch had moved along with her husband while he was playing ball. "There were times when she did side jobs when I was traveling in the minor leagues. When we came home and were out of baseball, she became an endodontist assistant." As of 2020, Joel added, "Now she's involved in the office work at a dental office."
As for himself, "I didn't know what I was going to do when I got out of baseball because I graduated high school at 17 years old, and I was gone. I came back and, honestly, it's like 'What am I going to do?' Luckily for me, I got a connection and got an interview with a trucking company. A logistics company. I took a job in sales for the logistics company and I've been doing that ever since. It's been three different companies — one for eight years, one for 31 years, and I'm on my fifth year with my current one."
Asked to expand on the nature of the work, he said, "You see all these semis going down the road. I'm with a company called ArcBest. They're based out of Fort Smith, Arkansas. This month is my fifth year. My responsibility is mainly to go out there and meet with manufacturers, retailers, anybody like that has freight moving on all those semis, and selling our services. With the past company, I used to do corporate sales. Now I work more in this region. I hope to retire sometime this year or very early next year."
Finch remembered a couple of coaches he worked with. "My two favorite coaches throughout the minor leagues had to be Joe Morgan and Rac Slider. I was two years with Rac and three years with Joe Morgan."
He enjoys hearing from the Red Sox alumni office, and very occasionally sees old teammates such as John Tudor and Dave Stapleton when circumstances bring them together.
For the 100th anniversary of Fenway Park, in 2012, the Red Sox brought all former Red Sox players to the ballpark for a few days of celebration — regardless of how long they had been with the major-league team. It was quite an undertaking and greatly appreciated by many. Finch remembers it fondly. It was a special treat to bring his two sons. "I was able to take my family. I have zero videos of me pitching. We got invited to that, which I was thrilled about. I might have felt a little out of place. I was a very short-timer there. My kids were just so pumped up after that. It meant an awful lot, the way they did that. They did such a nice job on that."
Last revised: April 8, 2020
Acknowledgments
This biography was reviewed by Andrew Sharp and Norman Macht and fact-checked by Alan Cohen.
Sources
In addition to the sources cited in the Notes, the author also consulted Baseball-Reference.com, Retrosheet.org, and the Encyclopedia of Minor League Baseball.
Notes
1 Author interview with Joel Finch on March 3, 2020. Unless otherwise indicated, all quotations directly attributed to Joel Finch come from this interview.
2 Larry Whiteside, "Finch's Sinker Turns A Few Heads in Sox Camp," Boston Globe, March 6, 1978: 26.
4 "Zimmer Likes Rookie Pitchers," Springfield Union (Springfield, Massachusetts), March 6, 1978: 28.
5 Peter Carlson, "PawSox Life Not So Bad, If You Don't Mind the Wait," Boston Herald, August 31, 1978: 13.
6 Peter Gammons, "Just for Fun…What's Rice Worth in A Trade?." Boston Globe, January 4, 1979: 37.
7 Bill Liston, "Sox Give Reprieve to Finch," Boston Herald, March 2, 1979: 28.
8 Gammons, "Lasorda To Go with Same Lineup This Season," Boston Globe, January 28, 1979: 42.
9 Gammons, "Sox Fumble It Away — Fall in10th, 7-6," Boston Globe, June 13, 1979: 61.
10 Kevin Dupont, "Finch versus Tigers in a Rematch," Boston Herald, June 19, 1979: 22.
11 Garry Brown, "Fenway Farewell — Fisk's Homer Sends Loyalists Home Happy," Springfield Union, September 28, 1979: 33.
12 Dave O'Hara, "Finch Revels in Challenge," Springfield Union, March 1, 1980: 24. "A little old lady found the wallet three miles away," he said. "It was torn apart, but the credit cards were still there."
13 Gammons, "It's Become Clear — Develop Your Own Pitching," Boston Globe, June 15, 1980: 60.
14 Joe Giuliotti, "Somehow It All Turned Out Wrong for Mr. Wright," Boston Herald, April 12, 1981: 6.
15 Gammons, "Pawtucket Wins Record Marathon in 33rd," Boston Globe, June 24, 1981: 34.
16 Gammons, "The Nurturing of A Young Arm," Boston Globe, July 28, 1983: 42.
17 Giuliotti, "Eckersley Bombed, But He's Optimistic," Boston Herald, March 13, 1982: 34.
Born
August 20, 1956 at South Bend, IN (USA)
If you can help us improve this player's biography, contact us.
https://sabr.org/sites/default/files/FinchJoel.jpg
600
800
admin
/wp-content/uploads/2020/02/sabr_logo.png
admin
2012-01-04 20:37:51
2020-06-23 15:18:14
Joel Finch