---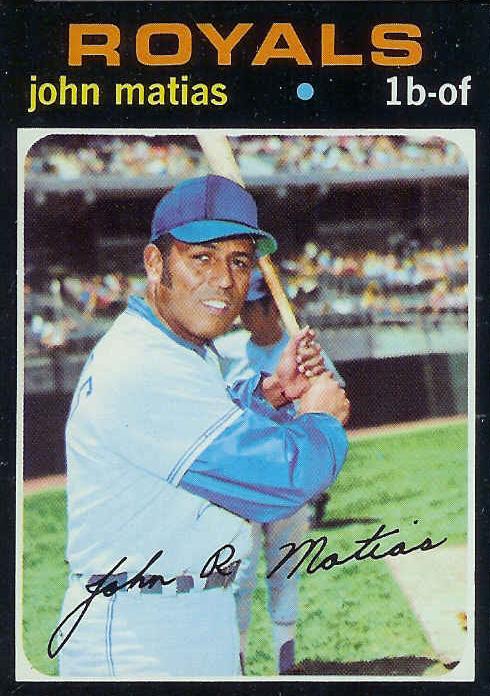 Puerto Rico has long been a baseball hotbed. The sport has also thrived in Hawaii, thanks largely to Americans and Japanese. Yet unless one is very familiar with Hawaiian culture, one might not realize that Puerto Rican immigrants embraced the game there too. John Matias, who played 58 games for the Chicago White Sox in 1970, is part of this community. All four of the Honolulu native's grandparents left Puerto Rico in the early 20th century, when many sugar cane workers sought new homes in the wake of natural disaster.
John's father, John A. Matias, was born in Waiakea Mill, near Hilo on the "Big Island" of Hawaii. His family also lived on Maui and Kauai before moving to Oahu. Around 1937, the elder John Matias went to work as a pipefitter at Pearl Harbor Naval Shipyard, Shop 11. This man (nicknamed "Lujack" after the star football quarterback of the 1940s) was "an accomplished player and coach" and a "principal sparkplug of baseball in Hawaii" in the local Puerto Rican amateur league.1 Quite possibly he had the talent to be a pro, though it is not known today whether scouts ever noticed him. As the Matias family puts it today, "John Sr. was a good pitcher and ballplayer from the stories that came down the grapevine."
John A. Matias married Julia Pacheco in 1938. Their four children all played ball, as they inherited talent and got quality instruction from their father. The oldest siblings, Dolores and Jolenta ("Joann"), played softball, as did many young Puerto Rican-Hawaiian women. Joann's son, Joe DeSa, would have two brief shots at the majors in the 1980s. John Roy Matias was born on August 15, 1944. His younger brother Robert would play with him in the minors in 1963 and 1964.
Young John was known as "Gido" — a nickname that his father gave to him, although no one knows why. At age 12 or 13, he was on a national champion Pony League team. In Los Angeles, while playing in a tournament in West Covina, he and a teammate named Ron Ramie found that Willie Mays was staying in the same hotel as they were. Willie, known for his rapport with kids, answered their knock and said, "Sure, I've heard about you! C'mon in." Matias recalled "It was the most exciting hour of my life. He was wonderful. I remember his words, exactly. He said, 'Work hard, practice hard and do your best. Some day you might have a chance to play there.'"2 Also staying in the room was Felipe Alou.
At Farrington High School, Matias also starred in basketball and football. His finest moment as a schoolboy, however, came in the finals of the 1962 state baseball tournament. On May 18, he hit homers in all four at-bats at charming old wooden Honolulu Stadium, driving in all of his team's nine runs. The feat grabbed a banner headline in the city's main newspaper, the Star-Bulletin. Almost 50 years later, Hawaii still remembers.
"The left-handed hitting Matias, who hit three home runs during the regular season, never dreamed of such a performance. For starters, he batted leadoff because of his speed. 'I had pretty good wheels,' Matias said with a laugh. 'But the way we hit, we didn't have to steal too many bases. I knew I had some power, but I wasn't the type looking for home runs. I tried to spray the ball around the field. I wasn't big like some of the other guys on our team.'"3
That August, John and his teammates from Kau Tom Post #11 in Honolulu played in the American Legion World Series. Kau Tom became the Pacific Southwest champions, pounding Utah 17-1 in the regional final. John received a $25 first baseman's glove from Montgomery Ward for hitting the first home run in that game.4 The "Hammering Hawaiians" then went from New Mexico to Bismarck, North Dakota, where they lost the national championship playoff to St. Louis. "One factor which contributed to the sun-loving Hawaiians' loss in the final game was the fact it was played at night in the North Dakota city with a temperature prevailing at about 40 degrees."5 However, John won the tourney's James F. Daniel Memorial Sportsmanship Award.
Matias and his brother Bob both signed with the Baltimore Orioles, whose scout Fred Hofmann had observed them. The brothers went together to three stops in the O's chain: Bluefield, West Virginia (where John lashed the ball at a .433 clip); Aberdeen, South Dakota; and Fox Cities, Wisconsin. During the winter of 1963-64, they also played ball in their grandparents' homeland, Puerto Rico. Teammates on the Arecibo Lobos included Tony Oliva, the first generation of Alomar brothers, Carlos Bernier (then also a fan favorite in Hawaii with the Triple-A Islanders), John Boozer, and Cookie Rojas. With all that talent, the Class A players saw little action. Bob got just one at-bat without a hit, while John was 11 for 38 (.289) with 3 RBIs.
Only John — who was an All-Star in both the Appalachian and Midwest Leagues — continued to advance in the pros after 1964. Over the next couple of years, though, he had to contend with the massive presence of two sluggers at first base. Mike Epstein, the big Jewish kid from the Bronx, caused John to be moved to the outfield in 1965 at Stockton. Blocking Epstein at Baltimore was the even more powerful Boog Powell, who was just entering his prime. Matias had a good quick line-drive bat, a better glove than Epstein (Powell was quite deft for his size), and had the added dimension of pretty good speed. Still, the odds were against him with talent-laden Baltimore, which was embarking on its decade-plus run as a top-flight contender.
"My biggest break came when they traded me," Matias remarked. White Sox GM Ed Short insisted that the Orioles include the Hawaiian as part of the six-man trade on November 29, 1967 that brought Luis Aparicio back to the South Side of Chicago. (Baltimore also sent Russ Snyder to the Sox, receiving Don Buford, Bruce Howard, and Roger Nelson.) "'We had good reports on him,' Short explained. 'We figured it'd be a few years, but that some day he'd make it."6 Short's assessment was spot-on.
John ascended to Triple-A in 1969, his seventh minor-league season, and enjoyed an All-Star year for Tucson. He was fourth in the Pacific Coast League in batting (.314), second in total bases and RBIs (86), and led the league with 22 assists in right field. Matias was a special draw when the Toros went to Honolulu to play the Hawaii Islanders. He also displayed extra toughness. "He had an abscessed tooth which required oral surgery and 24 stitches. . .but 24 hours later, Matias, still groggy from the anesthetic, told [manager Bill] Adair 'I see two baseballs coming at me in the outfield but I think I can see all right at the plate.'" He proceeded to get the game-winning hit.7
After an excellent spring training in 1970, leading the team in homers, John Matias won a job with the White Sox — at age 25, he was a major-leaguer. "Just being there on Opening Day was exciting. There was a huge crowd, even though the temperature was in the 30s or 40s. . .I was all bundled up, with two sweatshirts, probably more. That was the greatest thrill of my baseball career."8
Chicago gave him a good long look, using him at first and in the outfield. John hit both of his two big-league homers against AL West rival Oakland, his first off Chuck Dobson and the other off the late Hall of Famer Jim "Catfish" Hunter. The latter came in his best burst as a big-leaguer, from May 20 to May 23, when he went 8 for 12 in three games.
Another of John's most vivid memories comes from Bat Day at Yankee Stadium on June 7, 1970. He replaced Carlos May in left; over in right, Walt "No-Neck" Williams was wearing his helmet to protect against the souvenirs being hurled out by the disgruntled rowdies in the bleachers.
Matias never enjoyed sustained success, however — owing to jitters, coming off the bench, and also because the blustery old Comiskey Park was a tough place to hit. He was returned to Tucson after 89 days — "perhaps because he would have earned a bonus if he was there for 90 consecutive days. Ironically, 'there was some flak about the bonus situation, so they did give it to me.'"9 Although he was recalled in September, after that he never did make it back to the majors. Nonetheless, his pro career was far from over.
Just after the 1970 season ended, John was traded with Gail Hopkins to Kansas City for Pat Kelly and Don O'Riley. That winter, at the invitation of his White Sox teammate Luis Aparicio, he played first base in Venezuela with Águilas del Zulia (based in Aparicio's hometown, Maracaibo). In 32 games, he batted .252 with no homers and 11 RBIs.
Matias spent the 1971 season in the Royals chain at Triple-A Omaha, but that December, Kansas City sold his contract. This was a blessing — he went back to Honolulu Stadium to play for the Hawaii Islanders, then the Padres' top affiliate. He pleased the local crowd with a career-high 20 homers, along with 81 RBIs. Unfortunately, the Islanders released him on June 25, 1973, as San Diego made room for outfielder Dave Marshall. He then joined Tacoma in the Twins organization.
Starting in 1974, Matias set out on a new adventure — six summers in the Mexican League. During his first five years in Mexico, he played with Ciudad Juárez, the sister city of El Paso south of the border. In 1975, John batted .365, second in the league behind a fellow ex-pat, former Cub Pat Bourque. The next year, he added a new wrinkle — he pitched for the first time as a pro. John told Indios manager José "Zacatillo" Guerrero that he had pitched in high school and could throw strikes.
Matias was so successful in his 13 relief appearances (5-1, 1.17 ERA) that he became a starter in 1977. The way Guerrero used him was a throwback to something out of the Negro Leagues: after his turn in the four-man rotation, John would move to first base, the outfield, and then DH. The fans loved it.
John's last year in Mexico, 1979, was spent with the Mexico City Tigres and Veracruz Aguila clubs. He finished his career in Mexico with a .306 lifetime average and a record of 26-25, 3.33 on the mound. He then came back home to play his 18th and final pro season as a Hawaii Islander in 1980, serving as DH for Hawaiian pitcher Fred Kuhaulua, among others. He batted .188 in 12 games and then called it a career.
Since retiring as a player, John has had the chance to watch son John Jr. star at the University of Hawaii from 1986 through 1989. He and his wife Pauline (née Amarino), who were married on February 6, 1965, have one other child: daughter Robin. Their five grandsons are all baseball players.
Of special note, though, Matias has devoted his time to being a high school coach (which he had also done during his off-seasons in the past, along with being a basketball referee). In 13 years at Pearl City High, he led his squad to the state tournament 11 times, winning two titles. Starting in 1993, John then moved on to a private Catholic school, Damien Memorial, where nephew Joe DeSa had gone to school in the '70s. He just missed coaching the Monarchs' other major-leaguer, Chris Truby, who graduated in 1992.
In 1997, he said, "I love working with the young men. We're a small school, so it's very tough to compete against the big schools. They don't pay much to coach. . .I just do it for the love of the game."10 He retired after the 2006 season.
John Matias remains loyal to the White Sox nearly 40 years after his brief stint in Chicago. "They gave me a chance to play. It was great just being on the same field with great players like Luis Aparicio," Matias said. "[The White Sox organization] made you feel like part of a family."11
Acknowledgments
Grateful acknowledgment to the Matias family for their assistance. Thanks also to SABR members Jorge Colón Delgado and Alfonso Tusa (statistics from Puerto Rico and Venezuela).
Sources
Treto Cisneros, Pedro, editor, Enciclopedia del Béisbol Mexicano. Mexico City, Mexico: Revistas Deportivas, S.A. de C.V., 1998.
American Legion baseball website: www.baseball.legion.org
Notes
Born
August 15, 1944 at Honolulu, HI (USA)
Died
April 7, 2020 at Aiea, HI (USA)
If you can help us improve this player's biography, contact us.
https://sabr.org/wp-content/uploads/2020/03/research-collection4_350x300.jpg
300
350
admin
/wp-content/uploads/2020/02/sabr_logo.png
admin
2012-01-04 20:08:53
2022-04-04 13:52:29
John Matias