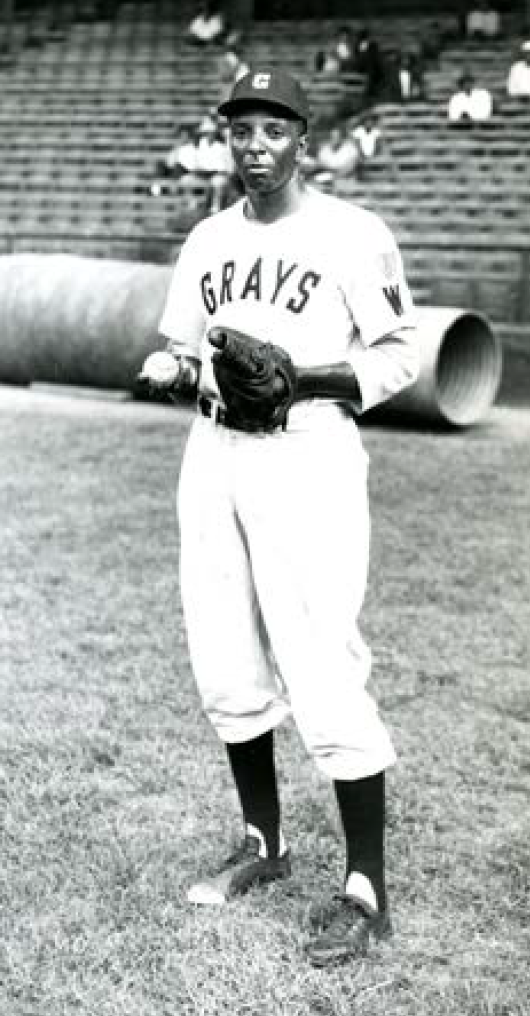 ---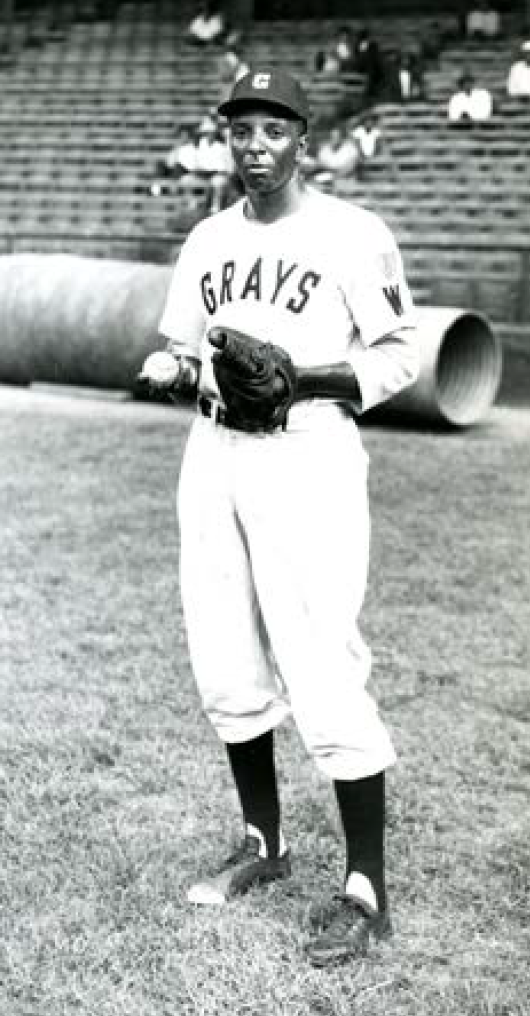 John Wright was the "owner of a blazing fast ball and a sharp-breaking curve and plenty of control"1 and his sinker brought "despair (to) opposing batsmen."2 To many who saw him, "He dominated batters."3 Wright will forever be linked in history with Jackie Robinson as the first two players to break the color line in the twentieth century. Wright's story, however, has been lost in history after one year of organized white baseball, while Robinson's career has been widely chronicled.
New Orleans-born Wright cut his teeth in the Negro Leagues beginning in 1937, and had been an ace pitcher for the Indianapolis Crawfords and then the legendary Homestead Grays. As a Navy man stateside, his remarkable pitching caught the attention of the Brooklyn Dodgers and owner Branch Rickey. After Robinson was signed, Wright soon followed, and the duo joined 200 teammates in Daytona Beach in March 1946. Baltimore Afro-American writer Sam Lacy said, "Wright doesn't boast the college background that is Jackie's, but he possesses something equally valuable – a level head and the knack of seeing things objectively. He is a realist in a role which demands divorce from sentimentality."4 Off the field he was affable, quiet, and reserved.5
Wright's chief strength as a pitcher was control.6 However, during his brief and infrequent appearances both in spring training and then with the Montreal Royals, his control failed him. While Robinson excelled, Wright returned to the fading Negro Leagues in 1947, reluctant to talk about his place in history.
Wright grew up in the Jim Crow segregated South. He was born in New Orleans on November 29, 1918, to Louisiana-born parents Richard and Hazel Wright. He had a sister, Isabel, two years older. Richard, at 23, was a railroad laborer, according to the 1920 census.7
While Wright was a teen, New Orleans "experienced some of the worst aspects of the Depression."8 The area was also forced to recover from the devastating Great Flood of 1927. Wright attended Hoffman and McDonough High Schools and graduated from the latter in 1935.9 Walter Wright (no relation) remembered one memorable outing: "He was just a kid, about 18 and he struck out the first six batters he faced."10 In 1934 John's Hoffman team lost the city championship to Wicker High;11 he had been pitching for Hoffman since 1932.12
In 1936 Wright began his pro baseball career with the New Orleans Zulu Social Aid and Pleasure Club. The team was "the Negro carnival organization whose yearly parade is a peak of Mardi Gras."13 They wore "Mardi Gras hula skirts with black-painted faces and white-painted circles 'round their eyes" and sometimes carried coconuts.14 A similarly dressed team around the same time, the Jackson Zulu Cannibal Giants, "clowned their way through the game – meanwhile playing excellent ball." That team would fold into the Miami Ethiopian Clowns15 and eventually become the Indianapolis Clowns one of the longest-surviving black barnstorming teams, owned by Syd Pollock. Wright pitched for the Clowns toward the end of his career.16
In March 1937 the Newark Eagles barnstormed through the South17 and Wright was discovered (and signed) while playing in Louisville.18 For Wright to get any action, he had to compete with Leon Day, who was second only to Satchel Paige as the Negro League's top arm.19 He also had to get past a depth chart of Willie Bell, Bob Evans, Terris McDuffie, and Jonas Gaines in the five-man rotation20 for manager Tex Brunett.
Newark opened the 1937 season on May 18.21 By early June, the Eagles had lost four league games,22 but they eventually finished in second place in both the first- and second-half standings. Wright made few appearances: five innings here, two innings there,23 or a rare start, like one in which he allowed six runs on 12 hits with five strikeouts and no walks against the Pittsburgh Crawfords.24
In 1938, again with Newark, Wright once more had to contend with "one of the best pitching staffs in the colored circuit,"25 Evans, Day, and McDuffie – the "Dizzy Dean of the Negro National League."26 Despite their stalwart pitching staff, the Eagles finished fifth.27 Wright pitched more often than he had the previous season, but still was not used consistently. He earned a win in May as a reliever in a 2-1 game on May 8 in which he struck out two in two innings.28 He pitched in a 14-9 win on June 12 over the Farmers in which he contributed an RBI double at the plate.29 He took the mound in relief of Day in a 4-1 loss to the Homestead Grays in the nightcap of a June doubleheader.30 When he did start, his outings were not solid; in one, he eked out a 9-7 win in spite of giving up five runs in the first inning,31 while another start resulted in a 12-3 loss the New York Black Yankees in August.32
In 1939 Newark, which was heavy on pitching, sent Wright to the Toledo Crawfords. At the time, Wright "possessed … a strong throwing arm, but lacked control."33 A Lincoln Evening Journal article had Wright pitching for the Crawfords in July, but very little else has survived of his 1939 exploits. The Toledo club was managed by Oscar Charleston and had Olympic Gold Medalist Jesse Owens as its owner.34 
Wright was used sparingly in his first three years of Negro League play. According to the Seamheads.com Negro League Database, Wright was 2-1 in five games against other black teams in 1937, 1-2 in six games in 1938 and 2-3 in five games in 1939. His ERA for those three years, a small sample of his overall record, was 4.30.35
During the 1939 offseason, Wright toured California with fellow Negro Leaguers including three all-stars from the previous season, Billy Horne (Chicago American Giants), Billy Wright (Baltimore), and Mule Suttles (Newark). The teams began their trek with the North-South Negro Classic at Pelican Stadium in New Orleans.36
In 1940 the Crawfords moved to Indianapolis. The Crawfords played a 54-game spring-training schedule in and around Fort Benning, Georgia, before opening the Negro League season in late May.37 Owner Jesse Owens would regularly "pull on a pair of long-spiked featherweights" and run exhibitions before Crawfords games. Wright looked to earn his spot in the rotation among veteran "Spoon" Carter, Jimmy Johnson, and Zeke Keyes.38 More importantly to the bottom line, Owens drew "capacity crowds wherever he has appeared."39 Owens even outran a motorcycle before 2,000 fans in one of Wright's starts.40
Wright's own exploits were catching the Indianapolis Star's attention. In May the paper nicknamed him "Sheriff" Wright for the season.41 Wright had a solid start to 1940, picking up "an impressive victory over the Chicago American Giants in his first local start."42 He followed with a 1-0, no-hit loss to the St. Louis Stars.43 A lack of run support continued with back-to-back 1-0 losses in early June.44 The offense came around in mid-June, as Wright "coasted through the first encounter" of a doubleheader with an eight-hit, 11-6 win over the Lincoln Giants, a group of local amateur Negro players.45 Wright then turned in a four-hitter against the Kansas City Monarchs.
By the end of June Wright had not allowed more than three runs in any league game and was now considered the Crawfords' ace, finding rhythm with catcher Steel Arm Bell.46 Wright led a rotation that featured 17-year-old Cannonball Johnson and Jimmy Johnson.47 In July he returned home to New Orleans to face off against the local New Orleans-St. Louis Stars before a crowd of 15,00048 as the team's "Sunday starter."49
Despite Wright's hurling, the low-scoring Crawfords (39 runs in 23 games) finished in last place in the Negro American League. According to Seamheads.com, Wright was 1-4 against other black teams in 1940, producing an ERA of 1.67 in 43 innings while walking just five and striking out 19. While this is not a complete record, it does provide a good sample of a pitcher with pinpoint control and a low ERA. The legendary Homestead Grays noticed and continued their practice of siphoning off their opponents' best players, of which Wright was now one. He joined the Grays for 1941.
The 1941 season opened on May 10 and 1150 after spring training in Orlando under manager Vic Harris.51 The Grays now had to play without Josh Gibson, who jumped to the Mexican League for $6,000.52 Wright joined a crowded rotation that included Ray Brown, who had gone 18-2 in 1940, left-hander and future Dodgers minor-league teammate Roy Partlow, and newcomers Terris McDuffie, a future All-Star (from Newark), and Cliff Blackman (from Mobile).53 Also included was holdover Edsall Walker. Columnist Wendell Smith called them "the best balanced pitching staff in sepia baseball and that in itself makes them the favorites."54
The Grays jumped to a 14-6 start by mid-June, and Wright made the most of his opportunities. In one game in which he relieved Hamilton, who was "anything but puzzling," he was "very good" and "never in danger" as he earned the 14-7 win over the Philadelphia Stars. Wright allowed four runs on six hits in the final six innings after the Stars jumped out to a 4-1 lead on Hamilton.55 His breakout game may have occurred on July 13, at the end of the season's first half, when he pitched a five-hitter with four strikeouts in a 1-0 pitcher's duel against the New York Cubans in a game "marked by fast and glittering fielding and the best pitching seen at the Cricket field in many a year."56 The Grays won the first half as they were a "championship team of major proportions."57 They went on to beat the Cubans for the 1941 NNL second-half pennant, but there was no Negro League World Series that season.
Rumblings of blacks playing in the white leagues began to ramp up in early 1940s, when Satchel Paige suggested that a team filled with black players should enter the majors.58 In 1942 The Sporting News raised the issue in an editorial, asserting there was "no good from raising the race issue."59 The paper noted the benefits of having two games and two leagues and even suggested putting white stars on Negro League teams to "thrust themselves into the limelight as great crusades in the guise of democracy."
Joe Bostic, a sports columnist for the Harlem People's Voice, said most were "lukewarm to the idea" and logistical problems such as housing/dining, the "criticism of sometimes-cruel and hot-headed fans" and the majors raiding the Negro Leagues (would lead to) lower quality and less profitable games.60
In 1942 Wright was again part of the starting staff of "sharp shooters" along with right-handers Brown, Bill Houston, and Tom Corcoran and lefties Partlow, Lefty Hamilton, and Digger Welmaker. The Baltimore Afro-American called the Grays "without a doubt, one of the greatest diamond aggregations ever assembled."61
No statistics for Wright are available from the 1942 season, but he was part of another Grays championship squad. The Grays and Monarchs met in the first Negro League World Series since 1927 with Partlow and Brown serving as the team's top arms. The Monarchs, behind Paige, took the first three games before "Pitcher Day," an obvious ringer, "fanned a dozen" in a Game Four Grays win, which was later forfeited.62 The Monarchs swept the series in four games. Two months later, two of the three Grays pitchers considered for the Pittsburgh Courier Dream Team, Partlow and Welmaker, were gone, leaving a big hole behind Brown.63
January 1943 proved to be a tough month for the Grays. Gibson was diagnosed with a nervous breakdown,64 the Mexican League grabbed Brown,65 and manager Harris quit to take a better- paying defense job.66 There were even questions about whether there would be a Negro National League, as many players joined the military.67 Eventually things settled down, and a season did take place.
Candy Jim Taylor became the Grays' manager in late January68 and Wright earned a more prominent role.69 He established himself in the spring70 and pitched before ever-rising crowds – 6,500 in a doubleheader sweep of the Stars71 and 9,000 at Griffith Stadium in a sweep of the Elite Giants, when Wright opened the day with a 2-1 five-hitter.72 In June in Washington, 20,000 fans came out to see Wright win a 10-2 six-hitter over the Monarchs and Satchel Paige.73 Taylor was "pleased" with his 20-something ace and Wright quickly became "one of the leading moundsmen in the Negro National League."74
The "stringbean fireballer with great control and wicked curve" really came into his own. He seemed to "thrive on hard work once he became a … mainstay of the Pittsburghers' hill corps."75 By early June Wright had won a half-dozen games and had been "stingy with his hits and runs" following a one-hitter against the Elite Giants.76 By the middle of the month the team was battling the New York Cubans for first place as Wright pitched a four-hit shutout of the Cubans to complete a doubleheader sweep and keep the opponent in second.77 The Grays won the first half and won 45 of 52 games as Gibson, Cool Papa Bell, and Buck Leonard anchored the offense.78 The Grays had "a lineup loaded with TNT" and a "great pitching staff."79 By early August, Wright was 13-1 and Ernest Carter was 11-0.80
Teams featuring white professionals were no match for the Grays. Wright had a victory over the Army's New Cumberland Reception Center team, which featured a half-dozen major leaguers led by Detroit Tigers outfielder Pat Mullin; he struck out six and allowed four runs.81 At one point in 1943, New Cumberland was 30-4,82 with two of those losses coming to the Grays. Wright also defeated the Brooklyn Bushwicks, a top semipro team filled with former major-league players, with a nine-hit, 10-3 win in July.83
A crowd of 51,000 saw Wright pitch at Comiskey Park in the 1943 East-West All-Star Game on August 1, in which he gave up the eventual winning run in the fourth inning of a 2-1 West victory while surrendering two hits in two innings.84
Regardless of the competition, Wright performed. He later stated that the greatest thrill of his career came when he defeated the Chicago White Sox in 1945. He had also beaten the Brooklyn Dodgers in an exhibition game.85 In the mid-1940s, Wright was dominant regardless of the foe. Black columnist Ted Yates said that to sell War Bonds, Negro League stars should play a white all-star team at Yankee Stadium to prove they "belong in the same league," which Wright and his Homestead teammates were already showing to be the case.86
Wright went 26-4 during the regular season87 and twice gave the Grays a series lead in the Negro League World series against the Birmingham Black Barons with shutouts. He lost the opener on September 21, giving up two runs in the first inning, as three of the Black Barons' four runs were unearned in a 4-2 Grays loss.88 At Chicago's Comiskey Park, Wright had a "gilt-edged pitching performance"89 with a 9-0 five-hit shutout over the Black Barons to give the Grays a 2-1 Series lead before 6,000 fans.90 After the Black Barons won Game Four, 11-10, in Columbus, Ohio, Wright put the Grays up, three games to two, with a six-hit shutout in Indianapolis. A five-run seventh led to an 8-0 win.91 After Birmingham won Game Six 1-0 in 11 innings, controversy ensued prior to Game Seven.
Wright was slated to throw in his native New Orleans in the deciding game, but a mix-up in a wire-service article led to protests by the Grays and the game was eventually played in Montgomery, Alabama. The New Orleans promoter was forced to refund $700 and cancel the game, for which a crowd of 20,000 had been expected.92 The fiasco started when the Associated Press mistakenly said the game would be played in Montgomery six days earlier, despite assurances by both clubs of a game in New Orleans.93 After the Grays suggested a nine-game Series, "league officials put their foot flatly down."94 The Grays prevailed in Montgomery, 8-4. Wright struck out nine and gave up four runs on six hits while walking three in six innings before a crowd of only 4,000.95
In October 1943 Wright returned to New Orleans play for the Zulus, opposing a Houma Red Sox pitcher whom the local papers simply listed as "Groundhog."96 Groundhog Thompson in fact was a future Grays teammate in the late 1940s, and a 1952 Negro League All-Star. Wright also played for the Delta Cubs, as Homestead teammate Joe Spencer and Cleveland's Billy Horne provided his "keystone combination."97
After his best season (26-4 and 2-1 in the Negro League World Series), Wright enlisted in the Navy. Along with many Negro League players, 500 white major leaguers and 4,000 minor leaguers served in the armed forces during World War II. Many played baseball stateside to provide entertainment. The Great Lakes Naval Training Station had separate teams that featured white and black stars. The white Great Lakes team had 68 major leaguers at one time or another, including five Hall of Famers.98
The all-black Great Lakes Blue Jackets, of which Wright was a part in 1944 and 1945, also featured Larry Doby, who would become the first black player in the American League, and fellow trailblazer Chuck Harmon, the first black player for the Cincinnati Reds. In 1944 Wright started 8-2 with an ERA under 3.00 for the Navy team.99 He later went to Floyd Bennett Field in Brooklyn, and was said to have gone 15-4 with the lowest ERA of any pitcher in armed forces baseball.100
In February 1945 color barriers began to fall. New York legislators passed a bill that barred discrimination on the Dodgers, Yankees, Giants, and 13 New York state minor-league teams.101 Wright, however, was back with the Grays for the Negro League World Series against the Cleveland Buckeyes, though New York's new law would soon play a role in his life and career. Cleveland won all four games, with Wright pitching only the second game of a doubleheader in front of 17,000 fans in Game Two. Wright was the hard-luck 4-2 loser as the Buckeyes tallied two in the seventh and two more in the ninth.102
Wright caught the Dodgers' attention while pitching at Ebbets Field in a game between top Negro players in September 1945. In five innings he allowed just two hits and "whipped three fast ones past Ed Slanky" to leave the bases loaded in the first and made an initial impression that would soon lead to Organized Baseball.103 Dodgers scout Wid Matthews104 and coach Charlie Dressen, who was at the game,105 recommended Wright to Rickey. Grays owner Cum Posey saw the impending signing of his players as "thievery."
In October 1945 Rickey signed Jackie Robinson. On January 29, 1946, Wright – who was regarded "as one of the brightest pitching prospects in Negro Baseball"106 – became the second black player to sign with the Dodgers. Rickey's reasons for signing black players were varied. On the one hand, he saw them as a commodity, once saying that they were "the greatest untapped reservoir of raw material in the history of the game."107 Rickey also felt guilt because of a 1904 college incident that had occurred when was at Ohio Wesleyan in which a hotel refused to admit the team because it had a black player, Charley Thomas.108 Signing black players would encourage more black fans to come through the turnstiles, though it did stifle black economic power by weakening the Negro Leagues.109
Now 27 years old, Wright weighed 172 pounds and was described as "tall, lean and lanky."110 His résumé included winning three no-hitters – for the Grays against the Cubans in Youngstown, Ohio; for his Navy team against a naval school; and in Indianapolis against the St. Louis Stars – and losing a fourth when Chin Greene of the St. Louis Stars walked, stole second and third, and scored on a wild pitch. Wright said later, "First of all you want to be the guy who won it and I lost in in spite of the fact I had won three no-hitters and could have won a fourth."111
To prepare for the season Wright worked out at Xavier University in New Orleans.112 Once he arrived in Daytona Beach, Florida, he and Robinson stayed with private families in the black section of town while their white teammates were housed in a hotel.113 The "debut" of the first black players in Organized Baseball was delayed by two days as bad weather grounded Robinson's plane in New Orleans and Rickey wanted No. 44 (Wright) and No. 36 (Robinson) to begin spring training together.114
Rickey was stern with his white players, saying they "must regard them as two more baseball players the same treatments accorded all other players."115 All the spring-training games for the Montreal Royals, the Dodgers' top farm club, would end up being played in Daytona because of Sanford, Jacksonville, and DeLand barred games with white and black players.116 The Royals refused to play without their black teammates.117 Daytona, which was considered to be more progressive and accepting than other Florida cites because of a black middle class, became the team's only option.118
The arrival of Robinson and Wright on March 4 was just another day to the white press. The Associated Press talked of the duo going "through the routine practice motions" before seven "uninterested … spectators."119 The Orlando Sentinel had one paragraph with the caption "Negro Stars Report."120  For the black press, "(T)he baseball world again vibrated as the announcement flashed across the Nation," Wendell Smith wrote for the Pittsburgh Courier.121
The mood and attitude toward the first two African-American players in Organized Baseball appeared to change for the better as spring training progressed. The Baltimore Afro-American reported:
"The best example of how the team has warmed up to the pair is shown in the change that has come over the entire camp. During the early days of the training campaign, there was an unmistakable aloofness on the part of several candidates. A majority of these was Southerners. In recent weeks though there has been no noticeable effort on the part of any man in camp to avoid his colored teammates."122
Wright concurred, saying of his teammates, "These fellows treat me like a brother and don't think I don't appreciate it." Also, people in Daytona Beach, both black and white, showed him "every courtesy."123 Baseball Commissioner Happy Chandler watched the right-hander throw.124
Bill Mardo of the Cleveland Call thought that Wright had a better chance than Robinson to make the big leagues because "The Dodgers are terribly low on good pitchers, and by gosh that Wright is one helluva moundsman."125 Cuban Stars owner Alex Pompez predicted a 15-win season for Wright in Montreal and tabbed him as the "sleeper" for the Dodgers.126
However, things did not go well for Wright. He gave up eight runs on 10 hits in a five-inning intrasquad game, walked four in four innings in another appearance, and was "wilder than an Egyptian Zebra"127 with four walks and a hit batter in his final Florida appearance. Once the season began, Montreal used him sparingly. With opposing players jeering Robinson in Syracuse, Wright gave up four runs on five hits in 3⅓ innings of relief. Against another hostile crowd in Baltimore, he came on with the bases loaded in the sixth, got out of the jam and did not allow a hit the rest of the way. In spite of this successful performance, he would not be used again.128 As the Pittsburgh Courier wrote, it was a "mystery" that Wright was used in only two road games for Montreal, with the Southern-born manager's response being that "he was not ready yet."129 Wright was demoted to Three Rivers of the Canadian-American League on May 14.
Despite being lost in the shuffle, Wright never showed resentment for his lack of work and was simply patient.130 Sam Lacy wrote that Montreal had too many right-handers and that Wright simply "did not have the chance many had hoped he would have nor did he prove any ball of fire when the opportunity presented itself." Don Newcombe, who was with Montreal in spring training, believed that Wright "worked hard and tried, but he was tense."131
It was not just the fans or umpires who were against integration in those early days of baseball's Great Experiment, but sometimes his own teammates. Years later Wright told a magazine writer that once, in an exhibition game in Buffalo, "my own catcher (Herman Franks) was tipping off the batters about what pitches I'd be throwing." The umpire brought the team together on the mound, including Robinson, and told (Franks) to knock it off.132
Tensions eased in French-speaking Trois-Rivieres (Three Rivers), and Wright rebounded. It was "likely [he] felt at home more than most Americans" because of his hometown New Orleans' French roots.133 Three Rivers was in seventh place when Wright arrived, but the team ended up winning the league championship. Wright was joined by Negro League right-hander Ray Partlow during the season and "perked up" when the veteran arrived.134 Wright finished the season at 12-8 with a 4.15 ERA, appearing in 32 games for California-born manager Frenchy Bordagaray, whose background could not have been more different than that of Montreal's skipper, Mississippi-born Clay Hopper.
Wright, however, was released in January 1947 and returned to the Grays.135 Partlow was released in March.
Not unexpectedly, Branch Rickey's moves led to greater prosperity for other black players. In 1946 the Dodgers had spent a combined $11,310 on salaries for their black players. Robinson ($3,600 for the year), Newcombe ($2,100), and Roy Campanella ($3,110) all remained with the organization in 1947. Pitchers Wright ($2,100) and Partlow ($2,400) did not.136 Each player had been making more in the Negro Leagues, between $500 and $600 a month, but jumped to Organized Baseball because "there was no future in Negro baseball." By 1953, the top 11 black players in the majors made a combined $238,000.137
Integration also accelerated the end of the Negro Leagues. The Negro National League folded after the 1948 season, leaving just the Negro American League, while the Grays held on for one more year as a barnstorming outfit. Attendance fell from 158,000 in 1946 to 48,037 in 1948.138
As for Wright, he still had to provide for his family, and that meant playing baseball. In the offseason, he, Partlow, and Campanella played in Puerto Rico, before large crowds that totaled 170,000 in the first four weeks of the season.139 Once the 1947 season began, there was a sad irony in the fact that Wright had returned to New Orleans to open the Negro League season at Pelican Stadium against the Cubans on April 13 only two days before Robinson broke the color line in Brooklyn.140 Nonetheless, Wilmer Fields, a teammate with the Grays, said, "John never talked much about his experience with the Dodgers. He was a happy-go-lucky person."141
In fact, Wright had said of Rickey, "I couldn't find words to say how swell he really is. He treats Jackie and me as though we were his sons." He also liked Rickey's son, assistant general manager Branch Rickey Jr.142 Wright and the Grays persevered, but it was an unfortunate fact that they had to play without Josh Gibson, who had died of a stroke during the previous winter.
When Wright was selected for the East-West All-Star Game in late July, he was 7-2, showing some of his old magic.143 He finished the year 8-4.144 His team was rolling as well, pushing across a 30-4 record into August.145 In September 1947 Wright returned to New Orleans for the ninth North-South Negro Classic at Pelican Stadium,146 a game for which he also had been selected in 1939. The Grays, however, fell short of competing in the Negro League World Series in 1947. In the offseason, Wright and Newcombe pitched for Caracas in the Venezuelan Winter League. Wright pitched well at one point going 2-0-1.147
In 1948 the Grays, in what would be their last hurrah in the Negro Leagues, won 10 of their last 11 games – including eight in row – to force a playoff with the Baltimore Elite Giants. They beat the Giants and then defeated the Birmingham Black Barons four games to one in the Negro League World Series. Wright's statistics for 1948 are unavailable, but he did not make an appearance against Birmingham in the Series.
After the 1948 season the Grays and New York Black Yankees disbanded and the Newark Eagles were sold and moved to Houston. Most of the Eagles players decided not to join the club in segregated Texas. Players from the three teams were distributed to other teams by lot. Wright and teammates Tom Parker and Luther Clifford went to the Buckeyes, who had moved from Cleveland to Louisville; however, there is no record of Wright pitching in the Negro Leagues after 1948.148
Wright played in the reorganized Mexican League in the 1950s – with the San Luis Potosi Tuneros (1950), the Veracruz Azules (1950), Nuevo Laredo (1951), and Torreon (1951) with former Grays teammate Buck Leonard, who was then 43 years old. In Mexico Wright asked only to pitch on Saturdays so he could see the bullfights on Sundays. The local fans called him "Conejo" (Rabbit) because of his fidgety nature on the mound.149
Wright is also listed as playing in the Dominican League from 1952 to 1954 with Leones del Escogido (1952-53), where he went 10-5 with a 2.05 ERA in 1952 and 4-9 with a 1.64 ERA in 1953. With Aguilas Cibaenas (1954) he was 0-7 in 10 games with a 4.95 ERA, bringing his totals in three Dominican seasons to 14-21 with a 2.35 ERA.150 After his stint in the Dominican Republic, he signed with the Indianapolis Clowns, now a barnstorming team, in August 1954. In his first game, at the age of 36, he shut out the Kansas City Monarchs.151
After Wright's baseball career ended, he was employed by National Gypsum as a driver and janitor for the rest of his working life. In his spare time, he enjoyed fishing on Louisiana's bayous. Over the years, Wright was reluctant to grant interviews. When he did sit down to be interviewed by a Canadian journalist in the mid-1980s, the writer described him as very hospitable and a "slim, fit-looking, suave … (man who) could still step on the mound." By that point, Wright had four children with his wife, Mildred Creecy, 18 grandchildren, and four great-grandchildren. He jokingly told the writer that he had to give up tossing the ball due to "Cousin Arthur" (arthritis).152 His family knew Wright by the nickname Hoss, but each succeeding generation knew less and less about his exploits in the Negro and Latin leagues as he never talked about baseball with his grandchildren.153
Wright died on May 4, 1990. At his funeral, Walter Wright (no relation) said, "I'm sure most of his co-workers at the gypsum plant never even knew he was a ballplayer. And I when I looked over at his casket, I couldn't help wondering how many stories it contained – stories that now would never be told." 154
This biography appears in "Bittersweet Goodbye: The Black Barons, the Grays, and the 1948 Negro League World Series" (SABR, 2017), edited by Frederick C. Bush and Bill Nowlin.
Notes
The author would like to thank Carlis Robinson, John Wright's daughter, for providing information about her father and Ryan Whirty for compiling research that helped with this biography.
1 Chris Lamb, Blackout: The Untold Story of Jackie Robinson's First Spring (Lincoln: University of Nebraska Press, 2004), 69.
2 W.M. Akers, "The Forgotten Men Who Broke Baseball's Color Line With Jackie Robinson," Vice Sports, April 15, 2015, sports.vice.com/en_us/article/the-forgotten-men-who-broke-baseballs-color-line-with-jackie-robinson.
3 "New Orleanian John Wright, a Pitcher, Also Signed With Dodgers in 1945, But He Never Made It to the Major Leagues," New Orleans Times-Picayune, April 3, 1997.
4 Ryan Whirty, "Second Black Player Signed After Jackie Robinson Never Made His Mark," April 12, 2013, baseballamerica.com/majors/second-black-player-signed-after-jackie-robinson-never-made-his-mark/#iRiGRi7mKX23Y7uI.97.
5 "New Orleanian John Wright."
6 Ibid.
7 Much of the census data, as well as news articles from the Louisiana Weekly and Times-Picayune, among others was researched and compiled by Ryan Whirty and given to the author.
8 Matthew Reonas, "Great Depression in Louisiana," knowla.org, knowla.org/entry/875/.
9 Dan Burley, "Confidentially Yours," New York Amsterdam News, April 27, 1946: 12.
10 "New Orleanian John Wright."
11 "Wright Cops High Point," Louisiana Weekly, May 12, 1934.
12 "Wright, New Orleans Baseball Player, to Join Montreal Royals in Mar.," Louisiana Weekly, February 9, 1946: 1.
13 Alan Pollock and James A. Riley, Barnstorming to Heaven: Syd Pollock and His Great Black Teams (Tuscaloosa: University of Alabama Press, 2006), 261.
14 "New Orleans Zulus Mourn King-Elect," News Palladium, November 22, 1939: 2.
15 Raymond Mohl, "Clowning Around: The Miami Ethiopian Clowns and the Cultural Conflict in Black Baseball," Tequesta: The Journal of the Historical Association of Southern Florida 1, No. 62 (2002). In the 1930s the Giants regularly traveled to Miami for winter baseball and played the Miami Giants, relying on Syd Pollock to book them games. In 1937, "possibly by the urging of Pollack," the team was renamed the Ethiopian Clowns." digitalcollections.fiu.edu/tequesta/files/2002/02_1_02.pdf.
16 Pollock and Riley, 27.
17 "NY Black Yanks Set Training Plans," Pittsburgh Courier, March 20, 1937: 22.
18 "Second Negro Baseball player Signs Montreal Royals' Contract," Montreal Gazette, January 30, 1946: 13.
19 Chester L. Washington,. "Calling All Strikes…," Pittsburgh Courier, April 24, 1937: 16.
20 "Eagles Present Strong Line Against Grays," Pittsburgh Post-Gazette, June 12, 1937: 17.
21 "Homestead Grays Oppose Newark Eagles Tomorrow," Morning News, May 17, 1937: 12.
22 "Colored Teams to Play Friday," Evening News, June 5, 1937: 13.
23 "Newark Eagles Fly Away With Double Victory," Brooklyn Daily Eagle, July 6, 1937: 20.
24 "Crawfords Defeat Newark Eagles 6-1," Pennsylvania Gazette and Daily, August 12, 1937: 11.
25 "Newark Eagles Visit Belmar With Good Pitchers, Hitters," Asbury Park (New Jersey) Press, June 24, 1938.
26 "Negro Nines Vie Tuesday," Rochester Democrat and Chronicle, July 31, 1938: 37.
27 Cum Posey, "Posey's Points," Pittsburgh Courier, September 10, 1938: 17.
28 Brooklyn Eagle, May 9, 1938: 16.
29 "Eagles Twice Stop Farmers," Brooklyn Eagle, June 13, 1938: 14.
30 "Grays Win Two," Pittsburgh Post-Gazette, June 6, 1938: 15.
31 Jocko Maxwell, "Eagles Split With Stars," New York Age, June 25, 1938: 8.
32 Ibid.
33 Joe Bostic, "Rickey Signs Up Negro Pitcher," Amsterdam News, February 2, 1946: 1.
34 "Jesse Owens Coming," Lincoln (Nebraska) Star, July 6, 1939: 12.
35 In 1939, Wright appeared in a June game for the Camden Giants against Lloyd AC, falling victim to a 19-strikeout performance by Addis Copple. A news article stated afterward that "Wright is no longer with the club." Records were spotty in regard to his complete pitching record. "Copple Fans 19 to Best Newsome Hurling Duel" Delaware Daily Times, June 15, 1938: 38. Records are spotty from the period, as the Negro League Baseball Player Association has also listed him with the Atlanta Black Crackers and Pittsburgh Crawfords in 1938 Negro National Players Association Roster. nlbpa.com/the-athletes/wright-john—needle-nose.
36 "North-South Negro Battle Billed Today," New Orleans Times Picayune, October 1, 1939: 2.
37 "Crawfords Are in Form for Negro Loop Openers," Indianapolis Star, May 24, 1940: 20.
38 "Negro Stars to Play at Casino," Monroe (Louisiana) News-Star, April 18, 1940: 9.
39 "Negro Teams to Play Tonight," Monroe News-Star, April 24, 1940: 8.
40 "NO Stars Take Two Games From Toledo," Times Picayune, July 29, 1940: 13.
41 "Crawfords Will Play Double-Header Sunday," Indianapolis Star, May 23, 1940: 19.
42 "St. Louis Stars Play Here Today," Indianapolis Star, June 2, 1940: 41.
43 "Crawfords Will Play Cleveland Nine Sunday," Indianapolis Star, June 13, 1940: 24.
44 "Crawfords Play Lincoln Giants," Indianapolis Star, June 16, 1940: 38.
45 "Crawfords Win, Tie In Twin Bill," Indianapolis Star, June 17, 1940: 16.
46 "Crawfords Expect Pitchers' Battle," Indianapolis Star, June 28, 1940: 23.
47 "Famous Colored Team and Track Champ Due Here," Waco Tribune-Herald, July 14, 1940: 8.
48 "New Orleans Stars Primed for Clash With Toledo Crawfords," Pittsburgh Courier, July 27, 1940: 16.
49 "Toledo Crawfords to Play Oilers Tonight," Indianapolis Star, August 9, 1940: 16.
50 "Negro Nat'l League to Open Season on May 10 and 11," New York Age, March 15, 1941: 11.
51 "Giants to Meet Grays on Sunday," Orlando-Tennessean, April 24, 1941: 20.
52 "Homestead Grays Sue Negro Catcher," Daily Republican, April 29, 1941: 2.
53 "Grays Begin Here in Baltimore," Pittsburgh Press, May 2, 1941: 52.
54 Wendell Smith, "Smitty's Sports Spurts / Good Star," Pittsburgh Courier, May 10, 1941: 16.
55 "Homestead Grays' 23-Hit Assault Buries Philly Stars," Altoona (Pennsylvania) Tribune, Jun 26, 1941: 6.
56 Os Figard, "Homestead Grays Win 1-0 Mound Duel Over NY Cubans," Altoona Tribune, July 14, 1941: 6.
57 "Isabella Is Playing Champion Negro Club," Morning Herald, July 12, 1941: 6.
58 "Paige's Major Leaguers," New York Age, July 26, 1941: 11.
59 The Sporting News, August 6, 1942: 4.
60 Ibid.
61 "Grays to Carry Power Nine to Stadium Sunday," Baltimore Afro-American, May 19, 1942: 22.
62 "Monarchs Cry 'Ringer' in World Series Loss," Wilkes-Barre Record, September 21, 1942: 10.
63 "Kansas City, Homestead Grays Stars Dominate Dream Team," Pittsburgh Courier, November 7, 1942: 17.
64 "Famous Catcher Sent to the Hospital," Pittsburgh Courier, January 9, 1943: 6.
65 Pittsburgh Press, January 11, 1943: 18.
66 Paul Kurtz, "Sports Stew," Pittsburgh Press, January 16, 1943: 10.
67 Cum Posey, "Posey's Points," Pittsburgh Courier, January 23, 1943: 16.
68 Pittsburgh Courier, January 30, 1943: 16.
69 "Grays to Start Training at Akron (O) Park Monday," Pittsburgh Press, April 10, 1943.
70 "Homestead Grays Win Double-Header," Pittsburgh Press, April 26, 1943: 19.
71 "Grays Defeat Stars 9-3, 8-2," Pittsburgh Post-Gazette, May 24, 1943: 16.
72 "Grays Defeat Elites, 2-1, 7-0," Pittsburgh Post-Gazette, May 17, 1943: 17.
73 "20,000 See Grays Defeat Monarchs," Pittsburgh Press, June 21, 1943: 15.
74 Paul Kurtz, "Grays Pilot Pleased With Pitcher Wright," Pittsburgh Press, April 17, 1943: 8.
75  Bostic.
76 "Good Hurlers Boasted," Cincinnati Enquirer, June 8, 1943: 20.
77 "Grays Trim Cubans in Double-header," Pittsburgh Press, June 13, 1943: 44.
78 "Large Crowd Expected Sunday at Polo Grounds," New York Age, July 24, 1943: 11.
79 "Negro Champions at Dexter Sunday" Brooklyn Daily Eagle, June 3, 1943: 16.
80 "Heavy Hitters on Army Team," Pittsburgh Post-Gazette, August 10, 1943: 13.
81 "Stars Go Down; Face Army Nine" Evening News, May 31, 1943: 11.
82 "New Cumberland Bows," Pottstown (Pennsylvania) Mercury, August 12, 1943: 10.
83 "Lose Again to the Grays," Brooklyn Eagle, July 3, 1943: 14.
84 All-Star Box, Pittsburgh Courier, August 7, 1943: 19,
85 "Wright, New Orleans Baseball Player, to Join Montreal Royals in Mar.," Louisiana Weekly, February 9, 1946: 1.
86 Ted Yates, "I've Been Around," New York Age, June 19, 1943: 10.
87 "Grays, Barons Battled for Negro Baseball Championship," Daily Republican, October 5, 1943: 1.
88 "Birmingham Wins Opener of Series," St. Louis Post-Dispatch, September 22, 1943: 26.
89 "Shutout in Game at Chicago," Pittsburgh Courier, October 2, 1943: 16.
90 "Grays Take Series Lead, Whip Barons 9-0 at Chicago," Louisiana Weekly, October 2, 1943.
91 "Greys Blank Barons, 8-0," Indianapolis Star, September 30, 1943: 13.
92 "Negro World Series Deciding Tilt to Be Played Here Sunday," Louisiana Weekly, October 9, 1943.
93 "Canceled: Deciding Game Farce; Weird Schedule of World Series Irks Fans," Louisiana Weekly, October 16, 1943.
94 "Grays Are World Champs," Chicago Defender, October 16, 1943: 11.
95 Ibid.
96 "Zulus to Play Houma Jax Red Sox in Negro Contest," Times Picayune, October 23, 1943.
97 "Delta Cubs Play Houma Sox Today," Times Picayune, November 7, 1943: 29.
98 Roger Gogan, Blue Jackets of Summer (Ypsilanti, Michigan: Great Lakes Sports Publishing, 2008), foreword.
99 "Great Lakes Colored 9 vs. Red Wings Sunday," Chicago Daily Herald, July 21, 1944: 1.
100 Lamb, 103.
101 "NY Bill Would Prevent Color Barriers in Game," The Sporting News, February 8, 1945: 17.
102 "Battling Bucks Win 2-1, 4-2 in World Series," Pittsburgh Courier, September 22, 1945: 12.
103 Bostic.
104 Ibid.
105 "Grays' Hurler Is Signed by Dodger Farm," Pittsburgh Post-Gazette, January 30, 1946: 13.
106 Dan Burley, "Confidentially Yours," Amsterdam News, February 2, 1946: 19.
107 Anthony Pratkanis and MarleneTurner, "Mr. Rickey Has His Way," Across the Board, July/August 1994.
108 Ibid.
109 Aaron Leibowitz, "On Branch Rickey and the Negro Leagues," Si.com, April 21, 2015, thecauldron.si.com/on-branch-rickey-and-the-negro-leagues-f5bb56cd0dfe#.5wz771axo. "Certainly Robinson's presence in itself challenged white supremacy, and his acceptance was a symbol for the black masses bombarded with falsehoods of physical and mental inferiority," writes Malaika Jabali. "But the other side of integration that is rarely acknowledged goes beyond this symbolism: Robinson's role ultimately was to stifle one of the few institutions of black economic power that, after almost a century, blacks have yet to reach in any athletic league."
110 Dan Burley, "Confidentially Yours," Amsterdam News, April 27, 1946: 12.
111 Ibid.
112 "Wright, New Orleans Baseball Player, to Join Montreal Royals in Mar.," Louisiana Weekly, February 9, 1946: 1.
113 "Jackie Robinson, First Negro to Crash Organized Baseball in Modern Times, Reports to Brooklyn's Dodgers Today," Times Daily, March 1, 1946: 5.
114 Sam Lacy, "Robinson and Wright Arrive at Royals Camp," Baltimore Afro-American, March 2, 1946: 18.
115 "Brooks Are Cautioned re Robinson, Wright," Montreal Gazette, March 1, 1946: 16.
116 Today in New Orleans History, Associated Press, March 5, 1946, neworleanspast.com/todayinneworleanshistory/november_28.html.
117 Jules Tygiel, Baseball's Great Experiment: Jackie Robinson and His Legacy (New York: Oxford University Press, 1997), 115. Montreal club president Hector Racine said, "It will be all or nothing with the Montreal club. Jackie Robinson and John Wright go with the team or there's no game."
118 Andrew Carter, "Spring of 46," Orlando Sentinel, March 4, 2006, articles.orlandosentinel.com/2006-03-04/sports/NEWROBINSON04_1_jackie-robinson-sanford-montreal-royals.
119 Today in New Orleans History, Associated Press, March 5, 1946, neworleanspast.com/todayinneworleanshistory/november_28.html.
120 Andrew Carter, "Spring of 46."
121 Whirty, "Second Black Player Signed."
122 "White Mates Remain Loyal to Two Montreal Stars," Baltimore Afro-American, April 6, 1946, 31.
123 Dan Burley, "Confidentially Yours," New York Amsterdam News, April 27, 1946: 12.
124 Wendell Smith, "The Sports Beat," Pittsburgh Courier, March 23, 1946.
125 Today in New Orleans History, Associated Press, March 5, 1946.
126 Tygiel, 118.
127 Ibid.
128 Ibid.
129 "Wright Is Patiently Awaiting Big Chance," Pittsburgh Courier, May 11, 1946: 22.
130 Wendell Smith, Wendell "The Sports Beat," Pittsburgh Courier, May 11, 1946: 22.
131 Tygiel, 118.
132 Don Bell, "The Wright Stuff," MVP Magazine, June 1986: 46.
133 Wendell Smith, "The Sports Beat," Pittsburgh Courier, May 11, 1946: 22.
134 Akers, "The Forgotten Men Who Broke Baseball's Color Line With Jackie Robinson."
135 Jim Hall, "Time Out," Louisiana Weekly, April 5, 1947.
136 Wendell Smith, "Sports Beat," Pittsburgh Courier, January 24, 1953.
137 Ibid.
138 "Yankee Stadium Events Drew 3,101,713 in 1948," The Sporting News, January 5, 1949: 18.
139 Santiago Llorens, "Partlow Stars on the Mound, at Plate in Puerto Rico," The Sporting News, November 20, 1946.
140 "Homestead Grays Meet NY Cubans," Times-Picayune, April 13, 1947: 26.
141 "New Orleanian John Wright."
142 Dan Burley, "Confidentially Yours," New York Amsterdam News, April 27, 1946: 12.
143 "50,000 to See 'Dream Game' in Chicago," Pittsburgh Courier, July 26, 1947: 14.
144 "Wright, a Pitcher, Also Signed With Dodgers in 1945," Times-Picayune, April 13, 1997, files.usgwarchives.net/la/orleans/newspapers/00000344.txt.
145 "Grays Will Play Bronze Thursday," New Castle (Pennsylvania) News, August 6, 1947: 14.
146 "Ninth Annual North-South Negro Classic Set Sunday," Times-Picayune, September 30, 1947: 11.
147 "Around the Hot Stove," Nashua Telegraph, January 15, 1948: 17.
148 "AL Teams Draft Stars of Clubs Calling it Quits," Pittsburgh Courier, February 19, 1949: 11.
149 Bell, "The Wright Stuff," 46.
150 Dominican League Statistics, history.winterballdata.com/?view_page=player&s_ok=+&season_id=&player_id=4697&team_id=.
151 "Wright Joins Clowns and Beats Monarchs 5-0 in 1st Game," New York Age, August 21, 1954: 20.
152 Bell, "The Wright Stuff," 46.
153 Wirty, "Second black player."
154 "New Orleanian John Wright."
Born
November 29, 1918 at New Orleans, LA (US)
Died
May 4, 1990 at New Orleans, LA (US)
If you can help us improve this player's biography, contact us.
https://sabr.org/sites/default/files/WrightJohn.png
600
800
admin
/wp-content/uploads/2020/02/sabr_logo.png
admin
2017-08-28 13:06:29
2021-09-17 01:14:47
John Wright