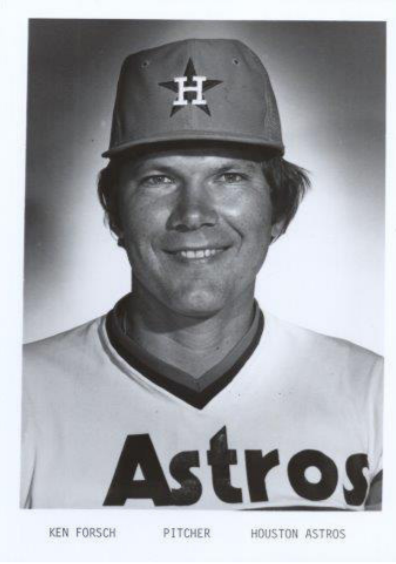 ---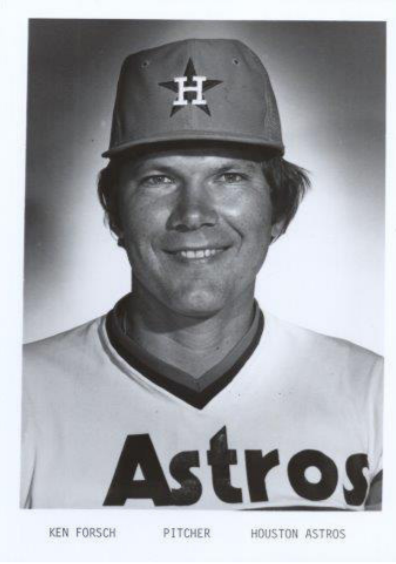 On September 30, 2011, after his team's 91st victory of the season, Anaheim Angels general manager Tony Reagins resigned his position. Three days later, owner Arte Moreno announced that the team had declined to renew the contracts of assistant to the general manager Gary Sutherland and assistant general manager Ken Forsch. For the 65-year-old Forsch, his severance brought to an end not only a 30-year relationship with the Angels; it also marked the end of a 43-year affiliation with major-league baseball. His career had been quite a journey.
Fittingly, that journey had ended in a city, Anaheim, that was just a long day's drive down Interstate 5 from where Forsch had learned the game more than 60 years earlier. Forsch had been introduced to the game almost from the day he was born. On September 8, 1946, Herbert Forsch, the owner of Forsch Electric Motors, in north Sacramento, California, and his wife, Freda, welcomed their first child, whom they christened Kenneth Roth Forsch. In addition to the senior Forsch's business (he repaired electric motors that farmers used in their irrigation systems), the Forsches also owned a chicken farm in Sacramento, where the family lived on several acres of fertile land. In 2016 Ken remembered, "I had a baseball uniform and bat and mitt in my crib when I was brought home from the hospital."1 Those implements were far more than simply an infant's toys, however. Indeed, baseball was central to Herb Forsch's life.
In his off-hours, Herb was a pitcher and third baseman on several semipro teams in the Sacramento area.2 By all accounts he was quite a skilled player, too: In 1978 he was inducted into the La Salle Club Baseball Hall of Fame.3 Ken Forsch provided an amusing anecdote about his father's career: "Dad would pitch on Sunday, and in order to keep in shape, my mother had to catch him, behind the garage of the house they lived in then." Asked once by Ken to confirm this story, Herb replied, "She sure did. I'd smoke 'em in there pretty good, too, and she'd catch 'em. I didn't have to worry about her. She could handle the glove."4 Years later, as her son(s) developed their own baseball careers, they too asked their mother to catch them. "When [we] were small," Ken recalled, "she tried to catch us. But I think she'd lost her touch by then."5
In January 1950 the Forsches welcomed their second child, another son, whom they named Robert Herbert Forsch. Like his older brother, Bob too was destined to become a major-league pitcher.
Despite Herb's athletic career, the boys were never forced into baseball; their love for the game developed naturally. Still, if Herb never encouraged the boys to go out and practice, their parents provided their sons with everything they needed to succeed. On the acreage behind the house, Herb built a baseball diamond. During summers, all the kids in the neighborhood would play ball there from sunup to sundown. When Herb arrived home from work each evening, he and the boys would also play pepper for half an hour in the front yard. It became a ritual before they all went in to dinner.
Fully grown, Ken Forsch eventually reached a height of 6 feet 4 inches tall and maintained a weight of around 210 pounds. It took a while to reach that size, however. Throughout Little League and Babe Ruth League, from ages roughly 9 through 12, Forsch, who never played any position other than pitcher (although he did recall, "I played a little bit at shortstop") was "really small." Therefore, the 60 feet 6 inches from the pitcher's mound to home plate was "a challenge." By the time Forsch reached Sacramento's Hiram Johnson High School, he was still diminutive, which hampered his ability to make the varsity baseball team; "I kept getting cut," he recalled. By his junior year, Forsch had reached 5 feet 6 inches, and over the next year grew another six inches. Finally, in his senior year, Forsch made the varsity. With his newfound height he also played basketball, and in that senior season was named both Most Valuable Player in baseball and the school's Most Valuable Athlete. With his rapidly developing natural ability to throw hard, Forsch, who graduated in 1964, was now ready to take his game to the next level.
Asked in 2016 whether he had been scouted in high school, Forsch recalled, "I was not very strong then. … I was still growing; had sore arm problems. … I think the Pittsburgh Pirates were going to draft me [out of high school], but my father told [Pirates scout] Ronnie King, 'I don't think you should sign him because he's been battling a sore arm.' So (the Pirates) backed off."
Forsch had hurt his arm playing for the local American Legion team in the summer after graduation. The Legion team featured at shortstop future major leaguer Larry Bowa, whose father coached the team. Forsch had already enrolled at Sacramento City College, but when he hurt his arm, he said, "It hurt so bad, I couldn't throw for over a year. I couldn't even go out for the SCC baseball team." Instead, Forsch joined the basketball team, where he played guard. By midseason, after receiving therapy for his injury, he found that he could throw the basketball downcourt on fast breaks with no pain, so he went out for the varsity baseball team, made it, and later threw a no-hitter. (Larry Bowa was a teammate.) By then scouts were again interested in the tall right-hander.6
In 1966 Forsch was drafted by the California Angels in the ninth round of the amateur draft. While he talked to the Angels about signing, even traveled to Stockton, California, to watch their California League affiliate there play, he ultimately turned down the Angels' offer, deciding instead to remain in school. Soon, though, he received another offer, one he couldn't decline.
Gene Tanselli, the head baseball coach at Oregon State University, had kept an eye on Forsch during the pitcher's City College season; it's likely he was there when Forsch threw his no-hitter. So when Tanselli offered Forsch a scholarship, Forsch accepted, and headed to Corvallis, Oregon, for the 1967 baseball season.
The next two seasons ultimately propelled Forsch to the major leagues. (In 1991 he was inducted into the OSU Athletics Hall of Fame.7) At the time of his induction, Forsch held the school record for strikeouts in a season (121), amassed during a stellar 1968 campaign in which he also threw a stretch of 48 scoreless innings and was named a second-team All-PAC 8 selection. Bob Lillis, a Houston Astros advance scout, saw Forsch in a game against Arizona State University in which, Forsch later recalled, "I think I struck out just about everybody who came up for five innings." Impressed, Lillis told the Astros, and they sent scout Ray Coley to Oregon State to confirm the pitcher's talents. Coley signed Forsch to a contract. Subsequently, the Astros drafted Forsch in the 18th round of the 1968 amateur draft, and the 21-year-old's professional career began.
(According to Baseball-Reference.com, Forsch was also drafted in the 1967 by the Chicago Cubs but did not sign. When asked to confirm, Forsch was surprised. "Oh, OK, I had no idea I was even drafted by the Cubs," he said. "I don't think I was ever drafted by the Cubs. I know a number of teams were talking to me. The Dodgers called and I told them what I wanted for a bonus, and they quickly backed off. I think they signed Sandy Vance instead of me.")
Over the next 2½ years, Forsch worked his way through the Astros' minor-league system, making stops at every level: Single-A Greensboro (North Carolina), Williamsport (Pennsylvania), and Peninsula (Hampton, Virginia) in 1968 and '69 (when he also worked in the Florida Instructional League); and Double-A Columbus (Georgia) and Triple-A Oklahoma City in 1970. While his numbers proved impressive at each stop, Forsch also endured several notable physical ailments. In 1969, while pitching for Peninsula, Forsch was a member of the Oregon National Guard (he received basic training at Fort Lewis, Washington). Once a month he was required to fly to Corvallis for Guard meetings. One night in May 1969, after all-night maneuvers, Forsch and a Peninsula teammate, Jack Humphrey, were driving to Portland to catch a flight back to Hampton. En route, Humphrey, who was driving, fell asleep at the wheel, ran off the road and wrecked their car. The Astros sent Forsch, who had cut his knee, home for a week to recuperate, after which he returned to Peninsula. Later that season Forsch also suffered from a significant back problem, for which the team brought him to Houston for exploratory surgery. Following a diagnosis of a bulging muscle, Forsch stayed in Houston for a month to rehab, watched the Astros play, then completed the season at Peninsula. In all, he pitched just 17 games that season, but added another 10 in the Instructional League.
By 1970, after brilliant performances at Columbus and Oklahoma City, Forsch was ready for the big leagues. At Columbus he had tied for the Southern League lead in wins, with 13; a league-leading five of those were shutouts. After four more wins and a 1.58 ERA at Oklahoma City in September, the Astros called the right-hander to the National League. On September 7, 1970, the day before his 24th birthday, Forsch debuted in San Diego, as a starter. Taking a 10-0 lead and a one-hitter into the bottom of the ninth, he tired and allowed five hits and five runs, including a grand slam by the Padres' Ramon Webster. Forsch completed the game and won, 10-5, earning what would be his lone victory among four starts before the season ended. Forsch would be a mainstay of the Astros pitching staff for the next 11 years.
As Forsch's Astros pitching career progressed, he was destined, except for a few necessary occasions, rarely to settle into a permanent role. From starter to reliever then back to starter, over the course of his career Forsch's size, strength, durability, and, most importantly, consistency, assured the team that rarely with him on the mound would they be out of a ballgame. In spring training 1971, as Forsch battled for the first time to make the team, Astros manager Harry Walker offered his insights into the reason for the right-hander's effectiveness. Walker's sentiments held true throughout Forsch's tenure with the team.
"More important than his size," offered Walker when asked to explain how Forsch had overcome a number of shaky exhibition performances, "is his desire. … [W]hat attracted our attention was the way he always battled back the next time out [following a poor outing]. He didn't get discouraged and quit. He kept punching. He showed us a lot of courage under pressure. And he improved steadily."
In a word, said Walker, it was "poise — that describes him best, I suppose. Nothing ruffles him."
That quality was echoed that spring by Astros pitching coach Jim Owens, who said, "The first time I saw him, he was further along than most pitchers four or five years older. He must have been born with poise."
For his part, Forsch responded at the time, "What really happens, I think, is that I just get mad at myself and want to prove something. I can't wait for another chance after I've flubbed up."8 Such a mentality would never dissipate.
Over his first two full seasons, 1971 and '72, Forsch was primarily a starter: 47 of his 63 appearances came in that role. For the most part he was basically a two-pitch pitcher, the fastball and the slider. "I try to get ahead of the hitter right away," Forsch said in 1972. "When you get behind, (the batter) knows you've got to come in to him and is looking for heat somewhere in the strike zone. If you get ahead, you can work on him a little, try for the corners or try to make him chase a slider."9 That approach garnered Forsch 14 wins during the two seasons.
One game still stood out for Forsch in 2017. It was played on September 24, 1971, in San Diego. He pitched 13 innings and then Harry Walker "removed me for a pinch hitter in the 14th. I was livid. I always felt that as long as you were getting them out, you stayed on the mound till the end of the game. The 13 innings will always be special to me." (The Astros eventually won, in 21 innings.)10
In 1973, however, not for the last time, Forsch's role changed. Two factors prompted that move. The previous season, when Forsch had been the fifth starter in a rotation with Don Wilson, Larry Dierker, Dave Roberts, and Jerry Reuss, Leo Durocher had replaced Harry Walker as manager for the final 31 games of the season. Meanwhile, at Triple-A Oklahoma City, in 1972, 6-foot-8 right-hander J.R. Richard, whom the Astros had selected second overall in the 1969 draft, struck out 169 batters in 128 innings, a loud pronouncement that the Astros had to find a place in their starting rotation for their phenom. On top of that, Durocher, who had used a procession of pitchers in short relief, had no stopper in the bullpen; he wanted someone who could come in on short notice, throw hard, and get strikes. So Forsch became the Astros' closer.
On July 29, 1973, Forsch's season record as a starter stood at 8-9, with a 3.83 ERA. That night he made his first appearance in his new role, gaining a win in relief against Atlanta. On August 10 and 11, he earned his first two saves, first in relief of Richard, then Dierker. About his new role, Forsch later admitted, "I've always wanted to be a starter. Doesn't every pitcher? I still think I can be." However, he explained, in regard to his approach as a reliever, "I just went in and threw as hard as I could. … There's not much new out there. Trouble is still trouble, no matter how you look at it. I've pitched out of enough jams in my life as a starter so I know what it's like when I'm out there in relief. I just go to my power pitches — my fastball and my slider. I give them my best."11
With few exceptions, that's what Forsch did for the next five years. Over that span he became one of the best closers in the game. In 1974 Forsch set a team record (later broken) with 70 appearances, all in relief; he won 8 games, saved 10, and tossed 103⅓ innings. In the days before closers evolved into primarily one-inning stoppers who entered only in the ninth inning with their team ahead, Forsch often threw multiple innings: included in his outings that year were single appearances of both five and four innings each, and multiple stints of three innings, a trend he continued throughout his time in the bullpen. In 1976, when Forsch registered a career-high 19 saves over 92 innings, he represented the Astros in the All-Star Game in Philadelphia, the first of what would be two such appearances in his career.
As Forsch solidified and refined his relief role during this period, so too did he adapt his pitching arsenal and mindset. Much of the credit for his development went to Roger Craig, the Astros pitching coach in 1974 and '75. "In the past," Forsch explained in 1974, "I gripped the ball across the seams and my fastball would rise." Instead, "Roger suggested I try gripping it with the seams. Now the ball is sinking instead of rising and they're hitting it on the ground instead of in the air and I'm getting 'em out."12
Additionally, Forsch suggested later that fall, "Roger has made me think more aggressively, and he's brought a change in my attitude. He's built my confidence up. I go at the hitters more and pitch quicker to [them]. This keeps the defense on their toes and I think it's a reason I've had so many good plays behind me."13 That aggressive attitude eventually led to 50 saves in Forsch's Astros career.
While Forsch anchored the Houston bullpen for five years, he was occasionally called upon to start as well: Of the 250 games in which he appeared from 1974 to 1978, he started 20, typically during times when he briefly assumed a fifth-starter role. For those assignments, Forsch took to the mound a greater array of pitches, developed during his time warming up as a reliever, when he would experiment in the bullpen with changing speeds. "As a reliever," offered Craig in 1975, "he was using his fastball all the time. Now he's developed his overhand curve and changeup."14 Forsch also developed a forkball as an off-speed pitch, and this expanded repertoire enhanced his effectiveness as a starter.
In September 1975, with the Astros in danger of suffering a 100-loss campaign, Bill Virdon had replaced Preston Gomez as the manager. Over the next two seasons under Virdon, the Astros won 80 and 81 games and posted consecutive third-place finishes. In 1978, though, the team regressed (they would win just 74 games), and in late August, Virdon inserted Forsch into the starting rotation. In six starts Forsch finished 4-2, with four complete games and two shutouts. So for 1979, Virdon announced that Forsch would once again be a starter. It took Forsch just one game in the new season to announce his return in the most impressive way imaginable.
The Astros opened the 1979 season in Atlanta. On Opening Day (actually night), April 6, J.R. Richard defeated the Braves' Phil Niekro in a 2-1 pitchers' duel. The next night was Forsch's turn. During the exhibition season he had scrapped his fastball and slider in order to work on his off-speed pitches. The result had been a miserable 0-3 record. Then, during Richard's win, Forsch had spent the entire day sick after an insect bite on his arm became infected. In spite of those factors, Forsch was magnificent, as he threw a no-hitter, on the earliest date ever in the major leagues, beating the Braves, 6-0.15 What made the event even more meaningful was that Forsch's brother, Bob, who had begun his major-league career in 1974 with the Cardinals, had already thrown two no-hitters. The Forsches were thus the only brothers in history to each toss a no-hitter.
It said much about Ken's feelings toward his brother when he said after his no-hitter, "Bob's no-hitter last year was one of the greatest moments of my life. He's the greatest guy I know."16
If Forsch's no-hitter ultimately proved to be the individual capstone to his career, in 1980 he achieved a similarly gratifying team highlight. That season, under new Astros ownership, Nolan Ryan joined the club. Together with Ryan, Richard, and Joe Niekro, Forsch joined a stellar rotation which that year brought to Houston the Astros' first postseason appearance. After finishing the regular season with 12 wins and a 3.20 ERA, Forsch was rewarded by starting Game One of the National League Championship Series, against the Phillies. On October 7, at Philadelphia's Veterans Stadium, despite allowing just three runs and eight hits and tossing a complete game, Forsch lost, 3-1, to Steve Carlton.17 Five days later, he entered in relief in the eighth inning of the decisive Game Five, played at the Astrodome, and allowed two hits and a run as the Astros took a heartbreaking 8-7 loss to the Phillies. Those appearances proved to be the only postseason action of Forsch's career. They were also his final appearances in an Astros uniform.
For many years Tal Smith had been a key figure in the Astros front office. In 1968, the year Forsch was drafted, Smith had been the vice president of player personnel. In 1973 Smith had moved to the Yankees, where he remained until August 1975, when he returned to Houston as the Astros' general manager and began to assemble a playoff team. It came as a shock to Astros fans, then, when several days after the team's loss in the 1980 NLCS, new owner John McMullen surprisingly fired Smith, long a Forsch advocate, and named Al Rosen the general manager.
Rosen's hiring signaled the end of the line for Forsch in Houston. To strengthen the pitching staff, Rosen signed free-agent pitcher Don Sutton and traded for Bob Knepper. Despite Forsch's 78 wins and 50 saves during 11 seasons with the Astros, in 1981 he was to be the odd-man-out of the rotation. Once again he would be sent to the bullpen. "If that's the way they reward loyalty," countered Forsch, "then I don't want to pitch for this club."18 Instead, Forsch requested that the team trade him to a contender.
As a 10-and-5-year player (10 years of major-league service time and the last five years with the same team), Forsch had the right to reject any trade. Initially, during the Winter Meetings, Rosen tried to trade Forsch to the San Francisco Giants in exchange for outfielder Larry Herndon. When the Giants refused to renegotiate Forsch's contract, he rejected the trade. Subsequently, on April 1, the Astros sent Forsch to the Anaheim Angels in exchange for shortstop Dickie Thon. This time, when Forsch requested that some contractual clauses be reworded, the Angels, just hours prior to the deadline for acceptance, acceded to his request. So at 34 years old, Forsch returned home to California.
It took an injury to end Forsch's career. For three seasons he gave the Angels all he had. Indeed, almost immediately he became the team's ace, and his 86 starts and 35 wins over that span were crucial to the team's fortunes. Never was he better than in 1981. That season, a strike year, Forsch won six of his first seven decisions and stood 9-3 with four shutouts and a 2.27 ERA when the strike began. Named to his second All-Star team, this time as a starter, Forsch finished the season 11-7. The following season Forsch contributed 13 more wins, but agonizingly was removed from the rotation during the Angels' playoff series against the Milwaukee Brewers. In his last full season, 1983, he started 31 times and won another 11 games. But he was bound to win just one more.
On April 2, 1984, at home against Boston, Forsch won the 114th and, as it turned out, final game of his career, an impressive 2-1, complete-game six-hitter. Five days later, again at home, versus the Toronto Blue Jays, he again took the mound. Trailing 2-1 in the top of the eighth inning, Forsch allowed a home run to Lloyd Moseby. The next batter was Willie Upshaw. As Upshaw hit a squibber in front of the mound, Forsch fielded the ball and raced Upshaw toward first base. Diving to the bag, Forsch landed on his right elbow and immediately felt pain. He had dislocated his shoulder. After the game, x-rays proved negative; the joint appeared to have popped back into the socket and the prognosis was that Forsch would be out for a month. Instead, he missed the remainder of that season and all of the next. His career was effectively over.
Throughout the winter of 1985, Forsch worked out hard at Anaheim Stadium. In 1986 the Angels invited him to camp as a nonroster invitee, and in March they Forsch as a free agent. It was soon clear, however, that he had nothing left. On May 23, in relief of, ironically, Don Sutton, Forsch allowed five hits and four runs in 4⅔ innings against the Yankees, and two days later he was released. In July he signed with the Seattle Mariners, spent a month at their Calgary affiliate, but realized he was through. Forsch was 39 years old.
Back in Anaheim, Forsch settled into life with his wife, Jonnye Sue. They had met in 1971 when Forsch's good friend and roommate, Roger Metzger, ended up one evening with two dates, one of whom was Forsch's future wife. Ken and Jonnye Sue dated for six weeks, three of which were on the road, and were then married. As of January 2017, Stephanie, their only child, and her children, Jessie and Will, lived with Ken and Jonnye Sue in Anaheim.
After leaving baseball, Forsch went into commercial real estate, first with Grubb & Ellis, then with Lang Financial. After several years he got his broker's license and went out on his own. Throughout that time, 1986 to 1993, he stayed in touch with the game as a member of the Angels' Speakers Bureau; he gave speeches at Rotary Clubs and the like. "It was good for me," he recalled, "because I would meet people for my real estate business."
In 1994 Forsch learned that the Angels were looking for a new director of player development. At the time, Whitey Herzog was the general manager. Forsch didn't know Whitey, but his brother Bob had played for Herzog for years as a member of the Cardinals and "loved the guy." So Ken interviewed with Herzog, went back the next day, and two days later was on a plane to Arizona as the Angels director of player development, a post he held for four years. In 1998 he was promoted to assistant general manager, won a World Series ring in 2002, and held that position until his dismissal in 2011.
As of January 2017, the retired Forsch spent many of his days golfing and fly fishing. In 2017 he was nominated for induction into the Sacramento Sports Hall of Fame. Voting will take place in October 2017.
Last revised: February 2, 2017
This biography appears in SABR's "No-Hitters" (2017), edited by Bill Nowlin.
Sources
In addition to the sources cited in the Notes, the author also consulted Baseball-Reference.com, Retrosheet.org, and the Sacramento Sports Hall of Fame at sacsportshof.com/.
Thanks to Ken Forsch for email exchanges in November and December 2016 and January 2017. Thanks as well to T.C. Martin, founder, Sacramento Sports Hall of Fame, for email exchanges on December 6 and 15, 2016.
Notes
1 Author interview with Ken Forsch, November 18, 2016. Unless otherwise noted, all Forsch quotes are from this interview.
2 In his 2016 interview, Forsch recalled that his father once played for the Roma Wines company team. "All the wineries had teams," he said.
3 http://baseballsacramento.com/LaSalle_Club_Baseball_HOF.html.
4 Houston Post, July 1, 1973 (article in Ken Forsch's player file at the National Baseball Hall of Fame Library, Cooperstown, New York).
5 Ibid.
6 In 2003 Forsch was inducted into the Sacramento City College Athletics Hall of Fame.
7 http://osubeavers.com/sports/2011/3/9/208343623.aspx.
8 Ed Rumill, "Houston's Forsch," Christian Science Monitor, July 6, 1971: 12.
9 John Wilson, "When Forsch Hurls Nine, Most He Earns Is a Draw," The Sporting News, June 24, 1972: 16.
10 Ken Forsch email to author, January 16, 2017.
11 Joe Heiling, "Forsch Takes Up New Pad in Astros Bullpen," The Sporting News, September 1, 1973: 13.
12 "N.L. Flashes," The Sporting News, May 11, 1974: 23.
13 Joe Heiling, "Fireman Ken Forsch an Astro Lifesaver," The Sporting News, October 12, 1974: 10.
14 Harry Shattuck, "Floundering Astros Find One Gem: Hitter Howard," The Sporting News, August 16, 1975: 18.
15 In 1940 Cleveland's Bob Feller threw an Opening Day no-hitter, but that had occurred on April 16.
16 Unidentified, undated article in Ken Forsch's Hall of Fame file.
17 Forsch allowed a two-run home run to Greg Luzinski and an RBI single to Greg Gross.
18 Dick Young, unnamed article in Forsch's Hall of Fame file, dated March 19, 1981.
Born
September 8, 1946 at Sacramento, CA (USA)
If you can help us improve this player's biography, contact us.
https://sabr.org/sites/default/files/ForschKen.jpg.png
600
800
admin
/wp-content/uploads/2020/02/sabr_logo.png
admin
2017-02-08 13:07:43
2017-02-08 13:07:43
Ken Forsch