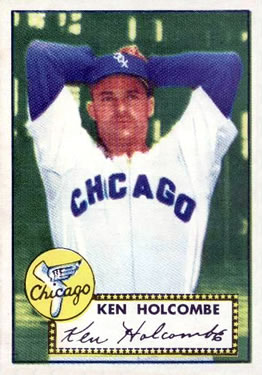 ---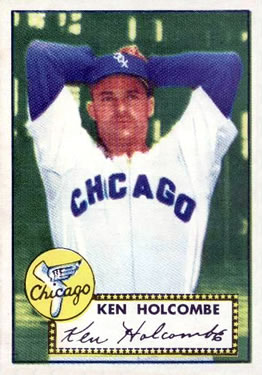 Ken Holcombe was a Jehovah's Witness who first caught the attention of big-league scouts at a tryout camp. A right-handed pitcher of modest stature, he was 5-foot-11 and listed at 169 pounds.
Kenneth Edward Holcombe was born in Burnsville, North Carolina, on August 23, 1918, to Lee Polk Holcombe and Eula Pansy (Wilson) Holcombe. Lee Holcombe worked as a framer in a furniture plant. He came to specialize in cabinet making. Ken was the middle child of three. Sister Marie was one or two years older, and about eight years later, Betty Holcombe was born. All four of Ken's grandparents were North Carolinians.
Burnsville is about 40 miles more or less north from Asheville. The family moved when Ken was 4 years old. Woodfin, North Carolina is just seven miles from Asheville. Ken attended Woodfin Elementary School and Woodfin High School. He played baseball for four years at Woodfin High and one year of semipro ball (1937) in the King Cotton League, Greenville, South Carolina.
Holcombe himself said, "I broke into baseball by attending a tryout camp in Asheville, in 1938."1 Who signed him is also unclear, but Rod Nelson of SABR's Scouts Committee suggests, "Presumably he was signed by Ollie Vanek (the Cardinals scout credited with signing Stan Musial), who was Holcombe's first manager in organized baseball in the Pennsylvania State Association. (Holcombe and Musial were teammates the following year, playing for Harrison Wickel, another longtime Cardinals scout.)"2
Holcombe's first professional baseball was in 1938 with the Greensburg Green Sox in the Class-D Pennsylvania State Association, and Vanek was the manager. It was only a four-team league and Greensburg finished fourth, 17 1/2 games out of first place, but Holcombe's 3.21 earned run average led his team, and he had a winning record at 9-8.
It was Class-D ball again for Holcombe in 1939, pitching for the Cardinals affiliated Williamson (West Virginia) Red Birds, for Wickel, in the Mountain States League. Indeed, Stan Musial was a teammate – a fellow pitcher at the time. The 18-year-old Musial was 9-2 with an ERA of 4.30. Holcombe was 14-12 (4.62), and in a game against Huntington, West Virginia he recorded a career-high 16 strikeouts.
Stan the Man was 18-5 for Daytona Beach in 1940, but began to play outfield when he wasn't pitching, to keep his bat in the lineup. By 1941, he'd given up pitching (though he did face one batter on the last game of the 1952 season with St. Louis, coming in from center field to face Frank Baumholtz in the top of the first inning. Baumholtz reached first base, but it was only because of an error by Cardinals third baseman Solly Hemus. Musial then returned to center field, and Harvey Haddix came in from the outfield and resumed pitching.
Holcombe, however, stuck with pitching. His career batting average in the major leagues was .179, with three RBIs, all in 1951 with the Chicago White Sox.
In 1940, Holcombe only appeared in nine games. He went to spring training with the Cardinals in St. Petersburg, but when the regular season came, he was in Class D again with the Hamilton (Ontario) Red Wings (in the PONY League, where he was 1-4, 5.52), and for three games in Class B with his more-or-less hometown Asheville Tourists of the Piedmont League, where he was 0-1, 3.00. He had been on the roster of the Newark Bears for most of the season, but a note in the July 4 Sporting News said he had been "cut loose." He later declared, "I escaped from the Cardinals chain gang." He said he had "found himself with a release, and no explanations."3
Holcombe resumed a full workload in 1941, going 15-11 (3.53) for the Piedmont League's Norfolk Tars. Norfolk was a New York Yankees farm team; at some point before the season, he had been acquired by the Yankees by scout Johnny Nee.4 He was on a Newark contract, but in January had been assigned to the Tars.
He played for the Newark Bears for the next three seasons, but was seriously ill with an ulcer for most of 1942 (a "hospital case.")5 Holcombe had married Virginia L. Carson on May 21. He was able to pitch 34 innings, in 15 appearances, and had a 1-1 record with an ERA of 0.26. Fellow right-hander Walter Stewart had died of a kidney attack in May. The Bears won the International League pennant and both Stewart's widow and Holcombe were voted full shares of the postseason earnings.6
In 1943 and 1944, Holcombe was in the headlines occasionally – the June 29, 1944 New York Times had a brief account headlined "Newark Winner 4-1, 8-6; Holcombe Allows Buffalo Only Three Hits in First Game."7 It wasn't the first time he'd appeared in a Times headline. He pitched in 28 games (20 starts) in 1943, throwing 160 innings and finishing 9-7, 3.66. In 1944, he worked 205 innings with 28 starts in 33 games, with a record of 17-10, 3.82. The 17 wins were tops on the team.
He threw another three-hitter, winning the first game of the semifinal playoffs against Toronto in September 1944, but in the first game of the final round, the Baltimore Orioles got to him for six runs (including a grand slam) in 1 2/3 innings, a 14-3 loss for the Bears.
He joined the Yankees in Atlantic City for spring training in 1945, and an AP story dubbed him "Little Ken Holcombe," saying that he was "considered to have the making of a relief pitcher" by Yankees manager Joe McCarthy.8 Holcombe's best pitch was his curveball, and his variety of curveballs.
He made the team, intended by McCarthy to fill the role Johnny Murphy had as the team's fireman. His major-league debut was on April 27, 1945. The Washington Senators were visiting Yankee Stadium. Bill Bevens started for New York but gave up four runs in 4 1/3 innings. With runners on first and third, and one out, Holcombe came on in relief and induced George Binks to ground out into a double play. Holcombe then pitched the sixth inning, giving up two hits, inducing another double play, but seeing one unearned run score after a two-base error by the second baseman.
Holcombe didn't allow an earned run in his first five appearances. His first decision came in his seventh game, on July 15 against the visiting Detroit Tigers. He pitched a hitless, scoreless fifth and sixth innings, seeing the Yankees come from behind to take the lead. Though Jim Turner worked the final three innings, earning a save, it had been Holcombe who was pitcher of record at the right time.
He had been classified 4-F but had done "a lot of paramilitary training around Asheville."9 It wasn't until August 7 that Holcombe was called for a pre-induction physical, the day after the atomic bomb devastated Hiroshima. Nothing more was reported in the newspapers; the war against Japan, of course, concluded within a matter of days.
On August 17, McCarthy gave him a start in St. Louis, but he lost to the Browns, 4-1, relieved after six innings. By the end of the 1945 season, Holcombe had appeared in 23 games, threw 55 1/3 innings, and held a record of 3-3 with an excellent 1.79 earned run average. McCarthy, Holcombe reflected years later, "was a smart manager. Sometimes he knew the opposing players almost better than he knew his own. He had a hard time remembering my name. He'd call me Herb and two or three other names trying to get my attention…to tell me to warm up."10
In 1946, with so many veterans coming home from the war, Holcombe was sent to Triple A again, released outright to Kansas City on April 20, just five days into the season. He pitched in 10 games for K.C. and was 0-4 with a miserable 6.00 ERA, but on June 27 was sold to the Newark Bears. On July 17, back with Newark after addressing an ailing back, he threw a complete-game four-hitter, beating Baltimore, 2-1. He was 6-5 with Newark, with a 3.08 ERA and shut out the Montreal Royals in Game Three of the Governor's Cup playoffs.
The Yankees elected not to protect him and Holcombe was drafted by the Pittsburgh Pirates in the Rule 5 draft on November 1. He never played for the Pirates, though. He actually played with Sacramento for most of 1947 through 1949, but there were a number of contractual transactions during the period. First, on April 1, 1947, the Pirates returned him to the Yankees. Fourteen days later, the Sacramento Solons of the Pacific Coast League purchased his contract. Despite being hampered by shingles later in the 1947 season, losing a month of playing time, he was 8-9 (3.84) in 34 games, 12 of them starts.
At the end of the 1947 season, he was taken in the November Rule 5 draft again, this time the Cincinnati Reds drafting him from Sacramento. He'd appeared in two major-league games with Johnny Neun's Reds. On April 24, he faced two batters. One hit a grounder, but reached on an error. The other, he struck out. On May 9, he gave up two runs on three hits in two innings of work. The next day, Cincinnati returned him to Sacramento. He was 9-10, 5.04 for Sacramento in 1948.
He stuck with the Solons again in 1949 and had a good year, going 19-10 with a 2.86 ERA that ranked him third in the Coast League. He sported a 10-game winning streak at one point (June 24 – August 9, before losing a 3-1 game in 12 innings on August 14) and was one of two pitchers named to the league's All-Star team. On September 29, it was announced that the Chicago White Sox had purchased his contract for an amount understood to be $25,000.11
Holcombe was in the majors for two full seasons in 1950 and 1951, with the White Sox. They finished sixth in 1950. No one pitcher had more than Billy Pierce's 12 wins, but Holcombe was 3-10 with a 4.59 ERA. He bombed in his first start, in Boston on May 6, giving up four runs while only retiring four batters. He won back-to-back complete games on June 6 and 11, but then not another game until August 25. In between, he lost eight decisions in a row. A broken thumb brought his season to a halt in late August. His final 4.59 ERA was the best it had been at any time all year, but for his first appearance.
The White Sox didn't have anywhere near enough good pitchers in their system. This helped ensure Holcombe a chance to stick with the Sox in 1951. He threw a five-hit shutout in his first game, on April 29 in Detroit. He won his next game, too, on May 6 against the Athletics, again giving up only five hits, though this time he yielded a run. On May 26 he threw another five-hit shutout, in Cleveland, and he was 4-1 by the end of May. The White Sox placed fourth under new skipper Paul Richards. Holcombe was 11-12 (3.78), and four of his losses came when his team scored either just one run or none at all.
Richards had every reason to look forward to Holcombe being a part of the rotation in 1952. The only thing that really concerned him were the bases on balls he doled out. If he could work the curve with better control, things were looking good. But, as it happened, he couldn't win a game in all of 1952. In seven starts, he was 0-5 for the White Sox, including a 1-0 loss to the Red Sox where he gave up only three hits in eight innings. His 6.17 ERA showed that game to be a fluke, though he pitched well against Boston again on June 2, holding a 2-2 tie game until in the bottom of the 10th he surrendered a grand slam to Don Lenhardt. In mid-June, Holcombe was placed on waivers and on the 16th, he was selected by the St. Louis Browns.
He pitched in 12 games, all but one in relief, for the Browns, and with a better 3.86 ERA but he lost his only two decisions. (Every one of the 12 games in which he appeared proved to be a Browns loss.) His last game was July 20. On July 24, he was released outright to the Louisville Colonels.
Louisville was a Triple-A club of the Boston Red Sox, and he regained some success at the lower level of work, finally winning his first game of the year and compiling a 5-2 record, with a 3.86 ERA. On October 14, the Red Sox purchased his contract from Louisville.
Control always had been a problem and veteran sportswriter Ed Rumill of the Christian Science Monitor wrote, "he has never been a pitcher with a lot on the ball. He is what the trade calls a 'cutie,' depending on control, changing speeds, and his knowledge of hitters."12 In his full career, he struck out 118 but walked 170.
He was hampered, the Boston Traveler reported during spring training 1953 by the same "chronic arm ailment that has bothered him since he was in the Yankee farm system with Newark back in 1943."13 He'd obviously learned to pitch through the pain, which was always worse in the spring until he loosened the kinks and worked his way through it. That took him half the year in 1952, until he got to Louisville, he said. He pitched through the stiffness during spring training, and made the Red Sox team.
The Red Sox won their first game of the season, on April 16 in Philadelphia, and Holcombe worked the last 3 2/3 innings and picking up the win. It was his only decision of the season, giving him an undefeated year in the majors to take the edge off his winless season the year before. But he only worked a total of six innings in three games. He earned a save on April 20, but after the three outings he had a 6.00 ERA after his last appearance, on May 10. Three days later, he was optioned to Louisville. There he worked the season with a 2.98 ERA (second-best in the American Association); his won/loss record was 10-8.
The Red Sox sold his contract to the Seals on December 18, 1953. Part of the reluctance of the Red Sox to bring him back was likely his own decision not to fly. After a rough landing in the spring of 1953, he said, "I told the traveling secretary I didn't want to fly any more. So everytime the club flew he handed me a train ticket."14
Holcombe's final year in pro ball was with the Coast League's San Francisco Seals in 1954 where he was 10-10 (3.20), including a one-hitter against Seattle on May 30.
On February 23, 1955 he announced his retirement.
He took up work as a supervisor for Beacon Manufacturing in Swannanoa, North Carolina, a textile company specializing in blankets. He, Virginia, and their two sons enjoyed life in Asheville. Holcombe retired from Beacon in 1984.
Holcombe lived to the age of 91, dying on March 15, 2010 at a health and retirement nursing home, the Brian Center in Weaverville, North Carolina. He was survived by his two sons, Kenneth Jr. and Randall, and several other relatives.
Acknowledgments
This biography was edited by Rod Nelson and fact-checked by Kevin Larkin.
Sources
In addition to the sources noted in this biography, the author also accessed Holcombe's player file and player questionnaire from the National Baseball Hall of Fame, the Encyclopedia of Minor League Baseball, Retrosheet.org, Baseball-Reference.com, Rod Nelson of SABR's Scouts Committee, and the SABR Minor Leagues Database, accessed online at Baseball-Reference.com. Thanks as well to Tim Copeland.
Notes
Born
August 23, 1918 at Burnsville, NC (USA)
Died
March 15, 2010 at Weaverville, NC (USA)
If you can help us improve this player's biography, contact us.
https://sabr.org/sites/default/files/HolcombeKen.jpg
600
800
admin
/wp-content/uploads/2020/02/sabr_logo.png
admin
2017-04-27 13:22:21
2017-04-27 13:22:21
Ken Holcombe