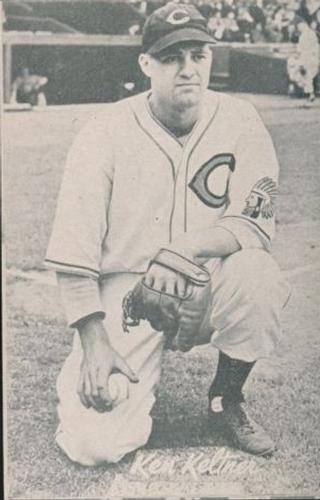 ---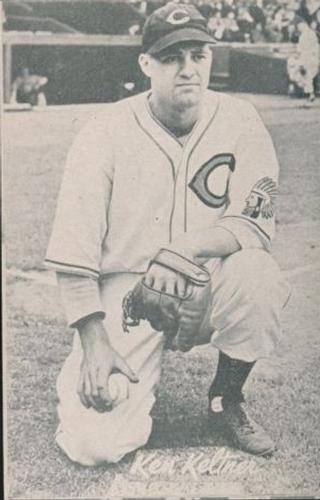 Over the last century of major league baseball, many marvelously talented ballplayers have represented their hometown of Milwaukee, Wisconsin. Hall of Famer Al Simmons, 1917 World Series hero Happy Felsch, and Yankee all-star Tony Kubek were gifted Cream City natives remembered by even casual fans. Ken Keltner should be recollected in the same class. Not only did the slick-fielding Cleveland Indian third baseman stop Joe DiMaggio's record 56-game hitting streak, but this seven-time All Star also hit the pennant-winning home run in the first-ever single-game American League playoff.
Of German descent, Kenneth Frederick Keltner was born October 31, 1916, to Milwaukee natives Frederick D. (a 42-year-old steel mill rail switchman) and Alma (nee Zabel) Keltner (a 38-year-old housewife). Young Ken was the fourth child living in a rented residence at 321 (now 2519 South) Superior Street. Like many other children in the southeast side Bay View area, he grew up playing baseball. Keltner attended Boys' Technical High School but left before graduation in order to further his blossoming diamond career.
In 1932 the 15-year-old shortstop performed for the Gerber Morticians, a Midget League team composed of players under the age of 18. Keltner played for Hebein Drugs in 1933. The 1934 season saw the wholesale seed company clerk "massaging the apple" with a .413 batting average for the Justrites as they captured the local Major A league pennant. Not able to gain enough work on the diamond, Keltner also successfully competed on a 12-inch inseam, fast-pitch softball club.
Displaying his big league potential in 1935, Keltner hit .402 for Sanders Clothiers of the premier local amateur Major AA league while working as a truck driver.
The Milwaukee Brewers of the American Association noticed the slugger with great reflexes in their own backyard and signed him to a 1936 contract. Before playing in the top level of minor league ball at Borchert Field, Keltner was assigned to the Brewers' Fieldale, Virginia farm club. The third baseman/shortstop, earning $40 a month, tore up the Class D Bi-State League with a .360 batting average. In 118 games, the rookie paced the eight-team circuit with 120 runs scored, 175 hits, and 335 total bases. The seventh place Towlers (named after local towel-producing textile mills) were thrilled with Keltner's 37 doubles, 12 triples, 33 home runs, and 116 runs batted in. Named the Bi-State all-star third baseman, Keltner proved more than ready to progress to his hometown in 1937.
Continuing his rapid ascent to the American League, the local boy made good at the Brewers' Borchert Field. Brewer manager Allen Sothoron found room for Keltner's .310 average, 27 home runs (tied for second in the Association) and 96 runs batted in with 53 games in left field, then 79 at third base. Even though the youngster led the Association with 92 strikeouts, his powerful hitting and superb fielding at third made him a highly desirable prospect. The defending AA and Little World Series champions lost many stars, including Rudy York and Chet Laabs to the Detroit Tigers. However, 1937 replacements such as Keltner helped the fourth place Brewers (80 wins and 73 losses) advance to the AA playoff finals. After defeating the second place Toledo Mud Hens, four games to two, in the first round, the Brewers finally succumbed to the league-leading Columbus Red Birds, also four games to two, in the championship series. The 20-year-old Keltner tasted a tense postseason that would prove beneficial in later years.
Milwaukee loved its "husky third sacker" as "Ken Keltner Night" was held at Borchert Field on September 8. A crowd of 10,000 witnessed the Brewers clinch a playoff berth as the honoree hit solo home runs in each game of a doubleheader sweep over the Minneapolis Millers. One of the circuit clouts (reporters wrote "Ken Keltner Konnects") sailed over the left-center field fence, crossed Eighth and Burleigh Streets, and smashed a gas pump on the northwest corner. With a parade of cars and a band, hundreds of "Bay Viewites" proceeded from the south side to Borchert Field. The appreciative "Pride of Bay View" also received a new Chrysler from his adoring fans and a set of golf clubs from his teammates.
Even though the Brewers were still an independently owned team, their president, Henry Bendinger, maintained close player development ties with the Tigers and the Cleveland Indians. Rising stars, such as Keltner, were refined, and then sold for a profitable sum of cash and other players that kept Milwaukee competitive. Many clubs coveted Keltner including the Indians, New York Yankees, and Pittsburgh Pirates, both Boston clubs, and the Brooklyn Dodgers. The Yankees offered more money, but the Indians could provide stronger athletes for 1938. During the 1937 campaign, the Tribe bought their new third baseman for six players and $25,000. One of those six included 1938 AA pitching Triple Crown winner, Whitlow Wyatt. The future Dodger All Star paced the league with a 23-7 record, 208 strikeouts, and a 2.37 earned run average. The Brewers and Indians established a strong mutual working relationship, thanks to the Keltner deal.
Milwaukee received first call on any Indian sold, trade, optioned, or released while Cleveland was offered the best opportunity for acquiring Brewer talent. The Indians gave their future star his first big league at-bat on October 2, a five-dollar bonus for driving in a run that day, and an invitation to their 1938 spring training camp. The six-foot tall, 190-pounder would either make the Indian roster or return to Milwaukee for more seasoning.
Going back to the minors proved unnecessary for Ken Keltner. The rookie enjoyed a sterling 1938 as he hit .276 with 26 homers and 113 runs batted in. He played at third in all 149 of his contests with a fielding percentage of .956. Total Baseball lists Keltner as the "Hypothetical American League Rookie of the Year" as the official award did not exist before 1947.
The freshman third sacker was also privileged to participate in a small piece of off-the-field history. In August, Keltner flung 12 baseballs from the top of Cleveland's Terminal Tower to fellow Indians Henry Helf and Frank Pytlak. Only two Spaldings (estimated speed of 138 miles per hour) were caught by the catchers as the balance rebounded six stories high in front of 10,000 onlookers. The 52-story, 708-foot drop broke the 555-foot, 30-year-old record set by Washington Senator catcher Gabby Street at the Washington Monument.
Keltner improved his glove work to .974 in 1939, giving him the first of three (including 1941 and 1942) American League third base fielding titles. He also topped the AL with 40 double plays and 187 putouts, appearing in all 154 games. At the plate, the righthander produced career highs of .325 and 191 hits along with 35 doubles, 13 home runs, and 97 RBI. Keltner, comfortable hitting in tiny League Park, stated, "I did learn to hit to right field a lot to take advantage of that short right field wall in Cleveland." He hit three (barely missing a fourth by six inches) of those 1939 round-trippers (consecutive solo shots backing a Bob Feller one-hit, 11-0 shutout) on May 25 at Boston's Fenway Park. This all-around fine play allowed Keltner to finish 12th in American League Most
Valuable Player voting, his highest ranking ever.
In 1940 the talented Indian began his string of five consecutive All-Star Game appearances. Only World War II could end this excellence as wartime travel restrictions eliminated the 1945 All-Star Game. In addition, Keltner spent 1945 with the Navy in Hawaii.
July of 1941 proved to be the month in which Keltner achieved his enduring baseball fame. Not only did he play a pivotal role in a thrilling American League All-Star Game victory, but he also became forever linked with Joe DiMaggio and his incomparable 56-game hitting streak.
Briggs Stadium in Detroit hosted the 1941 All-Star Game on Tuesday, July 8. Pinch hitting for Chicago White Sox pitcher Eddie Smith in the ninth inning, AL reserve Keltner beat out a smash off the chest of Boston Braves shortstop Eddie Miller. This clutch, one-out single ignited a four-run rally as the American League fought back from a 5-3 deficit. 54,674 witnessed Keltner score moments later to slice the lead to one. Ted Williams then followed with an electrifying, two-out, game-ending, three-run homer.
Less than two weeks later, Keltner met his date with baseball immortality. On July 17, before the largest night crowd to that point in history, Joe DiMaggio attempted to extend his record 56-game hitting streak. 67,468 awaited the Yankees at Municipal Stadium. Ken Keltner, unworried about DiMaggio bunting, was strategically stationed close to the third base line and deep to prevent doubles. Gold Glove backhanded stops of two hot grounders down the line and powerful throws enabled Keltner to retire the Hall of Famer by a step in both the first and seventh innings. "The Yankee Clipper" walked and grounded out sharply to shortstop Lou Boudreau for a double play in his other at-bats. Only this contest prevented DiMaggio from extending his streak to 73 as he continued his torrid hitting for 16 more games. DiMaggio was slowed a step by a damp field and stopped by the man Bob Feller claimed "was simply the best in the American League. He could go to his right better than anyone and had a great, great arm."
Later that evening and in subsequent years, DiMaggio maintained his sense of decency and jokingly called Keltner "the Culprit." The classy outfielder never held hard feelings toward the league's finest fielding third baseman he always claimed ended "The Streak." "The guy who turned the trick was that Keltner. He was a little rough on me," exclaimed "Joltin' Joe" after the game. Yankee manager Joe McCarthy agreed, stating, "Sure Keltner broke his string. Now Joe is going to start another one and break his own record."
Decades later, the competitive Milwaukeean recalled his unhappy feelings after the historic contest, explaining, "We lost the ball game, so I wasn't feeling so hot. My wife met me outside the clubhouse and we had a police escort to the parking lot. There were four of them. Joe had a lot of friends in Cleveland and they [the authorities] didn't take any chances." In the summer of 1991, after celebrating the 50th anniversary of the streak with DiMaggio in several public appearances, Keltner had this to say: "I'm glad I'm remembered for something. I still get requests from all over the world. They all refer to the DiMaggio feat. Whenever I meet somebody, they always get a knowing look when they hear my name." Looking back, the 74-year-old proclaimed, "I didn't feel like a villain. Somebody had to do it. I'm glad he hit them to me."
With a .269 batting average, 23 home runs, and 84 RBIs, Keltner turned in another solid campaign in 1941. The rangy glove man paced American League third basemen in assists (one of four times), double plays (one of five times), total chances per game, and fielding percentage. His rifle arm allowed him to often inspect the laces on the ball for a superior grip before releasing a potent throw. The New Bill James Historical Baseball Abstract praises Keltner as the major league Gold Glove third baseman of the 1940s.
Ossie Bluege, a Washington Senator coach and former third baseman, extolled Keltner's virtues. In a 1942 spring training interview with Shirley Povich of the Washington Post, Bluege gushed, "Ken Keltner's skill may not be generally appreciated, but every man who ever played third knows that Keltner is a swell performer. The test is in the plays he makes, and nobody else in the league is close to him. Keltner makes whatever kind of a throw is needed to get his man. When it's an easy play he takes his time. If he has to hurry the throw it doesn't bother him because he has a strong, true arm. He throws from on balance, off balance, underhand or with a wrist flip on bunts. The man who can't do all of these things can't be called a good third baseman. Keltner probably plays a closer third base than any other man in the league. Only a really good third baseman can play close. There have been cases of fellows who were slowing up and moved from second base or shortstop to third base to prolong their big league careers. The theory was that third was an easier job. Rogers Hornsby once said a third baseman ought to pay his way into the park. That's rot. If it's such an easy job, why is Keltner the only good third baseman in the league?"
Povich concurred with Bluege's assessment, stating, "My man on the Cleveland club is Ken Keltner, who so far outstrips every other third baseman in the league that it is no contest. Keltner not only is the best fielding third baseman but he is the biggest batting threat among 'em. We'd say he's the best ballplayer on the club."
In 1942 and 1943, the All Star's power numbers slipped as he hit only ten homers and 117 RBIs over the two seasons. However, his batting averages remained solid at .287 and .260 and he led the AL in the same four fielding categories in 1942 as in 1941. An August 1943 spike slashing cut Keltner's campaign to only 110 games. After spending time in a Cleveland hospital with a four- inch ankle gash (including a severed ligament), he returned home to recuperate. This provided the young star time with his growing family as he also frequented Borchert Field. By 1944, Keltner climbed back up to 13 homers, a .295 average, 91 RBIs, and a second place AL finish of 41 doubles. He again sparkled at the hot corner as his assists, double plays, and total chances per game were best in the circuit.
Like many major leaguers, Keltner spent time in the military, missing all of 1945. 1946 saw the Milwaukeean get back to the All-Star Game even though his hitting slipped to .241 with 13 home runs and 45 RBIs. 1947 began an upward trend for Keltner's bat as he improved to .257, 11, and 76 even though he was not chosen as an All Star. By 1948, Keltner was ready for his career year, both individually as well as with his team.
The 1948 Indians were loaded with future Hall of Famers including Lou Boudreau, Larry Doby, Bob Feller, Bob Lemon, and Satchel Paige. Boudreau and Lemon both came up as third basemen but neither could supplant Cleveland's star at the hot corner. They all played for another Cooperstown inductee, owner Bill Veeck, whose promotions and victories allowed Cleveland to set a major league attendance record of 2.6 million. Appearing in his last All-Star contest (where he singled and scored the eventual winning run) was one of the era's premier third basemen, Ken Keltner. His third place AL home run total of 31 (one of many career-bests including 119 RBI, 91 runs, and 89 walks) and fifth place slugging average of .522 (also a career-high) helped propel Cleveland to the first-ever single game, winner-take-all American League playoff.
Monday, October 4, 1948, found the 96-58 Indians at Fenway Park (the Red Sox won a coin flip for home field) before a 33,957 capacity crowd. Keltner batted fifth with his rookie roommate, 20-game winner Gene Bearden, on the mound. With the game tied 1-1 in the fourth, the third baseman anticipated bunting with two runners on and none out. However, he received the hit sign from his aggressive manager Boudreau and connected on a 2-2 pitch for a towering three-run home run into the netting over the famed left field Green Monster. The Tribe never relinquished that lead. In the 8-3 Cleveland victory, the clutch Keltner went 3 for 5 with a double and six assists, including the game-ending play.
In that historic playoff, "Benny Beltner" (a popular nickname bestowed by Bearden) certainly drove the Indians to their second pennant ever. From there, his illustrious teammates took over and presented Cleveland its last World Series championship (and first since 1920). The pride of Milwaukee slumped to .095 as his club defeated the Boston Braves, 4 games to 2. Each Indian celebrated with a winner's share of $6772.
Wheaties photographed the diamond hero with his wife, Evelyn, and sons Randy, 9, and Jeff, 5, in their longtime Bay View home (3249 South Springfield Avenue was the Keltner address from the early 1940s to the late 1970s) at the end of 1948. The family received a one-year supply of Wheaties as compensation for their classic cereal box breakfast scene. The boys were also thrilled with the 1948 Chevrolet station wagon (trimmed with real wood) and collie dog given to their father at Cleveland's "Ken Keltner Night" in 1948.
After a career year in 1948, it is shocking that 1949 became Keltner's last campaign in a Cleveland uniform. Due to a badly spiked lower leg, the 32-year-old appeared in only 69 games at third and 80 total. A .232 average with eight homers and 30 runs batted in prompted the Indians, his only major league club, to release him after the season. The perennial fan favorite had been replaced by 26-year-old Al Rosen (stuck in the minors for years because of Keltner's competence), who set the AL rookie home run record with a league-leading 37 in 1950.
The man with the smooth glove resurfaced with the Red Sox in 1950. Twenty-eight at-bats with only eight games at third and one at first (his only big league fielding appearance anywhere other than 1500 at the hot corner) concluded his major league career at only age 33. Keltner's last year of professional ball was 1951 in Sacramento. He competed in 101 Pacific Coast League games, hitting .249 with six home runs.
Even though his professional playing days (with a salary range of $3500 to $16,000) were over, many accolades came Ken Keltner's way. Cleveland fans remembered his lifetime .276 average (with a strong 514 walk/480 strikeout ratio), 308 doubles, 163 home runs, and 852 runs batted in by naming him their all-time third baseman in 1969. The slick fielder was enshrined into numerous Halls of Fame including the Wisconsin Sports, Ohio Baseball, Cleveland Indian, and Wisconsin Old-Time Ballplayers. Cooperstown has not called Ken Keltner, but he did receive single induction votes in 1958 and 1960.
Keltner came home to Bay View to help raise his two sons and play a few seasons of semipro ball with Rohr Jewelers. Sales jobs with a hobby/bicycle wholesaler and a chemical company plus a brief 1960s restaurant stint at Keltner's Hob Nob on South Howell Avenue kept the affable ex-major leaguer working with people. Keltner lasted only two days at Ladish as he could not tolerate punching a time clock. He scouted for the Indians and Red Sox and frequently attended both Brave and Brewer games. While at County Stadium, Keltner always made time to chat with the press, fans, and fellow members of local baseball groups. Grandson Paul even worked as a Brewer batboy.
In 1989 the youth diamond at South 13th Street and West Grange Avenue was renamed Ken Keltner Field. That name transferred in 1999 to Humboldt Park (where Keltner played as a youth) on South Howell Avenue. The All Star's name also remained popular as a "Stars of Yesterday" team was named the "Ken Keltners." Future major league star and manager Harvey Kuenn spent some of his formative years on the "Keltners."
Ken Keltner died at his assisted living apartment in southwest suburban New Berlin on December 12, 1991. His family became worried when he failed to make his daily visit to Evelyn, confined to St. Luke's Medical Center after a 1990 stroke. At age 75, he suffered a fatal heart attack. Interment was at Wisconsin Memorial Park in the northwestern suburb of Brookfield after a funeral attended by his former manager and teammate, Lou Boudreau. In his 1993 autobiography, Boudreau had this to say about his friend: "He was a real professional, one of the best third basemen I've ever seen and, in my opinion, one who also belongs in the Hall of Fame."
Ken Keltner may best be remembered for halting Joe DiMaggio's 56-game hitting streak. This quotation from a south side baseball publication sums up how he felt about other elements of his outstanding major league career: "As a 16 year old kid playing on the sandlots, I had two ambitions. One was to be a World's Champion and the other to be an All-Star player. I was fortunate enough to realize both of these. Our 1948 Cleveland team won the pennant in a playoff with Boston and then defeated the Braves in the World Series. I participated in seven All-Star games." Not many other Milwaukee natives can say that!
Sources
1920 U. S. Census.
1934-1975 Wright's City Directories of Milwaukee. Milwaukee: Wright, 1934-1975.
1937 baseball scrapbook from the collection of the Milwaukee County Historical Society.
1977 and 1978 Milwaukee White Pages.
Anderson, Bruce. "When Baseballs Fell from on High, Henry Helf Rose to the Occasion." Sports Illustrated, 11 March 1985, p. MW3.
Boudreau, Lou with Russell Schneider. Lou Boudreau: Covering All the Bases. Champaign, IL: Sagamore Publishing, 1993.
Buege, Bob. "Hot Corner Hero." Oldtyme Baseball News, Fall 1989, pp. 6-7.
Gershman, Michael, Pete Palmer, and John Thorn, eds. Total Baseball. 7th ed. Kingston, NY: Total Sports Publishing, 2001.
Gershman, Michael, David Pietrusza, and Matthew Silverman, eds. Baseball: The Biographical Encyclopedia. Kingston, NY: Total/Sports Illustrated, 2000.
Green, Paul. "Ken Keltner: An SCD Interview." Sports Collectors Digest, 10 May 1985, pp. 138-154.
Grosshandler, Stan. "The Man Who Stopped Di Maggio's Streak." Baseball Digest, July 1976, pp. 48-54.
Hines, Rick. "Ken Keltner: more than a one-game hero." Sports Collectors Digest, 28 December 1990, pp. 150-151.
Holway, John B. "Ken Keltner Recalls the End of DiMaggio's Hitting Streak." Baseball Digest, June 1991, pp. 45-47.
James, Bill. The New Bill James Historical Baseball Abstract. New York: The Free Press, 2001.
Johnson, Lloyd, and Miles Wolff, eds. The Encyclopedia of Minor League Baseball. 2nd ed. Durham, NC: Baseball America, 1997.
Keltner, Jeff. Telephone interviews. 12 February and 19 and 21 November 2002.
Keltner, Jeff, and Randy Keltner. Presentation to the Ken Keltner Chapter of the Society for American Baseball Research, Milwaukee. 9 March 2002.
Keltner, Randy. Personal interview. 9 March 2002.
Milwaukee County Birth Records. Vol. 662 (1916), p. 193.
The Milwaukee Journal.
Milwaukee Journal Sentinel.
Milwaukee Sentinel.
Nemec, Raymond J., Society for American Baseball Research minor league statistician/historian. Keltner statistic sheet and biographical information.
The New York Times.
Nitz, James R. "Milwaukee's Experience as an Independent Minor League Baseball Organization, 1901-1941." Milwaukee History, Vol. 19, No. 4 (Winter 1996), pp. 106-117.
O'Neal, Bill. The American Association: A Baseball History, 1902-1990. Austin, TX: Eakin Press, 1991.
Reichler, Joseph L., ed. The Baseball Encyclopedia. 6th ed. New York: Macmillan, 1985.
Reidenbaugh, Lowell. The Sporting News Selects Baseball's 50 Greatest Games. St. Louis: The Sporting News, 1986.
Reimann, George. Sandlot Baseball in Milwaukee's South Side. Milwaukee: Robert W. Wiesian & Associates, 1968.
Ross, Patricia. Bassett (Virginia) Historical Center. E-mail received 11 March 2003.
Schneider, Russell. The Boys of the Summer of '48. Champaign, IL: Sports Publishing Inc., 1998.
Seidel, Michael. Streak: Joe DiMaggio and the Summer of '41. New York: McGraw-Hill, 1988.
"Speed Balls." Time, 29 August 1938, p. 32.
Wright, Marshall D. The American Association, Year-by-Year Statistics for the Baseball Minor League, 1902-1952. Jefferson, NC: McFarland, 1997.
Full Name
Kenneth Frederick Keltner
Born
October 31, 1916 at Milwaukee, WI (US)
Died
December 12, 1991 at New Berlin, WI (US)
If you can help us improve this player's biography, contact us.
http://sabr.org/sites/default/files/KeltnerKen.jpg
600
800
admin
/wp-content/uploads/2020/02/sabr_logo.png
admin
2012-01-04 20:35:01
2012-01-04 20:35:01
Ken Keltner