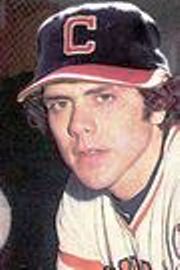 ---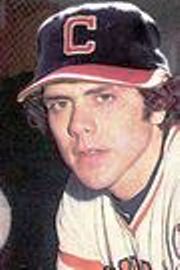 "That crazy kid in Cleveland" is what Rod Carew called Kevin Rhomberg in the early '80s.[1] Whenever the subject of baseball superstition comes up, this man inevitably stands as the extreme. It's the main thing for which many people remember him, and that's too bad. The one-sided portraits call out for balance. The reality is a friendly, normal Middle American family man, devoted to baseball and the enjoyment of fans of all ages.
Rhomberg got three cups of coffee with the Indians – "almost a whole pot," he joked in 2010. In 47 at-bats, he hit .383. He was a solid line-drive hitter in the minors too, winning a Double-A batting title in 1981. That year he was well ahead of two future big-league batting champs, Willie McGee and Don Mattingly. He said he didn't think so, but at some level Kevin's superstitious routines may have impeded his career. There were plenty of other reasons why things didn't pan out, though. Although Rhomberg was an ideal leadoff man – he drew plenty of walks, had good speed, and stole a lot of bases – he was a self-described "Punch-and-Judy" hitter. The Indians never settled him in at any one position, and in his view, "There really wasn't any continuity in the organization."[2]
Kevin Jay Rhomberg was born on November 22, 1955, in Dubuque, Iowa. His family, originally from Austria's Tyrol region, became prominent in this community. He grew up on Rhomberg Avenue, one of the city's major streets.
Kevin's father, Leonard L. Rhomberg, was a mechanic for the Dubuque Packing Company. Also known as The Pack, this plant was one of the two biggest local employers for many years. His mother, Veronica (née Kremer), stayed home with her family. The couple had two daughters, Beverly and Rhonda, and three other sons, Leonard, Jr., Dennis, and Fred. Kevin was their third child.
"I thought we were middle class, but we weren't well-to-do," Rhomberg said. "Our two weeks' vacation every year was spent making hay. Both my grandfathers had farms. I hated it then because I wanted to be playing ball. Now I wish we still had those farms." Kevin had a classic American childhood, riding his bike everywhere to pickup games with his bat and glove on the handlebars and baseball cards flapping in the spokes. "Once the streetlights were on, we had to be home," he recalled. He remembered listening to Milwaukee Braves and Chicago Cubs and White Sox games on the radio. "When cable TV came, if you had a little bit of money, you got to watch the Cubs."
"Baseball was my dream, my whole life," Rhomberg declared. "I remember telling a priest at my Catholic school in fifth grade, when we had a career day, that's what I was going to do. I was too short for pro basketball." When he got a little older, he played in the Holy Name League, as well as the Dubuque Independent League (for boys 14 and older).
Rhomberg went to Dubuque Hempstead High School. "I had a broken leg when I started, so I didn't play any freshman sports," he said. As a guard on the basketball team, he made second team All-State, but he truly excelled in baseball. As a junior, he was honorable mention All-State, but in his senior season, 1974, he made first team All-State and led the Mustangs to the Class AA state championship.
That August the Iowa papers wrote, "The most exciting player in this year's state tournaments has to be Kevin Rhomberg of Dubuque Hempstead. The Mustangs' shortstop captured the Mississippi Valley Conference batting title with a whopping .596 average in 13 loop contests. He had 28 hits including four home runs, stole 13 bases and didn't strike out once in 47 trips to the plate!"[3] Overall Kevin had 54 hits that year, a school record that lasted until 2008.[4]
The Iowa state tourneys that year also featured junior Mike Boddicker, the future Baltimore Oriole whom Rhomberg would later rate as the toughest pitcher he faced in the majors. At the SABR convention in Cleveland in 2008, Rhomberg was part of the player panel. He said, "That guy would throw you a 3-2 curveball, even to a Punch-and-Judy hitter like me. You just wouldn't be expecting that." Boddicker's school, Norway, played at the Class A level, so Kevin did not recall seeing him until the minors.
Rhomberg first went to college at Lewis University, a private Catholic institution in Lockport, Illinois. Lewis won the NAIA Baseball World Series in 1974, repeating in both 1975 and 1976. Kevin played junior varsity as a freshman. He married his high-school sweetheart, Denice Elgin, on April 18, 1975. They had four children: Jody, Tricia, Kevin Joseph (Joe), and Natalee. "We had three baseball babies and one after baseball." As of 2010, the Rhombergs had five grandchildren.
Rhomberg made the varsity as a sophomore after getting a chance because his class schedule conflicted with JV. After that season, though, he transferred to another nearby Catholic school, the University of St. Francis in Joliet. "Lewis threatened to cut some sports, and my coach, Gordie Gillespie, left for St. Francis. I learned 98 percent of what I know in baseball from him – a very giving man, a big influence on my life."
During his college career, Kevin hit .465 with an .820 slugging percentage.[5] In addition to shortstop, he played third base. After his junior year, the Indians selected him as a third baseman in the 14th round of the June 1977 amateur draft. He got his feet wet in five games with Batavia in the short-season New York-Penn League. He then went to Waterloo, in the Midwest League (Class A). That was back at home in Iowa, about an hour and a half west of Dubuque. Family members came out often to see him.
When asked how many other married men there were at that level, Rhomberg responded, "At Double-A there were quite a few in our organization for some reason. I wouldn't have any of my stuff, my scrapbooks, without Denice. But mainly it was a blessing because it was great balance. Kids don't realize the dedication it takes to play this game. A lot of it is outside the white lines. Being married with kids gave me drive. You want to make life better for your kids."
Rhomberg returned in 1978 to Waterloo, where he was shifted to the outfield. He hit .308 with 5 homers and 21 RBIs in 42 games and earned promotion to Chattanooga in the Southern League. Moving back to shortstop, he hit almost exactly as well (.307-0-16 in 58 games). His average tailed off to .268 in 1979 at Chattanooga, but he hit nine homers, his most as a pro.
In 1980 he moved up to Triple-A Tacoma, where he was once again an outfielder after splitting time between outfield and third base in '79. "Mount St. Helens went off that year – games were called because of volcanic ash." Yet despite a good year (.287-1-51), the Indians left Rhomberg unprotected in the Rule V draft.
With a hand from Indians farm director Bob Quinn, Kevin went to play winter ball in Venezuela. In 48 games with Águilas del Zulia in Maracaibo, he hit .285-2-23 and stole 10 bases. The Eagles made it to the league playoffs, and in six games he went 8-for-23 (.348) with 2 RBIs.
"There were a lot of major leaguers on that team. I played left field. Mike Easler was in right. Bob Dernier was in center. George Vukovich was in the outfield too. To give you an idea, Ryne Sandberg was there, but he hardly got to play.
"To me it seemed like Venezuela was 80 percent poor, 20 percent rich. They called it a democracy, but the military was all over – they ran the country. When we traveled, we had a choice of planes – which were getting hijacked to Cuba – or buses, on terrible highways! But it was a lot of fun."
Despite his success, the Indians sent Rhomberg back to Chattanooga at the end of spring training in 1981. They had decided he did not have enough power or a strong enough arm to be an outfielder, and that he needed to become a second baseman if he was going to make it. The irony is that of the 26 big-league games in which Kevin appeared in the field, 23 were in left field.
In a Sports Illustrated feature that June, Rhomberg told the writer, "When I got back to the States I found out that a lot of important people with the Indians didn't know how well I'd done in Venezuela, didn't even know I'd gone, in fact. Then when Mr. Quinn called me to his hotel suite in Tucson on the last day of spring training and asked me to go back to Chattanooga to learn another new position, I felt pretty low. I called Denice, and she said it flat out, 'Quit, Kevin. You're too old and we're too old. You're never going to make it.' I told her that this would be my last chance, that if we weren't drawing a major-league salary by the time I was 26 [he was then 25], I'd quit."[6]
"I don't remember her being quite that harsh," Rhomberg said in 2010. "But she always found a way to push me, to keep the drive. It was always us making it."
That article talked about how, in previous winters, Rhomberg had to supplement his four-figure minor-league salary by pouring concrete and doing carpentry. Denice made three times as much working as a bank teller, but the family was still below the poverty line and qualified for the earned-income credit when they filed taxes.[7]
Out of the disappointment came Rhomberg's best pro season. He flirted with the .400 mark into the summer, and his teammates remarked on how he hit "nothing but ropes." His own recollection was that he went hitless in back-to-back games maybe once or twice the whole year.
Kevin finished at .366, easily winning the Southern League batting crown; along with a single homer and 55 RBIs, he stole 74 bases (two more than Otis Nixon). He was a close second to future Twins catcher Tim Laudner in the voting for Southern League MVP. The Sporting News hinted at his superstitious nature that June, calling him "a loose, easygoing player touched slightly by the spirit of flakiness" and observing his "almost-religious ceremony prior to batting."[8]
After the season, Rhomberg remembered, "Ed Holtz, the general manager, told me, '[Cleveland GM] Phil Seghi's on the phone!' Woody Smith, the manager, and I went in and we picked up. Seghi said, 'I just wanted to congratulate you and say we're going to give you every opportunity to win the second base job next year.' I got a call to tell me that I wasn't getting called up.
"But I thought Seghi did a great job with what he had. It was all based on money. Cleveland couldn't afford the extra salaries. I was fortunate to be with the Indians – but at the same time unfortunate."
Rhomberg noted the turnover among Indians managers and the lack of promotion from within. By contrast, a similar player, Wally Backman, broke through with the Mets a few years later because Davey Johnson knew him from Triple A. "Doc Edwards and I have kidded each other about it. He told me, 'You were a few years too early for me in the majors,' and I said, 'You were promoted a few years too late!'"
In November 1981 Cleveland traded its primary second baseman, Duane Kuiper, to the San Francisco Giants. The choices at second base then became veteran utilityman Alan Bannister; Rhomberg, who worked on his fielding with Santurce in the Puerto Rican league that winter; or Jack Perconte, a 27-year-old farmhand who came over from the Dodgers in the Rick Sutcliffe trade in December '81. Baseball Digest said, "Rhomberg reportedly isn't as steady in the field as Perconte. But he does have good range and a strong arm."[9] Perconte was similar in many respects; he had hit .346 at Albuquerque (Triple A) in 1981 while stealing 45 bases.
Perconte won the job in spring training 1982, and Kevin went to Cleveland's new Triple-A club, Charleston. He had a typical season (.304-0-26 with 55 steals). In midseason, the Indians obtained another second baseman in Larry Milbourne, but when the rosters expanded that September, Rhomberg made it to the majors at last – ahead of his 26th birthday deadline. He made his debut on September 1 at old Comiskey Park in Chicago. Kevin drew a walk as a pinch-hitter for Rick Manning and then stayed in the game in left field.
One week later, he made his first start, leading off as the designated hitter. In the eighth inning, the Indians were leading 1-0 as Ed Whitson dueled with John Tudor of the Boston Red Sox. Rhomberg provided an insurance run with his only big-league homer. At the SABR convention, Kevin recalled this peak moment.
"I hit the ball, and I was thinking three the whole way. I was running to first, rounded second, and headed for third. The umpire tells me 'Slow down, slow down, it's a home run' and I sprinted home and all 18 fans in the stadium gave me a standing ovation." The crowds in cavernous Municipal Stadium always felt smaller than they were; 4,907 of the faithful actually turned out that Wednesday night.
That December the Indians obtained veteran second baseman Manny Trillo from Philadelphia in the "5-for-1" deal that sent Von Hayes to the Philllies. Trillo and Mike Fischlin held down second in 1983, while Rhomberg returned to Charleston – once more as an outfielder/third baseman. He had yet another typical year there (.311-1-60, though his stolen bases dropped to 27). He spent the tail end of the season in Cleveland again, batting .476 in 12 games.
In 1984 Rhomberg impressed Indians manager Pat Corrales as a jack of all trades. Kevin said, "This is intriguing, if it helps me get to the big leagues," while Corrales said, "He asks me every day which glove he should bring out to the field. . . . Now I'm going to ask if he can catch."[10] After the Indians sold Alan Bannister's contract to Houston in late March, Rhomberg actually made the big club out of spring training for the first time.
He appeared in just 13 games through early June, though, starting only twice and getting a mere eight at-bats. He then found himself back in Triple A again, as Corrales decided that he needed 11 pitchers upon reactivating Bert Blyleven. The results were disappointing. Kevin played only 49 games for the Maine Guides, hitting .236 with 1 homer and 16 RBIs. "That year, going down, was a tough one. I had a shoulder injury too."
A free agent, Rhomberg joined the Giants organization for the 1985 season, playing with Triple-A Phoenix. He had a fair season (.279-3-45 in 116 games as an outfielder), but San Francisco did not call him up at any point. As he neared 30 years old, Kevin decided to retire. "At that time, 30 seemed to be an older age. I could have played again, but the kids were getting older, and I just felt it was time. I don't regret it."
Various articles and book passages have chronicled Kevin Rhomberg's litany of superstitions. The main one was that if someone touched him, he needed to tag that person back. Many funny situations ensued – for further detail, see Dave Nightingale, "Baseball's Superstitious" (The Sporting News, April 23, 1984), and Larry Stone, "The Art of Baseball: A Tradition of Superstition" (Seattle Times, September 26, 2005). In Kevin's mind, though, it was "simply a form of concentration, staying focused."
Author Mike Blake described Kevin's approach to the plate: "Rhomberg would do things in multiples of four. Four squirts of water at the water cooler before he left the dugout, four taps of the bat on the ground, four taps of the bat on his helmet, four taps of his cleats with his bat, a left turn into the batter's box and four practice swings."[11] With the Indians, it would be the pot calling the kettle black when Mike "The Human Rain Delay" Hargrove – who had the most intricate ritual of anyone in the batter's box ever – would nickname Kevin "Touch Me, Touch Me" for his most notorious quirk.
There was significance to the left turns too – Kevin would not make a right turn because, as he later told author Russell Schneider, "There are no right turns in baseball, are there?" Rhomberg said, "I finally forced myself to quit it when I realized my kids had become aware of what I was doing. We were in a shopping mall and they started making left turns in order to make a right turn. When my family started getting involved in it, I figured it was time to end it."[12]
In 2010, Kevin added, "One day Rod Carew got me [with a tag], and I was chasing him. He was hard to catch, even at that age. I decided to quit after that too."
The descriptions over the years have been unflattering, to say the least – "bundle of neuroses"[13] and "psyching himself out"[14] are two examples. Charlie Hough, then with the Texas Rangers, said simply "nuts."[15] When asked if it had an impact on his career, though, Rhomberg responded, "Absolutely not. Other people read it differently, so what? I had a lot of fun with it."
After he quit playing, Rhomberg returned to the Cleveland area, where he and his family had settled. He sold insurance for a while. Then, in April 1988, he joined the Indians' scouting staff, covering the Cleveland area and directing local tryouts. He held this position until 1992, when he became the head baseball coach at Cleveland State. The Vikings had a tough time winning (77-187-1) in five years under Kevin, but the only coach who has ever had any success with the program was Garry Roggenburk. Rhomberg then became head coach at Lakeland Community College in 1997. During his four seasons there, the Lakers had a record of 108-65.[16] "My biggest reward as a college coach was seeing a kid get his degree," said Kevin.
Rhomberg also went into business for himself, forming a company called KRE Inc.; its ventures include buying and selling minor-league teams: As of 1999, he was managing member partner and general manager of the Canton (Ohio) Crocodiles of the independent Frontier Baseball League. In March 2000 the Akron Beacon-Journal quoted Kevin, whom it described as "manufacturing a nine-year professional baseball career out of doing the little things better than others." "I'm from the old school," said Rhomberg, "I'm a believer that hard work gets rewarded somewhere down the line."[17]
He has been involved with two other Frontier League franchises: the Cook County Cheetahs (president and GM, 2003) and the Windy City Thunderbolts (president through April 2004). Kevin became manager of community relations and baseball operations for the Indians' Class A affiliate, the Lake County Captains. Since 2007, he also worked on the Captains' radio broadcast team.
In 2003 Kevin created EbaseballClub.com, a website designed to match young athletes with college baseball programs. "When playing professional baseball was still a dream for Kevin Rhomberg, there were plenty of naysayers who told him he wouldn't make it. . . Rhomberg knows there are thousands of kids with dreams of playing in the big leagues who are hearing the same things he did."[18]
"We had that site for about two years," said Rhomberg in 2010. "We really thought we had something, out ahead of the curve. We envisaged something like YouTube, where coaches could see 20 clips – size, bat speed, running, arm action – all in 10 minutes. Right behind that was academic info. We had a great search engine, but it never took off."
Around 2005 or so, Kevin joined his old minor-league teammate Joe Charboneau (whom he helped land coaching jobs with Canton and Cook County) as co-owners of Super Joe's Baseball and Softball Academy in Painesville Township, Ohio. His son Joe became one of the instructors. Joe Rhomberg played indie ball in the Northern League and Frontier League from 2003 to 2010, serving as a player-coach in later years. Although Kevin takes great pride in building the confidence of youngsters, for 15 years he has given his time to adults too as a member of the Indians' fantasy camps.
Another of Rhomberg's co-owned ventures, RS Entertainment, acquired a team in a summer collegiate baseball league in early 2010. The Lorain County Ironmen, also representing suburban Cleveland, play in the Prospect League (formerly the Central Illinois Collegiate League).
Outside of baseball, Kevin sought to serve his community in other ways. In 2007 he decided to run for Lake County clerk of courts, which he viewed as a good fit with his experience and knowledge of both people and technology. He won the Republican nomination in a primary but lost the general election in 2008. Still, he may seek office again in the future.
When asked about favorite memories of baseball, and what the game means to him, Rhomberg said, "Hitting my one major-league homer on my son's first birthday, that's a big memory. But kids need to believe in themselves. If we can teach them self-esteem and confidence, to be a more giving person, to learn how to deal with failures and move on – that's what baseball can do."
Grateful acknowledgment to Kevin Rhomberg (telephone interview, June 28, 2010). Continued thanks to SABR member Alfonso Tusa (Venezuelan statistics).

Sources
Born
November 22, 1955 at Dubuque, IA (USA)
If you can help us improve this player's biography, contact us.
http://bioproj.sabr.org/bp_ftp/images4/RhombergKevin.jpg
600
800
admin
/wp-content/uploads/2020/02/sabr_logo.png
admin
2012-01-04 20:39:50
2012-01-04 20:39:50
Kevin Rhomberg