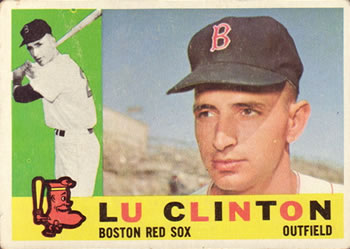 ---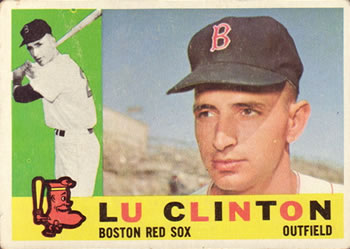 Lou Clinton played right field in 603 of his 691 major-league games. He played for five different teams over parts of eight seasons, but the lion's share of his time was spent in the organization which first signed him, the Boston Red Sox. Signing him to the Sox in 1955 was fellow Oklahoman, scout Danny Doyle.
Clinton was born in Ponca City, Oklahoma, on October 13, 1937. His father, Earl J. Clinton, and family lived in Longwood, a township pretty much adjacent to Ponca City in north central Oklahoma. Ponca City itself was a relatively small city, with fewer than 17,000 people. Earl Clinton worked as a quarryman in a local rock quarry. Some years later he became an employee of Continental Oil even after the company moved head offices to Houston (Conoco had its headquarters in Ponca City until 1949.) He and his wife, Lucy (Marlette) Clinton, were both Iowa natives; she came from a farming family.
It is worth remarking that at the time of the 1940 census, the Clintons had five children (the eldest two born in Iowa) and the names they gave them were, in order of birth: Earlena, Earl, Luciena (Liz), Luciean (Lou), Lorene (Lori), Loren, Josephine (Jody), and James (Jim). Luciena — in 2017, Liz Starrett — says her mother always wanted twins, and so named the children in pairs, after a fashion.1
Luciean Louis Clinton understandably preferred the nickname Lou.2
He attended the Ponca City schools, first Washington and then Ponca High. Right after high school graduation, still 17 years old, he was signed by Doyle and sent to play for Bluefield, West Virginia (Class-D Appalachian League). He quickly showed he had the talent to advance. hitting .361 with 19 home runs in 75 games, and near the end of the season was sent to Greensboro, North Carolina, to play for the Patriots. In 18 games, he hit for a .303 batting average.
In 1956 he spent most of the season with Greensboro, batting .243 in 90 games. He homered 15 times. In six games for Albany in the Class-A Eastern League, he hit .333 (7-for-21). His entire 1957 season was with Albany, playing in 137 games, batting .253 with 12 home runs.
Clinton's 1958 and 1959 seasons were both spent with the Minneapolis Millers, the Triple-A club of the Red Sox. He hit for an identical .251 both years, though with more than 200 additional at-bats in 1958 and 20 homers compared to just six home runs in 1958. In both years, the Millers won the American Association pennant. In 1958 they swept the Junior World Series from Montreal, the winner of the International League pennant, and in 1959 they lost in seven games to the Havana Sugar Kings.
In between the two seasons, Clinton had married Eleanor Sue Thompson on October 18, 1958.
Clinton hadn't hit for a big average in the minors but he was considered very good defensively, and at the very end of March was informed that he had made the big-league team. He was seen as a possibility to play right field.3 Clinton was 6-foot-1, and listed at 185 pounds.
Clinton's big-league debut was a good one to remember. On April 22, 1960, in Washington, the Red Sox won in 11 innings over the Senators and Clinton was 3-for-5. He singled and scored the tying run in the ninth. One advantage was that he hit right-handed. He and Bobby Thomson were the only two in the Red Sox lineup that day who did.
He was 0-for-3 the next day, but collected his first run batted in on a groundout producing the first run of the game. And on the day after that, he hit his first homer, off Camilo Pascual.
Things settled down a bit for him, and by June 21 he was down to the same .253 he had hit for Minneapolis the year before. On June 22, he was optioned to Minneapolis so the Red Sox could bring up pitcher Billy Muffett. The Boston Herald's Arthur Sampson wrote, "Three different major league managers have expressed the opinion in recent weeks that Clinton was an outstanding prospect but would develop much faster if he went to some club where he could play every day instead of staying with the Red Sox with whom he could only play occasionally."4
Gary Geiger, who had taken over right-field duties for the Red Sox, suffered a collapsed right lung on July 28. Clinton was called back from Minneapolis, where he had hit .258 in 35 games.
Clinton played out the rest of the season, but less successfully than in the first half. He wound up the year with a batting average of .228 with six home runs and 37 RBIs.
There had been one notable incident in the August 9 game in Cleveland. Bill Monbouquette was pitching and Vic Power hit a long drive to right field. It was hit over his head but Clinton was ranging back to try to catch it when "the ball hit the top of that pipe and bounced back toward me and as I'm taking a step I just kicked it out of the ballpark. I went in and argued that it hit the ground first, which then it would've been a double, but the umpire didn't buy it."5 He'd booted the ball out of the park, a two-run homer with — one could say — an assist from Clinton.
The assessment that he might have benefited from another year in the minors may have proved out in 1961, when he spent most of the season with the Seattle Rainiers (the Red Sox moved their Triple-A franchise from Minneapolis to Seattle). He said he'd asked to be sent down, partly because he didn't get along with Red Sox manager Mike Higgins.6 He played in 127 games for the Rainiers, hit for a .295 average, and drove in 102 runs. He did get in some time with Boston — four games, .000, early on, and another 13 games in September, finishing the season with .255 in the big leagues. In one of those games, he was playing right field in Yankee Stadium when Roger Maris hit his sixty-firsthome run of the season off Boston's Tracy Stallard, taking advantage of Yankee Stadium's short right-field porch. The ball would have had to travel 20 feet further to reach the right-field seats at Fenway Park. Clinton was asked where he thought the ball would have landed had the two teams been playing in Boston. His response: "In my glove."7
After the 1961 season, Red Sox right fielder Jackie Jensen announced his retirement.
Come 1962, Clinton was back in the big leagues to stay. In his third game, he opened the season with a bang, a sixth-inning grand slam into the left-field netting off Detroit's Jerry Casale that won the April 19 game for the Red Sox. On June 29 he hit another slam and drove in six of the Sox's runs in a 9-3 win against visiting Kansas City. He'd started July with a .147 average but by July 20 was hitting .324, collecting seven consecutive hits in the July 4 doubleheader. His hot streak cooled, of course, but he was batting .294 at season's end. In mid-September, Larry Claflin of the Boston Record American asked, "Has Lou Clinton become the best hitter the Red Sox own?"8
He played in 114 games, with his .294 average just two points behind Carl Yastrzemski's .296, placing him third on the team. Clinton drove in 75 runs, also third on the Red Sox. But it was his defense that manager Pinky Higgins enthused about most: "His bat has helped, but Lou's big improvement has been in the field. He always was adequate; now he's exceptional. I think we've found our right-fielder."9
Johnny Pesky was named manager of the Red Sox and led the team in 1963 and 1964. Clinton worked nearly the whole 1963 season, in 148 games. He hit 22 homers, with 77 RBIs, but his batting average dropped to .232 and he was benched for most of two weeks late in July. Maybe he was just swinging for the fences more; his strikeouts ballooned from 79 to 118.
The moment the season was over, he was being mentioned as trade bait.10 The Red Sox, however, didn't really have a surplus of outfielders and he wasn't dealt at the winter meetings, or otherwise. Clinton thus started 1964 season with the Sox. Johnny Pesky later complained that GM Higgins refused to make virtually any trades at all to try to help the team, effectively sabotaging his effectiveness as manager.11
Why had he seen his average fall so dramatically? In January he revealed that he had played the whole season with a shoulder separation he didn't know he had. He'd hurt his shoulder in Scottsdale in March, and reinjured it hitting a home run in April — but played through the discomfort and/or pain. "I had x-rays taken of my right shoulder when I got home," he explained, "and found I had a separation. I have been taking heat treatments for it all winter and the doctor says it should be okay for spring training."12
Carl Yastrzemski offered some thoughts about the upcoming 1964 season and, of Clinton, said, "I hope he stops swinging for the long ball and hits the ball in the slots more often."13
Clinton started spring training '64 strongly and he credited Higgins for telling him to stand closer to the plate.14
When Higgins finally made a trade, it was only after a "tradeless streak" spanning 536 consecutive days of inactivity.15 He traded Lou Clinton to the Los Angeles Angels for Lee Thomas, a trade of a right-handed right fielder for a left-handed right fielder (which the Red Sox needed more at the time.) Both batters had hit well at one point, then slumped. Perhaps a change of scenery would help all the way around. Clinton was pleased with the trade. He said he'd been treated well by the organization in Boston, but admitted that the fans could get on him a little. Nonetheless, he said of arriving in Los Angeles, "My wife and I have always felt we'd like to make our home here."16
Clinton's June 5 debut at Dodger Stadium (where the Angels played, too) was a success, 3-for-4 with a two-run homer in a 3-2 win over the Yankees. He won another game for them six days later with a 12th-inning sacrifice fly. On July 3 he homered in the top of the 10th to help the Angels beat the Red Sox at Fenway Park and homered the next day, too. And his 10th-inning homer on September 12 beat the Red Sox again, in Boston.
Overall, he hadn't hit as well with the Angels (.248, in 91 games) as he had during the 37 games with the Red Sox (.258), but he had hit .311 over the last six weeks of the season.17
That said, he hit about the same in 1965 with the re-named California Angels and had a .243 batting average through September 6, with — astonishingly — only eight RBIs in 249 plate appearances.
Clinton was placed on waivers and claimed by the Kansas City Athletics for the waiver price of $20,000.18 He appeared in one game for Kansas City, grounding out in the second inning. The deal was nullified, however, because Kansas City's claim had arrived after the 72-hour deadline. The Cleveland Indians announced that they had been the team to acquire him.19 It was a much more complex problem than first indicated, as explained at some length in The Sporting News.20
He put on his third uniform in a 48-hour period—and in his first game made two errors for Cleveland, helping the Tigers score a 2-0 victory. In 12 games, he drove in two runs for the Indians, batting .176 (6-for-34).
On January 14, 1966, Cleveland traded him to the New York Yankees for catcher Doc Edwards.
In 1966, Clinton played in 80 games for the Yankees, with 159 at-bats, driving in 21 runs while batting .220. The Yankees finished the season in last place.
He started the '67 season with the Yankees but fractured his right thumb during spring training. He was 2-for-4 in six games (five times pinch-hitting — even with his broken thumb — and once as a defensive replacement), with a pair of RBIs, but on May 11, when New York had to pare down to the 25-man limit, his contract was sold to the Philadelphia Phillies, who assigned it to their Triple-A team in San Diego. It was his last season in baseball, and he played in 110 games, batting .250.
He was an important force for the San Diego Padres in the Pacific Coast League playoffs; over the first five games, he had a .421 average with three homers and seven RBIs. He doubled in the sixth game, and the Padres won the pennant, beating Spokane four games to two.
On January 29, 1968, the San Diego Union reported that the Padres had announced Clinton's retirement from baseball. "[He] has elected to devote full time to his profitable oil interests in Oklahoma."21 He later said, "I first went into the oil business in 1964 with my uncle Rick during the offseason and found that I made more money in the first nine months than I did in my entire baseball career."22 He said he truly enjoyed the work, and compared it to baseball. "There's nothing worse than getting a dry hole or going 0-for-4. It's the same thing. And I absolutely love the oil business. I would have a rig running every day if it was up to me. Give me the investor with some money and I'd be out there. I love that part of it. I like competition and that's all a part of the competition."23
He had worked with his uncle for a few years and then branched out on his own, establishing himself as owner and operator of Clinton Production Inc. in Wichita, Kansas. After his passing, his son. Chris Clinton, took over the company. The company today works with oil well machinery, equipment, and supplies.
Clinton's death was noted in the Wichita Eagle with an obituary entitled "Luciean L. Or Lou Clinton, 60."24 After a two-month illness, he died of pneumonia on December 6, 1997, in Wichita.25 Clinton left behind his wife, Eleanor, and their sons, Chris and Kevin, plus several other family relatives — his brothers Jim, Earl, and Loren, and sisters Lorene, Liz (Luciena), and Josephine.
Acknowledgments
This biography was reviewed by Norman Macht and fact-checked by Kevin Larkin.
Sources
In addition to the sources noted in this biography, the author also accessed Clinton's player questionnaire from the National Baseball Hall of Fame, the Encyclopedia of Minor League Baseball, Retrosheet.org, and Baseball-Reference.com. Thanks to Rod Nelson of SABR's Scouts Committee.
Notes
Born
October 13, 1937 at Ponca City, OK (USA)
Died
December 6, 1997 at Wichita, KS (USA)
If you can help us improve this player's biography, contact us.
https://sabr.org/sites/default/files/ClintonLou.jpg
600
800
admin
/wp-content/uploads/2020/02/sabr_logo.png
admin
2017-07-24 16:39:43
2020-04-09 14:40:33
Lou Clinton