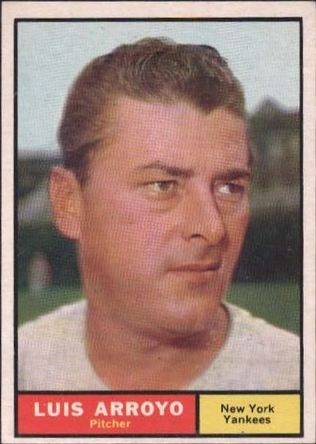 ---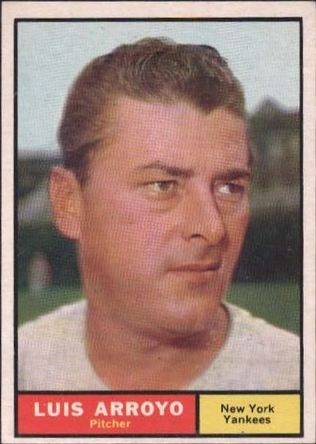 Luis Arroyo was a chunky little Puerto Rican southpaw whose out pitch was the screwball. He spent just four full seasons in the majors, plus parts of four others, from 1955 through 1963. He enjoyed modest success overall as a big-leaguer, but he had one outstanding season. That was 1961, when he helped the New York Yankees win their 19th World Series title by posting a 15-5 record out of the bullpen with 29 saves.1
Arroyo also spent 19 seasons in the Puerto Rican Winter League (PRWL) from 1946-47 to 1964-65. As of 2012, he ranked third in league's history in wins (110), innings pitched, and games pitched.2
Luis Enrique Arroyo Lugo was born in Peñuelas, Puerto Rico on February 18, 1927. Over the years, various stories hinted at an earlier birthdate, but census records support 1927. His parents were Felipe Arroyo González, a laborer on a sugarcane plantation, and Modesta Lugo de Arrazo. Luis was the third of five children in the family. Before him were sister Felícita and brother Ramón; after him came two more brothers, Miguel and Américo.
"Tite" (as Arroyo is known in his homeland) is a common Spanish nickname for Enrique. Another of Arroyo's nicknames at home was El Zurdo de Tallaboa, or The Tallaboa Lefty. That was a reference to the section of Peñuelas where his family lived. Starting in 1944, Arroyo pitched in Double A (as Puerto Rico's top local amateur level was known) for the Tallaboa Athletics.3 His brother Ramón was his catcher.4 Arroyo led the league in ERA in 1946 and earned a spot on the Puerto Rican roster at the Central American Games in Barranquilla, Colombia.5
Peñuelas is on the southern coast of Puerto Rico, just a little bit west of one of the island's leading cities, Ponce. When Arroyo turned pro in the winter of 1946-47, it was with the Ponce Leones. Because his family needed the money, he left high school in 1947 for a bonus of $500 — reportedly only the second bonus given to a player in the PRWL.6
The team Arroyo joined became league champions for the fifth time in six winters. The manager was George Scales, a tough, smart Negro Leaguer. The staff included one of the league's most successful pitchers, Tomás "Planchardón" Quiñones. A fellow rookie on the mound was José "Pantalones" Santiago (no relation to another future major-leaguer, José "Palillo" Santiago). Arroyo lost in both of his appearances that season. He also went just 1-4 in the winter of 1947-48, though his ERA improved from 4.19 to 2.46 (he pitched 44 innings in 10 games).
Arroyo first played in the U.S. minors in 1948. In 1955, after the pitcher had broken into the majors with the St. Louis Cardinals, St. Louis sportswriter Bob Broeg described how it came about. "In the spring of 1948 Ponce financed a trip to George Stirnweiss' Baseball School in Florida and there he was spotted by President Bob Doty of the Greenville (S.C.) club of the Class D Coastal Plain League. In mid-season, Doty transferred to Greensboro, N.C. of the Carolina League and took Arroyo with him."7 Arroyo posted a 14-16 record overall, with a 3.90 ERA in 249 innings. The subsequent winter in Ponce was fairly similar (2-2, 3.66 in 15 games).
In 1949, however, the 22-year-old's performance took a big step up. He remained with Greensboro, going 21-10 with a 3.67 ERA (the Carolina League had gone from Class C to Class B). Arroyo also got a new nickname: Yo-Yo. As Bob Broeg wrote, "It seems that it was as close as the drawling Carolinians could get to pronouncing his last name."8 The highlight of his season was a no-hitter against Burlington on July 25.9
That December, the Cardinals selected Arroyo in the minor league draft. He then went on to record the first of his six seasons with double-digit wins in the PRWL. He was 11-5 with a sparkling 1.82 ERA for the Leones. The league champion Caguas Criollos added him to their roster as a reinforcement for the 1950 Caribbean Series, held at old Sixto Escobar Stadium in San Juan. Although Carta Vieja of Panama was the upset winner of the tournament, Arroyo got two of Puerto Rico's four victories. On February 23, he beat Negro Leaguer Terris McDuffie (representing Venezuela) in an exciting duel. Caguas won 2-1, as pinch-hitter Wilmer Fields — called in from the coaching lines — hit a two-run homer in the bottom of the ninth.10 Just three days later, Arroyo beat McDuffie again, 3-2.
The Cardinals moved Arroyo all the way up to Triple A for 1950, but he pitched mainly out of the bullpen. In 33 games (eight starts) for Columbus (Ohio) of the American Association, he was 4-4, 4.11. During the winter of 1950-51, though, he set a personal high in Puerto Rico with 13 wins. He lost eight and his ERA remained sharp at 2.48. He was runner-up in the All-Star voting among Puerto Rican fans, who gave the most ballots to scrappy American catcher Clint Courtney.11
The summer of 1951 was lackluster for Arroyo: 3-2, 5.52 in 24 games split between Columbus and Rochester, another Triple-A club in the St. Louis chain. His Puerto Rican season was good, but not great (10-10, 3.09). He got into another Caribbean Series, though, this time reinforcing the San Juan Senadores in Panama City.
Arroyo did not play in the U.S. in either 1952 or 1953. In the spring of 1952, he developed a sore arm. According to another 1955 feature in The Sporting News, "after a succession of rainouts, and fearing that his pitching staff would go stale, [Columbus manager Harry] Walker arranged to use a high school gym where his battery men could warm up. Arroyo bore down for about 20 minutes one afternoon, then took a hot shower and, without putting on a jacket, walked out into the cool mist and rain. Next day, he found that he couldn't raise his arm."12
He was not entirely idle during those two years, though — he played in the Dominican Republic. Professional baseball had resumed there in 1951, after a hiatus of 14 years, but the new Dominican League's first four seasons took place in the summer before it switched to the winter. In two seasons with the Escogido Leones, Arroyo was 14-14, with ERAs of 1.61 and 2.84.
Meanwhile, he remained active at home. The 1952-53 winter was one of Arroyo's worst (4-8, 4.77), but he rebounded to 7-7, 2.52 in 1953-54. He later spun a tall tale for the benefit of a New York sportswriter that he had visited an old man in the mountains of Puerto Rico who practiced natural medicine, and that a hot poultice made of leaves from a certain tree brought his shoulder back to life.13 "I threw the bull good," Arroyo said with a smile in 1962 as he rolled a fat perfecto cigar between his fingers.14
When Arroyo returned to the U.S. in 1954, he did a big favor for Pedrín Zorrilla, owner of the Santurce Cangrejeros. As recounted in Thomas Van Hyning's book The Puerto Rican Winter League, the Crabbers had a 19-year-old outfielder named Roberto Clemente, who was then under contract with the Brooklyn Dodgers. "At Zorrilla's request, Arroyo accompanied Clemente on the latter's first stateside spring training trip. According to Arroyo, he flew with Clemente to Miami, purchased two bus tickets for the trip to the Dodgers' camp and checked Roberto into a hotel before leaving the next morning for the St. Louis training camp in Daytona. Arroyo then sent the bill to Pedrín Zorrilla."15 A little over a year later, by which time Clemente had become a Pittsburgh Pirate, Arroyo correctly predicted, "He's going to help the Pirates win some games."16
Meanwhile, perhaps because he'd been away from the U.S. for so long, the Cardinals assigned Arroyo only to Class A. With Columbus (Georgia) of the South Atlantic League, he went 8-6, 2.49. He earned promotion to the Double-A Texas League, going 8-3, 2.35 for Houston. Again the peak moment of his season was a no-hitter; this one came on August 11 in Dallas. The Associated Press account of this game was notable because it mentioned that Arroyo featured a screwball, which he had learned from Rubén Gómez. Later accounts when Arroyo was with the Yankees made it sound like he came up with the screwball at that point, but the trail of evidence shows that it had long been part of his repertoire.
The winter of 1954-55 was Arroyo's last of nine with Ponce. It was also his nadir at home: 3-11, 4.95. He had a poor spring too, but nonetheless, he made the big club with St. Louis in the spring of 1955. The Cardinals wanted another lefty on their staff besides Harvey Haddix and Paul LaPalme.17
Arroyo was a winner in his major-league debut, a start on April 20 at Cincinnati's old Crosley Field. Johnny Temple greeted him with a leadoff single, then Arroyo threw a wild pitch, walked Wally Post, and ran a 3-0 count on Gus Bell. But after coach Dixie Walker paid a visit to the mound and settled him down, Arroyo got out of the inning unscathed. He walked six and allowed five hits — but no runs — in 7 2/3 innings, and Herb Moford got the last four outs. "I'm going on 29 and have a big family," said Arroyo. "I was worried about failing all spring. All of sudden, Dixie make me realize that no use worrying. I either do or I don't."18
Arroyo won his first six decisions, and his record stood at 10-3, 2.44 at the All-Star break. NL manager Leo Durocher named Tite to his pitching staff; that year Arroyo and Vic Power became the first Puerto Ricans to make it to the All-Star Game. Arroyo did not appear in the Midsummer Classic, though — the only player on Durocher's roster who got no action.19 Fifty years later, he recalled, "The game went to extra innings and I was ordered to warm up [in the bottom of the 12th], but somebody [Stan Musial] hit a homer and the game was over. I was left longing to pitch."20
Arroyo's second half was also a letdown; he went just 1-5 the rest of the way, and by season's end, his ERA was 4.19. Even when he was going well, he was prone to the long ball; he gave up 22 in 159 innings.
For the 1955-56 winter ball season, Arroyo joined San Juan. He bounced back to 9-5, 3.64 with the Senadores. Spring training 1956 brought word of a "new" addition to his arsenal. Arroyo was talking about the screwball, which Al Hollingsworth — a Cardinals scout and San Juan's manager — had helped him develop in Puerto Rico. Arroyo expressed a lot of confidence in the pitch.21 He was ineffective in spring training, though, so the Cardinals sent him down to Triple-A Omaha.
After five appearances there, Arroyo was traded to Pittsburgh in early May for another pitcher, veteran righty Max Surkont. He was "acquired to add balance to a Pirate mound staff top-heavy with righthanders."22 During the rest of 1956, Arroyo was up and down between Pittsburgh (3-3, 4.71 in 18 games) and Hollywood of the Pacific Coast League (7-5, 2.81 in 16 games). One oddity came on August 10, when he was charged with a loss for Pittsburgh — and he wasn't even on the roster. The game had actually begun on July 1, but the Sunday afternoon contest had been suspended after eight innings because of Pennsylvania curfew laws. A few days later, Pittsburgh optioned Arroyo to Hollywood, and he didn't return until September, over a month after the suspended game had been completed.
Arroyo had a good winter in 1956-57 with San Juan (11-9, 3.20). His manager was Ralph Houk, who was later his skipper with the 1961 Yankees. He made a very strong impression on Houk, as discussed in Puerto Rico's Winter League. Houk said after the 1961 big-league season, "That man showed me five years ago he could pitch. . . he wants to pitch and that's why he's having some success in the big leagues."23
Arroyo then spent all of the '57 season with the Pirates. He worked often — 54 games, including 10 starts — but the results were forgettable (3-11, 4.68). Even one of the highlights, a win at Wrigley Field on May 14, showed what kind of a year it was. After Ron Kline got knocked out in the fourth inning, Arroyo came on to pitch five innings in long relief, striking out nine. But he gave up two-run homers in both the eighth and ninth innings, so Elroy Face had to get the last out.
At home in 1957-58, Arroyo again performed respectably for San Juan (8-8, 2.64), but Pittsburgh kept him at Triple A for all of 1958. By then, Columbus, Ohio was affiliated with the Pirates — and Arroyo was almost strictly a reliever in the U.S. He started only four more games in his Stateside career. In 61 games for Columbus, he went 10-3, though his ERA was on the high side at 4.01.
In December 1958, the Pirates traded Arroyo to the Cincinnati Redlegs for a fellow Puerto Rican, Nino Escalera. At the time, he was in the middle of another typical workmanlike winter for San Juan (9-6, 3.17). After the Puerto Rican season ended, he served as a playoff reinforcement for Águilas Cibaeñas in the Dominican League.
In those years, Cincinnati's top farm club was the Havana Sugar Kings. Arroyo found the warm Spanish-speaking atmosphere conducive, and he pitched very well. The Reds called him up for about a month, and he got into 10 games from early June through early July (1-0, 3.95). Then Fred Hutchinson replaced Mayo Smith as manager in Cincinnati. Arroyo later said, "[Hutchinson] let me go without even a look."24
He picked up where he left off with Havana. Though his record was 8-9 for the year with the Sugar Kings, he posted a minuscule 1.15 ERA in 117 innings across 41 games. He also was part of the team's exciting run through the minor-league playoffs, capped with a victory in the Little World Series, played mostly in Havana because of a cold snap in Minneapolis.
Arroyo had one of his best winters at home in 1959-60: 11-4, 2.36. He returned to Havana to begin the 1960 season, but the club was forced to relocate to Jersey City, New Jersey that July. The veteran lefty continued to pitch well (9-7, 2.27 in 39 games) — and scouts for the Yankees were watching. On July 20, 1960, New York purchased Arroyo's contract from Jersey City. He thus became the first Puerto Rican to play for the Yankees in the majors.25
As a Newspaper Enterprise Association feature put it that August, "the Yankees. . .were hurting for pitching, especially in relief since Ryne Duren lost control of his hard one. . .Yankee pitching had struck rock bottom when Bill Skiff, chief of scouts, watched the Bronx club's Richmond branch play across the river. Skiff had his eye on Arroyo for two years, or since the Reds sent him to the International League."26
Arroyo described how greater command of his best pitch got him back to the top level. "I grip the ball with the first two fingers between the seams and twist the wrist so it rotates and breaks away from a right-hand and into a left-hand batter. At first I had trouble getting a piece of the plate with the screwball, but now I get it over any time I want to."27
Right around the same time, Arroyo also told the Associated Press about a variant of the pitch — "I call it a back-up scroogie," he said. "That's a screwball that breaks the other way, which is the way an ordinary curve breaks. I keep it away from right-handed batters and inside to left-handed batters." Manager Casey Stengel, in a typical phrase, called it "a whoosh-whish pitch."28
That feature opened by saying, "He's fat. He's old. He's little. But Luis Arroyo is a big man in the New York Yankee scheme of things when he answers Stengel's call for a relief pitcher."29 Arroyo worked often and well for the Yankees during the rest of the 1960 season. He went 5-1, 2.88 with seven saves in 29 games.
In the fall of 1960, Arroyo also appeared for the first time in the U.S. postseason. He pitched two-thirds of an inning in Game Five of the World Series against one of his old clubs, Pittsburgh. The Pirates knocked Art Ditmar out of the box in the second inning that day, and though Arroyo prevented any further scoring in the second, he allowed a run in the third inning before Stengel removed him for Bill Stafford. Bob Turley, who started Game Seven, thought that Casey should have summoned Arroyo to face Hal Smith in the pivotal eighth inning.30 Instead, Jim Coates stayed in and Smith hit a three-run homer.
Arroyo had his last full season at home with San Juan in 1960-61, and it was one of his best: 10-2, 1.64 in 71 1/3 innings across 29 games. He was named league MVP. San Juan won the championship and went on to represent Puerto Rico in the Inter-American Series in Caracas. (The Caribbean Series went on hiatus after 1960 because Cuba withdrew.) Arroyo reported late to spring training for a most unusual reason — Puerto Rico imposed a 10-day quarantine after a bubonic plague threat in the Venezuelan capital.
About a month into camp, Jesse Gonder (then a rookie catcher for the Yankees) lined a ball off Arroyo's pitching wrist. The result was a fractured ulna.31 It kept Arroyo out of game action for a little over a month; the enforced rest was something he later viewed as a blessing in disguise. As the 1961 season developed, Arroyo became the main man in the Yankees' bullpen, which had been a big question mark.32 He appeared in 65 games — then a club record — finishing 54 games and saving 29, which led the American League. He made the All-Star team for a second time (though again he did not pitch in the game) and was named AL Fireman of the Year.
Arroyo was very good at getting batters to hit ground balls — he gave up just five homers in 119 innings in 1961. Catcher Yogi Berra said, "The screwball works two ways for Luis. For one thing, it's a difficult pitch to hit. And, for another, the hitter seems to be always looking for it, enabling Luis to fool 'em with his fast one or his other curve." Arroyo concurred. "I keep the hitters guessing and I can usually get my stuff over the plate. There's not much more to pitching than that."33
That August, he added more about his belief that he had become a true pitcher, not just a thrower. He said, "I believe I have finally become a big-leaguer. . .Now I feel I belong. A fellow is not a big leaguer just because he is in the big leagues. He must make contributions and I think I have made these contributions."34
Whitey Ford especially appreciated Arroyo's support. A Sports Illustrated article that July quoted the staff ace: "If I win 25, I'm going to hold out for $100,000 and split it with Luis." Arroyo said he'd settle for 60:40.35 When Ford got his 20th victory of the season — for the first time in his superb career — he merrily proclaimed in the clubhouse, "Beer for everybody on me. . . and make it two for my boy, Luis."36 That was the tenth of 13 saves Arroyo picked up for Ford, who indeed went on to win 25 that season. In addition to inviting Arroyo to finish his 1961 Cy Young Award acceptance speech, Whitey kept his word, giving the closer a financial boost. Many years later, Arroyo recalled, "I must have made six trips [to the States] to do commercials with Whitey and I made around $30,000."37
The Yankees won the 1961 World Series in five games over the Cincinnati Reds. Arroyo finished up in Game Two, which was Cincinnati's only victory. He was the winning pitcher in Game Three, throwing scoreless innings in the eighth and ninth while New York came back behind solo homers from Johnny Blanchard (an old batterymate in San Juan) and Roger Maris.
After the Series concluded, as Arroyo discussed in Puerto Rico's Winter League, Yankees general manager Roy Hamey gave the pitcher $10,000 not to play winter ball — double what Arroyo indicated he would earn with San Juan. Along with his World Series share, a bonus that was reported at $5,000,38 and the pay from the ads with Whitey Ford, Tite made more than he ever had in his life. Yet in retrospect, he thought it was a mistake.
"I'm almost 35 at the time, had a few drinks, ate a little too much. . .[though I did] do some throwing, running. Before you know it, I'm overweight, and I know I made a mistake by not playing that winter. I asked them [New York] to let me pitch 40 innings. I tell you that decision — I have myself to blame too — cost me my ten years in the big leagues. I only got six years and two months. But I can't say that Hamey was trying to hurt me, maybe protect me. I followed a routine for 14 years and never had a sore arm."39 (This last sentence is at odds with accounts of what happened in 1952-53.)
Arroyo actually did wind up getting into five games for San Juan, pitching 11 innings. He also appeared in the Inter-American Series again with one of two Puerto Rican entries, Mayagüez. But after his superb performance in 1961 — which earned him a salary raise from $8,500 to $20,000 — he fell off in 1962. He was able to pitch just 33 2/3 innings in 27 games for the Yankees. He was 1-3, 4.81 with seven saves. He was out of action with a strained elbow from late April. According to Yankee historian Alan Blumkin, Arroyo sustained this injury at Detroit's Tiger Stadium on April 13. That game was played in a windy and wet 36 degrees.40
Arroyo finally went on the 30-day disabled list on May 21. He returned in late June but barely pitched in September. The Yankees kept him on the World Series roster, and gave him a full winners' share — but the closest he got to entering a game was when he warmed up in the ninth inning of Game Six with New York trailing, 5-2.41
In spring training 1963, Arroyo issued remarks consistent with his recollection for Puerto Rico's Winter League. He was a firm believer that winter ball made him strong and ready for the big-league season. Of the previous year, he said, "I rest in the winter and then my arm has no life in it. I could tell from the start. Those bone chips were nothing. I've been pitching with them for ten years. . I went to the Yankees and asked for their permission to pitch winter ball again. I explained my feelings to them. They agreed it was worth a try."42
Arroyo was effective in limited duty for San Juan in 1962-63 (0-1, 2.87 in 28 1/3 innings pitched). He got into only six games for the Yankees in April and May 1963, though, and was sent down to Triple-A Richmond in June. New York recalled Al Downing, who pitched very well in the majors for the remainder of the season. Arroyo pitched in 35 games for Richmond, and his marks (2-2, 4.60) did not warrant a recall. The Yankees announced the veteran's retirement on September 27, 1963, with one game still to go in the regular season. Arroyo's lifetime record in the majors was 40-32 with a 3.93 ERA and 45 saves in 244 games.
As part of the announcement, the Yankees made Arroyo a scout, assigning him to cover Puerto Rico and the Caribbean. His contract took effect in February 1964.43 Tite played on in the winter, though — he got into 17 games with San Juan in 1963-64. The Senadores — starring Roberto Clemente — won the league championship. After that, Arroyo also pitched again for San Juan in the Inter-American Series. This edition was hosted in Nicaragua.44
Arroyo then had bone chips removed from his elbow in March 1964, and he went about his scouting duties. But as he told Frank Eck of the Associated Press later that year, he had a comeback in mind. In September he threw pain-free with some high-school kids in Ponce, and he hoped to be in good enough shape to try to go to spring training and join Pedro Ramos in the Yankees' bullpen.45
Arroyo issued a word of caution, though — despite saying he'd still be using his bread and butter pitch. "When you throw the screwball you must throw the ball with an unnatural motion. It's no good for youngsters to use the screwball. It puts too much of a strain on the arm."46
Arroyo's last mound action was three games for San Juan in the winter of 1964-65 (he also served the club as a coach). His final totals in the PRWL were 110-93 with a 3.04 ERA in 364 games. In 1722 1/3 innings, he struck out 942 batters.
Nothing further came of the comeback; in early 1965, Arroyo was part of a crew of instructors that went to Mexico in a three-week clinic sponsored by Major League Baseball. In addition to his scouting duties for the Yankees, he also became a manager in Puerto Rico. He was Ponce's skipper for three straight winters starting in 1965-66. The Leones featured players from the Yankees (Roy White and Horace Clarke) and the Cardinals (Steve Carlton and Nelson Briles). According to Puerto Rico's Winter League, the St. Louis front office was leery of sending Carlton to winter ball for fear of injury, but Arroyo convinced them. It was an important step in the prize prospect's development.47
Arroyo led Caguas for two seasons (1968-69 and 1969-70) — missing out on the back-to-back championships that Ponce won. After that, he rejoined Ponce as a coach in 1970-71. Arroyo also served as general manager for the Leones during at least two seasons, in 1975-76 and again in 1993-94, after Pantalones Santiago became owner of the club.
In addition, Arroyo was a manager during three summers in Mexico. In 1967 and 1968, he was with Reynosa. In 1978, he started the season with Poza Rica, but the team went through three managers that year (which is not uncommon in the Mexican League).
Over the years, Arroyo was willing to teach other pitchers about the screwball. One example was another lefty reliever named Terry Enyart, who got into two games in the majors with the Montreal Expos in 1974. Enyart had relied on the scroogie previously but got Arroyo's advice while in Triple-A in 1977. Arroyo also taught southpaw Chuck Cary the screwball when Cary was pitching in Puerto Rico in the winter of 1988-89. It helped Cary make it back to the majors with the Yankees from 1989 through 1991.
Plus, Arroyo was responsible for the comeback of another lefty screwballer, Guillermo Hernández, in 1995. Hernández had been out of the majors since 1989 and had not pitched in the minors since 1991. Arroyo contacted the 40-year-old reliever, who was pitching coach for a semi-pro team in Puerto Rico. Hernández got into 22 games for the Yankees' Triple-A team, Columbus (though it did not go well).48
Arroyo was still scouting for the Yankees at that time, but he retired shortly thereafter. By one local account, he brought some notable Puerto Rican talent to New York. 49 Before the amateur draft extended to U.S. territories in 1989, the Yankees signed major-leaguers such as Otto Vélez (1969) and Edwin Rodríguez (1980). They found a real plum in Bernie Williams (1985), and after the draft took effect, they selected another major star, Jorge Posada, and Ricky Ledée in 1990. Based on other published sources, however, SABR's Scouts Committee gives direct credit to Arroyo only for Ledée.50
In July 2010, Arroyo returned to New York to take part in the Old-Timers' weekend festivities. He was taken ill during the Friday night cruise that was part of the fun, and it turned out to be a mild heart attack. He went to the hospital and so missed the Old-Timers' Game. He made a full recovery, however, and returned home to Peñuelas, where the municipal stadium is named for him. He made it back to Yankee Stadium for the 2012 edition of the Old-Timers' Game.
In his mid-eighties, Arroyo remained a keen observer of the baseball scene. In January 2012, shortly after Jorge Posada announced his retirement, Arroyo commented on the diminished presence of Puerto Rican talent. "The Yankees haven't invested not because they don't have the money, but because there isn't good talent in Puerto Rico. Good ballplayers aren't coming out now. . .there isn't the material, that's how I see it. It's always been said that the Yankees don't like Latino ballplayers. But it's not that way. The Yankees have always had good Latino prospects."51
According to his obituary in the New York Times, Arroyo was married at least twice.52 As of 1960, he and his wife, Judith (who was a schoolteacher) had five children ranging in age from several weeks to 10 years. At least three of them were sons, but the names of only two were shown: Luis Jr. and Harold.53 Another son was named Paicky and a daughter was named Milagros.54
Arroyo remained one of Puerto Rico's most celebrated and best-loved baseball players. He received various honors over the years.
The Puerto Rican Baseball Hall of Fame inducted him in 1992, as part of its second class.
In 2002, the mayor of Guaynabo, Puerto Rico announced that El Museo del Deporte de Puerto Rico (The Puerto Rican Sports Museum) would open in the San Juan suburb in 2003. The announcement came at the Caribbean Series in Caracas, and though Arroyo could not make it because of passport trouble, hundreds of people honored him at a ceremony.55
The Puerto Rican Winter League dedicated its 2006-07 season to Arroyo.
In January 2008, the Puerto Rican Sports Museum held the first Puerto Rican Yankees Festival. Arroyo called the honor one of the greatest he had received and talked about how the quality of the Yankees organization impressed him from the moment he joined.56
More recently, another Latino Baseball Hall of Fame was established in the Dominican Republic. In 2012, Arroyo was one of eight inductees in the third class, joining Bernie Williams in representing Puerto Rico.
As late as 2013, Arroyo returned to Yankee Stadium for Old-Timers' Day. He died on January 13, 2016, aged 88, after being diagnosed with cancer the previous month.57 His passing prompted many fond memories from Yankee teammates.58 Luis "Tite" Arroyo was buried in Cementerio Municipal de Peñuelas, a day after many of his fellow Puerto Rican ballplayers joined his family in his hometown's Municipal Theatre to honor his memory.59
This biography is included in "Puerto Rico and Baseball: 60 Biographies" (SABR, 2017), edited by Bill Nowlin and Edwin Fernández.
Sources
Internet resources
www.ancestry.com (1930 and 1940 census records)
Edwin Vázquez, "Luis Tite Arroyo de Puerto Rico," 1-800-Béisbol website (http://www.1800beisbol.com/baseball/deportes/historia_del_beisbol/luis_tite_arroyo_de_puerto_rico)
www.paperofrecord.com (various small items from The Sporting News)
Books
Thomas Van Hyning, Puerto Rico's Winter League, Jefferson, North Carolina: McFarland & Company, 1995.
José A. Crescioni Benítez, El Béisbol Profesional Boricua. San Juan, Puerto Rico: Aurora Comunicación Integral, Inc., 1997.
José Antero Núñez, Series del Caribe. Caracas, Venezuela: Impresos Urbina, C.A., 1987.
Notes
Born
February 18, 1927 at Penuelas, (P.R.)
Died
January 13, 2016 at Ponce, (P.R.)
If you can help us improve this player's biography, contact us.
http://sabr.org/sites/default/files/images/ArroyoLuis.jpg
600
800
admin
/wp-content/uploads/2020/02/sabr_logo.png
admin
2012-12-21 12:30:01
2022-12-14 17:44:57
Luis Arroyo