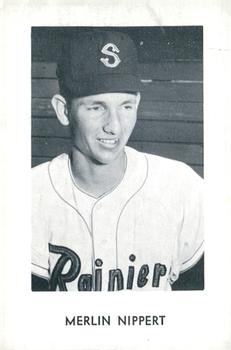 ---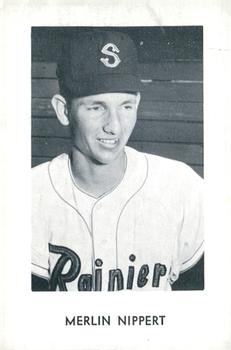 Right-handed pitcher Merlin Nippert pitched six innings of major-league baseball for the Boston Red Sox in September 1962. He appeared in four games between September 12 and September 22.
It was but a brief stint, yet he had made the grade and acquitted himself reasonably well as a big leaguer.
Merlin Lee Nippert was born in Mangum, Oklahoma, on September 1, 1938. He was the youngest of three children born to farmers Travis and May Nippert, who lived in the community of Raney, a place no longer found via current map tools. Mangum itself is the county seat of Greer County, located in southwestern Oklahoma. His elder siblings were Travis Jr. and Bill, 12 and 10 years older respectively.
Greer County had a population of 20,282 in 1930, but as the Depression gripped the area, that population had plunged to 14,500 by 1940. The county continued to lose population to the point that after seven consecutive censuses showing decline, there were but 6,061 residents in 2000. Mangum's population is almost exactly half of the county's. The area had been dominated by cattle early on, but by 1930 had turned to agriculture, much of it tied to cotton.
"I still live in Mangum today," Nippert said in a May 2017 interview. Acknowledging that the area had lost population, he said, "The Thirties and the drought since then have hurt farming communities. A lot of people left. They couldn't make a living on a small farm."1 The Nipperts farmed cattle, wheat, and cotton.
Merlin played baseball in junior high and high school, "and I guess I had enough ability to get picked up by a local American Legion team. I guess I was 14 the first year I played American Legion baseball. The last year I played, we won the state championship in Oklahoma and St. Louis, Missouri, beat us in the national regional, 3-2. They won the national championship. Nobody else even played them close."2
He attended Mangum High School and later both the University of Central Oklahoma at Edmond, and Oklahoma State at Stillwater, which he was able to attend on a baseball scholarship. (Oklahoma State was Oklahoma A&M at the time.) This attracted even more attention, particularly his winning record. "I never lost a ballgame at OSU. I signed after my sophomore year." He was signed to his first professional contract by scout Danny Doyle of the Boston Red Sox.3 Nippert was 6-foot-1 and listed at 175 pounds.
Doyle covered Oklahoma, but it would have been hard to overlook Nippert, who was 6-0 as a sophomore for Oklahoma A&M heading into the 1957 National Collegiate Baseball Championship. He reported to the Carolina League's Greensboro Patriots, a Class-B Red Sox affiliate in North Carolina.4 A month or so after reporting, his work at A&M resulted in him being named to the All-Conference team.
There was no signing bonus for Nippert at the time, because the bonus rule was in effect. Any bonus over a certain sum meant the team was obliged to carry the signee on the major-league roster.
Going pro was important. Nippert now had a wife to support. He and Patsy Heatly had married on January 19, 1957.
He was 2-1 with a 3.12 ERA in his brief time with Greensboro, but on July 17, he was sent to Corning, New York, to play Class-D ball in the New York-Penn League so he could get more work. Though he did, he had pitched better at the higher level. With Corning, he was 2-6 (5.49) in 10 appearances.
In 1958 and 1959, he pitched for the Raleigh Capitals, the new Red Sox affiliate in the Class-B Carolina League. He got off to an 8-1 start. By June, he had won six in a row and was riding high, but then dropped three straight and saw his record even out. Nippert was 11-11 in 35 appearances (30 starts) in 1958, with a 4.21 ERA. He had 115 strikeouts and 93 walks in 203 innings of work.
In 1959, new manager Ken Deal had him work primarily in relief. All but six of his 41 appearances were in a relief role. He worked 105 innings, was 5-4 (3.86), and saw the Capitals finish first in league standings.
He left baseball the following year. Nippert explained, "In 1960, my wife was expecting a baby and it was a good time to finish my college degree, which I did in January of 1961."5
In 1961 he pitched in the Texas League (Class AA), for the Rosebuds. The team was based in Victoria, Texas, when the season opened, but transferred to Ardmore, Oklahoma, on May 27. (The Rio Grande Valley team moved into Victoria on June 10.) The team finished in last place. Nippert started 12 games and relieved in 25 others. His record was 7-7 with a 3.30 earned run average.
He started the 1962 season in the Triple-A Pacific Coast League with the Seattle Rainiers, managed by Johnny Pesky. Luck played a role early on, Nippert picking up three wins in relief in an 11-inning game, working the ninth in the next, and then in a 10-inning game. He predictably also picked up the local nickname "Merlin the Magician."6 He worked exclusively in relief, and was used often, pitching in 58 games. As early as mid-May, Pesky said, "He's my relief mainstay…He doesn't overpower batters, like [Dick] Radatz does, but he has a fine, quick curve which is most effective in putting out fires."7 Pesky predicted that sooner or later Nippert would be in Boston. His earned run average was exactly 2.00 in 90 innings; he was 8-4.
He pitched his final three innings for the Rainiers on September 6, absorbing a loss, and then flew all night to join the Red Sox. Galen Cisco was sold to the New York Mets to make room for Nippert on the Red Sox roster.
His major-league debut came on September 12 in the first game of a doubleheader in Detroit. The Red Sox were going nowhere. They finished in eighth place under manager Pinky Higgins. Gene Conley was the Red Sox starter and went six innings, The Sox were behind, 4-2, so Higgins had Bob Tillman pinch-hit for Conley. Tillman homered, making it 4-3. Nippert retired the side in order in the bottom of the seventh, then saw the Sox take the lead in the top of the eighth. After getting the first out in the bottom of the inning, he surrendered a single and was replaced by Dick Radatz, who gave up a two-run homer to Rocky Colavito. The Red Sox came from behind once more and won, but Nippert was gone by the time the game was decided.
His second appearance came the very next day. It was 8-0, Tigers, and he was asked to pitch the fifth and sixth. That he did, marred by a two-run Norm Cash home run.
On September 20, he came into a 4-4 tie game in Chicago. There were White Sox runners on first and second and nobody out. A sacrifice advanced both runners and there was one out. A sacrifice fly brought in the go-ahead run, charged to Arnold Earley. An error let another run score on the same play. Nippert walked the next two men he faced, and was relieved.
Nippert's fourth and final appearance in the majors was on September 22 in Washington. (He never did pitch in Fenway Park.) He worked two innings in another tie game, working the bottom of the ninth and the bottom of the 10th. Only one runner reached base; it was on Nippert's error, but no damage was done. By not giving up a run in his last two games, he brought his career ERA down to 4.50 (his WHIP was 1.333.) He was 0-0.
He had never appeared at the plate.
The error he had committed was one of only two chances he had, giving him a lifetime .500 fielding percentage. (In 188 minor-league at-bats, he hit .138. Some of his fielding work in the minor leagues is unknown, but of the 155 chances which are known, he committed six errors, giving him a .961 fielding percentage.)
In 1963, Nippert trained with the Red Sox but was hit hard near the end of spring training and was asked to return to Seattle. Johnny Pesky had become the manager in Boston. When the Red Sox made three roster cuts on March 29, he said, "Nippert will surprise me if he comes back, but as in the case of [Wilbur] Wood, Nippert still has youth going for him."8
After arriving in Seattle, Nippert was out with an illness for much of the first part of the season. He encountered arm trouble and was sent home before the season ended. He only appeared in 18 games He was 1-1 with a 6.17 ERA.
His final season in pro ball was 1964, again with Seattle. He worked in 49 games and was 5-3 (3.52).
One of his brothers became a petroleum engineer and the other became the manager of a steel manufacturing plant in Mangum; he farmed also.
Merlin himself went into banking, working initially as an agricultural loan officer but over time working his way up to become the president of the bank. "I worked for First National Bank from 1969 to 1981, from 1981 to 1996 worked for Guarantee State Bank, and an additional 10 years with two other area banks, finally retiring in 2005."9
In January 2017, Merlin and Patsy Nippert celebrated 60 years of marriage. They have four children.
Nippert still hears from the Red Sox alumni office, and was pleased to have the opportunity to visit Fenway Park again in 2012 for the 100th anniversary celebration of the ballpark.
Last revised: November 20, 2017
Acknowledgments
This biography was reviewed by Norman Macht and fact-checked by Alan Cohen.
Sources
In addition to the sources noted in this biography, the author also accessed Nippert's player file and player questionnaire from the National Baseball Hall of Fame, the Encyclopedia of Minor League Baseball, Retrosheet.org, and Baseball-Reference.com.
As a possible point of interest, Merlin Nippert is no known relation to West Virginia-born Dustin Nippert, another right-handed pitcher, who worked in the major leagues from 2005-2010 for the Diamondbacks and Rangers.
Notes
Born
September 1, 1938 at Mangum, OK (USA)
If you can help us improve this player's biography, contact us.
https://sabr.org/sites/default/files/NippertMerlin.jpg
600
800
admin
/wp-content/uploads/2020/02/sabr_logo.png
admin
2017-11-20 18:10:51
2020-04-09 14:40:29
Merlin Nippert