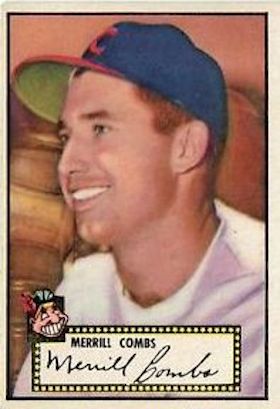 ---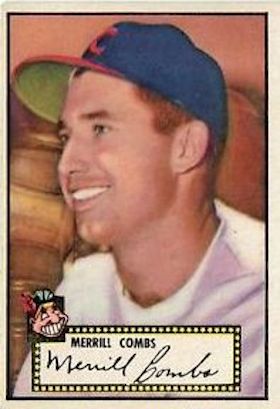 Merrill Combs was a graduate of the famed Fremont High School of Los Angeles, which has sent 25 players to the major leagues. He was one of three big leaguers named Combs, including Hall of Famer Earle Combs and pitcher Pat Combs.1 Merrill Combs was an infielder who played shortstop and third base, and three games at second base. He played in 140 games over five seasons from 1947 through 1952, and retired from the majors with a .202 batting average. His ability to draw bases on balls gave him a .314 on-base percentage. As a fielder, he held a .970 career fielding percentage.
Merrill Russell Combs was born in Los Angeles on December 11, 1919. He attended the 68th Street School for grade school, and graduated from John C. Fremont High School, then the University of Southern California. He was the second-born of the five boys in the Combs family. Both Lewis W. Combs and his wife, Anna Christine Stroble, were natives of Kentucky. The boys were of English and German ancestry. Lewis Combs was an auto mechanic, a foreman in a garage at the time of the 1920 United States census.
Though still at USC, Merrill was listed in the 1940 census as "gardener, N.Y.A." (National Youth Administration.)
Combs played American Legion ball while at Fremont High, and was on the varsity for two years at USC. As a shortstop, he was one of four Trojans named in June 1941 to the California Intercollegiate Baseball Association All-Star team. He signed with the Boston Red Sox organization and as soon as he graduated college was assigned to their Class-B Piedmont League affiliate, the Greensboro (North Carolina) Red Sox. Combs tripled in his first game, on June 12. In all, he got into 92 games and batted .288 with two home runs. He recorded a .942 fielding percentage. Manager Heinie Manush rated him "a better prospect than either Eddie Pellagrini or Johnny Pesky."2
Combs married Phyllis Luanna Eichar on October 4, 1941. He and Phyllis had three daughters, Caryl Sue and Cindy Lynn, and nine years later, Christyann.
There followed a four-year hiatus from baseball. On February 14, 1942, Combs enlisted in the United States Army at San Pedro, California. He was stationed at Camp White in Oregon, and had become a sergeant as early as August 1943, when he was playing on the 91st Division baseball team. He served for 46 months, discharged a few months after the war ended, on December 5, 1945.
In 1946 he played for the Scranton Red Sox, but only hit .218 in the Class-A Eastern League. He showed sufficient promise, however, to be invited to spring training with the Boston ballclub. Making the team on the A.L. champion Red Sox was bound to be a challenge. He showed well, however, and was assigned to Triple-A in 1947. He played in 22 games for Toronto (.206) through June 17, and 103 games in the American Association, split between Louisville and, later, Columbus. In the American Association, he hit a combined .237.
He was brought to Boston and almost immediately put to work in a game, playing third base and batting eighth on September 12 at Fenway Park against the Cleveland Indians. He singled to right field his first time at bat. After a couple of outs, he came up in the bottom of the eighth facing Bob Lemon and hit a three-run homer. Up again in the bottom of the ninth, he singled in Don Gutteridge for his fourth RBI of the game, all off Lemon. The Indians, however, won the game with ease, 11-6.
Combs played 17 games at third base, closing out the season. He drove in two more runs, batting .221 overall. He handled 59 chances in the field without making an error.
Combs stood six feet tall and was listed at 172 pounds. He batted left-handed, and threw right-handed.
Somewhere along the line, he supposedly picked up the nickname "Merl" – probably because it rhymed with "Earle," as in Earle Combs. It was not a nickname Merrill Combs himself reported; asked on his player questionnaire for a nickname, he left the space blank. In an unusual pairing, it happened that Boston's first-base coach from 1948 through 1952 was Earle Combs. One can well imagine people talking about "Merl and Earle." In print, though, he was almost invariably Merrill.
In mid-February, the Red Sox optioned Combs to the Oakland Oaks of the Pacific Coast League for the 1948 season, playing under manager Casey Stengel. The Coast League played many more games in their season than did other leagues; Combs got in a lot of work, appearing in 175 games (133 at shortstop, 40 at third base.) He hit for a .271 average, with 10 home runs and 69 RBIs. With 83 walks, he had a .364 on-base percentage.
The 1948 Red Sox had lost the pennant in a single-game playoff against Cleveland. Looking ahead to 1949, they declined a number of offers – from the San Diego Padres among others – and foresaw Combs as a utility infielder. If they farmed him out again, they would lose their rights to him, so they kept him. George Carens of the Boston Traveler called him the "best shortstop in the minors last season."3
He didn't get much work. Through August 14, he had only appeared in seven games, with a total of six plate appearances, reaching three times by way of a walk. He got his first start on August 15 and played in seven consecutive games at third base, subbing for Johnny Pesky, who had suffered a badly-pulled muscle in his left side. His best game was his last one of the season, 2-for-5 on August 23. That bumped his average over .200 for the first time (to .208). He had one run batted in. He'd drawn nine walks, giving him a .424 on-base percentage, and not struck out once.
Merrill Combs was late to arrive for spring training with the Red Sox in 1950 due to illness in the family, or maybe an airline strike (both stories made the papers), but he arrived and was put to work immediately, filling in for holdout Vern Stephens (who had tied Ted Williams for the league lead in RBIs in 1949 with 159.) Two days later, Stephens signed. Manager Joe McCarthy named both Combs and Lou Stringer as the team's utility infielders. Combs led all infielders on the team that year with a .323 batting average in spring training.
No one ever doubted Combs's ability defensively; he was often described with phrases such as "slick-fielding" or "classy fielding." The Boston Globe said he had shown himself as a "fine fielder, although not an impressive batter."4 The Monitor averred that Combs "could play first string for virtually any other major league team."5 Combs knew that the slugging Stephens was going to get the nod, and showed a bit of good humor about the situation: "Junior had 39 home runs last season and probably doesn't remember where he hit half of them. I can tell you every home run I ever hit."6 In terms of home runs in the major leagues, that total was one – back in 1947. There were 16 others he'd hit in the minors, to this point in his career.
He only had one plate appearance; drawing a base on balls in the first game of the April 23 doubleheader in Philadelphia. He made his way to second base on Tom Wright's single, but when Dom DiMaggio singled behind Wright, Combs was thrown out at the plate trying to score. It was his last time in a game for the Red Sox. On May 8, he and outfielder Tommy O'Brien were traded to the Washington Senators for slugging outfielder Clyde Vollmer. The plan was for Washington to move Sam Dente from shortstop to second base and for Combs to take over at short. Dente's appraisal of Combs, who he'd known in the minors: "Not much wood, but a lot of leather."7
Combs played in 33 games in May and June, but then only four games in July, overall batting .245 and scoring 19 runs. He hit no more home runs to remember.
On August 2, the Senators acquired Gene Bearden (the rookie pitcher who had won the single-game playoff against the Red Sox in 1948) via waivers from the Indians, and sent Combs to Cleveland along with cash. The Indians immediately sent Combs to their San Diego Padres farm team. He hit .283 in 50 Pacific Coast League games. He added three more homers to his collection, one of them a game-winning two-run homer in the bottom of the 10th against the Hollywood Stars. The San Diego Union dubbed him a "hard-hitting infielder not quite good enough for the majors but powerful enough for any minor league squad."8
On November 16, Combs joined yet another club, selected by the St. Louis Browns in that year's Rule 5 draft, one of seven PCL players so selected. He trained with the Browns that spring, but the Indians had lost Lou Boudreau to the Red Sox so they swung a deal with St. Louis to acquire infielder Snuffy Stirnweiss and Combs on April 1.
Combs stuck the full 1951 and 1952 seasons with the Indians, playing occasionally when an injury sidelined one of the infield regulars. He hit a game-winning homer against the Brooklyn Dodgers in the bottom of the ninth on August 6, 1951. There was no interleague play at this time; it was an exhibition game. He appeared in 19 games, accumulating only 31 plate appearances. He hit for a .179 average in 1951.
In 1952, Combs came to the plate 155 times, in 52 games, but only batted .165. He did hit another home run, the second and final one of his major-league career, a solo home run on the Fourth of July in Detroit as the Indians beat the Tigers 11-0 and 10-1. Combs drove in 10 runs on the season. He finished his big-league career with a .202 batting average and a .314 on-base percentage. His lifetime fielding percentage was .970.
In October 1952, he was sent to the Indians' farm club in Indianapolis. In January 1953, they sold him to Seattle of the Pacific Coast League. He played a full season in 1953, 156 games, batting .265 with eight home runs (two in one game, on June 16).
Combs's last season playing ball was 1954. He started with Seattle, batting just .206 in 43 games. After the first week in June, he was traded to Sacramento, where he played his final 92 games. He hit .245 for the season. He was released in February 1955.
After baseball, Combs became a fountain sales representative for Pepsi-Cola, living in San Gabriel and working in the Los Angeles area. He also worked as a baseball scout, for the Cincinnati Reds (1962-63), New York Mets (1964), Philadelphia Phillies (1965-73), and Texas Rangers (1976-81). He had seven other scouts reporting to him while working with the Phillies.9 With the Phillies, he is credited with singing Alan Bannister, Scott Reid, Dick Ruthven, and Roy Thomas.
In 1974 and 1975, he served as first-base coach for Billy Martin and the Texas Rangers. The two had played together under Casey Stengel in Oakland and remained friends.
After the '75 season, Combs became California-area scout for the Cleveland Indians later that year and was still serving in that capacity when he died of lung cancer in Riverside, California, on July 7, 1981. He was 61 years old. As a veteran, he is buried in Riverside National Cemetery.
Sources
In addition to the sources noted in this biography, the author also accessed Combs's player file and player questionnaire from the National Baseball Hall of Fame, the Encyclopedia of Minor League Baseball, Retrosheet.org, Baseball-Reference.com, and the SABR Minor Leagues Database, accessed online at Baseball-Reference.com.
Notes
Born
December 11, 1919 at Los Angeles, CA (USA)
Died
July 7, 1981 at Riverside, CA (USA)
If you can help us improve this player's biography, contact us.
http://sabr.org/sites/default/files/CombsMerrill.jpg
600
800
admin
/wp-content/uploads/2020/02/sabr_logo.png
admin
2016-05-11 16:51:06
2016-05-11 16:51:06
Merrill Combs