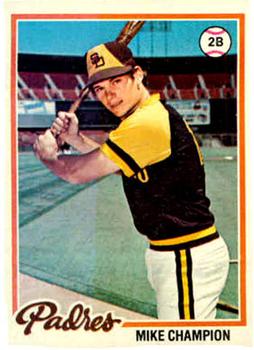 ---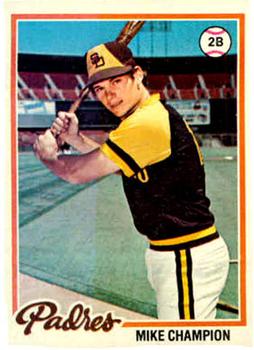 Expectations for the 1977 San Diego baseball season ran high, due to trades and free agent signings that everyone believed would strengthen the team. "The Padres are much improved and this should be their finest season," wrote Phil Collier of the San Diego Union. The biggest question facing the team was the middle infield, comprised of two rookies: second baseman Mike Champion and shortstop Bill Almon. "Both these kids have the talent to be here," said Padres manager John McNamara. "The outlook is still more promising than a year ago when the starters were Enzo Hernandez at short and Tito Fuentes at second base," noted Bill Weurding of the San Diego Tribune. Padres coach Joey Amalfitano, who had coached Don Kessinger and Glenn Beckert when they broke in during the mid-1960's, said these two rookies were out-pacing the pair he had in Chicago. "I didn't expect to get this kind of chance this soon," said Mike Champion.1
Robert Michael Champion, the youngest of three children, was born February 10, 1955, in Montgomery, Alabama. His father, an engineer, moved the family to Southern California when Mike was a year old. In 1969, Champion entered Foothill High School in Tustin, where he played baseball and football. He played three years on the Falcons' varsity baseball team and excelled, especially in his senior season when he pitched a no-hitter and was hitting near .400 through the first 14 games of the season. "Mike Champion is one of the most sought-after players in the country, by both college and the pros," said his high school baseball head coach Gerry Sadoo. Before graduating in 1973, Champion considered college. "I only remember him considering the University of California-Irvine," said Lisa Champion, who graduated in the same high school class and dated Mike there. He decided to bypass college when the Padres drafted him in the second round, 28th overall, in the June 1973 amateur draft. "A [Padres] scout came to his house to sign him," she recalled. "His father negotiating his contract."2
Champion was assigned to the Walla Walla Padres, San Diego's short-season A team in the Northwest League and was placed at shortstop. He hit .276/.325/.369, made 74 hits and scored 49 runs. The following season, he was promoted to the Alexandria Aces, the Padres double-A affiliate. "My manager in double-A was Jack Brandt. He was tough to work with," said Champion. "I was 19. It was my second year as a pro. And he was tough on young players." During that season, the Padres, with the first overall pick in the amateur draft, selected shortstop Bill Almon, who they assigned to play in Alexandria, resulting in Champion being shifted to second base. "I didn't mind," Champion said. "I knew what they had in mind for Bill. I like playing second base."3
Mike and Lisa were married on March 8, 1975. When the 1975 season began, Champion was back in Alexandria and playing for a new manager, Pat Corrales. He hit sixty-six points higher than the year before and made a good transition to his new position. In the Fall, he played in the Arizona industrial league and hit .332 while leading the league in 8 offensive categories. He contributed his hitting improvement to feeling more relaxed in his batting stance.4
When the 1976 season began, Champion and Almon were starting for the Padres triple-A team, the Hawaii Islanders. "Playing in Hawaii was like a paid vacation," said Lisa. And one step away from the major leagues. At Hawaii, Champion played on a pennant contender that battled the Tacoma Twins in a tight race for first in the Pacific Coast League's West division. On September 2, with only a half game separating the two teams, Champion hit one high into the orange seats at Honolulu's new Aloha Stadium for his 8th homer of the season in a big win for the Islanders. The next day, he went 3-for-5 with 4 RBI in another Hawaii win. He hit at an 11-for-19 clip in the last 6 games of the season to help his team finish in a first-place division tie. In a one-game playoff, they won at Tacoma to advance to the league's championship series, a best-of-5 with all five games to be played at Salt Lake City. Through the first four games, Champion got 3 hits in 14 ABs. In the fifth and deciding game, with one out and Almon on second in the top of the sixth, Champion drilled a single to center to score the runner for a 2-1 lead. Champion then stole second, moved to third on a groundout, and scored on an error, which was the run that proved to be the game- and PCL- championship winner in a 3-2 Islanders victory.5
Following the victory, the Padres, still boasting the Islanders win, called Champion and the other rookies up to the bigs. . "It's damn encouraging," said Bob Fontaine, the Padres player's personnel director. Two days later, Champion was in the starting lineup. "I always get butterflies until I get the first ground ball or the first at bat," he said. And he must have been nervous, hitting into a double play in his first at bat and committing two errors. He did better the next day, handling all fielding chances and belted a double for his first MLB career hit. Five days later, he went 3-for-4 at Cincinnati. On September 29, against Reds pitcher Fred Norman, Champion hit a long fly ball down the left field line. "I thought it would hit the wall, so I ran as hard as I could," he said. The ball hit the foul pole above the 17-foot high San Diego Stadium outfield wall for a home run, the first of his career, but Champion didn't slow down to enjoy the moment. He sprinted all the way to the plate. When the season concluded, Champion produced a .237/.256/.368 slash line during his few weeks with the Padres.6
After a successful winter baseball season in the Caribbean, Champion reported for spring training. He had been slated to bat eighth in the 1977 Padres batting order. That changed, however, thanks to the tutelage of Padres coach Bob Skinner. "Mike has been pressing so much at the plate, his knuckles were white up there," Skinner observed. "So, I sat him down and had a talk with him. Basically, I told him to relax." By the end of spring training, Champion was hitting .377 and set two club spring training records: 29 hits and 8 triples. "I think he proved himself," said McNamara, who moved him up to second in the batting order. On Opening Day in Cincinnati, Champion went 3-for-5 with a double. "How about our second baseman?" McNamara asked reporters with a smile. "I really feel as loose and comfortable as I've ever been up at the plate," Champion said. "I was a little nervous during my first at bat. After that it wasn't so bad."7
Champion's successful Opening Day wasn't a sign of what was to come. By the season's ninth game, following a 2-for-26 batting slump, he was back to batting 8th in the order. He was working hard to improve. "He's out here early almost every day to take extra batting practice," Skinner said. On May 6, he went 2-for-4, boosting his average to .245 and driving in 4 runs in a 6-4 win over Montreal. "I didn't see that kid do one thing wrong," said Expos manager Dick Williams. "He executed everything well. I'm impressed with him." The Padres manager agreed. "He played a helluva game," McNamara said. "Not only did he drive in four runs, he moved up a runner and made two outstanding fielding plays."8
By May 11, Champion's batting average was .252 after going 12-for his last-29. That was one of the few bright spots for the Padres. The team wasn't living up to preseason expectations. The team began May riding an 8-game losing streak. "We can't go on like this," said general manager Buzzie Bavasi. On May 17 at Wrigley Field, the Padres committed 5 errors and yielded seven homers in a humiliating 23-6 defeat. On May 28t, with the team at disappointing 20-28, John McNamara was fired, and Alvin Dark was named the new manager. The Padres responded by winning five of their next six but concluded June with another 8-game losing-streak. By that time, Champion was again slumping at the plate, and according to one Padres official, "striking out too often." Bill Almon was also compiling strikeouts. "They look like they can field their positions," Dark said about the rookies," but I want them to learn how to make contact. They can't help us by striking out." By mid-July, the rookies were showing improvement. Champion's batting average had climbed to .246. "They have made a lot of progress," said Dark, "I am proud of them." In late July and into early August, Champion went into a 0-for-28 slump and lost 17 points on his average. He broke out of his slump by going 5-for-8 in a doubleheader at Wrigley Field on August 7. In Atlanta one month later, he popped one over the right field fence for his second MLB round-tripper.9
The Padres continued to fall during the second half of the season. The turmoil throughout the season peaked in September: relations between Dark and his players basically broke down. No less than 10 Padres said they wanted out. San Diego Union Sportswriter Jack Murphy asked a player if this was an exaggeration. "No way," he replied. "If anything, it has been understated."10 The Padres concluded the dismal season in fifth place with a 69-93 record. Champion managed to hit just .229/.271/.286 on the season. Plus, observers said he lacked range in the field, having made only 348 assists, substantially fewer than other starting second basemen. Bill Almon also struggled, striking out 114 times and committing a league-leading 41 errors. But the Padres organization wasn't about to give up on them. "I am convinced that [Champion] is going to be a good major league ball player," said Bob Fontaine.11
Champion was optimistic in spring training about the coming 1978 season. "Maybe they brought me up too soon. Maybe I wasn't ready for the big leagues, but I think I am now," he told a sportswriter. To make room for rookie shortstop Ozzie Smith, Dark rearranged his infield moving Bill Almon to second base and placing Champion at third. "Alvin feels Almon has better range at second base than I had and I can understand that," Champion said. "I played third base my last year in high school but can't say I learned the position." His hope to be in the everyday lineup vanished when the Padres traded for infielder Derrel Thomas who was immediately named the starting third baseman, to Champion's great disappointment. When spring training games began, Champion was on the Padres "B" team and thought to be heading back to the minors. He didn't relish that prospect. "What I would hate to do is go back to Hawaii," Champion said. "I've already had four years in the minors."12
On March 21, less than three weeks before Opening Day, Alvin Dark was fired, and pitching coach Roger Craig was appointed manager. "I told Mike Champion that if he doesn't have a place to live in San Diego, he better get one by Opening Day," Craig told reporters. "He has proven to me that he is valuable to this team." Craig changed the starting infield by placing Almon at third and Thomas at second. Champion would be used in utility and as a pinch-hitter. On Opening Day, Champion was sent to the plate to pinch bat in the top of the eighth with the bases loaded and the score tied, 2-2. He drew a walk to force in the winning run. In Atlanta four days later, Champion replaced Thomas during the game, after the starting second baseman got into an intense argument with the manager. The hot-headed Thomas apologized the next day and was inserted back into the starting lineup.13
The Padres finished April losing three in a row to fall to 7-12. Thomas was benched "because his not hitting," said Craig, and Champion was again the starting second baseman. "Champion did not pout in spring training when Almon took over second and Thomas was obtained," noted Phil Collier. "He got less than a good look at third, was believed to be heading to Hawaii, but stayed on." He smacked a RBI triple in his first start and was batting .300. "I still think I can hit .280 or better in this league," he said after the game. With Champion in the lineup, the Padres won three in a row. Following the road trip, Champion was having dinner back home in San Diego when he attempted to separate a lobster from its shell. "The knife slipped, and you can visualize the rest," wrote San Diego Tribune writer Steve Bisheff. Three stitches were required. Wanting to remain in the starting lineup, he took fielding practice before the first game of the home-stand. While fielding grounders, he reopened the wound. On June 5, the Padres claimed Pirates waived infielder Fernando Gonzalez and made room by sending Champion to Hawaii, "because he needs to play every day instead of sitting on the bench," said the club's minor league administrator. The Padres instructed the Islanders to play Champion at second base. In his first game back in the minors, he "flawlessly handled 8 chances in the field."14
During the second half of August, Champion hit safely in 18 consecutive games, going 31-for-71 during his streak. He finished the triple-A season with a career high .328/.387/.420 and stole 15 bases, also a career high. He attributed his batting improvement to a San Diego cop named Bill Allen, who was "about 40," and whose fondest wish was to be a batting instructor. While growing up in Chicago, Allen would attend Rogers Hornsby's batting clinics. "Bill followed Hornsby everywhere. He really picked his brain," said Champion. "He studied all the other great hitters. He helped some of the other San Diego players. He tried to find work as a batting instructor, but it's tough when you never played professionally. I learned about him from my agent and found out he had written a book. It hasn't been published, but I read it and learned that this guy really knows what he is talking about."15
His productive season earned a call up by the Padres for the final month of the 1978 campaign, and according to Phil Collier, Champion had a chance to win back his starting job at second base. When he arrived, he found a Padres team with a good attitude, better morale, and a winning record. "When I took over this ball club, things were in turmoil," said Craig. "The players were unhappy. They were not playing well. They hated to come to the ballpark. Alvin did everything. I was the pitching coach, but Alvin did most of the work in coaching the pitchers—work that I could have done." On September 2, Champion got two hits and helped turn two double plays. He received more starting assignments before the end of the season and got a few more hits to finish his second major league season at .226/.293/.302.16
In 1979, Champion hoped he could win a starting job or at least stick with the team. He had competition for second base with Fernando Gonzalez, rookie Tim Flannery and Bill Almon, who had been shifted from shortstop to third base and now to second base. At third base the Padres had a promising rookie in Barry Evans and veteran Kurt Bevacqua. When the exhibition season began, Champion was rarely used. On March 23, he learned he would start the season in Hawaii. One week later, the Padres obtained first baseman-outfielder Dan Briggs from the Indians for a player to be named later, as the Padres announced on April 3, would be Mike Champion. "I wasn't upset by the trade," said Champion. "They (the Padres) didn't seem fit to use me. No matter what I did, they weren't gonna use me. I had to get out of there."
The Indians assigned Champion to the Tacoma of the Pacific Coast League where he was placed at third base. Indians farm director Bob Quinn assessed him as "a darn good player." And he was highly recommended by an Indians scout: "Champion could help the Indians one day," he said. Champion got off to a slow start due to his lack of playing time during spring training, but in a game in late April he hit a 2-run walk-off homer for a 7-6 win. "Nice in a way," Champion said about his game-winning clout. "Any homer is nice for me, because I don't hit many."17
By the end of May, he was hitting just .244, but in June he began to find his stroke. By July 21, his average had climbed over .300. "It's been a long time, hasn't it?" Champion said after going 3-for-5 to lift his season average to .302. "I'm hopeful of getting back to the big leagues," he said. "I hope to get called up at the end of the year. I plan to be up there next year." When asked what role he would play if with the Indians next year, Champion replied, "I don't know what they want from me. Bob Quinn told me they want me as a utility player next season, and possibly at third base. They utility role is kinda tough. I'd like to be playing third every day." Champion had a good month in August but did not receive a call up to finish the season. He finished .311/.366/.383 and with a career high 71 RBI.
When the Indians began the 1980 spring training season, Champion wanted a starting spot on the roster, but was willing to be utility. "At least get back into the big leagues," he said. "I won't complain about it. I know that'll be my role if I make the club." Champion began the 1980 exhibition season on the Indians "B" team, and in a game against the Padres, he hit a walk-off home run. By the end of March, he was hitting .286 and in the running for the Indians last roster spot. According to the Cleveland sportswriters, it was between Champion and Dave Rosello for that spot. Rosello "has the edge on me because he was here last year," said Champion. "He has the edge on me at shortstop, but I think I have an edge at second base. Third base is his best position. It will probably come down to whoever hits better." When the decision was made, Champion was sent to Tacoma for another season.18
During the 1980 season, Cleveland starting infielders Duane Kuiper and Tom Veryzer were both placed on the disabled list. The Indians elected to bring in experienced veterans rather than make a call to the minors. Champion saw the writing on the wall. "He pretty much checked out in his second year (at Tacoma)" said Lisa. When the season entered its final month, Champion began to countdown the remaining games. He had decided that 1980 would be his last. "Champion, the Tacoma third baseman, is about to call it quits on an 8-year career at age 25," wrote Bob Payne of The News Tribune. After going 2-for-4 with two RBI in a 6-2 win over Portland on August 29, Champion said, "two games to go" until the end of the season. He also said he was more pumped than usual for this game: "Yeah, I want to go out a winner." After the final out of the season, the country hit, "You can take this job and shove it," blared out in the Tacoma locker room. The song seemed appropriate for that moment in Champion's life.
Following his baseball career, Champion went back to Southern California and started a landscaping company with former Padres teammate Chuck Baker. He moved into landscape maintenance and then into real estate appraisal. He became a father of two, and like their dad, , the kids excelled in athletics while attending the same high school as their parents. His son, Skyler, set the California high school football record for most rushing yards in a game; his daughter, Autumn, went on to be an All-American softball player at the University of Arizona which recently inducted into her its hall of fame.19
Last revised: September 17, 2019
Acknowledgments
This biography was reviewed by Warren Corbett and Tom Schott, and fact-checked by Kevin Larkin.
Notes
1 Phil Collier, "Padres pennant hopes about 2 years away," San Diego Union, March 27, 1977; Steve Bisheff, "Rookies' progress will be key," & Bill Weurding, "Rookie middle infield better than last year," San Diego Tribune, March 8, April 2, 1977; Sporting News clipping, April 23, February 5, 1977, Mike Champion file, HOF Library, Cooperstown, New York; hereinafter cited as "Champion HOF file."
2 Phone interview, author w/Lisa Champion, June 14, 2018; 1973 Foothill High School Yearbook. Tustin, CA, 114.
3 Clipping, "Champion seeks utility role with Tribe," Beacon Journal, n.d. 1980 & April 23, 1977, Champion HOF file. .
4 1978 Official Baseball Register; Champion HOF file.
5 Lisa Champion phone interview.
6 "Padres boast an outstanding crop of rookies," San Diego Union, September 14, 1976; clipping, Beacon Journal, n.d. 1980, &Sporting News, October 16, 1976, both in Champion HOF file.
7 Steve Bisheff, "Champion hitting improving," "Champion to bat second," & "Padres, Jones drop season opener," San Diego Tribune, March 15, April 4, 8, 1977; San Diego Padres 1978 Media Guide.
8 Phil Collier, "Rookies star as Padres tip Montreal, 6-4," San Diego Union; Steve Bisheff," Padres top Expos, 6-4," San Diego Tribune, both May 7, 1977.
9 Hank Wesch, "Rookies batting to become major stars of the future," Phil Collier, "Cubs pound seven Padres hurlers in 9-6 win," & "Dark feels leader's key is fairness," San Diego Union, May 17, June 3, 7, 1977; Sporting News clipping, August 6, 1977 Champion HOF file.
10 Jack Murphy, "Owner Ray Kroc charts a risky course," San Diego Union, September 22, 1977.
11 Phil Collier, "San Diego switch makes sub out of Champion, ibid., March 8, 1978.
12 Ibid.
13 Ibid., "Padres name Craig to succeed fired Dark," March 22.
14 Phil Collier, "Phillies lone home run beats Padres, 3-2" & "Late Padre Rally sinks Bucs, 7-5," ibid., April 29, May 4, 1978; Steve Bisheff, "Padres drop series opener to Cubs, 8-5," San Diego Tribune, May 11, 1978; Fred Borsch, "Islanders and Beavers open series tonight," & "Isles beat Beavers, again," Honolulu Advertiser, June 6, 10, 1978; Ron Moyer, "Islanders outslug Beavers," Honolulu Star-Bulletin, June 9, 1978.
15 Paul Miller, "Tugs find their champion against Hawaii," The News-Tribune, April 25, 1979.
16 Dan Berger, "Padres moral soared under new pilot," San Diego Union, September 1, 1978.
17 Paul Miller, "Tugs welcome new addition" & "Tugs find their champion," The News-Tribune, April 6, 25, 1979.
18 Bob Payne, "Tugs erupt against Dukes, 12-2," "Champion seeking second chance," & "Special to The News Tribune," ibid., July 22, 29.
19 E-mail, Lisa Champion to author, July 29, 2018; Bob Payne, "Champion sparkles late in his career," & "A Farewell Sweep," ibid., August 30, 31, 1980.
Born
February 10, 1955 at Montgomery, AL (USA)
If you can help us improve this player's biography, contact us.
https://sabr.org/sites/default/files/Champion%2C%20Mike.jpg
600
800
admin
/wp-content/uploads/2020/02/sabr_logo.png
admin
2019-09-17 14:35:08
2020-04-09 14:37:30
Mike Champion