---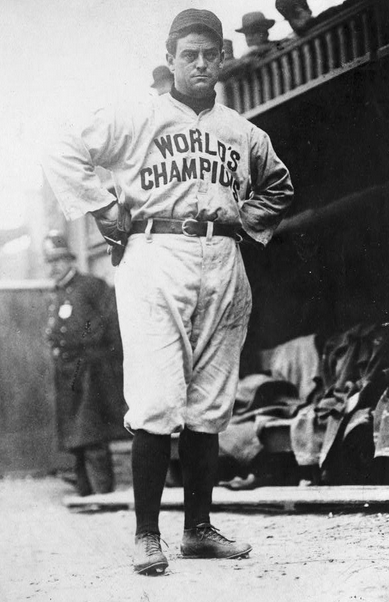 A flamboyant playboy and partygoer who dressed impeccably and always had a quip and a handshake for everyone he met, Mike Donlin "may have been the most colorful character in the National League during his playing career. … Prone to late nights after afternoon games, he was a night crawler in the truest sense. … He was cocky and self – assured and, when he wanted to be, also a damn fine ballplayer who appreciated his own worth."1
For indeed, Mike Donlin could hit as well as anyone in baseball during the Deadball Era. Though he rarely walked, the powerfully built 5-foot-9, 170-pound left-hander was a masterful curveball hitter with power to all fields. His career slugging percentage of .468 compares favorably to better-known contemporary hitters like Honus Wagner (.467) and Sam Crawford (.452), and his .333 lifetime batting average might have earned him a spot in the Hall of Fame had he sustained it over a full career. But Donlin's love of the bottle and frequent stints in vaudeville limited him to the equivalent of only seven full seasons.
Michael Joseph Donlin was born on May 30, 1878, in Peoria, Illinois, and grew up in Erie, Pennsylvania. When he was 8 his parents, railroad conductor John Donlin and his wife, Maggie, were killed in a bridge collapse. Forced to hustle for a living, young Mike worked as a machinist and was often in poor health, with a concave chest due to consumption. At 15 he got a job as a candy seller on a California-bound train. Mike stayed in California, where he ran foot races and played baseball, and the sun helped him grow stronger.
According to San Diego baseball historian Bill Swank, Donlin first played baseball with the newly formed San Diego Mercantiles, a semipro nine.2 It was reported in his New York Times obituary that he later that year "entered professional baseball at Santa Cruz, Calif."3 At this point, he was primarily a left-handed pitcher who also played some outfield. But his showy personality already was apparent, as was his understanding of the value of publicity. While playing for the Santa Cruz Sandcrabs, Donlin gave a photo of himself to San Francisco Examiner artist-sportswriter Hype Igoe, saying: "If you put a picture of me in the paper, I know I'll get a break. I know I'm going to be great."4 Tom Kelly, later the University of Oregon baseball coach, recalled pitching against Donlin a month after Admiral Dewey's victory in the Battle of Manila Bay. His bat was painted red, white, and blue, and he called it "Dewey" — and Kelly thought the wannabe big leaguer had plenty of confidence and natural ability.
Halfway through the 1899 season, Donlin had appeared in 29 games for Santa Cruz and was batting .402. A correspondent for The Sporting News sent clippings about him to editor Joe Flanner in St. Louis, who passed them on to Patsy Tebeau, player-manager of the St. Louis Perfectos (who became the Cardinals the following season) — and the team acquired Donlin for "little more than train fare."5 However, he learned he was going to the National League while locked up for drunkenness in a Santa Cruz jail. He reported to League Park in St. Louis wearing a medallion with a newspaper photo of himself on his lapel. When the gatekeeper refused him entry, he proclaimed "I am Mike Donlin," and pointed to the clipping.6   
In his debut, on July 19, 1899, Donlin pitched in relief against Boston. Aware of Tebeau's need for a shortstop, the left-hander volunteered and handled several chances in his first game. "I was swelled on myself at shortstop that first day," he recalled.7 The next day, in front of a big crowd, Donlin mishandled every chance and made several wild throws. He was moved to first base in the fifth inning and had trouble there, too. After a few days Tebeau put Donlin in the outfield, where he played most of his career despite a continuing reputation for subpar defense. But he batted .323 for St. Louis in 1899 and .326 in 1900, and he would bat over .300 in most of his 12 seasons.
In 1901 Donlin jumped to the American League with the Baltimore Orioles. He soon became friends with his new manager, John McGraw, who admired the young slugger's fiery temperament. One day in Detroit, Baltimore pitcher Harry Howell was ejected for arguing a call and Donlin responded by firing a ball at the umpire's back. Of course, Donlin's prowess at the plate also helped his standing with McGraw. On June 24, 1901, he got six hits in six at-bats: two singles, two doubles, and two triples. Donlin batted .340 in his first season as a full-time regular, and his future seemed unlimited. But in March 1902 he went on a drinking binge in Baltimore, urinated in public, and accosted two chorus girls.8 He was sentenced to six months in prison and the Orioles released him. Paroled a month early for good behavior, Donlin joined the Cincinnati Reds in August, appearing in only 34 games and batting a career-low .287.  
In 1903 Donlin managed to stay out of trouble — and he almost won the NL batting crown, hitting .351 to Honus Wagner's .355. He finished second in runs (110) and triples (18) and third in slugging (.516). The next summer Donlin was hitting .356 when he went on another bender in St. Louis. Cincinnati player-manager Joe Kelley suspended him for 30 days and then traded him to the New York Giants, reuniting him with McGraw.
Upon arriving in New York, Donlin promised to curb his behavior — at least off the baseball diamond. On the field he slashed pitches into the gaps, ran the bases with reckless abandon, argued incessantly with umpires — and became a fan favorite in New York. Because of his strutting walk and red neck, he was dubbed "Turkey." He hated the nickname but had such a following that kids imitated his strut. With his cap at a belligerent angle over one ear, a scar running down his left cheek from a knifing, and an ever-present plug of tobacco in his jaw, he looked the part of a rough, tough deadballer. When the Giants won their first pennant of the Deadball Era in 1904, Donlin was one of the team's offensive stars, with his .329 average (between Cincinnati and New York) second in the NL to Wagner. The following year he was named captain and enjoyed his greatest season, batting a career-high .356, third best in the NL. Donlin led the league with 124 runs and was second with 216 hits. The Giants won the pennant again and Donlin hit .263 in New York's World Series victory.
On April 11, 1906, Donlin married Mabel Hite, a pretty and talented comedian and top stage star. They first met in 1904 while she was on tour down south. "I didn't know anything about baseball and didn't care, and he was the same way about the stage," Hite recalled. "We didn't know we were interested in each other for two years after that, though I read the sporting pages of the newspapers for the first time and he began to scan the theatre notes."9 The actress and the ballplayer reconnected in early 1906 and were wed two months later. The newspapers reported that marriage had tamed Donlin and loosened his attachment to the bottle. But Turkey Mike did not curb his quick temper. Upon his passing, it was recalled in his Chicago Tribune obituary that "In front of the old Knickerbocker hotel one night, as he was entering with his wife, an attorney named Edward N. Danforth brushed past and, Donlin told police, jostled and insulted Mrs. Donlin. The outcome was that Donlin and the attorney engaged in a fist fight until broken up by the arrival of police summoned by Mrs. Donlin."10
Meanwhile, early in the 1906 season, Turkey Mike broke an ankle sliding, finishing his campaign after just 37 games and depriving him forever of his blazing speed. In the spring of 1907 he demanded the same $3,300 he had been paid in 1906, plus a $600 bonus if he stayed sober all year. Owner John Brush declined — and so Donlin held out and eventually went on the vaudeville circuit with his wife, missing the entire season. "It is too bad for him to give up baseball," Hite admitted, "yet it's so pleasant for us to be together. We study our parts together and rehearse at home."11 And with characteristic confidence, Donlin proclaimed: "I can act. I'll break the hearts of all the gals in the country."12 Critics generally disagreed. Ward Morehouse, a theater reviewer, newspaper columnist, and playwright of note, pronounced that Turkey Mike "never was the actor he thought he was or wanted to be."13   
Donlin, however, did return to the Giants for the 1908 season. Huge ovations greeted him at the home opener, with bleacherites yelling, "Oh, you Mabel's Mike!" — a chant that emanated from the stands even when he made a routine play.14 In the ninth, the Giants were down by a run with two out and a man on second. Donlin worked the pitcher to a full count, then homered into the right-field bleachers to win the game. Thousands of fans mobbed the field, slapping him on his back as he rounded the bases, taking his cap, and ripping the buttons off his shirt — and it was the beginning of another great season for Donlin, who finished second in the NL in batting average (.334), hits (198), RBIs (106), total bases, and slugging percentage. After the season he was awarded the New York Journal trophy as New York's most popular player.15 John Barrymore, one of Donlin's best friends and drinking buddies, performed Hamlet's soliloquy at a dinner in his honor.16 (Indeed, according to Gene Fowler, Barrymore's biographer and close pal, the legendary actor was "at ease when among [his] friends," and they included everyone from a troupe of dwarfs to Jack Dempsey, Winston Churchill, Albert Einstein — and Mike Donlin. "It pleased him when any of these faces could be seen on his set or in his dressing-room," Fowler noted.)17
On October 26, 1908, Hite and Donlin's one-act play, Stealing Home, opened at the Hammerstein Theater in New York. "It is a great sketch," proclaimed one reviewer the following year, "and made a tremendous hit with the baseball fans." The scribe then described its plot: "Mike has a bad day on the diamond, he plays like a novice, and New York goes down to defeat before Pittsburg [sic]. Mike starts home, and had to steal in order to avoid the berating of his wife for poor playing, but he gets caught, however, and has an awful time trying to explain the reasons for his poor playing and the loss of the game." (Several paragraphs later, the reviewer notes: "As a juggler W.C. Fields has few if any equals. He is an artist in his especial line and provokes much mirth with some of his juggling stunts." So back in 1909, Donlin, Hite, and Stealing Home rated a more prominent notice than W.C. Fields.)18
While Stealing Home was acclaimed, however, reviews for the ballplayer-turned-actor were mixed. Some called him a delightful surprise, but another critic wrote: "Hite was so good she could carry him."19 Yet Turkey Mike surely relished the praise he and his wife earned from one of the era's most beloved figures. "Mike Donlin (and) his wife, Mabel Hite, received the biggest reception I ever heard on a stage," observed Will Rogers two decades later.20
For the next couple of years the pair performed Stealing Home in front of sold-out houses from Boston to San Francisco. Initially, the ballplayer-turned-actor affirmed his allegiance to the game. "Baseball, boy, baseball," he told a writer from the New York Review in 1909. "Baseball first and show business second. Maybe we'll switch that order pretty soon, but right now your little playmate is mighty interested in the big game." Yet Donlin was not bothered by his transformation from big leaguer to stage actor. He later noted: "You see when a man's been playing baseball out in front of 30,000 people, and a lot of them of the critical sort, and mighty free with their remarks at that — well, it gives him a little assurance, enough, anyway, to let him get by when he faces an ordinary audience in a theater. So I'm not afraid on that score."21
Nevertheless, the bottom line was that at the time, Donlin had abandoned sports because he was making more money in show business. So one of the greatest players of his era missed two more seasons during his prime. By 1911, however, Stealing Home had run its course and on April 24, he and Hite opened at New York's Wallack's Theatre in A Certain Party, a musical that lasted 24 performances. Turkey Mike thus was forced to return to baseball — and the Giants — albeit not without a healthy dose of puffery. "Donlin has given up the stage, temporarily at least, and is again a baseball player," reported the St. Louis Post-Dispatch. "The lure of the diamond was too much for the once famous scrapper, and, after being two seasons out of baseball, and as many in vaudeville, he decided that his place was in the outfield of some big league team." The ballplayer declared: "I haven't taken a drink in four years. … I feel as if I am as fast and can hit as well as ever."22   
In reality, however, Donlin's lengthy hiatus had taken a toll. He had as many arguments as hits for the Giants, and on August 1, 1911, he was sold to the lowly Boston Rustlers (who became the Braves the following season). Donlin played center field and batted .315, but the Rustlers didn't need an aging star and his salary demands so they traded him to Pittsburgh. In 1912 Mike played 77 games, mainly in right field, for the Pirates and hit .316.
Donlin also supposedly had returned to baseball on the insistence of his wife. "Mickey's place is on the diamond in the summer time," Mabel Hite told the Post-Dispatch. "He can go back on the stage, if he wants to, but not until the 1912 season."23 Tragically, it was just after that campaign that Hite died of intestinal cancer. The date was October 22. She was only 29 years old.
That same month, the Pirates put Turkey Mike on waivers. Philadelphia claimed him, but he announced his retirement. Late in the summer of 1913 Donlin attempted a comeback, playing 36 games with minor-league Jersey City. John McGraw then named him to a team that went on a postseason barnstorming tour through Europe, Asia, and Africa. Based on Donlin's hitting on the tour, McGraw decided to give his old friend another chance. "The Apollo of the whack-stick is back with the Giants," exclaimed the New York World.24 But the erstwhile star was washed up at age 36, managing only five hits in 31 at-bats in 1914.
On October 20, 1914, Mike wed Rita Ross, the niece of Charles J. Ross and Mabel Fenton Ross, a famed vaudeville comedy duo of the era. It was around this time that Donlin also returned to vaudeville, pairing with major-league hurler/high baritone tenor Marty McHale. "Mike and I were together for five years," McHale told Lawrence S. Ritter, "doing a double-entendre act called 'Right Off the Bat' — not too much singing, Mike would only go through the motions — and we played the Keith-Orpheum circuit: twice in one year we were booked into the Palace in New York, and that was when it was the Palace. … They had nothing but the big headliners. When Mike left for Hollywood, I went back to doing a single." Of their vaudeville success, McHale admitted: "Of course, Mike and I wouldn't have been such an attraction if it hadn't been for baseball."25 Indeed, in McHale's New York Times obituary, it was noted that the pair also teamed up in an act titled "Donlin of the Giants and McHale of the Yankees."26
Prior to going Hollywood and commencing the second phase of his show-business career, Donlin appeared as himself in two 1914 releases: The Giants-White Sox Tour, a documentary featuring such luminaries as McGraw, Charles Comiskey, Christy Mathewson, Hans Lobert, and Jim Thorpe; and Our Mutual Girl, a weekly series of one-reel entertainments in which the title character (played by Norma Phillips) mixes with a host of celebrities. Donlin appears in Episode 10, along with McGraw, Comiskey, and Larry Doyle.
Then in 1915 Donlin began his screen acting career, starring in Right Off the Bat, a film that purportedly spotlighted his own life. The Moving Picture World promised that Right Off the Bat "ought to be a realistic baseball picture" as well as "a crime-free story presenting the career of Donlin from boyhood to manhood and a berth with the New York Giants."27 Variety, the show-business trade publication, reported that Right Off the Bat was "devoted to his experiences as a semiprofessional ballplayer and his subsequent entrance into the National League, where he stood as a prominent star for a number of years and from which he retired with an envious record and a reputation that should assist materially in making 'Right Off the Bat' a financial success." The paper labeled it "a cleverly constructed series of incidents that combine to make it an enjoyable feature throughout (its) five reels."28
However, as often is the case with celluloid biopics, the facts were altered for the sake of marketing and entertainment value. Donlin's Right Off the Bat hometown is Winsted, Connecticut, where the film was shot. His romantic interest is conjured up; as presented here, she is nothing like Mabel Hite, and neither his party boy personality, his troubles with the law, nor the trajectory of his baseball career are acknowledged. Right Off the Bat does chronicle Donlin's ascent to major-league stardom, albeit in a circuitous manner. He first is seen as a young southpaw hurler and is played by 13-year-old Roy Hauck. Upon growing into adulthood, Donlin takes over the role. Though devoted to baseball, he toils as a machinist because of his shaky financial situation. Even though he has saved his beloved, Viola Bradley (Claire Mersereau), from drowning, Donlin is considered a poor marital prospect by her mother. He becomes a bush-league star; refuses to take a bribe to throw the championship game; is assaulted and locked in a room; arrives (with the aid of Viola) at the ballpark in time to score the winning run; and signs a New York Giants contract. Finally, he has earned the right to wed Viola. Two major figures in Donlin's offscreen life appear in Right Off the Bat: John McGraw appears as himself, and Rita Ross Donlin plays Lucy, Viola's friend.29
Still, Right Off the Batdoes hold a special place in the history of baseball-in-the-movies. Noted the New York Times: "For the first time baseball has been put on the screen in such a fashion that even an Englishman can understand it — and that, as (writer, playwright, and newspaper columnist) George Ade says, is Accomplishing the Impossible."30 And Turkey Mike's on-camera appeal was cited by Variety, which reported: "Mike was a distinct surprise and, contrary to custom, could pass as a film lead on ability alone, despite the professional reputation which is his principal asset in this effort. Mike registered the various required points exceedingly, displaying emotion, joy and disappointment with a perfected ease that even suggests a sequel to his early life."31
There was, however, no Right Off the Bat, Part II — and the film was Donlin's lone starring feature. For the time being, he returned to baseball; he managed a semipro team in New Jersey in 1916 and the next winter ran a baseball clinic and boxing tournament in Cuba. In 1917 Donlin managed the Memphis Chicks of the Southern League. At first he was popular with the fans, but they booed him when he put himself in to pitch and made a farce of the game. He quit the Chicks — or by some accounts was fired — in midseason. Later that year the War Department appointed him to teach baseball to US soldiers in France. In 1918 Donlin returned to California as a scout for the Boston Braves.
While occasionally reappearing on the stage (Donlin acted in Smooth as Silk, a melodrama that opened in New York's Lexington Theatre in February 1921 and lasted 50 performances) he now primarily was a screen performer. He was helped by his friend John Barrymore, and his next film role was with the great actor in 1917's Raffles, the Amateur Cracksman. Turkey Mike appears briefly as Crawshay, a stickup man, and he shares several minutes of screen time in the company of Barrymore and an astonishingly young Frank Morgan, 22 years before playing his most celebrated screen role: the title character in The Wizard of Oz (1939). In the film, Donlin's Crawshay points a gun at Barrymore's Raffles and Morgan's Bunny Manders. His intention is to pilfer some gems, which are referred to in the intertitles as "sparklers" and "dem jewels," but is easily manipulated by the crafty Raffles.
Donlin also played Flask opposite Barrymore in The Sea Beast (1926), a Moby Dick adaptation. Other notable roles included a movie studio gateman in the Colleen Moore romantic comedy Ella Cinders (1926); a Union general in Buster Keaton's The General (1927); Bill in Beggars of Life (1928), supporting Wallace Beery, Louise Brooks, and Richard Arlen; and Tout in Mae West's She Done Him Wrong (1933). He appeared in and was the technical adviser for the baseball melodrama Slide, Kelly, Slide (1927) and had roles in other baseball features, including Hit and Run (1924), Warming Up (1928), Hot Curves (1930), and Swell-Head (1935). In Hot Curves, an early talkie (Raffles, the Amateur Cracksman, The Sea Beast, and his initial credits are silent films), Donlin plays a gruff scout who signs frenetic, double-talking train concessionaire Benny Goldberg (Benny Rubin) to a contract. The scout utters a line that might have been ad-libbed by Donlin. It sounds like "I hope McGraw'll be sold," but the scout actually is referring to "McGrew," his team's skipper.
Donlin worked with such pantheon directors as John Ford, William A. Wellman, and Josef von Sternberg; he was employed by the A-list film studios; and he appeared in films starring a rainbow of screen legends. Yet just as often, his directors, co-stars, and films are long forgotten, and his studios were strictly Poverty Row. Increasingly, in many of his later films he even appears unbilled. In order to note his presence in a number of them, one has to stumble across him while watching the film. One such appearance is in Picture Snatcher, a 1933 James Cagney crime drama. The American Film Institute Catalog, Feature Films, 1931-1940, perhaps the definitive published reference on film credits for that decade, lists the bit players who appear in Picture Snatcher, cast in such roles as "fireman," "head keeper," "journalism student," and even "sick reporter" and "reporter outside prison." None is Mike Donlin. Yet there he is, unmistakable in one brief shot. He is seen in a pool hall, and he speaks the following words into a telephone: "No, Mr. McLean, he ain't been around here in over a week." After a brief pause, he adds: "Yeah, I'll tell him."32   
What may be Donlin's most memorable screen appearance is equally fleeting. In one sequence in Riley the Cop (1928), a comedy-drama, a bunch of kids are playing baseball on an inner-city street. The title character (J. Farrell MacDonald) arrives on the scene to reprimand the lads and break up their game, yet the boyish Riley is quickly convinced to join the kids in their play. He picks up a bat and clumsily swings and misses at the first pitch tossed his way, in the process falling to the pavement. The cop does connect on his next swing, lifting a pop fly that crashes through a storefront window, necessitating the kids — and Riley — to scatter. After Riley's swing and miss, director John Ford includes an all-too-brief shot of Donlin looking up and smiling, with a cigarette dangling from his lips. While he is not billed onscreen, various film references list the actor-ballplayer's character as "Crook." Thus, the implication is that Donlin's character is amused because he is eluding the law while Riley is indulging in a child's game. Yet given his background, the sequence — intentional or not — serves as an homage to Donlin's past and a wink of the eye to anyone who recognizes him as an ex-major leaguer.33
Donlin's most revealing late-career screen role, however, is in Madison Square Garden (1932). The film is a sports buff's delight. A number of legendary scribes, among them Damon Runyon, Grantland Rice, Paul Gallico, and Westbrook Pegler, make cameo appearances, and Turkey Mike and other celebrated athletes of his era appear as themselves. They include jockey Tod Sloan, wrestler Stanislaus Zybyszko, and boxers Tom Sharkey, Billy Papke, Tommy Ryan, and, most intriguingly, the controversial Jack "The Great White Hope" Johnson. All the ex-jocks portray low-level Garden employees; Johnson, who a decade earlier had appeared in As the World Rolls On (1921), in which he teaches baseball to a small but plucky lad who goes on to play for the Negro League Kansas City Monarchs, is reduced to impersonating a bug-eyed porter. Meanwhile, Donlin is cast as an usher. By then talking pictures were all the rage, and he has a pleasant speaking voice and an at-ease manner before the camera. With flagrant disregard of the Ruths, Cobbs, Speakers, Wagners, and other Hall of Famers of Donlin's day, he is introduced as "the greatest ballplayer of all time."34
Despite this accolade, Donlin at this point was experiencing chronic money troubles and was constantly scraping for jobs in baseball and acting. He also was dealing with health issues. The New York Times reported, "Athlete's heart brought (him) virtual retirement in 1927," at which time his "many friends among motion picture stars and stage actors" appeared in a minstrel show to raise money to send him to the Mayo Clinic for major surgery.35
While Donlin still managed to tackle roles on screen and stage, he was by this time viewed as a relic of an earlier era. In October 1930 he returned to Broadway, cast in a supporting role opposite Paul Muni in This One Man, a Sidney Buchman drama that lasted 39 performances. "Though it is faintly possible that there are adult men and women now living to whom the name Mike Donlin is the name of just another actor," one observer noted, "astute listeners who hear him speak his lines with some conviction these days … know very well where Mr. Donlin got his training. It was not in the theatre, but in the old-time ball parks. … In his time, however, (ballplayers) were all orators, and often very gifted ones, at that."36
At this time, Turkey Mike still wanted to get back into baseball, and in the spring of 1933 he asked a friend if he could get a coaching job with the Giants. But on September 24, 1933, he was felled by a heart attack in his sleep at his Hollywood home. Upon his death, New York Times sportswriter John Drebinger wrote: "A glamorous figure was Turkey Mike, the first of a long list of notables who came with the dawn of what might be called the modern era of baseball. … Turkey Mike was one of the first to grip and captivate the imagination of the public. The Mattys, Cobbs and Ruths came later. He was scrappy and witty, and for all his worldliness there was about him a certain naïveté which was not the least of his charming qualities."37
And then, two years later, Drebinger reported that the "committee conducting the baseball centennial celebration to be held in 1939 at Cooperstown, N.Y., commemorating the 100th anniversary of the origin of America's national pastime, has asked the scribes to assist in selecting the first group of names to be inscribed on tablets in the Hall of Fame." After citing such inner-circle superstars as Ty Cobb, Babe Ruth, and Tris Speaker and second-line talents Wee Willie Keeler, Ed Delahanty, Ross Youngs, Ed Roush, and Al Simmons, Drebinger quipped: "There are any number of others you might feel privileged to add to the general confusion." And one of them was "… the unforgettable Mike Donlin…"38
An earlier version of this biography originally appeared in SABR's "Deadball Stars of the National League" (Brassey's, 2004), edited by Tom Simon. It also appeared in "From Spring Training to Screen Test: Baseball Players Turned Actors" (SABR, 2018), edited by Rob Edelman and Bill Nowlin.
 
Sources
For this biography, a number of contemporary sources, especially those found in the subject's file at the National Baseball Hall of Fame Library, are cited.
Notes
1 https://thedeadballera.com/BeerDrinkersMikeDonlin.html.
2 Bill Swank, Baseball in San Diego: From the Plaza to the Padres (Charleston, South Carolina: Arcadia Publishing, 2005), 31.
3 "Mike Donlin Dead; Once With Giants," New York Times, September 25, 1933: 15.
4 Hype Igoe, "Donlin Own Press Agent in Turkey Trot to Top," The Sporting News,January 25, 1945.
5 Quoted in an unidentified St. Louis paper, dated November 7, 1940, in Donlin's Baseball Hall of Fame player file.
6 Associated Press, "Donlin, Giant of 1905, Dead," unidentified newspaper clipping found in Donlin's Baseball Hall of Fame player file.
7 Quoted in an unidentified newspaper clipping found in the Hall of Fame file for Donlin.
8 Craig R. Wright, "Turkey Mike Donlin," baseballspast.com
9 Ada Patterson, "The 'Make-Up Half Hour With Mabel Hite," The Theatre, July 1911: 32.
10 "Mike Donlin, Star with Giants Early in Century, Dies at 56," Chicago Tribune, September 25, 1933: 19.
11 Ibid.
12 Wright.
13 Ward Morehouse, "Donlin a Colorful Figure," New York Sun, September 25, 1933.
14 David Quentin Voigt, American Baseball, Volume II: From the Commissioners to Continental Expansion (University Park and London: The Pennsylvania State University Press, 1983), 64.
15 Max Kase, "Suite to the Taste," New York Journal-American,May 18, 1964.
16 Ibid.
17 Gene Fowler, Good Night, Sweet Prince (New York, Viking Press, 1944), 190.
18 Rob Edelman, Great Baseball Films (New York, Citadel Press, 1994), 27.
19 Joe Williams, "Sports Stars Get the Beauties in Cupid's League," unknown publication found in Hall of Fame file stamped as January 23, 1954.
20 "Mr. Rogers Arises to Applaud Some Stars of Yesteryear," New York Times, March 25, 1932: 21.
21 Edelman, Great Baseball Films, 27.
22 "Mike Donlin Will Do No Stage Stint This Winter; His Wife Won't Let Him," St. Louis Post-Dispatch, August 6, 1911: 8.
23 Ibid.
24 "Mike Donlin, the 'Come-Back,'" The World Magazine,March 29, 1914.
25 John Thorn, ed., The Complete Armchair Book of Baseball(New York: Galahad Books, 1997), 254.
26 "Martin Joseph McHale, Former Yankee Pitcher," New York Times, May 10, 1979: D23.
27 "Donlin Plays in Bush League," The Moving Picture World, August 7, 1915, 1000.
28 Wynn, "Right Off the Bat," Variety, October 1, 1915: 18.
29 Rob Edelman, "The Baseball Film to 1920," Base Ball: A Journal of the Early Game, Spring 2007: 29.
30 "In the Movies," New York Times, October 10, 1915: 102.
31 Wynn.
32 Rob Edelman, "Turkey Mike Donlin in the Movies," The Baseball Research Journal, Number 30, 2001: 74.
33 Ibid.
34 Edelman, Great Baseball Films, 29.
35 "Mike Donlin Dead; Once With Giants."
36 "Lines for Scrapbooks: Mr. Donlin and Two Actresses, Who Seem to Be Helen Mehrmann and Armida," New York Times, November 2, 1930: X4.
37 John Drebinger, "Sports of the Times: Turkey Mike Passes On," New York Times, September 27, 1933: 26.
38 John Drebinger, "Sports of the Times: Only Standing Room Left," New York Times, December 26, 1935: 24.
Born
May 30, 1878 at Peoria, IL (USA)
Died
September 24, 1933 at Hollywood, CA (USA)
If you can help us improve this player's biography, contact us.
https://h2j7w4j4.stackpathcdn.com/wp-content/uploads/2020/03/research-collection4_350x300.jpg
300
350
admin
/wp-content/uploads/2020/02/sabr_logo.png
admin
2012-01-04 20:09:22
2022-02-22 15:53:36
Mike Donlin