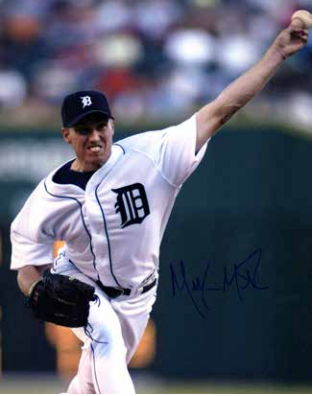 ---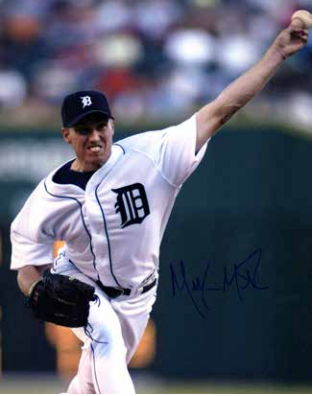 Mike Maroth may be best known for being the last pitcher to lose 20 games in a season (as of this writing in 2017), but there was much more to his career than what happened in 2003. He toiled for one of the worst teams in history, the 2003 Detroit Tigers that went 43-119, but just as that team turned the corner in 2006, due in part to his strong start, Maroth's career was derailed by an arm injury. Maroth handled the fate of going 9-21 in 2003 with grace and class and deserved a better fate. He will certainly be remembered by Tigers fans for his willingness to "take one for the team."
Michael Warren Maroth was born in Orlando, Florida, on August 17, 1977, to Bill and Charlotte Maroth. Bill builds exhibits for companies to use in conferences and seminars and Charlotte works in the administrative offices of the Orange County public schools, a position that she has held for a number of years.1 Mike grew up in Orlando, and in high school pitched on the baseball team at William R. Boone High School, graduating in 1995. He was a slight, 145-pound kid who did not have a very good fastball, but he earned the chance to play at the University of Central Florida (UCF). His freshman year, the school bought him his books—that was his scholarship.2
Despite the modest investment in him by the school, Mike came into his own at UCF, lettering all three years he played there.3 He grew bigger and threw harder as his college career progressed. A reliever most of his first two seasons, he became a starter his junior year. That season was tough for Mike, who came down with mononucleosis and missed a month during the season. He came back at the end of the season, though, and in his last game as a Knight Maroth, pitching in the Atlantic Sun Tournament, went into the eighth inning having given up only two hits and one run to Jacksonville State in a game ultimately won by UCF. That start was especially important to Maroth's career because it showed the scouts that he was healthy and it was his last start before the draft. While pitching at UCF, he built a relationship with Craig Cozart, at first a teammate and later a coach for UCF. Even once Maroth became a professional pitcher, he would have Cozart help him with his mechanics over the winter.4
Maroth must have impressed Luke Wrenn, a scout with the Boston Red Sox, with his performance with UCF, as the Red Sox drafted him in the third round after his junior year, the 85th pick overall. He signed on July 5, 1998, for a $225,000 bonus5 and was sent to the Red Sox farm team in the Gulf Coast League. He only pitched in four games there, making, two starts and two relief appearances, but did not allow a run. That convinced the Red Sox to move him up to their short-season Class-A club in the New York-Penn League, the Lowell Spinners, in August. Maroth continued to pitch well at the higher level; in six starts, he threw 31 innings and struck out 34 men while walking 13 on the way to a 2.90 ERA. Twice, he struck out eight men in a game: on August 8 versus Pittsfield and August 29 versus Auburn.6
Maroth's fine 1998 season earned him the chance in 1999 to jump over low-A ball and go right to the high-A Sarasota Red Sox in the Florida State League. That league was more of a challenge to the young professional, as Maroth's ERA jumped to 4.04 in 20 games (19 starts), for Sarasota. His strikeout rate dropped to 5.2 men per nine innings (64 strikeouts in 111 1/3 innings). As July ended, the Boston Red Sox had more pressing matters on their minds than the development of the young lefty. They were in a battle with the division-rival Toronto Blue Jays for the wild card slot, half a game behind Toronto, and they decided they needed some depth for their pitching staff. The Detroit Tigers were 17 1/2 out of first place and were willing to play for the future. The Tigers sent Bryce Florie, (a veteran pitcher probably best known for later taking a line drive to the face off the bat of Ryan Thompson of the Yankees in 2000) to the Red Sox for Maroth and assigned Maroth to their club in the Florida State League, the Lakeland Tigers.
Maroth made three starts for Lakeland before being moved up to the Tigers' Double-A team in the Southern League, the Jacksonville Suns. He returned to the Suns for the 2000 season but the beginning of the season did not go well for the 22-year-old. Maroth started the year 0-9 with a 6.36 ERA in his first 11 starts,7 but turned it around in his 12th start as the calendar moved into June: "My 12th start I pitched a nine-inning shutout. And there really wasn't that much difference between my 11th start and my 12th. I knew what was going on. But I told myself 'I'm just going to go out there and pitch.' Instead of pressing, I just pitched."8 It must have worked, for he went 9-5 with a 2.62 ERA after that for the Suns, who made it to the Southern League championship series before losing to the West Tennessee Diamond Jaxx, three games to two.9 Baseball America magazine named Maroth the Tigers' 15th best prospect after the season.10 In January 2001, Mike and Brooke Maroth got married. Maroth credits Brooke for instilling in him the religious belief that became a very important part of his life.11
Maroth pitched in 2001 for the Toledo Mud Hens, the Triple-A club of the International League, and did not have a very good season, posting a 4.65 ERA in 24 games, 23 starts, for the Mud Hens, with a strikeout rate of only 4.3 per nine innings and a 1.26 strikeout-to-walk ratio. A left shoulder strain sent him to the disabled list in August for the first time in his career. Maroth said, "I didn't do bad. I didn't do well [in 2001]. I was 7-10, with a 4.65 ERA. I knew that in the offseason I'd continue to work hard. I didn't want to press, but I wanted to keep working. I knew I was close. I worked on strengthening my shoulder."12
Maroth was a new pitcher for Toledo in 2002. While hitters batted .302 off him in 2001, they only hit .201 off him in 2002.13 His ERA dropped to 2.82. Maroth credited the improvement in part to a new pitch, a back-door slider, "I'm able to throw it off the end of the plate and have it come back over for a strike. It has been a real successful pitch for me."14
On June 8, 2002, Maroth got the news every player dreams of: he was going to the big leagues. Maroth made his major-league debut that night for the Tigers, starting against the Philadelphia Phillies at Comerica Park. "It was definitely the longest day as I sat in the hotel room, waiting. Finally, it came. I was praying for the peace only God can give. I asked God to help me focus on pitching. I had been pitching all my life. I was just going to be doing the same thing I'd always
done, only the surroundings were different. I didn't want to get caught up in who I was facing. The first inning was rough. I threw a lot of balls. I definitely had a little case of the jitters. I threw a double play ball with the bases loaded to get me out of that first inning. I got through the second inning, still with a little of the jitters, and then the next five innings were fine."15
Maroth's recollection of the start of the game was right. Jimmy Rollins welcomed Maroth to the major leagues with a line-drive single. After Marlon Anderson flew out to right, Bobby Abreusingled and Pat Burrell walked to load the bases. Fortunately for Maroth, he induced Jeremy Giambi to hit into a double play and escaped the first inning without surrendering a run despite 12 of his 17 pitches being balls. In the second, the Phillies threatened again with two singles, but Maroth again kept them off the scoreboard. In the next five innings, Maroth only allowed three more hits and a walk, and he departed the game after seven shutout innings. Unfortunately, the Tigers managed to post only one run, and after the bullpen gave up two runs in the eighth, the Tigers lost 2-1. Maroth made his second start six days later. While his first start was against the middling Phillies in Detroit, his second start threw him into the cauldron, facing the defending World Series champion Arizona Diamondbacks in Phoenix, with Curt Schilling on the mound. Schilling came into the game with a 12-1 record and a 2.79 ERA, but Maroth got the best of him that night. Maroth did not allow a baserunner until Greg Colbrunn led off the fifth inning with a single. Colbrunn was erased on a double play and Maroth faced the minimum 18 batters through six innings. Maroth allowed a run in the seventh but got out of it and stayed in the game until a leadoff single and walk to start the ninth. Both runners eventually scored but Maroth and the Tigers won the game, 6-3.
"He doesn't know who I am," Maroth said about Schilling, "but hopefully he does now. A lot of great things happened in this game."16 Schilling did now know who Maroth was, "He pitched a great game," Schilling said afterwards. "I got outpitched – that was the long and short of it."17 Diamondbacks manager Bob Brenly noted, "He kept the ball from the middle of the plate all night long, had terrific command, and didn't make any mistakes."18 Maroth's catcher that night, Brandon Inge, noted, "He has good sink on his fastball. If they swing, that's fine, because they'll hit a groundball. If they don't swing, that's even better, because he'll be ahead 0-1. I know he has a long ways to go, but he's smart. He knows what he's doing. At the plate, too, it turns out. He made better contact than I did."19 Inge was referencing Maroth's fifth- inning single, a grounder through the infield off Schilling, Maroth later scored. Maroth's reaction to the hit was, "I fouled off a pitch my first time up and was happy enough with that."20
Four of Maroth's first five major-league starts were against National League clubs, since he was called up during an extended period of interleague play that used to occur before the leagues reorganized. The exception was his fourth start, against the Kansas City Royals, which was also the first game he got hit hard, giving up five runs in 2 2/3 innings. His sixth start came on short notice; Jeff Weaver was supposed to start but he was traded to the New York Yankees that day. Instead, Maroth got the nod against his former organization, the Boston Red Sox. Unfortunately, the Sox had five runs in after seven batters and Maroth was out of the game in the third inning. "I feel bad for the guy who went in," Nomar Garciaparra said of Maroth, "I'm sure he wasn't expecting to pitch and probably got a call this morning saying, 'By the way, you're starting.' That would be tough for anybody."21
Maroth's best start in 2002 arguably was on August 9 versus the Baltimore Orioles. Maroth went 8 1/3 innings without allowing a run, striking out three and walking one. He was pulled after a single with one out in the ninth, but Juan Acevedo induced a double play to end the game.
Maroth finished his rookie season with a 4.48 ERA in 21 starts, a little above the American League average of 4.46. The Tigers, meanwhile, continued their slide to irrelevance, finishing the 2002 season at 55-106, 10 1/2 games worse than their 2001 mark of 66-96. Six games into the 2002 season, the Tigers fired general manager Randy Smith and manager Phil Garner.22 During that season the Tigers traded their then-top starter, Weaver, and after the season, the Tigers lost their team leaders in runs, runs batted in, and saves, with no replacements in sight. With Weaver and Mark Redman (traded to the Marlins for a package that included future Tiger starter Nate Robertson) gone from the 2003 roster, Maroth had the best ERA among the returning starters and so he received the Opening Day assignment. And yet the feeling was that as bad as 55-106 was, 2003 might be worse.23
And as feared, the worst was yet to come, both for the Tigers and their young lefty. Maroth pitched well on opening day, allowing only two runs in seven innings, but the Tigers lost 3-1. The two runs came on a second-inning Dustain Mohr home run, which ironically would not have been a home run in Comerica Park the year before. The Tigers had brought in the left-field wall from 395 to 370 feet by moving the bullpens to left field, and Mohr's home run hit the old left-field wall. Maroth's reaction to the home run was, "That's last year; the fence is where it is now. If I start looking at that, and thinking that all of the balls that go over it would have stayed in the park last year, then it's just going to get into my head. I can't worry about that stuff. The fence is where it is now and I've just got to pitch."24
After the Opening Day disappointment things went further downhill. The left-hander started the season with nine losses in his first 10 starts, with one no-decision. During that span Maroth did not pitch as poorly as his record would suggest, being knocked out once in the second inning, and pitching into at least the sixth in seven of the 10 games. His strikeout to walk ratio was a solid 2.5 to 1, and his ERA of 5.73 was not great, but was certainly good enough to have won a few games on a better ball club. The loss that gave Maroth an 0-9 record dropped the Tigers to 9-32.
After getting a win in five of his next 10 starts Maroth and the team hit another by-now-expected rough streak. As the losses mounted, Maroth was given the option to leave the rotation but he declined.25 Maroth's record stood at 6-19 after another disappointing loss on August 30 against the division rival White Sox, which was also the team's 100th loss of the season.
Six days later, September 5, 2003, Maroth was scheduled to take the mound against the Blue Jays in Toronto, which put him in line for that dreaded 20th loss, which had not happened in the major leagues since Brian Kingman had lost 20 games for the Athletics in 1980. Earlier in the day, Maroth found out that his grandmother had passed away, which could have given him an excuse to skip that start, but Maroth took the mound. Kingman attended the game in Toronto with a voodoo doll he had brought to four other games where the starting pitcher was in line for his 20th loss and where all four avoided that dreaded result.26
Unfortunately for Maroth, the luck of the voodoo doll ran out that night. The Tigers staked Maroth to a two-run lead before he took the mound, but Toronto tied it up in the second. The Tigers got three in the third but the Jays came back with two in the third inning. Toronto started off the fourth with four hits and three runs before manager Alan Trammell pulled Maroth with the Tigers down, 7-5. The Blue Jays got one more that inning and the Tigers answered with one in the sixth inning, but that was it for the scoring. Toronto won 8-6 and Mike Maroth had lost his 20th game of the season.
Maroth said after the game, "I have no regrets about the way I pitched tonight. I went out there with everything I had. I didn't pitch well, but at least I can sleep good knowing that I gave it everything I had. Mentally, I was fine…I'm a strong person. I'm going to overcome this. I know that. Hopefully, next year and the rest of this year I'll be able to prove that."27
Maroth credited his religious beliefs for helping him get through that season. "I don't know how I would have handled it without Christ in my life. When guys go through struggles, some break down. I really don't know how I would have handled it. My focus was spending time in the Word. I knew that God knew how much He could put on my plate, and I would be able to handle. So I knew He wasn't going to take me overboard….[The media] were just asking, 'How are you doing this?' They were asking more about my character and the way I was carrying myself…People watched me, wanting to see how I was going to react. Most of my teammates knew I was a Christian. They wanted to see how I'd handle it."28
All season as the L's piled up, Maroth earned the respect of the media and his teammates. He didn't duck into the trainer's room to avoid the press and he answered all the media's questions. Teammate Eric Munson said, "I pull for all of my teammates, but I probably root for Mike more than anybody because of what he went through and the way he handled it."29 Another teammate, Dmitri Young, said the night Maroth lost his 20th game, "He's dealing with a lot right now…. He's a better man than most of us. For him to come out here and forget about everything and pitch for the team, I felt I failed him."30
Neither Maroth nor the Tigers gave up on the season. In his next start, he pitched six shutout innings against Kansas City. With six games to go in the season, the Tigers were 38-118 and seemed assured to at least match, if not break, the record for losses in a season, 120, set by the 1962 New York Mets. Maroth pitched the next game and although he gave up six runs, five earned, in five innings, the Tiger bats exploded for a 15-6 win. The Tigers won three of the next four games, including two walkoff wins. The second of those was the second-to-last game of the season, a game the Tigers won in the bottom of the ninth after falling behind 8-0 in the fifth inning.
Maroth drew the start in the last game of the season, the game where it would be determined if the Tigers would tie the Mets' record. Maroth shut out the Twins for the first four innings as the Tigers held on to a 1-0 lead. The Twins got two runs off Maroth in the fifth inning to go up 2-1 but the Tigers tied it in the bottom of the inning before scoring seven in the sixth inning to seal the win.
The Tigers had won five of the final six games to avoid setting the record for the most losses in a season. After the game, Maroth said the difference was that, "There were stretches this year when we tried not to lose. The past six times we went out there to win."31 Maroth also gave credit to the Tigers fans, "We've heard so much about this city and its die-hard fans, and we got a taste of it. They could have heckled us, or not even come out. But they came out and supported us. We fed off that."32
Maroth did have quite a few sleepless nights following the season, but it had nothing to do with baseball. His and Brooke's first child, Nolan Maroth, was born on October 29, a month and a day after Maroth's season-ending win.33
The Tigers promised to made changes for the 2004 season. Owner Mike Ilitch vowed, "I am going to do what I feel is necessary to field a good team. I am going to go out and sign free agents."34 The Tigers signed second baseman Fernando Vina and outfielder Rondell White on December 19, starting pitcher Jason Johnson on December 29, and traded for shortstop Carlos Guillen on January 8. The biggest move came on February 6, when 10-time All-Star catcher Ivan "Pudge" Rodriguez, just off winning a World Series championship with the Florida Marlins, signed a four-year $40 million contract with the Tigers.
Maroth was thrilled with the additions and the contributions they made early in the season. "That just totally eliminated the thoughts of last year — it's a totally different team. The guys we picked up are quality, veteran players — guys that are going to be able to come in and get the job done right away and they've done that. That's the difference this year. The young guys that are still here have a year of experience under their belt and are playing better. We still have a long way to go, but I feel we're better than our record shows."35
Johnson, who had gone 10-10 with a 4.18 for Baltimore in 2003, was named the 2004 Opening Day starter, with Maroth following him in the rotation. Maroth won that start, a far cry from 2003, throwing five innings and allowing three runs. Maroth's best game of the season was on July 16, when he shut out the New York Yankees on one hit, a double by Gary Sheffield in the fourth inning. Maroth worked both sides of the plate, in contrast to other recent starts where he had focused more on the outside part of the plate. The Yankees' Jason Giambi said, "'He was throwing strikes — inner half and outer half. He wasn't really throwing anything over the middle of the plate. You might get a changeup one time at 82, and the next time at 85. He was locating his fastball just under my hands." Maroth followed up that start with a month of solid pitching, winning five starts in a row (with two-no decisions) between mid-July and mid-August.
Maroth finished the 2004 season with a 11-13 record and a 4.31 ERA, a big improvement over 2003's 9-21 record and 5.73 ERA. Maroth led the Tigers' pitching staff in Wins Above Replacement as calculated by Baseball Reference (bWAR) with 3.2, trailing only Rodriguez and Guillen in total bWAR on the team. The Tigers improved by 29 games to 72-90 and finished out of the American League Central Division cellar.
There was hope that the Tigers would improve again in 2005, especially after the signing of right fielder Magglio Ordonez and closer Troy Percival. However, the Tigers did not have a good season and actually finished a game worse in 2005 (71-91) then they did in 2004. Maroth won a career-high 14 games and finished with a .500 record, but his ERA rose to 4.74.
His best start of the season was on Sunday August 14. In the second game of a doubleheader against the Kansas City Royals, Maroth got within one out of a shutout. However, the Tigers had scored only one run, so with a runner on first and two out and the Royals' right-handed slugger, Mike Sweeney, coming to the plate, manager Alan Trammell brought in Fernando Rodney to get the final out.
After the season, the Tigers fired Trammell, who had been the Tigers manager since 2003. Maroth was a favorite of Trammell's and he was saddened to hear the news. "Sorry to hear that. I had prepared myself for whatever the decision was. I wanted Tram back, though. I think he has the makings of a good manager. But it's their decision."36
Both Tigers General Manager Dave Dombrowski and Maroth felt that the Tigers were getting close to putting together a strong team. Nobody, though, anticipated how great the 2006 season would be for the team, and sadly, Mike Maroth's physical problems also came out of the blue. For Maroth, the spring started ominously with a tender elbow that caused him to be held out of a spring training start. New Tigers manager Jim Leyland called it "precautionary," and Maroth resumed preparing for the 2006 season.37 Maroth's first start of the season was at Texas where he allowed only one run in 5 1/3 innings.
However, Maroth's elbow problem flared up during the Texas start and he did not start again for nine days. Maroth threw seven scoreless innings against Cleveland in that game, with his elbow feeling fine. He said later, "I went out and threw a lot better than I thought I would. It was a huge improvement from [two days earlier]. It was a question mark going into the weekend. Once I get through this, I should be OK."38
The Tigers were off to a decent start, with a 7-5 record after Maroth's win, heading into the final game of a series at home against Cleveland before a long west coast trip. The Tigers limped through that game, getting wiped out by the Indians, and in what became a legendary tirade, Leyland let his team have it. Afterwards, Maroth said, "Jim's an experienced manager, and he knows what he's doing. We lost 10-2 today, and that's not pretty. The whole game, overall, didn't look good. He got upset with us. A manager's job is to get the most out of his players every day."39 (It would seem that the tirade might have worked, since the Tigers went 6-2 on the road trip, won 12 of their next 15 games, and were 19-9 on May 3).
Maroth's elbow felt fine and he made his next seven starts on schedule. He and the Tigers were off to a great start. After eight starts, Maroth had a 5-2 record with a 2.45 ERA and the Tigers, coming off 12 losing seasons in a row, were 28-14, tied for both first place and the best record in baseball, with the Chicago White Sox.
Maroth's next start was against the Kansas City Royals. Mike faced only seven hitters, with six of them getting hits, including home runs from the last three men he faced before being pulled by Leyland. Maroth went on the disabled list the next day and eight days later, Dr. Lewis Yocum performed arthroscopic surgery on Maroth's left elbow, removing four bone chips. "I could feel [the elbow] locking up. We had an idea of what it could be, but until we could find out for sure, we had to go out there and have some tests that revealed the chips. I had to make a choice of pitching through it or having surgery. Dr. Yocum said that he wouldn't recommend surgery unless he absolutely had to do it. So, obviously, he felt like without it, it would be really tough to get through the year."40
Maroth recovered through the summer and returned to the field with four minor-league rehabilitation starts for the Toledo Mud Hens starting on August 9. He returned to the Tigers on September 6, making four relief appearances and posting a 9.53 ERA in 5 2/3 innings. Maroth was left off the Tigers' postseason roster, but he watched the postseason games from the bench as the team went on to win the American League pennant before dropping the World Series to the St. Louis Cardinals in five games. "I enjoyed it a lot more than I thought I would. When I found out I wasn't going to be on the playoff roster I didn't know how I was going to take it. But it was definitely a great experience. It was almost like I was looking at it from the outside but still being part of it. Because I didn't have to get ready for the games, I could take it all in. I got to see it all. I got the dugout perspective, which was nice. But it's a lot better out on the mound."41
In 2007 Maroth was counted on to be in the rotation, in part to fill the hole left by the injury to fellow left-hander Kenny Rogers, who went 17-8 with a 3.84 ERA in 2006 and was the winning pitcher in the only game the Tigers won in the World Series. After the World Series Rogers had surgery on his left shoulder to remove a blood clot and would not be available for the first half of the 2007 season.42 The Tigers won Maroth's first seven starts (with Maroth getting credit for the win in three of them), despite a 4.69 ERA. Maroth did not start for 11 days after the last of those seven games, but it was the flu, not an arm injury, that sidelined him.43
On June 18, at RFK Stadium in Washington, DC, Maroth made his last start as a Detroit Tiger against the woebegone Nationals. The Tigers staked him to a 9-1 lead, six runs coming in the fifth inning (thanks in part to a Maroth double off the wall), but in the bottom of the sixth inning a single, a triple, an error on a weak grounder to shortstop, another single, and a walk caused Jim Leyland to remove Maroth from the game. Maroth still wound up with the victory in the Tigers 9-8 victory. The Tigers had Rogers and Nate Robertson returning from injuries soon, and 22-year-old fireballer Andrew Miller also had two good starts, so Maroth was the odd man out. After the game, Leyland said, "You're going to be looking at lots of [changes in the pitching staff] in the next week or so,"44
Four days after his start in Washington, Maroth was traded to the St. Louis Cardinals for a player to be named later [pitcher Chris Lambert]. During the announcement of the trade, Dave Dombrowski, who had been shopping Maroth around the league, said, "You don't find finer people than Mike or Brooke Maroth." Dombrowski and Leyland were glad that the destination was St. Louis, a well-regarded franchise that had a rotation spot for Maroth.45
Maroth heard about the trade when he got a call from Dombrowski after taking his family to the Atlanta Aquarium. Maroth said, "I wasn't that shocked. I would have loved to stay in Detroit. But it sounds like I'm going from one class organization to another."46 In an interview soon after the trade, Maroth talked about continuing his extensive charitable work in St. Louis. "We want to be servants. I've been given a platform in baseball that allows me to do things like this. I want to take full advantage of it. It is part of our faith."47
That was not a surprise given what both Mike and Brooke Maroth had done while with the Tigers. Maroth's extensive charitable work led him to be the Tigers' nominee for the Roberto Clemente Award in 2005 and 2006.48 An example of that work; after hearing from her husband about all of the food left in the clubhouse after games, Brooke contacted an organization called "Rock and Wrap it Up," that donated leftover food from concerts to shelters. The Maroths helped the program expand into baseball with an organization called "Sports Wrap."49 Now, Sports Wrap works with 74 major-league professional sports teams to donate leftover concession and clubhouse food to feed the needy.50 The Maroths were honored by Congresswoman Jo Ann Emerson of Missouri with the 2004 Bill Emerson Award for their work with Rock and Wrap it Up.51
Maroth's father, Bill, had multiple sclerosis, which led the Maroths to become active in the fight against that disease. They sponsored the "Strike Out MS Bowling Spectacular" event that raised more than $47,000, and the "National MS Society Night" at Comerica Park in 2006.52 Maroth also was active assisting disabled veterans and promoting literacy in the community.53 Maroth gave Brooke credit for her commitment. "She does more behind the scenes than I do. She does not get enough credit. It's a team effort between her and I. It's not just me."54
Maroth pitched very well in his Cardinals debut, allowing only one run in 7 1/3 innings while picking up a hit and stolen base against the Mets, but the Cardinals lost the game, 2-1. Maroth did not make it into the sixth inning in any of his next four starts and he was sent to the bullpen. After two ineffective outings, Maroth was sidelined with what was termed a mild case of elbow tendonitis.55 On September 6, 2007, Maroth returned to start against the Pittsburgh Pirates but lasted only 1 2/3 innings. He made five relief appearances the rest of the way, with his final big league appearance coming on September 24, 2007, a scoreless seventh inning against the Milwaukee Brewers at Miller Park. Maroth's big-league career ended on a force out at second off the bat of Ryan Braun. Maroth was released by the Cardinals on October 23, 2007.56
After interest was shown by the Florida Marlins and Colorado Rockies, Maroth signed a minor-league deal with the Kansas City Royals on February 8, 2008. Unfortunately, Maroth developed a stiff left shoulder and did not make the big league club.57 He was sent to the Royals' Triple-A farm club in Omaha and made three starts that lasted 4, 2, and 2 1/3 innings. The Royals released him on April 30, 2008, and he had left shoulder surgery soon after that. After recovering from the surgery, Maroth said, "My arm feels really strong. I've already seen signs of a difference in how free my arm feels when I throw a ball."58
Maroth signed a minor-league contract with the Toronto Blue Jays for 2009 but tore the meniscus in his left knee two days into spring, which scuttled his chances of making the team. On March 14, 2009, Maroth faced the Tigers at Joker Marchant Stadium in Lakeland, Florida, and allowed four earned runs and seven hits in 2 2/3 innings in his only spring training appearance. Maroth was released by the Blue Jays on March 27, and then had surgery on the knee.
After recovering from the surgery, Maroth tried in vain to sign with a club, finally signing with the Indios de Mayaguez in the Puerto Rico Baseball League. After going 3-0 with a 2.60 ERA in eight appearances, he was signed to a minor-league contract by the Twins in January of 2010.59 He was sent to the Twins' Triple-A club, the Rochester Red Wings, where he made 10 appearances before elbow problems sidelined him again. He had surgery to remove bone spurs, but in January of 2011 he decided to retire. Maroth told Fox Sports's Jon Paul Morosi that, "I gave it everything I had. I feel confident that I'm making the right decision. I'd love to keep playing, but I realize that I don't have it in me. I have no regrets. I put forth all of the effort possible to continue to play, but I believe my body just can't do it anymore."60
Maroth became the pitching coach of the Tigers' high-A farm team, the Lakeland Flying Tigers, in 2012. After three years in Lakeland, Maroth became the pitching coach of the Tigers' Triple-A team, the Toledo Mud Hens. At the conclusion of the 2015 season, it was announced that Maroth would not be back with Toledo. It was rumored that he would become the pitching coach for the Tigers' Double-A team, the Erie Seawolves.61 However, in late in September 2015, Maroth was named the Atlanta Braves' Minor League Rehabilitation Pitching Coordinator, a position that he still holds.62 That job is based in Orlando, Florida, where Maroth makes his home.
Last revised: July 1, 2017
This biography is included in "20-Game Losers" (SABR, 2017), edited by Bill Nowlin and Emmet R. Nowlin.
Sources
In addition to the sources indicated in the Notes, the authors relied on Baseball-Reference.com.
Notes
1 Conversation between authors and Mike Maroth on July 5, 2017.
2 Bruce Biesenthal, "Steady on the Mound," The Goal, November 2002. http://www.thegoal.com/events/maroth/maroth.html, accessed June 3, 2017.
3 University of Central Florida Baseball Record Book, 2017, http://ucfknights.com/documents/2017/5/31/UCF_Baseball_Record_Book.pdf, accessed June 4, 2017
4 High Point Panthers Baseball website http://www.highpointpanthers.com/coaches.aspx?path=baseball&rc=872, accessed June 3, 2017
5 baseballamerica.com/statistics/players/cards/21156/mike-maroth/spring accessed on June 3, 2017.
6 2007 Detroit Tigers Information Guide (Detroit: Detroit Tigers, 2007), 131.
7 2007 Detroit Tigers Information Guide (Detroit: Detroit Tigers, 2007), 131.
8 Biesenthal, "Steady on the Mound."
9 The Sporting News Baseball Guide 2001 (St. Louis: The Sporting News, 2001), 466.
10 2007 Detroit Tigers Information Guide (Detroit: Detroit Tigers, 2007), 131.
11 TheGoal.com. http://www.thegoal.com/players/baseball/maroth_mike/maroth_m.html, accessed on June 3, 2017
12 Biesenthal, "Steady on the Mound."
13 2007 Detroit Tigers Information Guide (Detroit: Detroit Tigers, 2007), 132.
14 John Wagner, "Fifth Third Fans Inspire Maroth," Toledo Blade, May 5, 2002. http://www.toledoblade.com/Mud-Hens/2002/05/05/Fifth-Third-fans-inspires-Maroth.html, accessed on June 3, 2017.
15 Biesenthal. "Steady on the Mound."
16 Tom Gage, "He beats Schilling for first big-league victory, singles," Detroit News, June 16, 2002.
17 Biesenthal, "Steady on the Mound."
18 Ibid.
19 Gage, "He beats Schilling for first big-league victory, singles."
20 Ibid.
21 Bob Hohler, "Moving on Sox Weave Way Past Maroth and the Tigers," Boston Globe, July 7, 2002
22 Associated Press, "Tigers 0-6 Start Seals Garner's Fate," April 8, 2002, http://static.espn.go.com/mlb/news/2002/0408/1364856.html, accessed on June 3, 2017.
23 Albert Chen, "5 Detroit Tigers Even for a team that lost 106 games last season, the worst may be yet to come," Sports Illustrated, https://www.si.com/vault/2003/03/31/340606/5-detroit-tigers-even-for-a-team-that-lost-106-games-last-season-the-worst-may-be-yet-to-come, accessed June 3, 2017.
24 Matt Markey, "New Beginnings, Familiar Endings," Toledo Blade, April 1, 2003, http://www.toledoblade.com/Pro/2003/04/01/New-beginning-familiar-ending.html, accessed on June 3, 2017
25 George Cantor, The Good, the Bad, & the Ugly: Detroit Tigers (Chicago: Triumph Books, 2008), 24-25.
26 Associated Press, "Maroth Handed His 20th Loss," September 6, 2003, http://articles.latimes.com/2003/sep/06/sports/sp-tigers6, accessed on June 3, 2017.
27 Ibid.
28 Christian Broadcast Network, "Mike Maroth: A Pitcher of Faith," http://www1.cbn.com/sports/mike-maroth%3A-a-pitch-of-faith, accessed on June 3, 2017.
29 Associated Press, "Maroth's Many Sleepless Nights," March 14, 2014, http://reds.enquirer.com/2004/03/14/red2maroth.html, accessed on June 3, 2017.
30 "Maroth Handed His 20th Loss."
31 Tom Gage, "Tigers Stay Out of Record Book," Detroit News, September 29, 2003.
32 Bob Wojnowski, "Tigers Victory Spares Infamy," Detroit News, September 29, 2003.
33 "Maroth's Many Sleepless Nights."
34 John Wagner, "Tigers Notebook: Ilitch Vows to Make Changes," Toledo Blade, September 29, 2003, http://www4.toledoblade.com/Pro/2003/09/29/Tigers-notebook-Ilitch-vows-to-make-changes.html, accessed on June 3, 2017.
35 "Simply Baseball Straight From the Source: Mike Maroth," http://z.lee28.tripod.com/sbnsstraightfromthesource/mikemaroth.html, accessed on June 3, 2017.
36 Tom Gage, "Maroth Can Take or Leave Rodriguez," Detroit News, October 4, 2005.
37 Billfer. "Maroth's Elbow", http://www.detroittigersweblog.com/2006/03/maroths-elbow/, accessed on June 3, 2017. Quoting Danny Knobler's blog
38 Lynn Henning, "Maroth: Leyland is Doing His Job," Detroit News, April 18, 2006.
39 Ibid.
40 Jim Hawkins, "Maroth Visits Clubhouse," Oakland Press, June 5, 2006, http://www.theoaklandpress.com/general-news/20060605/maroth-visits-clubhouse, accessed on June 3, 2017.
41 Jim Hawkins, "Maroth's First Start is a Good One," Oakland Press, March 2, 2007, http://www.theoaklandpress.com/general-news/20070302/maroths-first-start-is-a-good-one, accessed on June 3, 2017.
42 Ron Parker, "Maroth Must Pick Up Slack," Detroit News, March 31, 2007.
43 Jim Hawkins, "Maroth Taken Deep Three Times in Loss," Oakland Press, May 23, 2007.
44 Jim Hawkins, "Shakeups to Come After Another Close Call," Oakland Press, June 19, 2007.
45 Lynn Henning, "Trade Settles Rotation," Detroit News, June 23, 2007.
46 Ibid.
47 Joe Strauss, "Maroth is Much More Than the Day's Boxscore," St. Louis Post-Dispatch, July 15, 2007.
48 http://mlb.mlb.com/news/press_releases/press_release.jsp?ymd=20050907&content_id=1200581&vkey=pr_mlb&fext=.jsp&c_id=mlb and http://mlb.mlb.com/news/press_releases/press_release.jsp?ymd=20060906&content_id=1648763&vkey=pr_mlb&fext=.jsp&c_id=mlb, accessed on June 3, 2017.
49 JoAnn Emerson, "Congratulations to Brooke and Mike Maroth," Congressional Record, July 7, 2004, https://www.congress.gov/crec/2004/07/07/CREC-2004-07-07-pt1-PgE1299.pdf, accessed on June 3, 2017.
50 https://www.rockandwrapitup.org/sports-wrap
51 JoAnn Emerson, "Congratulations to Brooke and Mike Maroth."
5252] MS Connection, newsletter of the Michigan Chapter of the National Multiple Sclerosis Society, October 2006
53 http://detroit.tigers.mlb.com/mlb/components/official_info/community/clemente_2005/bios/maroth_mike.jsp, accessed on June 3, 2017.
54 Joe Strauss, "Maroth is Much More Than the Day's Boxscore."
55 Brian Walton, "Maroth Released by Cardinals," Cardinal Nation, October 25, 2007, http://www.scout.com/mlb/cardinals/story/694455-maroth-released-by-cardinals, accessed on June 3, 2017.
56 Associated Press, "Cardinals Release LHP Maroth," USA Today, October 23, 2007, https://usatoday30.usatoday.com/sports/baseball/2007-10-25-1530556607_x.htm, accessed June 3, 2017.
57 http://www.rotoworld.com/recent/mlb/3480/mike-maroth
58 http://www.rotoworld.com/recent/mlb/3480/mike-maroth
59 John Shipley, "Minnesota Twins Pitcher Mike Maroth Has Lost Valuable Time to Injuries," St. Paul Pioneer-Press, March 4, 2010, http://www.twincities.com/2010/03/04/minnesota-twins-pitcher-mike-maroth-has-lost-valuable-time-to-injuries/amp/, accessed on June 3, 2017.
60 Jon Paul Morosi. "Mike Maroth, Who Lost 20 Games But Kept Dignity, Retires", January 26, 2011, http://www.yardbarker.com/blog/mlbbuzz/article/mike_maroth_who_lost_20_games_but_kept_dignity_retires/4037633, accessed on June 3, 2017.
61 Lynn Henning, "Mike Maroth Will Note Be Back as Mud Hens Pitching Coach," Detroit News, September 14, 2015, http://www.detroitnews.com/story/sports/mlb/tigers/2015/09/14/mike-maroth–back-mud-hens-pitching-coach/72269784/, accessed on June 3, 2017.
62 Atlanta Braves Press Release. "Braves Announce Mike Maroth as Minor League Rehabilitation Pitching Coordinator," September 25, 2015, http://m.mlb.com/news/article/151571454/braves-announce-mike-maroth-as-minor-league-rehabilitation-pitching-coordinator/, accessed on June 3, 2017; conversation between authors and Maroth, July 5, 2017
Born
August 17, 1977 at Orlando, FL (USA)
If you can help us improve this player's biography, contact us.
https://sabr.org/sites/default/files/maroth.png
600
800
admin
/wp-content/uploads/2020/02/sabr_logo.png
admin
2012-01-04 20:49:45
2012-01-04 20:49:45
Mike Maroth