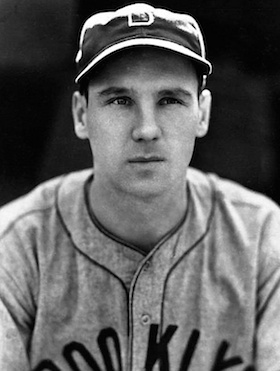 ---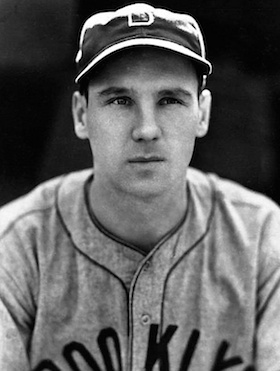 For Nick Polly, his big-league debut came early. He played in 10 games for the 1937 Brooklyn Dodgers at the age of 20. Then, seven years later, he appeared in four games for the 1945 Boston Red Sox. That was it. He was a right-handed third baseman of Polish descent, who stood 5-foot-11 and weighed 190 pounds.
Both the first and last names we know him by are nicknames. His family name was Polachanin and his given name was Nicholas. He was born in Chicago on April 18, 1917, to Joseph Polachanin and Stella (Zubovich) Polachanin. Joseph was a laborer for an iron manufacturer at the time of the 1920 census, worked as a laborer in the radio industry in 1930, and worked for a casting and moulding manufacturer in 1940. By 1940, with their three children now grown, Stella worked as a "chorewoman" in an office building. The three children were Anna, Nicholas, and John.1
The family was listed in the 1920 census as coming from "Russian Poland" and speaking Polish. In completing his player questionnaire for the Hall of Fame, Nick gave his nationality as Russian. The Brooklyn Daily Eagle dubbed him "one of the few Russians in baseball."2
Nick went to the Prescott School in Chicago and then Lane Technical High School for four years. Lane Tech at the time was a baseball powerhouse, city champions in 1933. Polachanin batted leadoff and played second base, and was 4-for-5 in the game against Harrison Tech that won the city title in June 1933. He also played American Legion baseball and made the National Tea Post team in Chicago in 1933. The team won locally and regionally, then beat Stockton, California, for the Western section title at Topeka. They went to New Orleans to face the Trenton, New Jersey, team for the national championship. They won the first two games of the best-of-three competition, with pitcher Phil Cavarretta winning the first game and (playing outfield) tripling in three runs in the second game. Polly had a hit in both games. Cavarretta had also starred for Lane Tech.
Polachanin was also a star guard and captain of the Lane Tech basketball team, which made it to the city finals in early 1934. He played some semipro baseball, but first signed professionally with the Davenport Blue Sox (Class-A Western League.) He had been recommended by Chick Fraser, Brooklyn scout, who was impressed by both his offense and his defense.3 In his first season, 1935, he hit .304 in 115 games, with one home run. He played for the Blue Sox again in 1936, batting .277 in 114 games, with four home runs. In 1937, Polly played for Brooklyn farm clubs in Dayton and Elmira, batting .341 in 92 games for the Dayton Ducks. On September 7, he was one of seven players the Brooklyn Dodgers bought from Elmira. He had, at the time, the best record of any player in the Dodgers' minor-league system.
It didn't take long for him to get into a game; his big-league debut was on September 11, 1937. He came on for defense late in a game where Brooklyn held a big lead. His first game with multiple at-bats (he came on after Brooklyn took a 5-0 lead in the first inning) was in the first game on September 16 in Cincinnati. He played third base and was 1-for-3 with an RBI in a game Brooklyn won, 8-5. The next day, in a losing effort in Pittsburgh, he collected a pinch-hit single and another RBI. They were his only runs batted in. He got two more base hits, both in the second game on September 21. In all, he appeared in 10 September games for Brooklyn and was 4-for-18 (.222), with the same .222 on-base percentage.
Polly's fielding was subpar in the limited number of chances he had; he committed three errors in 20 chances.
Polly was released by Brooklyn on April 1, 1938, and spent the 1938 season playing for three different clubs in the Texas League – the Dallas Steers, Oklahoma City Indians, and Fort Worth Cats. He was hoping to catch on as a utility infielder with Dallas, but was let go in late May and returned home to Chicago. Very soon afterward, on June 4, he was signed as a free agent by Oklahoma City and joined them on the road in Tulsa. Ten days later, on the 14th, he was placed on waivers "having no fear that they would be granted and arrangements already were made to send him to Chattanooga."4 He was instead claimed by Fort Worth and ended up on the Cats for a couple of months until he, apparently, suffered some form of mental breakdown. It was apparently an exceptionally hot summer, and the Dallas Morning News wrote that Houston manager Ira Smith "had a nervous breakdown and had to go to his home in Kansas for a rest. Catcher Francis Healey [sic]  became mentally unbalanced and was placed in a hospital for treatment, and Nick Polly, a member of the Fort Worth club at the time, had the same misfortune while his team was in the Bayou City for a series."5
He was out of Organized Baseball for all of 1939, returning on July 30, 1940, with the Columbia (South Carolina) Reds of the Class-B South Atlantic League. A news story noting his return just said he had been playing semipro ball with the Chicago Mills team.6 Polly appeared in 49 games in what remained of the 1940 Sally League season and hit .298, which he followed with a similar .302 batting average (with 14 home runs) in a full 1941 season of 133 games. Polly was selected as the league's all-star third baseman and placed second in league MVP balloting. To cap it all off, Columbia (which had finished sixth in 1940) won the league playoffs in 1941. Columbia was in the Cincinnati Reds system.
With the back-to-back successful years he had, the Reds moved him up to Class-A1 ball and placed him with the Birmingham Barons of the Southern Association in 1942. There he struggled a bit, batting .268, but in his second year with Birmingham (1943) he recovered and hit .304.
That November the Boston Red Sox selected him in the 1943 minor-league draft. The Sox placed him with Louisville for 1944. Polly enjoyed an exceptional year. He hit a career-high 20 home runs, led the league in runs batted in with 120, led all of Organized Baseball in bases on balls (147), and hit for an average of .290. There was one time in 1944 when he hit home runs on five consecutive days. His .950 fielding percentage was best in the league among third basemen.
The Louisville Colonels placed third in the American Association standings, but won both rounds of the playoffs, sweeping St. Paul four games to none in the finals. On August 31, his contract had been purchased by the Boston team for delivery in the spring of 1945.
Given all that Polly had going for him, and given the loss of third baseman Joe Cronin with a fractured leg right in the third game of the regular season, it might seem surprising the Red Sox didn't use him more. Polly replaced the injured Cronin in the seventh inning of the April 19 game and made an out in his only at-bat. He started at third base on the 20th and was 1-for-4 with an RBI. A month passed before he played again, pinch-hitting (in vain) in back to-back games on May 19 and 20. And thus ended the second and final chapter of his major-league career.
On the day of his final game, May 20, the Red Sox fell into last place and Polly was released on option back to Louisville. Near the end of July, he was traded to Toledo for pitcher Harry Kimberlin. It was apparently some kind of an accommodation trade (into the St. Louis Browns system) because in September he was "ordered to return from Toledo where he has been an infield star."7
Although back on the Red Sox roster, at least briefly, he was never heard from again.
He never married. Polly died in Chicago on January 17, 1993. He was survived by his sister, Anna.
Sources
In addition to the sources noted in this biography, the author also accessed Polly's player file and player questionnaire from the National Baseball Hall of Fame, the Encyclopedia of Minor League Baseball, Retrosheet.org, Baseball-Reference.com, and the SABR Minor Leagues Database, accessed online at Baseball-Reference.com.
Notes
Born
April 18, 1917 at Chicago, IL (USA)
Died
January 17, 1993 at Chicago, IL (USA)
If you can help us improve this player's biography, contact us.
/sites/default/files/PollyNick.jpg
600
800
admin
/wp-content/uploads/2020/02/sabr_logo.png
admin
2016-04-21 12:48:45
2020-08-26 03:40:26
Nick Polly