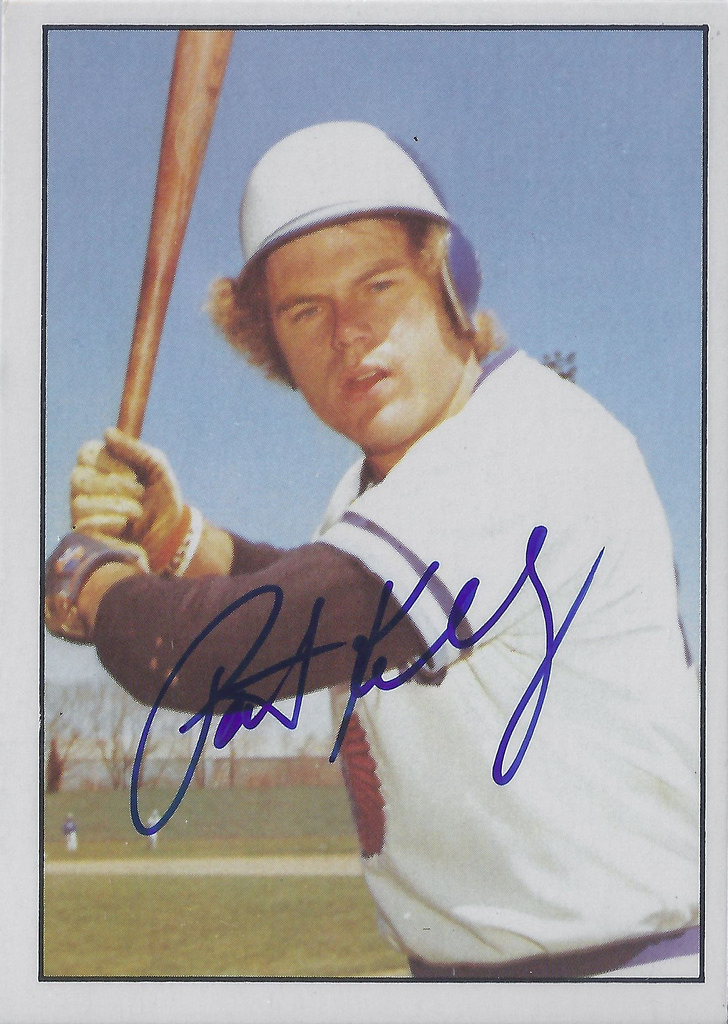 ---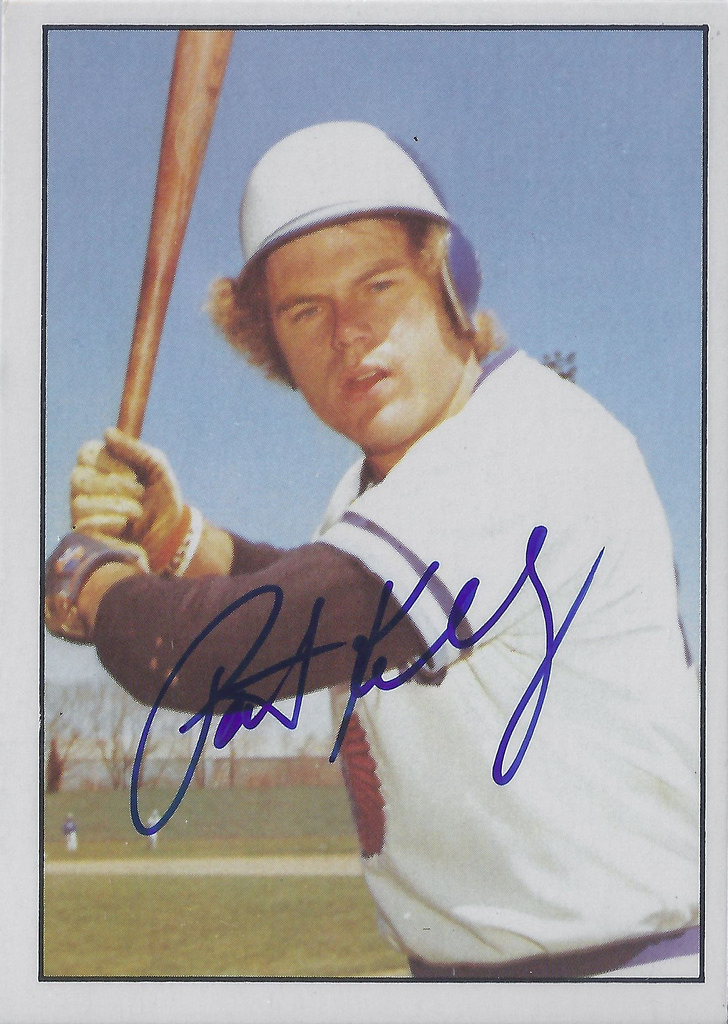 Pat Kelly played just three games in the majors as a catcher with the 1980 Toronto Blue Jays — but he has survived in professional baseball for 45 years. How has he done it? "He's just a leader; he's a player's coach, which means he relates to the players like he's a player," said Zach Vincej, shortstop for the Pensacola Blue Wahoos in 2015-16. "And he communicates very well. He's the guy that if he's talking, you listen, because you know something valuable is coming out of him."1
All told, Kelly has won over 2,000 games as a manager from 1986 through 2017, with a significant portion coming in winter ball as well as the minors.2 His nine career victories as a manager in the Caribbean Series (a matter of great regional pride) rank him among the top all-time American managers in this tournament.
Dale Patrick Kelly was born in Santa Maria, California, on August 27, 1955. He was the first child of Dale and Bobbie Lee Kelly. His parents called him "Pat" to distinguish him from his father — although he wound up being the second of three major-league players called Pat Kelly. Next came siblings Mike, Kathy, Bill, and Doreen. Dale Kelly, an Iowa native, was a customer service supervisor at Southern California Gas for 30 years. Bobbie Lee Kelly (née Davis) was one of the first female disc jockeys. She did pregame commercials for the 1953-1954 Santa Barbara Dodgers. Born in Missouri, she grew up in California. Her dad was an oil field worker — the Santa Maria region had a long history of oil production. Pat Kelly also alluded to the area's rich agriculture (strawberries, cauliflower, wine grapes, etc.).
Santa Maria is a three-hour drive north of Los Angeles and five hours south of San Francisco. Pat Kelly and his siblings rooted for the Los Angeles Dodgers; they loved the Sandy Koufax–Don Drysdale pitching tandem, but as Kelly reminisced, "We were all partial to Willie Davis because mom didn't like him due to his three errors [in one inning] in the 1966 World Series." His favorite big-league player was Cincinnati Reds catcher Johnny Bench.
Kelly caught for the Santa Maria High School baseball team; he also played fullback and tight end for the football team. Brother Bill played college football at Weber State. Mike was an outfielder in the Blue Jays organization (1978-79). According to Pat Kelly, Mike was a better hitter than he was, but Mike had a wife and child to support by 1979, and left baseball to work in the oil business.
The California Angels signed Pat Kelly in 1973 after selecting him in the third round of the draft that June. "Larry Himes [then a regional scout for the Angels] called my house, but I was at practice. I talked to them later and made arrangements to go to Anaheim and watch a couple of games. And we negotiated the signing bonus with Walter Shannon, the scouting director, and Himes that weekend."3 Himes later became Angels scouting director (1981-86) and general manager for the Chicago White Sox and Cubs.
Kelly's first team was the Idaho Falls Pioneers, in the four-team Pioneer League. He didn't mind the long bus rides to Billings, Great Falls, and Ogden. Kelly said manager Bob Clear was "tough, but we loved him. He later became the Angels' big-league bullpen coach [1976-1987]." He added, "Joe Maddon has some great stories about him." Though Kelly hit just .219 in 1973, he was the only Idaho Falls player of the 34 on the roster that year to reach the majors.
Kelly joined the 1974 Quad Cities Angels, winners of the Midwest League's South Division. He stole 15 bases, noting that "coming out of high school, I ran 60 yards in 6.8 seconds…for a catcher, I was pretty good." When fully grown, he was listed at 6-feet-3 and 210 pounds.
After hitting .221 in 1974, he rejoined Quad Cities in 1975, managed by Bobby Knoop. This Single-A squad had Willie Mays Aikens, Kim Allen, Thad Bosley, and Julio Cruz. Kelly hit .330 (38-for-115) in 40 games, his best single-season batting average. He was sent to the California League's Salinas Packers. "I got a concussion that year [1975] and missed the last six weeks of the season," recalled Kelly, who appreciated the guidance of Knoop, Dave Garcia, Norm Sherry, Del Crandall, and Buck Rodgers in the Angels system.
Instructional League work in fall 1975 was followed by a trip to Nicaragua with other Angels minor leaguers. They played exhibition games against top Nicaraguan and Colombian amateur teams in León and Managua. Kelly's memories were of an ongoing civil war, with the Somoza regime in power, and visible adverse effects of the devastating 1972 earthquake.
Fully recovered from his 1975 concussion, Kelly rejoined the Salinas team (renamed the Angels) in 1976. He impressed skipper Del Crandall with 15 steals, a .313 batting average, four homers and 50 RBIs. The team stole 288 bases, led by Bosley (90), Cruz (68) and six others with 13 to 19. Kelly called Crandall "probably the one who shaped my career as a catcher — handling a pitching staff, calling games." He added, "Crandall was aggressive, in terms of a running game." The 91-49 Salinas team was upset by Reno in the playoffs. Kelly missed out on being the California League's All-Star catcher because Reno's Dan Graham had 29 homers and 115 RBIs.
However, after moving up to Class AA in 1977, Kelly became the Texas League's All-Star catcher: .271, 14 homers, 53 RBIs, and 10 stolen bases for El Paso. Carney Lansford was one of four other teammates selected to the All-Star team. Other evidence of this league's quality was the selection of Danny Darwin (Tulsa) and Rick Honeycutt (Shreveport) as All-Star pitchers. The Arkansas Travelers derailed El Paso's post-season. Buck Rodgers, Kelly's manager, got special praise: "I think Buck was probably the first one I played for who was a player's manager."
The Angels traded Kelly and Butch Alberts to the Toronto Blue Jays for Ron Fairly on December 8, 1977. Fairly, a Dodger whom Kelly had cheered in the 1960s, went into the radio booth after the 1978 season. "So I got traded for a radio announcer!" exclaimed Kelly. Toronto sent Kelly to winter ball with Venezuela's Lara Cardinals. "The Blue Jays wanted to see how I would play," noted Kelly. "They sent players to the Dominican Republic and Venezuela and signed players from those countries." Pete Mackanin was a Lara teammate and Leo Posada was the manager. Lara played home games in Barquisimeto, a city in northwestern Venezuela. Kelly recalled that the Venezuelan economy was good then, and there was plane travel to away games in Caracas and Maracaibo. He hit .289 (13 for 45) in 15 games for Lara.
Advancing to Triple-A in 1978, Kelly was a backup catcher for the Syracuse Chiefs, behind Ernie Whitt. Danny Ainge, the future Boston Celtics guard, played shortstop. Kelly struggled with the bat, hitting .161 in 55 games.
After six games with the 1979 Chiefs, Kelly was sent to Single-A Kinston by manager Vern Benson. Yet despite the big demotion, Kelly thought highly of Benson — "a good baseball man," in his words. Kelly caught Randy Benson, Vern's son, at Kinston, and won his only pro batting title there, hitting .309. His 23 doubles were second on the team to Jesse Barfield's 24.
Kelly married Becky Haines on November 24, 1979. He returned to Syracuse for the 1980 season — which was interrupted from May 28 through mid-June because Toronto called him up for his "cup of coffee" in the majors. Though he'd been sent outright to Syracuse during spring training, he was reacquired through reverse waivers. On May 26, Jays manager Bobby Mattick had pinch-hit for both of his catchers (Bob Davis and Whitt) and was forced to use infielder Mike Macha as an emergency catcher. Mattick wanted depth and flexibility.4
Kelly got two hits in seven big-league at-bats. "I got to play at Fenway Park (Wednesday, May 28); then Yankee Stadium (May 30)," he stated. "Got two hits against Bob Stanley, but struck out twice. [Luis] Tiant throws a good game; strikes me out twice…threw his glove into the stands when Dick Howser took him out. I tell people it was because I was on deck!" Kelly's third and final big-league game was at home versus the Angels on June 3. He caught two innings and was retired by Dave LaRoche in his only at-bat.
Kelly stuck around with Toronto for another couple of weeks without seeing game action. He was then outrighted once more to Syracuse as the Jays called up pitcher Jack Kucek.5
Kelly hit .208-2-12 in 72 games for Syracuse in 1980. His 1981 season was split between Knoxville (Class AA Southern League) and Florence (Class A South Atlantic League). He hit .281-9-48 overall in 120 games. Jesse Barfield, a Knoxville teammate, went to Lara for the winter; Kelly, to Willard in the Colombian Winter League. Although this team did not have a working agreement with a big-league club when Kelly caught for them in the winter of 1981-82, he still thought, "Colombia had a decent league. Howard Johnson was the best [American] player there."
After four seasons in the Jays chain, Kelly then became part of the Atlanta Braves organization. He played for the Savannah Braves (Southern League) and Durham Bulls (Class A Carolina League) in 1982. Chris Kelly, Pat and Becky's first son, was born in Durham.
Coaching beckoned in 1983 when Adrian Garrett, manager of the Glens Falls White Sox in the Class AA Eastern League, asked Kelly to be a pitching coach. Kelly purchased a book on pitching, authored by Bob Shaw, at a local mall. He still appeared in 21 games as a player that year.
Kelly became the pitching coach for Niagara Falls (Class A New York-Penn League) in 1984. He was not needed as a player that year. Becky Kelly gave birth to daughter Chelsea in Niagara Falls.
Returning to Glens Falls in 1985, Kelly's season as a player-coach included 30 games at catcher as a result of Ron Karkovice's injury. Kelly hit .315-2-9 in 92 at-bats. He also pitched one inning in mop-up duty.
Kelly then embarked on his pro managing career. Jack McKeon was the San Diego Padres GM when Kelly managed the 1986 Single-A Charleston Rainbows. Carlos Baerga, the Charleston team's youngest player at 17, spoke only Spanish at the time. He begged Kelly to give him a chance, knocking on his hotel room door late at night and asking, "Me no play?" Kelly recalled, "Carlos got pinch-hits for me; then three and four hits in early season games; I called the farm director to see if I could play him every day…he said sure." But things did not work out for Roberto Clemente, Jr., who was also on the team. "He was a good kid…the media wanted to interview him; too much pressure," remembered Kelly. "He ran just like his father."
Kelly's 1987 Reno Padres made it to the finals versus Fresno. The 1988 and 1989 seasons were with Wichita (renamed from Pilots to Wranglers). The 1989 club won both halves of the Texas League season before losing a seven-game series to the Arkansas Travelers. Andy Benes, Ricky Bones, Doug Brocail, and Omar Olivares were Wichita's 1989 starting rotation. Kelly also managed the 1990 Las Vegas Stars.
Kelly had made one appearance as a pitcher for Reno in 1987, but he wasn't quite through as an active player. The 1989-90 and 1990-91 off-seasons were spent with the Bradenton Explorers and Florida Tropics of the Senior Professional Baseball Association. Future big-league pitcher Casey Kelly, Pat and Becky's youngest child, was born in 1989, in Sarasota, Florida, where the Kellys make their home. Pat hit .316 in 21 games for the Explorers and .328 in 17 games with the Tropics, and then the league folded. Catchers could be age 32-plus in the SPBA, whereas non-catchers were aged 35 and up. Kelly's Explorers teammates included Al Oliver, Hal McRae, Bruce Kison, and Stan Cliburn, the team's primary catcher. Pete Mackanin and Jim Tracy played with Kelly in this league, and the trio — who lived in Sarasota — did social activities together.
Another new organization hired Kelly in 1991. Dave Dombrowski was the Montreal Expos GM and Frank Wren the assistant GM when Kelly managed the 1991 Rockford Expos and Indianapolis Indians. He then received his first opportunity to manage in the Puerto Rican Winter League (PRWL).
Kelly said, "Frank came to Indy and sent some guys down to Mayagüez; I was interested-intrigued [to manage Mayagüez]. San Juan had the best club with Baerga, Edgar Martínez, Héctor Villanueva, Rick Wilkins; we had Wil Cordero, Paul Faries, Rod Brewer, Chad Kreuter, and Van Snider." Mayagüez bested first-place San Juan in a dramatic nine-game final series. Kelly remembered that in the decisive game, "They had the tying run on third base in the eighth; there was a wild pitch; ball hit the cement below the screen and bounced back to Kreuter and he tagged the runner out…Roberto Hernández saved it."
Mayagüez won the 1992 Caribbean Series, in Hermosillo, Mexico. The Indios and Venezuela's Zulia Eagles each went 4-2 in the round robin tournament, which meant that a tiebreaker game was needed. Mayagüez won it, 8-0, thanks to reinforcement player Baerga (it is a common practice in the Caribbean Series for teams to bolster their rosters with other players from their league). Baerga — who always represented Puerto Rico with great pride — hit a two-run homer. Roberto Hernández was the winning pitcher. Kreuter was named series MVP on the strength of his three homers and .391 average, both of which led all players.
Kelly said in 1993, "Three of the four managers in the 1992 Caribbean Series [Felipe Alou, Tim Johnson, and himself] were with the Expos." He emphasized, "The basic thing in Puerto Rico in comparison to the Stateside minor leagues is that you manage every game to win. It's a great experience for me. I play every game to win, and don't have to say, well, I'll take this guy out because he's a prospect."6 Two Mayagüez players — Kreuter and Snider — complimented Kelly's ability to relate to native players and imports.7 Eric Fox, a Santurce Crabbers outfielder who reinforced Mayagüez, stated: "It's still kind of strange playing for a team you played against all winter long, but I can see why this [Mayagüez] team did so well: they have great chemistry."8
Kelly's second season with Indianapolis preceded his 1992-93 winter season with Mayagüez. Indianapolis did well at 83-61, and Mayagüez got to the PRWL's round robin, a 12-game series among the top four regular season teams. The top two teams in the round robin then faced off in a best-of-nine or best-of-seven finals.
Moving on to the Cincinnati Reds chain, Kelly then managed the 1993 and 1994 Chattanooga Lookouts. The 1993 club finished second to Terry Francona's Birmingham Barons. Two of the 1993 Lookouts also played for Kelly with the 1993-94 Arecibo Lobos (Wolves). They were Chris Bushing (29 saves) and Kash Beauchamp (son of Jim Beauchamp, .400 average in 18 games).9
Kelly recalled, "Arecibo was the league step-sister; Steve Swisher was fired by them at Thanksgiving two years earlier; then, Nick Leyva was fired in 1992-93." Arecibo hired Kelly as a manager and pitching coach because the team owner could not afford two salaries. Arecibo had only two other coaches: Edwin Rodríguez at third and José Marzán at first. Kelly fondly remembered that Arecibo made the playoffs for the first time in five years. He and his family loved the people there.
Kelly rejoined the Expos organization in 1995 and managed the Harrisburg Senators for two years, winning a 1996 Eastern League title behind the hitting of Tony Barron, Vladimir Guerrero, José Vidro, and Geoff Blum. Kash Beauchamp was Harrisburg's hitting coach.
Kelly led Arecibo to the 1995-96 league title and to Santo Domingo for the Caribbean Series. He remembered, "Carlos Beltrán was only 19; Bernie Williams played center; our catcher was Mike Matheny. Imports do not have to go to this Series; Matheny did not want to go — we picked up "Pudge" Rodríguez; second baseman went home…picked up Roberto Alomar!" Arecibo also added Santurce's Leo Gómez.
Kelly felt he had the best team, and Arecibo did play well, going 4-2. However, Mexico (represented by the Culiacán Tomateros) went 5-1 to win the tournament. "Mexico beat us; they won it every 10 years [1976-1986-1996]."
Kelly managed the 1997 and 1998 Ottawa Lynx for the Expos, prior to his 1998-99 season with Arecibo. A shakeup in the Toronto organization then got him Syracuse's managing job in 1999. Said Kelly, "Sal Butera and Terry Bevington joined the major-league staff, so I became Triple-A manager, instead of advance scout." Kelly was fired six weeks into the 2000 season, and then Blue Jays assistant GM Dave Stewart asked him to go into pro scouting, which Kelly did for Toronto through 2002.
The Atlanta Braves hired Kelly to be the manager of their Triple-A team, the Richmond Braves, in 2003. Adam LaRoche, son of Dave LaRoche, was Richmond's top prospect that year, and Roberto Hernández was reunited with Kelly on their 2003 pitching staff. The 2004 Richmond club, the best one in Kelly's three years there, won the International League's South Division and defeated the Columbus Clippers, managed by Bucky Dent, in the playoffs. But Richmond lost the final series to Buffalo.
Kelly managed the Hermosillo Orange Growers of the Mexican Pacific League for the last 15 games of the 2004-05 winter season, after Jack Pierce was fired. "We won 10 of 15," said Kelly. "I came back next year [2005-06] after my 2005 season at Richmond, but Hermosillo fired me at Thanksgiving." Lorenzo Bundy replaced Kelly with Hermosillo.
Kelly's Atlanta stint concluded with scouting duties in 2006. He was Arecibo's manager in 2006-07, taking them to the finals versus Carolina.
Cincinnati hired Kelly in January 2007 to do baseball operations, based in Sarasota. "They initially hired me to do lower [minor-league] levels wherever they could use me," said Kelly. "Bakersfield was a trouble spot and Lynchburg was another team." Plans changed when Cincinnati fired Jerry Narron as their manager on July 1, 2007, replacing him with Pete Mackanin. Two days later, Kelly became Cincinnati's bench coach after Bucky Dent's departure. This lasted a half-season, and Kelly spent 2008 and 2009 managing the Gulf Coast Reds in Sarasota. The Reds' top prospects were Didi Gregorius in 2008 and speedster Billy Hamilton in 2009.
The year 2008 was most enjoyable for Kelly because he managed against his sons. Casey, a first-round draft pick of the Boston Red Sox that year, started his pro career as a shortstop for the Gulf Coast Red Sox. Chris pitched in the Florida State League when Pat briefly took over managing duties for the Sarasota Reds; he managed a game where Chris was the opposing pitcher. Chris Kelly pitched for his dad during the 2008-09 winter season with Arecibo, when the second-place Lobos advanced to the finals, before losing to Ponce. Chris, a reliever, won a game in the semi-finals.
Pat Kelly managed first-place Arecibo in 2009-10, but they lost to Mayagüez in the semis. "Che Conde [Arecibo's owner] brought me back," said Kelly. "We had a really good club in 2009-10, but the team ran out of money." Candy Maldonado, then Arecibo's GM, said, "We are very happy to count on Pat again because he knows the club better than anyone and the players respect him and respond well to him. Pat is a key element in our mission to energize and reinforce the team."10
The 2010 Lynchburg Hillcats, Kelly's next stop, preceded three seasons as skipper of the Billings Mustangs. Kelly managed the 2010-11 San Juan Senators for half a season before the club's Dominican owners fired him. While managing Billings, Kelly got to see his son Casey make his big-league debut on August 27, 2012, Pat's 57th birthday. "We had a day off in Billings, and I flew to San Diego to watch Casey pitch against Atlanta," recalled Pat. "He threw six scoreless innings." Casey Kelly also pitched parts of 2015 and 2016 in the majors; he remained active as of 2017.
Kelly's tenth season managing in Puerto Rico — in the renamed Roberto Clemente Professional Baseball League — was with the 2013-14 Carolina Giants. Home games were played in the Roberto Clemente Walker Stadium. Kelly enjoyed managing against his friend Carlos Baerga, the Mayagüez skipper, in the 40-game regular season and round robin play. On January 6, 2014, Three Kings Day in Puerto Rico, Kelly was informed that he would replace Ken Griffey, Sr. as the manager of the Bakersfield Blaze for 2014. The Blaze, regular season winners in the California League that year, were eliminated by the Visalia Rawhide in the post-season.
Kelly managed the Pensacola Blue Wahoos of the Southern League from 2015 to 2017. He spent the 2015-16 winter leading Mayagüez (27-15) to a regular season title and a final series against Santurce, won by the Crabbers. Kelly appreciated the fans' excitement, noting, "they got on the hitters in every at-bat." The 2016 Blue Wahoos (81-59) won the most games in team history, before losing in the post-season to the Mississippi Braves.11
Kelly then accepted a managing job in a new location for him: the Dominican Republic. "I have managed many years in Puerto Rico and also in Mexico, but I need to manage in the Dominican League, to crown my career as a manager in the Caribbean… and I thank Licey for this opportunity."12
Licey's 26-24 regular season in 2016-17 was good for second place. In Game Seven of the round robin, Kelly assumed he had a pitcher warming up in the eighth inning, when he summoned for a reliever to replace Rafael Soriano. But no one was actually up in the Licey bullpen. Consequently, a two-run lead evaporated into a five-run loss, causing Licey's board of directors to relieve Kelly of his duties on Three Kings Day, 2017.
Kelly continues to enjoy managing in his 45th professional baseball season. His greatest thrills in baseball were managing against his sons in the summer of 2008 and managing son Chris with Arecibo. Pat and Becky are equally proud of each of their three children. Chris is a cross-checker for the San Diego Padres; Chelsea lives in New York City; and Casey pitches for the Iowa Cubs. Baseball fans should be grateful to the Kelly family for their contributions to the sport.
Last revised: July 18, 2017
Acknowledgments

This biography was reviewed by Rory Costello and fact-checked by Kevin Larkin.
Grateful acknowledgment to Pat Kelly for memories via interviews in person (Hiram Bithorn Stadium, San Juan, Puerto Rico, January 1993 and Trustmark Park, Pearl, Mississippi, May 27, 2017) and telephone (May 31, 2017).
Thanks to Miranda Black (Director of Tickets & Communications, Mississippi Braves) and Tommy Thrall (broadcaster, Pensacola Blue Wahoos) who facilitated the 2017 in-person interview.
Rory Costello's editing was invaluable. Jorge Colón Delgado furnished Pat Kelly's Puerto Rico regular season managing record and Chris Kelly's 2008-09 regular season pitching statistics for Arecibo.
Sources
Internet resources
William Gerena-Rochet, Puerto Rico Baseball Finals Ponce & Arecibo (latinosports.com), January 18, 2009.
http://www.cardenalesdelara.com
http://www.factualhelp.comarecibolobos
https://mlblogsmenendeztony.wordpress.com
The Short-Lived Senior Professional Baseball Association (Fall 1989 to Fall 1990)
http://www.pelotabinaria.com.ve/b
http://www.prbaseballleague.blogspot.com
http://www.quisqueyanosports.com
http://www.studeri.org/tag/Pensacola-Blue-Wahoos
Books
Lloyd Johnson and Miles Wolff (editors), Encyclopedia of Minor League Baseball, Durham, North Carolina: Baseball America, Third Edition, 2007.
Peter C. Bjarkman, Baseball With a Latin Beat, Jefferson, North Carolina: McFarland Publishers, 1994.
Rafael Costas, Enciclopedia Béisbol Ponce Leones, 1938-1987, Santo Domingo, Dominican Republic: Editor Corripio, 1989.
Recuento Temporada 1992-93, Hato Rey, Puerto Rico: Liga de Béisbol Profesional de Puerto Rico, 1993.
Notes
1 Bill Vilona, "Pat Kelly's popularity to extend again with Blue Wahoos," Pensacola News Journal, January 17, 2017.
2 This includes 28 years in the stateside minors and 14 winter ball seasons, 11 in Puerto Rico; parts of two seasons in Mexico; and one in the Dominican Republic. Stateside minors, regular season through June 20, 2017, first half of the Southern League season: 1,660-1,730; post-season: 20-21. Puerto Rico regular season: 256-214; post-season: 50-61. Caribbean Series: 9-4. Dominican Republic regular season: 26-24; post-season: 2-5. Mexico: 10-5 first season; second season record was unavailable.
3 E-mail, Pat Kelly to Thomas Van Hyning, June 15, 2017.
4 Neil MacCarl, "Battling Jays Juggle for the Right Combo," The Sporting News, June 14, 1980, 12.
5 "Transactions," United Press International, June 17, 1980.
6 Thomas E. Van Hyning, Puerto Rico's Winter League, Jefferson, North Carolina: McFarland Publishers, 1995: 185. The author first met Pat Kelly at Hiram Bithorn Stadium, San Juan, Puerto Rico, prior to a January 1993 round robin game. This particular quote came from the January 1993 in-person conversation, not from May 27, 2017.
7 Chad Kreuter, in-person interview with Thomas Van Hyning, Hiram Bithorn Stadium, San Juan, Puerto Rico, January 1993. Van Snider, in-person interview with Thomas Van Hyning, Lackawanna County Stadium, Moosic, Pennsylvania, May 1993.
8 Thomas E. Van Hyning, The Santurce Crabbers, Jefferson, North Carolina: McFarland Publishers, 1999: 166. Eric Fox, in-person interview with Thomas Van Hyning, Hiram Bithorn Stadium, San Juan, Puerto Rico, January 1993.
9 José A. Crescioni Benítez, El Béisbol Profesional Boricua, San Juan, Puerto Rico: First Book Publishing of Puerto Rico, 1997: 167-168.
10 Candy Maldonado, in-person interview, The Ballpark in Arlington, Texas, September 1995.
12 "Tigres del Licey anuncian a Pat Kelly como su nuevo manager," Listín Diario (Santo Domingo, Dominican Republic), April 1, 2016.
Born
August 27, 1955 at Santa Maria, CA (USA)
If you can help us improve this player's biography, contact us.
/sites/default/files/KellyPat.jpg
600
800
admin
/wp-content/uploads/2020/02/sabr_logo.png
admin
2017-07-18 13:35:59
2020-04-09 14:43:03
Pat Kelly