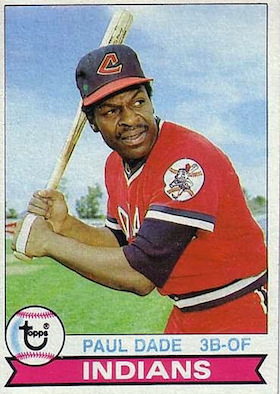 ---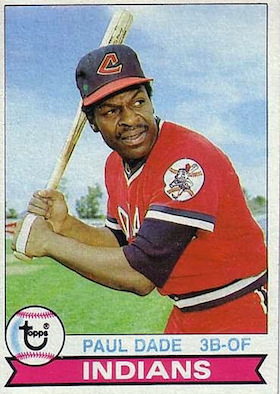 The first of two players in franchise history to wear double-zero on the back of his Cleveland Indians uniform, Paul Dade in 1977 explained his unique decision: "I went through the free-agent draft last winter [1976-77] and was selected by only two clubs, Oakland and Cleveland, and Oakland wasn't really interested in me. Nobody really wanted me. So I figured nothing for nothing equals two zeros."1 Feeling disrespected for what he felt was an overly slow path to the major leagues, Dade was not shy about expressing his dissatisfaction – a practice that earned him a label of being "a black militant … [with] a decided edge." The proud African-American mellowed in later years and conceded that he likely "opened my mouth too much."2 
A contact hitter with great speed, Dade was described by Indians manager Jeff Torborg in 1978 as "our best leadoff man. … an offensive catalyst."3 But neither Torborg's nor Dade's approach appeared to conform to that of their boss. "I want a big bat," said Indians GM Phil Seghi. "A 100-RBI man is [my] primary target."4 One day after the end of the 1978 season the club secured slugger Bobby Bonds from the Texas Rangers in a four-player swap, essentially relegating Dade to a reserve role. Midway through the 1979 season both Torborg and the speedy outfielder would be gone from Cleveland. Dade would spend portions of two seasons with the San Diego Padres before his major-league career concluded at the end of the 1980 season.
Lonnie Paul Dade was born on December 7, 1951, the eldest of three children of Lonnie and Willie T. Dade, in Seattle, Washington. His parents ran two boarding houses on the city's outskirts and the children were expected to pitch in. "I was raised to work hard and do what is necessary to help my family," Dade said in 1978.5 In a 1977 interview with The Sporting News contributor Russell Schneider, he made the unsubstantiated claim that his father had once played baseball for the Kansas City Monarchs in the Negro Leagues – a mistake likely a product of the little time they spent together; Lonnie died when Paul was only 11 years old.6 What is indisputable is the strong athleticism the son inherited from his father. A standout athlete with the Nathan Hale High School Raiders in northeastern Seattle, the right-handed hitter was a three-time All-Metro player who quickly attracted the attention of major-league scout Dave Kosher. A Washington State native, in 1959 Kosher was responsible for signing future HOF third baseman Ron Santo to the Chicago Cubs. Eleven years later Kosher persuaded the California Angels to select Dade with the 10th overall pick in the June 1970 amateur draft. Dade turned to Raiders coach and father figure Don Lundberg, who negotiated a $60,000 contract on Dade's behalf. The first thing the 18-year-old did after the signing was buy his mother a new home.
Dade was assigned to the Idaho Falls Angels in the Pioneer (Rookie) League. The club's primary third baseman, he batted .304 in 158 at-bats and used his speed to place among the circuit leaders with five triples while helping the club to its first flag in 10 years (when the city hosted a Chicago White Sox affiliate). At the end of the short season Dade traveled south to continue his development in the Arizona Instructional League. In 1971 he was advanced to the Quad Cities (Iowa) Angels in the Class A Midwest League. In May the Topps Chewing Gum Company selected Dade as the circuit's Player of the Month after the speedster opened the season at a near-.400 pace (29 hits in his first 73 at-bats). He finished the season among the team's leaders in nearly every offensive category while coming in second behind future Texas Rangers center fielder Vic Harris for the league's stolen-base crown. In the closing weeks Dade was promoted to the Shreveport (Louisiana) Captains in the Dixie Association, where he got some exposure to Double-A ball. He then returned to the Arizona League, where he captured the batting crown with a .352 average.
Dade spent most of the next two seasons in the Double-A Texas League, in Shreveport (which moved from the disbanded Dixie League in 1972) and El Paso. Except for first base he played every infield position and for 40 games in the outfield. In February 1973 he and outfielder Morris Nettles, who was a month Dade's junior, were added to the Angels' 40-man roster as the club's youngest players. Dade's first full season in Triple A came in 1974 with Salt Lake City Angels in the Pacific Coast League. Shaking off a horrid start to the season (.209 in his first 91 at-bats) Dade finished among the team's leaders in hits (149), runs (71), doubles (21), triples (7), and stolen bases (15). He was disappointed when his late surge did not result in a September call-up to the Angels.
In 1975 the disappointment multiplied when Dade was reassigned to El Paso in the Texas League. "Despite his high batting average, he didn't blister the ball as much as he should," the organization explained. "[He] hit only three homers and [got] a lot of singles that were leg hits." Determined to show that the demotion was a mistake, Dade opened the season at a blistering .493 pace with nine doubles, two triples and six stolen bases to earn Topps' Texas League Player of the Month in May. "His attitude … was great," said El Paso resident and part-time Angels' instructor Moose Stubing. "He wouldn't quit."7
Nicknamed "The Executioner" by his Diablos teammates for his fierce play, Dade returned from a 23-day layoff due to a kidney ailment to continue his batting rampage. On June 15 he delivered an 11th inning walk-off double for an 8-7 come-from-behind win over Shreveport. Twelve days later he scored his club's only run with a seventh-inning homer to spoil Shreveport righty Timothy Jones's no-hit bid. The starting third baseman in the league's All Star game, Dade made only a brief appearance; he was removed in the first inning after being hit in the face by a pitch. The wound, which required five stitches to close, did little to slow him down as Dade finished the season trailing only teammate Butch Alberts for the league's batting crown. Advanced to Salt Lake City during the closing weeks, Dade continued his blistering pace with a 14-for-18 run amid a nine-game hitting streak. On September 6 he blasted a three-run homer to lead the club to a 9-5 playoff win against the Hawaii Islanders.
Called up to the Angels after the playoff series, Dade made his major-league debut on September 12, 1975, in Kansas City's Royals Stadium as the starting left fielder. Flawless in the outfield, he had no success at the plate against right-hander Al Fitzmorris, striking out in his first at-bats, then grounding out to third twice. (In Dade's defense, the veteran hurler surrendered just four hits in a 7-2 complete-game win.) The next day Dade collected his first major-league hit, a shallow fly that dropped in front of right fielder Jim Wohlford for a leadoff double in the sixth inning. Two innings later Dade drew a one-out walk and came around to score the Angels' last run in a 6-2 win over the Royals. On September 14 Dade collected his first multi-hit games before finishing his two-week debut in a 3-for-21 slide. In all, he had two singles, four doubles, and an RBI in 30 at-bats.
Dade's prospects for contributing to the Angels' 1976 fortunes sustained a blow on December 11 when the club acquired Bobby Bonds in a trade with the New York Yankees. For the first two months of the season Dade mostly rode the bench. On May 9 he collected his only hit of the season for the Angels, an eighth inning pinch-hit RBI single that helped the team overcome a 2-0 deficit to beat the Indians. Three weeks later Dade was optioned to Salt Lake City after the Angels, hoping to jump-start the club's popgun offense, acquired 37-year-old outfielder Tommy Davis. Sorely disappointed, Dade returned to the PCL. Following the preceding year's script, he started slowly before erupting to capture the circuit's batting crown with a .363 average. Moreover, having played out his option in 1976, Dade was eligible for the major leagues' first free-agent re-entry draft. Certain that his All-Star season in the PCL would attract considerable attention and encouraged by the addition of the expansion Toronto Blue Jays and his hometown Seattle Mariners, Dade anxiously awaited a flood of calls.
But to his dismay very little interest materialized. In December Angels president Red Patterson told Commissioner Bowie Kuhn that the club "had made [a] bona fide attempt to sign Dade," a claim seemingly in contrast to the Angels' signing of established free-agent stars Don Baylor, Joe Rudi, and Bobby Grich a month earlier.8 The only clubs that bid for the right to negotiate with Dade were the Oakland Athletics and the Indians. (The Mariners and White Sox showed mild interest before turning elsewhere.) Though the Indians immediately engaged Dade's agent/friend Jeff Meachom, the Athletics were strangely silent regarding their bids for Dade and free-agent infielders Tito Fuentes and Billy Smith. On January 11, 1977, the Players Association filed a grievance against Athletics owner Charlie Finley charging that he had "violated the spirit of the free-agent rules by drafting negotiating rights to the three players and then making no attempt to sign them."9 A hearing ruled in favor of the players, allowing them to initiate negotiations with all 26 major-league teams. To Dade's dismay, he found little interest.
On February 7, with only one offer on the table, Dade signed a two-year, $100,000 pact (plus a $40,000 bonus) with the Indians.10 Just as important to the 25-year-old was a contract provision guaranteeing that Dade would remain on the major-league roster through the 1978 season. Praising the Indians for their conduct throughout the negotiating process, he could not resist taking a shot at the Angels. "I didn't get a fair shake from [them]," he said. "They never gave me a real chance to prove what I could do in the big leagues." Meanwhile, Indians GM Seghi was elated with the results of the negotiations. "I consider [Dade] to be a solid addition to our club," Seghi said. "[He] gives us added versatility and speed. He has outstanding credentials. … This is another step toward making the Indians a strong contender for the East Division championship."11 Though the club was competitive through the first half of the season – just 4½ games behind the first-place Boston Red Sox at the end of June – a second-half collapse destroyed any hopes Seghi had of being a strong contender.
When the 1977 season opened, Indians manager Frank Robinson moved All-Star third baseman Buddy Bell to left field and plugged Dade into the hot corner – a shift that lasted only 11 games. Though he made one appearance at second base as a late-inning replacement, and occasionally spelled Bell at third, Dade's primary position throughout his two-plus years in Cleveland was in the outfield. Robinson and later Torborg, who replaced him midway through the 1977 season, juggled nine players among the three outfield spots. With one exception, the platoon prevented Dade from acquiring enough at-bats to qualify among the league's batting leaders as he maintained an average of .300 or above through two-thirds of the season. (On July 12, Dade's 231 at-bats were one above the minimum threshold while his .333 average placed fifth in the circuit.) On June 22, he collected his first major-league home run, an eighth-inning leadoff shot in Toronto against Blue Jays right-hander Pete Vuckovich. Four days later Dade drilled a two-run homer in Detroit against Tigers righty Milt Wilcox. "Now I've hit back-to-back homers in two different countries," he cracked afterward.12
On September 25 Dade's and Indians second baseman Duane Kuiper's season ended a week early when the two had a violent collision pursuing a fifth-inning fly into shallow right field by Baltimore Orioles shortstop Mark Belanger. Dade was carried off the field on a stretcher and spent the night at Cleveland's Lutheran Medical Center with a mild concussion and a severe bruise on his left thigh. The next day he left the hospital on crutches and was sent home to Seattle. Dade finished his rookie season with career highs in at-bats (461), runs (65), hits (134), RBIs (45), and batting average (.291). Because he had spent more than 45 days on the Angels major-league roster in 1976 he was ineligible for Rookie of the Year consideration.
Dade opened the 1978 season in blistering form. He cracked a solo home run on Opening Day in an 8-5 win against the Royals to launch a 10-game hitting streak. Three days after the streak ended, Dade connected for his only major-league grand slam, a game-winning drive to deep left field in Toronto's Exhibition Stadium against Blue Jays left-hander Jerry Garvin. By May 3 Dade's seven doubles and .321 average both placed among the league leaders. But his season quickly turned into a roller coaster when a 20-for-38 run was preceded by a 5-for-49 drought due in part to a knee injury he sustained in May. The seesaw campaign affected his play in the field as Dade placed among the league leaders with seven errors in right field. His confidence suffered a further blow when he stumbled to a .161-0-3 line in his last 56 at-bats. "[Torborg] believe[s] in me, but I don't know about the front office," Dade confided. "I still don't feel real secure. The only thing I can do to convince the others is to keep doing my job."13
The offseason acquisition of Bonds immediately locked down the Indians' right-field job and in the spring of 1979 Dade was left to compete with four others for the left-field post. The job was won by sophomore Ted Cox until the converted third baseman struggled out of the gate. On May 4 Dade got his first start in left field and hit safely in nine of his first 11 games. On May 27 he led the charge against reigning Cy Young Award winner Ron Guidry with a perfect 3-for-3 day including a home run and three RBIs in a 5-0 win over the Yankees. Eight days later Dade collected four hits and scored the winning run in the 14th inning against the Athletics. He appeared to have won the left field job when, on June 14, he was traded to the San Diego Padres for first baseman Mike Hargrove. "Up until a few weeks ago, I wanted to be traded," Dade confessed. "[But] I started getting hot at the plate and playing regularly and the team started winning. … I hate to leave it."14
Dade's reluctance to leave Cleveland was countered by San Diego's hope that he would lock down the club's third-base position – 39 players had gone through the turnstile at the hot corner since the Padres' inception in 1969. The club also looked to Dade and outfielder Jay Johnstone, who was acquired from the Yankees a day later, to ignite a feeble offense. Except for a doubleheader against the Atlanta Braves on June 27 Dade reached base in each of his first 20 games with the Padres, a successful run that included a nine-game hitting streak. He missed some time in July after being hit in the hand by a pitch from Philadelphia Phillies right-hander Nino Espinosa, but came roaring back in August with a career-best 12-game hitting streak. The streak included a 10th-inning pinch-hit double on August 27 off future HOF reliever Bruce Sutter to give the Padres a 5-4 walk-off win over the Cubs. Four weeks later Dade had a perfect 4-for-4 day at the plate with a HBP, two doubles, three runs scored, an RBI, and three stolen bases in leading his club to a 10-8 win against the Los Angeles Dodgers. He finished the season with a .278 average in 453 at-bats while achieving career highs in doubles (23), homers (4), steals (25), and total bases (167).
During the offseason, the Padres busied themselves in trades and free-agent signings to improve upon the 93 losses suffered in 1979. One of the more curious acquisitions was the $200,000 purchase of veteran third baseman Aurelio Rodriguez from the Tigers, a move that seemingly bumped Dade from the starting lineup. But broadcaster-turned-manager Jerry Coleman had other plans. "[I] envision a lot of playing time for fleet Paul Dade … fill[ing] in at third base and in the outfield," said the rookie skipper before the 1980 season.15 Coleman's vision did not come to fruition when Dade earned just four starting assignments through the first two months of the season. With spotty play, he struggled to keep his batting average above .200 and vehemently protested when he was sent to the Hawaii Islanders in July with pitcher Dennis Blair to clear roster space for veteran hurlers Rick Wise and Randy Jones, who were coming off the disabled list. Dade returned in August and made two appearances as a pinch-runner before he was sidelined by a nerve problem in his right elbow. He saw sparing use thereafter. On October 5 the last day of the season, he entered a game against the San Francisco Giants in the third inning in place of left fielder Gene Richards. Dade drew a one-out walk in the fourth and came around to score the go-ahead run in a 7-3 Padres win. It proved to be his last game in the majors when, two months later, he was released.
Dade cleared waivers and in 1981 signed with the Hanshin Tigers in the Japan Central League. He played in 37 games alongside former major-league first baseman Doug Ault before an argument with his manager over playing time resulted in his release. A year later Dade got the opportunity to play closer to home when he was signed by the PCL's Portland Beavers, a Pittsburgh Pirates affiliate. His playing career ended when he was let go at midseason. Dade returned home, where he began a 27-year career as a machine operator with a box-making company outside of Seattle.
In 1978 he had married Valorie Evans in King County, Washington. The union produced a son and a daughter before they divorced shortly after his playing career ended. In 1996 Dade married Celia Austin-Goble, a Connecticut native who grew up in Seattle. They bonded over sports, and Dade raised her three children as his own.
A lifelong sports addict, Dade was an avid fan of the Mariners and the National Basketball Association's Seattle Supersonics before the latter club parted for Oklahoma City in 2008. But finding the ticket prices too dear, he rarely attended a game. In 2013 Dade and his wife filed for Chapter 13 bankruptcy16 due in part to the financial stress incurred when a cancerous kidney was surgically removed eight years earlier. Dade ultimately lost his battle to cancer on August 25, 2016, four months before his 65th birthday. The happiness he found throughout his life mirrored the inspirational note he posted to his locker throughout his career: "[T]he true measure of success is not what I can do compared to others, but what I can do in comparison to my own best self."17 Dade was cremated and his ashes were preserved by his family in a California Angels urn.
"I worked hard for what I've got," Dade once said. "All I ever wanted was an opportunity to prove I can play in the big leagues."18 Following a long haul through the minors, Dade got an opportunity to play regularly in only two of his six years in the major leagues. He batted .270 with 7 triples and 57 stolen bases in 1,313 career at-bats.
Last revised: July 15, 2021 (zp)
Acknowledgments
The author wishes to thank Pete J. Richmire, the ballplayer's stepson, and Larry Lester, chair of the SABR Negro Leagues Committee, for their valuable assistance. Further thanks are extended to Len Levin for review and edit of the narrative.
Sources
Ancestry.com.
Notes
Born
December 7, 1951 at Seattle, WA (USA)
Died
August 25, 2016 at Seattle, WA (USA)
If you can help us improve this player's biography, contact us.
http://sabr.org/sites/default/files/DadePaul.jpg
600
800
admin
/wp-content/uploads/2020/02/sabr_logo.png
admin
2016-12-22 14:26:09
2021-07-15 08:22:35
Paul Dade