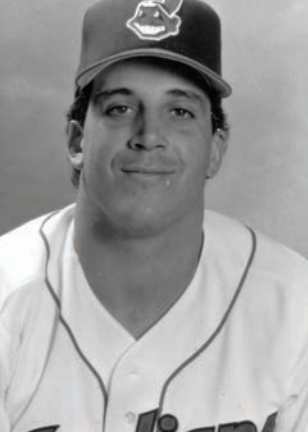 ---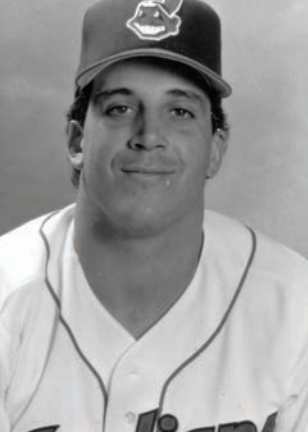 Paul Sorrento was with the Cleveland Indians for four seasons, during which they rose from fourth place (76-86) in 1992 at dingy old Cleveland Stadium (nicknamed "the Mistake by the Lake") to first place (100-44) in 1995 at their new ballpark, Jacobs Field.
Paul Anthony Sorrento was born on November 17, 1965, in Somerville, Massachusetts, the youngest of three children and the only son.1 His mother, Margaret Helen (Reuter) Sorrento, saw him play at Fenway Park for the Twins and Indians, but died of cancer on May 9, 1994, two months shy of her 58th birthday, the season before Paul made it to the World Series. She had battled cancer for four years. Not long after her death he said, "It would be nice just to be able to talk to her after you have a good game. Not to talk about the game, but you know." 2
The family lived in Peabody, Massachusetts, when Paul was growing up, and his father, Tony, followed his progress through high school, where Paul starred on the gridiron as well as the diamond. Speaking about Paul's football prowess, Paul said that when the opposition tried to get around his defensive position, "you could hear the sound of the hits in the stands." In his senior year at St. John's Prep, Sorrento was named to the 1982 Boston Globe All-Scholastic Football team. Switching to baseball the following spring, he was his team's MVP, batting .442 with five homers in 17 games, and was named to the Globe's All-Scholastic baseball squad.
During the summer months, he honed his baseball skills at a camp in New Hampshire run by former Red Sox players Jerry Moses and Mike Andrews. They wrote to colleges and helped Sorrento get into Florida State University, where he hit 17 home runs as a freshman. But his coaches felt he was a one-dimension player. In the words of Coach Mike Martin, he "hit our fall conditioning program hard. He lost weight, got stronger, and picked up some quickness. By his junior year, he was the straw that stirred our drink."3
As a junior, Sorrento led number-one ranked FSU with 22 home runs and 86 RBIs. In the Metro Conference championship game, against South Carolina, his homer and single propelled his team to a win that gave them a berth in the 1986 NCAA Regionals.4 They swept through the regionals to advance to the College World Series for the first time in six years, and lost to Arizona in the title match. Sorrento had a grand slam in an earlier loss to Arizona, but provided a single and a double as his squad came back to defeat Oklahoma State 6-5 in an elimination game that kept them alive in the tournament.
After his junior year, Sorrento was selected by the California Angels in the fourth round of the 1986 amateur draft and was signed by scout Al Goldis.
His first stop was at Quad Cities in the Class A Midwest League, where he batted .356 in 53 games but did not have enough plate appearances to qualify for the batting crown. He was moved to Palm Springs in the California League before the end of the season and stayed with the team through the 1988 season. He had a weak 1987 season, and got off to a slow start in 1988, batting.257 with 5 homers and 40 RBIs at the All-Star break.5 However, he went on a second-half surge and lifted his season's batting average to .286 with 14 home runs and 99 RBIs.
After the season Sorrento was traded with minor-league pitcher Rob Wassenaar and little-used relief pitcher Mike Cook to the Minnesota Twins in a deal that brought Bert Blyleven and minor-league pitcher Kevin Trudeau to the Angels. After spending spring training with the Twins in 1989, he was assigned to Orlando of the Double-A Southern League and led the league with 35 doubles and 112 RBIs. He hit 27 home runs and earned a spot on the circuit's All-Star team.
A late-season call-up, Sorrento made his major-league debut on September 8, 1988, walking as a pinch-hitter against Kansas City. On September 12 against Toronto, he had his first major-league hits, both off Todd Stottlemyre, going 2-for-4.
Sorrento split the next two summers between Minnesota and the Triple-A Portland Beavers. With Portland he batted .302 and .308 and mustered 32 home runs over the two seasons, but with the Twins, his numbers were not stellar. In 1990, after starting the season with Portland, he was recalled on June 22, and hit his first major-league homer on June 24 off Storm Davis of Kansas City. After batting.200 in 23 games, he was sent back to Portland on July 19. He was recalled at the end of August and finished 1990 batting .207 with 5 homers and 13 RBIs for the Twins. One of the home runs was the Twins' first pinch-hit home run of the season. The game-winning 10th-inning two-run blast came in a 3-1 win at Oakland on September 13. Sorrento said, "I was just basically trying to get a hit, not a home run. I was just trying to keep the rally going, honestly."6
In 1991 Sorrento was once again optioned to Portland at the beginning of the season and recalled on July 1. On July 11, he had another pinch-homer, this time against the Red Sox, to cement a 7-3 win. Two days later, he was sent back to Portland, and returned to the Twins in September. In September he batted .294 in 20 games with 3 homers and 9 RBIs as the Twins concluded their worst-to-first run and won the AL West by eight games. In his only at-bat in the LCS, he stuck out as a pinch-hitter in Game Three. The Twins advanced to the World Series and Sorrento went 0-for-2 with a walk in three pinch-hitting appearances as the Twins beat the Atlanta Braves in seven games. With Kent Hrbek holding down first base for the Twins, Sorrento did not fit into their plans and before the 1992 season he was dealt to the Cleveland Indians for Curt Leskanic and Oscar Munoz.
Sorrento spent four years with the Indians. He was the regular first baseman in 1992, and on Opening Day got the first hit at the new Orioles Park at Camden Yards, a single off Rick Sutcliffe. On May 17 he had his first career multi-homer game, blasting two off former teammate Kevin Tapani. Over the course of his career, Sorrento homered twice in a game 10 times. He ended the season with a .269 average and 18 home runs. In 1993 he again had 18 homers along with 65 RBIs and a .257 batting average. That season he slugged the first of his nine career grand slams, on June 25 off Tom Gordon of Kansas City.
In 1994 Sorrento rocketed two homers in a 6-5, 10-inning win over the Angels on April 13, and batted .286 with 3 homers and 18 RBIs in April as the Indians, in their new ballpark, won 13 of their first 22 games and were tied for the lead in the Central Division of the American League. In May he missed five games after his mother died, and his average sank to .237 on May 17. But he was encouraged when his leadoff ninth-inning homer on May 27 was the difference in a win over Oakland. "That's probably the first one I've hit like that in the ninth. I hope there's many more to come."7 He caught fire in July and hit five homers in as many games between July 19 and 23, bringing his total to the season to 12 and lifting his batting average from .261 to .275. On the 19th he slugged two homers and had five RBIs. Through August 10, Sorrento had 14 homers and 62 RBIs, and was on a pace to set career highs in both figures. His .280 batting average was his highest to date. And the Indians were on the way, possibly, to a postseason berth for the first time in 40 years when the players strike ended the season.
Just before the strike Sorrento found himself in the middle of controversy. Teammate Albert Belle had been suspected of corking his bat. Umpire Dave Phillips had confiscated Belle's bat. Before he could send it to league headquarters to be examined, it disappeared and was replaced by one of Sorrento's bats. Belle claimed that there was no switch and that he had been using Sorrento's bat. His argument did not convince league officials and he was suspended.8 Sorrento, unwittingly in the middle of the mess, commented, "I was sure he was using my bat, but they've changed bats so many times since then, I don't know now. Maybe we should call in Judge Wapner."9
During his early years with the Indians, Sorrento met Melissa Thacker while the team was on the road in Kansas City. They were married on October 29, 1994, and settled in Largo, Florida.
In 1995, when Cleveland completed its evolution into a winning team, Sorrento was part of a first-base platoon, sharing playing time with Dave Winfield, Eddie Murray, and newcomer Herbert Perry. The left-handed-hitting Sorrento got into 104 games, slugged 25 homers and batted in 79 runs with only 76 hits. Of his team, he said, "It's like night and day. We were a bad team and now we're winning. It's a lot of fun to be part of it."10
The evening of June 4 was a major turning point, and Sorrento was a major factor. The first-place Indians were hosting Toronto and the Blue Jays jumped off to a 7-0 lead in the first inning. With David Cone pitching for Toronto, the Indians began to cut into the lead. A run in the third, two runs in the fourth, two runs in the fifth, and a run in the sixth made the score 8-6 Toronto. In the bottom of the ninth, the Indians had a run to make the score 8-7. Sorrento came to the plate. Looking back on the moment, he said, "You could have bet the mortgage that we wouldn't have come back, but even the fans seemed to sense something. They stayed around and started getting louder and louder in the eighth and ninth inning. You just sit back and say to yourself, 'This kind of thing (the comeback) will end one day,' but it hasn't."11 Sorrento swung and ended the game with a two-run homer to right field off Darren Hall. The 9-8 win kept Cleveland's division lead at five games.
But it was frustrating not to be playing every day. "I've accepted it for the team," he said. "I'm not happy with it. But I'm accepting it for the team."12 Although he hit with power, he batted only .235 as the Indians won the AL Central Division race and advanced to the postseason for the first time since 1954.
Sorrento batted .300 in the Divisional Series as the Indians swept the Red Sox. In Game One he singled off Rick Aguilera. In Game Two, he walked in the fifth inning and scored the only run the Indians would need as Orel Hershiser pitched a 4-0 shutout. In the next game, Sorrento's single in the sixth inning plated the first of five sixth-inning runs as Cleveland broke things open, winning 8-2 to advance to the League Championship Series.
Sorrento, despite hitting only .154 in the LCS and staying on the bench when lefty Randy Johnson pitched for the Seattle Mariners, was a factor in his team's win over Seattle. In Game Two he scored two runs as Cleveland won and evened the series at 1-1.The Indians won the series in six games and faced Atlanta in the World Series. In the Indians' seven-game loss, Sorrento batted.182. When his pinch-hit fly ball fell into the waiting glove of Braves center fielder Marquis Grissom for the second out of the ninth inning in Game Seven, he had taken his last swing as a member of the Cleveland Indians.
The Indians chose not to pick up Sorrento's option after the season, electing to go with veteran Eddie Murray at first base. Sorrento signed with He replaced Tino Martinez, who had been traded to the New York Yankees.
Sorrento was looking forward to playing regularly. In his last two years with Cleveland, he had played in only 199 of his team's 257 games. Before the season he said, "I'm looking forward to the challenge of getting 500-600 at-bats. That's something I've never done in my career. I was a role player in Minnesota. I never got too many at-bats there. I got more in Cleveland, but it was about the same. I'm coming over to a good club that has some great players. I'm looking forward to helping this team win."13
In 1996 Sorrento got off to a slow start. Although he had a two-homer game on April 6, his average was only .229 at the end of April. He turned things around in May, batting .361 with five homers, but the Mariners had yet to catch fire, and on May 14 were victimized by Dwight Gooden's no-hitter. Sorrento reached base in the second inning on one of six walks issued by Gooden. In the top of the ninth inning, Seattle put runners on second and third and Sorrento came to the plate as the lead run. When his popup fell into the waiting glove of Derek Jeter, the Yankees had a 2-0 win and Seattle was in second place, 5½ games out of first in the AL West.
They were still in second place, three games over .500, when May came to a close, but Sorrento was about to really catch fire. His average for the season went over .300 when he hit in 11 consecutive games (21-for-44) in June, and as late as August 20, he was batting .300 with 20 homers and 72 RBIs. But on that date, the Mariners were essentially a .500 ballclub, trailing the division-leading Texas Rangers by seven games.
The deficit grew to nine games on September 11 but the Mariners were not about to give up. They won 10 in a row, including a four-game sweep of first-place Texas to pull within one game of the division lead. In the 10th win, on September 21, the Mariners went on a homer barrage in the third inning that prompted Tom Verducci of Sports Illustrated to write, "Pitching to the Seattle Mariners is like ordering coffee with extra sugar at one of Seattle's ubiquitous coffee shops. You take your lumps and end up feeling buzzed."14 In the space of four pitches, Oakland's Dave Telgheder gave up home runs to Alex Rodriguez, Ken Griffey Jr., and Edgar Martinez and took a 6-0 lead. Martinez's blast tied the team record for extra-base hits in a season (580), set by the Yankees in 1936. After Jay Buhner struck out, Sorrento came to the plate against Telgheder and hit a homer that gave the Mariners the extra-base-hit record.15 They finished the season with 607 extra-base hits.
During the 10-game winning streak, Sorrento hit in seven consecutive games. But the team could not keep up the momentum and lost six of its last eight games to finish in second place, 4½ games behind the Rangers. For the season, Sorrento batted a career-high .289 with 23 homers and a career-high 93 RBIs. He played in 143 games and had a career-high 471 at-bats.
In 1997 the story had a happier ending. Sorrento made it to the postseason for the third time in seven years when the Mariners won the AL West. Although his average slipped to .269, he contributed 31 home runs (with 80 RBIs), and was one of six Mariners to hit at least 20 home runs as Seattle hit a record 264 homers. During the season, Sorrento became a father for the first time when his son, Ashton, was born on July 19. Not only was Sorrento hitting for power, but he was fielding his position well. He made only four errors all season and was second in the league in fielding percentage (.996).
In the Divisional Series against Baltimore, Sorrento was 3-for-10 with his only postseason home run. The Mariners lost the best-of-five series in four games
In two years with the Mariners, Sorrento enjoyed playing in the Kingdome and hit 54 home runs, 31 of them at home. "It's a real good hitter's park, one of the better ones in the league, so that's obviously helping, and batting on turf helps out as well, so there are a lot of advantages to hitting in the Kingdome," Sorrento said in 1996.16
After the season Sorrento became a free agent and signed with the expansion Tampa Bay Devil Rays. After signing, he said, "It feels good to be wanted. With the players they've signed, it shows that management is as serious about winning as the players."17
He became the Devil Rays' first designated hitter on Opening Day 1998 and hit the team's first grand slam on May 3, part of a 4-for-5 game in which he had six RBIs, a team record that stood until 2007.18 Most of his appearances were as a DH and he batted .225 with 17 homers and 57 RBIs. Despite a lineup that included names like Wade Boggs and Fred McGriff, the team finished last in the AL East, 36 games below .500.
In his second season with Tampa Bay, Sorrento batted .235 with 11 homers and 42 RBIs in 1999. His 491-foot homer on May 19 against the Rangers at the Ballpark in Arlington was the longest home run ever hit at the ballpark. Paul and Melissa welcomed their second child, Arabella, in August. That season he played in 99 games, but was the designated hitter in only seven of them, otherwise playing left field and first base. The 33-year-old Sorrento batted.235 with 11 homers, and the Devil Rays did not pick up his option after the season.
In 2000 Sorrento went to spring training with the Kansas City Royals but was released at the end of spring training as the Royals found his defensive skills subpar. He signed with the Sacramento River Cats, the Oakland A's affiliate in the Pacific Coast League, and batted .273 with 6 homers and 32 RBIs in 40 games. He retired at the end of the season.
For his major-league career, Sorrento batted .257 with 166 home runs and 565 RBIs.
In 2012, after a dozen years away from baseball, Sorrento became the hitting coach of the Inland Empire 66'ers, an Engels farm team in the California League. The next season he was the roving hitting instructor for the Angels. He was slated to be in that role again in 2014, until major-league hitting coach Don Baylor broke his femur in a freak injury while squatting to catch the ceremonial first pitch from Vladimir Guerrero on Opening Day, March 31, putting him on the shelf for 12 weeks. Assistant hitting coach Dave Hansen took over for Baylor, and Sorrento was added to the coaching staff to assist him.19 Once Baylor rejoined the Angels in June, Sorrento resumed his duties as a rover, continuing in that role through the 2015 season. When Hansen was named hitting coach for the Angels for the 2016 season, succeeding Baylor, who had been fired, Sorrento was named assistant hitting coach.20
During Sorrento's time with the Mariners, his family relocated to Washington State. As of 2015 they were living in Issaquah, a suburb of Seattle.
This biography was published in "1995 Cleveland Indians: The Sleeping Giant Awakes" (SABR, 2019), edited by Joseph Wancho.
Sources
In addition to the sources cited in the Notes, the author also relied on Ancestry.com, Baseball-Reference.com, Sorrento's file at the National Baseball Hall of Fame Library, and these articles:
Newnham, Blaine. "Sorrento Wants a Chance: M's Will Oblige," Walla Walla (Washington) Union Bulletin, March 5, 1996: 13-14.
Morgan, David Lee Jr. "Even Better at 31: Former Indian Sorrento Continues to Improve as Mariners' First Baseman," Akron (Ohio) Beacon Journal, July 24, 1997: B1.
Notes
1 Tony Massarotti, "Sorrento's Fan Club a Family Affair," Boston Herald, April 16, 1993.
2 Terry Pluto, "Sorrento Plays Through Pain of Loss," Akron Beacon Journal, August 6, 1994.
3 Paul Hoynes, "Platoon Leader: Indians Sorrento Still Sits Against Lefties, but Other Things Are Going Right, Cleveland Plain Dealer, June 25, 1995: 1D.
4 Index-Journal (Greenwood, South Carolina), May 12, 1986: 12.
5 San Bernardino (California) County Sun, August 13, 1988: C5.
6 Santa Cruz (California) Sentinel, September 14, 1990: B1.
7 Post-Standard (Syracuse, New York), May 28, 1994: C4.
8 Hoynes, "Ump Says Bat He Took From Belle Was Swiped, Cleveland Plain Dealer, July 17, 1994: 1A.
9 Thomas Stinson, "Belle's Cork Chicanery Does Baseball's Underbelly Proud," Atlanta Journal Constitution, July 23, 1994: D2.
10 Hoynes, "Platoon Leader."
11 Ibid.
12 Ibid.
13 Larry Whiteside, "It's a Fresh Start in New Home as Sorrento Hits Kingdome," Boston Globe, March 25, 1996.
14 Tom Verducci, "What a Week! Seven Days in September Were Filled With Feats on the Field and Pennant Fever from Coast to Coast, Just Like in the Old Days," Sports illustrated, September 26, 1996.
15 Bob Sherwin,"10 in a Row, M's Show Might but Gain No Ground," Seattle Times, September 22, 1996: D1.
16 Jim Greenidge, "A Hot Time for Sorrento," Boston Globe, May 23, 1996.
17 Fred Goodall, Associated Press, December 9, 1997.
18 Marc Lancaster, "Rays Go Batty on Baltimore," McClatchy-Tribune Business News (Washington, D.C.), September 6, 2007.
19 Greg Beecham, Associated Press, April 2, 2014.
20 Los Angeles Times, November 4, 2015: D7.
Born
November 17, 1965 at Somerville, MA (USA)
If you can help us improve this player's biography, contact us.
https://sabr.org/sites/default/files/SorrentoPaul.jpg
600
800
admin
/wp-content/uploads/2020/02/sabr_logo.png
admin
2012-01-04 20:25:01
2012-01-04 20:25:01
Paul Sorrento