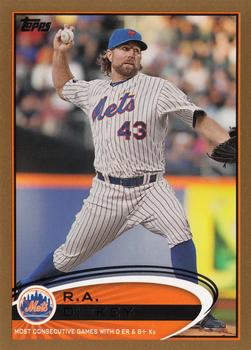 ---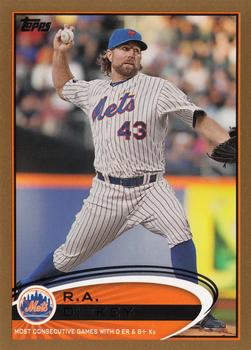 "For me, it's not about an All-America award or other accolades, it's about my experiences," R.A. Dickey told a baseball luncheon audience at Lipscomb University in Nashville, Tennessee, in 2007. "Sometimes you are not as bad as you feel nor are you as good as you might think you are. It is more important to have a purpose, be it in faith or in baseball, but in all things to have joy in it.
"I try to glean wisdom from a game and apply it to my life."1
His purpose is being a husband, father, competitor, and philanthropist. But it all began when he became a star athlete in high school as a quarterback, shooting guard, and pitcher/shortstop.2
Robert Allen Dickey was born in Nashville on October 29, 1974, to Harry Dickey, a construction worker, and his wife, Leslie, a receptionist.
His athletic talent shined brightly. On June 30, 1993, R.A. tossed a seven-inning perfect game for Nashville's Montgomery Bell Academy, striking out 14, to improve his record to 8-1. It was his third no-hit game of the season.3 A football and basketball star, in his 1993 senior season he struck out 112 in 60 innings4 and had a 15-3 record for the AAA state championship Big Red.
The accolades continued to pour in: Tennessean All-Metro (twice), All-State, Tennessee Baseball Player of the Year, Most Valuable Player in the AAA tournament.5 Dickey's success caught the attention of the baseball scouts, and he was drafted by Detroit in the 10th round of the 1993 June Amateur Draft. He passed up the Tigers opportunity to fulfill another dream: to pitch for the University of Tennessee.
College meant taking on a weight-training regimen, something he had never participated in. "I go from 175 pounds to 210 pounds, and my fastball jumps from the 87- to the 89- to the 93- to the 94-miles-per-hour range. I'm still not a prototypical, strike-out-the-side power pitcher, but I can bring enough heat that it makes my breaking pitches and changeup more effective."6
Travis Copley, a Vols teammate, called Dickey one of the fiercest competitors he ever knew. "He had to win at everything: team basketball, conditioning tests, everything. He did more for me in understanding how to compete, and really had a fierce, built-in bulldog mentality about winning."7
Dickey's college career record was 38-10 with a 3.40 ERA; the Volunteers won three SEC baseball titles and made an appearance in the College World Series. He was named Baseball America's 1994 Freshman of the Year, was All-SEC twice, was a three-time All American, an Academic All-SEC, and Academic All-American.8 He was named to the U.S. national baseball team for the 1996 Olympics, which won a Bronze Medal.
The Texas Rangers made Dickey the 18th player selected in the 1996 amateur draft, and were ready to reward his signing with an $810,000 contract. The 6-foot-3, 215-pound right-hander would throw out the first ball at a Rangers home game, and the signing was scheduled to happen before the event.
But when the Rangers' trainer, Danny Wheat, noticed a peculiar position of Dickey's elbow in a Baseball America cover photo,9 he notified Dr. John Conway, the team orthopedist.10
It was discovered that the pitcher had no ulnar collateral ligament in his right elbow, and doctors were baffled that he could throw at all.11 The Rangers backed off their offer. Surgery was imminent, and Dickey decided to go back to college and play baseball his senior year.
The day before Dickey was to head back to college, the Rangers replaced their offer with one for $75,000 and medical help.12 Dickey accepted it. His journey to the majors would be a long one.
Assigned to Port Charlotte to begin his professional career, in 1997 and 1998, Dickey won only one game in each season, but struck out nearly one batter an inning. Oklahoma City and Tulsa were his destinations for the next two seasons, and in 2001 he was called up to the Rangers.
On April 22, 2001, Dickey made his major-league debut in the top of the ninth inning at Arlington Stadium facing the Oakland third baseman, Mark Bellhorn. A flyout and two popups later, he had played in his first game to aid an 11-2 win over the A's.
With three relief appearances under his belt, on May 7 Dickey entered a game against the Chicago White Sox with no outs in the top of the first inning. Starting pitcher Darren Oliver had been hit on the thumb by a line drive by leadoff batter Tony Graffanino, and manager Jerry Narron called on Dickey. He allowed six runs in 4⅔ innings and collected his first career loss as Chicago won 7-4 over Texas.
Returned to Oklahoma City, Dickey was 11-7 with a 3.75 ERA for the season, striking out 120 in 163 innings. He began 2003 with Oklahoma but was called up after three appearances, and won a position on the Rangers pitching staff as a long reliever. By July he was in the starting rotation.13
Dickey had begun to throw an unusual forkball he named "the thing." In truth, it was a hard knuckleball. Former knuckleballer Charlie Hough began to work with him to change his grip.14
In an interview in 2012, Dickey explained Hough's knuckleball experience: "Charlie Hough told me the first day that I met with him: "It took me one day to learn how to throw a knuckleball and a lifetime to learn how to throw it for strikes."15
On August 20 at Detroit's Comerica Park, Dickey pitched his first career shutout, holding the Tigers to six hits and a walk, and moving his record to 8-5. Two days earlier, he had earned his first career save, also against Detroit, retiring Bobby Higginson, Dmitri Young, and Carlos Peña on 11 pitches in the 16th inning.16 The Rangers had scored two runs in the top of the inning, and won the game, 4-2.
By the end of the 2003 season Dickey was 9-8 but his ERA had ballooned to 5.09. In spring training in 2004 he earned a roster spot and made his first start of the new season on April 9 at home against Anaheim. Holding the Angels to six hits in seven innings, he won and allowed no earned runs although the opposition scored three runs in the second inning on two errors by Michael Young and a home run by Adam Kennedy.
On May 2 at Arlington Stadium against the Boston Red Sox, Dickey pitched well for 8⅔ innings before giving way to Francisco Cordero with the bases loaded. The Rangers won 4-1, and Dickey's record improved to 4-1. In August he was sent to Frisco (Double-A Texas League) and pitched in four games before being recalled to complete the season with the Rangers at 6-7, 5.61.
In May 2005, after spending time on the 15-day disabled list, Dickey was optioned to Oklahoma once again, and was 10-6 before being being recalled again. In four September appearances, he gave up 17 earned runs, winning one and losing one. His velocity was beginning to slow down.
"When Orel [Hershiser] was a pitching coach in 2003 and, you know, there was some real hope for me to become maybe a fourth or fifth starter, a really good swingman, I was low 90s — you know, high 80s, low 90s, and could really change speeds well. But in 2004, 2005, I just started — the velocity started dropping from low 90s to max 88, to max 86. I'd run out of gas as a conventional pitcher [with the Rangers] and was kind of just hanging on, just trying to survive as long as I could before I felt like the inevitable call would come."17
In the fourth game of the 2006 season, Dickey started against Detroit at Ameriquest Field in Arlington, and lasted 3⅓ innings. After giving up home runs to Brandon Inge and Magglio Ordonez in the first, Chris Shelton in the second, and Shelton (again), Craig Monroe, and Marcus Thames in the third, he was yanked. It was Dickey's last appearance in a Texas Rangers uniform.
Again he spent the balance of the year at Oklahoma. He was let go on October 11 after going 9-8 with only 61 strikeouts in 131⅔ innings.
On January 10, 2007, Dickey signed with the Milwaukee Brewers and was assigned to Triple-A Nashville. By then he had perfected his knuckleball grip, and his reputation as a solid pitcher returned. With a 13-6 record, he lowered his ERA to 3.72 with 6.3 strikeouts per nine innings. Dickey was named the Pacific Coast League pitcher of the year.
"The Brewers say that they don't have a roster spot for me but tell me to stay ready in case they need me for the pennant race in September," he recalled in an autobiography published in 2012. "They are fighting for a divisional title and I am their top minor-league pitcher and they don't want me. You try not to take it personally, but how can you not?"18
He did not receive a call from the Brewers, and was let go on October 29. A curious chain of events soon occurred.
With hints of an offer to play for the Samsung Lions in the Korean Baseball League, Dickey signed with the Minnesota Twins for $525,000 in November 2007, and on December 6 was drafted by the Seattle Mariners from Minnesota in the Rule 5 draft. On March 29, 2008, he was returned to the Twins by the Mariners, then traded back to the Mariners for Jair Fernandez.
Dickey wondered about plot twists in his baseball life.
"I report to Mariners spring training in Peoria, Arizona, and have one of the best springs of my life. I pitch as both a starter and a reliever. They put me out there in every situation they can. My knuckleball holds up well, and I know it's dancing because Kenji Johjima, the Mariners catcher, catches about three of every ten knuckleballs I throw," he said in the 2012 autobiography.19
But disappointment followed, as Dickey failed to make the club and was sent to Triple-A Tacoma. Then he was recalled by the Mariners in mid-April. With Boston due to appear in Seattle at the end of May, he knew Red Sox knuckleballer Tim Wakefield was on the club.
"He's the best knuckleballer in the game — and the only full-time one besides me. I get to the park early on Memorial Day afternoon and write a note to Tim, asking if we might get together and talk for a bit…
"Meet me behind the plate in ten minutes, Tim says."
They talked for 45 minutes, discussing grip, spin, even how he keeps his fingernails.
"Knuckleballers don't keep secrets."20
Dickey finished the 2008 season 5-8. He was nontendered on December 9 and a few weeks later, at the age of 34, was signed by the Twins and invited to spring training. He pitched in 35 games (one as starter) for Minnesota before being sent to Rochester, ending the season with five starts for the Red Wings but without a September call-up. Instead, he became a free agent once again before the New York Mets came calling.
On December 21 Dickey signed a minor-league deal with the Mets. When the season began he was with the Triple-A Buffalo Bisons. On April 29, in a home game against the Durham Bulls, Dickey threw a knuckler to leadoff batter Fernando Perez on an 0-and-2 count. He recalled:
"He gets under it and pops it weakly over second base. It plops in for a single.
"I retire the next twenty-seven hitters in order. A perfect game, with one mulligan."21
Five weeks into the season, Dickey had a 4-2 record with a much-improved 2.23 ERA, striking out 37 batters in 60⅔ innings and walking only eight. The Mets called him up, and on May 19 in Washington, he started against the Nationals. He pitched six innings, allowing five hits, and gave up two earned runs before giving way to Raul Valdes in relief. Dickey got a no-decision but he was in the major leagues to stay.
On August 13 he held the Phillies to one hit, by pitcher Cole Hamels, in a 5-1 home win. By season's end he had started 26 games, appearing in relief only once. He finished 11-9 with an ERA of 2.84, seventh-best in the National League.
In 2011 Dickey's record fell to 8-13 and his ERA climbed to 3.28, but he had134 strikeouts. In his last start of the season, against Philadelphia at Citi Field on September 24, Dickey tossed 6⅓ innings of no-hit ball until Shane Victorino drove a double to left field.
Once the season was over, Dickey prepared for a journey of another kind: Mount Kilimanjaro — to benefit Red Light District Outreach Mumbai, which combats human trafficking in India. He included two friends, Kevin Slowey from the Minnesota Twins and Dave Racaniello, bullpen catcher for the New York Mets organization.
"I always thought it would be a fantastic pilgrimage to hike to the summit," Dickey said.22
Though the Mets advised Dickey to reconsider the climb, even telling him there would be risk of voiding his $4.25 million contract for 2012 if he were injured.23
Undaunted, he and his friends reached the summit on January 14.
On March 29, 2012, Dickey's first book, Wherever I Wind Up: My Quest for Truth, Authenticity and the Perfect Knuckleball (Penguin Press), was published. It includes a descriptive incident when, as an 8-year-old boy, he was sexually assaulted by his babysitter. In another occurrence, the offender was a teenage male.
In terms of Dickey's baseball success, the 2012 season was memorable. He led the National League with 223⅔ innings pitched, 230 strikeouts, 33 starts, five complete games, and three shutouts. He was 20-6, had a 2.73 ERA, and was named to the National League All-Star team. Selected NL Pitcher of the Year by The Sporting News, he also won the Branch Rickey Award in recognition of his community service. He captured the Cy Young Award as best pitcher in the National League, taking 27 of the 32 first-place votes and finishing with 209 points, well in front of 2011 winner Clayton Kershaw of the Dodgers (96 points).
On December 6, 2012, Dickey was named to receive the Tony Conigliaro Award. The award goes to a player "who has overcome adversity through the attributes of spirit, determination and courage that were trademarks of Tony C."24 Dickey obtained the recognition for confronting child sexual abuse, and prevailing over the lack of the ulnar collateral ligament in his right arm.25
As successful as 2012 may have been, the Mets finished in fourth place in the N.L. East division again, and on December 17, 2012, Dickey was traded to the Toronto Blue Jays.
His second book, Throwing Strikes: My Quest for Truth and the Perfect Knuckleball (Penguin Press), was published on March 26, 2013.
Dickey won 14 games while losing 13 for Toronto in 2013, and won the AL Gold Glove Award after leading the league in assists by a pitcher with 40. He duplicated his won-lost record in 2014 as his salary increased from $5 million to $12 million. In 2015 he was 11-11, but his record fell to 10-15 in 2016 as the Blue Jays won the AL East.
The team beat the Texas Rangers three games to two in the Division Series. Dickey started Game Four, allowing five hits and one run in 4⅔ innings as the Blue Jays beat the Rangers, 8-4. In the American League Championship Series he started Game Four and was the losing pitcher in the 14-2 loss to the Royals. He lasted only 1⅔ innings. Beating the Blue Jays in six games, the Royals went on to win the 2015 World Series.
In 2016 Toronto earned a wild-card slot against Baltimore, winning 5-2. The Blue Jays swept the ALDS from Texas, but lost the Championship Series to the Cleveland Indians in five games.
Dickey was not on the active roster for the postseason. Tom Dakers, Toronto blogger for SB Nation, explained why:
"After a crappy April, he was pretty good in the first half. His second half was terrible, and on a team with an embarrassment of riches in the starting pitching department, he was left off the playoff roster."26
As he pondered retirement, on November 3, 2016, Dickey was granted free agency for the fifth time. Atlanta wasted little time scooping him up: On November 10 he signed a two-year contract with the Braves worth $15,500,000.
Dickey's life and his faith walk have been committed to the "bulldog" mentality his former Tennessee teammate Travis Copley spoke of.
"You may hit me. You may knock me around and knock balls out of the park.
"But I am always going to get back up and keep coming at you."27
R.A. and his wife, Anne, have four children and as of 2016 resided in the Nashville area. He was selected to the Tennessee Sports Hall of Fame in 2013.
Last revised: March 1, 2017
Notes
1 Skip Nipper, "The Pride of Nashville: R.A. Dickey," 262downright.com, January 5, 2014. [Blog post]. Retrieved October 6, 2016, from 262downright.com/2014/01/05/the-pride-of-nashville-r-a-dickey/.
2 R.A. Dickey, Wherever I Wind Up: My Quest for Truth, Authenticity and the Perfect Knuckleball (New York: Penguin Group, 2012), 65.
3 The Tennessean (Nashville), May 1, 1993: 66.
4 The Tennessean, May 6, 1993: 26.
5 The Tennessean, June 1, 1993: 13.
6 Dickey, Wherever I Wind Up, 80.
7 Telephone interview with R.A. Dickey, December 1, 2016.
8 2015-16 University of Tennessee Baseball Media Guide
9 Ross Newhan, "Case of Missing Ligament Gets Draftee Out of Joint," Los Angeles Times, August 25, 1996. Retrieved October 9, 2016, from articles.latimes.com/1996-08-25/sports/sp-37663_1_collateral-ligament/.
10 R.A. Dickey, Throwing Strikes: My Quest for Truth and the Perfect Knuckleball (New York: Penguin Group, 2013), 84.
11 Alan Schwarz, "New Twist Keeps Dickey's Career Afloat," New York Times, February 27, 2008. Retrieved October 9, 2016, from nytimes.com/2008/02/27/sports/baseball/27dickey.html/.
12 Newhan.
13 The Sporting News, August 25, 2003: 46.
14 Schwarz.
15 Tim Kurkjian, "The Knuckleball Experiment," ESPN.com, December 1, 2012. espn.com/mlb/story/_/id/8677078/mets-pitcher-ra-dickey-orel-hershiser-making-knuckleballer-espn-magazine-interview-issue/. Accessed November 2, 2016.
16The Tennessean (box score), August 19, 2003: 18.
17 Kurkjian.
18 Wherever I Wind Up, 230.
19 Wherever I Wind Up, 246.
20 Wherever I Wind Up. 252.
21 Wherever I Wind Up, 283.
22 Jonathan Zeller, "R.A. Dickey on Embracing the Knuckleball and Preparing to Climb Mount Kilimanjaro," New York Magazine, November 1, 2011. ,nymag.com/daily/sports/2011/11/ra-dickey-on-preparing-to-climb-kilimanjaro.html. Accessed November 1, 2016.
23 Wayne Coffey, "NY Mets Starting Pitcher R.A. Dickey Completes Grueling Journey and Gets to the Top of Mt. Kilimanjaro," New York Daily News, January 15, 2012. nydailynews.com/sports/baseball/mets/ny-mets-starting-pitcher-dickey-completes-grueling-journey-top-mt-kilimanjaro-article-1.1006343. Accessed October 30, 2016.
24 Matt Pepin, "R.A. Dickey wins Tony Conigliaro Award," Boston.com. December 6, 2012. boston.com/sports/extra-bases/2012/12/06/ra_dickey_wins. Accessed November 27, 2016.
25 http://www.baseball-reference.com/bullpen/Tony_Conigliaro_Award, accessed November 5, 2016.
26 Tom Dakers, "On R.A. Dickey," Bluebird Banter.com. October 25, 2016. bluebirdbanter.com/2016/10/25/13406972/on-r-a-dickey. Accessed December 5, 2016.
27 Wherever I Wind Up, 3.
Born
October 29, 1974 at Nashville, TN (USA)
If you can help us improve this player's biography, contact us.
https://sabr.org/sites/default/files/DickeyRA-2012.jpg
600
800
admin
/wp-content/uploads/2020/02/sabr_logo.png
admin
2012-01-04 20:49:46
2022-11-22 13:17:57
R.A. Dickey