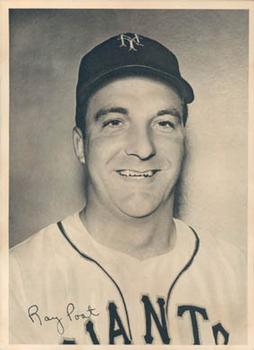 ---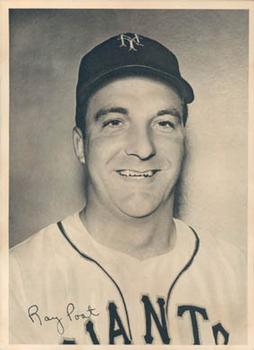 On the morning of August 27, 1947, Baltimore Orioles manager Tommy Thomas phoned Mel Ott to tell him that they had "bought the best pitcher in the International League" — Ray Poat. Thomas went on to warn the New York Giants skipper, "Only one thing, Mel, don't use Poat in relief. He's a starter and if you give him four days' rest, he'll be a whale of a pitcher for you."1 That would serve to be an ominous warning in the years to come.
Excluding the major leagues, the 6-foot-2 righty reached the postseason at every level of baseball. Oddly enough, the only time he didn't reach the postseason was when he was playing for a future Hall of Famer.2 Beginning in college, Poat's career was marked by a series of arm injuries that may have prevented him from reaching his full potential.
Raymond Willis Poat was born in Chicago on December 19, 1917, the youngest of three children. His father, Joseph Vander Poaten, had immigrated from The Hague, Netherlands, years earlier and the family name was shortened on Ellis Island.3
Joseph had a knack for throwing a baseball fast enough to pitch for the Kansas State Teachers' College team.4 Although he didn't become the next Walter Johnson, he did manage to pitch his way to a college education. Settling down in Chicago's Hyde Park neighborhood,5 Joseph and his wife, Grace (née Felthouse),6 would spend the next few years raising their three children: Jeanne, Wilbur, and Raymond.7
Life in Chicago during the Roaring Twenties has been well documented. In 1920 the 18th Amendment went into effect, prohibiting the sale of alcohol. By 1923 Al Capone took residency at 7244 S. Prairie Street,8 a few miles west of the Poat household, as mobsters began to take over the city.
Nevertheless, Raymond enjoyed a modest but stern upbringing on Chicago's South Side while attending Libby Grammar School.9 In 1929, around the time he was 11 years old, the Chicago Cubs were emerging as a National League powerhouse, appearing in four of the next 10 World Series (1929, '32, '35, and '38). With "a half-dozen radio stations broadcasting Cubs baseball throughout the upper Midwest,"10 the young, impressionable South Side student became a Cubs fan even though the Cubs played on the North Side of Chicago.11
Of course 1929 was also marked by the St. Valentine's Day Massacre just two miles south of Wrigley Field, and the stock-market crash, which led to the Great Depression of the 1930s. However, in the Poat family, that depression ran deeper than finances when Ray's mother died suddenly in 1932.12 With the passing of Grace, Ray's older sister took over her mother's responsibilities13 when 14-year-old Raymond entered Lindblom High School.14
Big for his age, Ray showed some athletic ability while playing baseball in the American Legion.15 He joined the high-school baseball team in 1933, and his teammates affectionately nicknamed him Baldy for his thick head of hair.16 He immediately made an impact on the team.17
In 1934 the Lindblom Eagles went to the City Championship, where they lost the title game to Harrison High School. It was Ray's first experience pitching in a major-league ballpark; the deciding game was played in Chicago's Wrigley Field.18 The following year, Lindblom lost the City Championship game to Senn High School, 6-4, though Ray struck out 11 batters.19 Not only did it mark Ray's second appearance in Wrigley Field, but he was also listed as a member of the high-school football team that defeated St. Leo, 6-0, to win the 1935 Prep Bowl in Chicago's Soldier Field.20
Life in the '30s was not easy. Money was always a concern, and the Poats were no exception. The idea that a working-class family on Chicago's South Side could send a young man to college was unfathomable, but as luck would have it, Ray was able to attend the University of Illinois. Although there is no evidence of a scholarship on file at his alma mater, one has to wonder, considering his athletic achievements in high school, along with his strong aptitude for learning. He did receive some financial support from his older sister, Jeanne.21
In the spring of 1936 the Illini freshman class featured two future major leaguers on their practice baseball squad, Poat and Lou Boudreau.22 According to Boudreau, "Freshmen weren't allowed to play varsity sports in those days."23 Former major-league outfielder Wally Roettger was the head coach of the varsity team. By 1937, with the constant turnover associated with collegiate sports, Roettger was forced to rely on the unproven talents of sophomore Ray Poat to be his Opening Day starter. Poat put those reservations to rest with a 9-2 victory over Bradley Tech.24 Ten days later, in a 3-1 win over Ohio State, he took a no-hitter into the seventh inning, leaving no doubt that he was the ace of the staff.25 On campus, Poat pledged to the Phi Kappa Psi fraternity while majoring in chemical engineering.26
In his final start of the Illini season, Poat began to express some concern about the pain in his pitching arm.27 Still on the mound in the sixth, Poat was struck in the left leg by a sharply hit ball and had to leave the game.28 He was done for the season as the Illini went on to win the 1937 Big Ten title.29 In 75⅔ innings pitched, Poat racked up 69 strikeouts against 12 walks.30 He won nine games without a loss, which remains as the highest winning percentage for a season in school history. While the team's success that season has been attributed to Lou Boudreau over the years, it was Poat who earned the Big Ten's Most Valuable Player Award.31
Early in the 1938 season Poat had season-ending surgery for a chipped bone in his right elbow.32 With third baseman Lou Boudreau declared ineligible to play collegiate ball for accepting money from the Cleveland Indians to support his parents,33 the Illini finished 8-8 for a sixth-place finish. Unbeknown to Poat at the time, the arm injury would mark the end of his collegiate career. While recovering from surgery, Poat married Alice Mae Baker on June 28, 1938.34 With a new wife to support, his college status in limbo, and his right arm now in question, Poat pondered his future in baseball.
One man who was willing to take a chance on Poat was Cy Slapnicka of the Cleveland Indians.35 The Indians signed Poat and assigned him to Leaksville-Draper-Spray of the Class D Bi-State League. The Triplets posted a 41-73 record in 1937, and slipped to 37-82 by 1938.36 But with the arrival of Poat in 1939, the Triplets finished 67-48, good enough to advance to the playoff finals, which they lost in six games to the Danville Leafs.37
Poat led the league with 42 appearances while posting a 15-4 record. He also led his team with 190 innings pitched, which indicated that his arm was back to strength and earned him a promotion to the Cedar Rapids Raiders of the Class B Three-I League in 1940. Poat was the starting pitcher in the Three-I League All-Star Game as the Raiders nipped the All-Stars, 5-4.38 Cedar Rapids defeated Decatur for the league championship as Poat posted a 12-8 record with a 4.88 ERA.39 That season the Poats' first child, a daughter, Ralene, was born.40
Poat returned to Cedar Rapids in 1941 and went 17-6, leading the team in wins, winning percentage, games pitched, and innings pitched. His best performance was in the deciding game of the league championship series against Decatur, a two-hit, 7-0 shutout.41 (More importantly for his family, the Raiders' players split a winner's pot of $800.42) By season's end, Poat was widely regarded as the best right-handed pitcher in the Three-I League.43 Only lefties Bill Donovan and Warren Spahn were held in higher esteem.
After the playoffs Poat was called up to the Indians.44 Although he didn't see any action, he was rewarded with a brand-new glove as Bob Feller took one look at Poat's old, dilapidated glove and handed him a new one, "Here kid, have one of these," the 23-year-old Feller told the 24-year-old Poat.45 It was the first time Poat had to break in a new glove.46
In the offseason a series of events transpired to set the stage for the 1942 season. Cy Slapnicka resigned as general manager of the Indians,47 and manager Roger Peckinpaugh moved from the dugout into the GM's office. On November 24 team president Alva Bradley announced that the team's 24-year-old shortstop, Lou Boudreau, was being promoted to player-manager. Two weeks later, on December 9, after the attack on Pearl Harbor, Bob Feller enlisted in the US Navy. Early in 1942 President Franklin Delano Roosevelt, in the "Green Light Letter," said "it would be best for the country to keep baseball going" to help take America's mind off the war effort.48
Poat would be competing for the vacancy created by Feller's departure. It didn't hurt that the new manager was his former teammate at the University of Illinois. But Boudreau made it clear that "he has to make good with the manager, not the old teammate" in order to make the roster.49
Heading north with the Indians, Poat made his major-league debut on April 15, starting in Detroit against the Tigers. He lasted three-plus innings, allowing four runs on eight hits. In his only plate appearance, he struck out. A week later, the Indians optioned him to Indianapolis of the American Association.50
His new manager was Gabby Hartnett, the Cubs legend whom young Raymond grew up following. Childhood sentiment aside, Poat was hoping that the former catcher could impart some knowledge to him. The one thing Hartnett could not teach the righty was how to hit; Poat struck out 30 times in 55 at-bats for Indianapolis.
At the age of 41, Hartnett still played occasionally. On May 12 he was behind the plate for a start by Poat. Pitching to one of his boyhood idols, the 24-year-old Poat pitched a 5-1 complete-game victory.51
Poat led the team in victories with a 15-8 record, while posting a 2.86 ERA on a team that would finish in a sixth-place tie with a 76-78 record. Those numbers earned him a shot at redemption, as Cleveland called him up in September.52 Facing the White Sox on September 8, Poat toed the rubber at Comiskey Park, not far from his childhood home. He got his first major-league win in grand fashion, tossing a seven-hit, 10-0 shutout in front of family and friends.
Like most of the ballplayers from that era, Poat spent the offseason working odd jobs to make ends meet.53 As he prepared for spring training, the Poats' second child, Tony, was born.54
Poat spent the entire 1943 season with Cleveland, but was used sparingly. Boudreau called upon him 17 times to pitch a total of 45 innings, starting four games. Perhaps Boudreau's reluctance to use him more often stemmed from Poat's inexperience. Poat, 25, was the youngest pitcher on a staff whose average age was 30. He won two games and lost five.
In 1944 Poat appeared in 36 games, pitching 80⅔ innings with six starts. He went 4-8, the highlight of the season probably coming on the Fourth of July when he defeated the Yankees 7-2 at Yankee Stadium, pitching a complete game.
Poat took a leave of absence from baseball in 1945 to support the war effort. Because he was married with children, he was deferred from the draft. His background in chemistry made him useful as he worked at an underground government facility on Chicago's South Side.55
With World War II over, Poat came back to baseball for the 1946 season. The Indians sent him to their Triple-A team, the Baltimore Orioles of the International League. That team is remembered for their open hostility toward Jackie Robinson of the Montreal Royals, as baseball began to integrate.56 Despite the turmoil, Poat was finally being used on a regular basis, as evidenced by his 21 starts and his 12-7 record. The Orioles made it to the postseason, losing to the Syracuse Chiefs in the playoffs, four games to two.57
Even though his statistics were in the top 10 of virtually every category in 1946, Poat was back in Baltimore to start the 1947 season. Sidelined by an ankle injury for several weeks,58 he nearly matched his 1946 record with an 11-7 mark by the end of August. He had a 2.44 ERA on a team that was "generally considered one of the worst [teams] to represent Baltimore in many years."59
Late in the season the New York Giants needed pitching. In a conversation with Orioles catcher Warren Robinson, Giants first-base coach Red Kress got a good impression about Poat's ability and passed that information along to manager Mel Ott.60
On the evening of August 26, Orioles manager Tommy Thomas informed the popular Poat61 that he was headed to New York and told him to "get up there as soon as you can because I think Mel wants to use you tomorrow."62 To hear Poat tell the story, he didn't even have time to shave.63
The next morning, Thomas phoned Ott to tell him that they had "bought the best pitcher in the International League."64 With Poat scrambling to make it in time for that night's game, he grabbed the first subway that came his way: "The next thing I knew, I was going right past the Polo Grounds stop. I had forgotten that the express doesn't stop there after 4:30 or 5 o'clock, so I had to take another train back."65 Arriving late, Poat made his National League debut against the St. Louis Cardinals.
"Using a full overhand delivery on practically every pitch,"66 Poat would be opposing All-Star lefty Harry Brecheen. In the bottom of the seventh, with the game tied 3-3, Poat connected for his only major-league home run. It not only gave the Giants the lead, but it also cemented Poat's place in Giants lore as he became one of the Windowbreakers.67 The Giants held on to win 6–4, as Poat threw a complete game, hit a homer, and added his only career triple. For all his heroics, he was still fined $50 for being late.68
As the 1947 season wore on, Poat would fill his idle time by finishing crossword puzzles for the Giants batboy, Garth Garreau. The two had more in common than the Giants and crossword puzzles; Garth planned to pursue a degree in chemical engineering as well.69
In his third start of the season, Poat faced the eventual pennant-winning Brooklyn Dodgers. The game went back and forth until the bottom of the ninth, when Poat's catcher, Walker Cooper, hit a two-out solo homer to seal the 3-2 victory, as Poat completed his third game in a row.
In his final game of 1947 season, Poat and the Giants were shut out by Warren Spahn and the Boston Braves, 2-0. Poat singled off Spahn, which made him the only player whose only four major-league hits in a season constituted a cycle; in 23 plate appearances, Poat had four hits: a single, a double, a triple, and a home run.70
More importantly, Poat established himself as a serious candidate for the next season's rotation. In seven starts, against some the best pitchers in the National League, he went 4-3 with five complete games, and a 2.55 ERA. Columnist Frank C. True wrote that "With any sort of luck, the big Chicagoan could have made it seven straight triumphs with the Giants."71
Because of his strong performance in 1947, the Giants doubled Poat's salary to $12,000, which virtually assured him of a spot on the 1948 pitching staff.72 He also received a ringing endorsement from Dodgers GM Branch Rickey, who observed that "The Giants have the pitcher they needed in Ray Poat."73
In his first start of the 1948 season, Poat faced Warren Spahn in the Braves' home opener. It was also Spahn's 27th birthday. Unfortunately for Spahn and the Braves, Poat had other ideas for the celebration and threw a complete-game, 3-1 victory to spoil the party.
On May 13 Poat shut out the St. Louis Cardinals, propelling the Giants into sole possession of first place. The only two hits were by future Hall of Famers Enos Slaughter and Red Schoendienst. From the fourth inning on, Poat was unhittable.74
On the Fourth of July, with Poat's .875 winning percentage leading the National League, the Dodgers lit him up with six runs on 10 hits in 6⅔ innings at Ebbets Field.75 The most significant blast was Roy Campanella's first major-league home run.76
Heading into the All-Star break, Poat had an impressive 8-2 record with six complete games and three shutouts while posting a 3.51 ERA. Although he wasn't selected for the NL All-Star team, he certainly must have received some attention, considering that Mel Ott was one of the coaches on Leo Durocher's National League staff.
Perhaps one of the things working against Poat was that the Giants already had four players on the All-Star Game roster: Johnny Mize starting at first base, Walker Cooper the starting catcher, and second baseman Bill Rigney and outfielder Bobby Thomson as reserves.
In his first start after the break, on July 15, Poat threw the last complete game of his career, a win over the Pirates. It was the final game of Mel Ott's managerial career. The next day, in a move that shocked the baseball world, the Giants announced the hiring of their archrival, Leo Durocher, to take over the team.77
Under the new regime, Poat lost his first three starts, culminating on Friday the Thirteenth in August against the Phillies. That day Poat had his worst start ever: five batters faced, five hits allowed, five runs scored, zero outs recorded. Poat now found himself in Durocher's doghouse. For the rest of the season Poat started only two games, against the Cardinals, and otherwise worked in relief. Perhaps the reason he was given those two starts was his dominance of Stan Musial. Musial was easily the MVP of the National League in 1948, winning the batting title with a .376 mark, but could manage only a .188 average against Poat in 19 plate appearances. The flip side of this anomaly was that two of his three hits were home runs.
About the only solace Poat could find was in his return to Wrigley Field. The old ballpark had changed since his high-school days. There was a new scoreboard in center field, and ivy on the outfield walls. On August 25 he pitched three innings in relief, faced 10 Cubs batters without allowing any runs, and struck out fellow Chicagoan Phil Cavarretta.
On September 19 Poat made his final appearance of the season when he got the start against the Cardinals. He lasted two innings and surrendered a home run to Stan Musial before heading to the showers.
For the season Poat finished with an 11-10 record. He went 9-2 under Ott when he was used as a starter. He was 2-8 for Durocher, who relegated him to the bullpen. During the offseason Poat had to undergo another surgery to remove a bone spur in his throwing elbow.78
Poat made only two appearances for the Giants in 1949. On April 28, in his last game at the Polo Grounds, he allowed three runs without recording an out against the Dodgers. What happened afterward far outweighed anything during the game. Leo Durocher was accused of assaulting a fan as the teams left the field. Durocher was suspended pending an investigation. At a hearing on May 3, Durocher was acquitted and he was reinstated a day later.79 As a result of the incident, a ruling was issued banning fans from entering the playing field after games.80
On June 6 Poat was traded to the woeful Pittsburgh Pirates, along with infielder Bobby Rhawn, for pitcher Kirby Higbe. Poat made his Pirates debut on June 9 against the Philadelphia Phillies. After six innings he departed with a 3-0 deficit. It turned out to be the longest game of the season, lasting 18 innings before the Phillies won.
In his Forbes Field debut a week later, Poat took the loss against the Braves. This was his last start as a major leaguer. Nine days later, he pitched a third of an inning in relief against the Dodgers before leaving after Jackie Robinson torched him for a three-run homer. By now Poat was routinely getting roughed up.
In the 13 games he appeared in, the only time his team won was on July 23, when the Pirates beat the Braves in Boston. It was without question his worse year as a ballplayer. On September 21 Poat was called upon to pitch the top of the ninth against the Braves. He retired the side in order, striking out the last two batters, Elbie Fletcher and Bob Hall. It turned out to be his final game as a major leaguer.
During the offseason, Poat had another surgery on his right arm,81 and was still experiencing soreness when the Pirates sold him to the Baltimore Orioles before the 1950 season.82 He posted a 9-4 record with a 4.63 ERA, but another arm injury in late August prevented him from participating in the postseason,83 in which the Orioles lost the Junior World Series to the Columbus Red Birds, four games to one.
At the age of 32, Poat had seen enough. He moved his family back to the Chicago area and began a second career as a chemist with the Corn Products Refinery in Argo, Illinois.84 In 1953 the Poats had their third child, Michael.85 Poat devoted his time to raising his family. He rarely spoke of his baseball career.86 Instead, he preferred to emphasize the value of a good education, and saw to it that each of his children had an opportunity to attend college.87
During the 1950s, Poat continued to play ball in the Greater Chicago Semi-Pro League.88 Years later, after he retired from Corn Products, his grandson Tim recalled seeing his grandfather somersaulting down the first-base line in a neighborhood pickup game after tripping over a tree root. Not skipping a beat, Poat ran it out and was safe at first. The fact that he said nothing about stumbling epitomized the way he played the game: play as hard as you can for as long as you can. You never know when it might be taken away.
Poat died on April 29, 1990. He is buried in Chapel Hill Gardens in Worth, Illinois.
Notes
Born
December 19, 1917 at Chicago, IL (USA)
Died
April 29, 1990 at Oak Lawn, IL (USA)
If you can help us improve this player's biography, contact us.
http://sabr.org/sites/default/files/PoatRay.jpg
600
800
admin
/wp-content/uploads/2020/02/sabr_logo.png
admin
2017-02-22 12:13:11
2020-09-02 13:41:46
Ray Poat