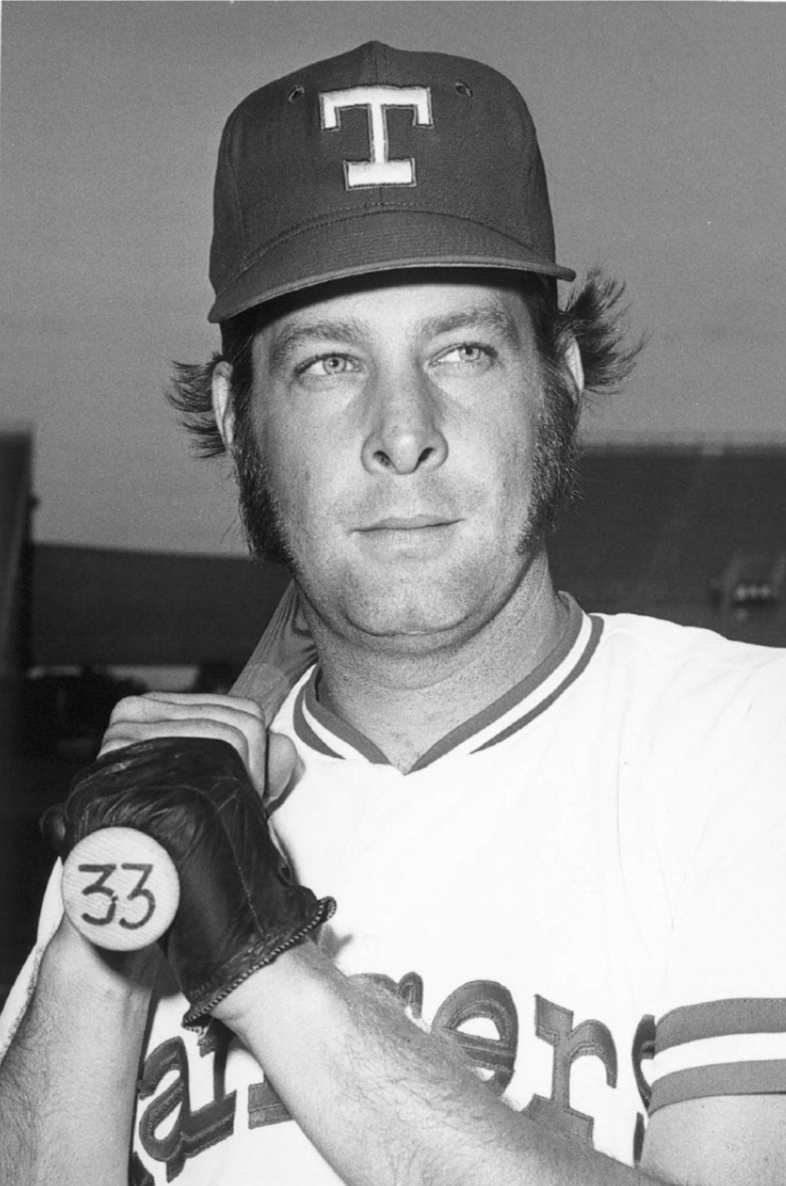 ---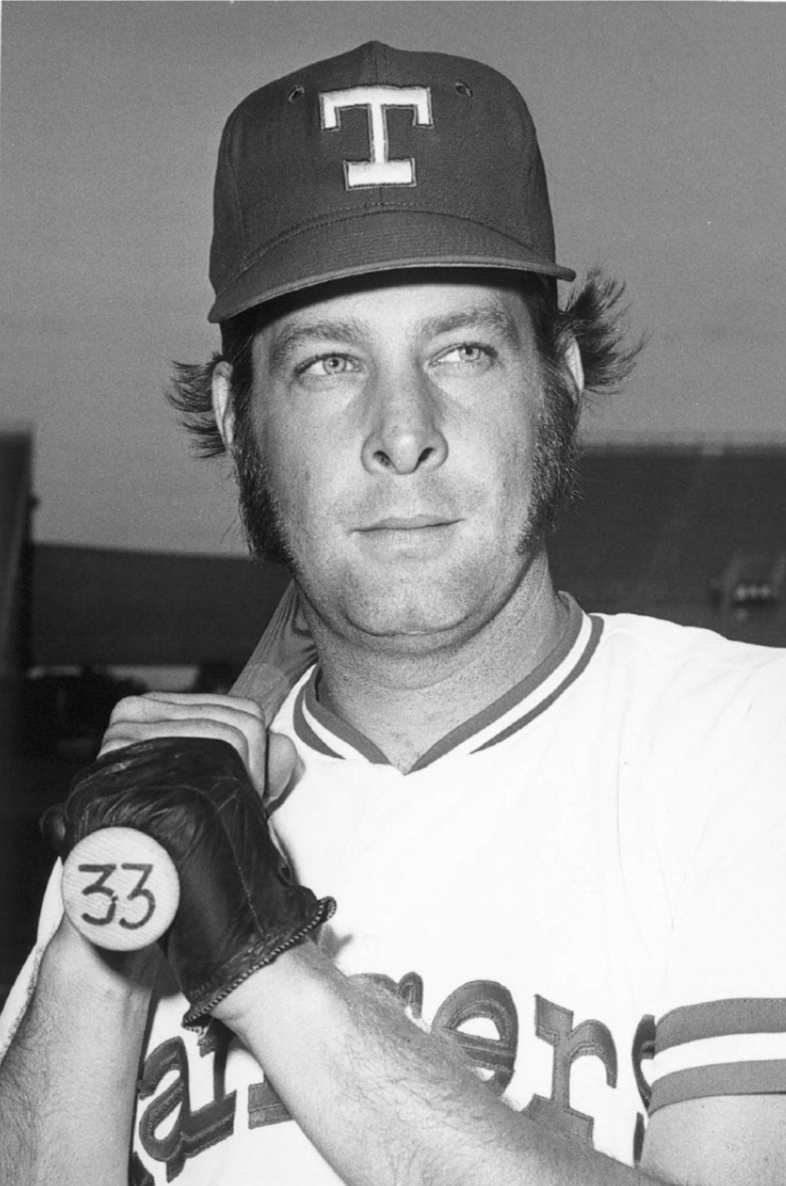 Richard Arlin Billings was born on December 4, 1942, in Detroit to Arlie and Dimple Billings, and played parts of eight seasons with the Washington Senators, Texas Rangers, and St. Louis Cardinals.1
The oldest of six children, Billings was recruited to play at Michigan State while playing "federation ball" in the Detroit area, teaming with fellow future major leaguers Willie Horton, Alex Johnson, and Bill Freehan.2 His father, a factory worker in downtown Detroit, had moved the family to the Troy, Michigan, area several years before to get away from the big city, and Billings would often hitchhike along the approximately 25-mile trek to Detroit for games. When he received a ride home from Willie Horton and a coach after one game, Horton was astounded at the rural nature of the Troy area and deemed Billings' new nickname to be "cow man," a nickname Billings would carry throughout his time in that league and which Horton continued to use to refer to him even after both players had retired from the major leagues.3
Playing third base and outfield, Billings went on to earn accolades at Michigan State as Second Team All-Big Ten in 1964 and Third Team All-Big Ten in 1965.4 On June 8, 1965, the Washington Senators selected Billings in the 25th round of the free-agent draft.5 Two weeks later, Billings signed with the Senators and was assigned to Geneva in the Class-A New York-Penn League.6 There he began his steady march toward the big leagues.
After a solid if unspectacular season in Geneva, in 1966 Billings put together an outstanding campaign for the Class-A Burlington Senators in which he batted .312, slugged 14 home runs, and was named to the all-Carolina League team.7 Although unknown at the time, Billings developed one of his first ties to the Dallas-Fort Worth Metroplex during those first two minor-league seasons. In both Geneva and Burlington, Billings was managed by Wayne Terwilliger, who 40 years later would make history while managing the independent league Fort Worth Cats as being one of only two 80-year old managers in professional baseball history, joining Connie Mack.8 Terwilliger would also coach Billings as a member of Ted Williams's coaching staffs with the Senators and Rangers from 1969 to 1972.9
Invited to big-league spring training the following season, Billings opened eyes with his bat, with The Sporting News reporting, "There are six outfielders and the guessing is that rookie Dick Billings will be sent down for further seasoning. Billings has impressed with his hitting this spring, but he still needs seasoning."10 Seasoning he received after being reassigned on March 29, playing primarily as an outfielder for the York White Roses during the regular season and being assigned to the Florida Instructional League that fall.11
Billings received another invitation to big-league spring training as an outfielder in 1968.12 Once again, however, Billings was reassigned to the minor leagues late in camp.13 Playing for Buffalo in the International League, Billings spent the better part of the season providing consistent offensive production, hitting .276 with 11 home runs, and proving why his bat belonged in Washington.14 On September 1 the Senators finally agreed and called Billings up to the big club.15 Over the last month of the season Billings got into 12 games at third base and in the outfield, and connected on his first major-league home run on September 22 against the Tigers.16 While his .182 batting line over a small sample size wasn't much to look at, Billings' presence generated optimism for his future in Washington, and The Sporting News commented that he and Brant Alyea "were exciting in the Senators' last home stand."17
After his first taste of the big leagues, Billings was originally ticketed for his second straight winter in the Florida Instructional League – this time to work out as a catcher.18 However, when an injury opened up a roster spot on the Arecibo club in the Puerto Rican Winter League, Billings went there instead and proceeded to homer and knock in two runs in his very first game on the island.19
Change was afoot in the Senators dugout heading into the 1969 season, as the club signed legendary hitter Ted Williams to a five-year contract as the Senators' vice president and manager.20 The team responded meekly in the Splendid Splinter's managerial debut in spring training, managing only a single hit – a two-out ninth-inning single by Billings.21 Williams, for his part, was not upset at the lack of offensive firepower, stating that he was "thankful for the one hit."22
Billings would recall a time later in his career, though, for a period lasting approximately three days, when he was not held with such high regard by his new manager.
Coming into the league I had a tough time with sliders … and I started just trying to focus to hit the ball up the middle and to right field. And we were in Baltimore the first month of the season, I was batting fourth behind Frank Howard and I was hitting well over .300, and the night before I got three hits off of Jim Palmer … and I come out of the dugout and go up to the batting rack where the lineup is and Ted's over in the corner next to the batting rack holding court with the reporters. And I don't even know what they're talking about but I get my helmet and I walk by and he has a bat in his hand, and he kinda pokes me and he says: "Here's a great example. He should hit 20 home runs a year and what's he do? He tries to look for the slider and hit it to right field. What kinda hitting is that?" Then he says, "Dick, I bet you didn't even read my book, did you?"
And I don't know why I said this or why it even came to my mind, but I was just trying to make a point. I wasn't trying to embarrass him or anything else. … I said, "Well as a matter of fact, Ted, I did read your book, but if I read a medical book that wouldn't make me a surgeon." And everybody started laughing. And I could just see the veins in his neck start popping, it really, really ticked him off. I thought "uh-oh" and just got my helmet and went to the batting cage. And you know I didn't think that much about it. But my point was, "Yeah, Ted, I'm not like you. I can't do things that you did, most of us can't." I wasn't trying to make fun of him or anything else.
So when the batting practice is over … I was in the training room getting my arm rubbed down with the hot stuff on it and Tom Grieve, my roommate, came up and said, "Before you put the hot stuff on your arm you better go check the lineup card." So I threw my jersey on and walked out to the dugout and he had scratched my name out of the lineup and put in Ken Suarez. And as I turned around to go back in the clubhouse he stopped me and pointed his finger in my chest and said, "You blankety-blank-blank-blank, you go to the bullpen and don't come back. You're not even allowed on this bench, you go sit in the bullpen until you change your attitude."
And he benched me for three straight games. And I had to sit in the bullpen and I was not allowed to be in the dugout I guess because of that comment. And I was batting fourth and hitting over .300. There was absolutely no reason; it wasn't a platoon or anything else.
Billings did end up making the club out of spring training for the first time in 1969, but got in only 27 games for the Senators.23 During the season, with the Senators sensing that the club was weak at the catching position, Billings received a surprise request to change positions:
Either Wayne Terwilliger or Nellie Fox came up to me after one game and said, "What do you think about going to the minors to learn how to catch?" And I said I've never caught a game in my entire life and never had shin guards on other than catching batting practice here, and if you're going to send me out just tell me, don't make something up.
Billings was assured that it was not a gimmick and that the club saw a real future for him as a catcher.24 And he agreed that he "couldn't field well enough to play third and didn't hit with enough power to play the outfield." So at the age of 26 and fighting for a consistent big-league role, Billings, responded, "Well, if you're going to send me to the minors anyway, then, yeah, I'll go give it a whirl."
On June 23, 1969, the Senators thus shipped Billings to Savannah.25 The transition to catcher was not without its hiccups, however. "The night that I got in, they started me in a Double-A game and I had never caught a game in my life." Upon returning to the dugout one inning Billings noticed that that many in the dugout were laughing at him. Thinking it was just because he was getting beat up trying to catch pitcher Jack Jenkins, who "I swear threw 98 or better but just could not hit the side of a barn door," he was advised that he had actually been catching with his shin guards on backward. "That's how much I knew about catching, I didn't even know how to put the shin guards on," he would later say.
As the Southern League season wound down, Billings was involved in one game that would foreshadow a much more momentous occasion four years later. On July 26 he strode to the plate with two outs in the final inning as the only batter standing in the way of Montgomery ace John Gregory's no-hitter.26 Billings put a scare into the entire ballpark as the ball left his bat and traveled to the farthest reaches of center field, but ultimately the ball (and the no-hitter) was hauled in with a leaping catch near the fence.27 The next no-hitter Billings would be involved in would be much more enjoyable. He diligent efforts to learn the catcher position were rewarded as he received a September callup to Washington.28
Assigned to Denver to open the 1970 season, Billings and the rest of the Bears endured a dismal seven-game losing streak to begin the year.29 Billings chipped in with a double in the seventh and a game-winning triple in the ninth to help defeat Oklahoma City in Denver's home opener, however.30 Billings' toughness and desire to stay in the lineup was perhaps never more evident than in a late July game against Oklahoma City when, despite battling an ulcer and a virus/infection, he attempted to catch the second game of a doubleheader.31 When his body finally gave in, Billings collapsed behind the plate and was forced to stay out of the lineup for a short time to recuperate.32 Brushing off the brief health scare, he continued his season-long quest to frighten the pitchers of the American Association, pushing his average to .312 to go along with 10 home runs by late July.33 On September 8 he was again recalled to Washington, though he played in only 11 games before the season came to a close.34
After bouncing between the minor leagues and short stints in Washington for several years, Billings was primed to take on a larger role in 1971 and made the Senators out of spring training as a catcher, wearing number 8.35 He received consistent playing time for the first time in his career, and slugged his first home run on July 2, a three-run shot that pushed the Senators to a 6-3 win in Cleveland.36 He followed that up on July 5 with another home run, this time a grand slam, in a 15-6 trouncing of the Indians that gave the Senators a six-game winning streak.37 Despite the recent streak, however, the team still sat well back in the standings and was 15 games below .500 at 32-47.38 Around the same time, and after battling through roughly the first half of the season with Paul Casanova for the starting catching position, Billings was awarded the starting job by manager Ted Williams.39 For the season, Billings ended up putting together a .246 average in 116 games played, totaling 6 home runs and 48 runs batted in.40
While Billings' big-league career was just beginning, the 1971 season in Washington will forever be known for what was ending. On September 21, approximately a week and a half before the end of the regular season, the American League owners officially approved owner Bob Short's plan to move the Senators to the Dallas-Fort Worth market after the season.41 So it was a bittersweet day for many of the 14,460 fans in attendance on September 30 when the Yankees came to town for the Senators' final home game.42
Billings was penciled in at catcher and batting cleanup for the finale, and proceeded to have an outstanding game, going 3-for-4 with singles in the fourth, sixth, and seventh innings and throwing out a would-be basestealer in the third.43 Although the Senators led the game 7-5 heading to the ninth inning, the "We want Short!" chants arose in the crowd and fans began streaming onto the field in the middle of play.44
They came out on the field and we just kinda, we were just mesmerized; I'd never seen anything like that before. Fans were picking up dirt in their hands and putting it in popcorn boxes and in their hat. I think one or two of them tried to steal the bases, I can't remember if they ever pulled the bases out or not. But they could just never get the crowd under control at all, they just kinda stood out on the field and milled around. We all went in the clubhouse just to wait and see what happened, and I don't know if I ever even came back out.
Unable to control the crowd, the umpiring crew "had no alternative but to award the game to New York on a forfeit. An apparent 7-5 Senators win became a 9-0 loss.45
After the season, Billings went to Venezuela to play winter ball and gain additional catching experience.46 Midway through the season, he was approached to gauge his interest in managing the team if it was to part ways with manager Larry Doby.47 Billings indicated he would be willing to take on the role, in which he was officially installed when Doby was let go.48 The club supported Billings' ideas to improve the club, including releasing certain players who weren't all that thrilled to be playing winter ball in Venezuela, and bringing in new players who were.49 The Zulia team responded and stormed to its first playoff appearance in team history, with Billings finishing as one of the top 10 leading hitters in the league.50 When the team arrived at the airport in Maracaibo after clinching the playoff berth, thousands of people lined the runway to great the team and a number of fans actually carried the players from the plane.51 Billings would return to Venezuela as a player-manager during subsequent winter-league seasons as well: "We were successful and they just had me back, basically whenever I wanted to."
As the calendar turned to 1972, the Senators' move to Texas was quite a transition for the team's players, both in geography and in accommodations. After playing in the spacious RFK stadium, Billings and others wondered how the club could possibly play at what "was basically a Class A or Double-A ballpark."52 In addition, the players had to procure new living accommodations; although a brief trip to Texas with Denny McLain prior to the season proved to be more than sufficient for Billings in that regard:
McLain is quite a magician and quite a marketing guy, I mean by the time we left there he had a radio/TV show lined up, he had a car dealer that had given us the use of cars, he had an apartment that was giving us free rent over in Dallas. … From that standpoint I was really excited just because of the way people welcomed us there.
The club faced two additional other hurdles before season's start. First, star Frank Howard held out before agreeing to a new contract for 1972 – it was a good thing the holdout ended, according to Billings: "They need Hondo. They don't have anyone but him and Ted as drawing cards. Who's gonna pack the park to see me and a bunch of guys named Joe until we prove ourselves."53 Second, a league-wide player strike delayed the start of the season.54 Billings, along with several other players, stayed in town and tried to stay in shape for the season during the strike.55
After the strike was resolved and after beginning the season on the road, the Rangers held the franchise's home opener with Billings behind the plate and Dick Bosman on the mound – the same battery that was in place for the final Senators game in Washington the year before.56 The most memorable aspect of the game for Billings occurred before the first pitch was thrown, when the players were lined up on the first-base line and given cowboy hats and boots.57
After a rough start to the season playing on only a platoon basis, Billings was finally given the full-time starting catcher position, his bat took off, and he posted an eight-game hitting streak in early June.58 In fact, The Sporting News noted that "during the month of June, the Rangers could trace much of their modest but increasing successes to scrappy Rich Billings."59 And it wasn't just his bat getting attention, with manager Ted Williams commenting, "He's been the most dependable man we have – and not only with the bat. He blocks the plate with the best and his arm is far more accurate."60 Billings finished the season as the team's leading RBI man with 58. "I led the team in RBIs, so that tells you how bad we were," he would later say.61 The 1972 Texas Rangers finished with a record of 54-100; good for worst in the major leagues.62
Leading into the 1973 season, new manager Whitey Herzog was quoted as saying, "If Rich Billings is the starting catcher again, we're in deep trouble."63 The oft-quoted response from Billings was that "Whitey, obviously, has seen me play."64 But Billings also took issue with criticism of his defense at catcher and pre-emptive judgment of his role on the team as a backup: "All I want is an opportunity to prove myself. … I think that the catching job should be mine until I prove that I can't handle it," he said.65 While the quotes above appear to describe an ominous beginning to their relationship, Billings later recounted that there was no ill will between the two then or now: "Whitey Herzog and I became really, really close friends, and I think that we have the highest and did then have the highest respect of each other."
Herzog's preseason comments aside, Billings was in the starting lineup at catcher on Opening Night.66 He was sidelined shortly thereafter, however, with a broken thumb suffered on April 27 in a 4-2 win over Milwaukee.67 Billings did return in time to play a hand in perhaps the high-water mark of the season for the Rangers, catching Jim Bibby's July 30 no-hitter against the A's, a moment he would later describe as "the twilight of a mediocre career."68 "He was just plain explosive," Billings said, adding, "I didn't think a human being could throw a ball that fast."69 Bibby was throwing so hard, in fact, that Billings called almost exclusively fastballs in the later innings: "I didn't see any reasons to have him throw anything else unless he got in trouble and he never got in trouble."70
Billings also earned praise from none other than Whitey Herzog for his play during the season: "There are only two guys on this team who I feel have gone out every day and given a complete effort, the kind it takes to win. … Those two are Alex Johnson and Rich Billings," Herzog said.71 Hampered by injuries, though, Billings finished the year with a disappointing .179 average and the Rangers ended up losing 105 games.72
With another new manager, Billy Martin, Billings and the Rangers looked to rebound in 1974. But for Billings the injuries kept piling on, as he suffered an ankle injury on April 27 and was placed on the disabled list.73 He ultimately was sidelined for most of the year with a variety of injuries. "I was hurt all of that season, it was just one thing after the other," he said.74 In August, Billings was purchased by the Cardinals and was healthy enough to play briefly for Tulsa in the American Association and receive a late season callup to St. Louis.75
Considering retirement after the 1974 season, Billings received an offer from the California Angels to manage their Class-A team in 1975.76 Still feeling the itch to give it "one more shot," and needing only 20 more days of big-league service time to reach a full five years on the major-league pension plan, Billings spurned the Angels and accepted an offer to return to the Cardinals to be a player-coach in Tulsa with the promise of being called up to the big club for at least the last 30 days of the season.77
Billings did play well enough in Tulsa to be called up sporadically during the season, despite suffering a separated shoulder on a play at the plate early in the season.78 He also had the opportunity to be briefly reunited with former roommate and "magician" Denny McLain, who broadcast Iowa's minor-league games against Billings' Tulsa squad.79 The Cardinals also honored their agreement by calling Billings up for the final 30 days of the season: "I had the upmost respect for the Cardinals and their organization," he later said. He admitted that the injuries had taken their toll on his body, however, and retired after the season. "I just wasn't the same anymore," he said.
After retiring, Billings obtained his real-estate license and began working as a broker in Texas.80 He later obtained his real-estate license in Michigan, where as of 2018 he lived with his wife, also a licensed real-estate broker, and continued to work in the real estate industry.81 He also remained an active member of the Texas Rangers Alumni and appeared at several events for the team each year.
This article was published in "The Team That Couldn't Hit: The 1972 Texas Rangers" (SABR, 2019), edited by Steve West and Bill Nowlin.
Sources
In addition to the sources noted in the Notes, the author also accessed Billings' player file on Retrosheet.org and Baseball-Reference.com.
Notes
1 Interview with Rich Billings, March 4, 2018. Unless otherwise attributed, all quotations from Billings come from this interview.
2 Ibid.
3 Ibid.
4 msuspartans.com/sports/m-basebl/archive/msu-m-basebl-allbig10.html.
5 James R. Hartley, Washington's Expansion Senators (1961-1971) (Germantown, Maryland: Corduroy Press 1997, 1998), 280.
6 Ibid.
7 "Class A Averages," The Sporting News, September 24, 1966: 34.
8 "A Look at 80-year-old Fort Worth Cats Manager Wayne Terwilliger," My Plainview, July 3, 2005, myplainview.com/news/article/A-look-at-80-year-old-Fort-Worth-Cats-manager-8693434.php.
9 "Twig at 80: Wayne Terwilliger Doing What Only Connie Mack Did Before Him," Billings (Montana) Gazette, July 4, 2005, billingsgazette.com/sports/twig-at-wayne-terwilliger-doing-what-only-connie-mack-did/article_74daeee0-5b2a-509f-b3ec-bec64f63622d.html.
10 Bob Addie, "Billings Can Hit, but Needs Experience, The Sporting News, April 8, 1967: 20.
11 Hartley, 276; Bob Addie, "Nats, Astros Will Share Instructional Loop Team," The Sporting News, October 7, 1967: 40.
12 Bob Addie, "Senators Run on Victory Ticket," The Sporting News, March 9, 1968: 24.
13 Hartley, 277.
14 "International League Batting, Pitching Records," The Sporting News, September 28, 1968: 33.
15 Hartley, 278.
16 Hartley, 203, 176, 90; Merrell Whittlesey, "Five Nat Hurlers Started 74 Games, Finished but Two," The Sporting News, October 12, 1968, 17.
17 Whittlesey, "Five Nat Hurlers."
18 Ibid.
19 Miguel Frau, "Pickets Loaf in Timmerman Shutout," The Sporting News, November 9, 1968: 55.
20 Hartley, 93, 279.
21 Merrell Whittlesey, "Ted Tutors Promising Pupil Epstein," The Sporting News, March 22, 1969: 23.
22 Ibid.
23 Hartley, 207; "American League Rosters, Uniform Numbers," The Sporting News, April 26, 1969: 36.
24 Interview with Rich Billings, March 4, 2018.
25 Hartley, 280.
26 Max Mosely, "Gregory, Former Ace Reliever, Hurls No-Hit Gem for Rebels, The Sporting News, August 9, 1969: 39.
27 Ibid.
28 Hartley, 281.
29 Bob Hurt, "12-Inning One Hitter," The Sporting News, May 9, 1970: 35.
30 Ibid.
31 "No. 3 Is No. 1," The Sporting News, August 8, 1970: 40.
32 Ibid.
33 William J. Weiss, "American Association, Batting and Pitching Records," The Sporting News, August 1, 1970: 35.
34 Hartley, 283, 207.
35 "American League Rosters, Uniform Numbers, The Sporting News, April 17, 1971: 37.
36 Hartley, 131, 184.
37 Hartley, 131-132.
38 Hartley, 184.
39 "Senators Topple Indians, 7 to 3," Wilmington Morning Star, August 7, 1971: 17.
40 Hartley, 206-207.
41 Hartley, 285.
42 Hartley, 139.
43 Hartley, 139-145, 195.
44 Hartley, 143.
45 Hartley, 144.
46 Interview with Rich Billings, March 4, 2018.
47 Ibid.
48 Eduardo Moncada, "Billings Latest Venezuelan Playing Pilot," The Sporting News, December 25, 1971: 47.
49 Interview with Rich Billings, March 4, 2018.
50 Ibid; Eduardo Moncada, "Dick Billings: One Year Makes a Difference in Venezuela," The Sports News, November 25, 1972: 55.
51 Interview with Rich Billings, March 4, 2018.
52 Ibid.
53 Merle Heryford, "Hondo Cures Short's Headache, But Gives Williams Another, "The Sporting News, April 15, 1972: 24.
54 Merle Heryford, "Only Fans and Players Missing at Texas' 'Bow,'" The Sporting News, April 22, 1972: 20.
55 Ibid.
56 Interview with Rich Billings, March 4, 2018.
57 Ibid.
58 Merle Heryford, "Mincher Can Smile with .174 Bat Mark," The Sporting News, July 1, 1972: 19.
59 Merle Heryford, "Late Billings Pays Rich Ranger Dividends," The Sporting News, July 15, 1972: 17.
60 Ibid.
61 Interview with Rich Billings, March 4, 2018.
62 Merle Heryford, "Herzog Must Plug Ranger Infield Holes," The Sporting News, March 3, 1973: 30.
63 Mike Shropshire, Seasons in Hell (Lincoln: University of Nebraska Press, 1996), 20.
64 Ibid.
65 Randy Galloway, "Billings Can't See Himself as Part-Timer With Rangers," The Sporting News, March 17, 1973: 48.
66 "A Season in Hell," D. Magazine, April 1991, dmagazine.com/publications/d-magazine/1991/april/sports-a-season-in-hell/.
67 "Billings Lost to Rangers," The Sporting News, May 12, 1973: 25.
68 Shropshire, 104-107.
69 "NL Castoff No-Hits World Champions," Beaver County Times, July 31, 1973: 10, news.google.com/newspapers?id=rOtVAAAAIBAJ&sjid=2EANAAAAIBAJ&pg=790,4102988&dq=rich+billings&hl=en.
70 Ibid.
71 Randy Galloway, "Ranger Attack Consists of Alex' Bat," The Sporting News, May 12, 1973: 18.
72 Merle Heryford, "Seven Catchers to Vie for Rangers Job," The Sporting News, January 12, 1974: 39.
73 Randy Galloway, "The Rangers Are for Real, Brash Billy Warns," The Sporting News, May 18, 1974: 3.
74 Interview with Rich Billings, March 4, 2018.
75 Neal Russo, "It's Redbird Moving Time, With Brock Showing Way, The Sporting News, September 21, 1974: 13.
76 Interview with Rich Billings, March 4, 2018.
77 Ibid.
78 Ibid.; John Ferguson, "Iowa Walks Past Speedy Tulsa in A.A. Start," The Sporting News, May 3, 1975: 30.
79 Pete Swanson, "Pierce Finds New Lease as Triplet Power Hitter," The Sporting News, May 10, 1975: 32.
80 Interview with Rich Billings, March 4, 2018.
81 Ibid.
Born
December 4, 1942 at Detroit, MI (USA)
If you can help us improve this player's biography, contact us.
https://sabr.org/sites/default/files/BillingsRich.jpeg
600
800
admin
/wp-content/uploads/2020/02/sabr_logo.png
admin
2012-01-04 19:54:02
2012-01-04 19:54:02
Rich Billings