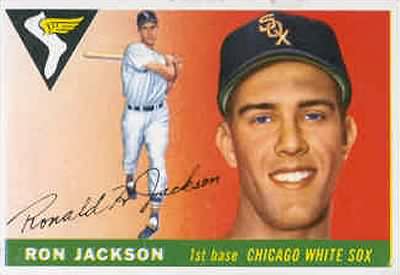 ---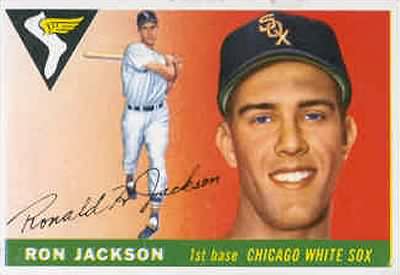 Ron Jackson was a tall, impressive slugger who debuted in the major leagues the day he was signed. The 6-foot-6¾-inch, 225-pound right-handed hitter held the interest of a number of ballclubs because of the gaudy numbers he put up in the minor leagues, but he never truly stuck in major league ball.
Ronald Harris Jackson was born in Kalamazoo, Michigan, on October 22, 1933. He was a good player from an early age, playing neighborhood ball with 14- or 15-year-old boys when he was just 10 years old. Or perhaps it was because he was the one with a new bat and ball, which he'd bought with money earned from delivering magazines. These were the years before Little League in the era, and the Jaycees started a program with six or eight teams in the city. At the age of 12, he went into American Legion baseball.
Ron's father, William Harris Jackson, was a welder at Sutherland Paper in Kalamazoo. Sutherland had a company team in the local industrial league and one of Ron's earliest memories of baseball was going to the games with his parents. Ron's mother worked, too; Eleanor Lucille (Koenigs) Jackson was a biller for Consumers Power.
At 13, Ron had already grown to be 6 feet tall. He said that working out "morning, afternoon and night" under coach Harold McKee of the American Legion Blues was what really gave him a solid grounding in baseball.1 While a student at Kalamazoo Central High, he starred in basketball and the team won three consecutive Class-A titles. He played American Legion baseball and – after graduation from high school – for the same Sutherland Paper team he'd enjoyed watching as a boy. Right from the beginning, Ron always played first base exclusively. As early as the age of 15, he was being watched by scouts from a number of teams while he played on the Maroons, the tournament team of the American Legion. He remembered, "Our team won the district and regionals and was always in the state tournament. The state tournament's probably where you got more of your scouts." His Legion team won the National Baseball Congress tournament at Battle Creek, Michigan, twice, in 1949 and 1951.
Ron and his father talked at length with the Phillies a couple of years later but Ron had been accepted to the University of Michigan and so declined their interest. Upon arriving at the Ann Arbor campus, he found the university too large and overwhelming. "I suddenly realized that I was a small-town boy," he told an interviewer. "So I turned right around and went home. At Western Michigan University I could be among my family and friends, so that was for me."2 There might have been a little tug from baseball, too. Jackson said he was in the Amateur Baseball Congress tournament with Sutherland Paper and that particular year, 1951, they won it. "I was with them until I had to go to school – but the tournament wasn't over yet. I wanted to come home and play baseball!" His father suggested that he look at Western, and he was able to get a scholarship there. "They almost made me play basketball. I didn't know how to say no."
A few months after beginning college, he met a fellow student, Carol Plantefaber, and they were married on January 29, 1953. In late 1953, they had a son, Mark. In 1955, the couple added a daughter, Martha, to the family. In 1958, a second daughter, Teresa, was born, and in 1970, Jennifer. When the couple celebrated their 55th anniversary in January 2008, they enjoyed nine grandchildren and one great-grandchild.
The Detroit Tigers had scouted Jackson for two years but the Chicago White Sox blew him away with an offer he couldn't refuse. White Sox scout Pete Milito of Grand Rapids had been watching him, too, since he graduated from high school in 1951. Milito told Chicago Tribune writer Ed Prell that the White Sox had offered to sign Jackson right after he graduated from high school, but that he'd wanted to get a couple of years of college under his belt before he signed anywhere.3 He made the WMU varsity as a freshman. "That was the one year you could play as a freshman. That was the Korean War and in the '51-52 season, freshmen could play. The next year, they stopped them. I played on the varsity and we won the (Mid-American Conference) – actually tied with Miami of Ohio." Jackson hit .435 in his sophomore year. After finishing his junior year (.340), he decided to go play baseball in Halifax, Nova Scotia, for the summer. He'd been faced with a choice of heading to the Adirondacks in New York state to play basketball or to Halifax to play summer league college baseball, and baseball won out.
As Ron prepared to take the train to Halifax in June, Milito talked him into coming to Comiskey Park for a workout or two.4 He hit 15 or 20 pitches out of the park and both manager Paul Richards and general manager Frank Lane felt they had a real find. They offered him bonus money sufficient to seal the deal – on the spot. "My dad and wife and Milito and I went over there," Jackson recalled. "The three of them came home and I stayed. They gave me some money to go buy some clothes."
The amount of the bonus has been variously reported as $10,000, $25,000, and $40,000. He never told anyone the amount of the deal, but he was given a three-year contract. A "bonus baby" in those years was someone who was given more than $6,000 to sign. Under the rules of the day, the player had to be kept on the big-league club for two years. Essentially, the team was penalized for signing players for too much money. Jackson was asked if he felt it hurt him to have to forgo the development he might have experienced had he played ball regularly in the high minors. His response was perhaps a bit understated: "Well, it didn't help me."
Jackson signed on June 15, 1954 – and saw action that very same day. "I was in uniform that night. The only ones on the team who even know who I was, was just a few of them that I worked out with." In the bottom of the ninth inning, Jackson pinch-hit for Harry "Fritz" Dorish and fouled out to first.
Jackson next turned up in a White Sox box score after entering the June 27 game as a defensive replacement at first base in the top of the ninth. He saw no action, either at the plate or in the field. His first at-bat was a single, when he took over late in the first June 29 game for first baseman Phil Cavaretta. The White Sox were losing, 9-1, and Paul Richards wanted to have Cavaretta fresher for the day's second game. Jackson was now 1-for-1.
White Sox starting first baseman Ferris Fain suffered a bruised right knee, and then his backup, Cavaretta, suffered both a pulled groin and a charley horse at the same time. Jackson stepped in to start the second game of the July 5 doubleheader and hit a solo home run in the bottom of the seventh to break a scoreless tie with the Orioles. Jackson hit a Duane Pillette pitch into the upper deck in left. The White Sox won the game, 2-1. His wife and his younger brother, Don, were both in the stands to see the home run. The first homer, he said, was his "greatest thrill in sports." He added that it came on his "third time at bat in my third game with the White Sox. It took me three hours to sign with the White Sox." He'd signed at 3 P.M. Two days later he hit another one, again a solo job.5 It was his fourth game with Chicago, but the third in which he'd batted. Ron's brother Don was born William Donald Jackson, a year younger. He worked in banking in California; Don died in the early 2000s.
Al Wolf, in his column in the Los Angeles Times, noted Jackson's height, but added that he was "graceful afield and powerful with the bat."6 He was making an impression around the league, but the one club he didn't impress sufficiently was his own. First base was up for grabs; by mid-August of 1954, 11 different White Sox had played the bag. After Fain was hurt, Cavaretta, Jackson, and George Kell all put in time at first. By season's end, Jackson had appeared in 40 games, accumulating 93 at-bats, and hit for a .280 average. He'd struck out almost as often as he'd hit safely, though. He had four homers and 10 RBIs to his credit.
In December, Chicago traded Fain to the Tigers for Walt Dropo as part of a six-player deal. Dropo got the lion's share of the work at first base in 1955. Jackson got even less than he'd had in the half-season of 1954, with just 74 at-bats spread over 40 games. He hit only .203 for the year, with two homers and seven RBIs but, as a bonus baby, the White Sox couldn't send him to the minors until June 15, 1956, the second anniversary of his signing. White Sox owner Chuck Comiskey suggested to a reporter that Jackson might lack sufficient drive. He said he thought some time in the minors might help, saying, "You know, last spring Jackson came to me and said he'd read in the papers about the possibility of the Sox sending him out in 1956, and I told him he'd better worry about what the Sox were going to do with him in '55." 7 They stuck with him, but send him out at the first opportunity to do so without losing rights to his contract was exactly what they did when the date came around. In 1956, he hit .250 during 16 games in May, filling in for manager Marty Marion when Dropo was benched due to his .121 average. Jackson got one hit or more in each of his first 10 games, but then cooled down with a 1-for-12 stretch. He hit one homer and had four RBIs, and was optioned to the Vancouver Mounties in June on the first possible date. It wasn't an unwelcome move. Jackson said he never felt that Marion wasn't in his corner, "but he believed in his heart that you should come up through the minors." Jackson was told it could do him good to have the experience of playing under Mounties manager Lefty O'Doul.
There he had the chance to play more regularly and enjoyed at least one spectacular game, against Los Angeles on September 3. He hit a grand slam, a triple, and two singles, driving in seven runs. In the half-season he played, he hit .304 with nine homers, driving in 49 runs. This earned him a call back up in September after the Pacific Coast League season was over. He went to bat eight more times for Chicago but without connecting safely even once. His year-end major-league average was .214. And he had an operation on the cartilage in his knee.
He'd started slowly in 1957, hitting .250 in eight spring training games, and was disappointed to be sent to the Indianapolis Indians right at the end of spring training. Then again, a Sporting News writer survey tagged him as the "most disappointing player" on the White Sox. Marty Marion had said, "I've never seen anyone hit a ball harder that Ron Jackson does." Trouble was, he didn't hit the ball enough, with continued high strikeout totals. Al Lopez had become White Sox manager, and after Jackson got the news, he emerged from Lopez's office saying, "I'm sorry I couldn't stick. It's hard to say I got a fair trial. My personal feeling is that I was the best out there."8 It looked like the right move, though. He flourished in Indy, playing in 143 games and hitting 21 homers with an average of .310 and 102 runs batted in. His big game for the Indians came on June 23, a two-homer day with four other hits in eight total at-bats. He was the starting first baseman on the American Association All-Star team and was named the game's MVP, with a homer and a single driving in four runs to help beat the Wichita Braves, 5-4. It was the second All-Star game in which he'd excelled. Just the year before, in the Pacific Coast League's game, he'd tripled with the bases loaded. He credited regular play and a shorter grip on the bat with making the difference.
Unlike Richards, who tried to trade for Jackson after taking the managerial reins in Baltimore, Al Lopez and Jackson never clicked. Ron respected Lopez, and remained impressed all his life with the talented way Lopez continually re-positioned fielders to what often seemed to be the perfect spot, "but he was never in my corner."
In 1957, Jackson doubled his 1956 major-league home run and RBI totals, but appeared in only 13 September games. His three-run homer beat Baltimore on September 18, and he hit safely four times on the 24th. All in all, he hit a very strong .317 in 60 at-bats. This seemed to augur well for 1958. Lopez said he hoped for a lot from both Jackson and outfielder Jim Rivera in 1958. "They're the key men," El Señor said at Chicago's annual Diamond Dinner banquet in January. "They have to come through for us. If they do, our offense will be as good as it was last year."9 Jackson was still only 24 years old, and Lopez praised his defensive work as well, though it was the power the White Sox needed, to help make up for the trades of Minnie Minoso and Larry Doby.
Dropo, Jackson, and Earl Torgeson were all in the running for the first-base post and a January 1958 Sporting News photograph of him was captioned "believed ready." He had begun to learn to pull the ball consistently, and was foreseen as the starting first baseman and cleanup hitter. Writer Jerome Holtzman called him "weak in the field and slow on the bases" and in April The Sporting News dubbed him the "slowest player afoot" on the White Sox.10 Jackson was bold enough to ask Ted Williams for some batting tips, and The Splendid Splinter characteristically obliged. That day Jackson pinch-hit once in each game of a doubleheader against the Red Sox, hitting a homer in the first game and driving in a run with a single in the second. Ron hit .233 for the year with a major-league career high 146 at-bats, with seven homers and 21 RBIs. In the offseason, Jackson began to work in the insurance business back home in Kalamazoo. His father-in-law had started the firm and it remains active today as a family business, with son Mark and daughter Jennifer and her husband running the business. The Ron Jackson Insurance Agency building bears a baseball logo. The firm also has a second office in Plainwell, Michigan. "I'm retired," he said in early 2008. "I go into the office now and drink some coffee but that's it."
Jackson showed up for spring training in 1959 carrying 26 fewer pounds on his big frame, and began to take sharpshooting lessons with several other White Sox in a program designed to try to improve their concentration. By April, however, looking back over Jackson's career to his days as a bonus baby, veteran Chicago sportswriter Edgar Munzel declared that he simply "just hasn't made any progress."11
Earl Torgeson beat out all the other contenders for the first-base job and Jackson was optioned to Indianapolis again, due perhaps in part to what he calls a "private disagreement with Lopez." The team relied on Ray Boone to back up Torgeson. Jackson got off to a hot start with Indianapolis, but soon started slumping and seeing his fielding suffer as well. In time he recovered, started hitting, and again became the starting first baseman for the American Association All-Star team. He banged out 30 home runs for Indy, and hit .286. He saw very brief duty with the major-league club: six games in April and May, and four hitless games in September. He had but three hits in 14 at-bats and drove in two runs. He was not on the postseason roster, but was given a quarter-share of the proceeds after Chicago lost the World Series to the Dodgers.
Jackson ended up in a sports page headline in the November 3, 1959 Chicago Tribune: "Sox Give Up on Ron Jackson." The White Sox had swapped their former bonus baby to the Red Sox for Boston's bonus baby, pitcher Frank Baumann. Neither player had really panned out as hoped for, though Jackson had again done well in the American Association, leading the league with his 30 homers and 99 RBIs in 1959 despite missing 33 games while with the big-league club. The Red Sox were still seeking the elusive right-handed slugging first baseman that they hadn't had since Jimmie Foxx.
Jackson went back to college three different years and in early 1960 finished the course work for his degree at Western Michigan. He majored in teaching, but though he got his degree he never began in that field, instead joining the insurance company.
When mailing in his contract to Boston GM Bucky Harris, Jackson wrote that he believed he'd finally found himself with the great season he'd had with Indianapolis in 1959. He told Boston writers that he hadn't really been happy in Chicago since Paul Richards left town. Ted Williams remained very high on Jackson's potential. The left-field wall at Fenway Park beckoned, and manager Billy Jurges opined, "We're depending a lot on Jackson and I hope he can … give our attack this big right-handed lift. I'm giving him plenty of time to get set and in the groove."12 Jackson worked closely with Rudy York, who'd been a boyhood hero. "When I was a kid, he was hitting home runs in Detroit," he said. The Tigers were, of course, the closest team to Kalamazoo, and the only team whose radio broadcasts were heard.
Early in 1960 spring training, Jackson was hurt, though it was kept quiet. "After we started playing games, about the second or third game, I went into second base and upended the second baseman and he come down on my elbow, and it popped. It didn't break but I ended up with what you call tennis elbow." He was hampered and required ultrasound to get his arm straightened out each morning. "I played through that, but right away this trainer that they had said, 'You're all done playing baseball, but just keep your mouth shut.'"
As early as April 11, one can find news stories saying that "Jackson … has failed to measure up."13 Jurges said he was going to use the newly-acquired Bobby Thomson at first base, declaring, "Let's face it. Jackson has been a big disappointment. He looks confused up at the plate. Maybe he's pressing and trying too hard. But we can't stand still."14 The Bosox actually settled rather quickly on Vic Wertz instead, and Wertz did the trick, driving in 103 runs. Ron Jackson got into only 10 games and was gone by May 17, traded to the Milwaukee Braves for Ray Boone. The trade wasn't perhaps a true case of trading damaged goods; Boone himself was suffering a bit.
Jackson had been hitting .226 at the time of the trade. He didn't know it yet, but he'd played his last major-league game. For the Red Sox, Hy Hurwitz wrote, the Baumann-for-Jackson trade "turned out to be one of the sourest deals in Boston history and did more to depose Jurges and General Manager Bucky Harris than anything else."15
The Braves assigned Ron to the Louisville Colonels farm club, and he hit rather well, with a couple of home runs and a number of RBIs in the very first week. He began to find it hard to hit to the right side, and sought out orthopedic treatment, which did the trick. The Braves sent him to finish out the season with Indianapolis, another American Association ballclub. He hit .290 that year. Doing yard work in the offseason, laying some sod, he reinjured his elbow. He hit .265 for Louisville in 1961, with 25 home runs and helped win the Little World Series, but he knew he wasn't pulling the ball as well anymore and he wasn't hitting the ball as sharply as he had.
The Houston Colt .45s had their first season in 1962 and Jackson was picked up in the draft as they were looking to build their roster. "But they did not think of me in terms of the big leagues. They thought of me in terms of Oklahoma City," Jackson said. No one from the club really called him, and he had the insurance business available to him, so he called it a day after Houston assigned him to their Oklahoma City 89ers club in November. He finished with a career .245 batting average, with 119 strikeouts to 116 hits, 17 homers, and 52 RBIs, and with a very good fielding percentage of .992.
Jackson kept in touch with some former teammates and enjoys receiving alumni mailings from the ballclubs. "When I stopped playing baseball, I stayed away for about 10 years. I didn't follow anybody. But I got it out of my system and I very much enjoy watching it now."
After a bout with pancreatic cancer, Jackson died on July 6, 2008 in his hometown, Kalamazoo. Jack Moss, the former sports editor of the Kalamazoo Gazette remembered him as "the epitome of a real sportsman. He was modest, soft-spoken, a really good athlete and a good person. He never bad-mouthed anybody, yet he had a fire within him and was very competitive." 16
An earlier version of this biography originally appeared in SABR's "Go-Go To Glory: The 1959 Chicago White Sox" (ACTA, 2009), edited by Don Zminda.
Notes
1 Interview with Ron Jackson by Bill Nowlin on February 5, 2008. All quotations attributed to Jackson are drawn from this interview unless otherwise indicated.
2 Ed Rumill, "Jackson of White Sox Trying Long Jump From Campus to Big Leagues," Christian Science Monitor, July 24, 1954: 10.
3 Edward Prell, "Sox Defeat Tigers, 9 to 0," Chicago Tribune, July 8, 195: D1.
4 Ed Rumill, "Jackson of White Sox Trying Long Jump From Campus to Big Leagues,"
5 Ed Prell, "Chisox Limp, But Lean On Their Hurling," The Sporting News, July 14, 1954: 21.
6 Al Wolf, "Sportraits," Los Angeles Times, July 19, 1954: C2.
7 David Condon, "In the Wake of the News," Chicago Tribune, March 2, 1956: B1.
8 John Kuenster, Chicago Daily News, quoted in The Sporting News, April 10, 1957: 14.
9 Edgar Munzel, "Senor Tabs Jackson, Landis as Key Men in Chisox' Chances," The Sporting News, January 22, 1958: 19.
10 Oscar Kahan, "Six Rookies Rated Spring "Surprises"," The Sporting News, April 16, 1958: 15.
11 Edgar Munzel, "Soft Sox Bats May Result In Shift of Lollar," The Sporting News, April 8, 1959: 10.
12 Ed Rumill, "Red Sox Need Hitting From the Right-Handers," Christian Science Monitor April 5, 1960: 16.
13 "Jurges Will Try Thomson at First," Christian Science Monitor April 11, 1960: 15.
14 "Jurges Will Try Thomson at First," Boston Globe, April 12, 1960: 32.
15 Hy Hurwitz, "Hub Howitzer Wertz Ready for Fast Start," The Sporting News, February 8, 1961: 4.
16 "Ron Jackson's life was full and rewarding," Kalamazoo Gazette's M.Live.com web site, July 11, 2008.
Born
October 22, 1933 at Kalamazoo, MI (USA)
Died
July 6, 2008 at Kalamazoo, MI (USA)
If you can help us improve this player's biography, contact us.
http://bioproj.sabr.org/bp_ftp/images5/JacksonRon.jpg
600
800
admin
/wp-content/uploads/2020/02/sabr_logo.png
admin
2016-01-26 13:34:27
2016-01-26 13:34:27
Ron Jackson