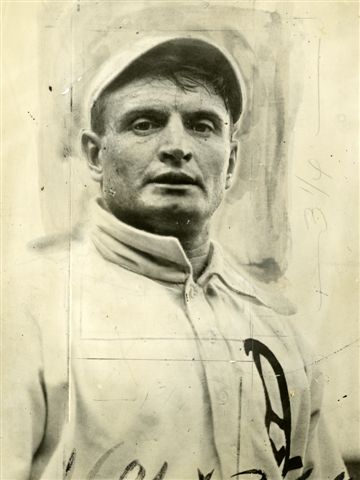 ---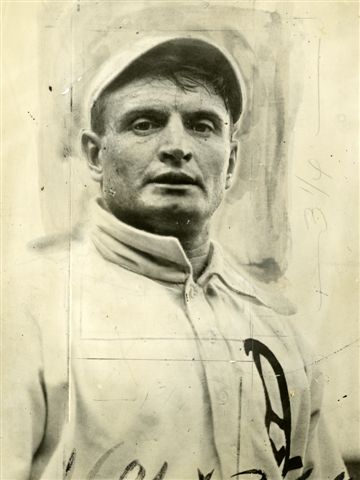 He entered this world on Friday the 13th and exited on April Fools Day. In the 37 intervening years, Rube Waddell struck out more batters, frustrated more managers, and attracted more fans than any pitcher of his era. An imposing physical specimen for his day, the 6-foot-1, 196-pound Waddell possessed the intellectual and emotional maturity of a child — although a very precocious and engaging one at that. "There was delicious humor in many of his vagaries, a vagabond impudence and ingenuousness that made them attractive to the public," wrote the Columbus Dispatch.1 Waddell's on- and off-field exploits became instant legends. 
Known to occasionally miss a scheduled start because he was off fishing or playing marbles with street urchins, Waddell might disappear for days during spring training, only to be found leading a parade down the main street of Jacksonville, Florida, or wrestling an alligator in a nearby lagoon. Despite these and other curious distractions, Waddell's immense physical ability was undeniable. He complemented a blazing fastball with a wicked curve and demonstrated excellent control with both. His strikeout-to-walk ratio was nearly 3-to-1 for his career (almost 4-to-1 in his record-setting season of 1904.)
Connie Mack, who managed Waddell for six seasons in Philadelphia, believed that Waddell had "the best combination of speed and curves" of any pitcher who played the game.2 Without Mack's patience and guidance, though, Rube Waddell might be nothing more than a humorous footnote in baseball history. Mack was the only manager able to tolerate Rube for any extended period, and that was only six seasons. But Waddell always remained a Connie Mack favorite. "Dad always had a gleam in his eye when he told stories about Rube Waddell," said Connie's daughter, Ruth Mack Clark. "Dad really loved the Rube."3
Waddell's antics have become the stuff of legend, occasionally embroidered to make this larger-than-life character appear even more preposterous. No, Waddell didn't regularly bolt from the mound to chase a passing fire wagon. But his fascination with fires was genuine. He regularly assisted firefighters, from a bucket brigade in Pewaukee, Wisconsin to large metropolitan departments in Philadelphia, Cleveland, Detroit, or Washington. Yes, on occasion Waddell did direct his infielders to the sidelines and strike out the side in the final inning—but only in exhibitions, never in a regular-season game.
One of the great myths concerns Waddell's background, which helped perpetuate the "rube" or hayseed image that adorned his career. Contrary to popular presumption, his father was not a farmer. John Waddell, a native Scotsman, labored in the Pennsylvania oil fields as an employee of the National Transit Company, a division of Standard Oil. While living in Bradford, Pennsylvania — at one time the center of the world oil production — John's wife, Mary Forbes Waddell, gave birth to their sixth child on October 13, 1876. Christened "George Edward," the future "Rube" Waddell was also known as "Ed" or "Eddie" in family circles.
In the early 1890s the Waddells relocated to Butler County, Pennsylvania and settled in the town of Prospect. In Butler County and the surrounding area, the reputation of a burgeoning pitching talent began to grow. Teenager Ed Waddell swiftly advanced from the sandlots to play for a number of semipro baseball teams in the region. In August 1896, newspapers in Titusville and Oil City made passing mentions of an Oil City pitcher named "Rube" Waddell, the first known references to his famous nickname.
In August of 1897, without so much as an inning in minor-league baseball, Waddell's reputation earned him a tryout with the National League's Pittsburgh Pirates. His seating assignment at a team meal earned him a release before he ever appeared in a game. "Rube sat beside Manager (Patsy) Donovan," the Louisville Courier-Journal reported. "Patsy heard him talk and released him as soon as breakfast was over."4
The visiting Louisville Colonels saw promise in the young left-hander and signed him. Rube made his major-league debut on September 8, 1897, a 5-1 loss to Baltimore, the defending league champion. A week later, he relieved in a lost cause against Pittsburgh.
Louisville management believed Waddell needed more seasoning before testing the majors for a full season. Accordingly, he began the 1898 campaign with Detroit of the Western League. The relationship didn't last long. Waddell pitched in nine games for Detroit before he left the team after a squabble over a fine. He pitched briefly in Chatham, Ontario and finished the year in Homestead, Pennsylvania. Waddell returned to the Western League in 1899 with Columbus, Ohio, where he enjoyed his first successful season in organized baseball, as he notched a 26-8 record for Columbus and Grand Rapids before rejoining Louisville in the final month of the season and winning seven of nine decisions.
Following the 1899 season, Rube made a brief return to Columbus, where he married Florence Dunning, the first of his three wives. To no one's surprise, Florence received a divorce from Rube in 1901 on the grounds of "gross neglect of duty."5
Prior to the start of the 1900 season, the Louisville franchise was contracted from the National League, but Colonels owner Barney Dreyfuss purchased a half-interest in the Pirates and arranged for the "trade" of 10 of his players to Pittsburgh, including Waddell. Waddell paced National League pitchers in 1900 in ERA (2.37) and was second in strikeouts (130), but also finished with a losing record (8-13) and missed nearly two months of the season.
Fred Clarke, the Pirates' player-manager, was a strict disciplinarian and had little use for Waddell's irresponsible nature. In early July, Clarke suspended Waddell, who then hooked up with a number of semipro teams in western Pennsylvania, finally landing in Punxsutawney. Connie Mack, then manager of Milwaukee's American League team, was in need of pitching. He received permission from Pittsburgh to sign Waddell, with the stipulation that Waddell would return to the Pirates if they so desired. Mack convinced Waddell to leave "Punxy" and the southpaw became an immediate sensation in Milwaukee. He won 10 games in a little more than a month, including both halves of a 22-inning doubleheader at Chicago. Impressed by Waddell's work with the Brewers, the Pirates asked for his return.
Clarke and Rube survived the remainder of the 1900 season without major eruptions but more problems arose the following season. In May 1901 Waddell's contract was sold to the Chicago Orphans. After winning 14 games (in 28 decisions) for the struggling Chicago team, Rube jumped ship again and landed with a number of semipro teams in Wisconsin. In November Rube hooked on with a barnstorming team for a tour of California. Extremely popular with the West Coast fans, Rube signed with the California League's Los Angeles Looloos for the 1902 season.
Waddell stayed in Los Angeles for only a few months before Mack, now managing the Philadelphia Athletics, enticed him to leave California to bolster the A's depleted pitching staff. Waddell agreed, and Mack sent a pair of Pinkerton escorts to ensure Waddell made it east.
Only 87 games remained on the A's schedule when Waddell pitched his first game on June 26, yet the left-hander finished the season with a 24-7 record. Rube also led the league with 210 strikeouts, 50 more than runner-up Cy Young, who pitched 108⅓ more innings. The Athletics, only two games above .500 when Rube entered the fray, finished 30 games above the break-even mark and won their first American League pennant.
In little more than half a season Waddell had established himself as one of the game's premier pitchers and Philadelphia's most bankable star. The Athletics' attendance doubled from the previous year to a league-leading 420,000. Cigars, soap, and liquor were among the products named after Waddell. The 1902 season also saw the emergence of Osee Schrecongost as Rube's favorite catcher. Waddell and Schreck (as his name was often truncated) soon became known as baseball's wackiest battery mates, as famous for their off-the-field frolics as their on-field production.
The 1903 season was the most tumultuous in the erratic career of Rube Waddell. In June he was married for the second time, this time to a Massachusetts girl named May Wynne Skinner whom he had met three days earlier. It was the beginning of a very stormy relationship. The marriage lasted nearly seven years but the couple only infrequently lived together and Mrs. Waddell often had her husband jailed for non-support. In July, American League president Ban Johnson suspended Waddell for five days after he climbed into the stands to beat up a spectator, a known gambler who had baited the pitcher.6 Despite starting the season 13-3, Waddell limped home to a 21-16 record. Still, he struck out a record 302 batters, even though his season ended prematurely on August 25 when he failed to appear for his scheduled start in Cleveland. Mack, weary of Rube's frequent unexcused absences, suspended him for the remainder of the season. A week later, Waddell patched up his differences with Mack, signed a contract for the following season with which he agreed to "live up to the regular rules," with "no favors allowed."7
From September to December Waddell toured with a theater company, performing as himself in a melodrama entitled The Stain of Guilt. Baseball's matinee idol was a big draw at the theaters as well. Critics, though, were largely unimpressed with Waddell's acting skills. "He is let out only two minutes in each scene," wrote the Chicago Journal, "and the ensuing repair bills are pretty bulky for even those few minutes."8
After numerous disagreements over advance pay, the company jettisoned Rube during its run in Philadelphia, unceremoniously dumping his bags in the alley.9 He immediately began tending bar in nearby Camden, New Jersey. His 1904 campaign progressed without serious incident. Waddell won 25 games and registered a 1.62 ERA, the second-best of his career. He also extended his post-1900 single season strikeout record to 349, a major-league total unsurpassed until Sandy Koufax whiffed 382 in 1965.
The Rube also demonstrated his more compassionate side when Athletics' center fielder Danny Hoffman was knocked unconscious by a fastball to the temple. "Someone went for an ambulance, and the players crowded around in aimless bewilderment," wrote Connie Mack. "Somebody said that Danny might not live until the doctor got there. Then the man they had called the playboy and clown went into action. Pushing everybody to one side, he gently placed Danny over his shoulder and actually ran across the field." Rube flagged down a carriage, which carted the pair to the nearest hospital. Rube, still in uniform, sat at Hoffman's bedside for most of the night, and held ice to Hoffman's head.10
The 1905 season was even better for Waddell, at least statistically. He led the AL in strikeouts (287) games pitched (46), ERA (1.48) and wins (27). His most spectacular victory was a 20-inning contest against Boston's Cy Young on July 4, 1905. Both future Hall of Famers went the distance and Rube performed cartwheels off the mound once the A's secured the 4-2 victory. According to legend, Rube bartered free drinks with the ball he used to defeat Young in the game. Before long, dozens of bartenders had this "genuine" souvenir in their possession.
Despite this success, the 1905 season ended on a sour note for Waddell. Again, he missed most of the season's final month. After another Waddell victory over Young at Boston on September 8, the A's headed back home to Philadelphia. While changing trains in Providence, Waddell and teammate Andy Coakley engaged in a friendly scuffle over a straw hat. Rube fell and injured his shoulder.11 His season was over, with the exception of two ineffective appearances in the last two days of the regular season, and he did not appear in the Athletics' five-game defeat to the New York Giants in that year's World Series. Not everybody believed the straw hat tale, however. Rumors were rampant that gamblers had paid Waddell to sit out the series.
Mack believed Waddell was never quite the same after the straw hat incident. In 1906 Waddell's ledger sagged to 15-17. Despite his losing record, Waddell ranked among the league leaders with eight shutouts, including a one-hitter over the Detroit Tigers. Waddell's drinking problem escalated during the season, and a rift developed between Waddell and Schrecongost, who had sworn off the bottle. In 1907, Rube improved his record to 19-13 but he was ineffective down the stretch as the A's fought tooth-and-nail with Detroit for the AL pennant. In a key game against the Tigers on September 30, Waddell came on in relief of Jimmy Dygert and failed to hold a three-run lead. Although the game ended in a 17-inning deadlock, the Athletics' collapse was a crushing blow to their pennant hopes and proved to be Waddell's death knell in Philadelphia. In the "interest of team harmony," Mack sold Waddell to the St. Louis Browns on February 7, 1908—a week after Waddell's wife sued him for divorce. Shortly afterward, Waddell was accused of assault and battery on both his parents-in-law.12 The resulting legal difficulties prevented him from pitching in Massachusetts, where a warrant for his arrest awaited, during the 1908 and 1909 seasons.
Waddell responded with another 19-win season in 1908, helping the much-improved Browns to stay in the pennant race, though the club faded to fourth place by season's end. Not quite the dominant force he once was, Rube was still a box office bonanza. "He paid for himself in three games after he was bought," wrote St. Louis Post Dispatch columnist John L. Wray. "He had added many thousands to the exchecquer [sic] since that time–paid admissions that would never have arrived at the gate but for the fact that Rube was scheduled to work."13 The Browns enjoyed a 48 percent boost in home attendance to more than 618,000, second in the American League, while the Athletics' attendance dropped by nearly 30 percent. On July 29, Rube enjoyed a measure of revenge against his old mates when he struck out 16 Athletics, tying the American League single-game record.
In 1909, Waddell's record slipped to 11-14 with only 141 strikeouts, as his skills began to show obvious decline. His 2.37 ERA was barely better than the league average. On April 4, 1910, after his ugly divorce from wife no. 2 was finalized, Rube married wife no. 3, 19-year-old Madge Maguire. Another tempestuous marriage followed. Rube's major-league days were also numbered. He appeared in only 10 games, all but two in relief. The Browns released him in August, leaving him to finish out the year with Newark in the Eastern League.
In 1911, Waddell won 20 games for Joe Cantillon's Minneapolis Millers, helping the Millers to another American Association championship. The following winter, Waddell lived with Cantillon at the manager's farm in Hickman, Kentucky, a small village situated on a bend of the Mississippi River. When flood waters threatened to swallow the town, Rube stood in icy water for hours helping stack sandbags for the levee. As a result, he contracted a severe case of pneumonia. His system weakened, Waddell soon became a victim of tuberculosis. He pitched one more season for Minneapolis and a part of another with two teams in the Northern League but by November of 1913 his health had reached the critical stage.
Cantillon paid Waddell's way to a sanitarium in San Antonio to be close to his parents, who had moved in with Rube's younger sister in nearby Boerne, Texas. Connie Mack and Athletics' partner Ben Shibe paid for Waddell's medical care, with orders that "Waddell should have the best of medical attention and nursing, and that no expenses should be spared to either help the once mighty Rube regain his health, or to ease his sufferings if his battle is to be a losing one."14
The once powerful Waddell, now down to 130 pounds, passed away on April 1, 1914, a few months shy of his 38th birthday. "He was the greatest pitcher in the game, and although widely known for his eccentricities, was more sinned against than sinner," said Mack. "He may have failed us at times but to him, I and the other owners of the Athletics ball club, owe much."15 He was laid to rest in Mission Burial Park South, in San Antonio.
An earlier version of this biography originally appeared in "Deadball Stars of the American League" (Potomac Books, 2006), edited by David Jones. It also appeared in "From Spring Training to Screen Test: Baseball Players Turned Actors" (SABR, 2018), edited by Rob Edelman and Bill Nowlin.
Sources
In addition to the sources cited in the Notes, the author also consulted several dozen newspapers and other publications, and the following books:
Honig, Donald. Baseball America (New York: Touchstone, 2001)
Mack, Connie. My 66 Years in the Big Leagues (Philadelphia: John Winston Co., 1950)
McGraw, John. My Thirty Years in Baseball (New York: Boni & Liveright, 1923)
Okkonen, Mark. Baseball Memories, 1900-1909 (New York; Sterling, 1992)
Ritter, Lawrence S. The Glory of Their Times (New York: Harper Perennial, 2010)
Spink, Alfred H.. The National Game (Carbondale, Illinois: Southern Illinois University Press, 2000)
The Sporting News, Cooperstown, Where the Legends Live Forever (New York: Random House, 1988)
Interview Bill Waddell, great-nephew of Rube Waddell, ca. 2005-06.
Notes
Born
October 13, 1876 at Bradford, PA (USA)
Died
April 1, 1914 at San Antonio, TX (USA)
If you can help us improve this player's biography, contact us.
http://sabr.org/sites/default/files/images/Waddell%20Rube%20705-6_HS_PD.jpg
600
800
admin
/wp-content/uploads/2020/02/sabr_logo.png
admin
2012-01-04 20:37:25
2023-01-20 12:57:02
Rube Waddell