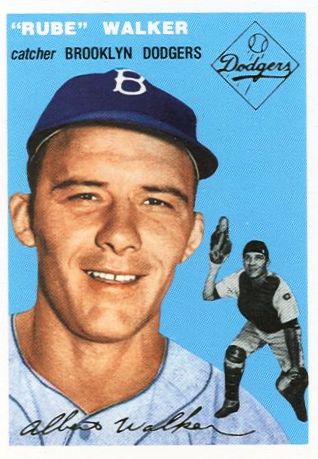 ---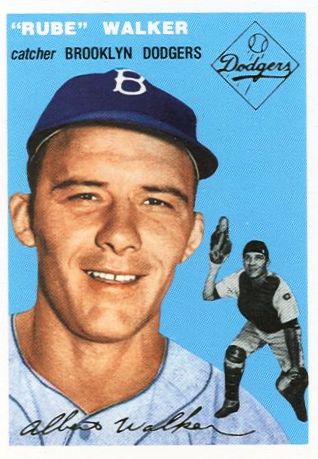 The Miracle Mets of 1969 rode their powerful young pitching to an improbable World Series championship, and the man who developed and nurtured that staff was an easygoing ex-catcher named Rube Walker. Despite not being a pitcher himself, he had an innate sense of the mental side of pitching and he used this to help his young stable of arms mature and get them to pitch with a savvy beyond their years.
Born Albert Bluford Walker on May 16, 1926, in Lenoir, North Carolina, the son of Albert and Beulah Walker, he was the oldest of three boys. He enjoyed a typical middle-class upbringing for the time. His father, a semipro catcher in his younger days, would bring home string every day from his job at the cotton mill to wrap around golf balls until they were the size of baseballs, and, once they were wrapped with black tape, the Walker boys would have homemade baseballs to play with. Young Albert earned the nickname that would stay with him the rest of his life when he was batboy for the Lenoir team of the Class-D North Carolina State League and his idol was the star of the team, Rube Robinson. Walker and his brothers had to work at his grandparents' farm to help support the family. Rube learned how to cure meat as well as handle other farm chores. He enjoyed many sports, including football and wrestling, but it was baseball that was his favorite and which he excelled at.
Upon graduation from Lenoir High School in 1944, he signed with Erwin of the Class-D Appalachian League, a Chicago Cubs farm team, and batted .264. In 1945 he began the season with Nashville of the Southern Association but hit only .216 before he was sent back to play the rest of the year with Portsmouth of the Class-B Piedmont League, where his average was .258. He played with Davenport in the Class-B Three-I League in 1946 and enjoyed a spectacular season, leading the circuit in batting at .354 while also clubbing 13 home runs and driving home 85 runs. He was back with Nashville for 1947 and had another tremendous campaign with 22 home runs, 105 RBIs and a .331 batting average, and at one point had hits in 10 consecutive at-bats. The Cubs were impressed with the slugging young catcher and signed to him to a contract for 1948.
In his rookie season, Walker showed promise as he appeared in 79 games for the Cubs and batted .275. But both the games and the batting average were career highs as Rube settled in as a career backup. He appeared in just 56 games in 1949 and 74 in 1950 and had batting averages of .244 and .230 respectively. He began 1951 with the Cubs and on June 15 he was part of an eight-player trade that sent him to Brooklyn along with outfielder Andy Pafko, pitcher Johnny Schmitz, and infielder Wayne Terwilliger for outfielder Gene Hermanski, catcher Bruce Edwards, infielder Eddie Miksis, and pitcher Joe Hatten. In Brooklyn, Walker backed up future Hall of Famer Roy Campanella and, after Campy was injured, Walker was behind the plate for Games Two and Three of the playoff series against the New York Giants. The series ended with the famous Bobby Thomson home run off Ralph Branca in the bottom of the ninth of the decisive third game, and years later Rube said that pitch was supposed to be a brushback, but "Branca didn't get the ball far enough inside."1
Things were looking a little better for Rube in his personal life at the time. On February 13, 1951, he married a local woman named Mildred whom he met in a soda shop. Walker was very devoted to his wife and later his three daughters, spending as much time as he could despite the demands of a baseball season. His first daughter, Debbie, was born in 1952, followed by Barbara in 1955, and Janet in 1963. Just like his father, Rube was more laid back and left the disciplining of the children to Millie.
He played out the rest of his career with the Dodgers as a reserve catcher. There were few highlights on the field as a backup to a future Hall of Famer. On May 21, 1952, he had two hits and scored two runs in an inning, and he hit two of his three lifetime triples off Johnny Sain. What Walker did accumulate were lifetime relationships such as with his roommate, Dodgers captain Pee Wee Reese (he named his first child after Pee Wee's daughter), and, in what proved to be the most important relationship of his professional life, with first baseman Gil Hodges. Hodges and Walker had tremendous respect for each other and the seeds of a great working relationship were planted during the Brooklyn days.
After the Dodgers moved to Los Angeles, tragedy struck with the automobile accident involving catcher Roy Campanella before the 1958 season. Walker was greatly affected by the injuries that ended the playing career of his good friend and found little solace in the first opportunity of his career to be a number one catcher. Rube was a great handler of pitchers but his limited production at the plate kept him from getting more playing time and precipitated his release from the Dodgers. He was waived on June 17, 1958, after batting only .114 in 44 at-bats backing up John Roseboro, who was batting a more robust .296 at the time. There was speculation that Rube would be named manager of the Dodgers minor league affiliate at Spokane, but instead he was kept on as a coach with the big-league club. His release was met with consternation by some Dodgers pitchers. Don Drysdale moaned, "Why does it have to be Rube?" Johnny Podres said. "I love to pitch to him.…When it comes to setting up the hitter, there were none better."2
Rube embarked on a minor-league managing career in 1959 as he was named player-manager of Houston of the American Association. This position proved to be short-lived; he was fired on June 21 with the club mired in last place in the league's West Division. He was picked up as a catcher by St. Paul of the same league and batted a combined .268 in 103 games, with five home runs and 43 RBIs playing for both St. Paul and the Dodgers' Houston farm club. The next season he became manager of Atlanta, the Dodgers' affiliate in the Southern Association, which won the league pennant with an 87-67 record. He also appeared in 62 games and batted .252. It was Walker's last season as an active player. Future major-league pitcher Pete Richert, whose costly throwing error would help Rube's Mets win the 1969 World Series, was named Minor League Player of the Year under Walker's tutelage. The club dropped to fourth place in 1961 and Walker moved on to manage Amarillo, a New York Yankees affiliate in the Texas League, in 1962 and finished sixth with a record of 56-84. In 1963 he led the Yankees' Augusta team in the South Atlantic League and finished first with a record of 41-21 in the first half of a split season but dropped off to fifth in the second half. His final season as a minor league manager came in 1964 with Columbus, a Yankees affiliate in the Southern Association, finishing in seventh place.
Walker was slated to manage the Mets affiliate at Greenville of the Western Carolinas League in 1965 when old friend Gil Hodges asked him to become the pitching coach with the Washington Senators. The Mets released Walker from his obligation and Rube was back in the big leagues. When Hodges took over as the Mets manager in 1968, he brought Walker with him and the move could not have been more fortuitous for both. Despite the Mets' history of futility, they did have some fine young pitching on the major league roster and in the farm system.
Walker believed there were only so many pitches in an arm and he watched over his young staff like a mother hen. He instituted "Walker's Law"—no pitcher was allowed to throw without Rube's knowing. There was some criticism that he babied the Mets pitchers and in some sense that may have been true, but to many on the staff Walker was a father figure and he treated the young hurlers like the sons he never had. Maybe because he was a catcher in his day, Walker was not real strong on mechanics but stressed conditioning and the mental aspect of the game. This approach seemed to work. Even with a brilliant rookie season from Tom Seaver, the Mets finished ninth in the National League in team ERA in 1967 and lost 101 games; the club improved to fourth in the same category in 1968, knocking a full run off the team ERA. The Mets finished 1968 with the best record of their brief history at 73-89. Tom Seaver matched his 1967 win total of 16 and rookie Jerry Koosman went 19-12 with a 2.08 ERA and seven shutouts. The hard-throwing staff, which included rookie Nolan Ryan, finished just seven strikeouts behind league-leading Houston—the Mets did manage to finish ahead of the Astros in the standings, the second time the Mets had avoided the basement in their checkered history.
The big change Rube Walker instituted was the five-man rotation. He believed it would keep his pitchers stronger and healthier over the long grind of 162 games. The leader of the staff, Seaver, grumbled about this at first because he had grown accustomed to pitching every four days and wondered if he would lose some of his effectiveness with more time between starts. But Seaver later became one of the biggest advocates of the five-man rotation, which subsequently was adopted by all teams.
In keeping with his philosophy that an arm had only so many pitches in it, Walker set up a strict regimen for all the team's pitchers from the beginning of spring training right through the end of the season. When pitchers reported to St. Petersburg, they ran hard to get their legs in shape. Walker strongly believed that conditioning would make the difference late in a game when a pitcher had to reach back for something extra to get out of a jam. Once the season began, a pitcher did not throw on the day after a start but ran hard. The next day he threw hard for 10 minutes, and the day after that it was back to running without throwing. The day before his next start, the pitcher would throw a little, run a bit more, and then keep the chart on that night's pitcher.
It was pitching that led the comeback from a 10-game deficit in August to the Eastern Division crown in 1969. Was it a case of the Cubs' four-man rotation wearing down in the heat of all those day games in Wrigley Field while the younger Mets had the benefit of an extra day's rest between starts? That is impossible to say, but it is a fact that the New York's pitching excelled over the last third of the regular season while the Cubs faded to second place, eight games out. The Mets set a franchise record with 36 consecutive shutout innings in early September and then broke it two weeks later. The Mets won 23 times that month, throwing 15 complete games, 10 shutouts, and compiling a 2.15 ERA. Even veteran Don Cardwell, the old man of the rotation at 33, had a 28-inning scoreless streak and five straight wins before losing the meaningless final game of the year…against the Cubs.
Though New York's pitching faltered in the first National League Championship Series, registering a 5.00 ERA, the Mets bats picked them up and the club still swept Atlanta. The Mets then silenced the powerful Baltimore Orioles in the World Series, throwing 19 consecutive scoreless innings and allowing just five runs over the last four games. Seaver, who won his last 10 decisions in the regular season and went 10 innings to beat Baltimore in Game Four of the Series; and Koosman, who'd shaken off early season arm woes to win 17 games, won Games Two and Five of the World Series. Rookie Gary Gentry and Nolan Ryan combined to win the third game in the Series, though Tommie Agee's two brilliant catches in center had as much to do with it as anything.
Walker had the respect and trust of his pitchers. Though mechanics may not have been his strong suit, he was able to help pitchers by spotting flaws in their delivery. What he did demand and teach was how to think like a major-league pitcher, and this aided in the maturation of the young staff and their ability to manage a game and set up hitters. Jerry Koosman recalled how Rube helped him by insisting that he scrap his slider, and this made his curveball more effective. The pitchers loved their laid-back mentor and enjoyed playing pranks and teasing him. One of their favorite ways of needling Rube was reminding him that he called the pitch that became one of the most famous home runs in history: the Bobby Thomson blast in the 1951 National League playoff.
The Mets did not repeat as champions in 1970 as Seaver grew fatigued down the stretch and Koosman had another bout of shoulder woes. The Mets dropped to 83 wins and repeated that total in 1971. Rube suffered some personal tragedy during this stage of his life as his mother died in April 1969; his brother Verlon, a minor league catcher from 1948 to 1961, and a Cubs coach for a decade, died of leukemia in 1971; his father died in April 1972; and his boss and good friend Gil Hodges died of a heart attack on April 2, 1972, after a round of golf in which Walker was a member of the foursome. Yogi Berra replaced Hodges as manager and he, like Hodges, let Rube run the pitching as he saw fit. The Mets charged out of the gate in 1972 and were at 30-11 when injuries began to mount and they fell to a third straight third-place finish. Two bright spots on the staff were Seaver, who won 21 games, and Jon Matlack, who won 15 and was National League Rookie of the Year.
The next season, 1973, looked like a repeat of the previous year as the Mets were hit hard by injuries. As August came to a close they were in last place, 6½ games behind the St. Louis Cardinals. Then they came to life. Tug McGraw had struggled all year and at one point had an ERA over 6.00. In an attempt to get their ace reliever going, Walker and Berra decided to give him a start against Atlanta and he gave up seven runs in six innings. But he followed that with a start against Montreal in which he allowed only one run. This seemed to work; once he returned to the bullpen, McGraw led a furious September charge to the division title. In one 10-game stretch McGraw saved six games and won three others. As in 1969, the strong Mets pitching led them to an upset in the National League Division Series over a heavily favored team, the Big Red Machine of the Cincinnati Reds, winner of 99 games. The Mets nearly completed the miracle in the World Series, falling to defending champion Oakland in seven games.
After the Series, some questioned the Mets starting Game Six with Seaver, who had battled shoulder soreness at the end of the regular season, on short rest. With the Mets up three games to two, Berra and Walker were trying to avoid a seventh game and decided that Seaver, who agreed with their assessment, could handle starting the sixth game. He pitched well but lost, 3-1. When the Mets lost the next day, some critics said the Mets should have used 12-3 George Stone and held Seaver to pitch Game Seven on full rest.
The Mets fell to fifth place in 1974, but Seaver had his last great season as a Met in '75 to claim his third Cy Young Award and Koosman had his only 20-win season the following year. Walker's beloved pitching staff was broken up by management in some questionable moves. Hard-throwing Nolan Ryan was sent to the California Angels after the 1971 season for Jim Fregosi. While Walker was not enamored with the deal, he did understand it as the Mets were near desperate in their search for a third baseman with power. To that point, there had been some doubt that Ryan would ever harness his incredible fastball and be a consistent winner; and the Mets still had Seaver, Koosman, Gentry, and a young Jon Matlack. Gentry was the next to go, after the '72 season, but this move panned out for the Mets as they acquired a quality player in Felix Millan who manned second base for the next five seasons and also got the southpaw Stone.
Seaver, was sent to Cincinnati after a feud with Mets management and newspaper columnist Dick Young ran him out of town. Matlack and Koosman both were gone shortly thereafter and the Mets struggled mightily. Joe Torre was named manager during the 1977 season and Walker remained on board. New ownership and front office management fired Torre and Walker after the 1981 season. Torre was quickly named to manage the Atlanta Braves in 1981 and he took Walker with him to be pitching coach, as well as bullpen coach Joe Pignatano, who'd been a teammate of Walker's with the Dodgers and had coached with him since 1964 in Washington and New York.
The Braves were a surprise winner of the Western Division title in 1982, their first since 1969, but Atlanta lost to St. Louis in the NLCS. The Braves finished second the next two seasons, and Torre and Walker were let go. This ended Rube's nearly 40 years in uniform and he finished his career scouting for the Braves and Cardinals. He was diagnosed with cancer in the summer of 1992, when Seaver was to be inducted into the Hall of Fame. Seaver invited Rube to the ceremony but he was too weak to attend and on December 12 of that year he died. "He was a pitcher's pitching coach," Seaver commented.3 That quote may sum up best the laid-back character who helped lead the 1969 Mets pitching staff to baseball glory.
Sources
Rube Walker's Hall of Fame file and contemporary newspapers.
Notes
1 New York Daily News, December 15, 1992.
2 New York Daily News, June 18, 1958.
3 New York Daily News, December 15, 1992.
Born
May 16, 1926 at Lenoir, NC (USA)
Died
December 12, 1992 at Morganton, NC (USA)
If you can help us improve this player's biography, contact us.
http://bioproj.sabr.org/bp_ftp/images4/WalkerRube.jpg
600
800
admin
/wp-content/uploads/2020/02/sabr_logo.png
admin
2012-01-04 20:41:58
2012-01-04 20:41:58
Rube Walker