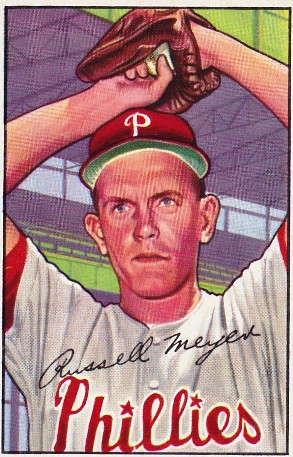 ---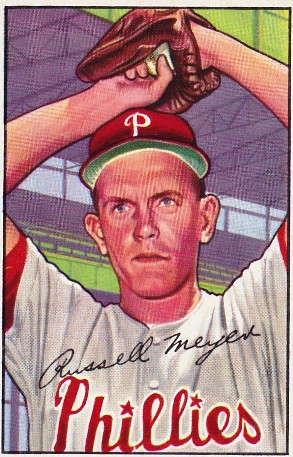 Hennery Peck, more popularly known as Peck's Bad Boy, was a fictional character created by George W. Peck, a newspaperman, in the 19th century. Hennery was a mischievous child whose doings became a popular term for any incorrigible rule-breaker.
Hennery had a real-life counterpart in Russ Meyer, a right-handed pitcher for six major-league teams from 1946 to 1959, and known alternately as the Mad Monk, Russ the Red, and Rowdy Russ. Russell Charles Meyer was born on October 25, 1923, in Peru, a small city of around 9,000 inhabitants in north central Illinois about 100 miles from Chicago. All four of his grandparents were natives of Germany; his mother, Frieda (Neff) Meyer, and father, Henry, were both born in Illinois, At the time of the 1930 census, Frieda worked as a saleswoman in a retail bakery and Henry was a foreman in a plow factory, presumably the Peru Plow and Wheel Works, where a large number of their neighbors also worked.
Russ got the "Mad Monk" nickname when he and four other teammates on his high-school basketball team shaved their heads before a championship game. The "Rowdy Russ" and "Russ the Red" monikers were a result of his antics on and off the diamond, which sometimes outshone his pitching capabilities.
Meyer, a product of an excellent youth baseball program in his hometown, pitched Peru to the finals of the 1941 National Baseball Congress tournament, and drew attention from scouts for the Chicago Cubs, the Chicago White Sox, and the New York Yankees. The White Sox won out, signing Meyer in 1942, and he spent that year at their Superior (Wisconsin) Blues farm club in the Class-C Northern League, where he won seven and lost eight, hurling 184 innings mostly as a starter. Drafted into the Army after that season, he was stationed at Fort Leonard Wood in Missouri and pitched for the camp team. Pitching in an exhibition game against the St. Louis Browns, he collapsed on the mound with a burst appendix. He contracted peritonitis and a heart murmur. Meyer spent 13 weeks in the hospital and lost 35 pounds. Because of the heart murmur, Meyer was given a medical discharge, and Army physicians told him he shouldn't play baseball for at least two years.1
But Russ was not about to give up the game just yet. After gaining back a good measure of his weight, he was eager to get back in the game. Because of the wartime demise of the Northern League, he became a free agent, and signed with his favorite boyhood team, the Cubs. They sent him to Nashville of the Southern Association, and there he learned the screwball from Hy Vandenberg, a former Cubs pitcher. Meyer pitched at Nashville for three years, and made the Cubs as a reliever in 1947, pitching well with a 3-2 record until a broken ankle ended his season.2
In 1948 Meyer was moved into the starting rotation. He won 10 games and lost 10. In his second start of the season, on April 25, he pitched a one-hitter against the St. Louis Cardinals at Wrigley Field; Whitey Kurowski got the hit in the second inning. After the season the Cubs sold Meyer to the Philadelphia Phillies for $20,000.3
Meyer seemed to attract trouble and get involved in weird situations. Pitcher Robin Roberts wrote in his autobiography that once, after a game in New York, Meyer was walking to the team hotel. On his way he met a man who sold him a "hot" diamond for $50. In the hotel lobby, he showed it off to some of his teammates. Bill Nicholson rubbed the diamond against the floor. The diamond immediately disintegrated, to Meyer's chagrin. On the Phillies' next trip to New York, Roberts wrote, Meyer spotted the "diamond" seller on 42nd Street, grabbed him, and demanded his money back. The man's yelling attracted a policeman who, after Meyer told him what had happened, made the swindler give Meyer his $50 back plus another $25 for the embarrassment it caused Monk.4
Roberts in his autobiography recalled an incident in 1953, after the Phillies traded Meyer to the Brooklyn Dodgers. Pitching against the Phillies in Connie Mack Stadium, Meyer walked Richie Ashburn with the bases loaded, forcing in the go-ahead run. Meyer charged off the mound to protest to umpire Augie Donatelli. Meyer's language got him ejected by Donatelli. But he returned to the mound and just refused to leave until manager Charlie Dressen came out to get him. Finally Russ stomped off the mound. As he did, he flipped the rosin bag into the air with disgust. The rosin bag flew 30 feet in the air and came down directly on Meyer's head. White powder flew everywhere, and even Monk had to laugh a little, Roberts said.
Monk wasn't through, however. When he got to the dugout, Roberts said, he yelled at Donatelli and grabbed his crotch. The game was the TV Game of the Week, and a camera in the dugout caught the whole episode and displayed it to the nation. The network switchboard lit up like a Christmas tree. For about the next 10 years baseball had a "Meyer" Rule that forbade cameras in the dugout. And Meyer was fined and suspended for three days, one of at least three suspensions he served during his career.5
Once during the Phillies' pennant-winning 1950 season, Meyer was getting knocked around in the first inning in Cincinnati. After the Reds batted around, manager Eddie Sawyer walked to the mound to take Meyer out of the game. Before Sawyer could reach the mound, Monk took the ball and bounced it so hard off the pitching rubber that it went all the way to first base. Then he stormed off the mound and in the dugout gave the water bucket a hard kick and fell to the ground rolling around in great pain. He was taken to a hospital where an X-ray showed a break, and a cast was put on. Despite his apparently injured leg, Meyer continued on the road trip with the Phillies, and in Pittsburgh he told teammate Bill Nicholson that his leg did not hurt anymore. Nicholson said that maybe an old break from earlier in his career showed up on the X-ray. So once back in Philadelphia, Meyer had another X-ray, which showed that, sure enough, the earlier X-ray had showed an old break.6
Still, Meyer couldn't stay out of trouble. Two days before the final game of the 1950 season, he was involved in another fracas. On an offday in New York, he and several teammates went to Ebbets Field to see the Dodgers play the Braves. Russ took a swing at a pesky photographer. That night the photographer and a policeman went to Meyer's hotel room. Russ was taken to the police station. There, he called Eddie Sawyer and finally everything was settled. The photographer apologized and Meyer apologized. Peck's Bad Boy had dodged another bullet.7
In the 1950 World Series, Meyer pitched in relief in Games One and Three as the Yankees swept the Phillies. He was the loser in Game Three, giving up the winning run on three straight singles in the ninth inning.
The one incident Meyer himself regarded as the worst was the affair with Jackie Robinson, which occurred early in his tenure with the Phillies. Robin Roberts quoted Meyer in his biography: "Jackie was on third base one night when I was pitching against the Dodgers in Ebbets Field, going up and down like he did, threatening to steal home. So I yelled over to him, 'Go ahead you nigger, try to steal.' Bad judgment on my part but I said it and I'm not going to deny it. Well, he did try to steal on the next pitch and Frank Dascoli called him safe. I made a real good throw, down, and he slid on the first base side and never did get the plate but Dascoli called him safe." Meyer said he took off after Dascoli and had him pinned against the screen, calling him every name he could think of. Meanwhile Jackie Robinson on the Dodger bench was laughing his head off. Meyer saw Robinson laughing, went to the Dodgers dugout and said to Robinson, "C'mon … let's go underneath, so he said, "Let's go." Bill Nicholson talked Meyer out of it.8
After a couple of so-so seasons with the Phillies, Meyer was traded to the Dodgers before the 1953 season as part of a four-team deal also involving the Boston Braves (just before they moved to Milwaukee) and the Cincinnati Reds. Jackie Robinson told him, "Monk we've been fighting one another, now let's fight 'em together." "What class," Monk said.9
Maje McDonnell, the Phillies' batting-practice pitcher, was Meyer's road roommate. Meyer, he said, was big on nightlife, except for the night before he was going to pitch; he was always in then. But for all his antics on the diamond, McDonnell said, "He wasn't that way off the field. He was a generous, kind, and warm-hearted guy."10
The trade to the Dodgers rejuvenated Meyer. In his first season he won 15 games and lost 5 as the Dodgers won the pennant. In his only appearance in the World Series, he pitched 4⅓ innings in relief of Johnny Podres in Game Five, giving up four runs. In 1954 he won 11 games and in 1955, pitching mostly in relief, he won six. In the '55 World Series, against the Yankees, Meyer relieved Karl Spooner in Game Six and pitched 5⅔ innings of scoreless relief.
After the 1955 season Meyer was traded to the Cubs, where he went 1-6 in 1956 and was sent on waivers to Cincinnati in September. Just before the start of the 1957 season the Redlegs sent him to the Boston Red Sox on waivers. He pitched in only two games for the Red Sox and spent the rest of the season with Nashville and Seattle. He was out of baseball in 1958 but signed with the Kansas City Athletics in April 1959 and pitched in 18 games (one victory in relief) before being released in July.
His career numbers for 13 seasons in the majors were 319 games played, 219 games started, 94 wins, 73 losses and a 3.99 earned-run average. Not a bad journeyman's journey. During the 1953 and 1954 seasons Meyer became one of only three pitchers who went at least 24 road starts without a loss. The others are Allie Reynolds, who holds the record at 25, and Chris Young, who also started 24 road games without a loss.
Meyer's travails, antics, and explosive temper put him in the same league as other characters like Bobo Newsom, Al Schacht, and Willie "Puddin' Head" Jones. He may have been a knockoff of Peck's Bad Boy, but he was honest and warm-hearted, and saw life as something you fully live and take the consequences. He may have been crude at times but he was never malevolent. Meyer died on November 16, 1998, in Oglesby, Illinois. He was 74 years old. He was survived by his wife, Dorothy, and three children.
This biography appears in "The Whiz Kids Take the Pennant: The 1950 Philadelphia Phillies" (SABR, 2018), edited by C. Paul Rogers III and Bill Nowlin.
Sources
In addition to the sources cited in the notes, the author also consulted:
Brown, Hugh. "The Terrible Tempered Russ Meyer," Sport Magazine, December 1952.
Paxton, Harry T. The Whiz Kids — The Story of the Fightin' Phillies (New York: David McKay Company, 1950).
Ryan, Jack. "From Redneck to Blueblood by Way of Poise and Avoirdupois — That's the 'Inside' on Cubs' Russ Meyer, Baseball Digest, September 1948.
Notes
1 Robin Roberts and C. Paul Rogers III, The Whiz Kids and the 1950 Pennant (Philadelphia: Temple University Press, 1996), 158.
2 Roberts and Rogers, Whiz Kids, 158.
3 Roberts and Rogers, Whiz Kids, 152, 158.
4 Robin Roberts and C. Paul Rogers III, My Life in Baseball (Chicago: Triumph Books, 2003), 112; Roberts and Rogers, Whiz Kids, 152-54.
5 Roberts and Rogers, My Life, 133; Roberts and Rogers, Whiz Kids, 156-57.
6 Roberts and Rogers, Whiz Kids, 181-82.
7 Roberts and Rogers, Whiz Kids, 307.
8 Roberts and Rogers, Whiz Kids, 52-54.
9 Roberts and Rogers, Whiz Kids, 54.
10 Roberts and Rogers, Whiz Kids, 154-55.
Born
October 25, 1923 at Peru, IL (USA)
Died
November 16, 1997 at Oglesby, IL (USA)
If you can help us improve this player's biography, contact us.
http://bioproj.sabr.org/bp_ftp/images4/MeyerRuss.jpg
600
800
admin
/wp-content/uploads/2020/02/sabr_logo.png
admin
2012-01-04 20:29:59
2012-01-04 20:29:59
Russ Meyer