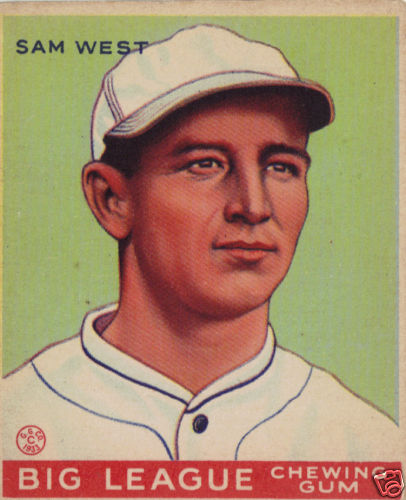 ---
"The art of converting base hits into putouts as exemplified by Sam West, knows no equal among major league outfielders and has had no peers since Tris Speaker's glory days, on the authority of Washington club President, Clark Griffith, who will tell you that he has spent forty-two years in baseball, and he ought to know." — Washington Post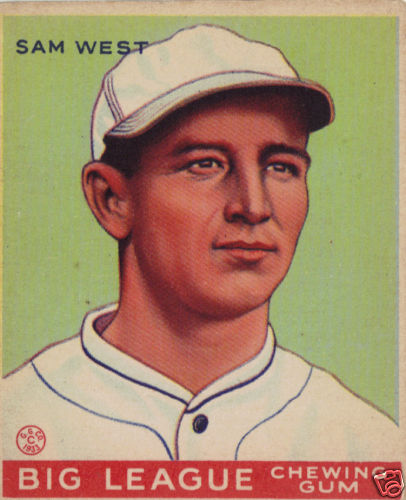 Sam West could not believe what he was hearing.
On this holiday in the early 1920s, Rule (Texas) High School was about to cap a day of festivities with a baseball game against Hutto High School. West, a student at Rule High, expected to be one of the starting outfielders but was informed by his coach that he would be viewing the game from the bench. Angry and unwilling to sit before the student body, West left the picnic and hurried into town to watch the Rule semipro baseball team play. That was when destiny came calling.
When West got to the ballpark, he found that there was a delay. The right fielder for the Rule nine was missing. West seized the opportunity by volunteering to fill in, and the Rule manager agreed to start the game with the raw schoolkid patrolling an outfield position.
Like a chapter out of the book of Frank Merriwell, West proved to be an asset instead of a liability, and soon enough he was installed as the team's regular right fielder. But the pleasure of winning a starting job on the town's team, and pointing at the high-school coach each time he saw him, wasn't enough for Sam West, who wanted to conquer bigger and better goals.
Samuel Filmore West was born on October 5, 1904, in Longview, Texas. He was the second son of Ardie, a farmer, and Dora West. As a child West went by Almer or Alma but preferred Sam. After he began to play ball, he changed his name legally to Sam.
Samuel and his three brothers and two sisters worked long hours in the fields of the family farm, and attended school. When he was 12, Sam was bitten by a rattlesnake as he chopped cottonwood. His mother immediately placed his foot in a bucket of coal oil while his father ran for a doctor. Sam was in serious condition for several days before regaining his health. The doctor credited the quick-thinking Mrs. West for saving Sam's life.
Another childhood mishap occurred while Sam was cutting something in the family's kitchen, when he accidentally shortened two fingers on his right hand. (He batted and threw left-handed.)
While playing for Rule, West was scouted and signed by Roswell, New Mexico, of the Class D Panhandle-Pecos Valley League, for 1923. At the age of 18, he batted .282 in 99 games. The next season he batted .271 for Sulphur Springs of the Class D East Texas League. He began the 1925 season with Monroe, Louisiana, of the Class D Cotton States League. After hitting .341 in 23 games, he was back in the East Texas League in July, this time with the Longview Cannibals, and on July 19 the Longview native hit for the cycle in the Cannibals' 9-5 win over Texarkana. He finished the season with a second tour of Sulphur Springs. The Cannibals finished the season with an eight-game winning streak and a 37-26 second-half record. West's strong showing – he hit .325 in 81 East Texas League games – convinced a scout for the Birmingham Barons of the Southern Association that he was ready to play in the upper levels of the minor leagues. Playing the last month of the 1925 campaign for the Barons, West hit .265 in 24 games. In 1926 he burned up the league, and played so well that the caught the eye of the Washington Senators' super-scout, Joe Engel. Convinced that West would prove to be the center fielder of the future for Washington, Engel began to arrange for his purchase. His scouting report noted West to be a good hitter but, surprisingly, a poor fielder. Engel would have been surprised to know that this prospect would become one of the best defensive center fielders in major-league history.
But Engel's report about West's good hitting was accurate. After the first week of July, he was hitting .340 and he was leading the league with 16 home runs and 90 runs.
On July 8 West stepped into the batter's box to lead off the bottom of the first at Rickwood Field against Mobile left-handed pitcher, Merle Settlemire. The Mobile southpaw's first pitch slipped, and the ball struck the batter square on the head. West fell unconscious. "This fellow didn't throw at me," he said in later years. "It rained that day before the game. It was wet around home plate. First pitch, I took my stride and my spikes didn't hold and all I could do was duck my head."
He was taken to T.C.I. Employees Hospital, where X-rays, according to the Birmingham Age-Herald, revealed a slight fracture of the outer portion of the skull. Barbara Smith, Sam West's niece, said her father told her that her uncle was hit on the cheek. The Washington Post reported that he took a pitch above the eye, and it was feared his vision would be impaired.
The next day a sportswriter from the Age-Herald went to the hospital to check on the injured ballplayer and was surprised to learn that West had been discharged. He had gone home to Texas to recover.
"I have ordered Sam West to take no violent exercise, but he is not out for the rest of the season," his doctor said. "He may be able to play within the next two to three weeks, maybe longer, if he takes care of himself." But West did not return to action. His 1926 season had ended.
The Senators were not discouraged. On August 13 they arranged for the purchase of his contract for $10,000. The team instructed him to remain in Texas until he had fully recovered.
West was well enough to report to the Senators' spring-training camp at Tampa, Florida, in 1927. The rookie was assigned to back up all-time great Tris Speaker, but he did not mind. "Tris Speaker, he helped me more than anybody I guess," West recalled. "I worked with him every day." (Speaker, who had been player-manager of the Cleveland Indians, had joined the Senators after being cleared, along with Ty Cobb, by Judge Kenesaw M. Landis in a gambling scandal. Landis had reinstated Speaker with Cleveland, but the Indians allowed him to make a deal for himself.)
West made his major-league debut on April 17, 1927. On the 25th he beat a throw to first base after hitting a routine grounder, and his effort allowed the winning run to score in a 5-4 win over the New York Yankees.
Because of a leg injury that did not respond to treatment, and dental problems, West's rookie season was limited to just 67 at-bats. The leg injury, which was believed to be a muscle pull, came while running the bases in St. Louis. A month later West aggravated the injury while trying to beat out a groundball. The injury failed to respond to casual treatment and believing it to be either ligament or nerve damage, doctors placed West's leg in a cast. While Sam waited for his leg to heal, his tonsils, which had bothered him all season, began to ache so badly that surgery was finally performed. With his leg still ailing, and his throat sore from surgery, the Senators ordered West to skip the rest of the season and go back to Texas to recover for the 1928 season.
In 1928 the Senators did not renew Speaker's contract, and when spring training began, West was slated as the starting center fielder. But after West went 9-for-47 at the plate during the exhibition season, and complained that his leg was still bothering him, Washington manager Bucky Harris turned to Babe Ganzel. After Ganzel proved to be a disappointment by going 2-for-26, Harris went to a platoon system of West and Red Barnes, with West playing only against right-handed pitchers. He played in 125 games and batted .302, with 30 doubles and seven triples. In the field he was impressive; he made just one error all season, and he led all American League outfielders in fielding percentage (.996).
In 1929 pitching great Walter Johnson became the new Washington manager, and that was fine with West. "Oh, he was a fine, fine, fellow," West later said of Johnson. "One of the finest fellows I ever met."
In spring training Johnson made it no secret that he liked his center fielder. "I am particularly sweet on West because he was so many good points," Johnson said. "He is as fast as lightning. He has one of the best throwing arms in baseball, and I know he will be a good hitter once he gets his stride. And above all, he has a good attitude. He is always out there hustling and giving it his all."
Now the Senators' everyday center fielder, West batted just .267 in 1928, mostly due to an inability to step in against left-handers. Since that rainy July day in 1926, West had consistently taken a weak swing against left-handers while striding out of the box. After the season, a disappointed Walter Johnson said of West, "There is no question that 'Sam of Birmingham' is one of the best fielders in the majors today. But for a team that is looking for his big batting punch to be furnished, West has been unable to show us this."
Before the start of the 1930 season, the Senators purchased the contract of George Loepp, a right-handed-hitting center fielder who could hit left-handers, and could platoon with West.
Also before the 1930 campaign, West married Grace Louvella Cross, from back home in Rule, on February 23. A graduate of the College of Industrial Arts in Denton, Texas, she was a schoolteacher in Lubbock, Texas.
The 1930 Senators, according to the sportswriters, were expected to finish seventh, but they shocked the baseball world by winning 94 games and contending for the American League pennant. They finished in second place, eight games behind the Philadelphia Athletics. West contributed with clutch hitting and a .327 batting average while playing against just right-handed pitching, but the Senators ran out of patience with his weakness against left-handers. At the Del Prado Hotel in Chicago on the morning of July 27, West was summoned to Clark Griffith's room. The longtime president of the Senators informed the 25-year-old outfielder that George Loepp had been sold, meaning that West would now play center field every day, regardless who was hurling for the opposition. Griffith bluntly told West that if he couldn't learn to hit left-handers, he would be replaced.
The message was heard. Later that day West banged out a pair of hits against Chicago left-hander Dutch Henry. The next week he smashed two hits off Herb Pennock, one of the best lefties in the league. A few weeks later he tagged Pennock for three hits in a game.
During the home stretch of the 1930 season, West injured his right elbow. He had strained it during the exhibition season, but said the arm would be okay for the start of the season. As the 1930 season progressed, the arm began to hurt. Still, West played in 120 games and hit .328. In the offseason X-rays showed a small bone break on the joint and a possible fracture within the joint. When Frank Young of the Washington Post heard the news, he commented, "Hard luck surely seems to be camping on the trail of Sam West."
But West assured all the worriers that he was fine. "Why, my arm feels all right now. I have been hunting often and using it considerably. I'm not worrying at all. I'll be ready to start with the rest of the team next month in Biloxi, and I figure on being able to go right through the season, too."
West wasn't kidding. In the spring exhibition games he hit .414 with five homers and 20 RBIs. However, before the season would begin, West reinjured his already lame throwing arm, and when the arm began to swell, there was talk about surgery. The decision was to hold off on surgery, and after sitting out the first two weeks of the seaon to give his arm rest, West pounded out four hits against the Yankees in his first start of the 1931 season. "I just figured West was too good of a man to be kept on the bench," Walter Johnson said after the game.
West continued his batting rampage. Now able to hit lefties was well as right-handers, he was batting .362 on June 21,, and was moved to the number three spot in the Washington batting order. He finished the season with a .333 batting average, good for eighth in the American League, and drove in 91 runs. In the field he made over 400 putouts, and his 15 assists proved his arm was fine. But a full season of wear did damage that required surgery before the 1932 season.
After having surgery in Chicago, West reported to Biloxi, Mississippi, for spring training in 1932, and he was immediately was put through a test by Johnson and Griffith. After he fired several balls to a catcher, the two were convinced that West's arm was fine.
In 1932 West hit .287 and drove in 83 runs. In the field he made 450 putouts and had 15 assists. The Senators finished in third place for the second straight season, and Walter Johnson lost his job. "He was just a little too nice" was West's explanation to why the Senators fell short of winning the pennant under Johnson's direction.
In December 1932 new manager Joe Cronin and Griffith attended the baseball winter meetings in New York City with the intention of strengthening their team by acquiring veteran talent. They made a trade with the St. Louis Browns that brought Goose Goslin back to the Senators. However, with Goslin in the Washington lineup, there was an unbalanced batting order of five left-handers and three right-handers. With that in mind, Cronin and Griffith made a trade they did not want to make but felt was necessary: a swap of center fielders with the Browns. Sam West was traded for Fred Schulte, a right-handed hitter. (It all was considered one trade: West, pitcher Lloyd Brown and outfielder Carl Reynolds to the Browns for Goslin, Schulte and pitcher Lefty Stewart.)
"You are always unhappy when you leave all your friends," West said of the trade. "We were all one big happy family over in Washington."
West got off to a great start with his new team. In the second game of the 1933 season he went 6-for-6. Three days later he went 3-for-4. In early July he was among the top hitters in the league with a .332 batting average, and was added to the American League roster for the first All Star Game. In the game, on July 6 at Comiskey Park in Chicago, the American League defeated the National League, 4-2. West entered the game in the top of the ninth inning as a defensive replacement for Babe Ruth.
West finished the 1933 season with a .300 batting average, 11 home runs, and 93 runs scored for the last-place Browns. The toughest part of the season for him must have been on September 21 in Washington, when he saw his former teammates clinch the pennant with a 2-1 win over the Browns.
In 1934 the Browns suffered through another losing season, but improved to sixth place, and even finished higher than the Senators. (Washington finished seventh, one game behind the Browns.) West enjoyed another fine season by hitting .326 while scoring 90 runs, and again was selected to represent the Browns in the All Star Game. Once again he entered the game as a late-inning substitution, and made a putout. Or did he?
"I got credit for making a great catch in the ninth inning but never touched the ball. Chapman made the catch," West said. The mixup was caused when the radio play-by-play broadcast announced that West had entered the game in place of Babe Ruth. Actually, Ben Chapman had moved from center to replace Ruth in right field while West played in center field. The ball was hit to right field and, thinking it was West who had replaced Ruth, the broadcaster gave West credit for making the catch.
In 1935 West batted .300 and was again an All-Star, but didn't get into the game. In 1936 he played in 152 games – the most in his career – and hit .278. In 1937 he batted .328 and was the American League's starting left fielder in the All-Stat Game. In that game, which was played in Washington, West went 1-for-4, his hit coming in the fourth inning to help spark a three-run rally for the victorious American League.
During the 1938 season, West was traded back to Washington for center fielder Mel Almada. That season West batted .305. It was the eighth time in his career that he hit .300 or higher. He played three more seasons in Washington, mostly in a part-time role. The Senators released him after the 1941 season and he signed with the Chicago White Sox for 1942. He played in only 49 games and hit .232. After the season West joined the Army Air Forces. "Although baseball has taken a back seat for the duration, I am going to stay in baseball after the war," he said during his basic training at the Lubbock Army flying school. After basic training, West remained at the base and as a sergeant was in charge of physical-fitness training of pilots and base personnel.
After his discharge from the Army in July 1945 West, now 40, was released by the White Sox. He stayed in baseball as a coach for the Senators for two seasons before retiring from the game.
West had purchased a drugstore in Lubbock in 1933. After reiritng from the game he sold his drugstore and opened a sporting goods center, which eventually became one of the most successful in West Texas. He operated the business until poor health forced him to sell it and retire at the age of 69. He died on November 13, 1985, at the age of 81.
West's career major-league statistics include 1,753 games played, a .299 batting average, 934 runs, 347 doubles, 101 triples, and 75 home runs. He made 4,300 putouts and had 151 assists. He had a career fielding percentage of .983.
According to the Tenth Edition of the Baseball Encyclopedia, West's career average of 2.9 chances per game ranked seventh best of all time for outfielders, and his average of 2.7 putouts per game ranked sixth best.
Sources
Washington Post
Birmingham Age-Herald
The Baseball Encyclopedia (Tenth Edition)
The Sports Encyclopedia Baseball
Sam West interview by Paul Green in Sports Collectors Digest (supplied by Barbara Smith, Sam West's niece)
E-mail interview by author with Barbara Smith
www.longviewcannibals.com
Born
October 5, 1904 at Longview, TX (USA)
Died
November 23, 1985 at Lubbock, TX (USA)
If you can help us improve this player's biography, contact us.
http://bioproj.sabr.org/bp_ftp/images4/WestSam.jpg
600
800
admin
/wp-content/uploads/2020/02/sabr_logo.png
admin
2012-01-04 20:27:40
2012-01-04 20:27:40
Sam West