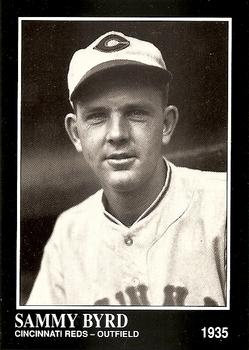 ---
"Sammy Byrd, the Yankee reserve outfielder, is a good golfer, but he has not had a real chance to show how good a ball player he is." — Boston Globe, December 17, 1934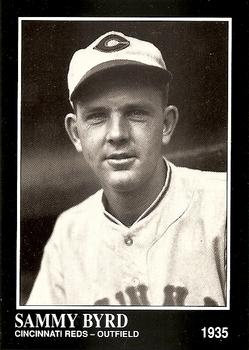 Sammy Byrd could have been a starting outfielder on any other team, but on the great New York Yankees teams from 1929 to 1934, he was a fill-in, a pinch-runner and late-inning defensive replacement. He was an agreeable and capable substitute, but in the words of sportswriter James C. Isaminger, Byrd's baseball career "was wasted sitting on the bench when he was in his prime."1
Regarded as the best golfer among professional baseball players, Byrd enjoyed success as a professional golfer after retiring from baseball. He is the only man to play in baseball's World Series and the Masters Golf Tournament. He had "the most graceful [golf] swing you've ever seen," said Waite Hoyt. "His baseball swing was just as easy, and when he got hold of one it rode the fences easily."2
A grand slam when trailing by three runs in the bottom of the ninth inning is a rare feat and is called an "ultimate" grand slam. On May 23, 1936, as a member of the Cincinnati Reds, Byrd clouted the first pinch-hit ultimate grand slam in major-league history.3
Samuel Dewey Byrd was born October 15, 1907, in Bremen, Georgia.4 To family and friends, he was known as Dewey. He was the second of four children born to Rhone and Delphia Byrd.5
The family moved to Birmingham, Alabama, about 1911 and lived beside the Roebuck Golf Course where Dewey developed an interest in golf and worked as a caddy.6 At Simpson High School in Birmingham, he excelled on baseball and basketball teams. Rhone worked in construction and taught Dewey to be a bricklayer.
Dewey's baseball skills got him signed by the Birmingham Barons of the Class A Southern Association and farmed out to the 1926 Jonesboro (Arkansas) Buffaloes. He batted .348 in 59 games for the Buffaloes and was leading the Class D Tri-State League in hits when the league folded on July 5.7 He finished the year on the Alexandria (Louisiana) Reds of the Class D Cotton States League.
The next year, the Barons assigned Byrd to the Knoxville (Tennessee) Smokies of the Class B South Atlantic League. He hit .331 for the Smokies and caught the eye of Yankees scout Eddie Herr.8 The Yankees purchased Byrd's contract and sent him to the Albany (New York) Senators for the 1928 season; he batted .371 and led the Class A Eastern League with 120 runs scored.9 On August 31 he hit for the cycle in Albany's 14-2 rout of the Providence Grays.10
Byrd was a right-handed batter and thrower, and stood 5'10" and weighed about 170 pounds. As a rookie outfielder at Yankees spring training in 1929, the soft-spoken youngster was mentored by outfielders Babe Ruth and Bob Meusel.11 On May 11, Byrd made his major-league debut in Detroit. He pinch-hit for Earle Combs in the sixth inning and drew a walk from Tigers pitcher George Smith. Byrd stayed in the game in center field and singled off Smith in the eighth inning for his first major-league hit.
From June 2 to June 18, Byrd received his first opportunity as a starter, filling in for a sick Babe Ruth, and he impressed by hitting .321 and committing only one error in 40 chances in right field. Sportswriter Irving Vaughan praised Byrd's fielding on June 2 against the Chicago White Sox: "On three occasions the young man flagged drives that the ponderous Babe would have been forced to welcome on the first hop."12 A week later, facing St. Louis Browns pitcher Rip Collins, Byrd ripped his first major-league home run.
In the spring of 1930, many ballplayers were smitten by golf. "The royal and ancient game has spread like a prairie fire among big league players," observed John Heydler, president of the National League.13 Although Byrd was new to the big leagues, he was already "considered the best golfer among professional baseball players."14 Babe Ruth was known for his gargantuan appetite for food, but he "loved golf" and would "rather play it than eat," said Byrd, adding, "We played every chance we had."15 While Byrd was Ruth's understudy in baseball, Ruth was second fiddle to Byrd on the links.
On May 4, 1930, Byrd recorded nine putouts against the White Sox; the "Alabama flash covered left field as Dixie is covered by the dew," said sportswriter George W. Daley.16 The Sporting News reported that Byrd "is one of the few outfielders in the game today who can take his eye off a ball hit over his head at the crack of the bat and chase back to turn around at the right place and make the catch."17
Byrd delivered the walk-off blow in consecutive victories over the Tigers in 1931. On July 23 he lifted a fly ball that was caught in deep center field, allowing Dusty Cooke, the runner on third base, to tag up and score the winning run in the 13th inning. The next day, Byrd's ninth-inning single sent Jimmie Reese home with the game winner.
After averaging 212 at-bats per season from 1929 to 1931, Byrd was poised to break out of his reserve role and become a regular on the Yankees. His preseason batting average in 1932 exceeded .500.18 He homered in four consecutive April exhibition games and continued his torrid hitting in the regular season. 19 As the Yankees starting center fielder from April 12 to April 23, he hit .389 with four home runs in eight games. But his progress was derailed by sinus problems, which sent him back to the bench in May.20
Byrd returned to the starting lineup for a 15-game stretch in September in which he hit .343 with five doubles, four home runs, 14 runs scored, and 15 runs batted in. But when the season ended, he had received only 209 at-bats as the team's fourth outfielder. With a starting outfield of Babe Ruth, Earle Combs, and Ben Chapman, the Yankees won the 1932 American League pennant by a decisive 13-game margin over the second-place Philadelphia Athletics and swept the Chicago Cubs in the World Series. Byrd appeared in only one inning of the Series, as a defensive replacement for Ruth in the final inning of the final game. Two days later, Byrd wed Rachel Elizabeth "Rae" Smith of Birmingham in New York; his teammate and pal, Bill Dickey, was the best man. The next day Dickey married Violet Arnold, also in New York.21 Byrd and his wife had a daughter named Catherine, born in 1939.22
In the offseason, Byrd pursued his passion for golf. He turned pro by participating in his first professional golf tournament at Pinehurst, North Carolina, in November 1933.23 At the Miami (Florida) Biltmore Open in December, golfers "gasped" at his prodigious 300-yard tee shots.24 He "hits the ball a mile," said Bobby Jones, the great amateur.25 Tommy Armour, who tied for third place in the Open, said Byrd "has one of the best golf swings I have seen anywhere." 26 "I believe he can hit a golf ball as far as anyone now living and I also believe that with a little more chance to play and practice he would be one of the true stars of the game."27
On the Yankees, Byrd continued in his reserve role and averaged only 149 at-bats per season in 1933 and 1934. He frequently subbed for the aging Babe Ruth in late innings and was nicknamed "Babe Ruth's Legs." For example, against the White Sox on May 11, 1934, the 39-year-old Ruth singled and scored in the first inning; walked and scored in the third inning; and grounded into a double play in the fifth inning. After he drew a walk in the seventh inning, the 26-year-old Byrd was called on to pinch-run for him, and Byrd stayed in the game, taking Ruth's place in right field. The game went into extra innings, and after Earle Combs tripled with one out in the 14th inning, Byrd delivered a walk-off single to give the Yankees a 7-6 victory.
After six seasons, Byrd was freed from the Yankees bench when his contract was purchased by the Cincinnati Reds on December 19, 1934. On that same day, the Yankees made a trade with the San Francisco Seals of the Pacific Coast League to acquire Joe DiMaggio.28 Babe Ruth was released by the Yankees two months later.
"I am tickled pink to be with the Reds," said Byrd. "I'll be in the outfield regularly and will help the club to climb."29 In the 1935 season opener on April 16, he started in left field and slugged a two-run homer off Waite Hoyt in the Reds' 12-6 triumph over the Pittsburgh Pirates. On May 24, in the first night game in major-league history, Byrd made a spectacular catch in center field:
"In the sixth inning Dolf Camilli, hard hitting first sacker of the Phillies, got hold of one, and drove it deep into center field. The smash appeared headed for the fence, but Byrd, who was racing back at top speed, played the wallop perfectly. Just as the horsehide was about to crack the barrier some 400 feet from the plate, Sam leaped into the air to spear the ball with his gloved hand. As he made the catch he crashed into the fence, and rebounded like a rubber ball."30
Byrd injured his knee when he collided with the outfield wall and was sidelined for ten days.31 On July 16, against the New York Giants, he had a big day at the plate; he twice came to bat with the bases loaded, and came through with a bases-clearing double and a two-run single, driving in five runs in the Reds' 7-5 victory. He finished the 1935 season with career highs in at-bats (416), doubles (25), home runs (9), and runs batted in (52), but his .262 batting average was below the league average (.277).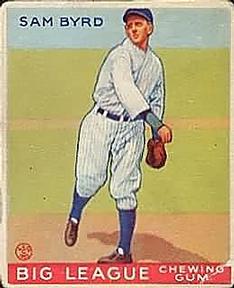 Byrd returned to reserve duty in 1936, his final season of professional baseball, and hit .248 in 141 at-bats. There were several highlights during his swan song, but none greater than his plate appearance on May 23. With the bases loaded and the Reds trailing the Pirates, 3-0, in the bottom of the ninth inning, manager Chuck Dressen sent Byrd in to pinch-hit. On the first pitch from Cy Blanton, Byrd slugged an "ultimate" grand slam over the left field fence to give the Reds a dramatic 4-3 victory.32 It was the only grand slam of Byrd's career.
Four days later, the Reds defeated the Cubs, 5-3, and Byrd singled and scored a run during his team's five-run ninth-inning rally. But it was Byrd's fielding that sportswriter Lou Smith described: "Sammy Byrd roamed far, wide and handsome in center field. He robbed Manager [Charlie] Grimm of an extra-base blow by racing far into left center field to drag down his long wallop with [Ethan] Allen on first base in the second inning, and in the fifth came tearing in to catch [Larry] French's little looper in his gloved hand."33
After the 1936 season, the Reds traded Byrd to the St. Louis Cardinals, who assigned him to the Rochester (New York) Red Wings of the International League. Rather than go to the minors, Byrd chose to retire. When he received a better offer from Branch Rickey to join the major-league Cardinals, he still declined. Byrd had made up his mind that it was time to give up baseball and pursue a career in professional golf.
It took several years for Byrd to find success on the pro golf circuit, but by 1941 he was competing at the highest level. He finished third in the Masters in 1941 and fourth in 1942. When he retired from professional golf in 1949, he had won 23 tournaments in his career.34
In his later years, Byrd was a teaching golf pro in Alabama, and in 1974 he was inducted into the Alabama Sports Hall of Fame. He died in Mesa, Arizona, on May 11, 1981, at the age of 73 and was interred at Forestlawn Gardens in Anniston, Alabama.
Acknowledgments
This biography was reviewed by Chris Rainey and Norman Macht and fact-checked by Kevin Larkin.
Notes
1 James C. Isaminger, "Tips from the Sport Ticker," Philadelphia Inquirer, September 23, 1934: S4.
2 John W. Cresbaugh Jr., "Looking Them Over," Montclair (New Jersey) Times, September 1, 1939: 16.
3 Baseball-almanac.com/feats/walk_off_grand_slams.shtml.
4 World War II Draft Registration at Ancestry.com.
5 1930 US Census.
6 Sam Byrd, "A Byrd on the Links," Esquire, March 1944.
7 Baseball-reference.com/bullpen/Tri-State_League_(AR-MS-TN).
8 "Yankees Pound Johnny Wertz," Greenville (South Carolina) News, March 14, 1929: 15.
9 "Blakesley, New Haven, Averages .382 to Capture Eastern Batting Crown," Binghamton (New York) Press, November 28, 1928: 21.
10 "Providence Routed by Albany Outfit," Boston Globe, September 1, 1928: 7.
11 Cleon Walfoort, "Two Bits Worth," Sheboygan (Wisconsin) Press, April 20, 1929: 12.
12 Irving Vaughan, "Homers by Gehrig and Durst and Catches by Babe's Understudy Beat White Sox, 6-1," Chicago Tribune, June 3, 1929: 29.
13 Alan J. Gould, "Sport Slants," Wilmington (Delaware) News Journal, March 22, 1930: 14.
14 "Baseball Golfers," Nebraska State Journal (Lincoln), May 4, 1930: 10.
15 Byrd's file at the National Baseball Hall of Fame; Lou Smith, "Sport Sparks," Cincinnati Enquirer, May 3, 1935: 21.
16 George W. Daley, "Babe Ruth Creates Third Home Run as Yanks Trim Chicago," Reading (Pennsylvania) Times, May 5, 1930: 20.
17 Jim Nasium, "Joe McCarthy's Job," The Sporting News, November 27, 1930: 3.
18 "Sammy Byrd Leading Hitter of Yankees," Fort Lauderdale (Florida) News, April 8, 1932: 8.
19 "Yankees Win Over Brooklyn," Allentown (Pennsylvania) Morning Call, April 9, 1932: 20.
20 Byrd, Esquire, March 1944.
21 "Sammy Byrd, Yank Champ, Scores Homer at Altar," New York Daily News, October 5, 1932: 3; "Home Runs for Dickey, Byrd," Glens Falls (New York) Post-Star, October 7, 1932: 13.
22 1940 US Census.
23 Carter (Scoop) Latimer, "Scoopin' 'Em Up," Greenville News, November 17, 1933: 12.
24 Jack Bell, "Golf Stars Say Putting Will Win Biltmore Open," Miami (Florida) News, December 4, 1933: 14.
25 Bobby Jones, "Bobby Jones Says," Dayton (Ohio) Daily News, December 6, 1933: 20.
26 "Final Biltmore Scores," Miami News, December 11, 1933: 12.
27 Grantland Rice, "The Sportlight," Baltimore Sun, April 15, 1932: 18.
28 New York Daily News, December 20, 1934: 62.
29 Tom Swope, "Reds Sound Better than in Past Years," The Sporting News, March 7, 1935: 6.
30 Bob Husted, "Twenty Thousand Queen City Fans See Reds Triumph Over Philadelphia in Pitcher's Duel," Dayton (Ohio) Herald, May 25, 1935: 8.
31 "Schott May Face Smith in Second Boston Contest," Cincinnati Enquirer, May 27, 1935: 11.
32 "Cincinnati Reds Rally in Ninth for 4 to 3 Win," Richmond (Indiana) Item, May 24, 1936: 9.
33 Lou Smith, "Blanked Until Ninth, Redlegs Win with Five Runs," Cincinnati Enquirer, May 28, 1936: 11, 13.
34 "Sports Great Sam Byrd Dies," Anniston (Alabama) Star, May 12, 1981: 1; "Sammy Byrd, Played for Yanks and Reds, Then Starred in Golf," New York Times, May 14, 1981: 18.
Born
October 15, 1907 at Bremen, GA (USA)
Died
May 11, 1981 at Mesa, AZ (USA)
If you can help us improve this player's biography, contact us.
https://sabr.org/sites/default/files/ByrdSammy.jpg
600
800
admin
/wp-content/uploads/2020/02/sabr_logo.png
admin
2019-07-25 15:28:16
2020-04-09 14:37:32
Sammy Byrd