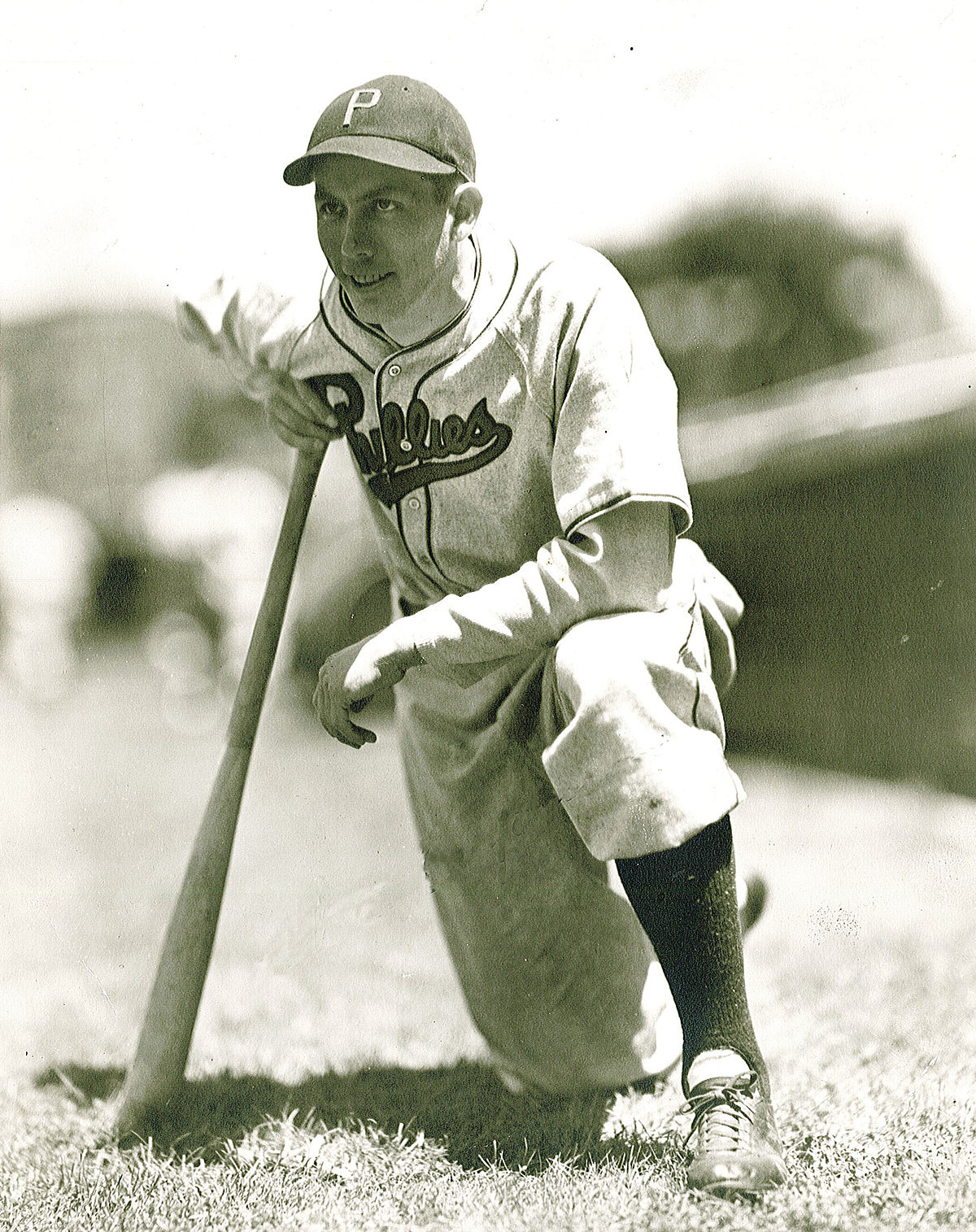 ---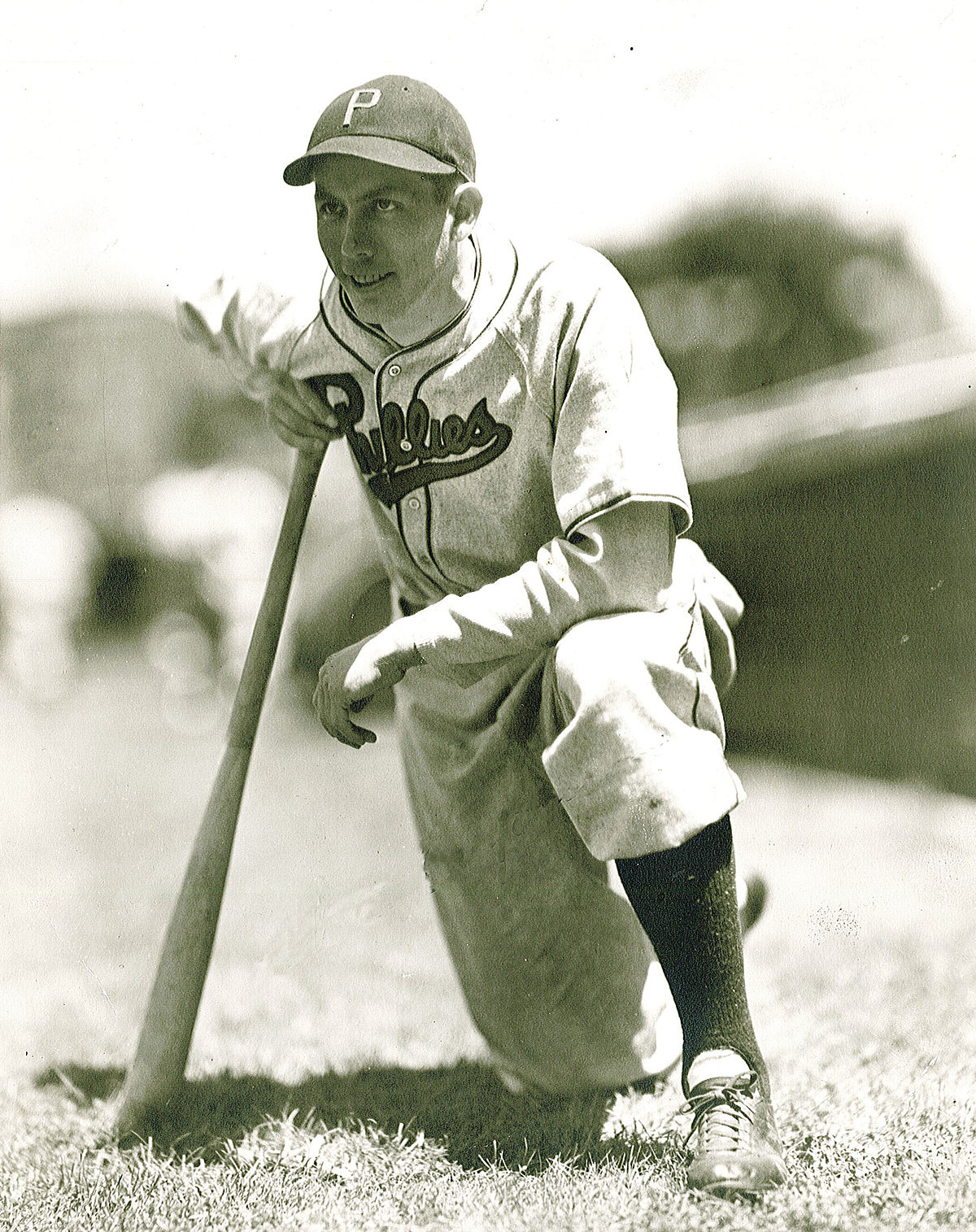 Stan Benjamin used to say, "If they let you steal first base, I would have batted a thousand."1 He was easygoing with a great sense of humor, often self-deprecating. His personality must have been forged early in life because a cartoon of the top regional high-school football players in 1932 labeled him "happy-go-lucky" and showed him with a smirk and a twinkle in his eye.2 He was 6-feet-2-inches tall, weighed around 190 (175 in the football days), threw and batted right-handed and had speed to burn.
Born on May 20, 1914, Alfred Stanley Benjamin was the oldest of the five children (three girls, two boys) of Grace (Hunt) and Alfred Benjamin of Framingham, in central Massachusetts. Their father had been an athlete at Framingham High School and worked as a carpenter both in the building trades and factories. Stan emulated his father and became a three-sport star athlete at Framingham High and then in college at Western Maryland College (now known as McDaniel College) in Westminster, Maryland. He learned his baseball on the sandlots and in high school. In the summer when he was old enough he played American Legion baseball. After Legion ball he played semipro in the summers.
Benjamin had a penchant for playing with championship teams. His 1934 Western Maryland football squad was 8-0-1 and featured the highest scorer in the nation, quarterback and kicker Bill Shepherd. The team was invited to play in the first-ever Orange Bowl, but turned down the offer. In Benjamin's 12 seasons of professional baseball, he was on three championship teams while six others lost in the playoffs.
The Western Maryland University Green Terrors were scored upon in only one game in 1934. Their lone tie was a 0-0 affair with Villanova. They claimed shutout victories over Boston College and Bucknell. Benjamin played left end on offense and defensive end. He was known for his hard-hitting talents on defense and sure hands on offense. In 1935 and 1936 the team posted records of 6-5 and 7-3-1. In 1935 Benjamin was on the receiving end of a 63-yard touchdown pass against Georgetown and won the game ball for his play in the 12-6 win over Boston College. In both 1935 and 1936 the Baltimore Sun named him to the All-Maryland Collegiate team.
In baseball, Benjamin played mainly shortstop on a team that scheduled only a few games and then suffered more than its share of rainouts. All told, he played fewer than 30 games in college. He played basketball and was the leading scorer as a forward and center in the 1936-37 season, but he turned in his uniform in February when he signed his first baseball contract.
Benjamin signed with the Baltimore Orioles of the International League and went to spring training with them in Winter Garden, Florida, in March1937. On April 19, he was farmed out to the Thomasville (Georgia) Orioles of the Class D Georgia-Florida League. Playing mostly third base in 1937, he helped the Orioles to a first-place finish with a .310 batting average. Cordele had finished only a half-game behind and beat the Orioles in the playoffs.
Benjamin returned to Thomasville in 1938 and played third early in the season before shifting to center field. He suffered a concussion while tracking down a long drive and missed playing time, but still led the team with a .343 batting average. The Orioles won the first round of the playoffs over Tallahassee thanks to Benjamin's inside-the-park homer in the final game. They lost to first-place Albany in the finals.
Benjamin's contract was assigned to the Chattanooga Lookouts in the Class A Southern Association for the 1939 season. Bill Nicholson led the league in homers and the team with a .334 average. Benjamin was not far behind at .323. He led the league with 43 stolen bases in 55 attempts. His basestealing prowess led to a race with Johnny Rucker of Atlanta. Rucker won easily in the 100-yard dash. Proving that basestealing requires more than speed, Rucker was successful stealing only 19 of 32 times.3The Lookouts took first place with 85 wins, but were eliminated in the first round by Atlanta. In April, the Phillies had purchased the rights to Benjamin and infielder Charles Letchas for $10,000 apiece with the stipulation that they would report after the Southern Association season.
Benjamin made his major-league debut on September 16, 1939, against the Chicago Cubs in Wrigley Field. He played left field and batted third against veteran Bill Lee. He reached on a single in the third, but did not score in the 8-2 loss. The Phillies gave Benjamin 11 more starts and tested his versatility with appearances at all three outfield spots and four starts at third base. He batted just .140, but performed well enough the next spring to go north with the team in April. He had very little chance (nine at-bats and only two appearances in the outfield) to distinguish himself before being cut when rosters were reduced in mid-May. He was sent to Baltimore.
The 1940 Orioles had a powerful lineup. Bill Nagel smashed a league-leading 37 homers, Red Howell added 29 and Nick Etten 25. Their power inspired Benjamin, who banged out 11 homers to go with 16 doubles and 7 triples and a .304 average. He might have posted even more impressive stats, but he collided with Eddie Collins Jr. and missed three weeks with a bad shoulder. The Orioles finished fourth, but beat Rochester in the first round of playoffs before succumbing to the Newark Bears in the finals.
Benjamin went to spring training with Philadelphia in 1941 and quickly won the right-field job from incumbent Johnny Rizzo. He was forced to miss the first Western swing of the season when he and Rizzo came down with strep throat. Benjamin struggled at the plate and did not get his average to stay over .200 until June 21. Finally, in September, he climbed over the .230 mark. By that time, he was suffering from the effects of a hernia that would require surgery after the season. He closed out the campaign batting .235 in 129 games.
Hans Lobert took over as the Phillies' manager for 1942 and had visions of a speedy team running wild on the basepaths. Benjamin had 17 steals in 1941 and fit Lobert's model perfectly. He won the center-field position in spring training but sprained his ankle at the close of camp and did not start until the third game of the year. A seven-game hitting streak set his average at .323, but it was all downhill from there. He did not even attempt a stolen base until May 5 (game 21) and had only six attempts the whole season. Bernjamin lost favor with Lobert and was fined for a series of mistakes including throws to the wrong base and missing signs. He lost his center-field spot and found himself in a utility role between first base and right field.
As the 1942 season became more and more dismal for Benjamin, there was one day where he shone. The Phillies and Pirates participated in an Army-Navy Relief Fund event at Forbes Field in July. More than 30,000 fans turned out to see the players engage in various contests and races. Benjamin's speed was put on display in the 100-yard dash when he beat Ernie Koy, Danny Murtaugh, and others. His time was 10.2 in spikes and full uniform. He also put on a bunt-for-hit exhibition.
With World War II looming over the game and undoubtedly looking to save some money, the Phillies announced that they would cut back their roster to 21 players. The suggestion was that rosters in 1943 might be restricted and they were preparing for the future. Benjamin was sold to Louisville as part of the reduction. It was noted by a scribe that "he can do everything but hit."4 In 78 games for the 1942 Phillies he batted .224. He played 38 games at third base with the Colonels and hit .303 with three home runs.
Benjamin had been leading a secretive life while in the majors. He had fallen in love with Barbara Hall, a student at the Framingham Teachers College. The college prohibited married students. Hall's graduation was set for 1942. The couple were secretly wed at her home on January 1, 1941. They kept the marriage a secret until after her graduation.5
The 1943 Colonels reported to spring training on April 2 in Louisville. Benjamin and most of his teammates were classified 3-A as married men with families. Benjamin's draft status would later be switched to 4-F because of the hernia surgery. Early in camp it was decided to put him back in the outfield. He opened the season patrolling center field and batting third in the lineup. The Colonels struggled and finished under .500. Benjamin batted a lowly .237 and became a utility player seeing action at third and first in addition to the outfield.
Manager Tommy Thomas of the Baltimore Orioles purchased Benjamin from the Colonels. He wanted the veteran to play the outfield in 1944 and serve as team captain. Thomas and Benjamin had no idea what challenge awaited them. The Orioles ballpark burned to the ground on the morning of July 4. The team was forced to move into the football stadium. (The larger stadium did allow them to admit over 52,000 fans to a Little World Series game in October.)
The 1944 Orioles were a scoring juggernaut. Second baseman Blas Monaco set a league record with 167 walks and scored 135 runs. League MVP Howie Moss led in homers and RBIs. Benjamin played spectacular defense, hit 12 homers, stole 20 bases, and batted .301. Yet the team finished the campaign in a virtual tie with Newark for first place.
In the playoffs, Baltimore struggled to get past Buffalo 4 games to 3, and then went seven with Newark in the finals. Benjamin always played well against the Bears. Earlier in his career he had a 5-for-5 day with five RBIs against them.6 In the league finals he smashed a grand slam to win Game Four and then went 3-for-4 in Game Seven with a triple and home run. Baltimore closed out the season winning the Little World Series over Louisville 4 games to 2. Benjamin batted .231 in the series and picked up nearly $1,000 in bonus money thanks to the large attendance. The Cleveland Indians had a working agreement with Baltimore and purchased Monaco and Benjamin for $10,000 apiece for the 1945 season.
Benjamin had taken coaching jobs in the offseason since 1942. In the winter of 1944-45 he took on the job of basketball coach at the high school in Greenfield, Massachusetts. The team had a 25-game losing streak before he took over. It won seven of its first 12 games to make fans forget the past. He also had a teaching assignment. Successful as both coach and teacher, he became a full-time junior-high physical-education teacher in Greenfield while coaching baseball and football. He went on to a 29-year career at the school. His family grew during that time as he and Barbara welcomed daughters Nancy, Janice, and Joan.
The Cleveland Indians were forced to wait for Benjamin, who could not leave the classroom. He finally joined the team on May 30 in Boston. He saw his first action on June 6 against the Detroit Tigers. Later that month he was stricken with a serious case of chest congestion that forced him into the Cleveland Clinic. He saw no action in July and only pinch-hitting duty in August. In September, he got three starts. Benjamin ended the season playing in 14 games. He returned to Greenfield intent upon a teaching career. The football team, with Benjamin as line coach, won the Western Massachusetts Championship that fall.
When the school year ended in 1946, Benjamin was offered the player-manager job with Nazareth, Pennsylvania, of the Class D North Atlantic League. The Cement Dusters finished in second place and Benjamin batted .312. He also was forced to use himself as a pitcher in 13 games totaling 48 innings. His 6.94 ERA and 12.8 hits per nine innings were by far the worst on the team. In 1947, Benjamin opened the season with Toledo, but after five games he was released. San Antonio of the Texas League signed him, but released him in late June. He joined the Houston Buffaloes soon after and stayed with them during their run to the Texas League pennant. Houston met Mobile of the Southern Association in the Dixie Series and claimed that title too, in six games. Benjamin closed out his professional career as player-manager for Fresno in the Class C California League. The team finished in first place, but lost in the first round of playoffs.
During the school years Benjamin was assistant football coach, basketball coach, and, starting in 1949, baseball coach. He led Greenfield to the league championship in '49. That summer he managed the Brattleboro Maples in the Northern League, a circuit comprising college talent and semipros. Used to a higher level of officiating, Benjamin was ejected three times by early August. The league commissioner fined him $50 for his actions. Benjamin may have had some reasonable complaints. Two umpires were transferred out of the league after they ruled that an opponent hit a home run even though Benjamin's outfielder had the ball in his glove.7
That fall Benjamin was the line coach for the Greenfield football team and head coach of a semipro squad, the Lions. The Lions went undefeated. Benjamin resigned as basketball coach and became a respected basketball official. He took over as Greenfield's head football coach in 1958. He quit coaching in 1964 but continued teaching until 1975.
Benjamin had been a part-time scout, or bird-dog, during his coaching days. He would recommend players, but was not on anyone's payroll as a scout. That all changed when he joined the Houston Astros organization in 1965. He remained with the Astros as their New England scout and spring-training assistant until 2002, when he retired at age 88.
Benjamin's greatest contribution to the Astros came in 1990 when they and the Red Sox were trying to work out a trade involving pitcher Larry Andersen going to Boston to bolster their bullpen for the pennant race.8 The Astros were offered Jeff Bagwell but were hesitant because he had not shown much power at Double A. Benjamin allayed their fears by claiming, "Babe Ruth couldn't hit home runs in that ballpark."9 Bagwell went on to a Hall of Fame career with Houston.
Benjamin was inducted into the McDaniel College Hall of Fame in 1983. He also is a member of the Massachusetts Baseball Coaches Association Hall of Fame, and received a special award from the Professional Baseball Scouts Foundation.10 Barbara died in 1995. Stan died on December 24, 2009, after suffering a massive heart attack while spending the Christmas holidays on Cape Cod with his daughter Janice. He and Barbara are buried in the Green River Cemetery in Greenfield.
Acknowledgments
This biography was reviewed by Len Levin and fact-checked by Alan Cohen.
Notes
Born
May 20, 1914 at Framingham, MA (USA)
Died
December 24, 2009 at Harwich, MA (USA)
If you can help us improve this player's biography, contact us.
https://sabr.org/sites/default/files/Stan_Benjamin.jpg
600
800
admin
/wp-content/uploads/2020/02/sabr_logo.png
admin
2017-09-29 11:57:06
2022-11-29 13:40:16
Stan Benjamin