---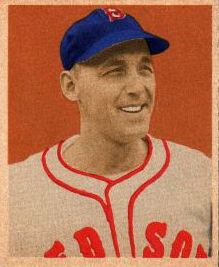 Stan Spence had the misfortune of being a young outfielder for the Red Sox at a time when the team was developing Ted Williams and Dom DiMaggio. A trade to the Washington Senators gave him his opportunity to shine, and his five years in the nation's capital landed him on four All-Star teams as one of the best players in the American League. A late start cost him a long career, but he had plenty of thrills during his time in "The Show."
Stanley Orville Spence was born on March 20, 1915, in South Portsmouth, Kentucky, nestled across the Ohio River from Portsmouth, Ohio. He was the oldest of four boys born to Vernon and Catherine Spence. Vernon worked in a shoe factory, and Stan himself started in the factory making $14 a week. Having established a local reputation as a fine ballplayer, he was recruited by another company in Portsmouth, where he played ball for the industrial team for an additional dollar a week. While playing with the Portsmouth team, he signed in 1935 with the Boston Red Sox through the efforts of scout Newt Hunter.
A left-handed hitting and throwing outfielder, Spence began his professional career with Eau Claire, Wisconsin, of the Northern League, batting .281 with 9 home runs in 121 games. The next year he moved on to the Piedmont League with Rocky Mount, North Carolina, where he hit .315 in 138 games. After this fine season he ascended to the highest rung of the minor leagues, joining the Minneapolis Millers of the American Association.
Spence spent two years in Minnesota as one of the best players in the league. A solid 5-feet-10, 180-pound centerfielder, he hit .321 and .322 with the Millers, hitting 19 home runs in the latter year. His accomplishments were somewhat overlooked in 1938, understandably overshadowed by teammate Ted Williams' Triple Crown season.
Despite his growing résumé, Spence spent 1939 with Louisville, which had replaced Minneapolis as the Red Sox' highest minor league affiliate. The Boston club was filled with outfielders at this time, with Williams, Doc Cramer, and Joe Vosmik manning posts in 1939, and the arrivals of Lou Finney and Dom DiMaggio in 1940. Spence hit .289 with Louisville in 1939 and .256 over the first 11 games in 1940.
In early June, the 25-year-old Spence was finally promoted to the major leagues. He hit .279 in 68 at-bats in a reserve role over the remainder of the 1940 season, and .232 in 203 at-bats the next season. DiMaggio had become a star on both offense and defense, and Spence was the odd man out. After the season, the Red Sox dealt him with pitcher Jack Wilson to the Washington Senators for pitcher Ken Chase and outfielder Johnny Welaj. Spence was an afterthought in this deal, but turned out to be the best player involved. It proved to be the best thing that happened to Spence in his baseball career.
Senators manager Bucky Harris named Spence his starting center fielder. A month into the season, Spence was hitting over .400, and he did not seem surprised by it. "I was good enough to play regularly in that Boston outfield, but they kept me on the bench," Spence related to The Sporting News. "The few times they played me, I was taken out when I started to hit my stride. I think I'm as good a player as Dominic DiMaggio."
Spence stayed in the batting race all season, finishing third behind Ted Williams and Johnny Pesky with his .323 average. He also recorded 203 hits and a league-leading 15 triples. Local observers considered Spence, a fan favorite, the best defensive center fielder in Washington since Sam West a decade earlier.
Stan struggled to start the 1943 season, hovering near .200 over the first two months, and not striking his first home run until July 3. In late July he was benched briefly, but he finished strong — hitting .267 with 12 home runs and 88 RBIs, while continuing to shine in center field. He batted in the middle of the order during all his years with the Senators, usually hitting third, fourth, or fifth. The left-handed hitter was hurt by his home park, hitting just two home runs in Griffith Stadium all year, and only 12 during his five years there.
Stan rebounded in 1944 to hit .316 with 18 home runs and 100 RBIs, leading the league in RBIs for much of the summer before finishing fourth behind Vern Stephens. He also had an astonishing 29 outfield assists. Though the club finished in last place for the first time since 1909, Spence was held blameless. "The only player on the club who has played good ball," wrote Shirley Povich in The Sporting News, "aside from some of the pitchers, is Stan Spence." Povich called Spence the best outfielder in the league.
Spence stayed out of the military for most of the war because he was married with two children, and he was nearly 27 when the United States entered the war. Finally reclassified in early 1945, Stan spent the next several months in the Army, mainly playing baseball at a base on Bainbridge Island, near Seattle.
After rebuffing overtures from the outlaw Mexican League in the spring of 1946, Spence returned to the Senators and took right up where he left off in 1946, hitting .292 with 16 home runs and 50 doubles in 152 games. The remarkably consistent center fielder had his usual fine season in 1947, hitting 16 home runs with a .279 batting average.
In December, the Senators traded Spence back to the Red Sox for infielder Al Kozar and outfielder Leon Culberson. The Senators felt they had a surplus of outfielders and needed infield help, and Kozar had hit .316 for Spokane in 1946 and .340 for New Orleans in 1947. The Red Sox were high on Kozar themselves, but Bobby Doerr blocked his path to the big leagues. Bill Veeck was bitter at Spence's trade to the Red Sox. "I have tried to get Spence the last two years, and I offered Clark Griffith a much better deal," complained the Indians' owner. "I can't mention the players' names because I still have them. I'll assure you it was a better proposition than the one son-in-law Joe Cronin gave him."
Spence had had a very productive five years with the Senators, regularly placing in the top ten in numerous offensive categories, and being named to four All-Star teams. He got two hits in the 1944 game, while also gunning out Phil Cavaretta trying to score on a fly ball. He knocked in the winning run in the 1947 game on a pinch-hit single, finishing 3 for 5 in the three games he played. Over his years in the capital, Spence had fine batting averages supplemented by high walk totals and midrange power, a very valuable package of skills for a good defensive center fielder. Washington's Griffith Stadium sapped power from most left-handed hitters, especially Spence — during his five years there he hit 11 home runs at home and 55 on the road, including 16 road homers in 1944 and 14 in 1946. Over the five-year period, Spence was one of the very best players in the league, and it is no wonder the Red Sox regretted their earlier deal and wanted him back.
With center field still well-manned by Dom DiMaggio, new Boston skipper Joe McCarthy worked Spence at first base in the spring. "I know what he can do in the outfield," reasoned McCarthy, "for I recall several bitter moments in Yankee Stadium at the hands of Spence."
The 33-year-old Spence ended up playing 114 games in 1948, mostly in right field, but did not hit nearly as well as he had in Washington. He finished at .235, though with 82 walks and 12 home runs. The powerful Red Sox twice hit three straight home runs that season, the first team to accomplish the feat twice, and both times Spence was involved in the threesome. Spence began the year hitting fourth in the order behind Ted Williams, though he soon fell down the order behind Vern Stephens and Bobby Doerr.
After just seven games in a reserve role in early 1949, in which he was 3 for 20, Spence was dealt along with a reported $100,000 to the St. Louis Browns for Al Zarilla. Spence ended up playing 104 games for the Browns, and hit .245 with 13 home runs.
In February 1950 Spence was sold to the Los Angeles Angels of the Pacific Coast League. He hit just .228 with 22 home runs for the Angels, and was benched briefly in September for failing to hustle. The next April he was sold to Springfield (Massachusetts) of the International League, but his .204 average in 25 games got him sent to Lynchburg of the Piedmont League, where he hit .258 over 87 games. After a brief partial season with the American Association's Toledo club in 1952 (.297 in 21 games), Spence walked away from the game. In his last contest, on May 8, he hit a two-run home run, but the next day decided to return home.
After his career, Spence retired to Kinston, North Carolina, his wife's hometown. He had married Mildred Harper in 1936 when he was playing at Rocky Mount. The couple had three children: Carol, Jennie, and Stanley, Jr.
Stan was involved with a number of businesses over the years. He had a septic tank business when he retired, and he later opened a boys' camp in the Blue Ridge Mountains with former Red Sox teammate Herb Hash, and worked for the Gardner Construction Co. for many years. Spence loved to hunt and fish, enjoyed dancing, and was a member of the United Methodist Church in Kinston.
A heavy smoker, Spence died of emphysema on January 9, 1983, in Lenoir Memorial Hospital. According to his widow, Stan Spence lived a happy and full life, though he still carried a bit of a chip on his shoulder about his lack of opportunity in his early years with the Red Sox. He was a proud man to the very end. He is buried in Maplewood Cemetery in Kinston.
Note
This biography originally appeared in the book Spahn, Sain, and Teddy Ballgame: Boston's (almost) Perfect Baseball Summer of 1948, edited by Bill Nowlin and published by Rounder Books in 2008.
Sources
In researching this story, the author relied heavily on The Sporting News historical archive accessed at paperofrecord.com, and Spence's clipping file at the National Baseball Hall of Fame Library. I obtained his Kinston Free Press obituary (January 10, 1983) with help from the Neuse Regional Public Library in Kinston. I spoke with Spence's widow, Mildred Harper Spence, on March 13, 2007.
Photo Credit
The Topps Company
Born
March 20, 1915 at South Portsmouth, KY (USA)
Died
January 9, 1983 at Kinston, NC (USA)
If you can help us improve this player's biography, contact us.
https://sabr.org/wp-content/uploads/2020/03/research-collection4_350x300.jpg
300
350
admin
/wp-content/uploads/2020/02/sabr_logo.png
admin
2012-01-04 20:36:51
2012-01-04 20:36:51
Stan Spence