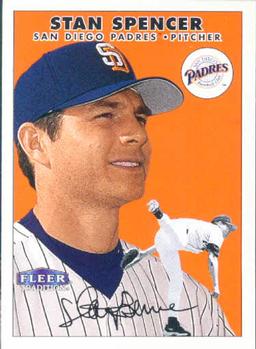 ---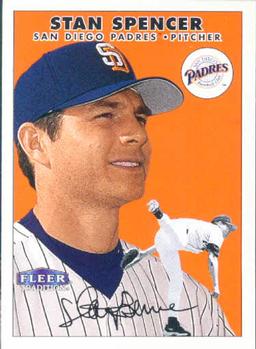 Despite three separate injuries that cut three years out of his professional baseball career, pitcher Stan Spencer persevered, making it to the majors for 23 games from 1998 through 2000. His best friend growing up, Tom Mattice, saw this quality at a young age, writing in his high school senior tribute, "Stan…proved to me that with enough heart and soul you can have anything in life you want."
Just before Spencer was drafted for the first time in 1987, a feature story stated, "Brains, talent and a work ethic — athletes don't come in a better package."1
Kevin Towers, the general manager of the San Diego Padres, saw this as well, giving the righty four chances. So did personal pitching instructor Tom House, who helped Spencer reach the majors after a skiing injury nearly derailed his major-league dream for good.
"He did all the hard work and got to the big leagues," said House. "It was one of those things (where if he wasn't injured), his career would have been different."2
Spencer rose from Washington state player of the year to 6-foot-3 freshman pitching in the College World Series in 1988, teaming with Mike Mussina to lead the Cardinal to the title. He spent three years at Stanford, winning 26 games. He and Mussina brought Stanford to another College World Series appearance in 1990. A first-round pick in 1990, Spencer then spent eight years in the minors — including the three wiped out by injuries — before finally getting his chance. After countless flights and bus rides, Spencer came full circle, returning to his hometown, with Mattice as his best man at his wedding.
Stanley Roger Spencer was born on August 7, 1969, in Vancouver, Washington, just across the Columbia River from Portland. Information about Spencer's parents is not presently available, but Stan had an older brother named Scott. Their mother got remarried to Dr. Richard Heitsch, a sports medicine specialist in Portland.
Stan and Tom Mattice first came to know each other as teenagers on the basketball courts of Vancouver. They were two kids playing ball and dodging raindrops. Tom's first impression of Stan was how fiercely competitive he was. Two weeks later Stan was the new kid at school. It just so happened that Tom was working in the attendance office that day. Tom showed his fellow eighth-grader around and an instant bond developed.
Spencer went on to attend Columbia River High School in Vancouver. At Columbia River, he was one of three future collegiate arms, teaming with Tim Quintanilla (1987-90 at the University of Southern California) and Aaron Dorlarque (1989-92 at Stanford, followed by five seasons in the minors).
Curt Daniels, coach at rival Hudson Bay High School, coached Spencer on his summer team. Daniels, who had worked for many years in the Padres organization, compared Spencer to major leaguer Andy Hawkins, saying "they're both very intelligent and very poised."3 Daniels noted that even as a 15-year old sophomore, Spencer "already had a good arm, a decent breaking ball and pretty good control. It's his sheer unpredictability that drives hitters nuts." In high school, Spencer's repertoire was a high-80s fastball, with developing changeups and curveballs.4 The young hurler also added bulk to his frame then with a personalized weight program designed by his stepfather, Dr. Heitsch.5
As a junior in 1986, Spencer carried Columbia (a team that batted just .229) to a 20-5 record and second place at the Washington Class AAA state tournament. He was 10-0 with an ERA of 0.20. In his final start, he struck out 13 in a 3-2 three-hitter over Eisenhower in the 1986 state semifinals.6
In 1987 Spencer was the Washington state player of the year, completing his prep career as a three-time all-state and all-Southwest Washington selection. He was 24-4 with a 1.00 ERA and 282 strikeouts in his career, going 7-2 with a 1.20 ERA and 92 strikeouts as a senior. He struck out 137 batters in 89 innings over a stretch of one and a half high school seasons through mid-April of his senior year.
Spencer was also an A student with an interest in civil engineering. "Stan is smart enough to be successful in whatever he does. If he wants something, he'll go out and get it," said Columbia River coach Greg Hopkins.7
In 1987 Spencer tossed a no-hitter against Hudson Bay two weeks before getting a call from Stanford in April.8 During that call, coach Mark Marquess said simply, "Congratulations, you've made it. Welcome aboard." But it was not that simple. Spencer still wanted to see Oklahoma State University, which had scheduled a recruiting trip the weekend after Marquess's call.
Before the OSU trip, Spencer told The Oregonian, "The academics at Stanford are great and they always have a baseball team that's in the rankings and goes to the College World Series. . . how could I go wrong?"9
It took a bit more convincing, as long-time Stanford assistant Dean Stotz called again following the OSU recruiting weekend and closed the deal. "My mom instilled in me the value of getting a college education," said Spencer years later. The whole family considered the Stanford offer "quite an honor."
Spencer still had options, come draft time. In June 1987, the Boston Red Sox selected him in the 26th round. But it was the lure of Stanford's academics and athletics that made him choose the Cardinal over Oklahoma State and the Red Sox.
When Marquess and Stotz first discovered Spencer, they did not know he would complement another freshman, a kid named Mussina, who hailed from the pine-filled countryside of Montoursville, Pennsylvania. Once on The Farm (as Stanford is also known), the young pitchers' careers were intertwined. Both were economics majors, both pitched in two College World Series, and both were first-round picks. Both also joined the defending national champions after the Cardinal won its first NCAA title in 1987.
"As a freshman, (Stan) didn't have the notoriety, but he matched up with Mike quite well," said Tom Dutton, then Stanford's pitching coach. "They were extremely close. Competitive. Each complemented the other well."10
The 1988 season came down to a matchup pitting Spencer against Pac-10 rival Arizona State for the national title. Arizona State had won five out of six games with Stanford during the regular season. The only Cardinal win came from the arm of Mussina in a 5-3 victory at Stanford's Sunken Diamond. To set up the finale in the College World Series, Mussina did his job, eliminating Cal State-Fullerton the day before.
Spencer was never more nervous in his life. Yet Dutton said, "that (ASU team) didn't faze him a bit." It did not take long for the butterflies to leave. Future Toronto Blue Jay Ed Sprague homered as a part of a five-run first inning and Stanford was on its way to back-to-back national titles. Spencer threw the first seven innings in the 9-4 win. He finished the 1988 season at 7-2 with a 3.19 ERA over 131.1 innings.
As sophomores, the pitching version of Batman and Robin mapped out how they would get through school. Mussina and Spencer pulled out syllabuses and planned out their class schedules to earn their degrees. Spencer got his in economics in 1990.
Spencer started the 1989 season 2-7 but finished at 5-7, 4.32 as the number-one starter after Mussina got injured. Thought it was a so-so year for Stanford as well as Spencer, he at least led the Pacific-10 conference in fewest walks allowed.
In the 1990 season, the two aces returned to the College World Series after each won 14 games to tie the school record for wins. Spencer also set the school mark for strikeouts with 145. He and Mussina led the Cardinal to the Pac-10 title, before their collegiate careers ended on June 8 in a 5-1 loss to Georgia.
The Orioles took Mussina with the 20th overall selection. The Montreal Expos, with the likes of Tim Raines, Tim Wallach, Delino Deshields, and Larry Walker already in the majors, needed starting pitching. They took Spencer 15 picks later with a supplemental choice.
In a sign of troubles to come, Spencer missed his first pro season with a cracked rib. He pitched 17 games (all starts) in Class AA in 1991, going 6-1 with a 4.40 ERA. He then had reconstructive elbow surgery, missing the 1992 season.
After becoming a Rule 5 pickup of the Florida Marlins, Spencer stepped back to the high Class A level and made 13 starts in 1993. Finally healthy in 1994, he went 10-4 with a 3.44 ERA in Double-A and Triple-A. Then in 1995, his sixth minor league season, he went 2-8 with a 7.62 ERA, forcing the Marlins not to re-sign him.
Spencer noted later, "For years, I think I pitched out of worry. When will I make it? Will I make it? When I signed I expected to be in the big leagues quick [Mussina pitched in only 28 minor league games]. Then things happened. And once they started happening I think I was guilty of putting too much pressure on myself."11
He signed with the Red Sox as a minor-league free agent. Days later, he went skiing with his childhood friend Tom Mattice. Spencer fell and hurt his shoulder on the trip — he was forced to call Red Sox executives. Unbeknownst to anyone involved, Spencer was the second Stanford product to get hurt on the slopes. In 1967, after Jim Lonborg had won the American League Cy Young award, the righthander hurt his knee. Lonborg pitched 12 more seasons in the majors but was never as good. The question became, would Spencer recover at all?
"(It was) a sobering day for both of us," said Mattice. "But once again he set his priorities and moved forward." That day would put Spencer onto a path to the big leagues.
After declining to ski again until after his pro career ended, Spencer found Southern California pitching instructor Tom House — the former big-league reliever and pitching coach — in the San Diego suburb of Coronado.
As Spencer said, "Tom taught me how to protect my arm with proper mechanics. He taught me how to build on what I had." House used a three-step process, first building up Spencer's strength, then working on his mechanics, and finally, "get[ting] him between the lines and to the big leagues."12
House recommended Spencer to GM Towers, and in January 1997, the Padres signed the 27-year old journeyman to the first of four contracts with the club.
"I was begging for a job in 1996," said Spencer. "No one wanted to talk to me. The Padres finally did and stuck with me even though I had a terrible spring."13
Spencer's hard work paid off. He returned to the mound in 1997, going 6-3, 3.57 in 15 games split between high Class A ball and Triple A. Spencer again pitched for San Diego's top farm club, Las Vegas, in 1998. He went 12-6 with a 3.93 ERA. That August, after pitcher Mark Langston got injured, Spencer made it to The Show at last at the age of 29. On August 27, before 23,371 fans at Philadelphia's Veterans Stadium, Spencer gave up one run over six innings in his debut, earning the World Series-bound Padres their 87th win of the season as they whipped the Phillies, 8-1. He struck out seven and walked just one, featuring an accurate fastball and tailing change-up.14
It almost didn't happen. Japan's Chiba Lotte Marines had a working relationship with the Padres and were close to purchasing Spencer before the 1998 season. They declined because of his injuries.
Though he did not pitch in the playoffs, Spencer was the team's fifth starter during the run to the NL West division title. He had a better than average shot at returning to the club in 1999. In previous years, Spencer always had an "outside chance" of making the big team. As he joked, "an outside chance (of making the club) would mean that about three or four guys had to die during the course of spring training and you'll be in here."15
But in 1999, Spencer was finally there. He joined Woody Williams, Andy Ashby, Sterling Hitchcock, and Matt Clement in the Padres rotation. Spencer pitched the fourth game of the season at San Francisco's Candlestick Park. He had gone to games at the notoriously blustery ballpark while at Stanford, and he talked about the times he and Mussina would "bundle up our coats and long johns in the middle of August and I'd be freezing to death."16
Spencer gave up eight runs in three innings in a 12-4 loss to the Giants. He struggled in the five starts he received after that, losing four of them. After one more appearance out of the bullpen, he went on the disabled list with a strained elbow, and after that he was sent down. Spencer was recalled briefly in August and made two starts, losing them too. Overall, he was 0-7 for San Diego in 1999 with a 9.16 ERA. He also posted a 5-4 record and 5.47 ERA for Las Vegas.
Even though Spencer had a nagging shoulder injury, Towers told the pitcher that he'd have a clean slate if he returned. Spencer again signed with the Padres for the 2000 season. As Towers noted, "You've got to respect a guy who just won't give up."17
By then 30, Spencer had one more gasp in the majors. He was a non-roster invitee during spring training, but earned his final call-up that May after going 4-0 with a 1.72 ERA for Las Vegas. Spencer pitched well but lost in his first start, against Arizona. He then won in his next outing at Florida; even though the Marlins stole 10 bases in 10 attempts against him, he allowed just two runs in 6 1/3 innings.
On June 3, thanks to interleague play, Spencer got a chance to pitch in his home state. Some 60 friends, family members, and former teammates were watching 20 rows up behind home plate at Seattle's Safeco Field. His childhood friend Tom Mattice, one of those 60, called it "the greatest joy in my life watching my best friend pitch… in front of our home state for the first time… He had truly earned and reached a lifetime experience."
Spencer went into the ninth inning with a 7-2 lead, but after yielding solo homers to Edgar Martinez and Jay Buhner, he left just one out short of what would have been his only big-league complete game. But after Trevor Hoffman saved it, Spencer got the win — his last in the majors.
Spencer returned to the minors after three more appearances with San Diego. In 23 big-league games (21 starts), he was 3-9 with a 5.54 ERA. He pitched one more full season in Triple-A for Portland in 2001. In 2002, he made three final appearances at that level after joining the Los Angeles Dodgers organization.
At that point, after 151 minor-league games in 10 active seasons, he "felt it was time to move on." Five years in Las Vegas, shuttle runs up to San Diego, and minor-league road trips to places like New Orleans, Nashville, and Edmonton had taken their toll.
Spencer returned home — he lives just 15 minutes from where he grew up. His mother, father, stepfather, and brother remain in the Pacific Northwest. He says that "on a clear day, it's one of the prettiest places in the world," with the Hood River, Mount Hood, and other natural marvels overlooking the greater Northwest.
He met his wife, Amanda (Monahan), at a bank in Lake Oswego, Oregon, just outside Portland. Five years after he threw his last pitch, they got married in Maui in 2007. Tom Mattice was his best man. The couple never had children.
That ski trip in the '90s changed Spencer's fortunes in more ways than one. Instead of hitting the slopes, he hit the water — Mattice had a rafting business, in which Stan took a part. Spencer calls the rivers of the Northwest the "mecca of kayaking," and he took up the pursuit. He eventually returned to the slopes as well. His job with real estate companies that he founded allowed him to take in 40-60 days a year on the mountains. Previously, Spencer had worked in the mortgage business.
In the summer of 2011, Spencer got another call. He was going into the Stanford Athletics Hall of Fame. "I had goose bumps when I heard and I haven't stopped thinking about it since," he said at the time. He was inducted that November.
During Memorial Day weekend 2013, Stanford honored Spencer and his 1988 College World Series championship teammates as part of a 25th anniversary weekend for the program's back-to-back national titles in 1987 and 1988.
"I attribute so many things in my life to my friend Stan," said Mattice, an emergency response manager for the City of Juneau, Alaska. "He's the person who showed me you can have anything you want in this world as long as you give it your all."
Last revised: June 7, 2018
Acknowledgments
This biography was reviewed by Rory Costello and fact-checked by Kevin Larkin. It was adapted from Niall Adler's story "Hall of Fame Profile: Spencer Had Long Road to Majors," originally published on Gostanford.com, October 13, 2011 (the story is currently not available in the online archive).
Sources
Personal interviews
Telephone interview, Stan Spencer with Niall Adler, September 2011.
Telephone interview, Tom Mattice with Niall Adler, September 2011.
Telephone interview, Tom House with Niall Adler, September 2011.
Print
1989 Stanford Baseball Media Guide (includes much of Spencer's high school statistical record)
Online
Stan Spencer profile on LinkedIn.com
Notes
1 Ken Goe, "Chieftains' Spencer has options," The Oregonian, April 21, 1987, 42.
2 Niall Adler, "Spencer Had a Long Road to the Majors," Gostanford.com, October 13, 2011
3 Goe, "Chieftains' Spencer has options."
4 Ibid.
5 Ibid.
6 Ibid.
7 Ibid.
8 "Baseball Notebook," The Oregonian, April 10, 1987, E6.
9 "Scots learn quickly for 9-2 baseball record," The Oregonian, April 10, 1987, 71.
10 Adler, "Spencer Had a Long Road to the Majors."
11 Bill Center, "Spencer on upswing of roller-coaster career," San Diego Union-Tribune, May 16, 2000, D-1.
12 Bill Center, "Sometimes Spencer wasn't sure he'd get here," San Diego Union-Tribune, April 8, 1999, D-6.
13 Bill Center, "Spencer and Padres starting over again," San Diego Union-Tribune, March 18, 2000, D-6.
14 Tom Krasovic, "Rookie pitcher Spencer controls Phillies, gets lots of support," San Diego Union-Tribune, August 28, 1998, D-1.
15 Tom Krasovic, "This season, Spencer getting an inside shot," San Diego Union-Tribune, March 13, 1999, D-4.
16 Center, "Sometimes Spencer wasn't sure he'd get here."
17 Center, "Spencer on upswing of roller-coaster career."
Born
August 7, 1969 at Vancouver, WA (USA)
If you can help us improve this player's biography, contact us.
https://sabr.org/sites/default/files/SpencerStan.jpg
600
800
admin
/wp-content/uploads/2020/02/sabr_logo.png
admin
2018-06-07 18:59:59
2020-04-09 14:40:19
Stan Spencer