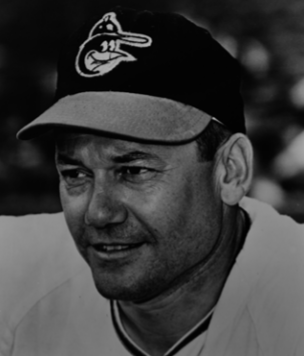 ---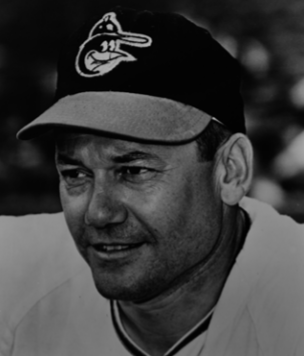 The astrophysicist Neil deGrasse Tyson estimates that the slowest pitch that could reach home plate on the fly would travel around 30 miles per hour.1 Stu Miller didn't defy the laws of physics, but he challenged the equation that says Velocity = Success.
"He's got three speeds of pitches – slow, slower and reverse," the sportswriter Jim Murray said.2 Murray described Miller's signature changeup as a moth flitting across the plate; others called it a butterfly.
Throwing fog instead of smoke, Miller was the relief ace for two pennant winners during a 16-year major-league career. The right-hander changed speeds on his fastball and curve, and delivered side-arm as well as overhand. He said his secret was throwing softly with the same arm speed as his fastball. Others thought the secret was his head fake. He jerked his head to the left an instant before releasing the ball. He called it a shrug, and insisted he didn't do it on purpose: "I can't help it. My head snaps involuntarily."3The unique motion discombobulated the batter's timing. Frank Robinson, who played with and against Miller, said, "(H)itters knew what was coming and they still couldn't hit it."4
Another sportswriter, Tex Maule, jeered, "It's doubtful that Miller could throw a baseball through a wet paper sack."5 Miller quietly resented such putdowns. He hated being called a junkman. "I don't throw underhand or drop-kick the ball to the plate," he protested. "I don't throw a knuckle ball or forkball. I throw only three pitches – fast ball, curve and slider."6 He said he had to have a decent fastball to set up his slow stuff. "Effective pitching relies simply on throwing the batter's timing off. Combine that with variety and control, you've got the advantage."7
To clear up some misconceptions: Encyclopedias say Miller was 5-feet-11-inches tall. Anyone who stood next to him knew better; several said 5-8 was more like it. His weight increased, by his own reckoning, from 150 pounds to 175 as he got older. He was routinely called "little Stu Miller," but no, he was not blown off the mound by a gust of wind during an All-Star Game.
Stuart Leonard Miller was born in Northampton, Massachusetts, on the day after Christmas in 1927, the second son of George and Edna Miller. The Miller family owned a furniture-manufacturing business, but the company went broke in the Depression. "It was a hardscrabble way of life," Stu said. "Dad didn't do much of anything because there wasn't any work. Somehow we got by, same as everybody else."8 Stu contributed to the family treasury by digging potatoes for 10 cents an hour and delivering groceries.
He learned baseball from his father. His older brother, Gordon, was a left-handed pitcher, so Stu, like most little brothers, got the dirty job: catcher. They played sandlot ball; Stu didn't even try out for his high-school team. After graduation in 1945 he served two years in the US Navy as an aerologist (then the Navy term for a meteorologist), with sea duty aboard the light aircraft carrier Saipan. He also picked up pitching experience on service teams.
Miller's entry into professional baseball was as unlikely as his success in the game. He was hanging around home, driving a cab and preparing to start college in 1949 when the St. Louis Cardinals held a tryout camp in Northampton. "I had no idea about playing major-league baseball at all," he recalled. "Me at a hundred and forty-nine pounds."9 He went to the tryout because he had nothing better to do and wasn't enthusiastic about college. He didn't have much of a fastball even as a 21-year-old, but St. Louis signed him for a $100 bonus and $150 a month. Miller thought the Cardinals needed warm bodies to fill the rosters of nearly two dozen farm clubs.
After giving up more than six runs per game in his first season, Miller had to repeat Class-D ball in 1950. His manager in Hamilton, Ontario, Vedie Himsl, taught him the changeup. "I didn't know what a changeup was," Miller said, "but he explained that it's a pitch that you throw with the same arm motion and it makes the hitter think it's a fastball, but it's not."10 Miller caught on quickly and advanced to Triple A two years later.
He was enjoying his best season at Columbus in 1952 – 11-5, 2.34, four shutouts – while the parent club was trying out pitchers by the carload. The Cardinals had some old pitchers, some young pitchers, but few good pitchers. Asked for a report on Miller, Columbus manager Johnny Keane told the front office, "He will not impress you physically, but don't let that fool you. I guarantee he will win in the majors."11
Called up in August, Miller shut out the Cubs in his debut and allowed only one earned run in his first three starts, all complete games. National League hitters had never seen anything like him. He posted a 6-3 record and 2.05 ERA, giving up just 63 hits in 88 innings. Still, manager Eddie Stanky wasn't sold; the slight, quiet Miller reminded him of a stenographer. Stanky also resented the rookie's passion for bridge. (Miller qualified as a Junior Master in duplicate bridge while playing ball.) "Eddie Stanky couldn't stand me, and the feeling was mutual," Miller said.12
Stanky got it right; the league quickly caught up with Miller. He was bombed in his first start of 1953, and struggled to prove himself for the next four years. His problem is easy to spot: 19 home runs allowed in 137⅔ innings in 1953, 19 in 114 innings in '56. When he couldn't keep the ball down, he paid for it. He was demoted to the minors for the second half of 1954 and all of '55. "I just wasn't pitching well and I certainly didn't belong on a major-league roster," he said decades later.13 On May 11, 1956, the Cardinals traded him to the Philadelphia Phillies in a swap of pitchers: Miller, Harvey Haddix, and Ben Flowers for Murry Dickson and Herm Wehmeier.
Miller showed no improvement in Philadelphia, and the Phils passed him on to the New York Giants. He opened the 1957 season in Triple A, but was called up in May and began to blossom when manager Bill Rigney used him primarily as a reliever. Miller's 3.63 ERA was by far the best since his abbreviated rookie year.
In the Giants' new home in San Francisco in 1958, Miller turned into a different pitcher at age 30. A really good one. He kept the ball in the park, his control improved, and his strikeout rate jumped to 5.9 per nine innings, fifth highest in the league. Opening the season in the bullpen, he didn't allow a run in five of his first six appearances. Rigney, short of pitching, put him into the rotation. His first start was a three-hit shutout. At season's end, Miller's 2.47 ERA led the league. In 20 starts and 21 relief appearances, his record was only 6-9, but the Giants scored no more than two runs in six of his losses.
Miller had always been more effective as a reliever than as a starter. He seldom completed a game and often weakened in his third and fourth times through the opposing lineup. In 1958 the difference was dramatic: 0.81 ERA in relief, 3.01 when starting. But baseball's conventional wisdom still held that the bullpen was for second-rate pitchers, so managers kept running Miller out as a starter.
That changed in 1959. The Giants acquired right-handers Sam Jones and Jack Sanford to fill out their rotation with lefties Johnny Antonelli and Mike McCormick. Rigney installed Miller as his bullpen stopper. Rigney used him in the usual fashion for the time, bringing him in whenever a starter faltered, whether it was the fourth inning or the ninth. Miller's calm temperament fit the relief role. Giants pitcher Billy O'Dell said, "The ballgame would be getting tense, and I'd look down at the end of the bench and Stu was working crossword puzzles."14
The Giants, with a powerful lineup including Willie Mays, Orlando Cepeda, and midseason call-up Willie McCovey, spent most of the '59 season atop the standings in a three-way race with the defending champion Milwaukee Braves and the surprising Los Angeles Dodgers. But their pitching was thin behind the first four starters and Miller, who started nine times with 50 games in relief. Rigney worked his reliable five into the ground in August and September, probably costing San Francisco the pennant.
The Giants were two games up on Los Angeles and Milwaukee when they faced the Dodgers in a three-game series beginning September 19. LA won both ends of a Saturday doubleheader to climb into a tie for the lead. Miller appeared in both games, throwing 55 pitches. In Sunday's finale, Rigney called on him in the ninth, but he had nothing left. He surrendered four runs (two inherited) as the Dodgers nailed down a sweep and stood alone in first place.
The Giants went on to lose five straight, but they still had a chance to tie for the pennant on the season's final day. McCormick held the Cardinals scoreless for seven innings, protecting a 1-0 lead. In the eighth two singles and an error loaded the bases, and McCormick issued his only walk of the game to force in the tying run. Miller relieved, making his 12th appearance in 25 days. Gino Cimoli's RBI single won the game for St. Louis and lost the pennant for San Francisco.
Miller could console himself with the knowledge that he had won his second consecutive ERA title; the newspaper stats showed him just ahead of his teammate Sam Jones. But when the official figures were posted, Jones came in at 2.826 to Miller's 2.844. Miller believed he had been robbed. He thought the league didn't like it when he won the title the year before with a losing record. Besides, he said, "I guess they just didn't want a junkball pitcher like me to win."15 If there had been a conspiracy, it more probably would have gone Miller's way, because no black pitcher had led either league in ERA before Jones.
In 1960 an awful first half saw Miller's ERA rise above 7.00. He rebounded to finish at 3.90. The next year a new manager, Alvin Dark, used him exclusively in relief for the first time, and almost exclusively in the late innings. Miller prospered in the role, going 14-5 with a 2.66 ERA and a league-leading 17 saves. The save was not yet an official statistic, but The Sporting News had begun counting them. The baseball bible named Miller the NL's fireman of the year, based on a primitive formula of wins in relief plus saves, without accounting for blown saves. Miller blew eight opportunities, meaning he was less effective than the average pitcher in close games.
Miller made his only All-Star team in 1961 and stumbled into a legend. The first of two All-Star Games was played at San Francisco's Candlestick Park on an uncommonly hot July day – several fans collapsed – until the notorious wind kicked up in the eighth inning. Miller relieved in the ninth with the National League leading, 3–2, one out, and two runners on. As he came set to face his first batter, a blast of wind staggered him – he thought it was 65 mph, but probably not. "My whole body waved, and Stan Landes, the National League umpire behind the plate, called a balk on me. I went up to him and said, 'Stan, the wind pushed me.' He said, 'I know that, Stu, but rules are rules.'"16
The moment is calcified in history: The gale "blew little Stu Miller right off the mound."17 He spent the rest of his life denying it. "I wasn't blown off that mound. I just waved a little. But I'll always be the guy who was blown away, no matter what I say. There were 44,000 people in the park that day, but over the years I bet I've had at least 100,000 people tell me they saw me flying in the air. You'd think I'd been blown out into the Bay."18
Almost forgotten in the hubbub, Miller was the game's winning pitcher. In 1961's second All-Star Game, with 16 family members watching in Boston, he worked three scoreless innings and struck out Mickey Mantle, Elston Howard, and Roy Sievers in succession just before the game was called because of rain with the score tied.
The 1962 Giants started strong and held first place for most of May, then spent the next four months chasing the Dodgers. Willie Mays anchored the league's most dangerous lineup with 49 home runs and a .999 OPS (on-base plus slugging percentage). Jack Sanford won 16 straight decisions. Miller had an up-and-down year, sharing late-inning duties with the veteran Don Larsen and young side-armer Bobby Bolin, but he came through when it counted most.
The Giants trailed Los Angeles by two games going into their final series of the season against Houston. Miller pitched in both ends of a doubleheader, working six scoreless innings, as the teams split the first two games. The next day the Giants had to win or go home. Miller relieved in the eighth with the score tied. He set down the last six batters in a row and Mays delivered a game-winning homer to lift San Francisco into a first-place tie with Los Angeles. Both teams had won 101 games.
The Giants won the first game of the best-of-three playoff and took a 5–0 lead into the sixth inning of Game Two. When Sanford walked the leadoff batter, Miller took over and pitched to four men, retiring only one. Two runs came in; Billy O'Dell and Don Larsen conspired to cough up five more before the inning was over. The Dodgers went on to win, 8–7, but the Giants took the third game to give San Francisco its first World Series.
Alvin Dark had evidently lost confidence in Miller after the playoff debacle. In the World Series Dark used him only to mop up in two games that were already lost as the Yankees beat the Giants in seven. Although Miller saved 19 regular-season games in 23 opportunities, his ERA jumped to 4.12, reflecting his inconsistent performance. In December the Giants shipped him to Baltimore in a six-player deal. The key man for the Orioles was a power-hitting young catcher, John Orsino, while the Giants wanted left-hander Billy Hoeft to balance their bullpen.
Miller wasn't surprised by the trade, but it upended his family life. He had married Jayne Munro, a hometown girl, after his rookie season, and they settled in the Bay area. They raised four sons and two daughters. Miller had opened an insurance agency, Miller & Merritt. Traded from coast to coast, he brought his family along during the season. He swapped houses with one of the men he was traded for, pitcher Jack Fisher. Miller rented Fisher's Baltimore home and Fisher took the Millers' house in San Mateo. Miller continued renting his home to Giants players for the rest of his career, even though the place seemed to be jinxed; his first three tenants were soon traded.
Miller joined a young Orioles team that had fallen to seventh place in 1962. Manager Billy Hitchcock used him to finish games, although the term closer did not yet exist and his role was far different from the modern closer's. He usually entered in the seventh inning or later and was a true fireman, often called in with runners on base. At 35, Miller had his busiest season with an American League-record 71 appearances.
AL hitters, seeing Miller's array of junk and quirky motion for the first time, were flummoxed. He struck out more than one batter per inning in 1963, a rare feat in that era, as opponents batted just .232 against him. He was credited with 26 saves, an unofficial major-league record (later recalculated to be 27), and blew only three save chances. He was the first to win The Sporting News fireman award for a second time. Although Steve Barber won 20 games, local broadcasters and writers voted Miller the team's most valuable player.
Under new manager Hank Bauer, Miller recorded 22 saves in 1964, and turned in his best all-around season in 1965. He did not allow a run in 17 straight appearances covering 31 innings. His ERA shrank to 1.89 with a 14-7 record, 24 saves and only one blown save. He was again named the club's MVP.
Except for the 1962 season, the Orioles had been pennant contenders since 1960, but always fell short. In 1966 two new stars put them over the top. Frank Robinson came from Cincinnati in a trade and emerged as the team leader. Robinson won the Triple Crown as the Orioles battered opposing pitchers. They led the league in runs scored, batting average, on-base percentage, and slugging.
Twenty-year-old Jim Palmer, in his first year as a starter, won 15 games to lead a young rotation. Lefty Steve Barber, 28, was the ace, joined by Dave McNally, 23; Wally Bunker, 21; and John Miller, 25. But the youngsters were inconsistent, and Bauer was impatient. General manager Harry Dalton built a veteran bullpen behind them: Miller, 6-foot-6 side-armer Dick Hall, swingman Eddie Watt, and Moe Drabowsky, an undistinguished 30-year-old prankster who turned into an outstanding middle reliever. When Miller and Hall suffered arm problems early in the season, Dalton acquired knuckleballer Eddie Fisher, who had won The Sporting News fireman award with the White Sox the year before, giving the club a five-deep bullpen.
Baltimore needed all bullpen hands on deck, because the starters completed only 23 games, the second fewest in the league. After Barber went down with a sore elbow in July, the relievers shouldered an even bigger load. Fisher shared the late-inning responsibilities with Miller; they combined for 14 victories and 32 saves.
The bats and the bullpen carried the Orioles to the pennant, but Bauer needed only one relief pitcher in the World Series against the Los Angeles Dodgers. Drabowsky relieved McNally and picked up the win in Game One, then Palmer, Bunker, and McNally pitched consecutive complete-game shutouts to sweep the favored Dodgers.
Miller finished 406 games in his career, but he got his most famous final out on April 30, 1967. Steve Barber started against Detroit and had a terrible day. He walked 10 batters, plunked two, threw a wild pitch, and committed an error – but he didn't allow a hit through 8⅔ innings. The Orioles led 1-0 in the ninth when Barber walked the first two hitters and bounced a wild pitch in front of the plate to let in the tying run. After another walk, Hank Bauer removed his no-hit pitcher and brought in Miller with two away. Miller induced a grounder through the middle that was flagged down by shortstop Luis Aparicio, who flipped to Mark Belanger at second for the out that would end the inning. But Belanger dropped the ball as the winning run crossed the plate. Miller recorded the third out, one batter too late. The Orioles were only the second team to lose a no-hitter.
The 39-year-old Miller's age caught up with him in 1967. He needed more rest and appeared in only 42 games, his lightest workload since he began relieving full time. He posted an excellent 2.55 ERA, but failed too often with the game on the line. He gave up the winning run in seven tie games and blew four saves in 12 opportunities. With a 3-10 record, Miller recognized that his time was up in Baltimore. He told a writer, "I'll be pitching somewhere next year."19
The Orioles sold Miller to the Atlanta Braves in April 1968, but his new club released him three weeks later. The Cardinals gave him an unsuccessful trial with their Triple-A Tulsa farm club. He hoped to hang on for the expansion draft that was scheduled in the fall to stock two new big-league teams, but he confessed years later that he had lost the desire to play. By midseason Miller had signed on as pitching coach for the Giants farm team in Fresno, California.
When he retired, Miller ranked third in career saves with 153, behind Hoyt Wilhelm and Roy Face. The save did not become an official statistic until 1969, and managers had no thought of holding back their top relievers for save situations, much less reserving them for the ninth inning. Miller pitched more than one inning in 107 of his saves.
Miller returned to his insurance business in the San Francisco Bay area, and later owned a liquor store for many years. He died at 87 on January 4, 2015, at his home in Cameron Park, California. Jayne Munro Miller, his wife of 62 years, died a month after her husband.
Notes
1 Mike Fast, "How Slow Could You Throw?" The Hardball Times, June 4, 2010. hardballtimes.com/tht-live/how-slow-could-you-throw/, accessed January 28, 2016. See the comments for Tyson's estimate. A 30-mph pitch would have to be an "eephus," leaving the pitcher's hand on an upward trajectory of about 45 degrees.
2 Jim Murray, "The Junk Dealer," Los Angeles Times, August 4, 1961. In Miller's file at the National Baseball Hall of Fame library, Cooperstown, New York.
3 Walter Judge, "Li'l Stu Fools 'Em With Head Motion," San Francisco Examiner, January 26, 1959, in HOF file.
4 John Eisenberg, From 33rd Street to Camden Yards: An Oral History of the Baltimore Orioles (New York: Contemporary Books, 2001), 171.
5 Tex Maule, "The Young Pitchers Take Command," Sports Illustrated, June 26, 1961. si.com/vault/1961/06/26/581768/the-young-pitchers-take-command, accessed January 26, 2016.
6 "Stu Miller Explains How," Associated Press-Baltimore Sun, April 4, 1966: C4.
7 Lou Hatter, "Miller Edgy as Speaker," Baltimore Sun, September 8, 1965: 19.
8 Stu Miller, telephone interviews by Ed Evans, 2013.
9 Mike Mandel, The S.F. Giants, an Oral History (self-published, 1979), 59.
10 Miller interview by Ed Evans.
11 Robert L. Burnes, "Stu Miller fooled everybody," St. Louis Globe-Democrat, July 16, 1980: D2.
12 Miller interview by Ed Evans.
13 Mandel, 60.
14 Danny Peary, ed., We Played the Game (New York: Black Dog & Leventhal, 1994), 508.
15 Mandel, 60.
16 Ron Fimrite, "Gone With the Wind?" Sports Illustrated, September 1, 1986. si.com/vault/1986/09/01/113879/gone-with-the-wind-the-giants-want-out-of-blustery-candlestick-park-and-one-of-these-days-they-just-might-get-their-wish, accessed January 26, 2016. The balk rule, 6.02(a)(1), states that a balk should be called when "The pitcher, while touching his plate, makes any motion naturally associated with his pitch and fails to make such delivery. …" Official Baseball Rules, 2015 edition.
17 Bob Stevens, "Giants Label Lefty Pierce Prize Catch," The Sporting News, January 3, 1962: 17.
18 Fimrite, "Gone With the Wind?"
19 Doug Brown, "Stu Pushes 40, Set for Relief Pull Again," The Sporting News, December 9, 1967: 41.
Born
December 26, 1927 at Northampton, MA (USA)
Died
January 4, 2015 at Cameron Park, CA (USA)
If you can help us improve this player's biography, contact us.
https://sabr.org/sites/default/files/MillerStu.png
600
800
admin
/wp-content/uploads/2020/02/sabr_logo.png
admin
2012-01-04 20:47:27
2012-01-04 20:47:27
Stu Miller