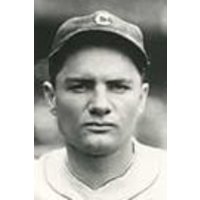 ---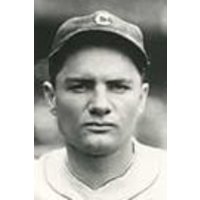 During his career sportswriters hinted that Sumpter Clarke had his quirks. Finally, in 1962 a story about Clarke's antics emerged. While with New Orleans in a meaningless game, as a joke the other team all sat down when Clarke came to bat. The pitcher laid one down the middle and Clarke swung. He hit "a dinky little roller" back to the box. Clarke never ran. He took the bat by the fat end and smashed the handle down on the plate, splintering it. Then he gathered the pieces and went back to the bench.1
Sumpter Mills Clarke Jr.2 was the first child born to Sumpter and Virginia Pocahontas (Lafitte) Clarke, better known as Jennie. He joined the family on October 18, 1897 in Savannah, Georgia. A traveling salesman by trade, the elder Clarke moved the family to Estill, South Carolina when Sumpter was an infant. Estill is about equidistant west from Charleston, S.C. and north of Savannah. Here the family put down roots and welcomed the addition of Rufus, Charles, Eva, Helen and Samuel. Tired of the road, the elder Clarke turned to farming in Hampton County, S.C. sometime after Samuel's birth in 1912.
The younger Sumpter attended school in Estill where he graduated from high school. He then attended the Citadel before enrolling in South Carolina University. He was in college for five years but did not complete a degree.3 Clarke grew to be 5-foot-104 and weighed 170 pounds. Early on he displayed athletic talent. He played baseball for both his high school team and the town team at age 17. A right-handed hitter and thrower he played infield for the school team and was the main catcher for the town squad. Over the course of his career he played all the positions.
In college, Clarke played football and baseball. On the gridiron he was an end. In an era with very little passing he was expected to block and be a ball carrier on reverses. He earned three letters in football for the Gamecocks. Neither the Citadel nor the South Carolina Gamecocks had powerful teams during his tenure. The 1916 Gamecocks were an "all-or-nothing" proposition. They scored 23 and 47 in their two wins, but managed only 15 points in their other 7 games. Clarke was appointed captain for the 1917 squad that posted a 3-5 record. The wins came on shutouts of Furman, Newberry and Citadel. He was known as "Babe" in his college days, but that nickname did not follow him through life. He personally listed "Sump" and "Clarkie" as nicknames for himself.5
On the baseball diamond he began his collegiate career at third base. He went to shortstop as a junior and finally played a little outfield as a senior. In most games he was the clean-up hitter, but did lead-off on occasion. The Gamecocks' website lists him as a four-year (1915-18) letterman in baseball.6 Like the football teams, the South Carolina baseball squads were average at best. From 1916 through 1918 they had a 24-34-2 record.
Clarke's most interesting college game took place on March 29, 1916 against Mercer. It featured a double play involving six throws. In the first inning Mercer loaded the bases and then attempted a double steal. The play started with catcher Frank Simril throwing to Clarke at third. That runner scrambled back safely, but the runner from second had started for third and Clarke threw to second base. The runner from third then sprinted home again, but was caught at the plate for the first out. After three more throws, Clarke completed the double play at third base.7 Mercer did not score in the first, but did rally for a 5-2 win.
Clarke signed with the Baltimore Orioles in the International League after the 1918 collegiate season.8 His debut came on June 22 versus Syracuse. He played center field and went hitless against Bob Heck. He went on to make 83 appearances, most of them in center, and batted .258. He batted in the middle of the lineup briefly, but ended the season batting down in the order. Clarke showed some power to the opposite field and speed by racking up eight triples. Because of the war, the season ended early with Baltimore in third place. Clarke was inducted into the Army and trained with an infantry regiment in Georgia. He was discharged shortly after the Armistice was signed.
Jack Dunn kept his 1919 Orioles in town for spring training. Clarke joined Merwin Jacobson and Johnny Honig as the leading outfield candidates. The O's opened with an exhibition against a local team in front of 3000 fans. Clarke looked good in the field and at bat. Soon the major league clubs were coming into town. First the A's, then the Giants and finally the Red Sox with Babe Ruth. Clarke was hitting the ball sharply, but his line drive triple and single were no comparison to the Babe who launched four home runs in a 12-3 Boston win on April 18. The next day Ruth hit two more dingers.
Clarke cemented a spot in the outfield, but with Otis Lawry recently signed he would have to produce to stay in the lineup. In the season opener he went three-for-four with a double. He also threw a runner out at the plate in the 8-1 loss to Rochester. A week later he was still on a batting tear, getting three RBI in a game. He also drew praise for "a couple of nice catches in right field" including one where he had to battle the sun.9
Jack Bentley returned from military service when Max Bishop was hitting an astounding .556. Lawry had been at second and Bishop at first. With Bentley's return, Bishop went to the keystone and Clarke became the odd man out when Lawry went to left field. From mid-May to early June, Clarke saw duty as a pinch-hitter and occasional outfielder. To get him more experience, Dunn released him to Brantford, Ontario in the Class B Michigan-Ontario League.
The Brantford Red Sox had played a third of their season when Clarke arrived. He made an instant impact and ended the season fifth in the league with a .333. He showed little power by banging out just 10 extra base hits in 225 at bats.
Clarke went to spring training with the Orioles in 1920, but "Knotty" Lee, the Brantford manager, made a trip to North Carolina to scout Dunn's troops. He was hoping to get Clarke for another season.10 Lee returned to Canada with a sales receipt for Clarke and the promise of pitching help from Dunn.
Clarke headed north thinking he would be an outfielder. He ended up playing 57 of 100 games at third base. He split the other games between shortstop and the outfield. His .289 batting average placed him fourth on the team for players with half a season or more. He poked 13 doubles, four triples and his first professional home run. At season's end, he was sent to the Chicago Cubs.
The Cubs liked Clarke's intensity and versatility. He would get into only one game, a September 27 16-1 blowout by the Cardinals. Entering the game when the rout was on he went one-for-three and had one chance at third base. The Cubs kept him on the 40-man roster as an infielder and welcomed him to spring training in 1921.
The Cubs released him to the Birmingham Barons in the Southern Association and their veteran manager Carlton Molesworth. Now age 22, Clarke found himself with a bevy of similar young players like Johnny Gooch, Pie Traynor and Earl Whitehill. Clarke was used as a utilityman seeing his most action at third base. Traynor was the team's shortstop.
Clarke had always been known for his hustle and intensity. Southern Association managers classified him with "high-tensioned ballplayers, who are hard losers and never give up until the final man."11 But there was another side to Clarke, one that writers alluded to but never delved into. A Baltimore writer mentioned that he "amused visitors to the Orioles park by his strange antics."12 An article after his playing days included him with "zany" players in the Southern Association. He was lumped with Casey Stengel and Jimmy Piersall as "colorful" outfielders.13
Clarke never spoke much to reporters and the nature of his antics and colorful quirks were not specified during his career. The first demonstration of his unpredictability came on August 28, 1921. Clarke topped a grounder out in front of the plate and did not run it out. When Molesworth questioned him, Clarke allegedly attacked his manager. He was suspended immediately for the duration of the season.14 In 87 games he batted .236.
Both Clarke and Molesworth were back in Birmingham in 1922. Clarke came into the new season with a positive attitude. "Best of all is the spirit he is displaying. He is putting his all into every practice."15 Clarke won a starting spot in the outfield and turned in a strong season. His .303 average was fifth on the team while his outfield work was by far the best on the team. He was at his best in August when he mounted a 33-game hit streak. He was stopped on September 3 by the Mobile Bears.16 The streak set a Southern Association record that was broken a few years later by Johnny Bates.
Clarke returned to the Barons for the 1923 season and crafted his finest season to date. He batted .324 in a career-high 596 at bats. He also had a 24-game streak.17 His contract was purchased by Cleveland and he joined the Tribe at the end of the season. He played right field in one game against the Senators going hitless.
That fall he returned to Birmingham and coached the Shades Cahawba high school football team. They captured the county championship. He also coached the school's basketball team with much less success. The Cleveland writers were excited about his acquisition because he was so versatile, speedy and unlike the starting outfielders, batted right-handed. 18
Coaching was not the sole reason Clarke had returned to Birmingham. He married Agnes Pauline Ash there on February 8. The couple would have one daughter, Dolores, who was born in 1928. The young couple journeyed to spring training together. Clarke reported to early training in Hot Springs where his versatility came in handy as an extra catcher.
There was a crowded outfield when the whole team assembled in Lakeland, Florida for training. Tris Speaker and Charlie Jamieson were secure, but Clarke was one of five candidates for the other spot. Clarke emerged from camp in a platoon with left-handed hitting Homer Summa. Initial results were tremendous. In Clarke's first four starts he went 6-for-15, scored four runs, had three doubles and two RBI. In the home opener he gunned down a runner at third base and started the ninth inning game-tying rally with a single.19 His early season heroics were quickly forgotten when he went hitless for the month of May.
Batting right-handed in a platoon kept Sumpter from facing his brother Rufus. A product of Davidson College, the right-handed "Rufe" had spent two seasons in the minors before joining the Detroit Tigers. The brothers never faced each other in college or the pros. The Plain Dealer ran a photo of the pair posing together on opening day in Detroit. Sumpter served as best-man for Rufus' marriage in 1935.
On June 14 he was farmed out to Chattanooga in the Class A Southern Association. He played two months with the Lookouts in both the infield and outfield batting .265. He was recalled in mid-August when the Indians brought in rookie recruits in bunches. He arrived in town with five pitching candidates from all over the country. Speaker inserted him into the lineup on August 28 and played him in eleven straight games in right field. Then he was given a brief trial in center field. He closed out the season appearing in 35 games and batting .231.
Following the season, Sumpter and Pauline went to Ft. Lauderdale, Florida. A winter baseball league known as the Sunshine League had begun. The Ft. Lauderdale team was managed by "Stuffy" Stewart who managed Clarke at Birmingham in 1923. The franchise was moved in the second half of the season and in February Clarke was made manager. He played mainly second base.
The following winter he helped to recruit players for the league as it expanded to six teams. Major league notables like Frankie Frisch and Bucky Harris were brought in to manage. Clarke was named captain of the Johnson & Moffat team. In January he was appointed acting manager. Like Connie Mack, he managed from the dugout in suit and tie. Clarke proved to be a feisty manager who frequently battled with umpires. One day he was especially loud and obnoxious and went onto the field to protest. The league president, Frank Gardiner, was in attendance and the pair got into a fight. Clarke emerged with a black eye, both literally and figuratively.20 His team was declared champion a week later when finances forced restructuring of the league.
Indianapolis purchased his contract for $6000 over the winter hoping he would be the solution for a ballhawk in center field. Clarke committed only one error in 47 games, but his .207 batting average was the worst for any position player on the team. The New Orleans Pelicans purchased him on August 1. In a tight pennant race with the Atlanta Crackers, Clarke's glove was a welcome addition. Within a week he had earned the lead-off spot. He appeared in 72 games and batted .254 as the Pelicans finished just behind the Crackers. It should be noted that the contemporary guides and Baseball Reference list him as also appearing with Atlanta. His transaction file from the Hall of Fame also does not indicate any contract with Atlanta in 1925.
Clarke was swapped to the Crackers on January 27, 1926 even up for pitcher Cy Warmoth. Atlanta had lost home run champ Nick Cullop and his fellow outfielder Frank Zoeller and needed help in the garden. Atlanta liked the bat of newcomer Mule Haas better than Clarke's and released him a month into the season. Clarke hooked on with the Albany, Georgia Nuts in the Class B Southeastern League. In mid-June he took over as manager.
As in the Sunshine League, Clarke continued to battle with umpires, but this time as a player/manager. His 1926 team finished in fourth place. The following year he put together a hard-hitting club led by Nap Kloza who led the league in batting at .404 and clubbed 28 home runs. A woeful pitching staff contributed to a sixth-place finish. Clarke feasted on Class B pitching for a .331 average. Clarke's transaction file shows his rights transferred to Toronto in the International League. However, statistics published from the league list him playing three games with Newark.21
Springfield, Ohio was the next stop. Joe Dunn, who had managed Clarke for a while in Birmingham, was manager of the Buckeyes in the Class B Central League. The league was a hitter's paradise. Seven regulars on the Buckeyes hit .300 or better. Clarke put up the most impressive numbers of his career with 17 home runs, a .342 batting average and a .537 slugging percentage.
When the season closed, Clarke went to Akron to play for the Firestone NonSkids in the semi-pro ranks. This proved to be very profitable when he was offered a sales job with Firestone. Over the years he remained in the tire and rubber business working for a variety of tire manufacturers. Whereas his father had been a traveling salesman working out of Estill. Clarke became a salesman who traveled. He and Pauline were in Jacksonville, Florida in 1930, Memphis in 1933, Little Rock in 1935, then settled in the Knoxville, Tennessee area. Amidst all the business relocations, he had one last fling with baseball. He played 17 games with Springfield, now called the Chicks and playing in Class C Middle Atlantic League in 1933.
Clarke was struck with a massive heart attack and died on March 16, 1962 in Knoxville. He was still in the tire business working for the Robbins company that specialized in retreads. Burial was held at the Lawtonville Cemetery near Estill. Pauline passed away in 1981 and lies next to him in Lawtonville.
Acknowledgments
This biography was reviewed by Norman Macht and fact-checked by Alan Cohen.
Sources
Thank you to the members of the SABR Minor League Statistics Committee who helped with hitting streak information. A special nod to Al Arrighi and Nic Loiacono who provided the definitive help.
Notes
1 Dan Schillin, "Around and About," Times-Picayune (New Orleans), January 13, 1962: 22.
2 Father and son have the same three names. The "Jr" appears on Clarke's gravestone and brother Rufus referred to Sumpter as Clarke Jr. A family tree on ancestry.com also uses the Jr. designation. https://www.ancestry.com/family-tree/person/tree/31903528/person/120061501029/facts?_phsrc=VjY680&_phstart=successSource. Baseball Reference does not employ the "Jr." Clarke did not use it himself on his HOF questionnaire.
3 Collegiate information is from Clarke's Hall of Fame questionnaire that he filled out in 1960.
4 Sumpter listed himself at this height and weight on his Hall of Fame Questionnaire. Baseball Reference lists him at 5-foot 11. Brother Rufus also did a questionnaire about Sumpter and listed him at 5-foot-11 ½ inches and 175-180.
5 Listed on his questionnaire for the Hall of Fame. The writers at the Baltimore Sun referred to him as "Old Hookworm". Where this term came from is unknown.
6 http://grfx.cstv.com/photos/schools/scar/sports/m-basebl/auto_pdf/2016-17/misc_non_event/17-bb-mg-sec-7.pdf
7 "Mercer Took Last from Gamecocks," The State (Columbia, S.C.), March 30, 1916: 9.
8 The transaction file on Clarke in the Hall of Fame lists agreements and contract with Petersburg, Virginia in 1917 and 1918 and notes that they reserved him. It noted that they released him to Baltimore in April 1920. This could be the source of a complaint that arose just about the time he was returned to Brantford.
9 "Orioles and Binghamton Divide twin Bill," Baltimore Sun, May 4, 1919" 10.
10 "Brantford Manager is "Peeping" in the South," Flint Journal, April 5, 1920: 15.
11 Henry P. Edwards, "Down the Sports Trail," Plain Dealer, December 22, 1923: 16.
12 C. Starr Mathews, "Dunn Seeks Infielders," Baltimore Sun, January 23, 1919: 10.
13 Raymond Johnson, "One Man's opinion," The Tennessean, July 15, 1952: 16.
14 "Barons to Lose Star," New Era (Hot Springs, Arkansas), August 29, 1921: 5.
15 "Two Barons Recruits Who Stand Out Early," Sporting News, March 23, 1922: 6.
16 W.N. Stone, "Mike Cvengros Assigned to Face 'Nooga Nine Thursday; Allen-Elberfeld to Joplin," Arkansas Democrat (Little Rock), September 7, 1922: 7.
17 Ernest J. Lanigan, "Two Clarkes May Be Seen on Rival Teams," The Sporting News, November 29, 1923: 6.
18 Stuart M. Bell, "Indians Landed a One-Man Ball Club When They Signed Sumpter Clarke," Plain Dealer, February 21, 1924: 16.
19 Stuart M. Bell, "Burns Celebrates Homecoming with Slam for Victory," Plain Dealer, April 24, 1924: 21.
20 "Jack Dempsey Day at the Games," Ft. Lauderdale News, January 25, 1926: 10.
21 "Official International League Averages," Reading Times, February 2, 1928: 17.
Born
October 18, 1897 at Savannah, GA (USA)
Died
March 16, 1962 at Knoxville, TN (USA)
If you can help us improve this player's biography, contact us.
https://sabr.org/sites/default/files/Clarke%2C%20Sump.jpg
600
800
admin
/wp-content/uploads/2020/02/sabr_logo.png
admin
2018-02-15 15:21:23
2020-04-09 14:40:24
Sumpter Clarke