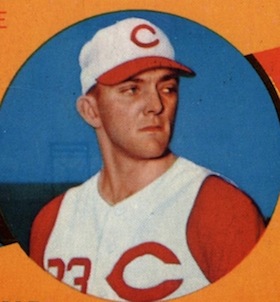 ---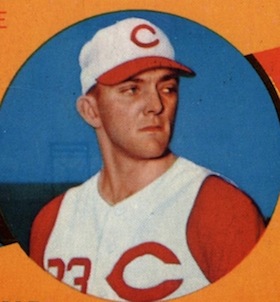 The Cincinnati general manager had seen enough. Sitting at home on April 24, 1960, Gabe Paul watched on TV as his club's reliever coughed up a lead in the first game of a doubleheader in Philadelphia. Worse was the manner in which it was done: an eighth-inning grand slam to light-hitting Phillies catcher Jimmie Coker. Paul called the visiting clubhouse in Connie Mack Stadium and ordered the immediate reassignment of Ted Wieand. The hurler never made another major league appearance. "[O]nce labeled a 'right-handed [Vinegar Bend] Mizell," this was harsh treatment for a pitcher much heralded throughout his 11-year professional career.1
Wieand was born in Walnutport, Pennsylvania, 70 miles northwest of Philadelphia in the Lehigh Valley, on April 4, 1933. One can easily surmise the political leanings of his parents Roland George and Helen I. J. (Hunsberger) Wieand: their youngest child was born exactly one month after the inauguration of President Franklin D. Roosevelt, and they named him Franklin Delano Roosevelt ("Ted") Wieand. When the hard-throwing righty emerged on the major league scene 25 years later, he joined such similarly named hurlers as Grover Cleveland Alexander and Calvin Coolidge Julius Caesar Tuskahoma McLish, among others.2
The Wieand family traces its roots to Philadelphia in 1750 with the arrival from Germany of Ted's five times great-grandfather Johann Jost Wiandt (or Weigandt). Johann's son revised the surname and appears to have been the person who navigated the family to the Lehigh Valley. The appreciation Ted's father had for FDR came from Roland's employment via the Works Progress Administration (WPA), established by the 32nd president in the depth of the Depression.
Ted (aka "Frank") Wieand attended high school in the neighboring borough of Slatington. Lehigh Valley has produced many famous athletes over a wide range of sports including Philly hurler Curt Simmons, boxer Larry Holmes, race car driver Mario Andretti, and Pro Football Hall of Famer Chuck Bednarik. Slatington High School (now Northern Lehigh High) established its own athletic pedigree with Charlie "Home Run" Johnson and George "Three Star" Hennessey. When Wieand graduated from Slatington in 1951 he too contributed largely to the school's reputation: He went 9-1 for the Bulldogs in his senior year, including four one-hit games, and averaged 17 strikeouts a game. But his reach extended beyond the prep diamonds. From 1950-51 he established a record of 28-3 in American Legion ball, including a no-hitter. The St. Louis Cardinals, who were among the at least eight major league clubs hotly pursuing Wieand, sent no fewer than four scouts to observe him over the two-year period. And in 1952, the Cardinals signed the "Whiff Kid" for a bonus exceeding $25,000.3
Wieand did not have to travel far to launch his professional career: he was assigned to the Allentown Cardinals 14 miles away. On May 2, 1952 Wieand made his debut against the Wilmington (Delaware) Blue Rocks and carried a no-hitter into the eighth. But nine walks and five wild pitches contributed to his undoing in a 5-2 loss.4 The youngest hurler on the Class B club, Wieand made 31 appearances (22 starts) and placed among the team leaders in nearly every pitching category. He also figured among the Interstate League leaders with an impressively low 6.9 hits/9 IP, unfortunately balanced by an identical 6.9 walks/9 IP.
In 1953, Wieand was moved to Winston-Salem, North Carolina. There he built a record of 12-5 for the Class B affiliate while placing third in the Carolina League with a 2.31 ERA (among pitchers with 100 or more innings). On July 16, Greensboro's Syl McNinch was the only player who stood between Wieand and a no-hitter: the Patriots' first baseman collected the only hits (three) in a 2-0 shutout. Wieand's otherwise successful season was still tarnished by a continued large number of walks: 102 in 175 innings.
The next year Wieand earned promotion (and a return) to Allentown, which, following a one-year hiatus, reemerged as a Class A club in the Eastern League. But that season he lost all semblance of control, posting a league-worst 1.812 WHIP and 5.55 ERA and ranking among the leaders in wild pitches and HBP. Wieand finished the 1954 season 7-14. During the offseason Cardinals manager Eddie Stanky listed the hard-throwing righty among the club's future stars, a surprising assessment considering Wieand's performance.
Stanky's confidence was rewarded as Wieand bounced back in Columbus, Georgia. Though he stood among the South Atlantic League leaders with 12 losses—albeit on a poor Class A club—Wieand recorded a 3.41 ERA with far fewer walks. He was among the league leaders in appearances (40), most of them from the bullpen. The successful rebound earned him a brief promotion to the Class AA affiliate in Houston, Texas. Of interest, in 1955 the Columbus Cardinals seemingly cornered the market in "presidential players" when it teamed Wieand with outfielder Andrew Jackson Lee.
In 1956, Wieand played the entire season with the Houston Buffaloes. On April 27, he won his debut start with a six-hit, 7-2 win over the Austin Senators; a month later he collected his fifth win against one loss. Unfortunately, it was a painful win. Felled by a line drive to the temple, Wieand remained conscious and walked off the mound under his own power. In July, the Buffaloes projected Wieand (then with a 12-4 record) as one of their likely 20-win hurlers. Though he won just four of his final nine decisions—including a heartbreaking 1-0, 14-inning loss to the Tulsa Oilers on the penultimate day of the season—Wieand mastered his control to place among the Texas League leaders in most pitching categories. His 16 wins helped pace the Buffaloes to a first place finish. On September 18, Wieand led the club to a 4-2 win over the Dallas Eagles in the league finals; two weeks later he twirled a five-hit, 8-1 win over the Atlanta Crackers in the Dixie Series. Seeking to build on this success, Wieand signed to play in Mexico during the winter.
Assigned to St. Louis' 40-man roster, Wieand was touted among a fruitful major-league rookie class that included future Hall of Famer Brooks Robinson and New York Yankees infielder Bobby Richardson. "Wieand, club scouts agree, has a fine chance of making the Redbird staff this year," reported Red Byrd of The Sporting News.5 Byrd's optimism seemingly ignored the Cardinals' other offseason additions. In an attempt to improve upon one of the league's worst pitching staffs (3.97 ERA), the club had acquired veteran Sam Jones and future Hall of Famer Hoyt Wilhelm. Though Wieand got a long look during spring training, he was reassigned to Houston days before the start of the season.
Wieand was one of 12 players returned to the Houston club. The veteran preponderance produced another championship season, with the Buffaloes becoming the first team in 15 years to capture consecutive Dixie Series crowns. For Wieand a 2.83 ERA with career-best marks in complete games (14) and WHIP (1.112) produced only a middling record of 13-14 as the team appeared unable to provide adequate run support for the righty. On August 31, he got within four outs of a no-hitter against Austin, settling for a 3-0 one-hit shutout. Wieand was poised for another stab at the Cardinals roster the following spring, but the opportunity disappeared when he was traded to Cincinnati on December 5, 1957.
During the offseason the Cardinals sought a right-handed hitter to come off the bench, while the Redlegs looked to plug a number of gaps in the NL's worst pitching staff (4.62 ERA in 1957). In the initial deal that Cardinals' general manager Bing Devine negotiated, two relatively unknown hitters were sent to St. Louis for three equally unknown hurlers. (Hardly a perceived blockbuster then, Devine later credited manager Fred Hutchinson for engineering the swap.) But through the lens of history, the trade shines for St. Louis—one of those unknown hitters was Curt Flood, who went on to an All-Star career. But at the time Devine pronounced it "a good deal for both clubs"—and many analysts agreed.6
But opportunities to secure a roster spot with Cincinnati thinned considerably when the Redlegs acquired veteran hurlers Bob Purkey and Harvey Haddix within 11 days of the trade. In April 1958, Wieand and Marty Kutyna—two of the three hurlers acquired by Cincinnati in the Flood trade—were assigned to the Seattle Rainiers in the Pacific Coast League. Initially relegated to the bullpen, Wieand captured two quick wins in the first four games of the season. But success waned when he was moved into the rotation. On May 19, he was holding on to a tenuous one run lead in the ninth inning against the Phoenix Giants. With the tying run on base, Rainiers' manager Connie Ryan moved Wieand to third base to allow a lefty reliever to face left-handed hitter Leon Wagner. The strategy failed when Wieand was returned to the mound and surrendered a home run to infielder Joey Amalfitano in a 9-7 loss. On August 2-3, Wieand made two successive starts and suffered two successive losses against the Vancouver Mounties, surrendering four runs in the first inning of each game. He also set a career-high record of 11 wild pitches, including a league-record five in one game. Wieand finished the season 9-12, 4.19 in 189 innings.
Despite his PCL mishaps, Cincinnati selected Wieand among seven prospects in a late-season call-up.7 On September 27, 1958, he made his major league debut in Milwaukee. Entering the fourth inning trailing 4-0, Wieand surrendered a home run to the first batter he faced, first baseman Frank Torre. He settled down to retire six of the next seven batters before running into trouble in the sixth. Wieand was lifted after two innings, having given up two runs and four hits.
Any chance of Wieand's sticking with the club the next year was likely foiled by his miserable Grapefruit League showing. On March 11, 1959, he surrendered five runs and seven hits to the Los Angeles Dodgers in 1 1/3 innings. He was assigned to the Havana Sugar Kings shortly thereafter. Though not particularly known for offense, the Sugar Kings couldn't get a single run for Wieand in three of his first four decisions; by June he "already ha[d] clinched one '59 title – hard-luck champion of the International League."8 On June 19 he took matters into his own hands with a three-run homer to underscore a four-hit mound performance in a 7-3 win over the Montreal Royals.9 Fortune finally turned in his favor with eight consecutive wins into August, including three in four days (in July Wieand volunteered for relief duty when the bullpen came up short). Explaining his newfound success, Wieand said, "My arm feels a lot stronger since I discarded my curve ball. I worked hard to master a good curve, but it took too much off my fast ball. So I developed the slider into two different pitches, one a big breaker, and two a normal slider that rolls off and down. These two pitches with a change-up, a fast ball and control are all that I used for the last two months. Now I don't worry about hanging the curve; that's the gopher-ball pitch."10
On August 27 Wieand was the winning pitcher for the International League All Stars in a 14-6 thumping of the Pittsburgh Pirates. He established a Havana Sugar Kings single-season record of 16 wins. He went on to lead the club to its only pennant, surrendering just one unearned run in 16 1/3 innings (two starts) against the Atlanta Crackers. The success continued as he marched his club through the Junior World Series in a hard-fought seven-game match against the Carl Yastrzemski-led Minneapolis Millers. Wieand figured prominently in consideration for the league's most valuable pitcher, coming in third behind Bill Short and Al Jackson in the closest voting in its history. As Wieand prepared for the following spring playing in the Cuban Winter League, he was garnering much attention stateside: "The Reds' brass has always looked upon Wieand as a young man with tremendous potential," said The Sporting News. "They're hoping that the year 1960 will see him realize it."11
Much as the Columbus Cardinals cornered the market in presidentially-named players in 1955, when the 1960 season broke, Cincinnati boasted two: Wieand and the aforementioned Cal McLish. Leaning on his bullpen success with Havana, the Reds assigned Wieand to their relief corps. Except for a difficult outing against the Pirates on April 17—a game in which Pittsburgh staged a dramatic ninth inning comeback against Wieand and veteran reliever Bill Henry (wherein Wieand garnered his only career MLB decision)—the righty was nearly perfect in his first three appearances: four innings of one-hit relief. But Wieand maintained a tenuous hold on the roster: "Every time I spotted the club secretary, I looked for a plane ticket," he joked.12
Then came the Jimmie Coker grand slam. Wieand entered the eighth inning protecting a 5-4 lead against Philadelphia with runners on second and third. He intentionally walked the first batter, but then he proceeded to walk career .236-hitter shortstop Joe Koppe, allowing the tying run to score. The ensuing home run to Coker marked the last pitch Wieand threw in a major league game. He spent the remainder of the campaign jockeying between two of Cincinnati's Class AAA clubs.
After the season the New York Yankees acquired Wieand and catcher Jesse Gonder in a series of transactions for pitching prospect Zach Monroe and a large bundle of cash. The addition of Wieand was intended to bolster a staff that had seen three Yankee hurlers selected among the first five picks in the American League expansion draft. He reported to spring training in 1961 competing with four others (including 1959 International League pitcher of the year Bill Short) for three vacant spots. "I am watching Wieand for the long relief job," said pitching coach Johnny Sain. "[H]e has a better than an even chance to make the grade."13
Wieand did make the grade and traveled north with the Yankees to start the season. But relegated to the end of the bench, he did not make an appearance. In May he was assigned to the International League with the Richmond Virginians. Wieand became one of the club's bullpen stalwarts into the following season before elbow problems began to plague him. Arm problems were not new to Wieand; since 1957 he had suffered through various ailments. But the ailing arm, combined with a demotion to the Class AA Amarillo Gold Sox in 1962, convinced the 29-year-old to hang it up.
In 1954 Wieand married Joan Chandler, a Lehigh County native and presumably a high school sweetheart. They had five children. Wieand returned home and became a licensed plumber. From 1983 until his retirement in 1998 he served as heating and plumbing foreman at Muhlenberg College in Allentown, Pennsylvania. In 2010, Wieand was honored by induction into the Northern Lehigh High School Ring of Honor (the equivalent of a sports hall of fame). Two years later he was inducted into the Lehigh Valley Sports Hall of Fame.
With just six major league appearances, Wieand's career certainly qualifies for the proverbial cup of coffee: 0-1, 9.95 in 6 1/3 innings. He found far greater success climbing through the minors over an 11-year period.
Last revised: July 12, 2021 (zp)

Acknowledgments
The author wishes to thank Rod Nelson, Chair of the SABR Scouts Committee. Further thanks are extended to Tom Schott for review and edit of the narrative.
Sources
http://www.baseball-reference.com/
http://tinyurl.com/hb6whvj [Lehigh Valley Sports Hall of Fame]
http://tinyurl.com/znxqy8p [Northern Lehigh High School Ring of Honor Archive, 2010]
Notes
Full Name
Franklin Delano Roosevelt Wieand
Born
April 4, 1933 at Walnutport, PA (USA)
Died
July 7, 2021 at Allentown, PA (USA)
If you can help us improve this player's biography, contact us.
http://sabr.org/sites/default/files/images/WieandTed.jpg
600
800
admin
/wp-content/uploads/2020/02/sabr_logo.png
admin
2016-01-21 18:49:02
2022-04-04 13:52:46
Ted Wieand