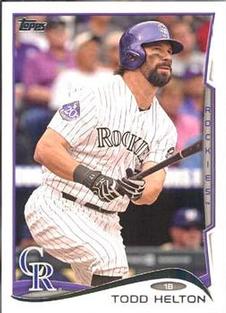 ---
You come to Colorado, the first guy you talk about is Todd Helton. We try to stay down in the zone and not give him anything to hit."1 — Cubs pitcher Kerry Wood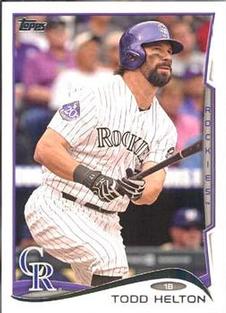 In the so-near-yet-so-far-away category, Todd Helton has a place of honor. In 2003, the batting race in the National League came down to the last day of the season. The Colorado Rockies were playing the San Diego Padres in an otherwise meaningless game. Helton, who had won the title with a .372 batting average in 2000, was going for his second title. He had hit safely in 19 of his most recent 20 games, and the Rockies' first baseman brought a .358 average into the game in San Diego. Meanwhile, in Phoenix, the St. Louis Cardinals were facing off against the Diamondbacks. The Cardinals' Albert Pujols came into the game in a virtual tie for the batting lead with Helton. Both teams had been eliminated from Wild Card contention and the only issue at hand was the batting race.
Pujols went 2-for-5 with a double to raise his average to .35871 (212-for-591). After the Cardinals easily defeated the D-backs, 9-5, he could only be a spectator to events in San Diego. The game in San Diego, with nothing on the line between two teams with losing records, wound up being an exciting affair for the 60,988 spectators at the final game ever held at Qualcomm Stadium (formerly known as Jack Murphy Stadium). In the top of the eighth inning, the Rockies had scored two runs and extended their lead to 10-7. There was a runner on second with two outs.
Helton stepped to the plate. He was already 2-for-4, and needed a hit to secure the batting title. His average stood at .35849 (209-for-583). Padres manager Bruce Bochy, looking to avoid further scoring and set up a force play, had his pitcher, Rod Beck, issue an intentional walk to Helton. It wound up being Helton's last plate appearance of the season. The next batter, Jay Payton, flied out, and the Rockies were retired in order in the ninth inning. The Padres cut into the lead with a Mark Loretta eighth-inning homer, but it would not be a happy ending for the Padres fans as they lost, 10-8. Helton lost the batting title by .00022.
Four years later, there was a sweet redemption. The date was September 18, 2007. The Rockies entered the doubleheader at Coors Field on that date with a 77-72 record. They were fourth in the NL West, six games out of first place. They were five games out in the wild-card race. Only 13 games remained in the season. They defeated the Dodgers in the first game of the doubleheader, but Los Angeles was on the verge of gaining a split as the second game entered the bottom of the ninth inning, leading 8-7. Reliever Takashi Saito retired the first two Rockies before yielding a single to Matt Holliday. Up stepped Helton. Behind in the count 1-and-2, the 11-year veteran homered over the right-center-field wall. Helton circled the bases in a fit of emotion, pumping his fist high in the air before being mobbed at home plate. The Rockies had a modest three-game winning streak. They kept on winning, losing only one game the rest of the way. Todd Helton would play in the postseason for the first time.
Todd Lynn Helton was on born August 20, 1973, in Knoxville, Tennessee. His father, Jerry, had played in the Minnesota Twins organization as a catcher in 1968 and 1969. (He died at the age of 65 on March 7, 2015.) In 2005, Todd remembered that Jerry "taught me how to hit in our garage, batting off a tee he made from a washing-machine hose. I was 5."2 Jerry and wife Lynda Courville Helton had three children. In addition to Todd, there were brother Rodney and sister Melissa (Missy). Todd's passion for baseball is matched by his love of hunting, and in his youth, he often went duck hunting with his maternal grandfather, Don Courville.3
Helton attended Central High School in Knoxville, where Rodney had starred on the gridiron before going on to play at Alabama. Todd was a letterman in football and baseball. In the fall of his sophomore year, playing for his uncle, coach Joel Helton, the quarterback was named the Knoxville Football League's Sophomore of the Year.4 He was first mentioned in USA Today for his baseball exploits on May 28, 1990, when his team was rated 24th in the country, thanks in no small part to his .500 batting average, 7 homers, and 30 RBIs. A week later, the team had surged to 16th as Helton went 5-for-10 and undefeated Central won the Tennessee state championship tournament. By season's end, his batting average stood at .495 and as a pitcher he went 9-0 with an ERA of 0.25.
When not on the playing field, Helton excelled in other areas. His India-ink drawing titled "Shadows" was chosen the best print at the Tennessee Valley Fair Student Art Exhibit.5
When fall arrived in 1990, Helton, by then a junior, excelled on the football field for his nationally ranked squad. A win over Sevierville, in which he threw for three touchdowns, resulted in the squad being ranked 20th in the country by USA Today. As his team raced through the playoffs, he also excelled at defensive safety, making 11 tackles and picking off a pass in a win over Morristown West. After a 44-19 win over Dayton High School, Knoxville Central was 13th in the country, but its victory march was halted in the state semifinals. For the season, Helton had thrown for 1,617 yards and 20 touchdowns, while rushing for 606 yards.6
In his junior year, Todd continued to excel on the ballfield, hurling a no-hitter with 17 strikeouts in the first game of the District 3 Class AAA tournament. He batted .482 with 10 homers and 41 RBIs. On the mound, he was 7-1 with a 2.36 ERA and his achievements resulted in his being named the Knoxville Interscholastic League's Player of the Year.
Helton's senior year was phenomenal in both football and baseball. In football, he posted 2,666 total yards. He passed for 1,904 yards (22 touchdowns), ran for 551 yards (eight touchdowns), and added 211 yards picking off seven passes in the defensive secondary (three touchdowns). By the time the season ended, the highly recruited Helton could basically go wherever he chose for college. It would come down to a choice between Tennessee and North Carolina, and on January 31, 1992, he announced that he would be going to Tennessee.7 In baseball as a senior, Helton posted a .655 batting average and 12 home runs and was named the Regional Player of the Year. Todd was drafted in the second round (55th overall) by San Diego in the 1992 draft. He did not sign and honored his commitment to attend the University of Tennessee.
Eight years later, Helton reflected on the decision. "It was a very hard decision for me not to leave (Tennessee) when I was drafted out of high school. I always really wanted to be a baseball player. I had some pressure from my family to stay around and play football, and I don't regret the decision that I made. I'm glad I got an opportunity to do what I did at Tennessee."8
While his football talents got him his scholarship to play at Tennessee, Helton was no slouch on the diamond. As a freshman, during walk-on tryouts for the baseball team, Todd grabbed a bat and it took little time to convince coach Rod Delmonico that his talents were not confined to the gridiron. With the Vols, he played first base and was the team's mound closer. Said Delmonico, "He's the best pitcher I ever coached."9
Helton's football career, however, hit a snag. He was sandwiched between two great quarterbacks. In his first two years, he backed up Heath Shuler. After Shuler graduated, Jerry Colquitt took over as the starter. An injury to Colquitt in the season's first game gave Helton an opportunity to start. His time as first-string quarterback was brief. In the team's fourth game of the season, against Mississippi State, Helton injured his knee. He had played his last football game. In his time at Tennessee, Helton had appeared in 12 games. He completed 41 of 75 passes for 484 yards and threw for four touchdowns. Peyton Manning replaced Helton at quarterback and went on to a great NFL career. When Manning joined the Denver Broncos at the end of his career, his longtime friend Todd Helton was there to greet him — although Todd was far more adept at catching throws from Troy Tulowitzki than passes from Peyton Manning.10
After his junior year at Tennessee (1995), in which he batted .407 with 20 homers and 92 RBIs, and had a Tennessee-record 11 saves (with a 0.89 ERA) as a pitcher, Helton was awarded the Dick Howser Award as National Collegiate Baseball Player of the Year. On October 13, 2017, he was inducted into the University of Tennessee Athletics Hall of Fame.
Helton was drafted in the first round of the June 1995 draft by the Rockies, and signed for a bonus of $892,000. His time in the minor leagues was brief. After signing on July 1, he was assigned to Asheville of the Class-A South Atlantic League, where he batted .254 in 54 games. Part of the reason for the low average was Helton's trying to pull the ball, aiming for the short right-field wall at his home ballpark. That wasn't his style. His style, as practiced in the family garage, was to hit line drives and not pull the ball. He reverted to form in 1996. He began the season with the New Haven Ravens in the Double-A Eastern League, batting .332 in 93 games, and went on to Colorado Springs (.352 in 21 games) in the Triple-A Pacific Coast League. In the autumn of 1996, Helton participated in the Arizona Fall League and was ultimately inducted into the AFL Hall of Fame in 2003. In 1997, he was once again batting .352 (through 99 games) at Colorado Springs when the call came to report to the big leagues, two years and one month after he signed his first contract with the Rockies.
On August 2, 1997, the day after he was promoted to the Rockies, Helton made his major-league debut in a 6-5 road loss at Pittsburgh, going 2-for-4 with a walk. Helton started in left field, batted fifth, and flied out to short left field in his first at-bat. He singled in his second at-bat off Francisco Cordova. After walking in the sixth inning, he hit his first home run, a solo shot in the eighth off Marc Wilkins. The homer was part of a four-run uprising that brought Colorado to within one run of tying the game, but they could get no closer. In his first season, Helton had 26 hits in 93 at-bats and kept his rookie status.
In 1998, his first full season, Helton hit .315 with 25 home runs and 97 RBIs in 152 games. He led all major-league rookies in batting average, homers, RBIs, multi-hit games (49), total bases (281), slugging percentage (.530), and extra-base hits (63). He also led all National League rookies in runs (78), hits (167) and on-base percentage (.380). He finished second in the Rookie of the Year balloting to Chicago pitcher Kerry Wood.
Before the 1999 season, Helton was awarded a four-year, $12 million contract by the Rockies. In 1999, he batted .320. He hit 35 home runs and had 113 RBIs, while drawing 68 walks. On June 19, in a 10-2 Rockies home win over the Florida Marlins, Helton went 4-for-4, hitting for the cycle. But the Rockies were a disappointment as a team, finishing last in the five-team National League Western Division with a 72-90 record. The losing had an impact on Helton, and in August, he was doing as poorly as his comrades. The Rockies were finishing a road trip in Milwaukee. They had lost five straight games and seven of eight. The record had dropped to 48-65 and Helton's batting average, after he went 1-for-18 in those five losses, had dropped to .288. On the morning of August 11, Helton and hitting coach Clint Hurdle had a heart-to-heart talk. Hurdle was later quoted as telling Helton, "Every time the pitcher looks on deck (when Helton was in the on-deck circle), you should be looking at him. You don't let him breathe."11 Helton finished the season batting .320.
Before the 2000 season, Helton married Christy Bollman, whom he had met in his freshman year at Tennessee, and the couple honeymooned at the Rockies Fantasy Camp. They have two children, daughters Tierney Faith and Gentry Grace.
In 2000, Helton had a spectacular season, leading the major leagues in batting average (.372), RBIs (147), doubles (59), total bases (405), extra-base hits (103), and slugging percentage (.698). He led the National League in hits (216) and on-base percentage (.463). Helton's MLB-leading 103 extra-base hits tied for the fourth most in major-league history and the second most in NL history. His 59 doubles were the most in the National League since 1936, when Joe Medwick set the league record with 64. Helton was chosen for the All-Star team for the first time, and entered the game in the fourth inning as a pinch-runner for first baseman and former Rockies teammate Andres Galarraga. He stayed in the game and went 0-for-2 as the NL lost, 6-3.
On May 1, Helton had the first three-homer game of his career, victimizing the Montreal Expos at Denver. The 4-for-5 game brought his average to .362, and it would keep on rising. He spent most of May above .400, ending the month at .421. As late as mid-August, he was still flirting with a .400 batting average. That was after a 36-for-65 run during the first 18 games of August took his average from .371 to .399. He would tail off in September, but his season would have a fairly-tale ending.
The Rockies showed improvement, but were nowhere close to making it to the postseason. They took an 81-80 record into the season's last game, on October 1 against the Braves at Atlanta. Going into the ninth inning, the Rockies trailed 5-3. Braves closer John Rocker entered the game in search of the save. Five batters later, the score was 5-4. There were runners on first and second with two outs, both strikeouts. Up stepped Helton. The right-handed Rocker got ahead, 0-and-2, and went for the game-ending strikeout with a thigh-high fastball on the middle-inside portion of the plate. The left-handed-hitting Helton, who was a difficult player to strike out (61 in 581 plate appearances in 2000), took a level swing and deposited the pitch over the right-field wall to give the Rockies an 8-5 lead. They won the game 10-5. But they still finished in fourth place, 15 games behind the division champion Giants.
There were abundant accolades at the end of the season. Helton received the second annual Hank Aaron Award as the league's best hitter. He was named Player of the Year by Baseball Digest, The Sporting News, and the Associated Press. He received a Silver Slugger Award, but the MVP award did not come his way. Each of the four players who finished ahead of him in the balloting played in the postseason.
After the season the Rockies gave Helton a contract extension worth $141.5 million and tied him to the team through 2011. In terms of overall money, he was in the company of Alex Rodriguez, Derek Jeter, and Manny Ramirez.
In 2001, Helton once again had a big year at the plate. He hit a career-high 49 home runs, tying him with teammate Larry Walker for the most home runs in a season by a Rockies player. Helton's .336 batting average was second only to Walker's .350 in 2001. He had 105 extra-base hits, making him the first major leaguer to total at least 100 extra-base hits in back-to-back seasons. Once again he was on the All-Star team, this time as a starter. He went 0-for-2 as the NL lost 4-1. At season's end, not only was Helton's hitting recognized with another Silver Slugger Award, but his fielding earned him his first Gold Glove.
During the season, Helton reached a milestone with his 500th RBI. It came against Montreal on September 21 before 10,510 fans at Montreal's Olympic Stadium. The game between two teams that were long since out of contention went into extra innings tied at 9-9. In the top of the 11th, Helton came up with the bases loaded and singled in the winning run. The 11-9 win was a bright spot in another futile season for the franchise as the Rockies dropped to last place with a 73-89 record.
During the offseason, Keli McGregor took over as team president and there were changes in playing personnel as well. But the team's key player was still Helton. McGregor said, "He embodies everything you want every person in our organization to embody."12
They were still playing the annual Hall of Fame Game in Cooperstown in 2002, and that season the Rockies faced the White Sox in the exhibition. Before the game, Helton was included in a round-table discussion with recently inducted Ozzie Smith of the Cardinals and Frank Thomas of the White Sox, who would be inducted into the Hall of Fame in 2014. (Helton's name was due to go on the ballot for the first time in 2018.)
The respite in July was little consolation in a season that went bad for both Helton and the Rockies. For the first time in his career, he played in pain. The team continued to experience difficulties. After the Rockies lost 16 of their first 22 games, there was a change in managers with Clint Hurdle replacing Buddy Bell. Helton's pains did not have a major impact on his numbers. He batted .329 with 30 homers and 109 RBIs. For most players, these numbers would represent success, but for Helton, the figures were a disappointment. Speaking before the 2003 season, he said, "I did so many things bad that I have tons of room for improvement."13
Helton's determination to improve in 2003 was unfortunately not contagious as once again the team struggled despite another set of big numbers from Helton. He brought his batting average back up to .358 with 33 homers and 117 RBIs. It was his fifth consecutive season with more than 100 RBIs. His 49 doubles gave him over 35 two-baggers for the seventh consecutive season. He once again started the All-Star Game, and his two-run homer off Shigetoshi Hasegsawa in the top of the fifth inning gave the National League a 2-1 lead. The American League came from behind with three eighth-inning runs to win, 7-6.
The Rockies hovered around the .500 mark for most of the season and were 61-61 on August 12. However, they slumped and finished in fourth place with a 74-88 record. Helton's season was highlighted by a game on May 29 when he went 4-for-5 with three homers in a 12-5 win at Denver over the Dodgers. The win concluded a three-game sweep, the first ever at home against the Dodgers. It was the second time in his career that Helton had homered three times in a game. His six RBIs were the best of his career to that point. For the fourth straight season, he won the Silver Slugger Award.
"I would like to scoreboard watch at least one day."14
In his years with the Rockies the team had failed to reach the postseason. They weren't even close. Speaking with Troy Renck of the Denver Post, he said, "It's like a dog who has never had table scraps. I really don't know what it tastes like. I would love to get a taste of the playoffs. I hope I will get to, and I hope it's this year. I am not on the three-year or four-year plan to get there. I am on a one-year plan."15
The Rockies once again failed to make the postseason in 2004, despite another great season from Helton at first base, where he won his third Gold Glove Award, and was named to his fifth consecutive All-Star team, this time as a reserve. He appeared as a pinch-hitter in the ninth inning and fouled out. His .347 batting average in 2004 placed him second in the National League to Barry Bonds. His 96 RBIs ended his streak of consecutive years over 100, and he would never reach the 100 plateau again. His 32 homers gave him at least 30 home runs in six consecutive seasons. These numbers enabled Helton to become the first major leaguer to hit at least .315 with 25 home runs and 95 RBIs in each of his first seven full seasons.
Despite another team failure to make it to the postseason (the Rockies went 68-94 and finished in fourth place), Helton remained optimistic about the future, and did not seek a trade outside the organization.
And then came a disturbing report. St. Louis Cardinals broadcaster Wayne Hagin implied that Helton had used steroids in 1998. Don Baylor, Helton's manager in 1998, in an interview with Hagin, had said that he had advised Helton "to get off the juice," because Helton was a good-enough hitter and didn't need any supplements. The juice to which he was referring was creatine, a legal over-the-counter bodybuilding supplement. His use of the term juice did not refer to steroids, but the damage had been done. By 2005, the term juice had become synonymous with steroids. Certain print media sources quoted Hagin as saying, "Baylor told me that he suspected Todd Helton of experimenting with steroids early in his career." An apology was tendered by Hagin, but Helton could not bring himself to forgive the former Rockies broadcaster. Baylor supported Helton, as did the Rockies. The players, in a display of clubhouse humor, covered Helton's locker with police tape and a sign saying, "This area closed pending a search for evidence."16
Helton's 2005 season was truly disappointing in terms of power production. Although he batted.320 with 20 homers and 79 RBIs, it took a tremendous finish to get him there. He got off to his worst start ever and, as the season passed the one-third mark (his first 66 games, to be precise), he was batting only .250 with 6 homers and 26 RBIs. Speaking with USA Today's Gary Graves in late June, he said, "I've changed my stance 42 times in 42 games. I haven't allowed myself time to see the baseball. That's what I see (as the problem) and that's what I'm trying to correct. I feel pretty comfortable right now, and that's what I'm going to stick with."17
In July, although he was not selected for the All-Star Game, Helton turned things around, batting .400 (with 5 homers and 12 RBIs) and raising his average to .294, before spending two weeks on the disabled list (for the first time in his career) with a strained left calf muscle. On July 7, he had passed Larry Walker to become the Rockies' all-time home run leader. After his return from the DL, Helton kept on hitting, with 9 homers and 36 RBIs in his last 48 games, but the Rockies could not turn their season around, finishing in the cellar with a 67-95 record.
Fifteen games into the 2006 season, Helton was batting .347 when he awoke in pain on April 20. At the hospital he was diagnosed with acute terminal ileitis, a painful inflammation of the lower intestine. He was released from the hospital after three days, rehabbed at Colorado Springs and returned to the lineup on May 5, missing 14 games.18 Although his numbers for the season were down from prior seasons (.302/15/81), and the Rockies finished at 76-86, there were better times ahead.
After 10 years of frustration, Helton would find himself in postseason play. Prior to the 2007 season, there was discussion of his being sent to the Boston Red Sox, but the Rockies wanted too much in exchange and the deal fell through.
"The face of the franchise is hitting .396 in September. He's Beltin' Helton again."19
Helton's walk-off homer against the Dodgers on September 18 was his third of the month and the 301st homer of his career. His 300th had come on September 16 against Mauro Zarate in a 13-0 romp over the Marlins. His five homers in September gave him 17 for the season to go with 91 RBIs, His .320 batting average made it 10 consecutive seasons over .300 for Todd. His 42 doubles made it 10 years in a row with more than 35 in that department. Nobody in the major leagues had ever done that before.
By winning 13 of their last 14 regular-season games, the Rockies tied San Diego and faced the Padres in a one-game playoff for the wild-card berth in the National League. On October 1, Helton homered in the fourth inning as the Rockies defeated the Padres, 9-8 in 13 innings, and advanced to the Division Series. Helton tripled off Cole Hamels in his first at-bat in the Division Series against the Phillies, and scored on a double by Garrett Atkins. The Rockies won, 4-2, and went on to sweep Philadelphia in the best-of-five series. Colorado advanced to the League Championship Series, and once again Helton hit safely in his first at-bat of the Series. This time he singled off Brandon Webb of Arizona in the second inning and came around to score his team's first run. Colorado went on to win the game, 5-1, and swept the Diamondbacks in the best-of-seven series. It was then on to the World Series for the first time in franchise history. The Cinderella season came to an end when the Rockies were swept by Boston. Helton batted .333 (5-for-15) with a pair of doubles in his only World Series appearance.
In 2008, Helton played in only 83 games. He went on the disabled list in early July, and played in only two late-season games thereafter. In August, he was diagnosed with a degenerative back condition, and he had surgery in September. For the season, he batted only .264 with 7 homers and 29 RBIs.
As Jerry Crasnick of ESPN noted in August 2009, Helton, after his surgery, "found a way to stick around and remain productive into his late 30s. Helton is living proof that second acts — and second winds — are as much fun as they're cracked up to be."20
Helton found that second wind when 2009 dawned, and was back to playing every day. He had a great comeback season that was highlighted by two milestones. The first was his 2,000th hit, at Atlanta off Jair Jurrjens on May 19. The Rockies had little to celebrate that evening after their season's record went to 15-23, but after Helton's third-inning single in an 8-1 loss, his teammates presented him with a full range of gifts including a hunting rifle from the players and champagne from manager Clint Hurdle.21
Hurdle's days as manager were numbered, and he was replaced by Jim Tracy on May 28, when the team was 18-28. With Tracy at the helm, the Rockies turned their season around and on July 22, against Jon Garland of the Diamondbacks, Helton stroked his 500th double, a third-inning RBI two-bagger. Helton's eighth-inning homer gave the Rockies a 4-3 victory that put their record at 52-43. They were in second place in the NL West, but they were on the way to their second wild-card berth in three years. They secured that wild-card berth as Helton batted .325 with 15 home runs and 86 RBIs. He finished 13th in the MVP balloting, the first time he had finished in the top 20 since 2004. The Rockies faced Philadelphia in the best of-five Division Series, and were eliminated in four games.
Before the 2010 season, the Rockies extended Helton's contract through the 2013 season, meaning that he would finish his career in Denver. But 2010 turned out to be a year of frustration for the face of the franchise. Playing in only 118 games, Helton, now 36 years old, batted .256 with 8 homers and 37 RBIs. The team stayed in the wild-card hunt, but Helton's once powerful bat could not take them to the postseason this time. His back problems returned. He missed games sporadically during the first three months and was finally forced to the disabled list for an extended stay from July 5 through August 2, missing 23 games. The Rockies finished in third place with an 83-79 record.
As Helton faced a new round of challenges, manager Jim Tracy offered this assessment:
"The mentality, the character, the work ethic of this team, it's easy to have all that when the best player in the history of the franchise is the hardest worker on the team. It's absolutely tearing him to pieces not to be involved with us, to not be the player we've known him to be."22
Proud and determined, the 37-year-old Helton returned for the 2011 season, and the career .324 hitter batted .302 in his 15th season. He had 14 homers and 69 RBIs in 124 games. Another milestone was reached when he played in his 2,000th major-league game on June 30. But the team tumbled to a 73-89 record, finishing fourth in the NL West.
Pain returned in 2012, and the season had few highlights for Helton. This time he went on the disabled list in July and had season-ending surgery on August 10 to repair a torn labrum in his right hip. He played in only 69 games and his numbers were eroding. He batted .238 with 7 homers and 37 RBIs. The next season would be Helton's swan song, and trainer Keith Dugger was of a mind that the surgery would enable him to come back strong and go out on top. "He was having good days and bad days. But we weren't going to give him anti-inflammatories or shots to get through this," Dugger said. "This (surgery) gives him a chance to get it right. This is going to give him a chance to focus on one thing — rehabbing and getting this right for spring."23
After the surgery, Helton, speaking as the season drew to an end, was looking forward to 2013. He said, "I know there are going to be days when I am not going to be out there and perform, but the days I do feel good and feel like I can go out there and hit there all over the ballpark, I want to be out there."24
But before Helton headed off to spring training, there was an embarrassing incident when he was pulled over for driving under the influence on February 6 in a Denver suburb. He was sentenced to one year's probation and 24 hours of community service. He apologized to his family, teammates, and fans, saying, "Part of making a mistake, making a monumental mistake like I made, is recognizing the mistake and making sure it doesn't happen again."25
"He's one of those guys who wakes up on Christmas morning when he's 52, and he can go hit a ball in the gap."26 — Walt Weiss, February 17, 2013
When Helton woke up on Sunday, September 1, 2013, he was not quite 52 years old yet, but the was ready to go out to the ballpark, find a pitch, hit the ball, and send it to a gap. The Rockies were at home playing the Cincinnati Reds in the finale of a three-game series. The 40-year-old first baseman came to the plate in the seventh inning. The Rockies had just extended their lead in the game to 7-4 on Michael Cuddyer's home run. Helton stepped in to face Reds reliever Curtis Partch. Using that all-to-familiar left-handed grip and swing that his dad had taught him in the garage more than 30 years earlier, Helton slammed a 3-and-2 pitch to the opposite field. The ball zipped past third base near the foul line, and Todd slid into second base with a double, the 584th two-bagger and 2,500th hit of his career. The crowd of 30,594 stood and cheered and Helton reciprocated by removing his helmet and waiving it high.27
On September 14, after the Rockies had lost to the Diamondbacks, 9-2, in Phoenix, Helton announced what had been anticipated all season — that he would soon be retiring. The Denver fans would get to see him in one last nine-game homestand. In making his announcement, he said, "I'm going to miss walking out of the tunnel at night, trying to figure out how I'm going to get a hit the next day or how we're going to win a game the next day. To me, that's going to be the hardest (part)."28
During that last homestand, Helton had the last two of his 369 homers. On September 25, before his last game in Denver, a sellout crowd of 48,775, including friend and former college teammate Peyton Manning, showered him with admiration as the team presented him with a 6-year-old horse named NXS A Tru Bustamove. (As of 2017 the horse was a four-time American Paint Horse Association world champion.) In the pregame festivities, Todd's daughter Tierney threw out the first pitch.29 In his first at-bat, against the Red Sox, he homered off Jake Peavy, but it was in a losing cause as Boston won, 15-5. In subsequent at-bats in his home finale, Helton drove in runs with a third-inning sacrifice fly and a fifth-inning double, sliding in head-first for the last of his 592 career two-baggers. His three RBIs brought his career total to 1,406. After the game, he took a final lap around the ballpark to say goodbye to the fans.30 The last of Helton's 2,519 major-league hits came in the first at-bat of his final game, against the Dodgers in Los Angeles on September 29. His final season batting average was .249, and he left baseball with a career average of .316.
Helton wore number 17 for 17 seasons with the Colorado Rockies and they honored him by retiring the number on August 17, 2014. He became the first Rockies player to have his number retired by the team. The number has become special to Helton. His ranch outside of Denver is known as the 17 Ranch. Daughter Tierney, then 11, spoke as her 4-year-old sister, Gentry, stood by her side. She said, "My daddy has been a Colorado Rockie my entire life. This stadium has been my second home. Thank you for that. Now that my daddy has been home with us this season — a lot — I want to ask you one question. Do you want him back?" The game's 42,310 spectators, on cue, screamed, "Yes!"31
Last revised: November 19, 2018
This biography appears in "Major League Baseball A Mile High: The First Quarter Century of the Colorado Rockies" (SABR, 2018), edited by Bill Nowlin and Paul T. Parker.
Sources
In addition to Baseball-Reference.com, the Todd Helton player file at the National Baseball Hall of Fame and Museum, and the sources shown in the Notes, the author used:
Kuenster, John. "Rockies' Todd Helton Baseball Digest's 2000 Player of the Year," Baseball Digest, January 2000: 19.
Verducci, Tom. "Historic Quest," Sports Illustrated, September 4, 2000: 45-48.

Notes
1 Jeff Mahony, ed., Baseball Superstars: Who Are These People, Anyway? (Middletown, Connecticut: Checkerbee Publishing, 2001), 54.
2 Todd Helton, as told to Michael Bamberger, "SI Players on and Off the Field," Sports Illustrated, May 9, 2005: 23, 25.
3 Patrick Saunders, "Former Rockies Great Todd Helton Content in First Year Away From Game," Denver Post, August 17, 2014.
4 Bill Luther, "Super Soph Fulton's Cotner Caught on Quickly," Knoxville News Sentinel, November 21, 1990: D1.
5 Eleni Chamis, "Young Artists Display Prize-Winning Work in Variety of Media at Candy Factory," Knoxville News-Sentinel, September 26, 1990.
6 Sammy Batten, "Recruiting Wars Begin," Fayetteville (North Carolina) Observer, September 14, 1991.
7 "Helton Fulfills a Dream, Commits to Being a Vol," Knoxville News-Sentinel, January 31, 1992: C1.
8 Todd Helton, as told to Seth Livingstone, "Dugout Direct: Comfy at Coors, With No Apologies," USA Today Baseball Weekly, May 24-30, 2000: 19.
9 Austin Murphy, "Baseball," Sports Illustrated, June 5, 2000: 46.
10 Mark Kizla, "Peyton Manning and Todd Helton — Best Buddy System Ever," Denver Post, March 27, 2012.
11 Murphy, "Baseball."
12 Tracy Ringolsby, "Helton's Leadership Qualities Set Him Apart," Rocky Mountain News (Denver), February 22, 2002.
13 Troy E. Renck, "Back to Business: A Painful Season Behind Him, Rockies Star Todd Helton Wants a Big Year," Denver Post, February 4, 2003.
14 Troy E. Renck, "Helton Out to Complete Picture in Playoffs," Denver Post, February 11, 2004.
15 Ibid.
16 Jack Etkin, "Helton Receives Support," Rocky Mountain News, March 22, 2005.
17 Gary Graves, "Helton Tries to Swing Back Into Groove," USA Today, June 20, 2005: 3C.
18 Associated Press, "Colorado's Helton Is Up Off His Back and Back on the Field," New York Times, May 7, 2006.
19 Mark Kiszla, "Big Brother Helton Watching With Glee," Denver Post, September 27, 2007.
20 Jerry Crasnick, "Helton Stresses Team-First Mentality," ESPN.com, August 11, 2009.
21 Thomas Harding, "Rox Throw Clubhouse Party for Helton," MLB.com, May 20, 2009.
22 Jim Armstrong, "Helton Facing Uncertain Future With Rockies," Denver Post, August 1, 2010.
23 Troy E. Renck, "Injured Todd Helton Deserves to Go Out on His Terms," Denver Post, August 8, 2012.
24 Tracy Ringolsby, "Helton Wants One More Kick at the Can in 2013," MLB.com, September 26, 2012.
25 Associated Press, Boston Herald, February 17, 2013.
26 Ibid.
27 Patrick Saunders, "Hurray for Rockies Star Todd Helton, Who Joins the 2,500 Hit Club," Denver Post, September 4, 2013.
28 Associated Press, "Rockies Pay Tribute to Todd Helton," ESPN.com, September 17, 2003.
29 Mark Townsend, "Todd Helton Homers in Final Home Game, Receives Horse From Rockies as Retirement Gift," Yahoo, September 26, 2013.
30 Troy E. Renck, "Todd Helton Will Be in Cooperstown … or at Least His Bat Will Be," Denver Post, September 26, 2013.
31 Patrick Saunders, "Longtime Star Todd Helton Is Honored by Rockies, Who Retire His No. 17," Denver Post, August 18, 2017.
Born
August 20, 1973 at Knoxville, TN (USA)
If you can help us improve this player's biography, contact us.
https://sabr.org/sites/default/files/HeltonTodd.jpg
600
800
admin
/wp-content/uploads/2020/02/sabr_logo.png
admin
2012-01-04 19:53:38
2022-11-22 13:27:27
Todd Helton