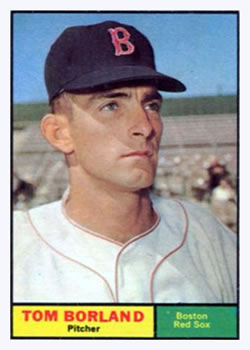 ---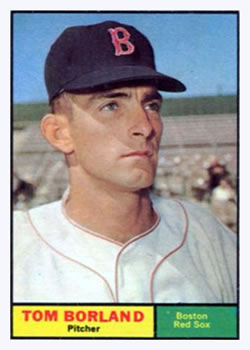 The first thing one might note in glancing at the major-league baseball record of left-handed pitcher Tom Borland is that his career line was 0-4, with a 6.75 earned run average. Was it a burden he bore for the rest of his life? Regardless of anything else, he accomplished something that tens of millions only dreamed of — making the big leagues in the first place.
Both of Borland's parents were native Kansans: Thomas G. Borland — listed as a salesman in the City Directory of El Dorado, Oklahoma, in 1931 and as a clerk in a dry goods store in McAlester at the time of the 1940 census — and Christine (Anderson) Borland, who worked as the vocal music director of the high school.
Thomas Bruce Borland was born in El Dorado on February 14, 1933. He had a sister about two years older, Sue Frances Borland.
When he was 4 years old, the family moved to McAlester, Oklahoma, and there he attended the Emerson School and graduated from McAlester High School. The family lived a half-block from the high school. Tom was an exceptional athlete who played football, basketball, and baseball, All-State in baseball in high school, he was reportedly "recruited by A&M College, along with 15 other major universities offering scholarships to play basketball and baseball."1 He settled on baseball after a head injury playing basketball and "because I wasn't a good enough student to do two sports."2 Borland had also played some American Legion baseball. And he'd worked the scoreboard for the Class-D McAlester Rockets baseball team, pitching batting practice to them as well.3
Oklahoma A&M — where he pitched 1953-55 under coach Toby Greene — became part of Oklahoma State University in 1957. He was "the second baseball All-American in OSU history and helped lead the Aggies to back-to-back College World Series appearances in 1954 and 1955."4 Indeed, in the first game of the 1954 CWS, pitching in relief, he won the game for himself with a single to center field in the bottom of the 14th inning to beat Arizona, 5-4.5 On June 11, 1955, he struck out 13 to help beat Springfield (Massachusetts) College. The first run the Aggies scored came on a triple steal.6 On the 14th, he worked all 12 innings of the game against Arizona, winning in the end, 5-4, over Arizona's Don Lee (a future major leaguer himself, who worked into the 12th.) The batting standout of the game was Arizona's Don Gile, who was 4-for-5. "He hit two home runs off of me…Both of them were just inside the line, but I still beat them. He [Gile] gives me a hard time. He always reminds me of those home runs, and I'd say, 'Yes, how was the outcome of the game?'"7 Borland's and Gile's lives crossed many times, as we shall see.
Borland won both CWS games and saved another one in relief. Though Oklahoma came in third in 1954 and second in 1955, Tom Borland was named MVP of the 1955 CWS.8 He was also named first-team All-American.9 During three seasons at OSU, Borland had a 19-2 record with 16 complete games and a 2.63 ERA. He was 11-0 in 1955. He is in the OSU Hall of Fame, though he never got around to graduating, because he'd flown to Baltimore for a tryout and hadn't returned to college to take his finals.
In early July 1955, Borland signed his first professional contract, with the Oakland Oaks of the Pacific Coast League.10 With Oakland, under manager Lefty O'Doul, he pitched 71 1/3 innings, with five starts, and was 2-3 with an ERA of 4.29.
In September, a strange story emerged. Commissioner Ford Frick "admitted today that he could have suspended Baltimore GM Paul Richards for an entire year for his intentional violation of the bonus rule…Richards was fined $2500 for signing rookie pitcher Tom Borland without the knowledge of higher Baltimore officials…The Baltimore officials were reprimanded for pitching Borland in an exhibition game under an alias."11 Frick said that after looking over Borland at a tryout in Baltimore, Richards had recommended the pitcher to Brick Laws, president of the Oaks, and that under an oral agreement between Richards and Laws, Borland was signed to an Oaks contract for $4,000 — but that Laws hadn't know that he had already signed a bonus contract with Baltimore.12
The Orioles were fined $2,000 and Borland was declared free as of October 19 to sign with anyone but the Orioles or one of their affiliates. His Orioles contract was said to have been for payments of $40,000 over a three-year period, but had never been recorded with the Office of the Commissioner.13 The New York Times reported that "Baltimore club officials have admitted moral obligation for the payment of the full amount of Borland's contract, less whatever the pitcher may receive from another club."14
The New York Yankees invited him to come see the World Series as their guest. Farm director Lee MacPhail said, "We intend to look him over."15 However, when Borland was seen in the stands at Yankee Stadium, the Yankees suddenly "claimed they didn't know anything about how he got there."16
When the October date arrived and Borland was free to sign, scout Danny Doyle of the Boston Red Sox inked him for an undisclosed amount, and Borland was assigned to the Red Sox farm club at Louisville.17 Doyle said, "I think Borland will make a major league pitcher of the Herb Pennock type and that he will be in the big show within two years."18
Free to sign he had been, but the United States Army beckoned and he was taken into the service, assigned to Fort Chaffee, Arkansas (right next to Fort Smith), where he served from November 1955 to November 1957.
On June 10, 1956, he married Eileen Kroutil, who originally came from a farming family in Glencoe, Oklahoma. Her father became a carpenter and the family lived in Stillwater from the time Eileen was in the fourth grade. They had met during Tom's junior year, at a laundromat on campus in Stillwater called the Wash-Inn. Eileen knew the family that owned the laundromat and worked there after school and in the summers. She was a junior in high school when they first met. It was a marriage that lasted more than 50 years.
Despite having his professional career interrupted by military service, he got some experience pitching for the Fort Chaffee team was said to have been 23-10. Eileen remembered, "He was the pitcher for the baseball team. We wanted to go to Germany. He would put in papers to go someplace so we could see the world a little bit, but the general came down and sat on his desk and said, 'Borland, quit wasting Army paper. You're staying here and pitching for me.' It wasn't too tough being a soldier for Tom Borland."19 They lived in nearby Fort Smith.
Nonetheless, he told oral historian Jerry Gill of his two years in the Army, "It just ruined…it really put a dent in [my] career. It sure did."20 When he came out of the service, the Red Sox were ready, in need of a left-hander, and after putting in a couple of weeks in "early-bird school at Ocala" and 10 days with the Minneapolis Millers at Deland, he was brought to Sarasota to try out with the big-league team.21 He wasn't ready yet. He was hit badly in his first exhibition game start, against Cincinnati, though two errors behind him were costly. He was returned to Deland, and spent the 1958 season pitching for Gene Mauch and the Minneapolis Millers in the Triple-A American Association.
Borland had a very successful season, working 143 innings in 38 games (19 starts and 19 relief appearances) with a record of 9-7 but an excellent 2.20 ERA. The Millers finished third in the standings but won out in the American Association playoffs. They faced the International League champion Montreal Royals in the Junior World Series, and swept them in four games. Borland pitched the fourth, clinching game, setting down 20 Royals in order from the second to the ninth inning.
He spent time playing for the Pastora club in Venezuelan winter baseball, winning three of their first seven games and gaining additional experience.
In 1959 he trained with Boston again — this time the Red Sox trained in Scottsdale — but in early April he was optioned to the Millers again. He had another very good season — 14-8 with a 2.73 ERA. Again the team won the league playoffs and returned to the Junior World Series to play the Havana Sugar Kings. Cold weather in Minnesota forced rescheduling and the final five games were all played in Havana. Each team won three games, and Borland was given the start in Game Seven. He held a 2-0 lead through seven innings, but weakened in the eighth. With two outs and runners on second and third, Mauch called on Murray Wall to relieve Borland. On an 0-2 pitch, pinch-hitter Larry Novak singled in both baserunners to tie the game, Havana won it in the ninth, much to the satisfaction of Fidel Castro and many heavily-armed comrades among the nearly 25,000 who watched the game.
Borland was looking forward to 1960, and the Red Sox were looking forward to utilizing him. He had developed a slider to add to his repertoire. "I'm a year older and, I hope, a year smarter," he told Ed Rumill of the Christian Science Monitor.22 He made the team, mainly because Boston still really needed left-handers. "It looks like Ted Bowsfield and Tom Borland will have to do the job for us," said Red Sox business manager Dick O'Connell in what was not exactly the most ringing of endorsements.23 Two days before Opening Day, he stumbled on the outfield grass at Yankee Stadium and fell while chasing a batting practice fly ball, spraining his left thumb so badly that it was a full month before he got into a ball game.
Borland made his major-league debut on Sunday afternoon, May 15, 1960, in the first game of a Fenway Park doubleheader against the Baltimore Orioles. After seven innings, the O's had a 2-1 lead over the Red Sox, but Sox starter Jerry Casale walked the first two batters he faced in the top of the eighth. Hoping to keep the game from getting out of hand, Red Sox manager Billy Jurges decided to bring in Borland to face pinch-hitter Albie Pearson, whose mission was to lay down a sacrifice bunt and move up both baserunners. Instead, Borland walked Pearson. Jurges called on Tom Sturdivant, who induced a 6-2 ground ball, struck out the next batter, and retired the side on a fly ball. No damage done, but Boston still lost the game.
Borland didn't have to wait too long for his next appearance. It came in the second game. In fact, it came in the first inning of the second game. In the top of the first, Frank Sullivan gave up four runs and left with runners on first and second with one out. Borland got the second out on a grounder but then Orioles pitcher Hal Brown doubled to right field, bringing in both inherited baserunners. He secured the third out, and then pitched the next four innings, allowing one more run. The Orioles swept the doubleheader.
Through May 26, he had appeared in seven games for a total of 13 1/3 innings with an ERA of 2.02. Things were looking good.
On May 29, Borland was given a start in the second game of a doubleheader at Memorial Stadium in Baltimore. Other than two doubles producing one run in the bottom of the second, the Sox led 4-1 through six innings. Marv Breeding hit a solo homer in the bottom of the seventh, but it was still a 4-2 lead, which held until the bottom of the ninth. These were the days before closers, so Jurges stuck with Borland. It was a mistake. Willie Tasby led off with a single, and Ron Hansen followed with a home run to tie the game. After Clint Courtney singled, Jurges called on Sturdivant. A sacrifice was followed by an intentional walk and then Gene Woodling singled in the winning run. Borland had a possible win turned into a loss, his first decision.
Six more relief outings followed, some better than others, but his stats remained more or less stable, with a 3.66 ERA. He was given a second starting assignment, in Kansas City. He worked 6 1/3 innings, giving up six runs (five earned) and had to bear another loss, 9-6. He only lasted 1 1/3 innings in his next start, hammered for six earned runs by the White Sox. He had one more start, on July 4, and gave up another six runs, but this time escaped with a no-decision.
Borland was selected by manager Al Lopez as the left-handed batting practice pitcher for the American League team at the All-Star Game. It was 'probably a surprise" to many, acknowledged the Boston Traveler, but Borland was said to be "well respected as 'a kid with a live arm and good stuff.'"24
Ted Williams may have seen something in him as a pitcher. He asked Borland to throw him batting practice "just like I was pitching a ballgame.…[I]t was just Williams hitting. We had a catcher, and he gave me signs and everything, just like in a regular game….We'd be on the road or something like that, and I'd throw him batting practice. I'd go in to change my shirt, and there'd be a hundred dollar bill in my locker, every time. He wouldn't take it back."25
Perhaps his biggest moment in the big leagues came on Saturday, July 9, at Fenway Park. The Yankees were in town and had just lost to the Red Sox, 8-0, on Friday. The score was 6-4, Red Sox, after eight innings. In the top of the ninth, Mike Fornieles retired the first two batters but then surrendered a solo home run to Yogi Berra. Two singles followed, and the Yankees had the tying run on second base. And Mickey Mantle was on deck. Borland was brought in, and retired Mantle on a popup to the catcher. He threw the first ball in the dirt, deliberately, after telling catcher Haywood Sullivan to be ready to block it. When Mantle hit the next pitch ("a sinker on the outside that didn't sink"), Borland recalled, "It was probably the highest popup I've ever seen in my life because both runners scored. Mantle was going from second to third, and my first baseman and the catcher were arguing about who was going to take the ball…I said, 'One of you guys has got to take that!'…the catcher final caught it just barely above the ground, and we won the ballgame."26
After the game, Vic Wertz (who had four RBIs in the game) enthused, "That situation is as tough as there is for a pitcher in baseball. The winning runs on with Mantle up. I was ready to faint myself. But, Tommy, you handled it beautifully." Borland said, with a grin, "I guess. I was too numb to know."27
He earned three saves on the season, and one more decision — his fourth loss. The fourth one came in relief. It was on August 1 at Fenway. The Red Sox had come from behind with two runs in the bottom of the ninth and tied the game against the Athletics, 8-8. After getting the first man out, back-to-back doubles sealed his fate. Two walks loaded the bases and a second run scored on an error. Though Boston got two men on base, they failed to score. The final was 10-8 and Tom Borland was 0-4.
He never returned to the major leagues. As a batter in the big leagues, he was 0-for-13 with five strikeouts. As a fielder, he had a 1.000 fielding percentage, handling all 12 chances he was presented without making an error.
Circumstances conspired to send Borland back to Minneapolis on August 23. Catcher Ray Boone had undergone a minor operation in Boston, and the Red Sox already had two players on the disabled list — the maximum number allowed. Don Gile was brought up to take Boone's place, but that meant that someone had to be pared from the big-league roster, and it was Borland who went.28 In five games with the Millers, he was 1-2 with a 6.75 ERA.
There was an expansion draft held in December 1960 to help populate the new franchises in Washington and Los Angeles. Borland was reportedly not among the players the Red Sox elected to protect, but he was not among those selected.29
In spring training 1961, Borland was back with Boston — and his hit even won the April 1 exhibition game against the Cubs in Mesa. He opened the season with the Red Sox but only appeared in one game, the second game of the April 23 doubleheader in Chicago. There was apparently a minor car accident which he later said had "messed my arm up a little bit."30 The White Sox held a 5-0 lead after 7 ½ and manager Mike Higgins asked Borland to pitch the bottom of the eighth. He got the first two batters, but then a single, a double, and a single made it 7-0 before he retired Sherm Lollar for the final out. On May 7, not having been used again, he was optioned to the Seattle Rainiers.
Higgins was an unusual manager, perhaps not the most adept at working with pitchers. Without coming across as particularly critical, Borland later said, "Pinky Higgins was the manager, and he didn't think I threw hard enough. It didn't make any difference if I could throw strikes, which I could with everything, curveball, sliders, all of them, but I just didn't throw hard enough for him."31
He split his time in Seattle between starting (15 games, at one point pitching back-to-back shutouts) and relieving (17), with a year-end record of 8-6 and an ERA of 3.71.
Borland joined the Boston club again for spring training in 1962, but on March 24 was traded to the Houston Colt .45's for 41-year-old switch-hitting pinch-hitter Dave Philley. It was noted that Houston's GM was Paul Richards.32
In both 1962 and 1963, Borland pitched for the Oklahoma City 89ers, Houston's Triple-A club, pitching in 41 games both years. He started in 14 games in 1962, but relieved exclusively in 1963. His record was 8-10 (4.47) in 1962, but he had a much better year in 1963 (6-3, 2.48).
The team had moved from the American Association to the Pacific Coast League after the 1962 season, and won the PCL playoffs in 1963, with Borland on the mound in relief in the decisive Game Seven, a 4-0 Oklahoma City win over Spokane.
Going out on top, the 30-year-old Borland elected to retire from baseball after the 1963 season and start a new life with his wife Eileen, moving to Stillwater. Tom and Eileen's first child, Scott, was born in 1960. Eileen recalls getting a beautiful bouquet from the Boston Red Sox. Jeff was born in 1961. Building a family brought increasing responsibilities.
"The salaries were terrible back then" he said. "I've just got to change direction.' He had more baseball in him — Eileen recalls that he felt he was in his prime — "I was better then than I had ever been, but I just couldn't stay in for the salary they were paying back then and take care of a family."33 It was time.
Tom retired from baseball and Tom and Eileen continued to live in Stillwater, in the house they had purchased in 1960 — with the help of some of the bonus money from Baltimore, which Tom's father had urged him to put aside. At the time of a March 2017 interview, Eileen was still living in the same home, on a half-acre of land, some 57 years later.34
Tom initially went into the insurance business as a sales rep for a couple of years, at the same time playing some semipro baseball for a team in Wichita named the Dreamliners for a few years, traveling the three hours or so there on the weekends with three other baseball friends who lived in Stillwater. While coaching Little League, he was offered a position driving a truck for a tire company, Bob Brown Distributing Company. He worked for Brown for five years, then went into partnership with a man named Scott Burt, the two purchasing Pioneer Tire Center in 1974 and moving it to Stillwater from Ponca City. Borland was in the tire business for 33 years before selling it to his son, Victor, who still owned Pioneer in 2017.
Eileen worked at the store for 42 years — as secretary, saleswoman, greeter, whatever needed to be done.
Tom was involved in coaching American Legion Baseball, worked with summer camps with the Fellowship of Christian Athletes, served as president of the high school booster club, and was a member of the Ambucs Business Club. He was a member of the First United Methodist Church. He also played in the senior citizens competitive baseball league, typically pitching but playing some first base, up until his middle 50s.
Son Scott (Thomas Scott Borland) briefly played professional baseball; signed by the Pittsburgh Pirates, he was 9-13 (3.93) in Class A ball in 1983 for Greenwood (South Carolina) and Alexandria (Virginia). He had a degree, so he worked in the business office for a while. "He gave it a try," remembers his mother. "He really enjoyed it. They were really good to him and took care of him, but it just wasn't going to be his career."35
How did Tom feel about his 0-4 record in the majors? "Sadly enough, I'm 0-4 in the big leagues, but I should've won two of those ballgames because I left the ballgame when I was ahead, but my reliever didn't get the guys out, so I lost those two ballgames. I could be 2-2 real easy."36
He later added how much he had enjoyed the camaraderie, playing in ballparks packed with fans, the whole atmosphere of the major leagues. "I'm very, very blessed with the experiences I had and the time that I had. I mean, you stop and think about how many young men…want to go the major leagues and don't ever get close and don't ever make it. And I got there. It might have just been for a cup of coffee, but I got there."37
Borland retired in 2001.
Tom Borland was a heavy smoker. He suffered from emphysema and lung problems, and died peacefully at home in Stillwater on March 2, 2012. He was survived by his wife, Eileen, and four children: Scott, Jeff, Victor (b. 1967), and Jana (b.1970), as well as 12 grandchildren and two great-grandchildren.
In May 2013, his Oklahoma State number 11 was retired at "Tom Borland Night," the fourth member of OSU to have his number retired.38 In June, Borland joined the other three as a member of the College Baseball Hall of Fame.
After Tom's death, Eileen married Tom's former Red Sox teammate, Don Gile. "I've known Don since 1958. I used to babysit his children when his wife needed to go to the grocery store or something. I'd known him forever. Don and I shared a birthday — he was the 19th of April and I'm the 20th of April — and through the years we've always sent cards. He and Tom would visit a lot on the phone. And when he found out that Tom had passed away, he got in touch — and here we are. He's fit in real well with my family. He's really good to my children, and all my friends like him. I've introduced him to so many people, his head's swimming."39 They live in the same home Tom and Eileen had purchased in 1960.
Acknowledgments
This biography was reviewed by Tom Schott and fact-checked by Chris Rainey.
Sources
In addition to the sources noted in this biography, the author also accessed Borland's player file and player questionnaire from the National Baseball Hall of Fame, the Encyclopedia of Minor League Baseball, Retrosheet.org, Baseball-Reference.com, Rod Nelson of SABR's Scouts Committee, and the SABR Minor Leagues Database, accessed online at Baseball-Reference.com.
Notes
Born
February 14, 1933 at El Dorado, KS (USA)
Died
March 2, 2013 at Stillwater, OK (USA)
If you can help us improve this player's biography, contact us.
https://sabr.org/sites/default/files/BorlandTom.jpg
600
800
admin
/wp-content/uploads/2020/02/sabr_logo.png
admin
2017-07-18 14:36:14
2020-04-09 14:40:33
Tom Borland