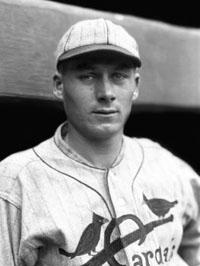 ---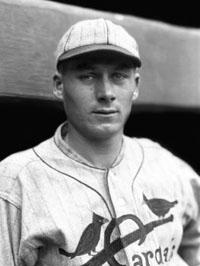 Tommy Thevenow earned a place in the record books for the home runs he didn't hit. He never cleared the fences in 15 big league seasons.
He hit three inside-the-park homers in 17 days in 1926 — two in September and one in the World Series — then didn't manage another for his last 3,614 plate appearances in the Series and regular season. When it comes to not hitting home runs, nobody has done it better — or longer.
Robert McConnell, the keeper of SABR's Home Run Log, revealed the record power outage a quarter-century after Thevenow died; there is no evidence that he was aware of it.1 In his lifetime he was known as a World Series hero, an elite defensive shortstop, and one of the game's saddest hard-luck cases.
Thevenow's glove kept him in the lineup until a plague of injuries stunted his career. He was a favorite double-play partner of second basemen Rogers Hornsby and Frankie Frisch, and was finally run off the shortstop position by another Hall of Famer, Arky Vaughan. "Up and down he has gone," Philadelphia sportswriter Gordon Mackay said, "always fighting, tight-lipped, silent, a warrior with a lion heart and a baby smile."2
Thomas Joseph Thevenow Jr. — the Irish surname is pronounced "TEV-eh-now"3 — was born on September 6, 1903, in Madison, Indiana, one of five children of the former Lula Cheatham and Thomas Thevenow, a grader in a tobacco warehouse. His birthplace and lifelong home is an Ohio River town between Louisville and Cincinnati.
After high school he played for the town team, the Madison Monarchs, and on a semipro team in Centralia, Illinois, before he signed with Joplin, Missouri, in the Class C Western Association in 1923. The story goes that St. Louis Cardinals manager Branch Rickey had come to Joplin to look at a visiting player when he spotted the 19-year-old Thevenow putting on a show in infield practice and bought his contract for $4,000. But Rickey's trusted scout Charley Barrett said he found Thevenow in Joplin and closed the deal.4
The Cardinals promoted their find to Double-A Syracuse in 1924. A 5-foot-10, 160-pound right-handed batter, he won a September call-up as Rickey tried out prospects. "This boy is a wonderful fielder but appears to be unable to hit his weight," wrote James M. Gould of the Star-Times. "Naturally, this is a big handicap to progress in a baseball career."5
Thevenow's glove work impressed Hornsby, the man beside him in the infield. The next spring Hornsby appointed himself "Silent Tommy's" personal hitting instructor. Thevenow paid close attention, because the superstar was his boyhood idol. Applying Hornsby's lessons was another matter; 10 games into the 1925 season, Thevenow was batting .182, and Rickey shipped him back to Syracuse.
After Hornsby replaced Rickey as manager, he recalled his pupil in August and told Thevenow he was the regular shortstop. The rookie hit .289 the rest of the way. His idol became his biggest booster. "I believe we have one of the greatest shortstops of the game in Thevenow," Hornsby said. "He already is a great fielder and he will be better."6
Hornsby could carry Thevenow's light bat because he put together a heavy-hitting lineup in 1926. Every other regular batted better than .290 as the Cardinals won their first National League pennant. Thevenow was the weak link at .256/.291/.311, but Hornsby said, "He can hit when hits are needed most."7 He was a productive bad hitter; he drove in 63 runs while batting eighth. He legged out his two homers just five days apart in September.
Thevenow won his wings in the field, leading National League shortstops in range factor, putouts, and assists while playing every game. His 597 assists fell just four short of the major league record set by Glenn Wright two years earlier.
Hornsby's pet exploded onto the national stage in the World Series against the Yankees. He turned several memorable fielding plays and was the unlikely batting star. He got a little help from Babe Ruth in the 9th inning of Game Two at Yankee Stadium. Ruth chased Thevenow's fly ball into the right-field corner. "He made a hard run for it, got his hands on it, but dropped it," Graham McNamee told the NBC radio audience.8 Running all out, the Babe sprawled against the low wall of the stands. Then he couldn't find the ball buried in the afternoon shadows as Thevenow flew around the bases and slid across the plate with a fluke homer.
In the decisive seventh game, Ruth's record fourth home run of the Series put New York ahead, 1-0. The Cardinals tied it in the fourth and filled the bases. With the infield pinched in, Thevenow lofted a blooper just out of reach of second baseman Tony Lazzeri to drive in the two winning runs in the Cards' 3-2 victory. Thirty-nine-year-old Grover Cleveland Alexander nailed down the championship with 2 1/3 scoreless innings in relief, striking out Lazzeri with the bases loaded in the seventh.
Amid the postgame pandemonium, Alexander waved away the congratulations and pointed to Thevenow: "There's the hero of the series. There's the greatest shortstop in the world. There's the kid who won the series."9 Thevenow's .417 batting average, 10-for-24, outdid Hornsby, Ruth, Lou Gehrig, and four other future Hall of Fame hitters. If Chevrolet had been making Corvettes, he would have driven one home.
Instead, he took the bus. At the homecoming celebration in Madison, he made a speech: "I want to thank you; I want to thank you very much."10 He wasn't called Silent Tommy for nothing.
Thevenow had shined his brightest at 23. An insatiable injury jinx devoured big chunks of five seasons and dulled his skills. By his 29th birthday he was hanging on as a utility infielder.
The jinx struck first on June 21, 1927, when his spikes caught on an awkward slide into second, breaking and dislocating his right ankle. The slide was unnecessary; there was no play on him. Catcher and manager Bob O'Farrell believed the injury, and the lack of a decent replacement shortstop, cost the Cardinals the pennant; they finished 1½ games behind Pittsburgh.11
Thevenow returned for four games in September, limping badly, and the ankle was still swelling after workouts the next spring. He played only 69 games in 1928 as 36-year-old Rabbit Maranville took over at short. Several teammates thought Thevenow was never the same. "Thevenow in '26 was as good as I've ever seen," Cardinals owner Sam Breadon said, "but that broken leg the next year ruined a fine boy's future."12
When the Cardinals met the Yankees again in the 1928 World Series, Thevenow watched from the bench. New York writer Joe Williams watched him: "Two years ago he was the greatest young shortstop in baseball. Today he is through…. Once the fastest ground coverer in his league, today he is the slowest."13 Thevenow played a single inning in Game One as a defensive replacement.
St. Louis traded him to the Phillies after the Series. "In fact, it is no exaggeration to say that the only reason the Cardinal bosses traded him was because they believed he would never be himself again," Irving Vaughan wrote in the Chicago Tribune.14
His Syracuse manager, Burt Shotton, now in Philadelphia, gambled $50,000 plus shortstop Heinie Sand on Thevenow's recovery. In 1929 spring training Shotton seemed to have found a bargain. Ed Pollock of the Philadelphia Evening Bulletin recalled, "Tommy was a sensation, drifting far to left and right for stunning stops followed by 'impossible' throws."15
This time the jinx nearly killed him. On the club's last night in Florida, Thevenow's rented car sideswiped another and flipped over in a ditch outside Winter Haven. He was pinned underneath. When Shotton saw him in the hospital, he thought the doctors had given him up for dead. Dr. H.R. Richards reported that "his face was split from one side to the other, but it was also badly mashed. His upper jaw and nose were loose, and it was necessary to wire them back in place."16
Thevenow spent four weeks in the hospital, lost 20 pounds on a liquid diet, and went home with his jaws still wired shut. Following reconstructive surgery, he really did look like a different man.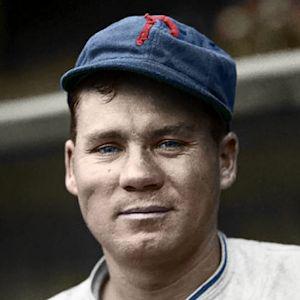 (The above image is from 1932. The photo at top, from 1924 or 1926.)
Three months after the horrific wreck, he returned to the lineup for good on July 4. He hit .227 in 90 games, then underwent more surgery in the fall.
Thevenow got through the 1930 season healthy, playing every game and batting .286 with 78 RBIs. Both were career highs for a full season's play, but that was puny in the year of the hitter, when the Phillies as a team pounded the rocket ball for a .315 average and the entire National League hit .303. Defensively, Thevenow appears to have regained some mobility; his range factor at short was second best in the league, but he committed the most errors. Philadelphia finished last with pitching and defense that would embarrass a Little League team.
The Phillies traded Thevenow to Pittsburgh in November as part of a deal for another shortstop, Dick Bartell. Bartell, four years younger and a much better hitter, was available only because he had alienated the Pirates management. It was too good a deal to pass up, but Shotton commented, "Thevenow is not the man he used to be."17
Shotton looked like a prophet when Thevenow's batting average sank to .103 in June 1931. His bat perked up and his average doubled by September 10. Then the jinx hit again. Sliding home, he broke two bones in his left foot and ankle.
He recovered to start the 1932 season as the Pirates' everyday shortstop, but was batting .190 on April 27 when he sat out with a minor injury. Rookie Arky Vaughan made his first start, hammered two triples, and didn't stop hitting for 15 years.
Thevenow, not yet 29, never played regularly at short again. He filled in because of injuries to Vaughan and third baseman Pie Traynor, but even part-time play couldn't save him from the jinx. On September 10 he broke his right thumb as he was making a tag. "I don't know why old Hard Luck picks me out," he said before he went home, prematurely ending another season.18
At least he had someone to go home to. In February 1933 Thevenow married Helen Hargitt, the 23-year-old daughter of a Methodist minister in his hometown. She told an interviewer she had given up her studies to be a psychologist when she fell in love with Tommy. "You know what they used to say about baseball players," Helen said, "that they weren't always as nice as they could be. Well, that's what I thought, too, until I met Tommy. And so did my family. In fact, my mother and father weren't so keen about him until we were married. But now they love him."19
Three months after the wedding, she left their apartment in Pittsburgh following an argument. A coat and a purse monogrammed with her initials were found on a bridge the next morning, and police began dragging the Monongahela River for her body. Two days later the mail brought a letter from Helen, telling her frantic husband she had gone home to her parents but would come back when the publicity died down. "The suicide part was just a big joke," Tommy said.20 He didn't say whether he thought it was funny. Helen returned to Pittsburgh the next week, and the marriage survived. They had two sons, Tom and Victor, and daughters Sarah and Mary Jane.
For the next three years Thevenow shared the Pirates' second-base job and spelled Traynor at third. Manager George Grantham didn't think he could hold up playing every day. He never complained about his playing time and was popular with teammates, a practical joker and cheerful presence.
Nearly nine years after Thevenow hit his last home run past Babe Ruth, the two extremes met again in 1935. Ruth, struggling through the final weeks of his career with the Boston Braves, briefly dipped into the fountain of youth at Pittsburgh's Forbes Field. He hit his last three home runs on May 25. The next day's headlines celebrated him one more time: Ruth clouts three, socks three, smacks three, crashes three.
Many paragraphs later, a few of the stories mentioned that Tommy Thevenow was the hitting star in the Pirates' victory, with a double, a triple, and five RBIs. The biggest offensive splurge of Thevenow's career was barely noticed. He who hits the homers hogs the headlines.
Pittsburgh inaugurated a youth movement after the 1935 season and traded the 32-year-old Thevenow to Cincinnati. The New York Giants wanted him, but the Pirates wouldn't send him to another contender. After a year as a utility infielder with the Reds, he was sold to the Giants, but he never played for the club. In January 1937 the Ohio River inundated towns along its banks, and Thevenow hurt his back fighting the roiling waters. In May, New York passed him on to the Boston Bees, his sixth of the eight National League teams.
He hooked on with the Pirates again for his final season in 1938. He got a rare chance to play in September when Arky Vaughan complained of a stiff neck. Thevenow started three double plays, collected two hits, and "looked like the Tommy Thevenow of 10 years ago," according to writer Les Biederman. "You know," Vaughan said, "the more I watch Thevenow, the better my neck feels."21
After Pittsburgh released him, Thevenow wanted to stay in baseball. He found work close to home in 1940 as player-manager of Ashland, Kentucky, in Class D ball. The job lasted only until June, when he was fired with the team in the cellar.
Thevenow never returned to professional ball. During World War II he was a security guard at a DuPont gunpowder plant and the star second baseman on the company team. He stayed in touch with the game, coaching at annual Kiwanis Club baseball schools in his hometown and attending the 25th reunion of the Cardinals' 1926 champions. His World Series title earned him a lifetime pass to big league ballparks. He often took his sons to see the Cincinnati Reds.
In 1953 he bought the Star Food Store in Madison and put a baseball-shaped sign out front inviting customers to "Stop & Shop with the Shortstop." It was a mom-and-pop market, with Helen running the cash register. Men came in to talk baseball with the proprietor while their wives shopped. The store stayed in the family until 2001.
Despite his history of devastating injuries, Thevenow appeared to be in good health until he suffered a stroke at 53 and died three days later, on July 29, 1957.
He kept few mementoes of his baseball career. One of his prizes was an autographed photo of him with the Babe, the Sultan of Swat and the Sultan of Not. 22
Acknowledgments
This biography was reviewed by Jan Finkel and fact-checked by Chris Rainey.
Notes
Born
September 6, 1903 at Madison, IN (USA)
Died
July 29, 1957 at Madison, IN (USA)
If you can help us improve this player's biography, contact us.
https://sabr.org/sites/default/files/ThevenowTommy.jpg
600
800
admin
/wp-content/uploads/2020/02/sabr_logo.png
admin
2017-08-16 15:19:24
2020-04-09 14:40:33
Tommy Thevenow