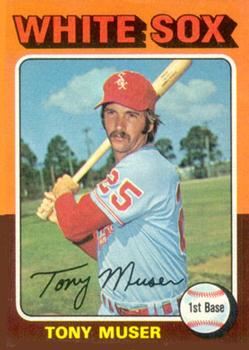 ---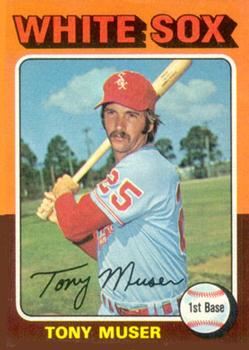 Tony Muser turned down his first shot at professional baseball, but about a year later signed with the Boston Red Sox and embarked on a career that included nine years in the big leagues as a first baseman and outfielder, 14 years as a major-league coach, and six years as a major-league manager.
Of Austrian/German background, Anthony Joseph Muser was born on August 1, 1947, in Parkview Hospital in Van Nuys, in California's San Fernando Valley. Both of his parents came to California from Danville, Illinois – but only met after they had moved to California.
"My mother was a waitress at burger joints. Beverly Jean O'Neill. My dad met my mom out in California. He was Joseph Anthony Muser and I'm Anthony Joseph Muser.
"My father graduated from Danville High School. He got a half-scholarship for football and a half-scholarship for swimming. He was a real good swimmer. When Japan bombed Pearl Harbor, my dad got angry and left college, joined the Marine Corps and was sent to the Southern Pacific.
"He worked for Bekins Van and Storage as just a laborer. Promoted to truck driver, and then promoted from driver to dispatcher, and then promoted from dispatcher to manager. When I was in high school, he managed the Lakewood/Long Beach part of the business. When I started my senior year, he was transferred to San Diego."1
Muser had been raised in the Lakewood area. He attended Riley Elementary School, Hoover Junior High, and Lakewood Senior High School in Long Beach. After his father was transferred, the family moved south. Tony went on to complete two years at San Diego Mesa Junior College, receiving an Associate of Arts degree. At Mesa, he both pitched and played infield. He was left-handed both at bat and on the mound.
Tony's father Anthony was said to have been a star athlete at the University of Missouri. He was no doubt proud of the attention that scouts began to pay his son. "My dad was very athletic," Tony recalled. "He played all sports. He once had a tryout with the Chicago Bears. He always encouraged my interest in athletics. I always had new gloves, new shoes – the best of everything." But he wasn't an overbearing father. He'd come to Tony's Little League games, but never leaned on the coaches. "He used to tell me, 'If you're going to make it, you're going to have to make it on your own.'"2
In the January 1966 amateur draft, Muser was selected in the third round by the San Francisco Giants, but did not sign. What the Giants offered hadn't been enough to attract him. "I thought it was a very poor offer, so I decided to further my education."3 Perhaps wary of wasting a draft pick, no team selected him in the January 1967 draft. He put in another year at Mesa and began to show up more frequently in local papers. In 1967 he was named to the Pacific Southwest Conference All-Star team. On February 15, 1967, playing first base, he helped kick off the first round of the regional Marine Corps baseball tourney with a first-inning grand slam; San Diego Mesa beat Arizona Mesa, 11-5.4 Two days later, he threw a two-hitter against the Southwestern Apaches.5
A little more than a year after the Giants had drafted him in vain, Muser was signed as a free agent on May 14, 1967, by Red Sox scout Ray Boone. "I was impressed with everything I heard about the Boston organization. And I liked Ray Boone. He scouted me for a couple of years and always was interested in my welfare."6 He said that the Giants had upped their offer by $20,000 but he went with the Red Sox "even though their offer was slightly lower."7
At the time, Muser was 6-foot-2 and listed at 180 pounds. Boone said Muser would be assigned to the Class-A Greenville (South Carolina) Red Sox of the Carolina League.8 Where he played in 1967, however, was instead in Iowa, for the Waterloo Hawks, also a Class-A team (in the Midwest League.) For Waterloo, Muser played exclusively at first base and in 68 games batted .283 with six homers and 42 runs batted in. He played some December baseball in San Diego, on a San Diego All-Stars team against a visiting Japanese team from Yokohama, a sister city to San Diego.
The next year he played in 33 games for Greenville and seven for Winston-Salem, batting .272 and .381 respectively. He would have played more, but he had joined the Marine Corps Reserve and his obligation caused him to miss most of the season. During 1968, he also married, on July 13 to Nancy Jean Bumcrot. Their 50th anniversary was on July 13, 2018. "We have three children," Muser said, "Anthony Joseph Jr., Michael Dean, and Kristi Ann."9
He then wrapped up the year in Florida Instructional League ball, where he was one of the league's top hitters. The following spring, he was considered "the best newcomer in camp."10 Ken Harrelson said, "I can feel his hot breath on the back of my neck for that first base in a year or two." Harrelson said this "while he watched Muser dazzle people with his brilliant defensive skills."11
In 1969, Muser got his feet wet in the big leagues, but not until the end of the season. He spent the full International League season with Boston's Triple-A Louisville Colonels, playing 120 games (despite a two-week stint of military service) and batting .282 with 62 RBIs.
He was called up to the Red Sox after the I.L. season shut down, and had his major-league debut on September 14. Batting leadoff against the Yankees, he grounded out to shortstop his first time up. A strikeout followed, another ground out, and then a fly ball to center. His fifth time at bat, in the top of the ninth, he singled in George Scott to tie the game, 2-2. But with Muser on first and pinch-runner Luis Alvarado on third, there was a base running blunder and Alvarado was thrown out at home on an attempted double steal when Muser failed to draw a throw.12 Muser took some heat for it, but the Boston Globe's Harold Kaese said the play never should have been put on in the first place: "The play was the goat, not the kid."13 The Yankees broke the tie and won in the bottom of the ninth. Muser was 0-for-4 with a base on balls in his only other appearance, on September 18.
After the season, it was back to the Instructional League. Muser also worked during the offseason as a helper on trucks for Bekins Van and Storage. He would connect with drivers who had moved a family cross-country. "I would go out and we'd move people into homes and sleep in the back of the trailers. It was tough work but it was good work."14
Muser spent the full 1970 season with Louisville more or less reprising his 1969 year. He was not called up to Boston.
Near the end of spring training in 1971, on March 30, he was traded to the White Sox with Vicente Romo for Duane Josephson and Danny Murphy.15 He played most of the year in Triple A again, hitting .294 for Indianapolis over the course of 85 games. In mid-July, he was brought to Chicago to fill in for a couple of weeks while a couple of the White Sox had to do their own two-week tours of military reserve duty. In eight of the 11 games in which he appeared, he was inserted as a pinch-hitter. The first two opportunities he had, he collected a base hit. He was 5-for-16 by the end of the season (.313) without a run batted in but with two runs scored. He was 2-for-4 with a triple in his final game of the year.
In 1972 he got in a full spring training due to Dick Allen holding out, but once Allen finally signed, it was back to the minors again, this time optioned to Tucson in the Pacific Coast League. In 83 games, he hit .270 there and was once again brought up to Chicago in July as a few players were shuffled around. He was used in late-inning defensive work and in pinch capacities for the rest of the season, as witnessed by 63 plate appearances in 44 games. He hit well enough, though, batting .279 (the team average was .238). He drove in nine runs, seven of them in September and two of those on his first major-league home run, off Texas's Jim Panther on September 22. His double on September 5 broke a 2-2 tie and gave the White Sox a win over the Twins.
At age 25 in 1973, he stuck with the major-league White Sox for the full season and did so again in 1974. He filled in for the injured Allen as the team's first-string first baseman for part of 1973, playing in 109 games and batting .285 with 30 RBIs. The next year he was primarily a defensive replacement, batting .291 but with only 18 RBIs in 103 games. It was, as it always had been, his defensive work that was his strong point. In 1974 he handled 433 chances with only one error. Throughout his full career, he maintained a .992 fielding percentage (23 errors in 2,937 chances).
His biggest game in 1973 was on September 9, when he went 4-for-5 and drove in four runs, the last three of them on a bases-loaded triple. One of the more satisfying hits had to have been the two-run double in the bottom of the eighth against the Brewers on August 28. Those two runs represented the margin of victory. In 1974 he had a couple of game-winning hits as well.
The 1975 season saw him play 43 games with the White Sox, but after the game on June 15 he was traded to the Baltimore Orioles for right-handed pitcher Jesse Jefferson. Muser was batting .243 at the time. Orioles manager Earl Weaver said he had acquired Muser to spell Lee May at times against right-handed pitchers and for pinch-hitting and defensive replacement purposes.16 For the Orioles, he appeared in 80 games and delivered more than anyone had a right to expect on offense, batting .317 over 92 plate appearances.
Both in 1976 and 1977, he was behind Lee May at first base but nonetheless saw a lot of duty. In 1976 he appeared in a career-high 136 games but unfortunately saw his average end up at .227, with 30 RBIs.
"I think they gave up on me too soon," said Muser, "I've hit every year I've been up here. I'm not a spectacular hitter, but I've been steady, and that counts for something."17
Tony's brother Tim was a ballplayer, too. In 1976, Tim was a 16th round draft pick of the San Diego Padres, out of Clairemont High School, San Diego. He was selected CIF (California Interscholastic Federation) player of the year.18 Tim chose not to sign to play professional baseball. "He was a good player," Tony said in 2018. "He was actually better than me. He was a better player than me, but he was right-handed and I was left-handed, and so the right-handed slider helped me."19 As of 2018, Tim Muser was coaching at Madison High School in San Diego.
In 1977, he got into 120 games, but this time he averaged only a bit more than one plate appearance per game. He ended up hitting .229, but only driving in seven runs.
The Orioles released him on February 21, 1978. It took him a while to find another home, but he was signed as a free agent by the Milwaukee Brewers on April 4. They assigned him to Spokane to start the season. In 78 Coast League games, he hit for a .293 average and drove in 38 runs. When Moose Haas went on the DL for Milwaukee at the end of June, Muser was recalled. He saw very little action – 30 at-bats in 15 games with a .133 batting average. They were his last games in American major-league baseball.
In 1979 he joined Japanese baseball, playing for the Seibu Lions. In 65 games he hit .196. Those were his last days as a player. That November, the Brewers named Muser to manage their Stockton club in the Class-A California League. Stockton had a very good year, winning the league championship.
The El Paso Diablos (Double-A Texas League) didn't fare as well in 1981, finishing 65-69 under Muser. In 1982, El Paso led the West Division, only losing out in the final round of league playoffs. And they won the division again in 1983, losing out in the first round of the playoffs. There had been one astonishing game, on April 30 against visiting Beaumont. El Paso won the game by the football-like score of 35-21. "This ballpark is just absolutely electric," Muser said afterwards, adding with a bit of hyperbole, "I came into the dugout one time to get a chew and saw sparks flying."20
In early July, the Brewers asked him to manage their Triple-A team in Vancouver, in place of the fired manager there. The team still finished in last place in the Pacific Coast League North Division. In October 1984 he was named to the major-league coaching staff of the Brewers.
Muser was third-base coach of the Brewers for 1985 and 1986 and then served as hitting coach and/or third base coach in 1987, 1988, and 1989. There was a weird incident in February 1986 when a natural gas explosion at the Brewers' spring training complex at Glendale, Arizona, seriously burned Muser and fellow coach Herm Starrette. Muser was taken by helicopter to a nearby hospital.21 He suffered burns on about 50 percent of his body. He rejoined the club three months later, in mid-May.
He was let go as a coach at the end of the 1989 campaign and was named as a minor-league instructor and scout for the Brewers. In October 1990, it was back to managing in Triple A and the Denver Zephyrs won the 1991 American Association pennant. He was named Manager of the Year. They missed making the league playoffs in 1992 by just one game. In November, as the Chicago Cubs began to assemble their coaching staff for 1993, they named Muser as bullpen coach.
It was the first year of a five-year run with the Cubs, as bullpen coach in 1993, third-base coach for the years 1994 through 1996, and then hitting coach for the first half of the 1997 season. In both his Brewers and Cubs days, his name often came up as big-league teams had managerial openings. Finally, he got his chance on July 9, 1997, when the Kansas City Royals fired Bob Boone as manager and hired Muser. "It's been my dream for about 30 years to have an opportunity to take a team and make it better. I'd had eight interviews. But it was like I'd had eight at-bats and never hit the ball out of the infield. I hope I spend the rest of my baseball career in Kansas City."22 He added, "I don't want to be here just two or three years."23
For most of the next six years, he managed the Royals. The team never had a winning record. They were 31-48 for the rest of 1997, Muser working with the team he had inherited from Boone. The Royals were 72-89 in 1998, 64-97 in 1999, and 77-85 in 2000. There was an eight-game suspension for a brawl in 1998; Angels manager Terry Collins also drew an eight-game suspension, and nine players were suspended while others drew fines. In 2001, Joe Torre named Muser to his coaching staff for that year's All-Star Game. The Royals finished in last place, 65-97. Muser was rehired for 2002 though local fans were starting to grow restless at the team's performance.
When the team started the 2002 season 8-15, the Royals finally made the move and fired Muser on April 30. "Everybody understands the circumstances, the mood of our fans," Muser said. "They need a change. It's just a part of the business. Managers are hired to be fired. I understand it, and life goes on. The most important thing is the success of the organization."24 In November, the San Diego Padres hired him as bench coach to serve under manager Bruce Bochy. He served four full seasons, 2003 through 2006. Bochy was then replaced by Bud Black and went on to manage the San Francisco Giants.
"I was kind of out of a job. I still wanted to stay in the game, but it didn't matter if I was in the big leagues or not. I still wanted to work with young kids. There was a rumor that the Angels were looking for a minor-league guy – hitting, managing, or whatever. I was looking for an interview with the Angels organization, but the Padres called me back and asked, 'Would you be interested in managing our rookie team and running extended spring training? Why would you leave the Padres and go to the Angels?' I said, 'Well, I've just been fired from the Padres. I'm looking for work.' They offered me a contract to manage their rookie league club in Arizona."25
In the spring of 2007, he managed the Peoria, Arizona, club. For the next four years – through 2010 – he worked as a roving minor-league instructor and hitting coordinator for the Padres, working for Grady Fuson. After Fuson was relieved of his position, Muser retired. "After the 2010 season and 43 years I just got tired of it – I didn't get tired of baseball but I just got tired of the politics. That's just baseball today. Anyway, I decided after 43 years to take my pension and kind of move out of the game and let the younger people take over. It was a good run. I still have friends who are doing it, friends who are older than me. That's a proof of love for the game."
Muser has taken advantage of his retirement, enjoying life and family. He's kept busy. "Babysitting and grandchildren. We had grandchildren late. My daughter had a grandchild going on four years now, and my other two sons have had daughters late. One's in Chicago, one's in Palm Springs, and my daughter's real close in Lakewood. We have three grandchildren and we're busy. And it's fun. It's fun."26
Last revised: July 16, 2018
Acknowledgments
This biography was reviewed by Norman Macht and fact-checked by Kevin Larkin.
Sources
In addition to the sources noted in this biography, the author also accessed Muser's player file and player questionnaire from the National Baseball Hall of Fame, the Encyclopedia of Minor League Baseball, Retrosheet.org, and Baseball-Reference.com. Thanks to Rod Nelson of SABR's Scouts Committee.
Notes
1 Author interview with Tony Muser on March 13, 2018. Muser further explained that his father had been wounded during World War II at a South Pacific location that was unknown to him, remained in the reserves after World War II, and was recalled at the time of the Korean War, at which time he was recommissioned as a captain.
2 Jerome Holtzman, "Muser Would Be Happy Just to Be Allen's Caddy," The Sporting News, April 1, 1972: 33.
3 Fred Ciampa, "Red Sox High on Future of 'Kid' Muser," Boston Record American, March 19, 1969: 26.
4 "Mesa, MCRD, Apaches Win Tourney Tilts," San Diego Union, February 16, 1967: 20.
5 "Olympian Nine Reaches Final," San Diego Union, February 18, 1967: 22.
6 Jerome Holtzman, "Muser Would Be Happy Just to Be Allen's Caddy,"
7 Fred Ciampa, quoting Muser. "Red Sox High on Future of 'Kid' Muser."
8 "Boston Signs Mesa's Muser," San Diego Union, May 15, 1967: 30.
9 Author interview with Tony Muser.
10 Larry Claflin, "Red Sox," The Sporting News, March 29, 1969: 4.
11 Ibid.
12 The play is explained in Clif Keane, "Yankees Top Sox in 9th, 3-2," Boston Globe, September 15, 1969: 21, 22.
13 Harold Kaese, "Muser Took Unfair Blame," Boston Globe, September 17, 1969: 29.
14 Author interview with Tony Muser.
15 Neil Singelais, "Lonborg Optioned to Louisville Farm," Boston Globe, March 31, 1971: 27.
16 Bill Liston, "Sox Stop Orioles in 12th," Boston Herald, June 21, 1975: 4.
17 Jim Henneman, "Muser Takes Dim View of His Role," The Sporting News, July 5, 1975: 17.
18 "2 Baseball Awards Go to Nettles," San Diego Union, January 16, 1977: 118.
19 Author interview with Tony Muser.
20 Associated Press, "El Paso 35, Beaumont 21 in Baseball!," Arkansas Gazette, May 2, 1983: 23.
21 Associated Press, "Blast Burns Eight at Brewer Camp," Bellingham Herald (Bellingham, Washington), February 27, 1986: 25.
22 "Royals Boot Boone, Decide to Try Muser," Augusta (Georgia) Chronicle, July 10, 1997: 3.
23 Mel Antonen, "Muser Handed Royals Helm," USA Today, July 10, 1997: 9C.
24 Hal Bock, Associated Press, "Managers Falling at Record Pace," The Advocate (Baton Rouge), May 1, 2002: 63.
25 Author interview with Tony Muser.
26 Ibid.
Born
August 1, 1947 at Van Nuys, CA (USA)
If you can help us improve this player's biography, contact us.
https://sabr.org/sites/default/files/Muser%20Tony.jpg
600
800
admin
/wp-content/uploads/2020/02/sabr_logo.png
admin
2018-07-16 17:20:04
2020-04-09 14:38:43
Tony Muser