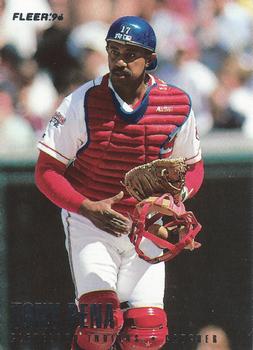 ---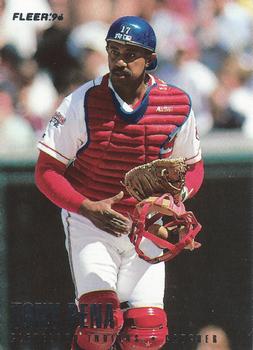 In Tribe folklore, Tony Peña will always bring back moments of elation and unbound hope for a world championship after he crushed an early-morning pitch toward left field for a walk-off homer in the 13th inning of Game One of the 1995 American League Division Series. For the Indians, it was their first postseason since 1954, and left Indians fans dreaming, "Would this be the Indians' year?"
Antonio Francisco (Padilla) Peña was born on June 4, 1957, in Monte Cristi, Dominican Republic. He was born into a family of hard-working parents. His father, Octaviano, was a farmer, and his mother, Rosalia, a teacher for more than 30 years. Tony was raised with three brothers and a sister. While his father worked long hours, it was his mother who took it upon herself to teach Tony the finer points of baseball.
Tony once said it was his mother who was the star of the family. "She was a real all-star," he said his rookie year. "She played softball and she pitched and hit better than most men." 1 Rosalia was strict with the family getting their education, insisting that Tony and his brothers keep up with their studies and not just play baseball. If he or any of his siblings had an exam the next day, studying had to come first.
Tony Peña was signed as an amateur free agent in July 1975 by the Pittsburgh Pirates. Originally signed as an outfielder, he switched to catcher in his second year in the minors. He made his way through the Pirates farm system with stops with their Gulf Coast Rookie League team, Salem (Class A), Charleston (Class A), Shreveport (Double-A), Buffalo (Double-A), and Portland (Triple-A) before getting a call-up to the Pirates when rosters expanded on September 1, 1980. In eight games he hit a robust .429 (9-for-21).
Peña made the Pirates roster in 1981 but was initially stuck behind the strong backstop platoon of Steve Nicosia and Ed Ott. That had taken the Bucs to the 1979 world championship. However, it was not long before Peña became the starting catcher. His strong end-of-season showing in 1980 allowed the Pirates to trade Ott to the California Angels in April 1981. At that point manager Chuck Tanner insisted that he now had two starting catchers in Peña and Nicosia.
After seeing action in just 66 games in that strike-shortened season of 1981, Peña emerged as the starting catcher toward the end of the season. One of the attributes of his game that fans noticed early in his career was his love for the game, not unlike the joy of one of his Pirates predecessors, the perpetually smiling Manny Sanguillen. Said Peña, "I would love this game even if I wasn't getting paid to play." 2 Tanner saw even bigger things coming, stating, "It's just a matter of time before Peña is recognized as one of the outstanding catchers." 3 Tanner was not alone in his observations; Atlanta manager Bobby Cox said that Peña "looks like an excellent prospect." 4
Peña's .300 batting average and excellent defense garnered him a sixth-place finish in the Rookie of the Year voting. He was named Topps Rookie All-Star catcher and was selected to the UPI Rookie All-Star Team. Peña's hard work and desire to get better would serve him well. At year end, he said, "I will be better next year because of the experience I got this year," adding, "I made some mistakes. Chuck talked to me about them." 5
As the Pirates' starting catcher in 1982, Peña began to hit his stride. In July he was named to the NL All-Star team. He batted .296 and hit 11 home runs in his first full year as a starter. He would subsequently be named to four more All-Star teams in his career. He had arrived.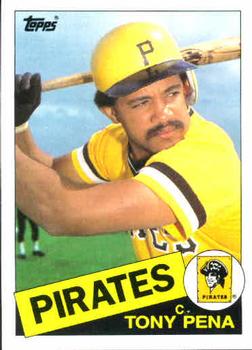 In 1983 Peña established himself as one of the stars of the game. He was awarded his first Gold Glove while hitting a full-season career high .301. He added some power to go with the high average with a career-high 15 home runs and 70 runs batted in. Over the next three years, Peña was a fixture for the Bucs, becoming known for his low crouch behind the plate with one leg fully extended. Pittsburgh fans also loved his exuberance for the game, and he was a crowd favorite during his stay.  
The 1983 season was a good one for the Pirates as well. They were tied for first place as late as September 17 with the Phillies. But the Bucs faded the last two weeks of that season, and then entered a down phase for the franchise that lasted nearly through the end of the decade. A miserable team in 1985 went 57-104 and failed to draw even 750,000 fans for the season. During that period it took a major push led by Mayor Richard Caliguiri to put together a consortium of local businesses just to keep the Pirates in town. 6
As the Pirates struggled in the mid-'80s to field a competitive team and to stay in Pittsburgh, Peña's ability to maintain his zest for the game was challenged. With three consecutive last-place finishes, the game was not as much fun. The 1985 season was the low point of his career. "It was no fun — no fun at all," he said. "There were the drug trials, the club was up for sale and we were losing, losing, losing. I am not a loser." 7
A number of major-leaguers, including several Pirates, but not Peña, were called before a Pittsburgh grand jury investigating cocaine use. As someone who had not taken drugs, Peña resented the guilt by association that all the Pirates endured. "The world thought that Pittsburgh was on trial," he said. "Everywhere anyone went, they heard about ball players and drugs, and heard about Pittsburgh. It was unfair. It was not right. Pittsburgh is a good town." 8 It wasn't until 1988 that the Pirates started to win back their fans.
In 1986, Peña's last with the Pirates, he hit a respectable .288 and made the All-Star team for the third consecutive year, but the team lost 98 games. Offensively, Peña's Pirates years were among the most productive of his career. His consistency on defense supported by his three Gold Gloves, four All-Star Game appearances, and a .286 composite batting average during his seven seasons in Pittsburgh garnered him consideration for the All-Time Pirate lineup. The baseball.about.com website ranked Peña in the top four Pirate catchers of all time by MLB expert Scott Kendrick. 9
On April 1, 1987, Peña was part of a blockbuster trade that brought the Pirates two key players for their string of NL East crowns in the early '90s, and led Peña to his first World Series appearance. He was traded to the St. Louis Cardinals for pitcher Mike Dunne, catcher Mike LaValliere, and future All-Star and Gold Glove outfielder Andy Van Slyke. Given Peña's popularity, it was a surprise to Pirate fans, but gave reason for excitement to the Cardinals and their fans. Said Cardinals general manager Dal Maxvill, "We are getting one of the premier players of the game, as evidenced by what we had to give up to acquire him." 10
Peña, however, was emotionally hurt by the trade. "I cried for a week,' Peña said. "The trade hurt me psychologically. I lost my stroke."11
Peña spent the next three years with the Cardinals, and ended up being one of the key ingredients for their run at a championship in 1987. Getting his first taste of postseason baseball that season, he hit .381 in the NLCS as the Cardinals topped the San Francisco Giants in seven games and then hit a strong .409 in a losing cause in the World Series, won by the Minnesota Twins in seven games.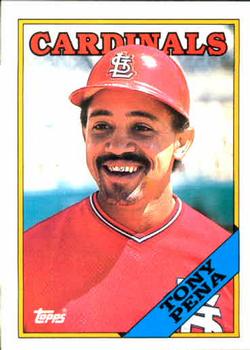 A year after the trade, on April 21, 1988, Peña got some personal satisfaction during an early-season return to Pittsburgh. He went 3-for-4, with two home runs and three runs scored in a 9-3 Cardinals victory over the Bucs. "It was nice to be back in my old ballpark," said Peña. "I've tried to put the trade behind me, and I just want to forget about that and do my job." 12 He played two more years in St. Louis and made another All-Star Game appearance in 1989.
Peña left St. Louis as a free agent after the 1989 season and signed with the Boston Red Sox. He spent the 1990 through 1993 seasons with the Red Sox. His leadership abilities again emerged in the Red Sox clubhouse, all while adapting to the American League. Similar to his stays in Pittsburgh and St. Louis, Peña displayed excellent defense and pitching staff management, which was exactly what Red Sox general manager Lou Gorman was expecting. Peña said Gorman told him, "I want you to catch, call the game and throw people out. That's what I need." 13 Peña made good on those expectations, winning a fourth Gold Glove in 1991. (He became only the second catcher to win a Gold Glove in each league; Bob Boone was the first.)
Red Sox pitching coach Bill Fischer went even farther with his praise, ranking him above Hall of Famer Johnny Bench, whom he watched for five years in Cincinnati as a coach. "I think Peña's the best catcher I've ever seen," Fischer said. "Bench made a lot more noise with his bat, but as far as catching goes I think Peña's better. He's so important to the pitching staff because of the way he handles a game and the way he keeps them loose."14
Yet, a humble Peña shied away from such praise. "I don't think I can take much credit," he said. "They (the pitchers) threw the ball and made the pitches. They had the success. My job is to help the pitcher as much as I can. If something goes wrong, my job is to fix it. I keep full concentration on the game."15
Peña paid special attention to Latino players on the Red Sox, like Carlos Quintana and Ivan Calderon, to encourage them to assimilate into the team. In addition, he assisted the Latino community. (As an example, he took part in an event in the heavily Latino city of Lawrence to raise money to help immigrant Hispanic families. 16)
On February 7, 1994, the 37-year-old Peña signed a free-agent contract with the Cleveland Indians as a backup to Sandy Alomar Jr. It was the first time Peña signed as a non-starter. Worried about the Indians backup, General Manager John Hart approached Peña while in the Dominican Republic that winter. He gave a Tribe hat to Peña and asked him to think about being the backup catcher in Cleveland. A few days later, Peña called Hart and told him, "I'm wearing my Indians hat,"17 and that's how Hart knew he had him in the fold. In a part-time role, he provided both spark and veteran leadership to help manage the pitching staff for the Indians. Peña spent the next three seasons as part of the Tribe.
The 1995 season started with Alomar on the disabled list, so Peña found himself back in the starting lineup. The Indians got off to the best start in baseball, going 41-17. With Peña catching, the pitching staff had the lowest ERA in the league through July 1. Peña played the whole first half of the season and ended up playing more than half the games that season as the Indians won their Central Division going away, winning 100 of their 144 games in a strike-shortened season. They won the division by a whopping 30 games.
Peña was one of the key ingredients to the success. Peña hit .262. As a catcher he was noted for his quick, productive mound visits with pitchers when he felt they weren't focused enough. "Tony has a master's degree in the game,'" said Indians pitching coach Jeff Newman. "He gets the performance he should out of a pitcher. If a pitcher doesn't anything on a certain day, there is nothing a catcher can do. But if the pitcher has good stuff, a good catcher can make him put it in certain spots by calling the right pitch at the right time. Not every catcher can do that, but we have two who can."18 Returning from the disabled list, Alomar was back behind the plate for the playoffs.
It was vindication for Peña. "I know there was a lot of doubt about me," Peña said. "They didn't know if I could catch every day. But I caught every day in winter ball in the Dominican to get ready for the season. I've done it every year I've played in the big leagues." He added that he feels 'the human body is like a car. If you drive your car every day for six months, and then shut it down for six months, it will break down when you start it up again. That's why I never take time off.19
With Alomar back, Peña played little in the postseason. But on October 3, he made it count. Peña's 13th-inning walk-off homer in Game One of the American League Division Series against the Red Sox gave early momentum to the Indians. The home run came off Boston's reliever Zane Smith some six hours after the game was supposed to start. It was the Indians' first postseason victory since their championship in 1948, a drought of 47 years. Of his blast, Peña said, "I wasn't sure if I was supposed to take or not. But when he [Red Sox pitcher Zane Smith] threw the pitch, it was too good to let go by." 20
The Indians went on to beat Boston in the ALDS, and then Seattle in the AL Championship Series, before succumbing to the Atlanta Braves in six games in the World Series. Peña played in four games in the ALCS but in only two games of the World Series. Despite the Indians' loss of the World Series, Peña's ALDS home run continues to be cited as one of the most memorable moments in Indians history. The website didthetribewinlastnight.com described the home run as "the biggest moment in the biggest year in franchise history." 21
Peña played in 67 games with the Indians in 1996. A free agent after the season, he signed with the Chicago White Sox in January 1997. He played in just 31 games with White Sox before being traded to the Houston Astros on August 15. He played in nine games with the Astros and, now 40 years old, was released after the season.
Peña spent that winter as a player/manager for the Aguilas Cibaenas in the Dominican League. As the season wore on, he played himself less and less despite getting some key hits early on. He retired as a player at the end of that season and began focusing on managing and coaching.
Peña spent the next several years as a minor-league manager before positioning himself as a major-league coach and ultimately a major-league manager. He managed the White Sox's Arizona Fall League team in 1998. He then took over as the manager of the New Orleans Zephyrs in the Pacific Coast League for the Houston Astros organization. There he won a PCL East title in 2001, before becoming a bench coach for the Astros in 2002.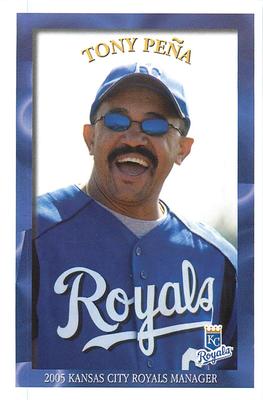 Early in the 2002 season, on May 15, Peña was hired to manage the Kansas City Royals after the dismissal of Tony Muser. He became only the third Dominican to manage a major-league team. On June 25, as he and manager Luis Pujols of the Detroit Tigers exchanged lineup cards, they became the first Dominicans to do so in the major leagues. As fate had it, Felipe Alou, the first Dominican manager, was also there. He was a bench coach for the Tigers. Dominican Republic President Hipolito Mejia was also present for a special presentation from Commissioner Bud Selig. It was not the first time Peña and Pujols, also a former catcher, had been managerial opponents; they previously managed against each other in the Dominican Winter League.
In 2003, Peña's first full major-league season as a manager, he experienced initial success for the Royals as they finished above .500 for the first time since the strike-shortened season of 1994. He had restored enthusiasm and accountability to the budget-constrained team. He was an easy choice for American League Manager of the Year by The Sporting News and the Baseball Writers Association of America, getting 24 of the 28 first-place votes and becoming only the fifth manager to win the award in his first full season.
The Royals could not capture the magic again in 2004 and lost 104 games. After another slow start to the 2005 season (8-25), Peña resigned on May 10. After the final 3-1 loss to the Blue Jays, he said, "I can't take it anymore. We are not playing well. It's tough going to the ballpark and lose game after game. I haven't been eating. I haven't been sleeping." 22
In November 2005, Peña was hired by the New York Yankees as a first-base coach, a position he held until he became the bench coach in 2009. He also served as the team's catching instructor. In 2015 Peña returned to the role of first-base coach and was still currently in that role during there during the 2017 postseason run for the Yankees.
On February 11, 2012, in a ceremony in La Romana, Dominican Republic, Peña was inducted into the Latino Baseball Hall of Fame.
In March 2013, Peña managed the championship Dominican Republic team in the World Baseball Classic. The team went an unprecedented 8-0, winning the final game 3-0 over Puerto Rico. The team was led offensively by the tournament's MVP, Robinson Cano. Pitcher Fernando Rodney had seven saves for the Dominicans. He managed the defending champions again in 2017, but was eliminated in the second round of pool play winning one and losing two games.
Peña has a number of notable accomplishments as a player. As of the start of the 2015 season, he was sixth among major-league catchers with 1,950 games behind the plate, eighth in career putouts (11,212), and sixth in career double plays turned by a catcher (156). He had numerous seasons ranking in the Top 10 for Defensive WAR (wins above replacement).
Peña married the girl down the street, Amaris, who lived just three houses down from his. They had three children together: sons Tony Jr. and Francisco Antonio, and a daughter, Jennifer Amaris. Tony Jr. was signed as an amateur free agent shortstop by the Atlanta Braves in 1999. He made his major-league debut in 2006 and had a four-year major-league career. Francisco Antonio, has been in the minor leagues since 2007, and as of 2015 was playing in the Royals' farm system. Peña's daughter, Jennifer Amaris, won the Miss Dominican Republic-USA beauty pageant in 2007.
One of Tony's younger brothers, Ramon, also played major-league baseball. He appeared in eight games as a relief pitcher for the Detroit Tigers in 1989. He registered no decisions and had a 6.00 ERA in 18 innings pitched.
Last revised: January 14, 2019
This biography was published in "1995 Cleveland Indians: The Sleeping Giant Awakes" (SABR, 2019), edited by Joseph Wancho. 
Notes
1 Charley Feeney, "Tanner Rates Pena All-Star of the Future", The Sporting News, October 17, 1981: 31.
2 Charley Feeney, "Bucs Given Strong Charge By 'Dominican Connection'," The Sporting News, June 20, 1981: 31.
3 Feeney, "Tanner Rates Pena All-Star of the Future."
4 Feeney, "Bucs Given Strong Charge By 'Dominican Connection'."
5 Feeney, "Tanner Rates Pena All-Star of the Future."
6 Ron Cook, "A Terrible Time of Trial and Error," Pittsburgh Post-Gazette, September 29, 2000: CC-3.
7 Charley Feeney, "Pena Wiser After Nightmare of '85," The Sporting News, March 10, 1986: 39.
8 Ibid.
9 Scott Kendrick, "Pittsburgh Pirates All Time Lineup", About.baseball.com, March 27, 2017, Retrieved December 5, 2017.
10 "Pirates Deal Pena to Cardinals", New York Post, April 4, 1987. Players File Baseball Hall of Fame.
11 Paul Hoynes, "What a Catch," The Plain Dealer, July 2, 1995.
12 "Pena Finally Gets Back at Pirates", Los Angeles Times, April 22, 1988: Part 3-7, Wire Services.
13 Robyn Norwood, "This Free Agent Was a Catch for the Red Sox", Los Angeles Times, August 9, 1990: C6.
14 Joe Giuliotti, "Red Sox catch Pena Fever," Boston Herald, April 11, 1991: R27.
15 Sean McAdam, "A Good Guy to Have," Providence Journal, May 15, 1991.
16 Paul Lafond, "Sox' Tony Pena: I really like to help kids who are needy'", Lawrence Eagle-Tribune, June 29, 1990: 25-27.
17 Hoynes: 11-D.
18 Ibid.
19 Ibid.
20 Jim Ingraham, "Picture-Perfect Play", The Morning Journal, March 4, 1996: B1.
21 Steve Eby, "The Greatest Summer Ever: Tony Pena", Didthetribewinlastnight.com, June 20, 2015. Retrieved December 5, 2017.
22 Bob Dutton, "Royals Manager Tony Pena Resigns", KansasCity.com, May 11, 2005. Retrieved December 5, 2017.
Full Name
Antonio Francesco Pena Padilla
Born
June 4, 1957 at Monte Cristi, Monte Cristi (D.R.)
If you can help us improve this player's biography, contact us.
https://sabr.org/sites/default/files/Pena-Tony-CLE.jpg
600
800
admin
/wp-content/uploads/2020/02/sabr_logo.png
admin
2012-01-04 20:24:52
2022-04-04 17:47:32
Tony Peña