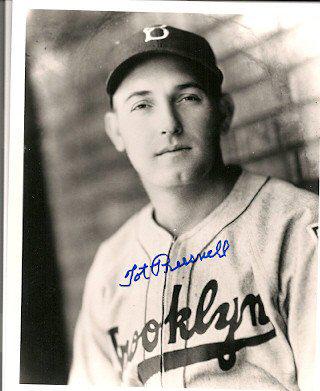 ---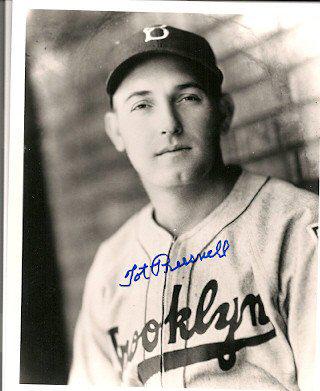 Tot Pressnell was a knuckleball pitcher who, like other practitioners of the tricky delivery such as Hoyt Wilhelm and Phil Niekro, was a late bloomer. Pressnell toiled in the minor leagues for eight years before receiving an opportunity to play for the Brooklyn Dodgers in 1938, when he was 31 years old. He did not compile Hall of Fame credentials as did Wilhelm and Niekro, but he won more games than he lost during his five seasons in the majors.
Forest Charles Pressnell was born in Findlay, Ohio, on August 8, 1906. He was the eighth and last child of Hardin Pressnell, a boilermaker employed in a factory, and Effie Pressnell, a homemaker. Young Forest's brothers were much older than he, and people around Findlay knew Forest as the "tot" who always tagged along with his siblings. The nickname stuck to Forest for the remainder of his life.
Tot Pressnell led the football team in scoring and captained the basketball squad at Findlay High School, but baseball was his favorite sport. When he was 16 years old, Tot traveled to Detroit and tried out for the Tigers as an outfielder. He did not hit well enough to impress the scouts, so Tot decided to concentrate on pitching. He was a stocky righthander, standing five feet ten and a half inches tall and weighing about 190 pounds. His fastball was not overpowering, but he baffled batters with his knuckler. After finishing high school, Tot threw his knuckleball in semipro leagues around Findlay until 1930, when scout Del Drake, a fellow Findlay resident who played the outfield for Detroit in the 1910s, signed him to a professional contract with the St. Louis Browns organization.
He pitched for Topeka of the Western League in 1930, and for Wichita Falls of the Texas League in 1931. The Wichita Falls club moved to Longview, Texas in 1932, and there Pressnell faced such future stars as Hank Greenberg of Beaumont and Joe Medwick of Houston. Tot posted a 16-11 record for the fifth-place Longview team and earned a promotion to the Double A level, one step below the major leagues. At the end of the 1932 campaign, the Milwaukee Brewers of the American Association bought Tot's contract.
Pressnell struggled to a 10-13 log for Milwaukee in 1933, mostly because the Brewer catchers had trouble reining in his knuckler, which the fans called the "dipsy-doo" pitch. The following year, the Brewers acquired veteran catcher George Susce from Detroit. Susce was able to catch the knuckleball, and Tot's pitching improved markedly. He appeared in both starting and relief roles in his first few seasons in Milwaukee, but by 1936 the Brewers made Pressnell a full-time starter. Tot responded with a 19-8 record in the regular season for the pennant-winning Brewers. He then won three games, two as a starter and one in relief, in the Little World Series against Buffalo as the Brewers won the national minor league championship. Despite his fine performance in 1936, he received no offers from major league teams, and returned to Milwaukee.
The Brewers did not repeat as champions in 1937, but Pressnell won 18 games and finished fifth in the American Association Most Valuable Player balloting. He was popular with the Milwaukee fans, who held a special day for the pitcher that season and presented him with an automobile and other gifts. Allan Sotheron, manager of the Brewers, declared to The Sporting News that Tot, at age 31, was finally ready for the major leagues. "All Tot needs is a chance," insisted Sotheron. "He deserved promotion last year, but the scouts lacked the courage to recommend his purchase."
Experienced minor league pitchers were much in demand at the time. The Boston National League team (called the Bees in the late thirties) had struck gold in 1937, signing career minor league hurlers Lou Fette and Jim Turner, both of whom were past 30 years of age. Both men won 20 games for Boston that year, and perhaps the Brooklyn Dodgers believed that another veteran minor league star would succeed for them as well. In September of 1937, the Dodgers bought Tot Pressnell's contract for an undisclosed amount of cash and a player to be named later.
Dodger manager Burleigh Grimes, the old spitball pitcher, was impressed by Pressnell''s performance during spring training in 1938. "I like him very much," said Grimes in early April. "I think he's got a lot, including brains, and maybe he could be a starting pitcher, but I don't know that right now." Grimes eventually decided to use Tot as a reliever and spot starter, the role that most knuckleball pitchers filled at the time.
The Dodgers were a poor team, but Tot experienced several highlights during his rookie season. He made his major league debut on April 21, 1938, defeating the Phillies with a 9-0 shutout. On June 15, Cincinnati''s Johnny Vander Meer threw an unprecedented second consecutive no-hitter against the Dodgers at Ebbets Field; Tot pitched four innings in relief in that historic game, leaving the contest on a stretcher after a liner off the bat of Ival Goodman struck him in the knee. His knee was sore for a few days, but he didn''t miss any time, pitching a complete-game, 6-2 win against Cubs only four days later.
Early in the season, Tot described his knuckleball delivery to the New York Daily News. "I use the Eddie Rommel grip," said Pressnell. "I dig the tips of my middle, index, and ring fingers into the seam. Though I pitch purely sidearm, I can make it break in any direction. Since the ball doesn't spin, the seams catch on the air, to cause a flutter just as it reaches the plate. The break on the pitch is quite unpredictable, so the catcher has a tough job."
Tot began to slow down as his rookie season progressed. He defeated Cincinnati on July 17 to raise his record to 9-7, but dropped four of his next five decisions. He squared his record at 11-11 with a relief win against the Pirates on August 28, but lost all three of his decisions in September. Pitching in both starting and relief roles, Tot compiled an 11-14 record with six complete games and a 3.56 earned run average in 1938. His knuckleball seemed to confuse some teams more than others, as he defeated the Pirates and Bees four times each while failing to post a win against the Giants or Cardinals.
The 1938 Dodgers are best remembered for the presence of Babe Ruth as a coach. Team general manager Larry MacPhail signed the aging slugger as a box-office draw, and Ruth took batting practice, signed autographs, and brought attention to the seventh-place ballclub. At season's end, Ruth distributed his bats, shoes, and equipment to his favorite teammates. The Babe presented his fielding mitt to Tot Pressnell, who kept the glove as one of his most treasured possessions for the rest of his life.
Pressnell received two contracts from MacPhail in early 1939, but returned them both unsigned. He became a holdout, joining pitcher Van Lingle Mungo on the sidelines while all the other Dodgers inked their contracts for the coming season. In mid-March Pressnell, still unsigned, arrived at the Dodger spring camp in Clearwater, Florida. He met with MacPhail and agreed to terms, leaving Mungo as the only remaining holdout. Mungo signed a few days later.
At the conclusion of the 1938 season, Leo Durocher replaced Burleigh Grimes as manager of the Dodgers. Durocher used Pressnell in starting and relief roles in 1939, and Tot posted a 9-7 record with 10 complete games, though his earned run average rose to 4.02. On June 27 he pitched five scoreless relief innings in the third longest game in baseball history up to that time, a 23-inning affair at Boston that was halted by darkness with the score tied at 2. He threw two complete-game shutouts that season, both against Boston, and his last win of 1939 came in a 22-4 shellacking of the Phillies on September 23.
After another brief holdout, during which he returned four unsigned contracts to MacPhail, Tot reached agreement with the Dodgers for 1940. He appeared almost exclusively as a reliever that season, but while another knuckleball specialist, Freddie Fitzsimmons, posted a 16-2 record for the Dodgers, Pressnell found his opportunities limited. Durocher used him more infrequently, and in August of 1940 the team optioned Tot to Louisville of the American Association. Tot posted a 6-5 log there before returning to the Dodgers in late September. At the age of 34, Tot had no place on a team that was building a new foundation with younger players. In November, the Dodgers sold him to the St. Louis Cardinals for $15,000.
The Cardinals had no spot for Tot, either. They sold him to the Cincinnati Reds less than one month later, and on February 4, 1941, the Reds sold Tot to the Chicago Cubs for an undisclosed amount. In a span of less than six months, four major league teams and one minor league team had owned Tot''s contract.
Tot Pressnell pitched well for the sixth-place Cubs in 1941, with a 5-3 record and a 3.09 earned run average in 29 games, all but one in relief. Many years later, John Thorn and Pete Palmer, editors of Total Baseball, studied the statistics and determined that Tot was the most effective relief pitcher in the National League that year. However, the knuckleball pitcher stumbled in 1942, posting a 5.49 earned run average and a 1-1 record. He did not pitch at all for the Cubs in September, and it appeared that his tenure in Chicago was finished.
At season's end, the Cubs promised to send either Pressnell or fellow pitcher Paul Erickson to its Los Angeles Angels farm team. Unwilling to return to the minor leagues at age 36, Tot retired from baseball. Overall, Pressnell pitched in 154 major league games, winning 32 and losing 30 in his five-year career. In eight seasons of minor league play, he posted a 111-92 log in 315 appearances.
Tot married Ruth Herge, a Findlay High School classmate, in 1931, and the couple raised two daughters. After leaving the Cubs, Tot went to work for the Ohio Oil (later called the Marathon Oil) Company in Findlay, and continued to pitch for semipro teams in Toledo and Findlay for several years. He retired from Marathon Oil in 1971, and later worked as a self-employed handyman. He was a popular figure around town, and enjoyed sharing his baseball experiences with sportswriters, neighbors, and fans. Tot made many appearances at the Ohio Baseball Hall of Fame, into which he was inducted in 1984. He also demonstrated his knuckleball delivery to neighborhood children, and enjoyed displaying his favorite memento, Babe Ruth''s glove, to anyone who asked.
Ruth Pressnell died in 1956, and three years later Tot married Helen Freese Cramer. Helen passed away in 1997, while Tot Pressnell died on January 6, 2001, at the age of 94. He was buried at Maple Grove Cemetery in Findlay. At the time of his death, he was one of the ten oldest former major league players.
Sources
The New York Times, April 9, 1938
The Sporting News, July 26, 1934; August 12, 1937; March 16, 1939
Chicago Tribune, January 17, 1939
Findlay Courier, July 31, 1973; January 8, 2001
Several personal conversations between the author and Tot Pressnell
Born
August 8, 1906 at Findlay, OH (USA)
Died
January 6, 2001 at Findlay, OH (USA)
If you can help us improve this player's biography, contact us.
https://sabr.org/sites/default/files/PressnellTot.jpg
600
800
admin
/wp-content/uploads/2020/02/sabr_logo.png
admin
2012-01-04 20:49:45
2021-10-05 16:11:05
Tot Pressnell