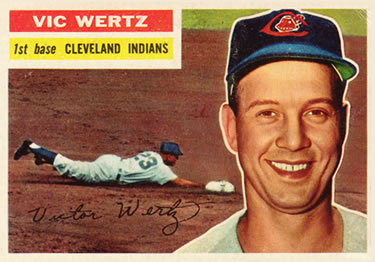 ---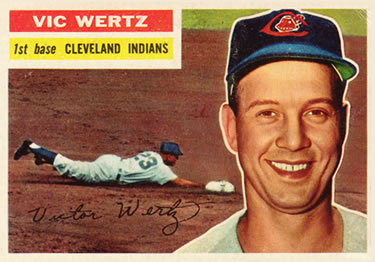 In the biggest baseball game of his life, the opening contest of the 1954 World Series, Vic Wertz hit a 420-foot triple to right, a 400-foot double to left-center, and two line singles, while driving in all of his team's runs. In his other at-bat, with two runners on in a tie game in the eighth inning, he crushed a 450-foot line drive to the outer reaches of the Polo Grounds, well over the head of the opposing center fielder. Unfortunately for Wertz and his Cleveland Indians, the opposing center fielder was Willie Mays, perhaps the only man in baseball history who could have run the ball down. And run the ball down Mays did, sprinting with his back to the plate toward the faraway bleachers and catching the ball like a football wide receiver hauling in a long pass.
For Willie Mays, "The Catch" became one of the central stories in a career filled with amazing deeds. But it also became the central story in the career of Wertz, a very good ballplayer who spent much of the remainder of his life talking about his long out. Were it not for Mays's sensational play, Wertz would have registered the first five-hit game in World Series history, a feat later accomplished only by Paul Molitor, in 1982. But when people recall the 1954 World Series, and Vic Wertz's notable though ultimately losing role in it, only one play comes to mind.
Victor Woodrow Wertz was born on February 9, 1925, in York, Pennsylvania, about 100 miles west of Philadelphia, the youngest of five children (Dorothy, Paul, Doris, and Helen preceded Vic) born to Paul (who was Pennsylvania Dutch) and Manerva Wertz. The family lived on Cedar Street when Vic was born, and later moved to West Market Street across from the West Side Hospital. When Vic was 11 years old, the family relocated to Reading, about 60 miles to the northeast. Paul Wertz had a variety of careers over his lifetime, including hardware store owner, insurance salesman, farmer, and house painter. Manerva was an accomplished seamstress, working in her home. Paul and Manerva were members of the Church of the Brethren.
Vic did not play baseball until after he moved to Reading, but he took to it quickly, starring for Gregg Post in American Legion ball and at Reading High School,[fn]Charles Adams III, Baseball in Reading (Arcadia Publishing, 2003), 51.[/fn] both of which won state championships with Wertz. In 1941 he was first scouted by Ed Katalinas of the Detroit Tigers, who watched him hit two home runs and a double during his first visit. "That was enough for me," recalled Katalinas. Wertz got a few bonus offers from other clubs, but chose Detroit, offering no bonus money, because he had been a fan of the Tigers ever since their World Series victory over the Cubs in 1935. He signed on July 1, 1942.[fn]Lyall Smith, "Wertz is a Workhorse," Sport, September 1950, 22.[/fn]
Wertz was not a power hitter in high school or in his early days as a professional—he was a pitcher and fleet-footed outfielder. He debuted with Winston-Salem (Piedmont League), and hit just .239 in 63 games with no home runs. A left-handed hitter, he often hit to the opposite field and used his speed to help get on base. The next season, at Buffalo (International League), he was hitting .222 in 18 games before he was drafted into the Army. He was still just 18 years old.
Wertz spent three years with the 81st Infantry Division, including 22 months in the Pacific. He did not see combat. "I played quite a bit of baseball over there," he recalled. In fact, he later said that he changed his swing after observing Enos Slaughter while overseas. Wertz began to pivot his body and pull the ball toward right field.[fn]Smith.[/fn] He returned to Buffalo in 1946, bigger, stronger, and three years older. In 139 games, he hit .301 with 19 home runs and 91 RBIs. In 1947 he made the Tigers roster for the first time.
A good spring and an injury to Dick Wakefield got Wertz a spot in the Opening Day lineup on April 15, hitting fourth no less, and he responded with two hits, including a double off the St. Louis Browns' Denny Galehouse in his first at-bat. He played 102 games his first year, mainly in left and right fields, and batted .288 with six home runs. He hit his first round-tripper off Bob Muncrief in St. Louis on August 13. On September 14 at Washington, he hit for the cycle in a 16-6 Tigers victory.
The next season in a similar role Wertz fell to .248 with seven home runs. By this time he had become frustrated with manager Steve O'Neill for platooning him, and he went to general manager Billy Evans asking to be traded. Instead, Evans, at the direction of owner Walter Briggs, gave Wertz a $3,500 bonus as a gesture of faith in his abilities. O'Neill was fired in the offseason and replaced with Red Rolfe, and a great spring earned Wertz the right-field job. This time he kept it, starting all 155 games for the Tigers in 1949, and breaking out with 20 home runs, 133 runs batted in (third in the league), and a .304 batting average. His breakout performance earned him his first All-Star Game, in which he played three innings.
Wertz was no longer the slim speedy player who signed with the Tigers in 1942. He now carried 200 pounds on his 6-foot frame, mainly around the chest and shoulders, which slowed him down in the outfield. The cause, he confessed, was that he loved to eat—he could and often would eat a huge sandwich any time of day or night. But Wertz's most striking physical feature was his total baldness. "It's that darn South Pacific salt water that did it," he complained. "I used to have nice curly hair." He was sensitive enough about it to keep his hat on as much as he could, and dreaded having to take his hat off for the National Anthem.[fn]Smith.[/fn]
Having broken through, Wertz remained a productive slugger for several years, though there were more setbacks along the trail. He had another big season in 1950, clubbing 27 home runs and 37 doubles while driving home 133 runs and batting .308. Over a five-game stretch beginning July 27 Wertz hit seven home runs, going 13-for-17 with four doubles and six walks in addition to the homers. In Wertz's first pennant race, the Tigers led the league for most of the summer and as late as September 15, but ended up three games behind the Yankees. In 1951 Wertz again hit 27 home runs, and batted .285. He started the All-Star Game for the American League, finishing 1-for-3 with a fourth-inning home run off Sal Maglie in Wertz's home ballpark of Briggs Stadium.
Wertz married Bernice Wineka early in his career, and the couple had two children, Terence and Patricia. Their marriage ended in the early 1950s, and in June 1952 Vic married Lucille Caroll Caleel, a Lebanese-American woman who would be his life partner. Caleel was a Tigers fan who went to Briggs Stadium to root for George Kell, but ended up meeting and falling for Wertz.[fn]Jack Newcombe, in Ray Robinson (ed.), Baseball Stars of 1958 (Pyramid, 1958).[/fn] Lucille had a dramatic effect on Wertz's life and career, talking him through his occasional slump or career crisis. One early influence for Lucille: She persuaded him to own up to his lack of hair. "You're one of the few guys in baseball who has a bald head," she told him. "Make it your trademark." After that, Wertz began to leave his cap off more often.[fn]Arno Goethel, "Wertz to Retire," The Sporting News, October 5, 1963.[/fn] "I consider my head a real asset," he later said.[fn]Newcombe.[/fn]
The Tigers fell to fifth place in 1951, and then to eighth (last) in 1952 with a 50-104 record. The highlight of Wertz's 1952 season was undoubtedly the game-ending home run he hit in Detroit on May 15—the game ended 1-0, and it gave teammate Virgil Trucks a no-hitter. Wertz was hitting .246 with 17 home runs on August 14 when he was abruptly sent to the St. Louis Browns as part of an eight-player deal, with the Tigers getting ace pitcher Ned Garver. Detroit general manager Charlie Gehringer was blunt in his analysis of the deal: "Vic is one of those outfielders who must hit .300 or be a liability. When he didn't hit, he hurt us."[fn]Newcombe.[/fn] As for the Browns, they were having their typically poor season, but would still finish one spot ahead of the Tigers. "We simply had to have more punch," said St. Louis manager Marty Marion.[fn]"Marion Tags Wertz Slugger With Browns," United Press, August 15, 1952.[/fn] Wertz hit .346 in the last six weeks for the Browns, and finished at .277 with 23 home runs for the season. In 1953 he was the Browns' best hitter, with 19 home runs, 70 RBIs, and a .268 average for a last-place squad.
The Browns became the Baltimore Orioles in 1954, and Wertz was their Opening Day right fielder. He hit poorly for the club, .202 in 29 games, before being traded on June 1 to the Indians for pitcher Bob Chakales. This was a dramatic change of fortune for Wertz, as Cleveland was in the midst of a great season, one in which they would set the American League record with 111 wins. Wertz was thrilled. "Imagine what a surprise that was to me," he said. "I really had been down in the dumps for two seasons."[fn]Tommy Devine, "Wertz Lives Anew," Baseball Digest, November 1954.[/fn]
The Indians were not in need of outfielders, but a short time after Wertz arrived manager Al Lopez asked him to try first base, a position he had never played. Truth be told, Wertz had never been a good outfielder, and by 1954, at the age of 29, he was big and immobile and fit to play first base. He would remain at the position for the rest of his career. Whether it was the change of team or position or something else entirely, Wertz regained his batting form over the last half of the season. He eventually settled in to the number five spot in the order, behind Larry Doby and Al Rosen, and hit 14 home runs and batted .275 in 295 at-bats. "He's a fine boy to have on your club," said a grateful Lopez, "very conscientious, a hustler with a good influence on the team as a whole."[fn]Devine.[/fn]
When the Indians faced off against the New York Giants in the World Series, the oddsmakers favored the Indians because of their gaudy won-lost record. But it was the Giants who won the World Series in four straight games, starting with their ten-inning victory in Game One, when Wertz made four hits and nearly five. In fact, Wertz kept hitting, finishing 8-for-16 for the Series, including a home run off Ruben Gomez in Game Three. No other Indians player had more than three hits for the entire Series, and Wertz had four of the club's total of nine extra-base hits. He put together a great four games, but unfortunately had little help.
Nonetheless, Wertz entered 1955 rejuvenated, a key member of a great team. In the event, it would be a very difficult year. He hit 14 home runs in 74 games, missing several days in May with a sprained neck, and a month in early summer with a jammed thumb, before being hit with a more serious ailment in August. He played a game on the 24th before being struck with what was thought to be a 48-hour virus, but when his temperature soared and severe pain set in the next night, he was hospitalized and diagnosed with poliomyelitis, more commonly known as infantile paralysis or polio. Polio was a dreaded disease in the 1950s, responsible for paralysis and death in thousands of people just in the United States. "Ten days later the physical pain started to leave but it was replaced by a mental anguish," Wertz recalled. "I honestly didn't think of baseball. My fear was that I'd be a cripple and all that meant to my future."[fn]Arthur Daley, "The Man Who Licked Polio," New York Times, January 19, 1956.[/fn] Fortunately for him, Wertz's strain was nonparalytic, though still serious.
Wertz was in bed for weeks before he began to walk again, exhausted after just a few steps. He lost 20 pounds, but slowly began to gain both strength and weight. Wertz credited his wife, Lucille, with staying upbeat and taking a light-hearted approach. "She accused me of 'jaking,' " he laughed. "Her bright talk and high spirits made me feel as though I'd never been sick."[fn]Herbert Kamm, "Vic Wertz Still Slugging Despite Polio and Other Injuries," Pittsburgh Press, April 3, 1959.[/fn] He received 14,000 letters, many of them from children. By late winter Wertz was exercising, and, miraculously, he showed up at spring training determined to get his job back.
On April 17, 1956, Wertz took his place in the Indians' Opening Day lineup, fully recovered from his serious illness. Though often rested as a precaution, he played 136 games and belted a career-high 32 home runs while driving in 106 runs. He had a very similar season in 1957, playing in 144 games while hitting 28 home runs with 105 RBIs, and batting .282. On September 14 at Fenway Park he drove in a career-high seven runs, in a 13-10 loss to the Red Sox. Boston's Dick Gernert also drove in seven runs, the only time in baseball history two opponents had each driven in seven runs in a game. Remarkably, Gernert and Wertz were both products of Reading High School and the Gregg Post American Legion team, though Gernert was four years younger.
Wertz was 32 in 1957, but showed no signs of slowing down as a middle-of-the-order slugger. He had another medical setback the next spring, though not nearly as serious as polio. While sliding into second base in a spring game, he fractured his ankle. He came back four months later but mainly pinch-hit, getting just 48 plate appearances for the season. Though the ankle healed, the Indians now had Vic Power at first base, leading them to trade Wertz (and outfielder Gary Geiger) to the Red Sox for star outfielder Jimmy Piersall. In 1959 Wertz played part-time, hitting .275 with seven home runs, but was a more regular player again in 1960, responding with 19 home runs and 103 RBIs in 443 at-bats. It was his fifth 100-RBI season. He started just 110 times at first base, but also finished 10-for-18 as a pinch-hitter, including a grand slam off Don Newcombe, one of three grand slams he hit that season, of the ten he hit in his career.
The 36-year-old Wertz slowed down a bit in 1961, hitting 11 home runs in 99 games and losing most of the first-base job to Pete Runnels. In September the Red Sox sold him in a waiver deal to the Tigers, where it had all begun. In the waning days of the season Wertz pinch-hit six times. In 1962 he became a great pinch-hitting specialist, getting 53 at-bats in that role, and batting .321 with three home runs. For the season he hit a robust .324 in 105 at-bats.
Wertz finally reached the end of the line in 1963, starting 0-for-5 with the Tigers, drawing his release, and then finishing 6-for-44 (with three homers) for the Twins. "If he didn't have a single hit," said Minnesota manager Sam Mele, "Wertz would be an asset to our club. He gives us character." At the end of the season Wertz retired from baseball.
Vic and Lucille settled in the Detroit area, where many years earlier he had established a beverage distributorship. Although the couple did not have any children together, Vic remained close with his own two children, and also with his siblings, nieces, and nephews. He was very outgoing and fun-loving, and made a lasting impression on everyone who spent time with him.
Although he missed baseball, Wertz took to his next career as well as he did to his first. Vic Wertz Distributing Company became a Miller Beer distributor in Mount Clemens, Michigan. He won numerous company awards and his company ended up with the biggest share of the Detroit market. "I love the work," Wertz said in 1979. "I could take some time off, but I don't want to. We work our tails off. This is a very competitive business and I consider my employees to be like a team."[fn]Chris Stern, Where Have They Gone (Tempo Books, 1979).[/fn]
Wertz also made a lasting contribution to the Michigan branch of the Special Olympics when he organized an endurance snowmobile ride in northern Michigan. The riders collected pledges for their annual ride to benefit the charity. The organization, now called Wertz Warriors, held their first ride in 1982 and as of 2012 were still going strong, raising over $7.5 million through the years for Special Olympics Michigan Inc. (SOMI).
Wertz died on July 7, 1983, just 58 years old, while undergoing heart surgery at a Detroit hospital. He had suffered a heart attack the day before, his second in less than a month. Among those who remembered him fondly was the man with whom he was inextricably linked. "Vic was a very good player," said Willie Mays, "but he often said nobody knew about him until he hit the ball, and I caught it. I'm very sorry that a very good friend of mine died. I played golf with Vic a while ago, and he looked very good."[fn]USA Today, July 8. 1983. [/fn]
This biography is included in the bookPitching to the Pennant: The 1954 Cleveland Indians (University of Nebraska Press, 2014), edited by Joseph Wancho. For more information, or to purchase the book from University of Nebraska Press, click here.
Acknowledgments
Thanks to granddaughter Rachel Wertz, great-nephew Rick Murphy and baseball historian Dennis Dillon.
Born
February 9, 1925 at York, PA (USA)
Died
July 7, 1983 at Detroit, MI (USA)
If you can help us improve this player's biography, contact us.
http://sabr.org/sites/default/files/WertzVic.jpg
600
800
admin
/wp-content/uploads/2020/02/sabr_logo.png
admin
2012-01-04 20:35:30
2012-01-04 20:35:30
Vic Wertz